Car or campervan for New Zealand? North Island two week road-trip itinerary
Updated: 4th July 2019
This website uses affiliate links which may earn a commission for purchases made at no additional cost to you.
SPONSORED CONTENT WITH DISCOVER CAR HIRE
Hitting the open road in the alluring land of Aotearoa is a dream come true. New Zealand's roads are set against backdrops of sapphire lakes, imposing glaciers, rolling hills and towering forests, and each destination brings a new surprise.
But getting from A to B takes a little bit of planning, and while backpacker buses and commuter coaches ply the country, the schedules can be tiresome and restricting. Without a wide-reaching train network to rely on, those who want to explore this incredible country entirely are likely going to need four-wheels. New Zealand, for most people, means one thing; the ultimate road trip.
Grab your mates, pick up a vehicle, and head off on an adventure into the real middle earth.
But how? Is a question I got asked a lot when I came back from my six-month stint living there. The dreamy-eyed asker would usually have a whimsical idea of vintage VW living, bathing in lakes, and cooking up basic dishes on a camper stove. So my advice would often crash them down to reality: hire a car!
But why? They would cry in disbelief. Surely New Zealand is the place to hire a campervan for your road-trip and trust me; I'm a lover for living in the back of a van. Cruising the Great Ocean Road in Australia, we hired our Big Berta and bunked up while mixing cocktails in our tiny kitchen on wheels. But in New Zealand, we always hired a car for our road trips, and let me tell you why.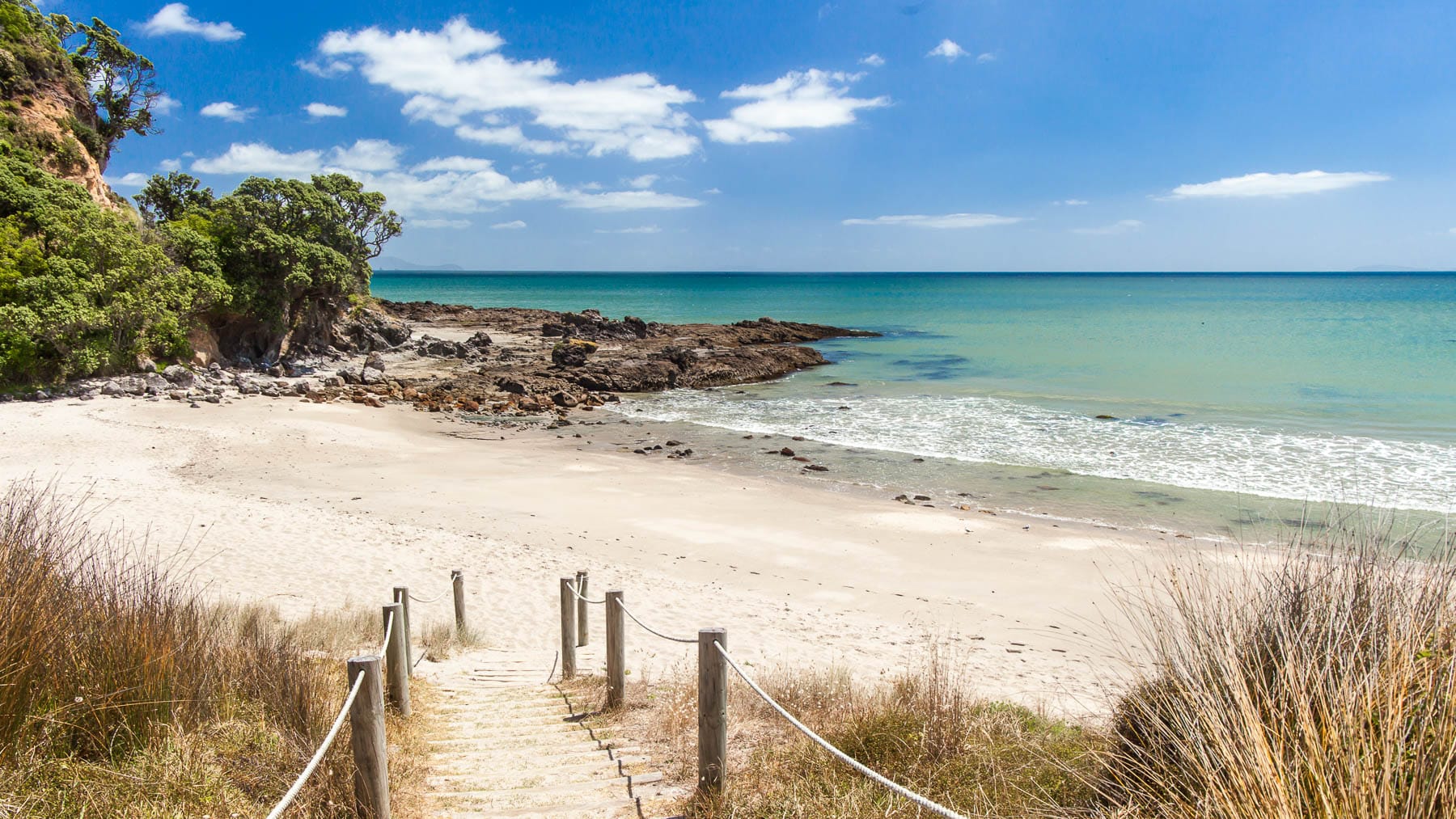 Nine reasons to hire a car, not a campervan, in New Zealand
Here are a few of the reasons we opted for (and are glad we did) a car on our New Zealand road trip.
1. Cost!
In nearly every way (other than the additional accommodation cost sometimes) hiring a car is cheaper than a camper. The fuel is less, the ferries usually less, the one-way fees less, you get the point. Due to a surge in popularity in hiring campers, and the limited numbers generally doing the same routes, the prices often eclipses car-hire by a long shot.
We hired ours through Hitch, as they were the cheapest at the time, but follow our lead and just search on Discover New Zealand Car Hire to find the best value and most suitable car for your journey. Obviously, in the peak season all costs shoot up, but I'd really not recommend a camper in winter (see point 8).
2. Getting to the hidden gems
To put it mildly, some roads in New Zealand leave a lot to be desired for the average tourist who may be unfamiliar on driving on country roads. Many roads are designed for tractors or 4WD, not for your fancy campervan to rock down.
Heading to Castlepoint to watch the sunset and staying in an adorable Bach (a modest New Zealand holiday home) was one of the highlights of my time living here, and that road was tough enough with our nifty car, without the extra stress of a huge camper. Getting down narrow lanes and hard to access places will be more easy with a car. Especially when you start throwing in places like the Forgotten Highway to your road trip itinerary.
3. Awesome accommodation and new friends
The few times we camped with our car in a tent (throw one in, as sometimes you will want to be in a beachside campsite) we struggled to meet other people, and I generally found the campsites and camper crews to be doing more their own thing. While of course renting accommodation in New Zealand will push up the cost, there are plenty of backpackers (hostels) that are pretty affordable by New Zealand standards, and we also scored some excellent B&B and AirBnB finds.
As many people will spend up to a month on their New Zealand road trip, there will likely come a time you want to network and make friends, whether that's in a hostel with other travellers, or meeting locals in an inner-city bar, both of which are harder if you are in a camper site way out of town.
4. New Zealand is not an easy country to drive
The roads in New Zealand, as I may have mentioned, aren't always plain sailing. There are sometimes sheer drops; other times routes blend into a single file should-be-one-way streets with little warning.
The number of huge campervans I've seen getting stuck, or into bad situations, simply because the drivers aren't used to such big vehicles or these roads, reassured me we made the right choice. Of course, if you are confident driving a larger campervan, then you'll be fine, but to me focusing on the views and vibes would be more important than stressing about the driving.
5. Freedom camping needs to be self-contained
The dream of just parking up and setting up camp is possible in New Zealand but is more complicated than you may think. Freedom camping is an option in places, but of course, there are restrictions, so be sure to do some research of where this is possible; in the city's this gets harder.
It's also worth noting only self-contained campervans, those with a toilet installed can wild camp. Campers without these facilities will legally still have to be in a campsite with facilities, or a holiday park.
Campsites, usually with minimal facilities and sometimes missing charge points are cheaper, with holiday parks racking up the cost. The reason we stopped camping in the tent and parking the car with was it usually didn't work out that much cheaper than staying in a hostel.
6. Stay in cities and enjoy the nightlife
It's harder to find inner-city parking spots for campervans, and this can mean you'll miss out on evening events and the nightlife, especially in Queenstown, Wellington and Auckland where the majority of the traveller scene and local nightlife is. Having a car and being able to park up in the city allowed us just to switch off and relax in the evening, not worrying about expensive taxis, not having a drink to drive the van back, or trying to book the closest campsite far in advance.
7. You can car-pool and save money while making friends
Another great thing about travelling by car is filling the spare seats, and splitting the costs, is super easy. There are countless Facebook groups and backpacker forums which you can use to find people heading in the same direction who want to jump in the ride, usually sharing fuel and bringing the banter. If you are staying in hostels, chances are someone else there will want to join you before you've even checked online.
8. The weather
For some reason there is an assumption some people make that as New Zealand is 'close' to Australia, it's a relatively warm country. I can confirm that in winter, it is certainly not the case. If you are planning to visit during the off-season to take advantage of the lower prices, you might prefer to be in a hotel or hostel than in a camper, especially in the far South.
Brave souls can layer up and take on the chill, but for me personally, a heated room, or pub fireplace with a glass of Hawke's Bay red, is a much better place to be. Even my apartment in Wellington would be kinda chilly in winter, so I can't imagine what a windy campsite would be. Drive the car, park up, and be warm.
9. The people of this beautiful country
Imagine trying to get to work and getting stuck behind a convoy of camper vans, being driven sometimes badly, and slowing you down. Now imagine what New Zealand roads look like in summer. It's a relatively small country, and while the big wide open roads with not much around are fair game, I've seen many tailbacks form around cities as campervans struggle to get around, and the same can be said for narrow roads in rural settings.
Freedom campers have earned themselves a bad name in recent years, and in some cases sadly deservedly. If you do decide to go this route and freedom camp, do follow all the laws and rules, do take all your trash with you, and do leave this pristine country exactly how you found it. Let's not go annoying the welcoming nature of the Kiwis, please!
New Zealand North Island two week road-trip itinerary
Now we've got that out of the way, here's a sample New Zealand Itinerary for the North Island in two weeks, following this we dropped our car off in Wellington and then flew down to Queenstown, where we picked up another vehicle to do Queenstown, Wanaka, Fox Glacier and Fjordland.
I was of course living in the country for a while, so didn't have the need to do a month long trip and see everything at once. There are plenty of other cool spots and places to visit in the South, and you may wish to ferry over to Picton and continue your road-trip all the way down. Also, the Cook Strait crossing is incredible, so if you have the time it's well worth doing!
Day One: Auckland
While you could pick up the car in the airport, and then drive into the city, I'd recommend just getting in on the bus, spending the night, and then picking up your car from one of the city branches the next day.
Auckland was the first place I 'lived' in New Zealand, and to be honest; I didn't overly warm to it, which is why I moved down to Wellington. A day in the countries biggest city will be long enough to see the main highlights, such as Sky Tower, Toi o Tāmaki Art Gallery, and Auckland Domain, you might even have time to fit a trip into one of the nearby islands.
Day Two/Three: Head to the Bay of Islands (Drive time, 3:30 approx)
Once you are wrapped up in Auckland, head north to the Bay of Islands. You might want to detour to stop by Piha on the route, a crashing surf beach, and take a coffee stop in Whangarei to see the falls.
We stayed in the small and scenic town of Paihia, but everywhere around here is a good bet. Get out on the water and enjoy the various hues of green and blue, relax on the beaches, visit the islands, and head to Waitangi Treaty Grounds, where the founding agreement of modern-day New Zealand was signed.
If you plan to head to the very top of Aotearoa on your road trip and have the time, factor in a few extra hours to get to Te Rerenga Wairua (Cape Reinga). The additional journey time will reward you with towering sand dunes, two oceans colliding, and an important Maori site.
Day Four/Five: Head to the Coromandel Peninsula (Drive time, 5:15 approx)
Start early to get down to this chilled out hot-spot, not far from Auckland. Some of the beaches here will be crazy busy, but we found plenty of near-deserted spots where ice-cream parlours kept us cool, and warm white sands were just for us.
Popular activities here include digging into the sand of Hot Sand Beach, where volcanic hot springs sit underneath, and you can essentially make a (boiling) private hot tub on the beach. Another famed option is taking a boat trip out to Cathedral Cove; kayaking would be my recommended option if you are comfortable with it.
Day Six: Hobbiton Movie Set and Waitomo Glowworm Caves (Drive time, 2:30 approx + 1:15 approx)
On day six, hit the road to two of New Zealand's most famous attractions.
The famous Hobbiton movie set, from Lord of the Rings, will take a few hours, before continuing onto the Glowworm Caves, where a boat will take you underneath a canopy of these worms, you guessed it, glowing above you!
Day Seven/Eight: Rotorua & The Redwoods (Drive time, 2:00 approx)
By far the highlight for me on the North Island, Rotorua was a landscape that blew my mind.
The geothermal activity here is incredible, and while you can witness it all over (don't worry, you'll get used to the sulphur egg smell soon enough), paying entrance to one of the parks is a must to witness some of the most insanely coloured lakes, and water blowing springs you'll ever see.
Rotorua is also home to plenty of Maori cultural experiences, the natives of the land, and I think it's imperative to put some time aside to experience at least one of these.
Also get out to the impressive Redwood Tree Forest (Whakarewarewa), where a canopy tree-walk will take you through these towering beasts.
Day Nine/Ten: Lake Taupo (Drive time, 1:00 approx)
If you are planning to continue to the lakes in the South Island, such as Wanaka, you may want to skip Taupo as I do think the South Island offers the best lakes experience. That said, you should fit in at least one day here as it's not just Lake Taupo, but the surrounding attractions.
The Huka Falls is another of the LOTR filming places, and thus popular, while the Taupo Maori Carvings on lakeside rocks are worth a visit.
On your second day you can take on one of New Zealand's Great Walks, but the one day option of the Tongariro National Park Crossing. It takes around 8-hours and is a point to point, so you get a life back. The full circuit loop takes about 4 days.
Day Eleven/Twelve OPTION ONE: Taranaki (Drive time, 4:00 approx)
Taranaki was the first place I travelled to in New Zealand, while on assignment for Lonely Planet who had just named it one of the best regions in the world to visit. This baffled everyone; locals included, especially seen as most international visitors don't venture to this distant point on the West side of the island.
What you'll find here though is New Plymouth, a seaside town that I was really charmed by, and also the imposing Mount Taranaki (Mount Egmont), a dormant volcano and another multi-day hike site.
You can do a one day hike here though when the weather conditions allow, and you'll be reward by a near perfect peak that has been likened to Mount Fuji, and even used in films to replicate Japan! Head to the lakes on the tarns for a perfect reflection shot, and appreciate this lesser-explored corner of New Zealand.
Day Eleven/Twelve OPTION TWO: Napier & Hawkes Bay (Drive time, 2:00 approx)
For those who don't want to hike, the alternative is to head to the East coast, where Napier and Hawkes Bay await.
Tour the Hawkes Bay wine region and enjoy the views here while sampling the local wines with their producers and among vineyards, before heading into Napier, which was reconstructed after an earthquake and littered with art-deco decoration. It's a laid back city, perfect for chilling out in after a hectic few days.
Day Thirteen/Fourteen: Wellington (Drive time from Napier, 4:00 approx – From New Plymouth, 4:40 approx)
The capital city of Wellington is small, and I used to joke I only ever saw the road I lived on, the road I worked on, and the road I drank on, all three connected.
It's an arty and creative city and has an exceptional vibe about it, so I was happy to call it home for a while. Enjoy the vintage funicular to the viewpoints, visit the impressive National Museum, enjoy fantastic bars and restaurants, and for LOTR fanatics, head to the Weta Cave studios.
However you decide to spend your time in New Zealand, if you are trying to do it all in a short vacation, even up to a month, you'll realise that a lot of that time will be spent in a vehicle. While the country is quite small, you won't be on highways all the time, and with that much time already driving, I wouldn't want to be then sleeping in the same vehicle, hence my suggestion for the car.
Either way, you'll have an epic time in New Zealand, and if you have extra time, be sure to check out my list of New Zealand North Island hidden gems, where there are a few additional suggestions that aren't as popular as the 'must do' route detailed above.
Safe travels, and send my love to Aaotorea!
*This content was produced in partnership with Discovery Car Hire, the company we used to find our car hire in New Zealand. All tips and travel ideas are as always my own.
https://www.danflyingsolo.com/wp-content/uploads/2017/09/CastlepointNewZealand.jpg
1365
2048
Daniel James (Dan Flying Solo)
https://www.danflyingsolo.com/wp-content/uploads/2022/01/blogo-1-1030x189.png
Daniel James (Dan Flying Solo)
2019-07-04 10:59:35
2021-03-22 19:46:28
Car or campervan for New Zealand? North Island two week road-trip itinerary