Czech Republic day trips from Prague: Karlovy Vary, Kutna Hora & Konopiste
Updated: 1st December 2020
This website uses affiliate links which may earn a commission for purchases made at no additional cost to you.
The first time I visited Prague was with my mum when I was 14. I remember being completely overwhelmed by the magnificent beauty of the city. A few years later, I returned with friends for a party weekend – this time noticing even more of the splendour of the city, even if through hazy beer eyes. On my third visit, when my best friend moved there to teach I realised I had no idea what the Czech Republic was like outside of this magnificent city, so I squeeze a few side-trips into my visit.
When a destination gets defined by one city, it can be hard to break that – and I was certainly guilty of thinking only of Prague when I considered the Czech Republic as a tourists destination.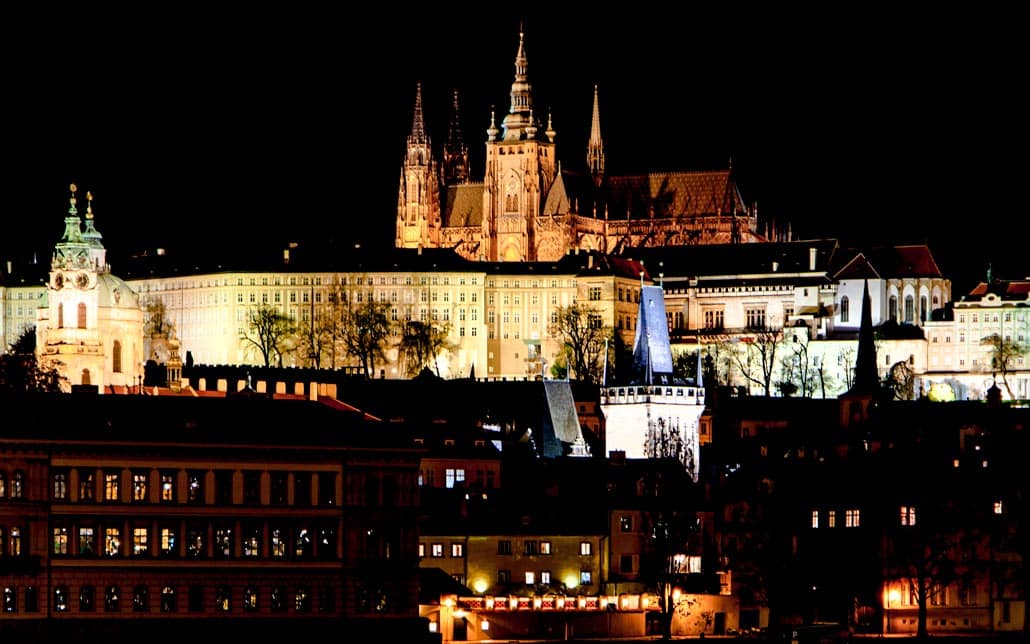 But as I did more and more research, I realised there were countless charming villages straight from fairytales, castles, chateaus and dreamy forest and nature hikes to undertake. Turns out, the Czech Republic has plenty of incredible spots to visit and we are doing it a disservice by simply going to sink a few beers in a Prague beer-hall, no matter how amazing the architecture is to admire.
So, these are the three side-trips I did while I was in Prague, staying over-night in the first two, although they are all possible as a day trip.
The spa-city of Karlovy Vary
Nestled amongst the dense forests and rivers of West Bohemia, Karlovy Vary has long provided tourists with treats of springs and spas – in fact, it was created for that very purposes. With the promise of relaxing waters and wellness benefits, the spa-town has grown over the centuries to become one of the most picturesque and famous spa destinations in the Czech Republic and Europe.
Not only is it a busy spa destination, but the city is also spectacular. The architecture is very unique and ornate, covering different style periods, while the nature and forest around the city provide for some lovely hikes.
One of the most interesting things to me about Karlovy Vary is the hot springs, with a unique culture of carrying around a porcelain cup, a little like a tea-pot, which people use to take a warm drink from the hot springs as they go around their day to day business.
How to get to Karlovy Vary from Prague?
Driving should take you around 90+ minutes from city to city. There are trains, although quite slow – at over three hours. Buses and coaches take between 1:30 – 2:15 making it the more advisable option.
As such, Karlovy Vary is likely best done as an overnight visit, especially so you can enjoy the destinations main draw the Spa Hotels – I loved my stay at the Retro Riverside.
Alternatively, you could book on to a tour to visit Karlovy Vary from Prague.
The UNESCO listed Kutna Hora
If you're as intrigued by unique architecture and uncommon attractions as I am, then a Chapel of Bones is certain to pique your interest. A mere hour by train from Prague and you'll arrive at Kutna Hora. Close to the edge of the Central Bohemia region, this old silver mining city makes for a perfect day-trip, although an overnight stay will allow you the time to visit nearby Třebešice Castle and the charming town of Cáslav.
The city itself is UNESCO listed, with plenty of grand historic architecture, and luckily alone of those is adorned with bones.
Situated in the suburbs of the city, underneath the cemetery of the former Sedlec Abbey, the Sedlec Ossuary is one of the most unique religious sites you'll find. Nicknamed the 'Church of Bones' – which doesn't leave too much to the imagination – it's quite a sight to behold.
How to get to Kutna Hora from Prague?
Driving should take you around 60 minutes from. There are trains, and buses available. The trains in this instance are fairly regular and take around an hour too. The station is also only about a 10-minute walk to the Bone Chapel.
Alternatively, you could book on to a tour to visit Kutna Hora from Prague.
The Konopiste Castle in Benesov
So, my trip to Konopiste Castle was a bit of a failure, as I hadn't checked opening hours before my visit – fail.
Either way, it's amazingly impressive from the outside to walk around too, and the park and lake beside it are very grand. I'm pretty sure where I went for a walk outside is technically part of the area you can only visit when it's open – the grounds team who were doing some gardening seemed to take pity on my wasted winter journey and signalled me to briefly come through a gate for a look at the grounds – cheers lads!
The castle is beautiful though, Gothic, and from the 13th century, it's turrets and design are best appreciated by aerial photos, but you can really see the scale of it from the ground level too.
Inside, from what I read and expected haha, you can tour some of the grand rooms, with fresco ceilings, historic artefacts, and art.
Although it has been passed from aristocrat to aristocrat over the years, the previous owner of the castle was Franz Ferdinand, until his assassination in Bosnia, and thus began World War One.
As with other places in the Czech Republic, there is a bear kept in the moat area of the castle. Not a fan of this at all, and didn't realise – in case that changes your mind to visit here.
I didn't really spend any time in Benesov itself, but it does seem the main reason for visiting is very much the castle.
How to get to Konopiste Castle from Prague?
It's about a thirty-minute drive to the castle or an hour by bus or train. You'll need to take these to Benesov, from there I would suggest walking. It's around 30-minutes, but much of that walk is through a nice park with deer.
Alternatively, you could book on to a tour to visit Konopiste Castle from Prague, there are also tours here that include the Kozel brewery – and we all love a Czech beer!
https://www.danflyingsolo.com/wp-content/uploads/2020/12/Czech-Republic-Kunta-Hora-53.jpg
1152
2048
Daniel James (Dan Flying Solo)
https://www.danflyingsolo.com/wp-content/uploads/2022/01/blogo-1-1030x189.png
Daniel James (Dan Flying Solo)
2020-12-01 16:55:24
2021-03-19 21:53:18
Czech Republic day trips from Prague: Karlovy Vary, Kutna Hora & Konopiste