If I had a bucket-list then Bosnia & Herzegovina would have always been in my top three.
When the chance to road-trip this beautiful, fascinating country came up over the summer I jumped at the opportunity and it was one of those places that far surpassed expectations.
Why road trip Bosnia & Herzegovina?
This is one of the most naturally beautiful countries I have ever witnessed and so many of the most impressive, jaw dropping and stunning finds were from slamming on the breaks and jumping out of the car.
Whilst many people will explore Sarajevo or simply just visit the Old Town of Mostar from a cruise there are so many more places to discover in this nation, my favourite place we stayed was actually Konjic, a lesser known town that sits on the river.
LET ME SEND YOU MY BEST BALKANS TIPS…
[convertkit form=4953124]
Whilst travelling Bosnia & Herzegovina by public transport is possible hiring a car, in my opinion, gives you the chance to really explore the raw natural beauty which is so often hidden off side tracks and dirt roads.
COMING SOON: One Week Bosnia & Herzegovina Road Trip Itinerary 
Must Visits in Bosnia & Herzegovina
Sarajevo – The red rooftops and the green mountains surrounding the city make the Old Town beyond charming. It's a great starting point for your trip and to learn about the tragic, and relatively recent, history of the country. You'll be surprised at the number of things to do in Sarajevo, I only wish I had given myself more time to explore the capital.
Konjic – By far my favourite. Relaxed vibes, colourful buildings and mosques sit along the river making it the perfect place to take a few days out.
Scit & Rama Lake – This postcard perfect lake is a great spot for some watersports and is even more beautiful when viewed from afar. The church in the middle and the little islets make for a perfect photo spot on the road.
Busko Jezero – One of the most popular lakes located in Livno. With a few villages dotting the lake it's an ideal pit stop whilst driving around the country.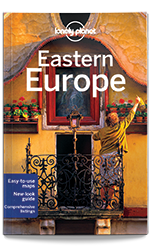 Get The LP Guidebook
Grab the print or e-book before you travel to The Balkans.
Blagaj – This village located a short hop from Mostar is most famous for its Monastery built into the rock and crystal clear waters – it was so busy when I visited though it wasn't the most enjoyable of experiences.
Mostar – Perhaps the most famous stop in the country due to the historic old town and famous Mostar Bridge, it's usually packed during the day with cruise tourists visiting from nearby Dubrovnik.
Read Next: The Ultimate Montenegro Road Trip Itinerary
Heading to the Balkans? These might come in handy…