Exploring Fraser Island with Unique Fraser
This website uses affiliate links which may earn a commission at no additional cost to you. As an Amazon Associate I earn from qualifying purchases.
Updated: 9th September 2015
'Hold on, we're putting the foot down hard'

It was in that moment, as we all flew around the four by four I realised Chris was going to be my kind of tour guide!
Usually, I am not much of a tour person but my parents were visiting and had booked this trip. It didn't take me long though to know that Unique Fraser was going to indeed be unique. The simple fact our group was only six in a land cruiser was a good start.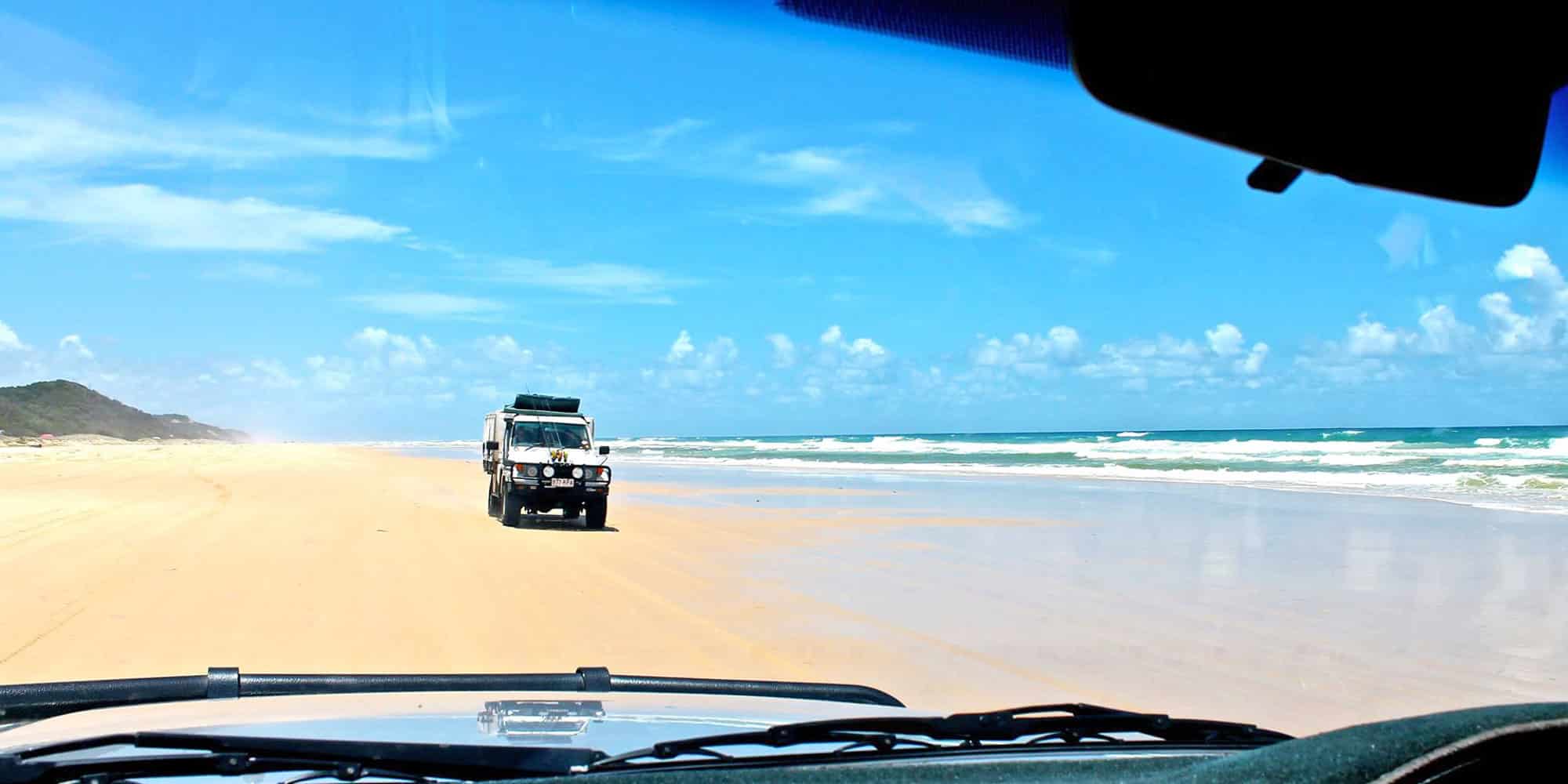 Fraser Island is just off the coast of Queensland in eastern Australia. Famously know as being the worlds largest sand Island which spans over 120km. Rightly so, it has earned itself World Heritage Listed status. It is also the only known place that rainforest can grow on sand. Cool huh?
With freshwater pools, a beach which doubles as a highway-come-airport, incredible look out points which drop down to mantas swimming below you and natural rock pools to chill out in this is one place I recommended you don't miss off you Australia itinerary. In Fact, any itinerary…
Unique Fraser Island Tours
Offering both one and two-day tours, we crammed it all into one day (which, was never going to be enough time here) – Trying to do Australia in a month though means you have to make calls.
Travelling in a 4×4 instead of a bus means there's a maximum of seven in your group, it also means you are likely to have more control over the time and amount you spend where.
So what is there to see?
Rainforest Roads
Driving over the bumpy 'roads' and through the rainforest when you first arrive to the island is insane. How such vegetation can grow on sand is fascinating and there is no shortage of wildlife.
Lake McKenzie
One of the iconic picture perfect views in Australia is Lake McKenzie. The lake which is made of water accumulating on the tree bed has seriously crystal clear water and the perfectly white sands inland are breathtaking. I would go as far as saying the sands werewhiter than the Maldives.
Beach highways, landing strips and sunbathing next to shipwrecks
The 75 mile long beach on Fraser Island doubles up as a landing strip for small aircraft, a highway for jeeps to speed along and crazily a sunbathing spot for people who want to be dodged around by vehicles!
Cruising along you will find the washed ashore Maheno shipwreck which in 1935 was to be sent for scrap however a cyclone had other ideas of its fate. The ship had been a hospital in the war and a passenger ship before. Now it sits as one of the famous sights here on Fraser Island.
Eli Creek
The small streams of fresh water at Eli Creek are a good spot to cool off from the sun in. It was however my leat favourite place we stopped as it was packed, it seemed all 1000 people on the island were taking a dip at once!
Indian Head and Champagne Pools
The third and final type of water for swimming in comes at the Champagne pools which some other tours don't get as far up to.
These natural rock formations with the waves crashing behind you and the near empty beach behind literally scream COME GET IN ME!
Looking back across the island from Indian head makes you realise this ain't no small spot of sand and looking down I was greeted with Mantas going about their business below.
Mantas + Sands + Sun = my kind of heaven!
How much?
As with everything packaged up in Australia, prices can shock at AUD 225 for the one day tour. There are companies that offer cheaper options, but if you're like my Mum and dont want to take the big bus option the small groups and extra time sightseeing are a winner.
Having the chance to pick Chris's brain who had known the area for decades was great. Plus, she was one seriously hilarious lady. So, although not my usual way I am pretty glad we went with Unique Fraser.
On the mainland: Hervey Bay
The nearest place to base your self prior to or before departing for a tour around Fraser Island is Hervey Bay.
I can't say it's the most buzzing but it's certainly not a bad place to stop off at on a Bruce Highway road trip.
Grab some supplies before you head into town and knock up a fresh BBQ using the free equipment by the water which is so common across Australia.
It's also an ideal spot to see Humpback Whales or visit the stunning Lady Elliot Island from.
The DIY Option
Though I loved exploring Fraser Island as a day trip it is on my list of places to return to for a good few days.
If you want to visit Fraser Island on your own steam it's easy but needs a little planning…
Getting there: Once you have arrived at Hervey Bay (about four hours drive north from Brisbane) then it's a matter of either getting on the passenger ferry or vehicle barge to get across to the island.
There are also trains, coaches and a few flights to Hervey Bay.
You will need a high clearance 4×4 if you plan on exploring the island solo. You don't want to be that not suitable vehicle getting bogged down and holding up the island traffic for an hour (whoever you were, thanks!)
Where to stay: Camping is a popular option here and there are 28 designated camping spots. You can pick which one suits you best, whether it's beach front or fenced off to keep the Dingos out. You will need a permit in advance to camp on the island.
There are also a couple of hotel/resort options too. Though it's 100% camping for me next time!
What to know: Fraser Island is home to Dingos, a wild dog which has been know to attack humans and even kill children. Don't leave food hanging about and keep it as secure and packed up as possible.
Ferry services and shop times can be reduced out of peak season and everything can be packed due to popularity during peak. If your camping, bringing ample supplies is recommended.
Get there early, the terrain and roads don't make overtaking easy (unless, you have the skill and speed of Chris!)
The native people of the land now retain certain areas after a long battle to reclaim then, as with all of Australia be respectful.
The Next stop was to be what is regularly called 'The worlds best beach' in the Whitsundays – Secretly though, I think Fraser Island wins.
https://www.danflyingsolo.com/wp-content/uploads/2015/07/AustraliaFraserIsland.jpg
1073
2048
Daniel James Clarke
https://www.danflyingsolo.com/wp-content/uploads/2022/01/blogo-1w.png
Daniel James Clarke
2015-09-09 05:24:04
2023-01-28 17:07:57
Exploring Fraser Island with Unique Fraser