So, I'm not the biggest fan of top ten lists but I'm guessing Oman isn't completely saturated with them yet or in fact, Oman travel videos by the looks of it. I'll keep my stories of goat attacks, burst tyres, random party invites, accidentally breaking into airports and exploding gas canisters for next time…
If anyone is wondering why Oman is on the Lonely Planet Best in Travel list for 2017 I'm hoping this Oman Tavel Video will answer that question. If not, the ten reasons to visit Oman below should be enough to have you booking a ticket.
Still not convinced? There is no hope for you :P
FYI – This Oman travel video only covers the north of the country, the peninsula and south are already on my 'go back to' plans for next year. Also, sorry for the creepy Goat…
Oman Travel Video, The Three Minute Guide…
1. Lonely Planet said go
Every year Lonely Planet release their Best in Travel list of destinations, regions and experiences that are going to be the travel trends of the year ahead and Oman came at number eight on their top countries to visit.
I headed there to Snapchat this beautiful country for them last week and from the comments, I can tell you one thing – Oman is quickly going to the top of everyone's list so get in now before the crowds descend.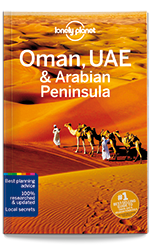 Get The LP Guidebook
Grab the print or e-book before you travel to Oman.
2. Hospitality knows no bounds
The video of Oman above might not depict it, but the hospitality I experienced in Oman was unlike anywhere else.
From the Bedouin (nomadic) ladies that live in the desert stopping to offer us tea through to the full blown picnic we were invited to join on top of a mountain, I have never felt more welcome anywhere. How people can write all the Middle East off as a dangerous place to travel baffles me. Oman is safe. I slept in a tent every night and had zero concerns for my safety (other than hungry goats).