Whangamomona Republic Day: that time I went to vote for a cat in an election…
This website uses affiliate links which may earn a commission at no additional cost to you. As an Amazon Associate I earn from qualifying purchases.
Updated: 12th January 2023
In what may have been the most bizarre sales pitch of my life, I rallied around the crew in my hostel to sell them the idea of going to vote for a cat in the self-proclaimed Republic of Whangamomona's elections.
I didn't know how to pronounce it, and I certainly didn't know if the cat would win – yet, somehow, I managed to convince my new-found friends that Whangamomona Republic Day was an event we simply couldn't miss.
Update: The next Whangamamona Republic Day is on 21st January 2023, details here incase you want to make it happen!
Having based myself in New Plymouth – the capital of New Zealand's tucked away Taranaki region – for the first few weeks of my working holiday, I quickly came to the realisation there are a lot of weird and wacky things celebrated in the land of the long white cloud.
From the giant carrots and L&P bottles I'd gawped questioningly at on the highways, to the unexpected New Plymouth light festival where we had seen a fire dancer accidentally launch their flaming baton into a row full of shrieking children in the days before, it was shaping up to be a land of curiosities and questionable events.
Thankfully, I was happy to discover that my motley hostel crew were as equally down for embracing Aotearoa's bizarre attractions as I was.
Now, I'm going to call it and say Whangamamona Republic Day was a huge success. A few of us have even kept in touch and have met up across different countries and continents since. Going to vote for a cat, watch people bathe in eels, and attend a sheep parade is apparently solid social glue for years to come.
So, if you want an utterly jaw-droppingly strange way to bond with newfound friends, and find yourself in Taranaki or the Manawatu-Wanganui regions of New Zealand every other January, then get yourself a passport – yes, really – to the Whangamomona Republic Day and experience this slice of New Zealand that's so-remote there isn't even phone reception.
Wait, New Zealand has a republic inside it?
Bear with me because the answer is very much yes – but also very factually no.
This strange old story dates back to 1989. While perhaps the most notable event of that year in Europe was the fall of the Berlin Wall, in New Zealand, they were figuratively trying to erect them.
The local councils had decided to reshape the country by changing the boundaries of regions. Whangamomona, which was in the Taranaki region, suddenly found themselves being shifted to the Manawatu-Wanganui Region. In the immortal words of Shania Twain – that did not impress them much.
Whangamomona's community vehemently wanted to stay part of Taranaki. So, on 1st November 1989, a mere week before Germany's dividing wall fell, the residents took matters into their own hands.
Declaring themselves a republic in a rallying movement – the event was more protest than official – and announcing a flag and a passport, this remote verdant pocket of New Zealand became the self-proclaimed Republic of Whagamomona.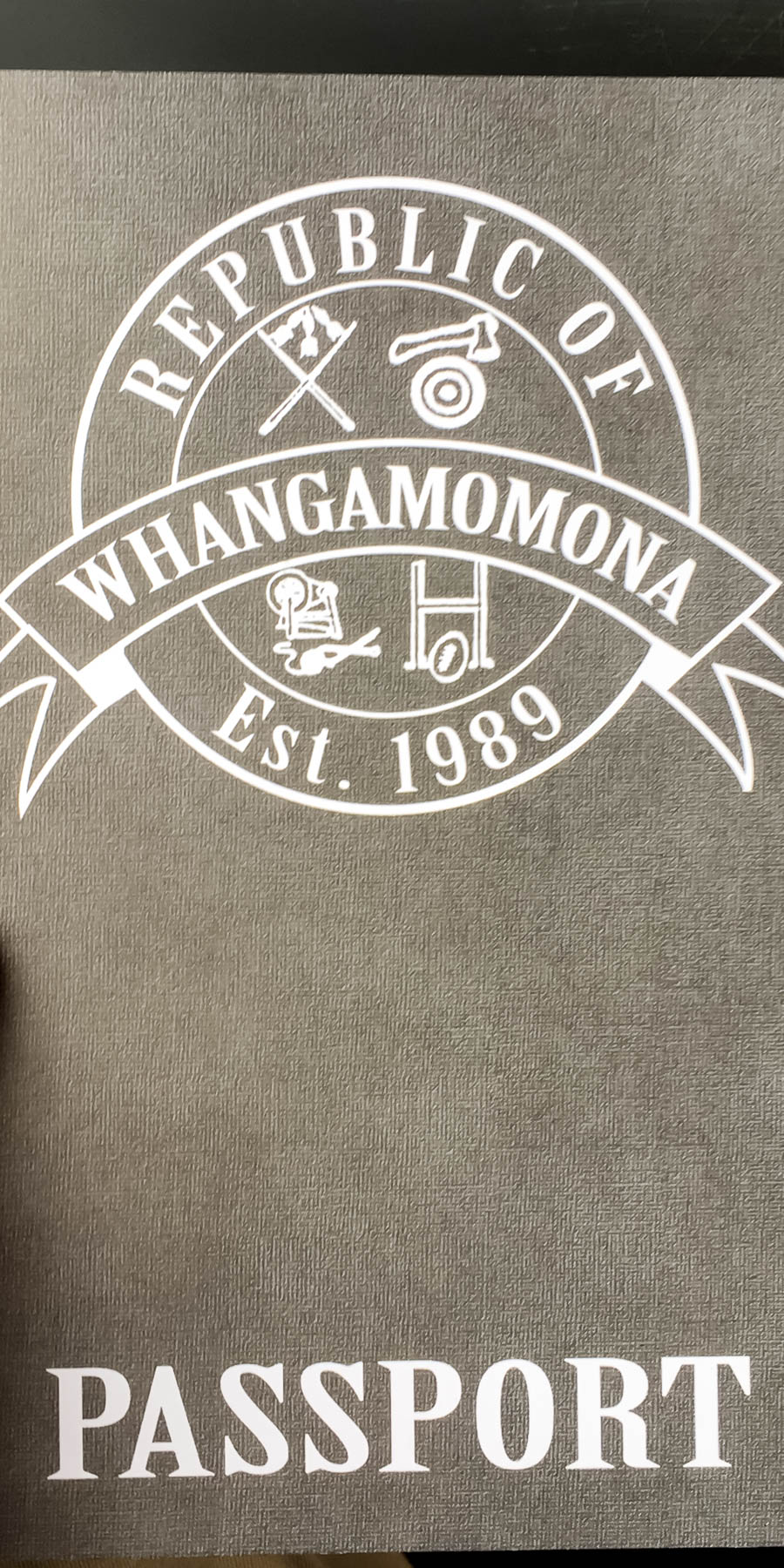 While it would never hold up in court – and the Republic's 125-strong population's plan to secede was never much of a likely reality – the celebration has continued.
Every two years, the Whangamomona Republic Day takes place, and the locals, plus plenty of animals, welcome guests from far-flung places such as New Plymouth (a 90-minute drive) to join them for the grand elections and other oddities.
Do you need a ticket for Whangamomona Republic Day?
Ticket, no. Passport, yes.
If you are going to be using the buses from Stratford, then you'll need to book and pay for these in advance via the tourism board. If not, you'll still need to buy your 'passport' to enter the Whangamomona Republic, and these cost the border-crossing-bargain of $5 (2017 price).
I think it's fair to say these travel documents won't get you across international borders – or even aboard a domestic flight – but you'll certainly get a stamp on the flimsy paper when you enter the Republic of Whangamomona.
Being a kind and giving bunch, the people of the Whangamomona Republic donate all funds from the event and passport sales to local causes, such as health groups, schools and supporting youth clubs and events in the village.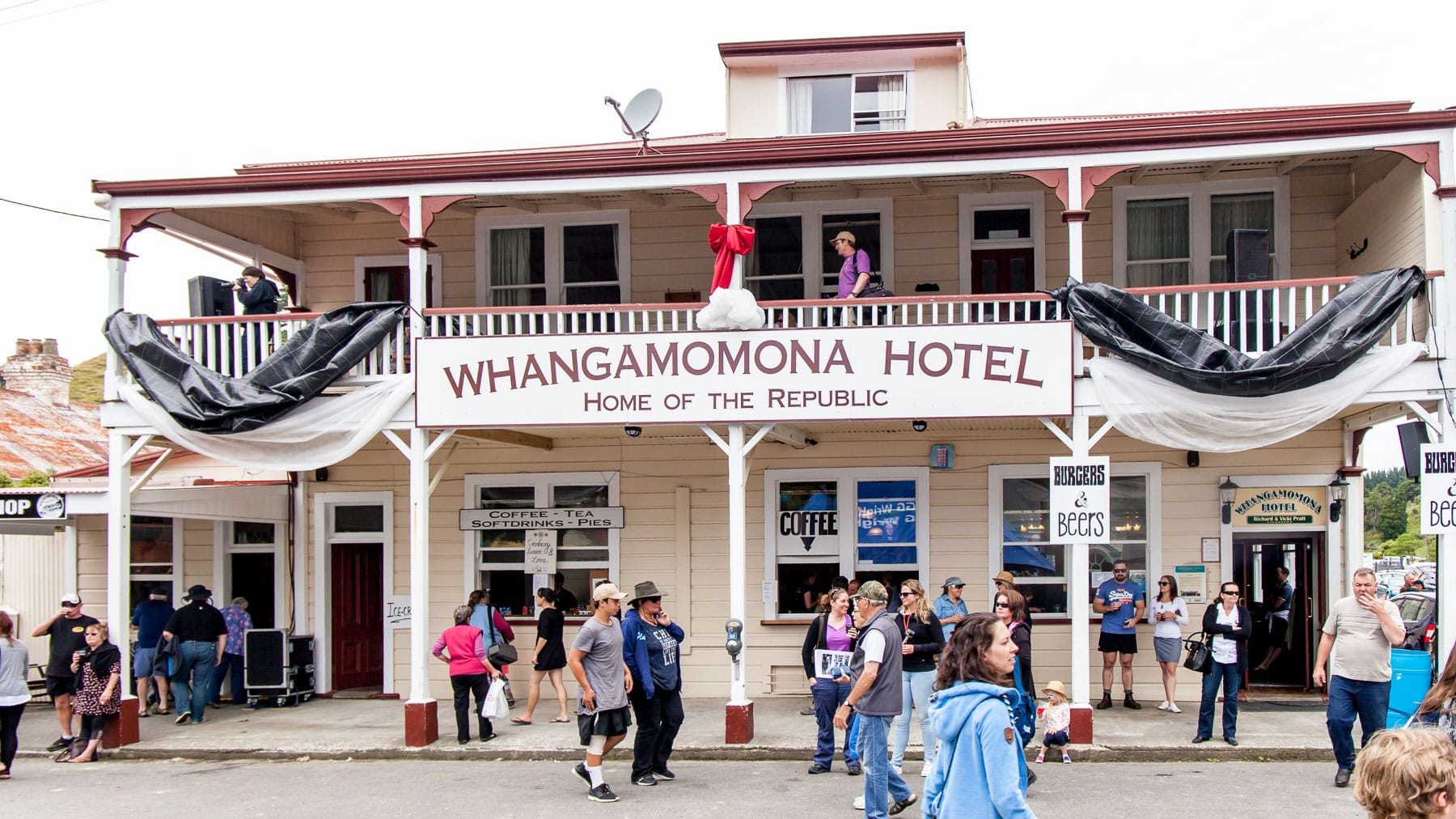 So, what happens when you get to Whangamomona Republic Day?
My morning started in the city of Stratford, Taranaki, where multiple buses were shuttling us – the new passport owners – down to the Whangamomona Republic.
The hostel squad had opted to drive, but I was signed up for the fully-fledged experience and wanted to travel on 'Air Whangomomona' as I'd affectionally named our farm-style barely 4-wheel drive.
Winding down the Forgotten World Highway of Taranaki – it's spellbindingly beautiful place, you should come to cycle it sometime – the landscapes shifted from the urban (well, nothing's really that urban in these parts) to dense hills clad in almost jungle-like flora. This is one of the least visited parts of New Zealand's North Island.
Whangamomona is tiny, the population of which wouldn't even fill a jet if 'Air Whangomomona' was real. But, on Whangamomona Republic Day, it's a different story. With the roads closed, the streets are packed with events: some fun, some strange, and some just, well, I don't know… concerning?!
The second we arrived, it felt like 'Air Whangomomona' had trundled through a time warp. If New Zealand had a Wild Wild West, at first glance, this could be mistaken for it.
Stepping into a swinging door to use the toilet, I found the friendly locals smiling, laughing, and sinking cold ones in the Whangamomona Hotel – the central meeting spot and the Republic's only pub and accommodation.
The community feel of this event is strong, and you can tell how happy and proud the residents are to share both Whangamomona with visitors, but also the self-proclamation story. On occasion, the crowds can peak above 1000 for Whangamomona Republic Day, so it's clearly a legend many want to indulge in.
Food stalls supplement the Whangamomona Hotel, so you can chow down on some tasty local treats – think Kiwi favourites such as pies, lamingtons, and plenty more beers.
Performances are put on throughout the day by bands, dancers, and sometimes well-meaning but slightly lost sheep. Special guests are often invited, and to my jaw-dropping surprise – and especially that of my then fawning friend Anna – a top regional rugby team were present, including members of the world-famous All Blacks.
More bizarre events, which some animal lovers may find questionable, include the sheep shearing competition, possum skinning (possum skin is used a lot in New Zealand in a similar way to leather) and the baa-zzare sheep race.
You can also play 'guess how many eels are in the bathtub', or perhaps be daring and swim through it – as demonstrated here by the aforementioned rugby stars.
It's certainly worth noting all eels make their way back to the river at the end of the day, and the idea is none of the animals should be harmed for entertainment.
Essentially, this a 'good old-fashioned Kiwi day out' – and we all certainly had plenty of laughs and memories to take away.
Local businesses – local in New Zealand terms, but many are from 'across the border' – sell their wares, and if you want to venture out and explore the area, there are possibilities. Scenic helicopter flights over Whangamomona and the Forgotten Highway were running when I attended Whangamamona Republic Day, and at only $50 per person, they were by far the cheapest I had seen in New Zealand.
The disused train tracks also play host to little carts and peddle bikes, so you can venture off to see a slice of New Zealand's history away from the crowds and 'party political broadcasts'.
Cast your votes – can the cat do it?
The main event of Whangamomona Republic Day, though, is certainly the presidential elections.
We all opted to put our ballot down for the pub cat – I'm being rude; his official name is Ted – who mysteriously went missing just before the votes were counted. Foul play was rumoured, and even the regional TV crews who were covering the polls seemed concerned.
Luckily, Ted turned up. Thankfully, without a security team, I got to hold him just before the national news – yep, the big guns – interviewed him for both TV and newspapers. Worryingly – or perhaps reassuringly – on slow news days in New Zealand I've seen even more peculiar stories still.
For those of you who have stayed with me to hear the exciting news of the cat's political crowning – thank you for scrolling. Sadly, however, I must share that Ted's dreams of grand office were dashed at the last hurdle.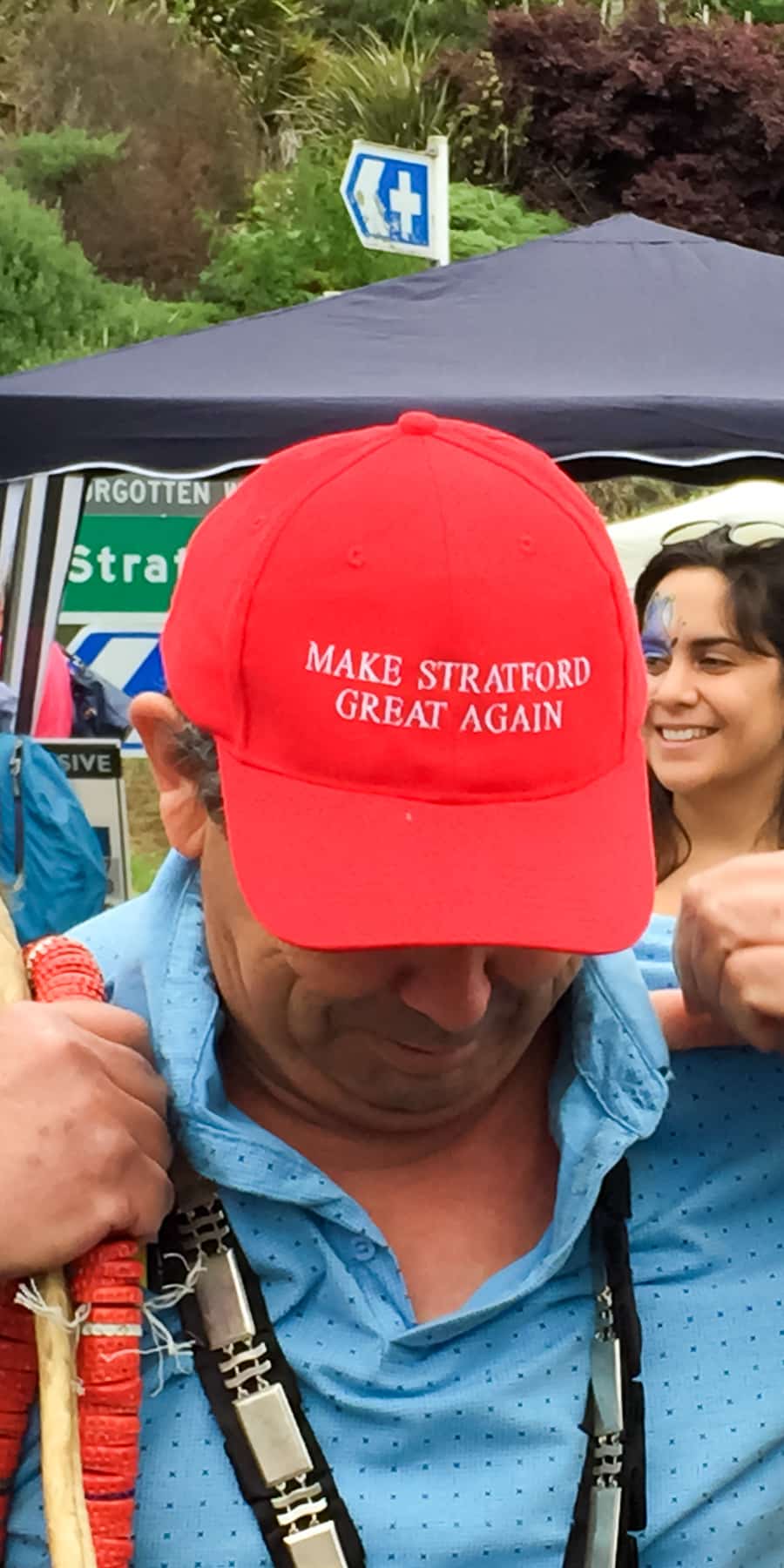 It's important to mention this certainly wasn't due to any preference for humans, though. In previous years, four-legged friends have been elected – including Billy Gumboot the Goat and the crisis-prone Tai the Poodle.
Reportedly, the poodle's term ended early after an assassination attempt; perhaps it's better the cat could scarper away to the back of the pub and live out his nine lives in peace.
I think, with that strange recalling, I've said all I can about Whangamomona Republic Day. When the time came, we piled back into my mate's car – 'Air Whangomomona' was having delays with the unexpectedly high traffic. Spirits were high – perhaps it was meeting Rugby stars rather than my genius idea to drag everyone down here that did it – and we set off back to 'real New Zealand'.
If you, too, want to experience Whangamomona Republic Day, get your passport application in for the next edition on 21st January 2023 and make the Republic a stop on your New Zealand North Island itinerary.
Oh, and if the cat's still there, give Ted a stroke from me!
https://www.danflyingsolo.com/wp-content/uploads/2017/04/whangamomona-republic-day-0250.jpg
1012
1800
Daniel James Clarke
https://www.danflyingsolo.com/wp-content/uploads/2022/01/blogo-1w.png
Daniel James Clarke
2023-01-12 18:21:22
2023-12-02 23:02:49
Whangamomona Republic Day: that time I went to vote for a cat in an election…