A quick guide to Tokyo: must-visit neighbourhoods, attractions and easy day trips
This website uses affiliate links which may earn a commission at no additional cost to you. As an Amazon Associate I earn from qualifying purchases.
Updated: 11th April 2020
When I first visited Tokyo, I had no idea where to start planning my trip. This sprawling mega-city seemed never-ending when I was doing my online research, and with the numbers thrown at you (from population to area-covered), it can certainly seem overwhelming.
For my second visit, however, I was more prepared, and planned my time out based on the different neighbourhoods, also basing my self more centrally in Roppongi, which was a good move. While the transport network in Tokyo is very impressive, having a more structured approach to sight-seeing is a must, especially if you want to fit everything in, and perhaps some day-trips to the likes of Yokohama and Mount Fuji.
On my first trip I spent a week based in Tokyo, taking side trips, and on my second visit just a few days catching some highlights. Either way, here is a quick run-down of the main attractions and neighbourhoods in Tokyo, and a few day-trip suggestions for your visit to the amazing capital of Japan! Also, don't forget to download some of the best language learning apps before you head off!
Asakusa (and Sensō-Ji)
Asakusa is a fabulous area that retains a lot of its old charm. Home to one of Tokyo's most famous cultural attractions, Sensoji, a stunning Buddhist temple from the 7th century.
Jump on a rickshaw or take your time and explore by foot, there's plenty to see. Shoppers will love the shopping streets of Nakamise and Shin-Nakamise along with the big malls of Tobu Asakusa Station & Matsuya that caters for most tastes along with the more authentic, made in Japan themed Marugoto Nippon.
Sight-seeing can continue onto the water with a Sumida River Cruise, stretch your legs in the Sumida Park or visit and play some drums at the Taikokan (Drum Museum). Beer lovers can visit the Asahi Beer Tower or head to Rukku for rakugo theatres, pachinko parlours and cinemas.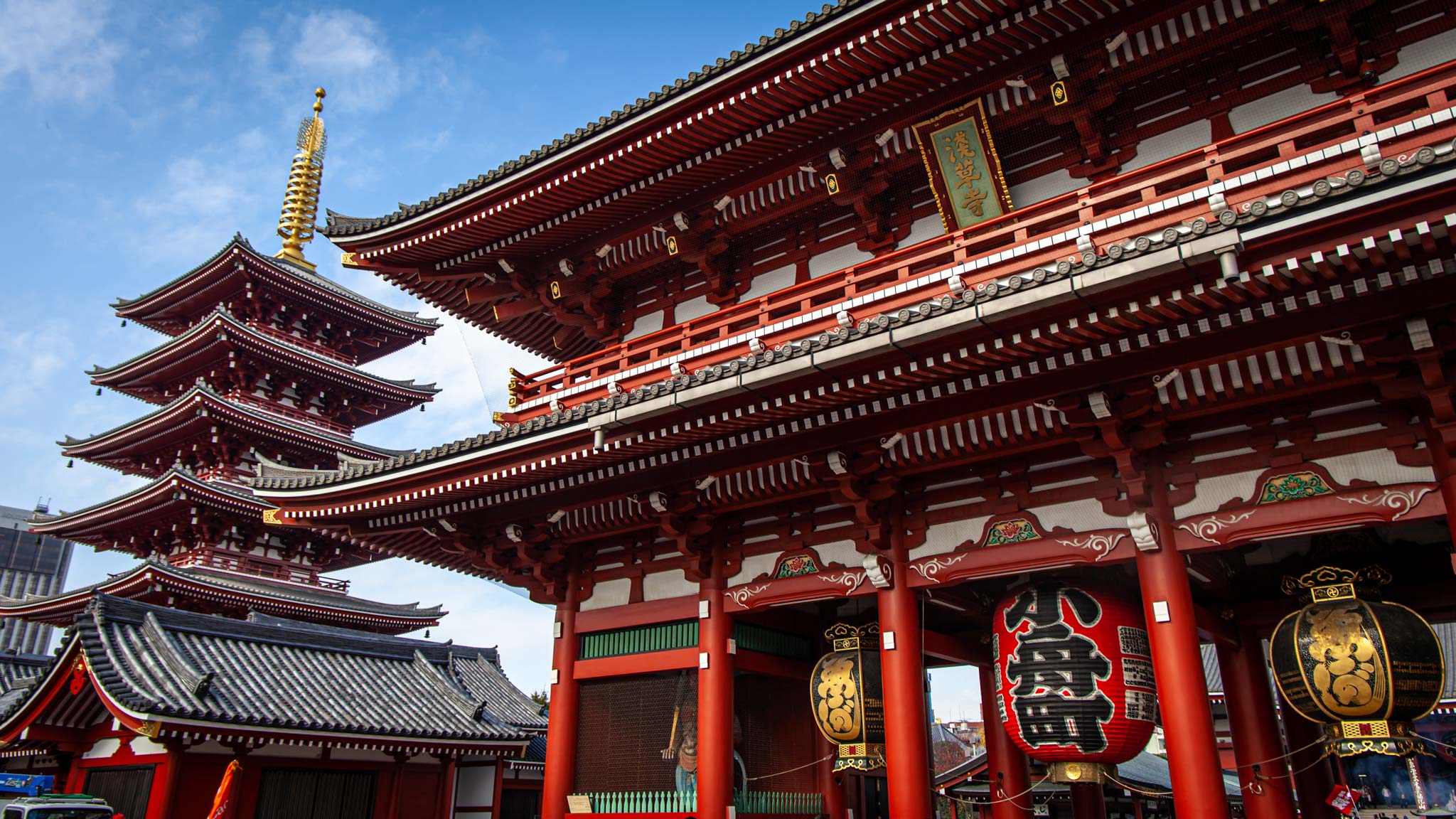 Akihabara (and its arcades)
Electronics, anime and manga otaku (super fans) will love this district for its endless shops, arcades and cafes. Sega has four mega arcades in Akihabara varying from VR, crane games, video games, fighting to shooting, from action to sports.
Maid and manga cafes are some of the quirky, interactive options where you can be served by a hostess dressed as a maid or anime character while enjoying your favourite beverage or flicking through comics. The popular idol group AKB48 inspired cafe serves food inspired by the group and has a theatre where the members perform for their fans or Mobile Suit Gundam Cafe that's decorated with art and themes from the series.
Speciality stores selling retro video and card games along with figurines and collectables are dotted around between the vast stores.
Roppongi (and its nightlife)
The Roppongi district in Tokyo is a well-known area for nightlife, favoured by foreigners with a significant ex-pat settlement.
There are loads of clubs, bars, happy hours, brightly lit neons, flashing for your attention. The famous Jumanji 55 has its four-hour-long all-you-can-drink from 7-11 pm for 1000yen as do New Planet and Greenland.
Chinese Cafe Eight is a rather intriguing eatery, with "interesting" decor and excellent Peking Duck carved tableside and great dumplings.
Then, there's the more classy Roppongi Hills with its stylish recreational facilities. Tourists attractions are plentiful here with shops, restaurants, a movie theatre, the Mori Art Museum and Tokyo City View observation deck on the top floors of this towering building, one of the tallest in the city.
I stayed in Roppongi on my most recent trip and found it a pretty handy base to explore from, certainly much nicer of a neighbourhood than my previous visits. I checked into the Hotel & Residence Roppongi which was a short walking distance from the hub of activity, but far enough away to avoid the nightlife when it was bedtime. On my first stay, I was in the standard rooms which were nice enough, but when I returned to Tokyo before my return flight, they upgraded me to one of the traditional suite rooms which were really nice.
Blending modern facilities like hug tub baths, coffee machines and 4k TVs with the more traditional low to the floor mattresses/futon and washing machine facilities, it was a great place to rest my head. The restaurant downstairs also served amazing set-menus, including for vegetarians and vegans, which can be hard to find in Japan.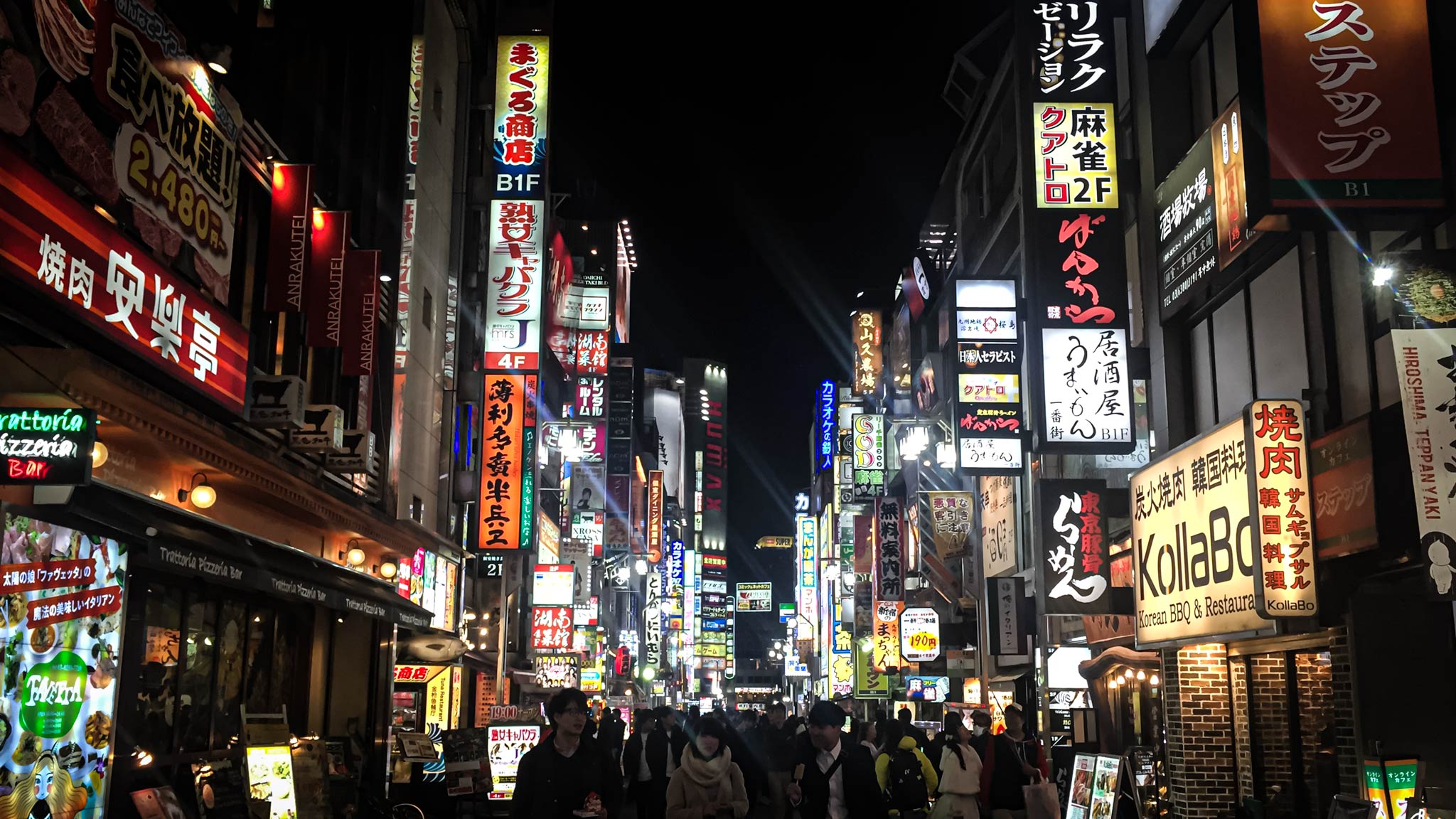 Sumida (and Tokyo Skytree)
Sumida is the home of Ryogoku, Tokyo's sumo district, the Tokyo Skytree, the Edo-Tokyo Museum, narrow streets and traditional bathhouses. Gardens and green river banks border both the Arakawa and Sumida rivers, making it a charming district, still with many traditional wooden houses. In stark contrast, the tallest building in Japan, The Tokyo Skytree towers above the shrines and tiny houses of days gone by. Fed by Tokyo's thirst as technological leaders and lovers of soaring skyscrapers, this area is undergoing massive gentrification but still has enough, beautiful, Edo period touches to appease history buffs.
Many independent art and design galleries, small cafes and shared spaces are cropping up, making it a hip area for creatives. There are malls of course, but also charming shopping streets, called shotengai, that sell speciality foods like tofu, Japanese sweets and rice crackers.
Shibuya & Shinjuku (Crossing, Meiji Jingu and Shinjuku Gyo-en)
Shibuya crossing is the intersection by the Hachiko exit of Shibuya station. You'll recognise it straight away as hundreds of selfie sticks are at the ready, waiting for the green light. Giant screens flashing adverts and music out over the crossing give it a charged atmosphere. Head up to the viewing platform in Shibuya Scramble Square to get a birds-eye view or join one of the crazy Tokyo carting tours to enjoy the crossing without the hoards. Shopping, bars and restaurants are in abundance here.
Meiji Shrine and the surrounding Yoyogi Park are in the largest forested area in Tokyo and offer a serene experience and is one of Japan's most popular shrines. Many visitors take part in Shinto activities, making offerings or writing wishes on an ema.
By the entrance, there's a monument made from wine barrels – somewhat out of place you may think, but then reading the plaque, you'll find that the Emperor loved wine. To this day, representatives from the Confrerie des Chevaliers du Tastevin, a French historical organisation visit Meiji Shrine every year for the dedication ceremony.
Shinjuku is as busy as you've heard, but oddly, it is straightforward to dial into the flow of more than 2 million daily passengers using this station. A massive, bustling entertainment, business and shopping area, unlike any other. Home to some of the tallest buildings in Tokyo and the Metropolitan Government Office where you can use the observation deck, free of charge to take in the view.
Kabukicho is where you'll find the insane Robot Restaurant, the red-light district with Godzilla popping his head out of the Hotel Gracery, a vast number of arcades, restaurants, love hotels and everything you can imagine in-between. A beautiful, large park called Shinjuku Gyoen is a great place to compose yourself after a sensorial overload.
Minato (and Tokyo Tower)
Minato represents the merger of old and new offering cultural and historical insight into Tokyo. The natural home to many embassies and headquarters to prominent domestic and international corporations.
Shiny skyscrapers, wooden homes, bathhouses and retailers are surrounded by lush greenery and then almost out of nowhere, there's the Tokyo Tower. Three hundred thirty-three meters of steel, towering above its neighbours and 13 metres taller than its inspiration, the Eiffel Tower. This was the tallest building in Japan until the Skytree took over in 2012. The main deck is 150 meters up and can be reached either by lift or via the 600 steps up. The floor windows and external aspects are both interesting and good photo opportunities.
Ginza (and its expensive shopping and nightlife)
Ginza is the upmarket shopping district of Tokyo with boutiques, glamourous malls, fancy restaurants, galleries, cafes and clubs all packed into the most expensive real estate area of Japan.
Top international fashion houses mixed with department stores and the newest range of Nissan cars or Sonys' latest offerings in the Ginza Place showrooms.
There's also a twelve storey Uniqlo store where fans will find the most diverse selection of the brand. Treat yourself to a Kabuki performance at the famous Kabukiza Theater. Diners can spoil themselves with the fantastic crab at Kitafuku Ginza or head to Yurakucho Gado-shita via the Ginza station for some of the more exciting foodie joints in the area, by the tracks. Yakitori, izakaya, French wine bars and beer joints are all perched happily together here.
Hibiya (and the Imperial Palace)
Hibiya is not strictly a district, more of a colloquialism for Chiyoda ward. Some local names remain such as Hibiya Park and Hibiya Station from the early nineteen-hundreds.
Tokyo Imperial Palace is a historically rich attraction in Chiyoda, surrounded by pristinely landscaped gardens and parks, welcoming visitors to the grounds, all year round. Although the original Edo Castle was sadly destroyed in the second world war, great care has been taken to rebuild the palace in the same style as the 1888 version. This has been the residence of the Emperor of Japan and the Imperial family since then.
Boasting a perfect hanami viewing spot, an ideal retreat to explore the parks and gardens free of charge.
Ueno (and Ueno Park)
In a city known for its super-fast pace, there are plenty of places to grab some air and take a break. Ueno Park is one such place. Formally, the park has been centre stage for many a battle until in 1873 it was officially transformed into a public park for the recreational purposes of the area. Reminders of the Parks once grand stature are evident with the Bentendo standing in the middle of Shinobazu pond on an island.
Temples, museums and the Ueno Zoo are all located here too. Take some time to visit the Tokyo National Museum, National Museum for Western Art, Tokyo Metropolitan Art Museum and the National Science Museum. With more than 1000 Cherry trees, it's a hugely popular hanami.
Odaiba (and the Statue of Liberty replica)
Take a stroll across the pedestrian track on Rainbow Bridge, and you'll find Odaiba. With a manmade 800 meter beach in the heart of Tokyo where many events take place. There's a replica Statue of Liberty to commemorate France Year, standing at eleven meters, she's a sight to behold.
Borderless by teamLab is a top-rated attraction, showcasing digital art. Take your time here as there are lots of surprises. Book in advance as it often sells out.
The Tokyo Big Sight is located on the island and is a wild architectural feat. Huge events take place here like the International Anime Fair, Comiket and the Tokyo Motor Show. For shopping try, Decks Tokyo Beach Mall, which on top of the usual shops, has Joypolis, Legoland, Madame Tussauds, a trick art museum and many theme parks.
Aquacity is packed with boutiques, stores, a large cinema complex, restaurants and cafes. DiverCity Tokyo Plaza is a large complex with a life-size Gundam at the forefront and has many anime attractions.
How about a hot spring theme park? Oedo Onsen has indoor and outdoor baths, massage, entertainment and dining along with overnight accommodation.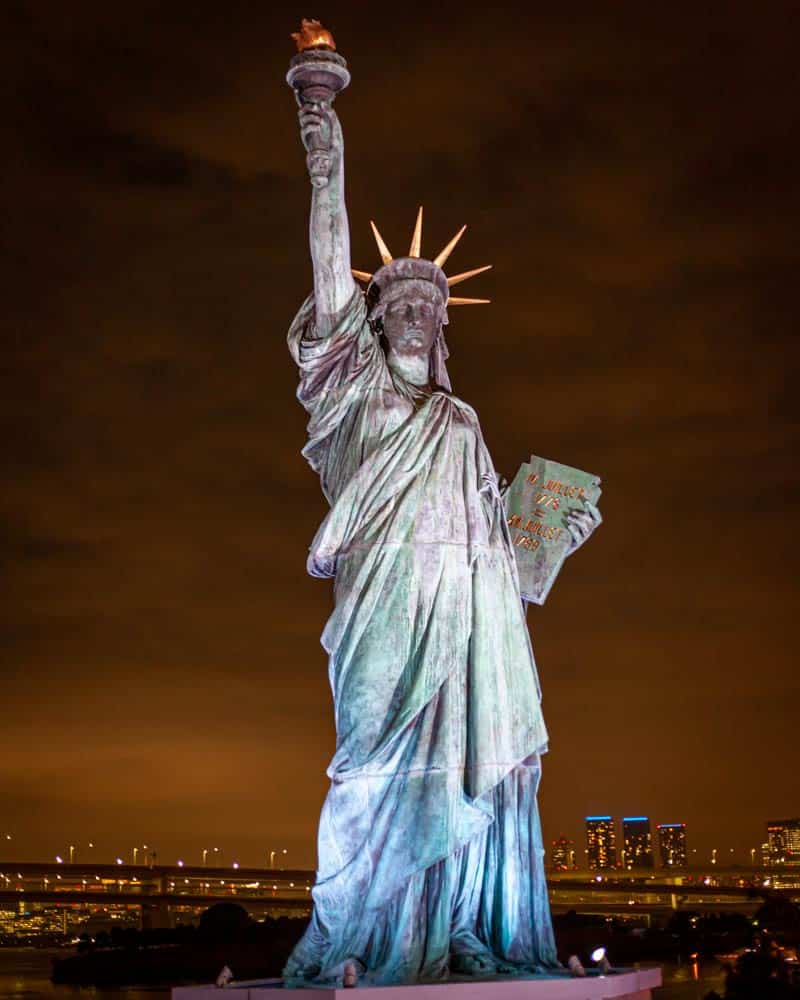 Tsukiji Fish Market (and all the food)
The famous Tsukiji inner market closed in October 2018 and was replaced by Toyosu Market on the island of Toyosu. Fear not though, this market was really more for professionals, and you can still visit the highly atmospheric Tsukiji outer market.
A network of narrow streets packed with vendors selling Japanese delicacies and trinkets, you can quickly lose half a day here. Some of the stalls represent excellent value for central Tokyo with great Sushi breakfast options and excellent Kaisen Don. If you fancy splashing out, try a small wagyu skewer for around 9000yen for a tasty meat treat while soaking up the street life. Knife, tea, herb, fish and clothing vendors have their stock on display and prices are clearly marked to avoid confusion. It's definitely worth a visit.
Kabukicho (and 'Piss Alley')
Kabukicho, officially the red light district, this is where you'll find some of the crazy, "only in Tokyo" moments to bring home. Golden Gai is a collection of minibars, with most of them having space for no more than eight people.
There are around 200 bars packed on top and beside one another over about 4 streets. Many of the bars charge an entrance fee and have a limited drinks selection, some only serving one thing. The atmosphere is fantastic, and you have no option but to get to know your fellow patrons and hosts. You'll find some bathhouses dotted around as you head back to the main streets of Kabukicho, lots of arcades and eateries.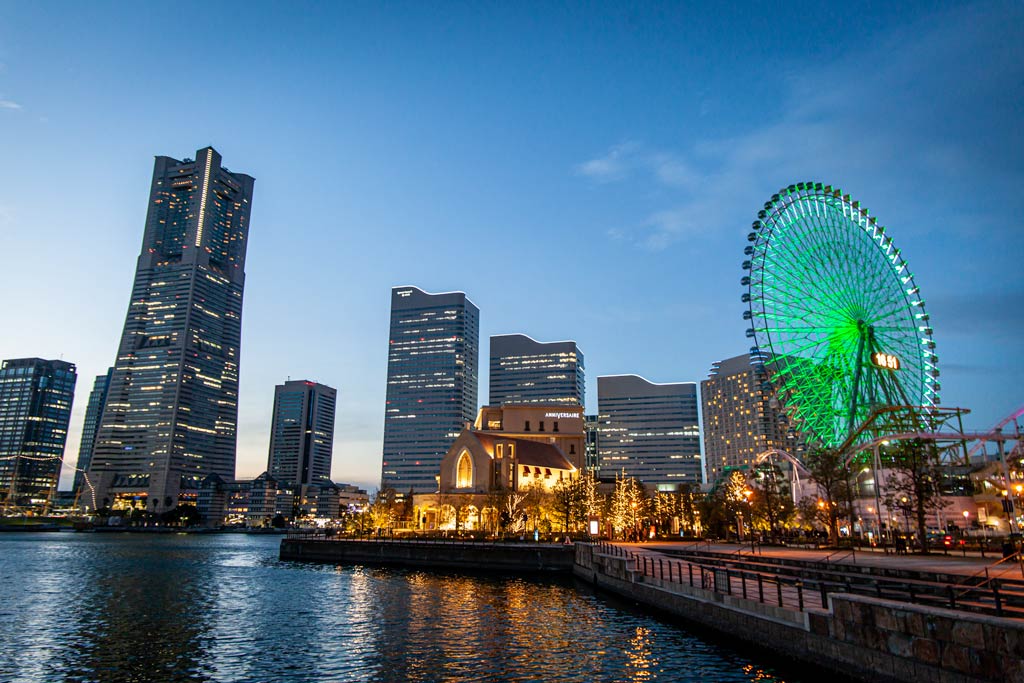 Day Trip: Yokohama
Yokohama is a great day trip, being under an hour from Tokyo by train. A sprawling city itself, Yokohama isn't a huge contrast to Tokyo, and given the sprawl of the urban area, they could almost blend into one.
There's a cool theme park in Yokohama, with plenty of attractions for the kids, but perhaps the best reason to visit is the Cup Noodle Museum, where you can learn the history of this famous potted dish, and also make your own one, lining up to pick the ingredients before it is air-sealed and then designing your own labels. It's mainly for kids, sure, but I was not ashamed to sit there as a lonely solo traveller having my go!
Yokohama is also home to the largest China Town in Japan, where there are bustling markets and lots of delicious Chinese dishes to sample.
Day Trip: Kamakura
Kamakura is south of Tokyo, and it takes around an hour to reach. Once there, it's relatively easy to explore by foot.
Here you'll find beaches, that although aren't the most picturesque in the country, and popular with surfers in the summer months.
The main reason to visit Kamakura, however, is for the temples that litter the greenery here, including the most famous Great Buddha. It's often called a mini-Kyoto, and there are some different walking trails between the temples, as well as a cute local train you can hop on from the main station to help you explore.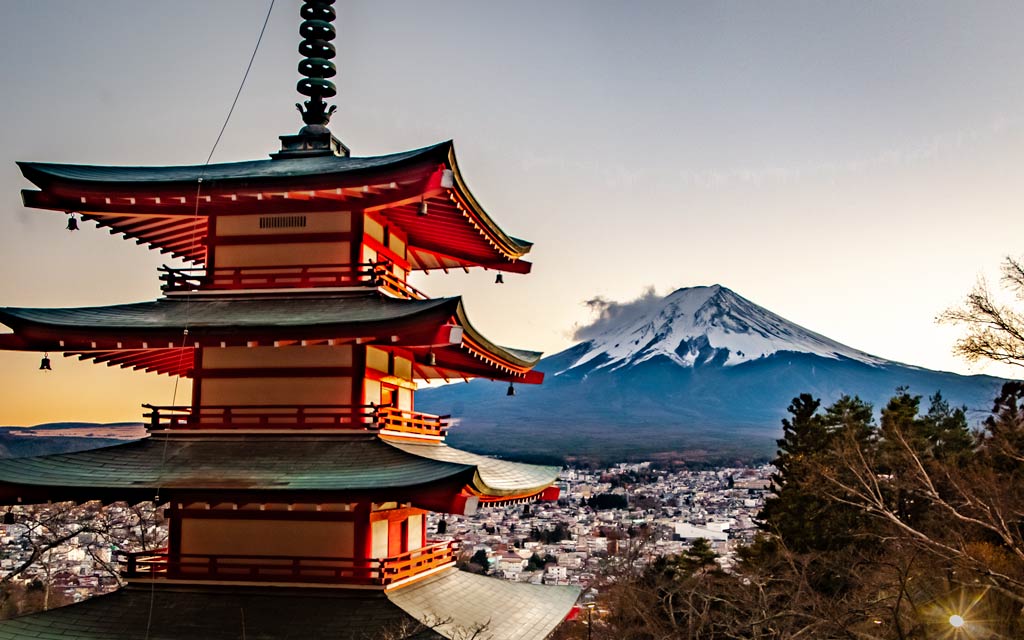 Day Trip: Mount Fuji
Mount Fuji is an easy day-trip from Tokyo, you can take the Shinkansen in around 40 minutes, or the slower JR train in about 90 minutes to the Hakone region, where you'll need to change to the slower local services. Alternatively, you could book a day-trip tour from Tokyo.
Make the most of the day by heading out early. We left it a bit late for our trip, so ended up only heading to the Chureito Pagoda for what are (mist allowing) some of the best views of Mount Fuji, and it was a lovely afternoon out.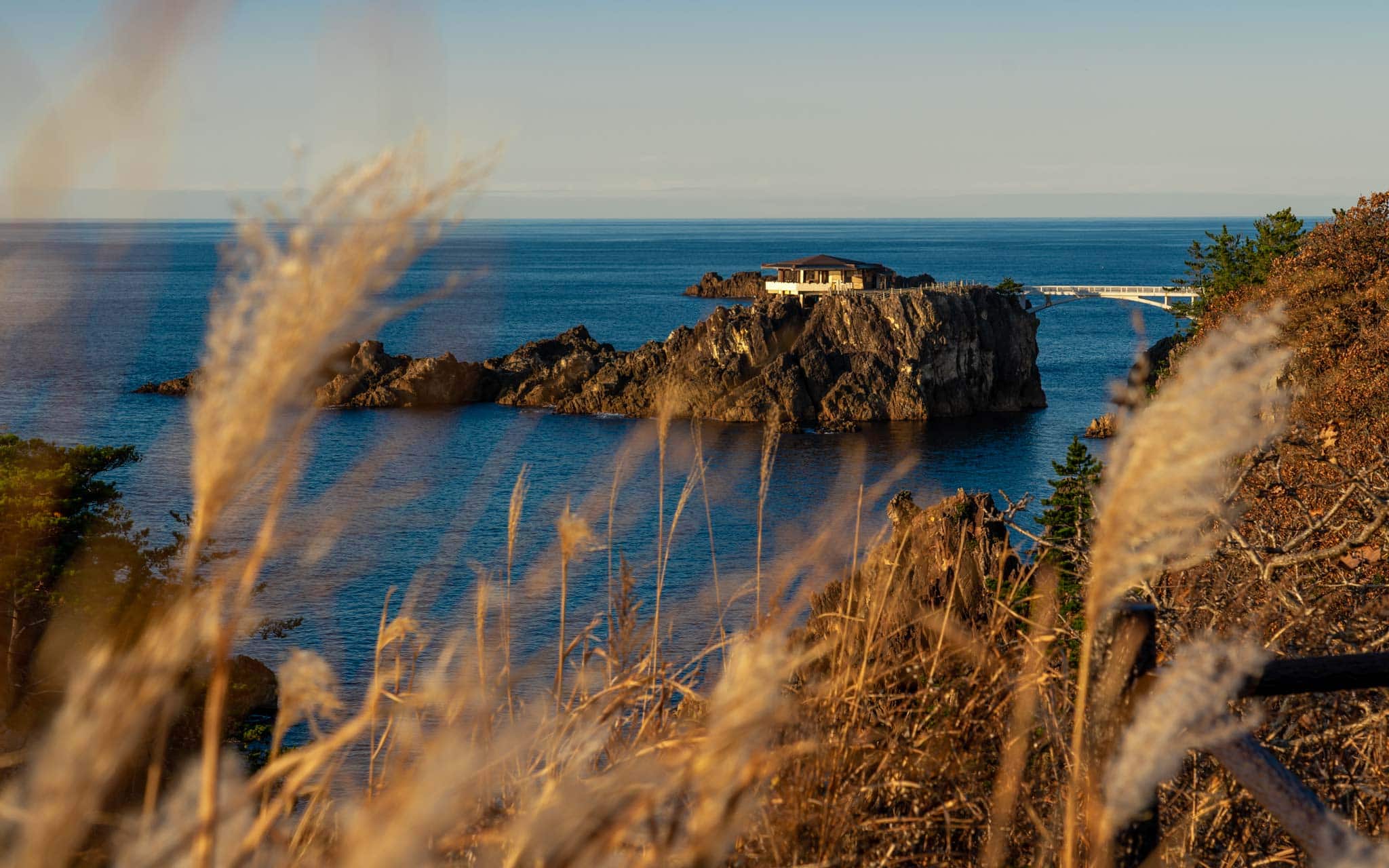 Over-night trip: Sado Island
If you're in Tokyo and looking for the opposite of the Japan city experience, Sado Island will oblige. A Shinkansen train will deliver you to the port in just over two hours, and from here, a hydrofoil will whisk you to the off-coast island in under an hour. With an impressive history of gold mining, it's from here a fair chunk of Japan's wealth originated from. This certainly isn't a day trip, but an overnight visit, at least.
Nowadays, the island, with its lush green forests, rugged rock formations, and crashing waves carved out over thousands of years, is sometimes compared to a Japanese Hawaii – and although not volcanic, evidence of sea lava from thousands of years ago can be spotted.
From exploring remote abandoned temples reclaimed by nature to heading into long closed down gold mining pits, this is an island far removed from the modern images of Japanese megapolises. Visit historic wooden fishing villages, take a ride in a traditional tub boat, and be sure to visit the Taiko Centro, a beloved historical drumming practice that is world-acclaimed, you can even have a lesson with a master.
Whether it is relaxing in an onsen, visiting a temple overtaken by bunny rabbits, or enjoying a pristine sunset from a bridge overhanging the weathered coastline, Sado Island is a lesser-explored jewel to escape the crowds of Japan's most populated cities.
Are you looking to explore even more further afield? Consider a visit to Kochi, to see nature, traditions and wellness experiences combine.
https://www.danflyingsolo.com/wp-content/uploads/2020/03/Tokyo-Temple.jpg
1152
2048
Daniel James Clarke
https://www.danflyingsolo.com/wp-content/uploads/2022/01/blogo-1w.png
Daniel James Clarke
2020-04-11 12:24:32
2023-06-05 14:11:33
A quick guide to Tokyo: must-visit neighbourhoods, attractions and easy day trips