The Flavours of Fundão, Portugal's Creative Cherry Capital 
This website uses affiliate links which may earn a commission at no additional cost to you. As an Amazon Associate I earn from qualifying purchases.
Updated: 19th June 2023
In Portugal's fertile hinterlands, life has long revolved around the seasons. Spring brings blossoms, summer celebrates Cova da Beira's apples, mushroom foraging follows in late autumn, and winter is welcomed by roasting chestnuts. But in Fundão, there's one constant consideration no matter the cycle's stage: cherries. Big, beautiful, and beloved carmine-coloured cherries.
Arrive in April, and this lush, dense and verdant landscape is brightened by delicate white and pastel pink blossoms as Fundão puts on a performance that could make Japan blush. By June, with the harvest in full swing, tables across the country are piled high with these juicy orbs of goodness. Come September, the pruning begins, followed by planting in November. By February, when a sprinkle of snow likely remains atop the nearby Serra da Estrela, grafting fills the agenda as tender hands await the fruit of their labour.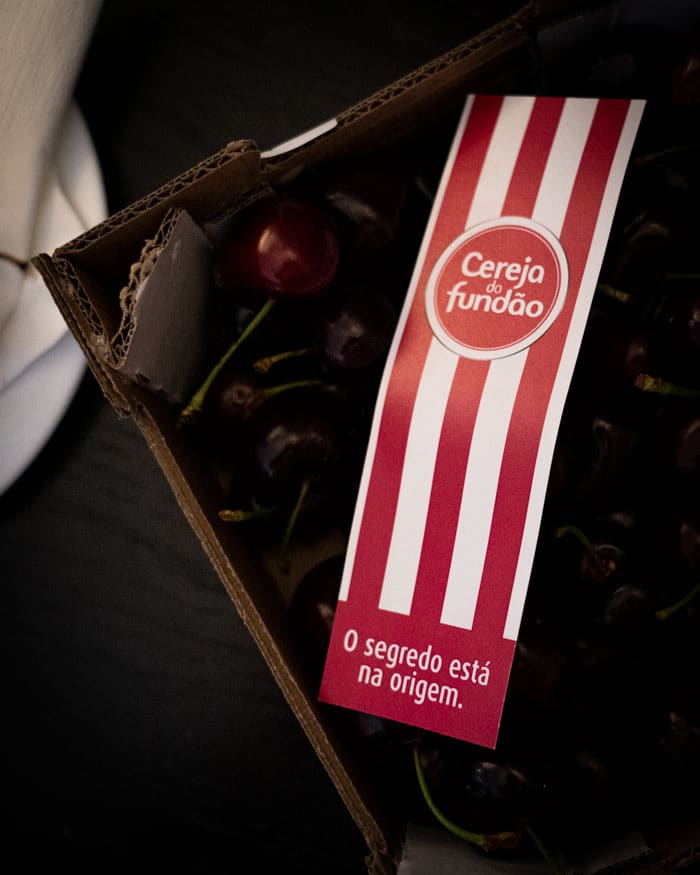 This is the core of Portugal's cherry country – but it's also a cradle of understated creativity and outdoor adventures. Orchards, flowers, vines, oaks and chestnut groves carpet the landscape, broken by the occasional castle, granite farming cottage or hiking path. Amongst the undergrowth, Iberian emerald lizards and salamanders scarper while falcons, hawks and eagles soar above, keeping an eye on adrenaline-focused biking trails while searching for their next feed.
For many of Portugal's natives, the mere mention of Fundão brings wide-eyed smiles as the memory of the sweetest spring fruit resurfaces. However, for visitors, it remains a region vastly unexplored. A crying shame, as this tiny city surrounded by the fruitful plains of Cova da Beira, is a true rural bolthole worthy of a visit year-round – especially if you combine your cherry curiosity with a tour of the Beiras' 12 historic villages.
Old town, new soul
Fundão, like many of my favourite places in Portugal's lesser-visited interior, doesn't weigh you down with countless attractions or things to do. Instead, its compact historic core invites you to take it slow and linger amongst the laneways, where analogue camera shops, cherry-heavy boutiques, and slow-paced cafes dictate the order of the day.
When you're ready to dive into the local history – Celtic roots, Roman dominance, Jewish refugees and the Portuguese Inquisition – the Manor House holding the José Monteiro Archeology Museum will fill in some facts, while a handful of churches and the odd statue are easily explored on the marked heritage route. But, behind this apparent slumber, Fundão's creative scene bubbles away without boastfulness.
Perhaps unsurprisingly, much of this reinvention comes courtesy of the cerejas. Students at the Escola Profissional do Fundão patiently perfect dishes using cherries as the base, including a more purple-tinged Pastel de Nata. Wild Snow Dog Distillery has mastered the art of crafting an award-winning cherry gin. And in the city's small tourism office, anything from cherry-infused liquors, beers and teas to soaps and chocolates can be taken as souvenirs.
Yet there's much more modern ingenuity occurring too. Stroll long enough, and you'll start spotting the bounty of street art which adorns the city, from the more traditional depiction of lace which coats an abandoned building behind the park to the upcycled wolf creation of Portuguese artist Bordalo II by the train station, contemporary has edged in.
And now, with a co-working hub and, more importantly, the space and housing to happily welcome remote workers – unlike Lisbon, where a housing crisis is beyond control – this is an old city embracing its creative soul.
Cherries many ways
"I've given away so many Fundão cherries," local guide Bruno Fonseca chuckled as we shared a lunch of cherry-topped pork loins, a dish preceded by a cherry hummus appetiser, at local favourite As Tílias.
"Seriously, kilos and kilos of cherries," he continued, explaining how his mission has been to spread the word (and flavour) of Fundão's proudest product for years. It wasn't a fruitless task, as this region's cherries have carried the PGI designation (Protected Geographical Indication) since 1994, meeting all the sizing, colour, and consistency requirements to be accredited.
Following a light and tangy cherry tiramisu – it's June, and the month-long Sabores da Cereja festival means many restaurants in Fundão (plus Lisbon and Porto) are offering cherry-inspired menus – we departed together for the village of Alcongosta. Here, farms abound, and the area is responsible for nearly half of the country's cherry production.
Entering Quinta de São Macário, owner Ana Martins received us, her three puppies playing at her feet. Set on the slope of the Gardunha, her orchards are tiered – a beautiful sight for certain in the spring blossom. While the orchards are private, one of the Rotas da Gardunha trails (Rota da Cerejas – pick up a map from the museum or tourism office) passes through, permitting a year-round peaceful and panoramic stroll amongst the trees if you haven't arranged to join the harvest.
But now wasn't a time for taking it in the views, but rather picking the ripest fruits from the trees. Placing the pairs carefully in the cestas de verga (traditional wicker baskets), we set about stacking high the sweet Saco cherries – a variety native to this region and exclusive to Portugal.
Calling for a pause, Ana pours out small glasses of cherry liquor, handing one to each farmer before raising a toast to the harvest. Luckily for me, I can escape the midday heat for the museum. For the others, it would be a race against time before the next storm struck – an unexpected hail attack had left its bruises on many of the plump fruits the day before.
Lessons and legacies
Inside the Casa da Cereja, housed in a retired primary school, an impressive and in-depth museum guides visitors through all things cherries. The displays cover everything from the world's most dense cultivation areas to the fruit's seasonal lifecycle and the traditional tools used in the harvest. It's tactile, colourful, and fascinating – but sadly, other than the videos, mainly in Portuguese. Still, the displays of traditional equipment, including baskets, ladders, and farming tools, needed little linguistic explaining.
After getting my fill of facts and appreciating the video documenting the village's annual Cherry Festival – when hot air balloons fly, dancing and singing unite, and producers come together for a long weekend in June – we left the museum searching for our adopted Saco trees.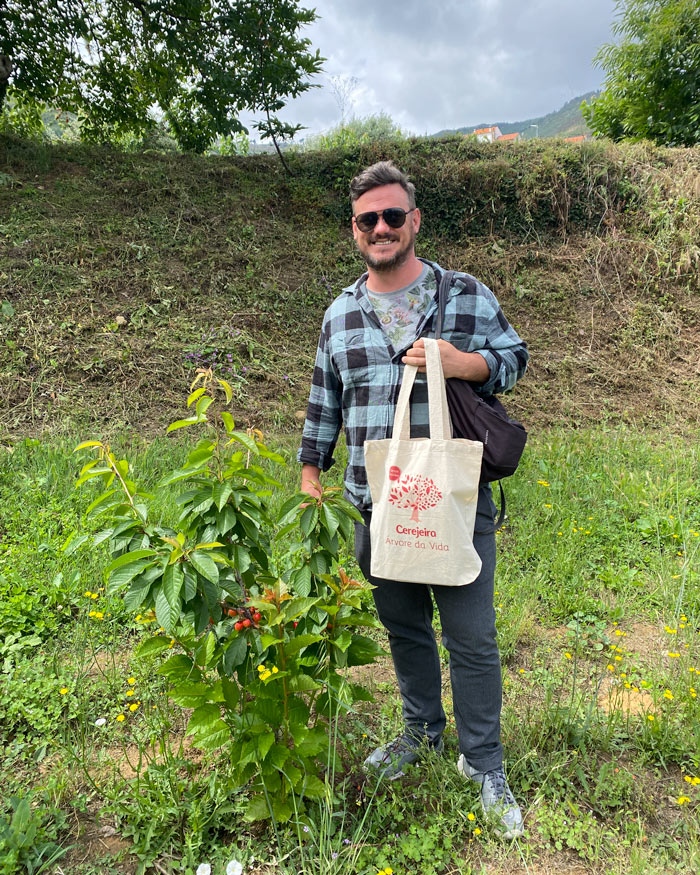 You see, in Fundão, you can leave your mark on the local landscapes by planting or 'adopting' a cherry tree. On paper, it might seem merely symbolic, but in reality, you're helping to replant the local landscape outside the private orchards. I'm signed up for all future duties, such as visiting and harvesting my own fruit, but when I can't, I'll still receive an annual box of cherries by post in its baby years.
From the cherries to the castle
Thoroughly filled with cherries – both stomach and mind – I venture to Castelo Novo for a little respite. One of the Aldeias Históricas de Portugal, a group of weathered and storied villages which dot Central Portugal, this is truly one of Europe's hidden gems.
With a Gothic castle (rather than a cherry) on top, the views from the remains of the structure span for infinity on a clear day. Backed by the serrated slate peaks of Serra da Gardunha, the plains and groves continue for miles, spotlighting the timeless landscape. An important location since the country's founding, walled Castelo Novo has been beloved by various important figures, from the Order of the Templars and D. Dinis to D. Manuel I, who gave it a royal charter in the 16th century.
Nowadays, the medieval, Manueline and Baroque styles all sit alongside each other, threading throughout a web of streets which all seemingly return to the Town Square.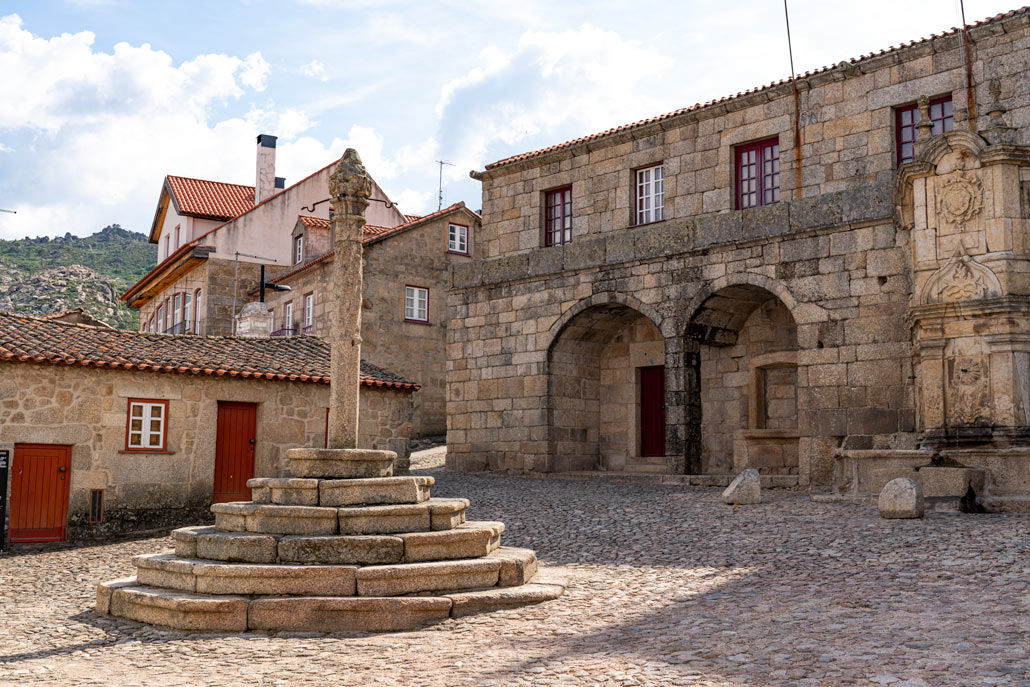 From here, where a Romanesque Town Hall presides, Knights Templar and (believed to be) Roman roads can be traced. Going up, you'll be reunited with the castle, while other stone-clad streets hemmed by hydrangeas lead to small ateliers where the village's legends are turned into dolls or the red-fronted house which once housed José Saramago, perhaps Portugal's most renowned writer, is now called home by the village's resident cat.
But the real reason to come to these villages is to do little. Find a corner of shade under an olive tree, read to the soundtrack of birdsong, and wait for dinner to be served in your boutique quarters, such as the imagination-igniting Pedra Nova.
Hinterland vines, traditional table
Back in Fundão proper, attention returned to all things cherries courtesy of the special menu at Restaurante Hermínia. Forgoing the standard choices of traditional regional dishes, such as Porco Preto (black pork), Arroz de Pato (duck rice), and stewed lamb, I opted for June's cherry special again.
Over three fruit-tinged courses, I discovered how well octopus paired with slow-cooked cherries. Paired with Quinta dos Currais's pineapple-accented white wines – the valley sits in Portugal's lesser-known wine region of Beira Interior – the water filled me in on everything else that loaded up the provincial table.
Having already visited Fundão in May, August, and now June, he suggested November for my return. "It's the month of the mushroom festival," he remarked, "you'll learn and eat a lot".
Onwards to storied settlements with sustainable wheels
Beyond Fundão's limits, the central region's hinterlands sprawl outwards, a mix of fruitful farmland, parched pastures, rocky outcrops and storied schist villages. To one side, you'll meet the raia (border with Spain), and to the other, the mountains of the Serra da Estrela. But whichever way you go, you'll almost certainly encounter another of the Aldeias Históricas de Portugal – the 12 Historical Villages of Portugal, bound together not just by a marketing tagline but by their similar and aged tales.
To explore these villages is to journey through lofty lookout castles left in ruin, dive deeper into the region's Jewish history, and venture into some of the country's hardest-to-reach dense forests. While the brave might embark on the multi-week hike to get between them all, a car is the most popular way to go, and the Fundão municipality even has a sustainable scheme to help with that, where a complimentary electric car can be hired for a few days to visit these storied settlements.
Just remember the fable of Fundão; slower is always supreme in this corner of the country.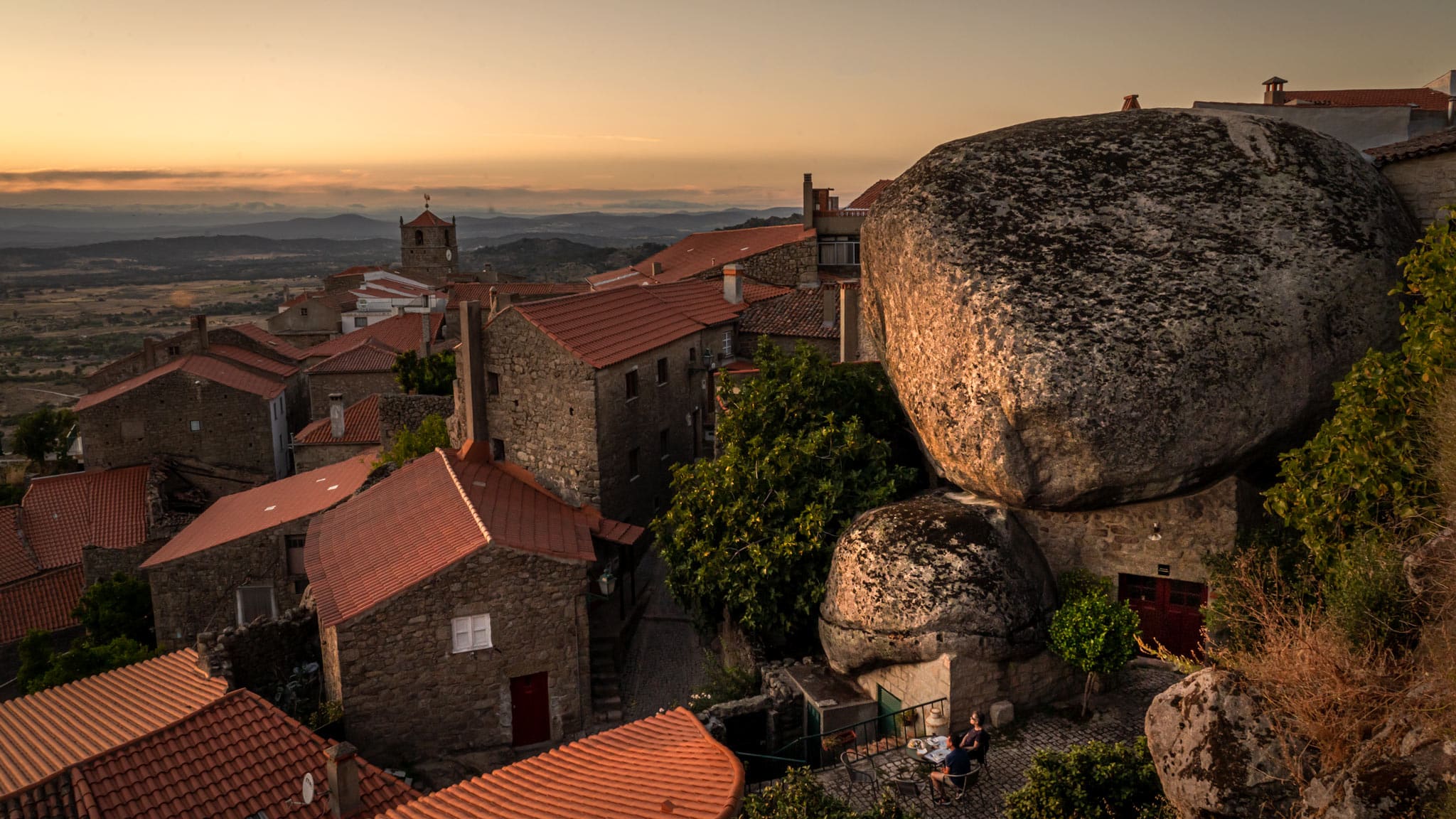 Where to stay in Fundão and Castelo Novo
Around Fundão and Castelo Novo, you'll find a surprisingly vast array of accommodation options, including many slower-paced and family-run boutique offerings. Here are a few of my favourite nearby suggestions should you wish to stay for a night or two.
Boutique: Pedra Nova, Castelo Novo
This beautifully restored home directly in the old castle's shadow has been a labour of love for the couple, who have converted it into a boutique hotel with three rooms. Not only were they incredibly kind, but the silence at night, hammocks under the olive trees, relaxing pool and vintage-style touches in the rooms all come together to make this a dreamy hideaway. Check prices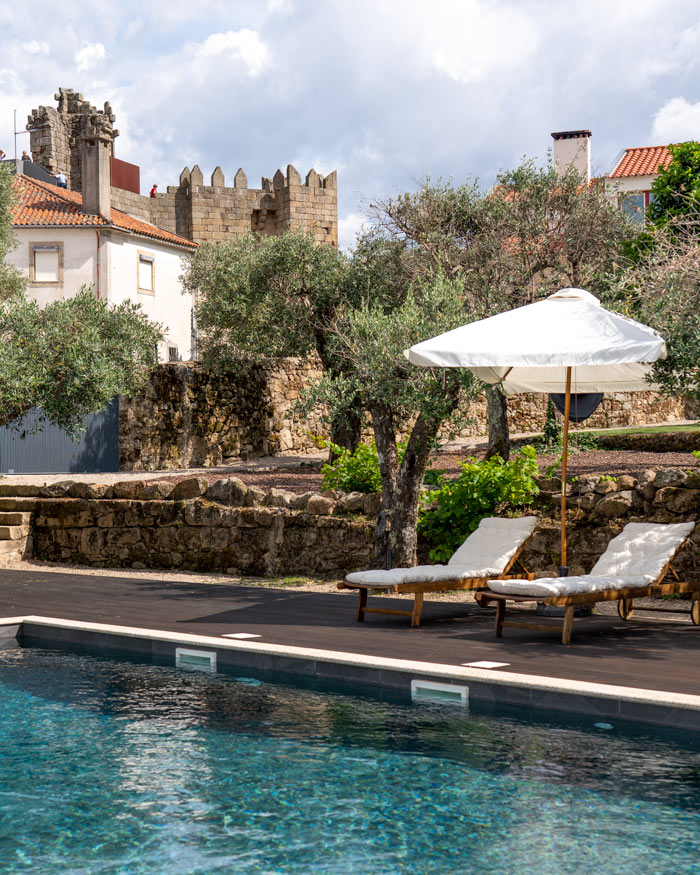 Heritage Luxury: Convento do Seixo Hotel & Spa
This 5* renovated convent is just a couple of kilometres from the historic centre of Fundão. I loved how they respected the classic touches – such as the cloisters and facade – while bringing modern elements to the rooms. There is both an indoor and outdoor pool. Check prices
Glamping: Natura Glamping
These domed tent pods in the Serra da Gardunha deliver on the glamping promise. Excellent views, scenic hot tubs and pool, and fantastic trails nearby. Check prices
Family-friendly: O Alambique de Ouro Spa Hotel
I stayed here on my most recent visit and was surprised to find such a large and modern resort-style hotel just a short hop out of the centre. Still family-owned and has grown from a side-of-the-road restaurant, this vast hotel has multiple pools, various bars and restaurants and will soon open a significant new spa project. Check prices
How to get to Fundão and Castelo Novo
Reaching Fundåo is simple by public transport from Lisbon or even Porto. However, you'll need more patience to get around without a car.
By train: Fundão sits on the Castelo Branco train line, which can be reached from Lisboa Santa Apolonia or Oriente by direct Intercity (3:30 hours) services or regional trains (around 4:20). To arrive from Porto, you'll require a change of train.
Donas is the nearest train station to the Cherry Museum (40 minutes walk), and Castelo Novo's station is also quite the walk (close to one hour) from the historical village. Both stations are only on the regional line. Book tickets at CP.PT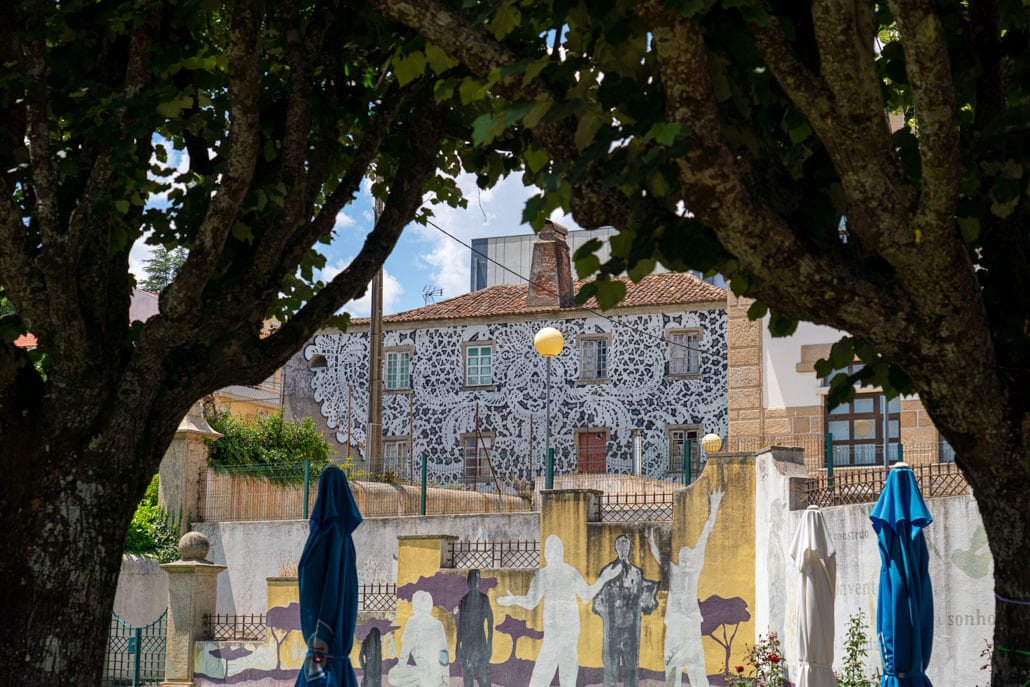 By bus: You can arrive in Fundão by long-distance bus from Lisbon Sete Rios (2:45) and other major towns and cities (such as Guarda, Viseu and even Porto) directly. Book tickets with Rede Expressos
Getting between Fundão and the nearby attractions by bus is also possible with forward planning. Buses are mainly weekday only and have much more limited services during school holidays (Férias Escolares), with some services only operating once daily. But, with a bit of timetable studying, you should be able to utilise the connections between Fundão, Castelo Novo, Alcongosta (for the Cherry Museum), and other locations to at least minimise the need for taxis. Check timetables with Transdev
​
By bike and boots: You could also consider some of the previously mentioned walking routes instead (avoid the midday heat) to explore the region or rent bikes to get around easily.
By car: You can reach Fundåo in around two and a half hours from Lisbon and Porto, and it's easier to explore the local area with a car. Alternatively, see if there is availability with the local e-car scheme, which the tourism board supplies without charge. Then you can arrive by train and be met with the vehicle – cheaper, easier, and greener for the planet.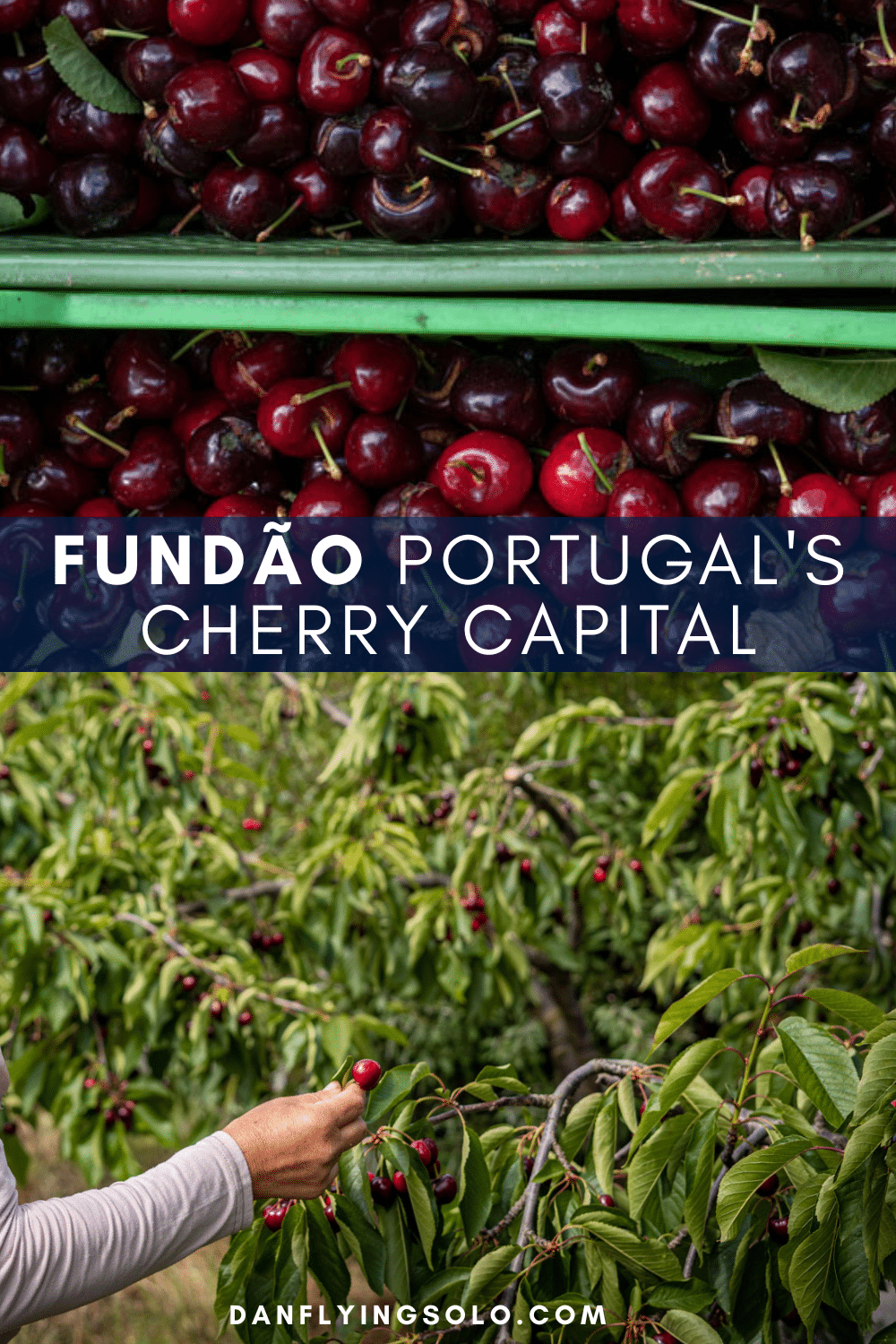 https://www.danflyingsolo.com/wp-content/uploads/2023/06/Cherries-Visit-Fundao-Central-Portugal-134.jpg
1366
2048
Daniel James Clarke
https://www.danflyingsolo.com/wp-content/uploads/2022/01/blogo-1w.png
Daniel James Clarke
2023-06-19 19:56:59
2023-09-09 06:21:21
The Flavours of Fundão, Portugal's Creative Cherry Capital