Pilgrimages, blacksmiths, and festivals: Nine traditional experiences you can enjoy in Kochi, Japan
Updated: 28th December 2019
This website uses affiliate links which may earn a commission for purchases made at no additional cost to you.
Travelling for me is all about the experience. Getting stuck into the traditions and the culture of a country is the best bang for your travel buck you can get, and where better to do so than in Japan, a nation celebrated for it's deep-rooted traditions.
During my last trip to Japan, I spent just over a week exploring the Kochi Prefecture of the country, a vast green natural wonderland that is one of four prefectures on Shikoku Island. While my adventure was packed with incredible water sports, magnificent matcha noodles, and view upon view of crashing coastline, I also found time to appreciate some of the more hands-on experiences you can have in this lesser-visited region of Japan.
While I certainly couldn't pack in everything I wished to do (one temple pilgrimage takes months to complete in fact), I still loved the chance to see those magical moments, get hands-on cooking in a market, and even came home with a knife that I had a hand in making. Heres some awesome and traditional cultural experiences you too can have in Kochi, Japan.
Knife-making at Kurogane Forge, Shimanto River
I'll start off with my absolute highlight, which was spending the afternoon crafting my own knife (okay, with a fair bit of help) at Kurogane Forge just alongside the stunning Shimanto River.
Led by a master blacksmith, Prof. Hayashi, this hands-on experience will see you go through all stages of the knife making process, from burning hot pokers to etching the final memory on the handle. Mine is proudly branded with the name of the destination that gave me such great memories, Kochi.
This small knife-making workshop is set amongst the greenery, and without knowing the spot on the map, you could easily miss it. On our arrival, iron sand was being turned into Iron using a Tatara, a traditional Japanese furnace.
We spent a few hours (usually the experience lasts a day, but can be adapted if short on time) getting up to insanely hot temperatures, sanding and filing the iron, hammering and shaping it, until eventually it resembled a perfect knife, handle and all. The great thing about this experience is it was all run in English, which isn't always the case in Japan, and it made it even more special being able to interact and ask lots of questions.
Hands down, this is the memory that will stick with me the most form my time in the Kochi Prefecture.
Salt-making experience, Kuroshio
The Shimanto salt-making experience was something I was keen to do in Kochi, but with timings, it came down to this or the knife-making, so I sadly had to skip it.
Not too far away, a short drive from Shimanto is the rugged coastline of Kuroshio. At this family tun spot, Tosa no Shiomaru is produced, which roughly translates to sunshine salt. Still producing salt in a traditional way, this striking open to the elements spot set against the coast is impressive.
The actual workshops last around an hour and a half, where I was told you get to tour the production area, and then get stuck into the experience of making the salt, to take your own small-batch home. There is apparently a whole host of salt-based treats you can sample here, even salty ice-cream!
Cooking Katsuo no Tataki, Kuretaishomachi Market
Pulling into Nakatosa, I was starving and ready to hit the markets to sample even more of the local Bonito, a fish-based staple in the region.
Here though, the fresh-fish market has an added bonus that visitors like me, who don't have a kitchen to go back to, can still enjoy the flavours of the catch of the day, thanks to an onsite 'eating space' – similar to a restaurant, but with a twist.
You go to the fresh fish stalls and select what you fancy to eat; this is then cooked and prepared for you and served up in the cute warm room where tea and other drinks can be added to complete the meal.
What is really cool though, is if you ask nicely you'll probably be allowed to cook Katsuo no Tataki, the famous local dish, yourself. Leftover hay is thrust into the flames, and this hay added the flavour to the fish. It's quickly sealed on both sides over the flame, before being expertly sliced and served with an adapted soy sauce and wasabi and salt. It was cool to get stuck into the market scene and have a go at making my own version of this local speciality, a type of seared sushi. By all accounts, I think i did a pretty good job too!
If you aren't able to get to Nakatosa, which is beyond Kochi city itself, there are a couple of restaurants I was told in the city (such as here) which have small flame bits on the table to have it freshly seared by your own hands too.
Washi paper making experience, Inochō
Located inside the Inochō Paper Museum, you'll find a chance to have a go at making a special type of paper, Tosa Washi.
Kochi Prefecture was previously named Tosa, hence the name, and Tosa Washi has since been officially designated as a traditional handicraft in the country.
The lesson experience will see you make the paper yourself using one of two different methods. Involving bamboo frames (suketa), water and the raw materials, you'll eventually have blended the fibres together ready for drying, and the final paper in all its glory. While it's drying, you can explore the museum to learn more about the history of this method beloved in Kochi.
A multi temple pilgrimage across Shikoku Island
One of the coolest things in Shikoku, the island of which Kochi is one of four prefectures, is the multi-temple pilgrimage which takes in the eighty-eight temples across the island that have been designated part of the trail.
The Kochi Prefecture has some of these, and it's really magical not just to see the temples, but also to see the pilgrims in their traditional white outfit and conical hats, as they pray or rest on the route. I was told one of the reasons people are so friendly in Kochi is they are so used to welcoming in visitors and pilgrims along the trail and showering them in hospitality.
Two of my favourite temples on the route were Hotsumisakiji Temple, a beautiful wooden collection of buildings nestled in the Muroto GeoPark in the north, and Chikurinji Temple, a bright red five-tier pagoda not far from Kochi Airport.
While historically people would spend weeks and months completing the pilgrimage, now it's quite common for people to do it in stages, on weekends and days off, and finish it slowly over a more extended time period. Ultimately, the Ohenro (the Buddhist term for the pilgrimage) is about the journey, rather than the goal, so while completing a visit to each temple is important, what is discovered and experience on the way is even more so.
While I was in Japan, what was really cool was that Kochi Castle (so, not a temple but still striking) had been turned into a digital art display with team lab.
Onsen and Ryokan experience
It happened, I finally got naked with some strangers in Japan!
For those that don't know, an Onsen is a traditional Japanese hot spring bath, where you come to bathe and relax in the particular water. There are thousands of these across the county, and everywhere I stayed in Kochi Prefecture had one. Male and females are separated, and once you've got over the initial shock of taking your clothes off and scrubbing yourself clean before entering, the experience is really relaxing, and you almost forget you are all sat there naked as your body aches and pains fade away!
Another must-do traditional experience in Japan is to stay in a Ryokan, an inn style accommodation which nearly always have an Onsen, and have calming matted floors and offer robes (yukata) to wear around the accommodation.
Here is where you'll find the traditional futon style bedding on the floor, which are surprisingly comfy, and meals are also often taken sat at the floor in a traditional way. Even if you don't plan to stay in this style for your whole trip, you should try to spend at least one night at one. I did this on my trip at Anjuann Rykonan, which not only was lovely inside but sat on top of a hill and offered sweeping views of the nature Kochi is famed for.
Sampling Sake at Keigetsu Brewery (and the local drinking games)
Firstly, this spot is quite stunning. Surrounded by rice terraces, you'll also find a winery (surprised me too!) nearby.
Keigetsu Brewery is renowned and has even won the world gold award for Sake; such is the quality of its produce. While there are countless Sake houses across the country, if you haven't yet visited one and have a car, this is a great place to come for a sampling, and if you are really lucky, able to secure a tour of the traditional production house.
You'll learn about polishing numbers which reflect on the quality of the sake, be able to taste various types, and, as I said if you can, join a tour with the Sake brewery to learn more about the methods from the master.
Yosakoi dance festival and museum, Kochi City
Every August the city of Kochi comes alive for the Yasakoi dance festival with some 300 groups performing to crowds of thousands. The streets and corners of the city are taken over, as competitions to crown the best play out on domestic news channels.
Dating back to 1954, the festival was a chance to bring everyone together after a painful time. It's blossomed and grown over the years, and now takes place worldwide, although it originals hail from Kochi. Elaborate costumes and well-rehearsed routines are more significant and bolder than when the festival first started, but the rules remain the same.
The dance must use the Naruko, a type of clapper within the dance. The music can be as wished but must include part of the original song. Also, a vehicle acting as a float must accompany the group playing the music. The dance groups can be up to 150-strong, and this makes for a flurry of colour and music over the days the event runs.
If you don't visit Kochi during the festival, but want to learn more about the Yosakoi, a brand new museum is now open, and although a lot of the information isn't in English, guides can help, or you can just have a go at the dance in the 'classroom', see the bright costumes, and watch performance videos from years gone by.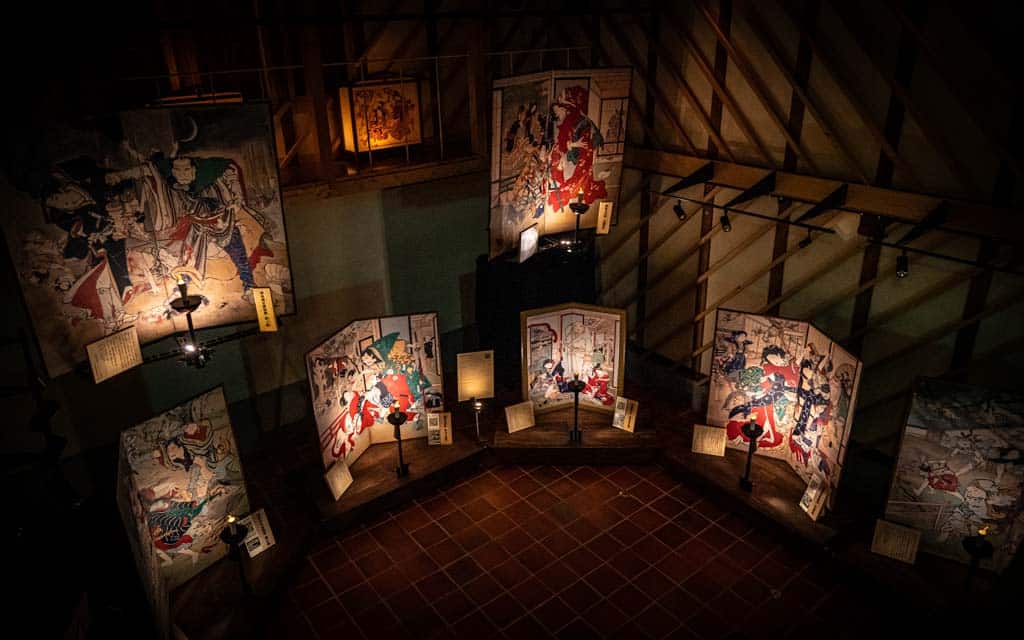 Ekin Museum and Festival, Akaokacho
The Ekin Museum offers an insight into the artwork and life of Hirose Kinzō (also known as Ekin), a disgraced official painter whose career turning into something quite interesting after his royal downfall.
I didn't really plan on visiting the museum, but it's quite a fascinating story. Ekin was born into a working-class family in Kochi but eventually wound up as a head painter for the important family at the height of the Tosa Domain. He was accused of forging work, and fired from his role, then disappearing from the public eye for ten years.
Eventually, he reappeared with this very unique, and sometimes quite disturbing artworks, projecting multiple scenes from one story onto one large canvas.
While copies of the works can be seen in the museum year-round, In July, a festival takes place on the streets of Akaokacho, where the original paintings are taken outside and illuminated by candlelight in the traditional way. Locals and regional tourists especially flock for this eerie evening of arts and entertainment, so if you find yourself in Kochi in July, check out the festival dates to join in.
There is so much more to do in Kochi, with nature, rivers, forest and striking coastline being the main draw to the prefecture. But, with this list, I hope I've highlighted some of the more traditional cultural experiences you can have to compliment your water-sports and adventure activities, because it's these moments that create the best memories!
https://www.danflyingsolo.com/wp-content/uploads/2019/12/Knifemaking-in-Japan.jpg
1152
2048
Daniel James (Dan Flying Solo)
https://www.danflyingsolo.com/wp-content/uploads/2022/01/blogo-1-1030x189.png
Daniel James (Dan Flying Solo)
2019-12-28 09:48:55
2022-01-30 21:10:25
Pilgrimages, blacksmiths, and festivals: Nine traditional experiences you can enjoy in Kochi, Japan