Montenegro Travel Guide & Road Trip Itinerary
This website uses affiliate links which may earn a commission at no additional cost to you. As an Amazon Associate I earn from qualifying purchases.
Updated: 16th September 2016
Road Tripping through Montenegro went down in the travel diary as one of my all time favourite trips. The famous bay of Kotor and the beautiful coastline might be edging their way into the spotlight on the world travel stage but there is plenty more to discover.
I hope this overview of my one week Montenegro road trip itinerary can help you plan an equally amazing trip through this special country. This video is old – so apologies for my terrible editing and filming – but it gives a brief intro into where we saw on our Montenegro road trip.
The Basics: Map, Need to Know and Questions…
Get a car if you can. I can't stress this enough, a car hire in Montenegro, IMO is essential. You can take tours and some public transport but the beauty I found of self-driving was being able to stop every time something took your breath away, which is a regular occurrence here. Also, due to the mountainous terrain, it really did make exploring so much easier. If you are crossing the Balkans then one-way fees and insurance can be high so consider taking a bus, or a Croatia transfer from Dubrovnik and then picking your car up in Montenegro.
That said, there are some public transport options for getting around Montenegro if you don't plan to visit the country's most remote corners.
Is it safe… Many people have a strange perception of the Balkans being the wild west (or, east) of Europe which is certainly not the case. I actually found it felt like one of the safest places I have ever visited and the hospitality and warmth never faltered.
Getting there… Crossing from either Bosnia & Herzegovina, Albania or Croatia is possible by car with bus from Dubrovnik also a popular option. With its own airline and other carriers serving two airports on opposite sides of the country in Podgorica and Tivat flying is possible. Cruises and day trips here are popular but I urge you to spend longer here and really explore it. You can also take a ferry from Italy into Bar on the coast.
If you don't have a car… Day tours to places such as Durmitor park are possible and getting along the coast and main sights simple enough with public transport. Montenegro is a lot more developed than most people believe and taxis also aren't overly expensive.
Lets talk about Money… Montenegro uses the Euro unlike most of its neighbours, even though it is still not officially part of the EU. This does bring prices up and cocktails in Budva can be like most major western cities where as a delicious in land meal might be a few dollars and a perfect wood cabin can come in at $25 bucks for three people in the peak of summer.
Where to stay… There are plenty of hotels in the most popular destinations as well as some more quirky options. Two places that really stood out to me was the charming Holiday Bungalow in Pluzine where we were welcomed with home-made Rakia and the Rafting lodge in Piva right on the river.
Language… The official language is Montenegrin which is very similar to Croatian/Serbian. English is widely spoken along the coast and much of inland. As always, get studying some words before you arrive.
An Epic Montenegro Road Trip Itinerary…
The Montenegro Map below gives a rough outline of the route we took on our road trip. Click a pin for more details of the bigger, and smaller, places we stopped off at. A week was not enough to explore the country fully and I am excited to go back to spend a little more time in the South East.
Admin notice for:
This element was disabled with theme option
The Bay of Kotor and the Coast
The bay of Kotor will be your first major stop if you have picked your car up in Herceg Novi and crossed from the Northern border. This beautiful body of water has small villages, tiny beaches and the cruise port of Kotor itself.
Kotor Old Town is by far the most popular destination in this country. The cobbled street with hundreds of cats who now have their own museum is perfect for spending a few hours or more and the views when you hike up the hill are breathtaking.
Although it is arguably the most popular destination in this country, it was actually where I spent the least of my time. Luckily, my friend Sonja recently wrote a great post about the best things to do in Kotor which is ideal if you plan to be based there.
Tivat, further around the bay is a luxury Marina and although not much is here it's a perfect place for a coffee stop and some people watching.
As you follow the coastal road you will hit Budva. The old town of Budva has a few beaches and heaps of shops and bars make its narrow streets feel packed. By night both the old and new town come alive with everyone dressing up and creating an electric atmosphere. Top Hill is an incredible venue funnily enough at the top of the hill and if you are there for a big event an ideal place to get going till the early hours.
Further along the coast, you will hit Bar which has a ferry connection to Italy and eventually you will come to Ulcinj with beautiful beaches, yet another history filled old town and its rugged rocks with houses towering above the ocean.
As you drive along the coast of Montenegro you will find small coves, near empty beaches, sand based parties and little churches on rocks which you can take boats out to. Stopping regularly should be expected!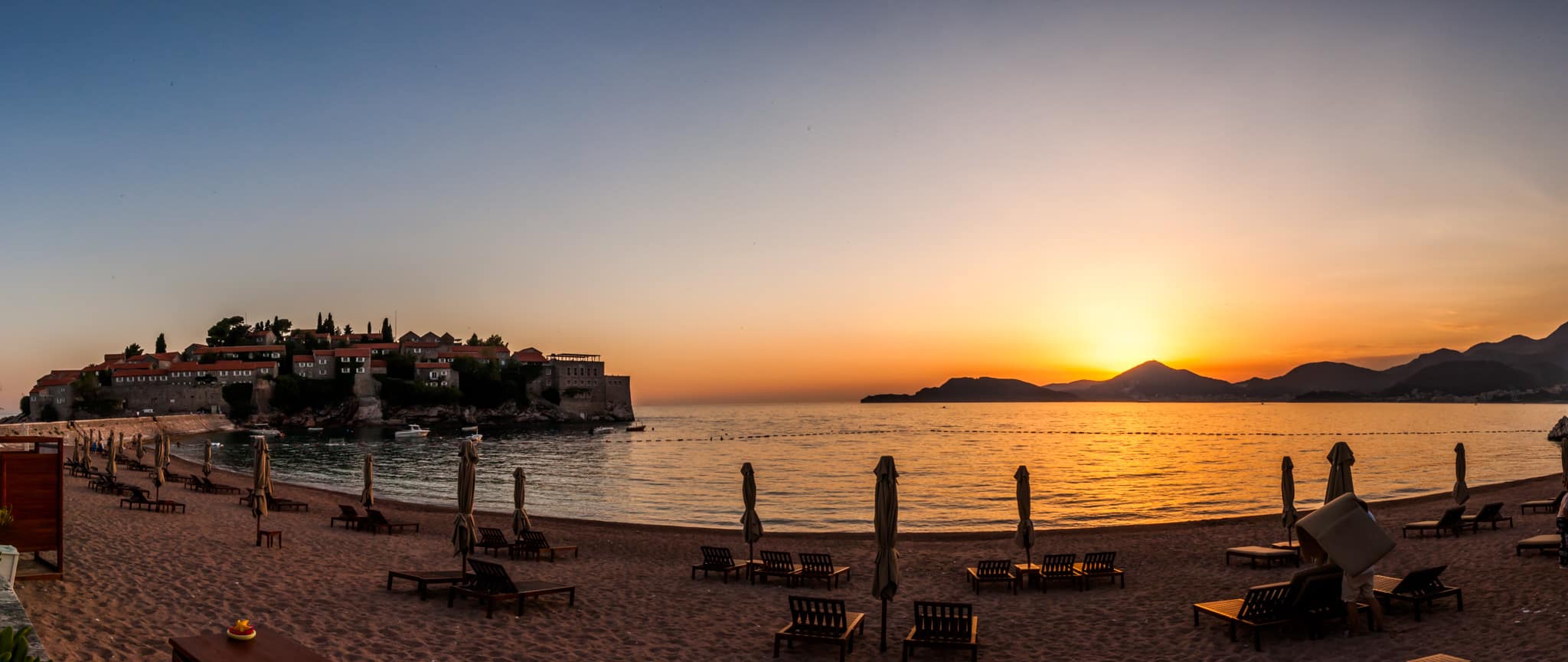 The Beautiful North
I have two things to say to you. Piva River and Durmitor National Park.
In fact, let me show you…
Once you leave the coast the mountains build up and the roads climb higher, lower and pass the most beautiful bodies of water you can possibly imagine. You will stop, a lot, stumbling upon little villages to marvel at, eat and get a local feel.
Piva River and Tara River canyon offers up the opportunities to go rafting, kayaking or simply just standing in awe. Running all the way into neighbouring Bosnia and Herzegovina this is something you can not miss in Montenegro. Take a look at the pictures below and you get why!
Durmitor National Park is the best thing in Montenegro I believe. With wild horses, dogs and sheep littering its rugged mountain landscape you literally have your head in the clouds here as you take the small single road winding through the park and again, stop every five minutes for another OMG I need a photo to believe this moment… see a theme here?
With lakes, treks, mountains, tiny restaurants and even the odd rainbow this is something you are mad to miss and if you only do one thing beyond the coast do Durmitor.
The capital and south
Podgorica, the capital of Montenegro is a funny little place. On first glance, you can almost miss it. With its tired and abandoned train tracks and strange collection of malls I can't say it blew me away but it did hook me in after a couple of days with some charm, I can't put my finger on.
Lake Skadar national park and the small villages surrounding it are only about a 30-minute drive from the capital and one you simply can't miss. From little houses with colourful boats to an all green horseshoe bend kinda view a few hours at least driving through here and then getting out to hike, or even take a boat ride, is simply one of the best days of nature you will ever have.
The Other Stuff
There are so many small places you will drive past and stop at. Whether it is for a quick photo, to enjoy a viewing platform or just to stock up on some food and coffee. My memory is not good enough to list them all by name but take a look at the map above for where they are.
Whether you are marvelling at the small green islands of Slansko Jezero or stopping off to be wowed by a monastery built into these impressive mountainous rocks a road trip through Montenegro will blow your mind.
https://www.danflyingsolo.com/wp-content/uploads/2016/08/MontenegroTravelGuide-16.jpg
1152
2048
Daniel James Clarke
https://www.danflyingsolo.com/wp-content/uploads/2022/01/blogo-1w.png
Daniel James Clarke
2016-09-16 06:58:09
2023-08-22 09:01:57
Montenegro Travel Guide & Road Trip Itinerary