Discovering Port Douglas and Aboriginal Culture
This website uses affiliate links which may earn a commission at no additional cost to you. As an Amazon Associate I earn from qualifying purchases.
Updated: 10th July 2017
PRODUCED ON ASSIGNMENT WITH LONELY PLANET + THREE UK
I watched as he set off to climb to the top of Uluru. He wasn't oblivious to the objections of the Mutitjulu community, the traditional owners of the land; he just simply didn't care.
In a country with such a fascinating, complex and sometimes difficult history, I've always wanted to learn more about Aboriginal culture and the Indigenous people of mainland Australia and the Torres Strait Islanders.
Learning from a book is one thing, but spending time with a local and understanding their perspective is far more valuable.
Homestays in Cambodia or staying in the hills of Peru may seem the more likely places for 'cultural immersion', but here in Port Douglas, I had the opportunity to do just that. Two years on, from watching a man climbing over to what many of us is just a big desert rock, I was able to learn first-hand about the native people of one of my favourite regions of Australia, Port Douglas, home of the Kuku Yalanji.
Hit play to see a glimpse of what is waiting to be discovered in Port Douglas. Shot on assignment with Lonely Planet and Three UK.
Welcome to Port Douglas
As I ambled around the small streets of Port Douglas, slowly settling into the slower pace of life in this tropical paradise, It wasn't the fiery sky catching the last of the sunlight that caught my eye.
The art galleries, dotted between high-end restaurants and quaint cafes, offer up the first (and for many that visit this region the last) insight into the Aboriginal culture. If you have images in your mind of simply decorated Boomerangs then throw that aside, some of these pieces fill whole walls and retail for thousands of dollars. The details and passion that go into one of these pieces of wall art are outstanding, even more so once you have learnt the story behind them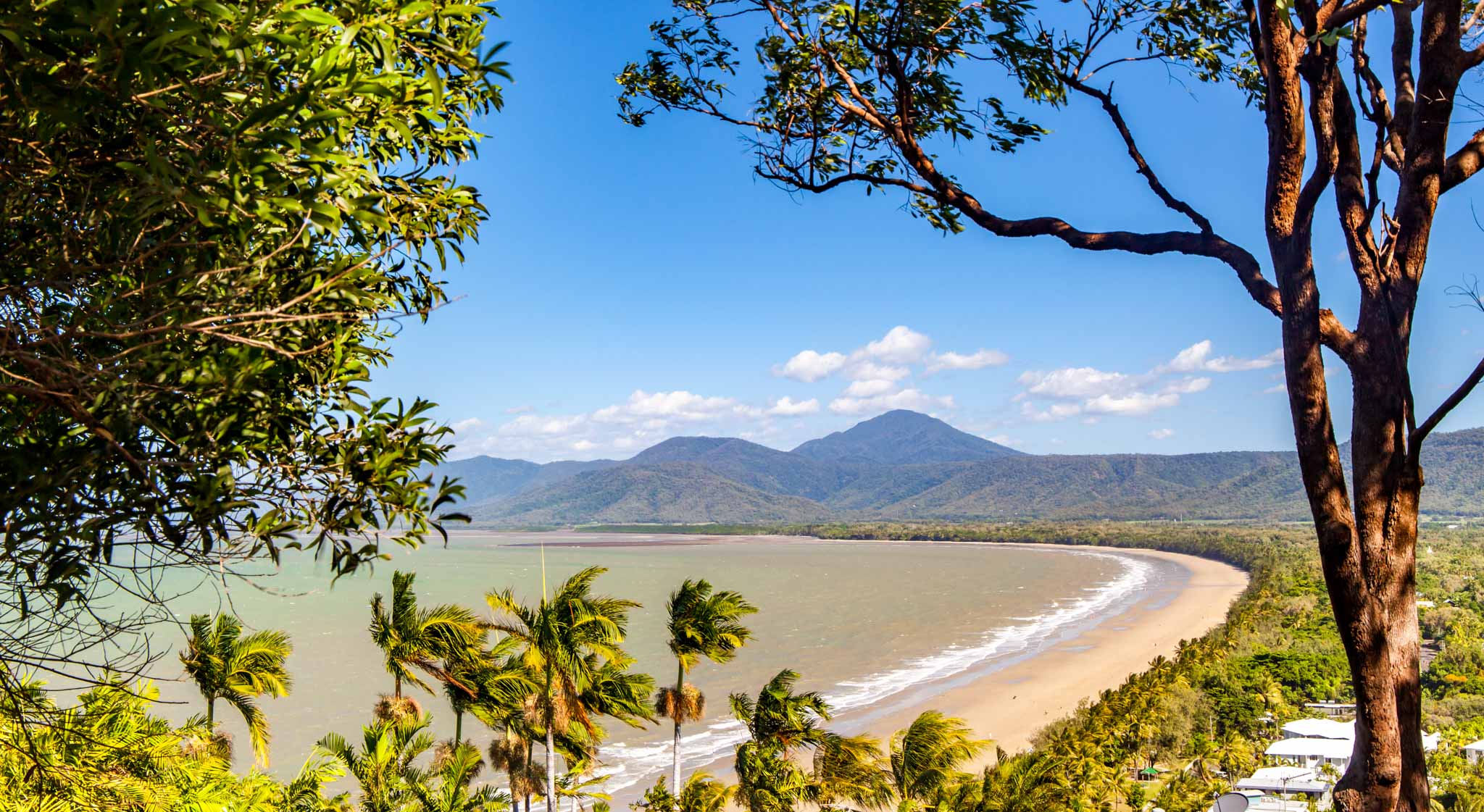 Later, when I would meet Binna and learn about his Port Douglas, I'd think back to these modern and contemporary canvases. "We are proud of our past" he would say, "But this artwork is about now, it's about me, my stories".
As I got chatting to one gallery owner who shared some of the stories behind each piece adorning the walls I realised although the style may be different, one thing had stayed the same. This vast, beautiful land that we now know as Australia has been inspiring art and stories for so long it almost seems inconceivable. From the Dreamtime to the present, each one unique and intriguing in their own way.
If you don't know much about the cruel history and treatment that occurred on these shores over the past century, I urge you to do further reading to understand what has been done and to know why climbing 'just a big desert rock' really shouldn't be on your to-do list.
But that's not what this story is about. My journey through Port Douglas is about the now, the future, the people I've met here and the stories they have shared. The atrocities of the past can't be covered or discussed in a simple blog post.
Aboriginal culture and art
Janbal Gallery sits in Mossman, a small town just outside of Port Douglas proper. It was here I would meet Binna, and moments later, he would give me a third-degree burn on my hand that only weeks later is starting to fade.
The Blue Quandon, a bright blueberry found in the region, translates to Janbal, but more importantly, it was Binna's mother's Aboriginal name. As I stepped into the compact yet airy space, I saw again the impressive patterns I had seen in the galleries the night before, yet as with each of those artists, presented in their own unique way.
I met many people during my time living in Australia that would scoff at the Aboriginal beliefs or use of the natural resources, which usually gave me a mixture of sadness and anger. To survive in a land so harsh and with so many dangers should be celebrated for its resourcefulness and remembered for its culture; it's not a joke to be laughed out of history.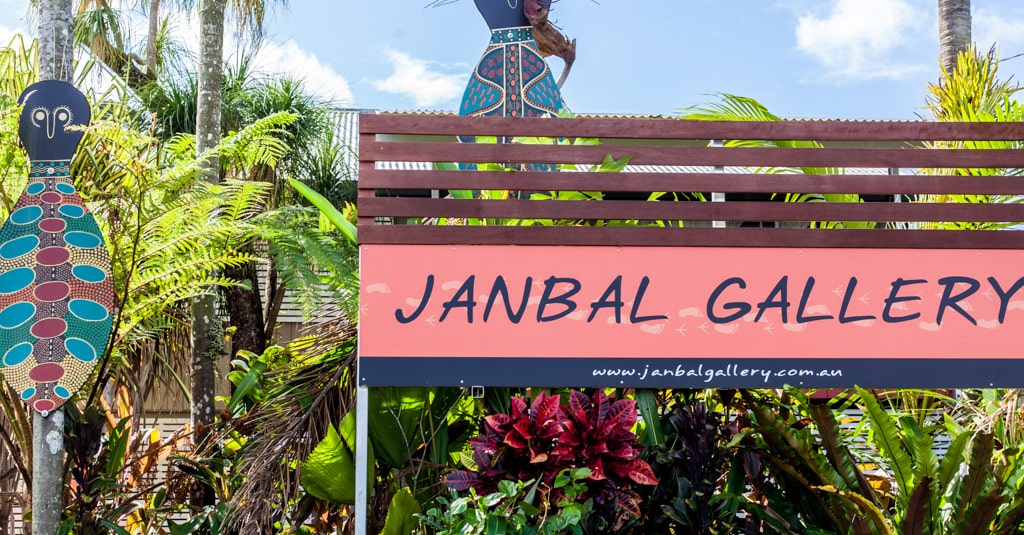 Binna showed me how to create paint with nothing more than water and stones from the Daintree forest. How a seed, when rubbed on the floor, could be hot enough to seal a wound (or burn the shit out of my hand). How a simple stick could create a painting so elaborate and detailed that I would struggle to replicate it in Photoshop, I found myself in awe of how the Kuku Yalanji people had harnessed the nature around them in such an imaginative and impressive way.
The pride in his voice that his gallery was 100 per cent Aboriginal owned and operated didn't go unnoticed. That afternoon he shared not just his stories with me but his culture. The small back room, usually crowded with tourists taking an art class to hear these stories sat empty, and in a selfish wave, I felt glad to have his stories all to myself.
In each painting, part of the land could be seen, whether it was a Cassowaries footprints (a rare native bird), the water of the rainforest or indeed, the Blue Quandon berry whose name sat so proudly on the sign outside. In each painting, you could have a glimpse of Port Douglas, but most importantly, a glimpse of Binna's Port Douglas.
Dreamtime walks in Mossman Gorge
Parking up at Mossman Gorge later in the day, I felt glad knowing I would have the opportunity to meet Binna again the next morning. His invitation to join him on one of his artwork inspiration trips had come as a true honour.
The Daintree Rainforest is one of, if not the oldest, in the world. 'Where the reef meets the rainforest' is how you'll often hear Port Douglas touted thanks to two of Australia's most impressive natural wonders running alongside each other.
I hadn't come to see the waterfalls, though; I'd come to learn more about the importance of this now-famous tourist attraction for the natives of the lands.
The Dreamtime walks in Mossman Gorge may be targeted towards tourists, but it allows an easy-to-digest chance to understand the local region. The beautiful, lush and ancient backdrop of the rainforest may be a dramatic setting, but hearing the Ngadiku, the stories and legends from a time gone by was far more interesting to me.
From the traditional smoking ceremony which cleanses your smell before entering the rainforest through to learning how the original huts and humpies are constructed, the easy going walk provided ample of opportunities to ask questions.
The special relationship shared with this land was obvious from the guides. Tea, paints, medicine and soap can all be made from the natural resources seen on our short walk. I looked at the now stinging burn on my hand and smiled. It's these moments I travel for, the moments when I am learning something new and most importantly, meeting someone new whose culture I could never experience at home. Tha magic doesn't just end in Port Douglas though, the whole of tropical north Queensland is special. If you have the time to continue up the coast to discover all things there is to do in Cape Tribulation, you should certainly jump at the opportunity.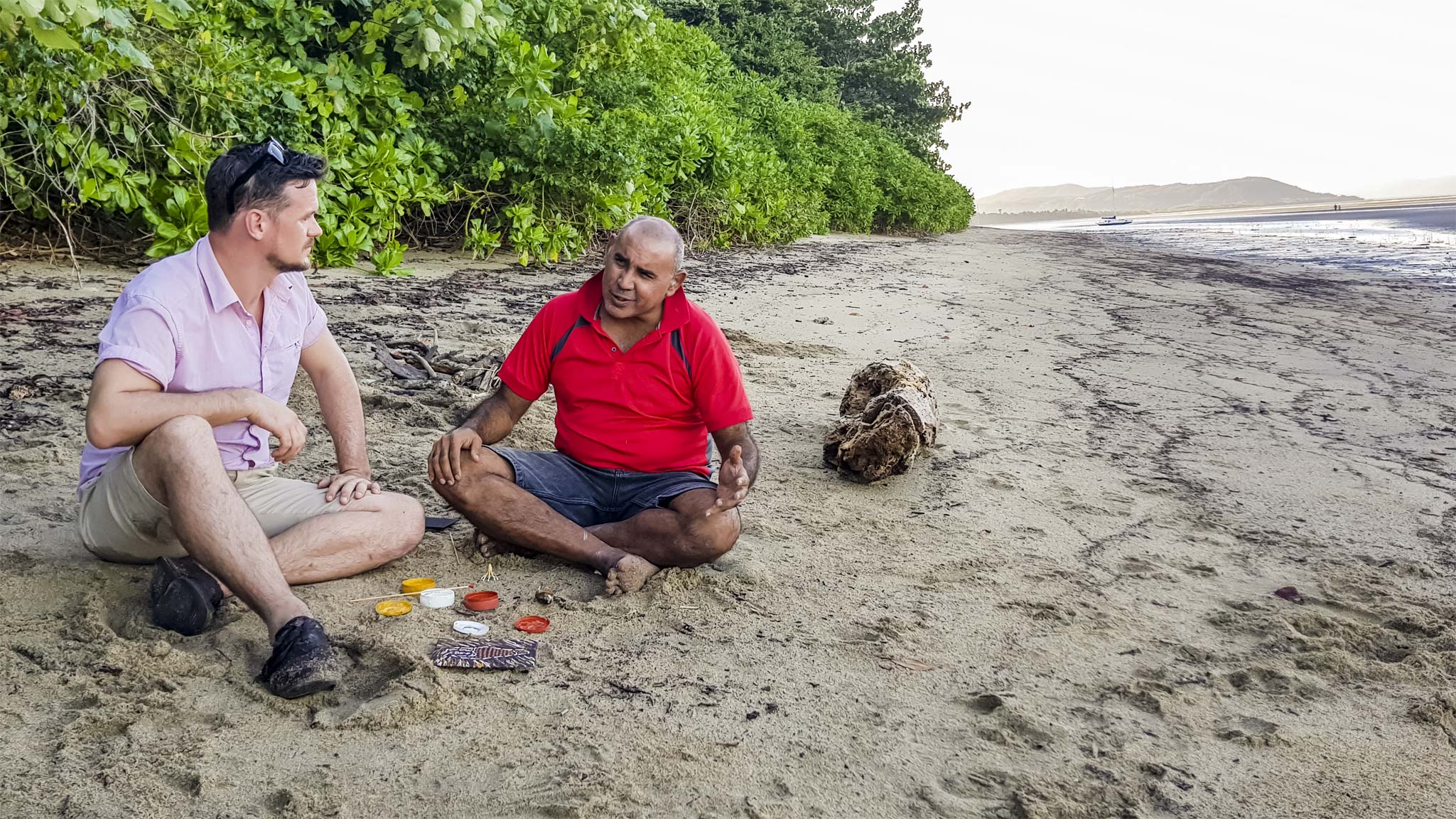 Cooya Beach and Spearfishing
The next morning I set off to Cooya Beach to meet Binna again. The grand sand stretch with its mangroves and the receding tide was a popular place to forage for food and find his inspiration I had learnt the day before.
As we walked along the beach, we talked about family, about life and touched on the past of the Kuku Yalanji people in the region. Binnas positivity shone through and his focus on the future and sharing his culture underlined everything he said.
He talked about how he had come to this beach as a kid, about passing on the knowledge of foraging and hunting the traditional ways. He talked about his mother's painting and his studies to develop his art skills.
Bending down he ushers me to look at an ant with a big yellow butt, 'It tastes like Lemon' he said as he passed one to me.
I was in his house, and I wasn't going to be rude. It did taste somewhat zesty; traditionally it would have been used as a medicine.
The day continued to teach me more and more about the land that I had arrived at just two years before, then only seeing a photo opportunity. Spearfishing for sand crabs is a lot harder than it looks, creeping through mangroves while being paranoid about Crocs isn't so fun and fresh Oysters along the water edges taste damn good.
When it came time for me to sit down and put stick (in place of a paintbrush) to canvas I felt inspired. As I used the plants and crab claws I had found as the base of the artwork I realised how much I had taken from my surroundings.
Being a photographer I can spend hours looking for the perfect angle to capture something. That day Binna had taught me to spend hours soaking up somewhere before translating it into a piece of art.
As we sat on the beach with the sun fading and the lapping waves I felt like I was just chatting with an old mate. I forget about my friend filming and to take any notes about what we were talking about. I was intrigued and fascinated and the blogger in me had been replaced by the traveller, the learner and Binnas stories deserved my unrivalled attention.
When the time came to leave I felt a pang of sadness. This man had opened his home to me and not just in the physical confines of the modern world. Mossman was his home, Cooya Beach was his home, Port Douglas was his home. I was so grateful to him for sharing it with me. I choked up as I said thank you, knowing he wouldn't know how much his time had meant to me.
Of course, once you've taken the time to discover more about this land, a trip to the Great Barrier Reef is almost mandatory in this region as are many of the other best things to do in Queensland.
But whatever you do in Australia, no matter how long or short your trip is you should do this. Take time out to understand the culture in one the world's most vast countries. If you find yourself in Port Douglas book in for an Aboriginal art class. Swing by Janbal Gallery and see Binna and please, send him a big hello from me.
The stories in this land are forever changing and the past should be cherished. But come here with open eyes, ask, talk and learn. I promise that your Australia experience will be vastly improved by investing a few hours conversing with the original owners of the land. Much more so than by simply climbing over it.
I'll take a real story over a rock-climbing selfie any day. I hope you do too.
https://www.danflyingsolo.com/wp-content/uploads/2017/07/Binna-1.jpg
1152
2049
Daniel James Clarke
https://www.danflyingsolo.com/wp-content/uploads/2022/01/blogo-1w.png
Daniel James Clarke
2017-07-10 22:55:06
2023-06-29 12:57:57
Discovering Port Douglas and Aboriginal Culture