Things to do in Bosnia and Herzegovina: places to visit and reasons to go
This website uses affiliate links which may earn a commission at no additional cost to you. As an Amazon Associate I earn from qualifying purchases.
Updated: 1st June 2020
Some cities amaze us, other places we fall in love with for their sheer natural beauty, and then there are countries like this, where I couldn't even tell you one single thing I don't like about it, let alone all the reasons to visit and things to do in Bosnia and Herzegovina.
With my third visit already being planned out, I think it's time I put pen to paper on all the best places to visit in Bosnia and Herzegovina, and why this Balkan gem really deserves a lot more attention.
With under a million visitors a year it's madness to me this incredible hidden gem in Europe is one of the least visited countries on the continent when, in my opinion, it's one of the best places on earth.
From lakes that look photoshopped to grand architecture rising up hills, turbulent and tragic history to some of the most welcoming people you will meet; the top things to do in Bosnia and Herzegovina will take you on a journey through this is captivating country.
Whether you are after adventure activities, an affordable escape, or to understand more about the past conflicts of the Balkans, here are just a few of the reasons to visit Bosnia and Herzegovina.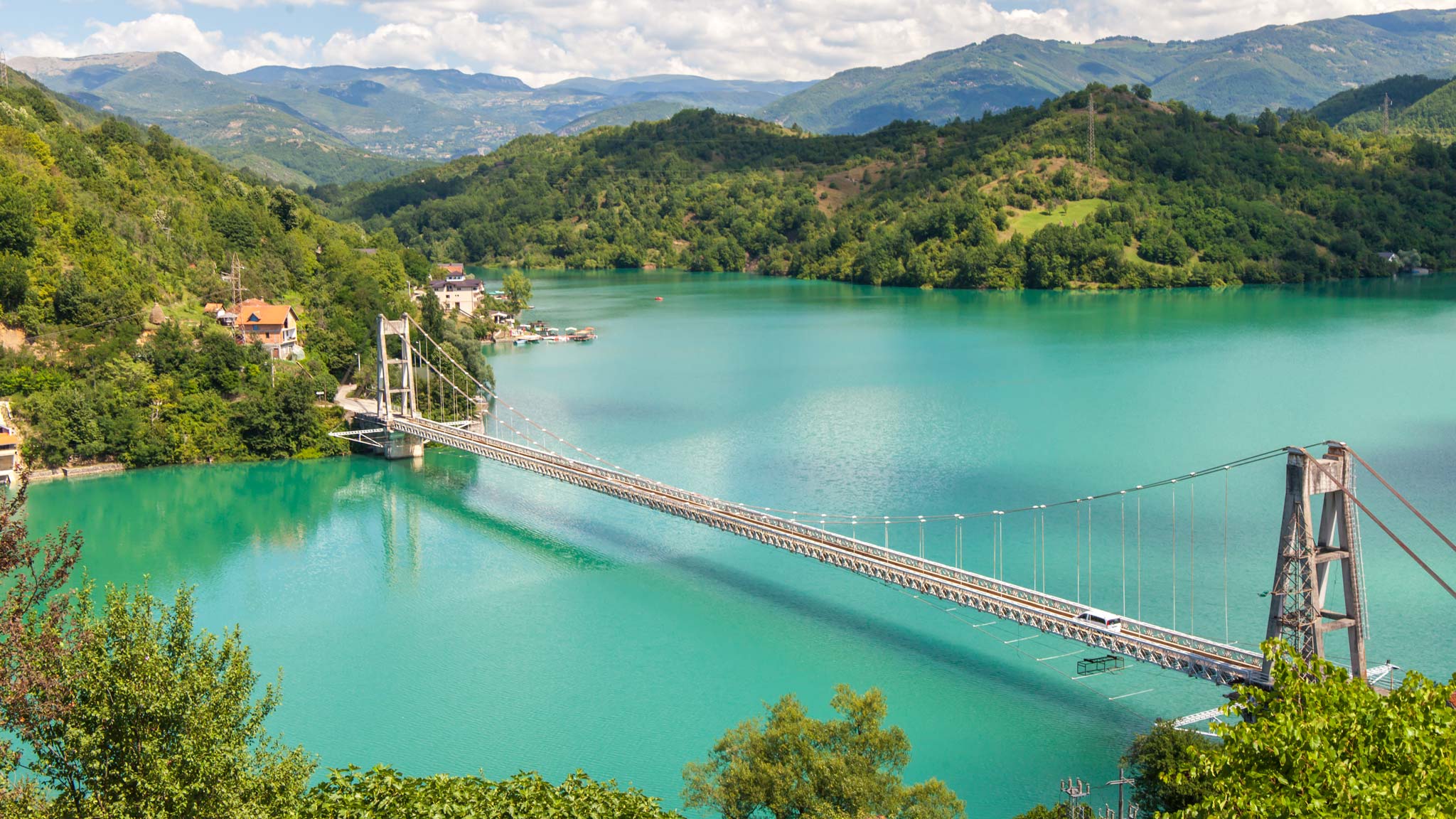 Perfect for road trips
On my first trip to Bosnia and Herzegovina, three of us piled into a car, pointed to places on the map and just drove across surprisingly well-developed roads – for the most part.
What we didn't quite anticipate was just how damn often we would be stopping the car to stand in awe of the natural beauty of the country, which makes up many of the best things to do in Bosnia and Herzegovina.
The lakes are a mesmerising shade of blues and greens, towering mountains collide with clouds and tiny villages, and bridges of all shapes and sizes link together roads that offer just as much to enjoy as the attractions themselves. If you are looking for a great value, adventure-filled road trip then Bosnia and Herzegovina is a real winner.
So many of the best moments of our trip were in tiny villages meeting confused locals, little cafes that welcomed us like old friends and multiple other places I could never name or find on a map again. If you revel in getting lost and new discoveries then my friends, this is your next road trip destination! Still, even if you don't hire a car you can't cover a fair bit of the country with a bit of pre-planning and researching the best ways of getting around Bosnia Herzegovina.
Mostar, both old and new
Mostar is the typical postcard-perfect picture that graces nearly all tourist advertising for the country, making it by far the most popular place to visit in Bosnia and Herzegovina.
Stari Most, the old bridge which isn't that old having been reconstructed post-conflict, draws in day-trippers from cruise trips and is where most people chose to spend their short trips to the country.
Honestly, it's not had to see why when so much of the country is still yet to be explored by the masses and the relatively affordable food, especially in Mostar new town, makes this a pretty good value city break. Away from the crowds on the bridge, where daredevil divers jump into the freezing waters below, this city has a really charming and peaceful way of life.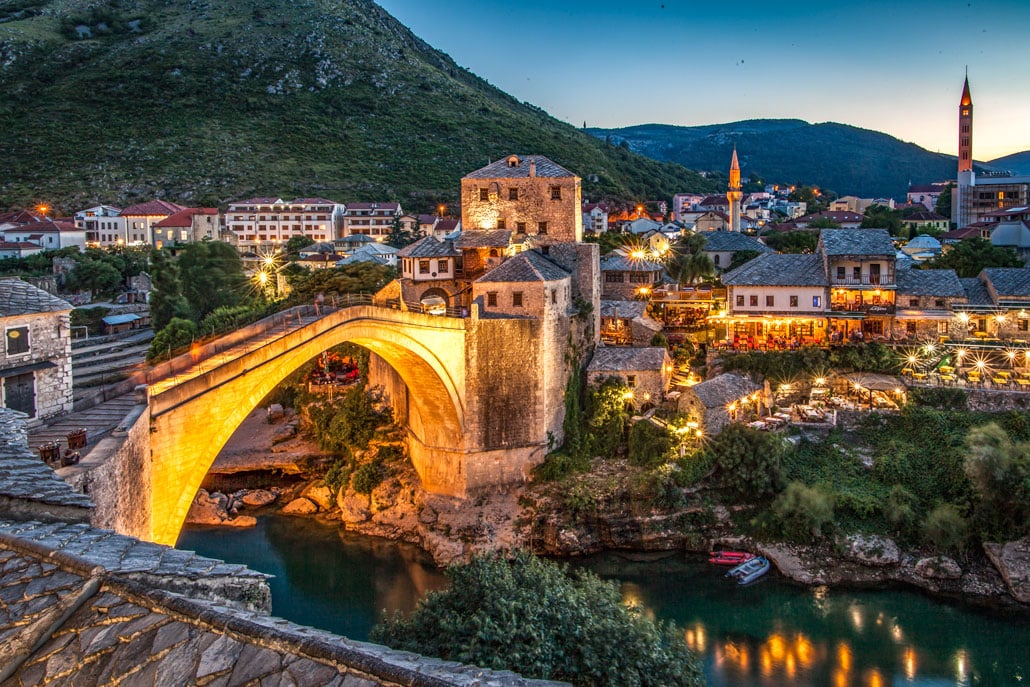 In the new part of Mostar, where few tourists stray, countless restaurants serving up first-class food and surprisingly extensive cake menus are complemented by cool bars and cafe culture. Gigantic Yugoslavian monuments sit amongst overgrown grass, old derelict banks sport bullet holes and street art and locals go about their day to day life pretty uninterrupted from visitors.
Meanwhile, exploring the Old Town is one of the things to do in Bosnia and Herzegovina. Often packed by day, once the sun sets and the day trippers depart it becomes a magical land of cobbled streets glowing in orange hues and multicoloured lanterns. Come for Mostar if you will, but make sure you stay for everything else!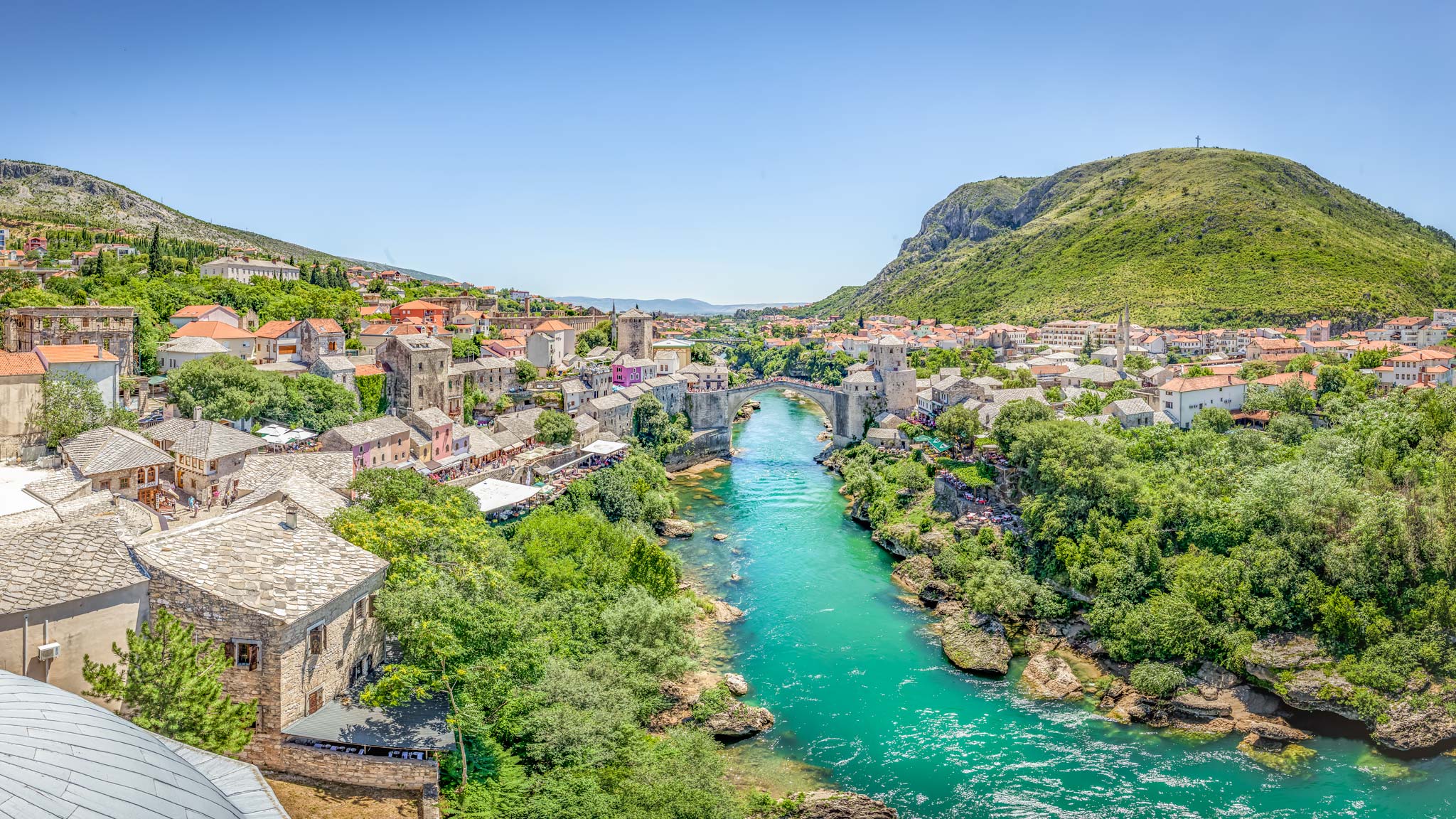 Coffee, wine and food
The food in Bosnia and Herzegovina gets a pretty bad rep, and after my first visit where I lived off Cevapi and Rakaia (sausages and liquor) I had written it off as a foodie destination. Coming back for my second visit though, where locals took me under their wing and showed me all the food on offer I think the reputation is so wrong.
Plates of meat, minced meat, stuffed meat, sliced meat; meat is a pretty big deal here, and as my vegetarian friend will tell you from our road trip, it's not really geared up to a plant-based diet. But beyond the meat, the cakes, and there are whole stores with 100's of them, are incredible and the locals take coffee and cake seriously. You're not going to find many takeaway coffee shops here, you sit down, enjoy your cake, and people watch for as long as you can.
At Alma Coffee in Mostar old-town, where they roast and prepare their own coffee I was walked through how proper Bosnian coffee is made and this strong liquid served up with Turkish Delight is some of the best I've tasted. Bosnia and Herzegovina wine might not be famous on the international stage but the reds especially are delicious, and again, the prices are pretty tasty too. Heading out to one of the more rural wineries is one of my favourite things to do in Bosnia and Herzegovina.
Traditional dishes such as lamb cooked under the bell, a ceramic dish which is immersed in the flames and embers, are indulgent and juicy while fresh fish provides a lighter option. Also, they eat doughnuts, cheese and honey at any time of day, that's a country I can get behind.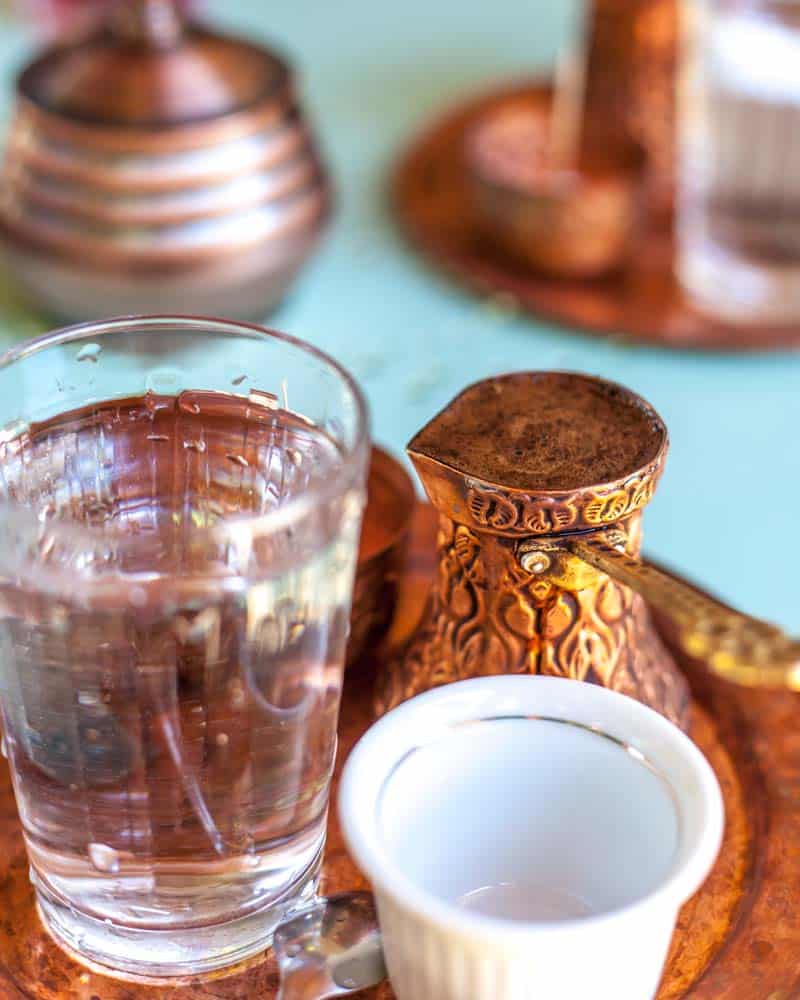 The Monastery at Blagaj
A short drive from Mostar is Blagaj, one of the most important architectural gems in the country. Built around 1520, the Monastery is a mix of Ottoman and Medietterain styles that are constructed into the rock face. Needless to say, it's a unique beauty, and certainly one of the best places to visit in Bosnia and Herzegovina.
Apart from providing the perfect Instagram shot, you can dive into the history of the country here by exploring the Monastery and taking a little boat directly into the cave itself. It is pretty touristy here though so I'd advise coming earlier or later in the day and avoiding the more touristy restaurants that sit around the miniature waterfall.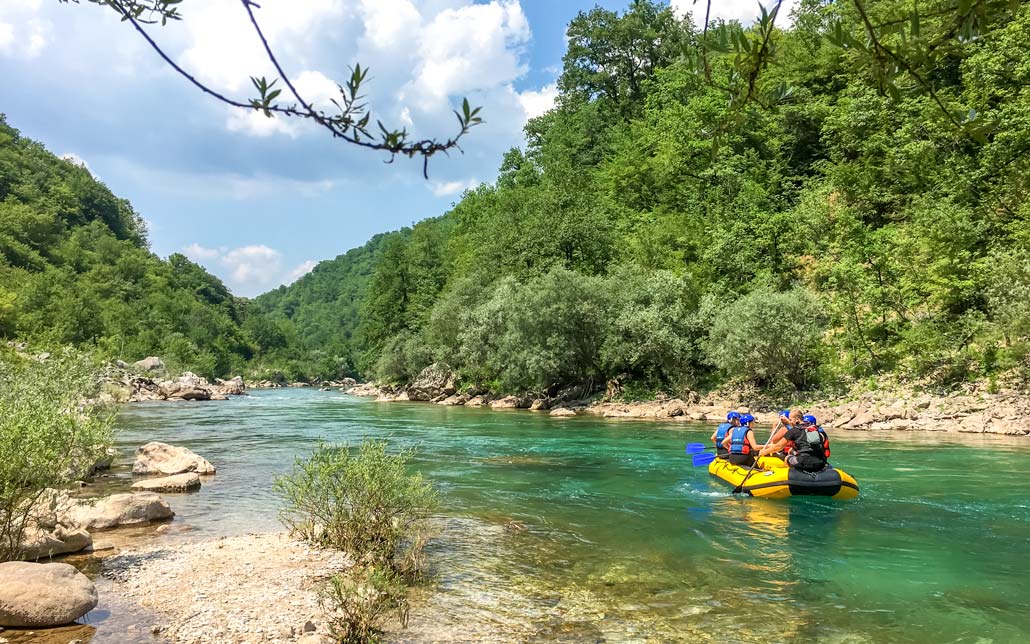 Adventure activities and white-water rafting
Many of the best things to do in Bosnia and Herzegovina focus on adventure activities, making it one of Europe's finest destinations for those who want to get their heart racing with some excellent activities.
From canyoning to rock climbing, the options are limitless, but whitewater rafting down the incredibly clear and unbelievable bright Neretva river is an absolute must!
Nearby to the town of Konjic, Visit Konjic can take you through the rapids for a half-day escape past little wooden houses, over fast flowing rocky waters and even stop halfway for a traditional BBQ along the riverside. Covering the whole country, Visit Konjic are a good group to get into contact with for any adventure activities.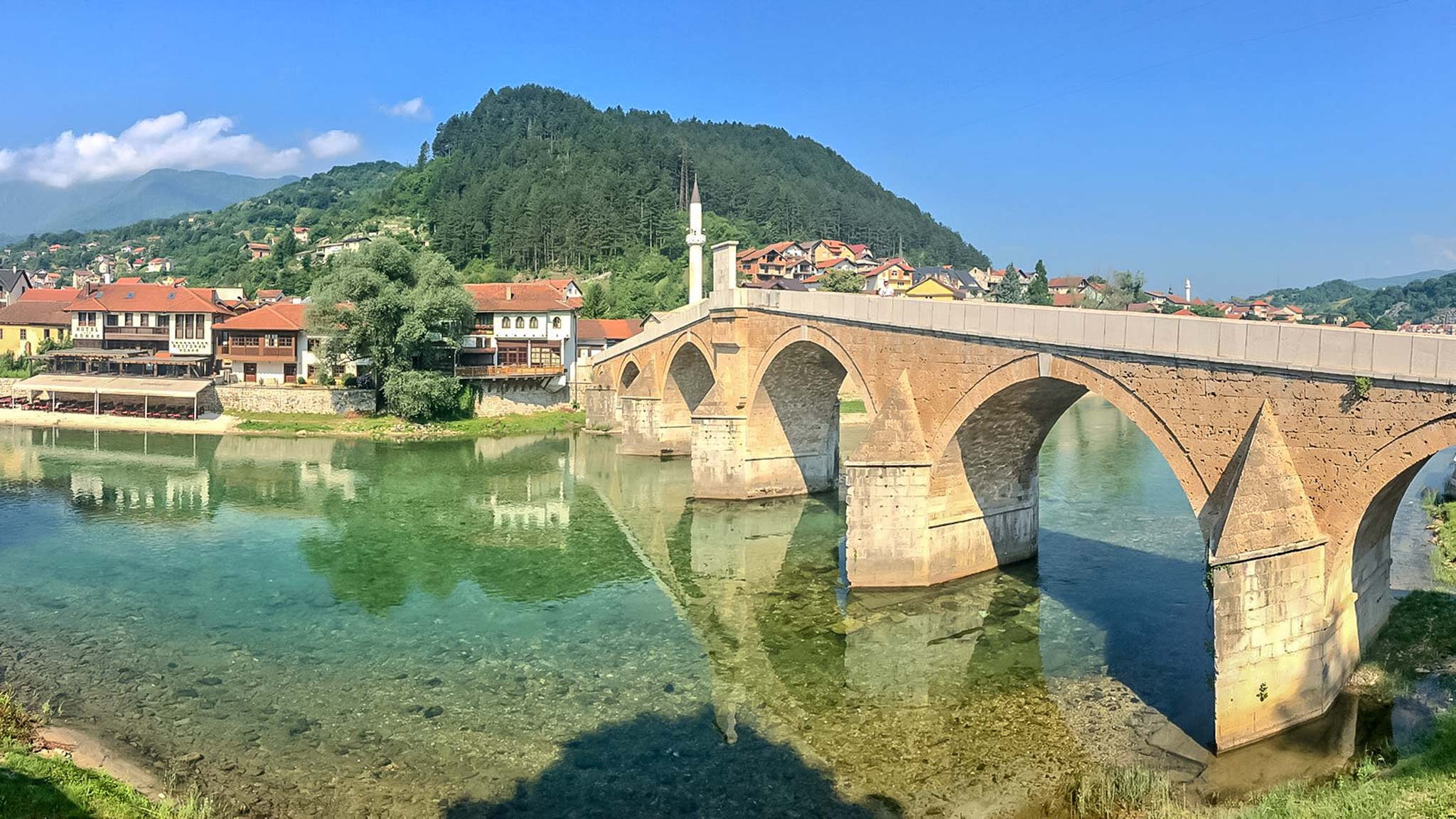 The cute town of Konjic
One of my favourite places to visit in Bosnia and Herzegovina, yet I can't really tell you why, the small town of Konjic is adorable and the perfect place to rest your head after a day on the rapids.
With the river running through the centre and a mix of different architectural styles, Konjic isn't an overly popular place to visit for either domestic or international tourists. But the small handful of restaurants here along the river, the nearby lakes and parks which provide fantastic kayaking and the feeling of being off the beaten path but still with enough tourist accommodation and facilities, make Konjic one of the best small towns to visit in Bosnia and Herzegovina.
Postcard-perfect Počitelj
Climbing up the hill from the riverbanks, Počitelj is a tiny village but in perfect proportions. Take the casual stroll up to the castle above the village which in other countries might have been condemned, and enjoy the views that span for miles on a clear day.
Little shops surrounded the towering Mosque where you can buy lanterns, rugs and lace from the ageing residents before getting fresh lemonade, sand-heated or ice cream from the main cafe terrace.
The medieval and Ottoman-Mediterranean architecture provide a great mix, and it's now on the UNESCO tentative list thanks to how well preserved it is. One of the most photogenice places to visit in Bosnia and Herzegovina, be sure to bring your camera.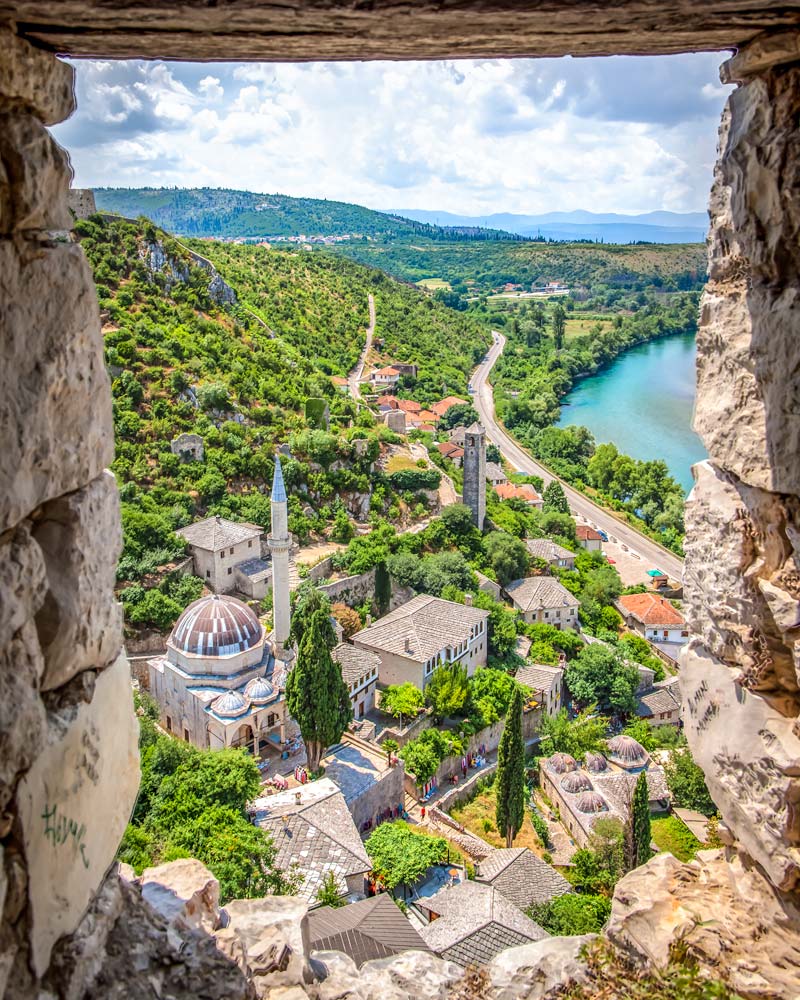 Cool down at Kravica Waterfalls
Kravica or Kravice Waterfalls can be surprisingly packed out on a sunny summer day and will come as a bit of a surprise after driving through the near-empty countryside. Don't skip them though, they one of the things to do in Bosnia and Herzegovina for a reason, But, do try to arrive early morning to enjoy them without the crowds.
Semi-hidden in a green forested canopy, the clear waters and rolling waters from the rocks are genuinely breathtaking, and you can either swim or take a little boat out to bath underneath the flowing water.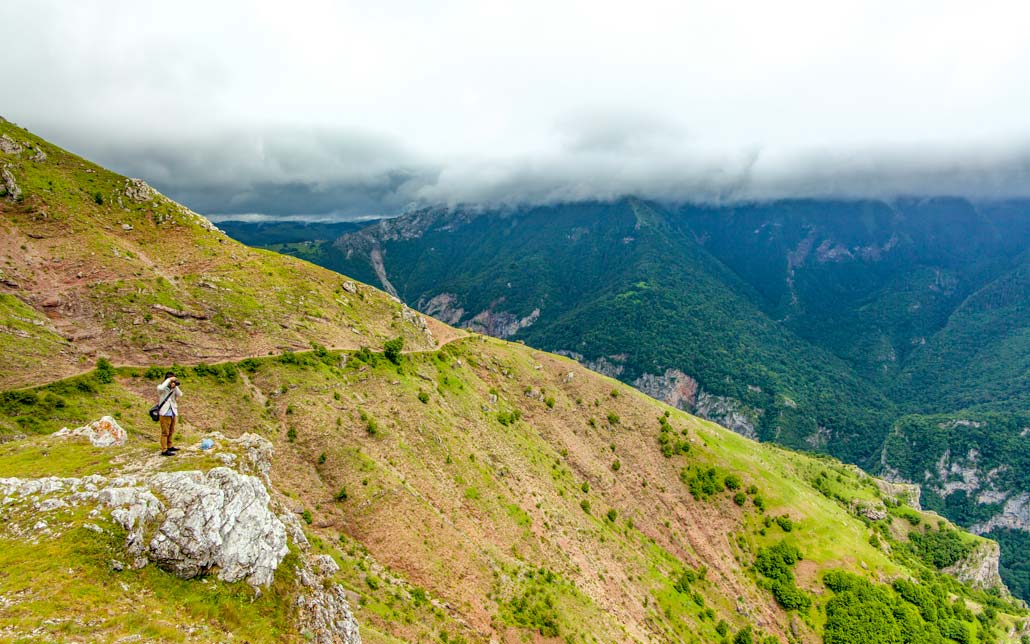 Go hiking in the clouds
If you're touring the country during the colder months, then one of the main winer reasons to visit Bosnia and Herzegovina, Skiing, might replace hiking. But, in the mild or summer days, getting out into the verdant peaks is one of the best things to do in Bosnia and Herzegovina.
Here the clouds meet with the towering rock faces and a range of short, or multi-day hikes are available. With many tiny villages removed from tourism and visitors in the hills of the country, a hike will take you through farmland, unspoilt nature and give you a well earned dose of fresh mountain air.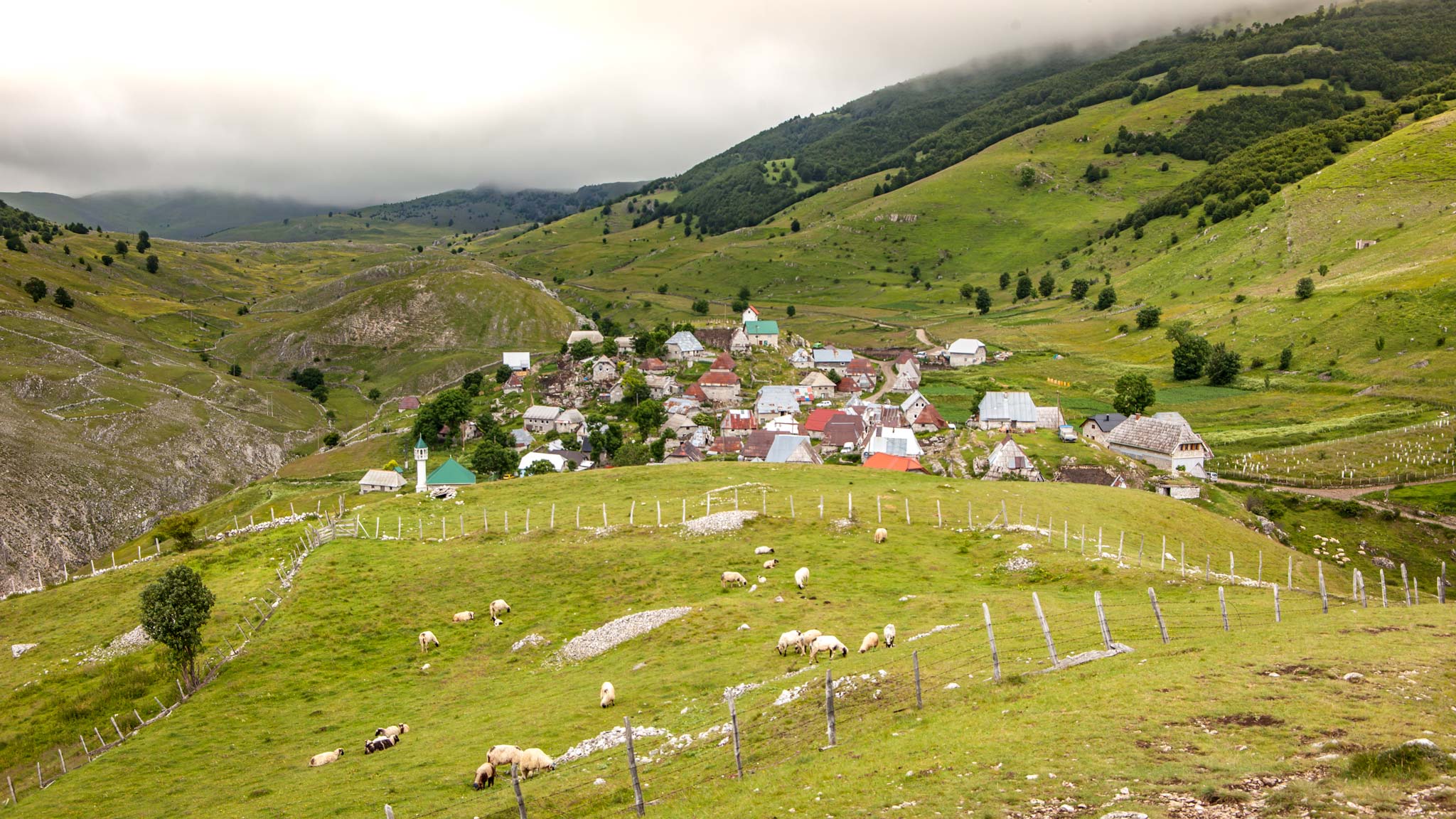 Discover a traditional way of life in Lukomir
While you are discovering the nation's mountains, you'll be provided with a fantastic opportunity to see a more traditional way of life, and Lukomir is one of the most special places to visit in Bosnia and Herzegovina to see age-old tradtions.
While there is more than one ethnic mountain village in the country, Lukomir is one of the most famous being the oldest continually habited.
Here, traditional stone houses and small communities work with the land, farming, producing clothing from wool and shaping wood into cutlery and other items. In Lukomir you can stay the night between hikes. In the winter months, when temperatures drop way south of freezing and snow settles in, the villagers move to lower ground taking their livestock with them.
UNESCO tombs
Inscribed onto the UNESCO list in 2016 are a unique collection of tombstones which span twenty-eight sights across Bosnia and Herzegovina and three neighbouring countries.
The Stećci Medieval Tombstone Graveyards date back to the 12th century onwards and are constructed from limestones. Thanks to the medieval links and the intricate decoration, these tombstones can be found in a few spots across the country, whether in more isolated places with mountain backdrops or better-preserved cemeteries.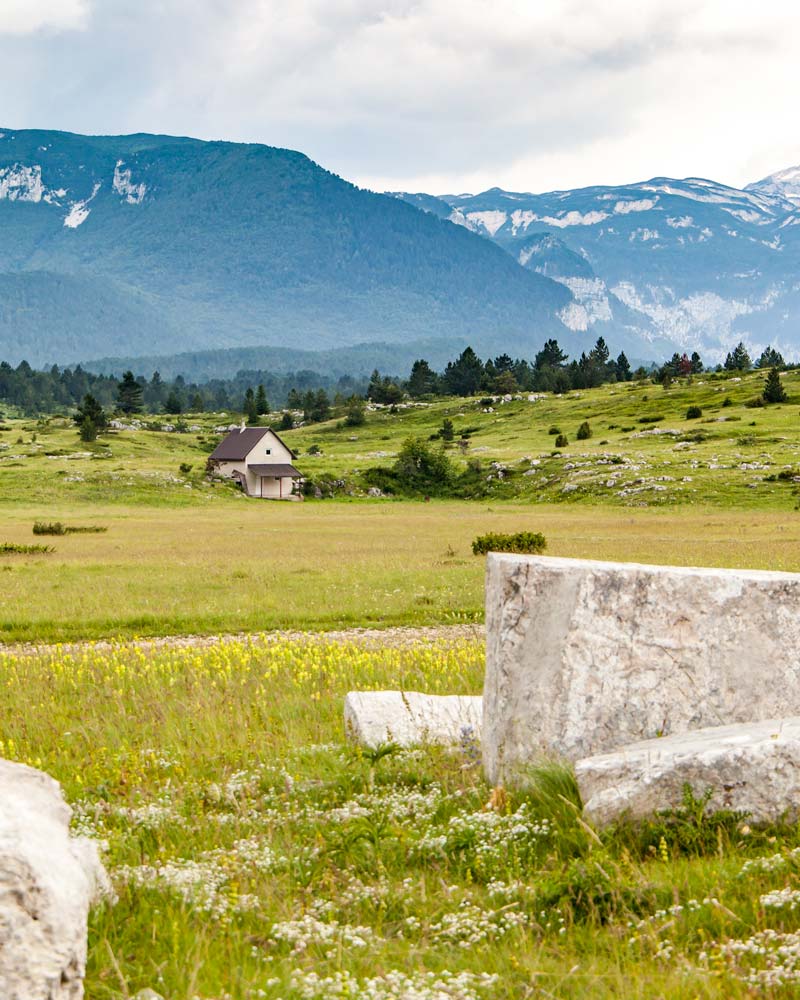 A history lesson in Sarajevo
The capital city of Sarajevo might not have the instant photographic appeal of Mostar, but it more than makes up for it with soul. With Austro-European architecture meeting in the middle with Ottoman style, the old part of the city is awash with architectural gems whether in the town hall, religious buildings representing many faiths or in small, traditional Bosnian cafe houses.
The city of Sarajevo can provide one of the most significant recent history lessons in Europe. From the Assassination of Archduke Franz Ferdinand, one of the key starting points of World War One, to the Crimes Against Humanity and Genocide Museum, which offers a heartbreaking detail into the massacres which ended as recently as 1995. Bullet holes can be seen in walls here, ex-Yugoslavian buildings tower alongside modern new shopping centres, and it's a city where you can feel, learn and experience so much.
One of the best things to do in Bosnia and Herzegovina is take a tour to get to know more about the nation's past. I had an excellent local guide called Nedzmina who you can connect with on Instagram.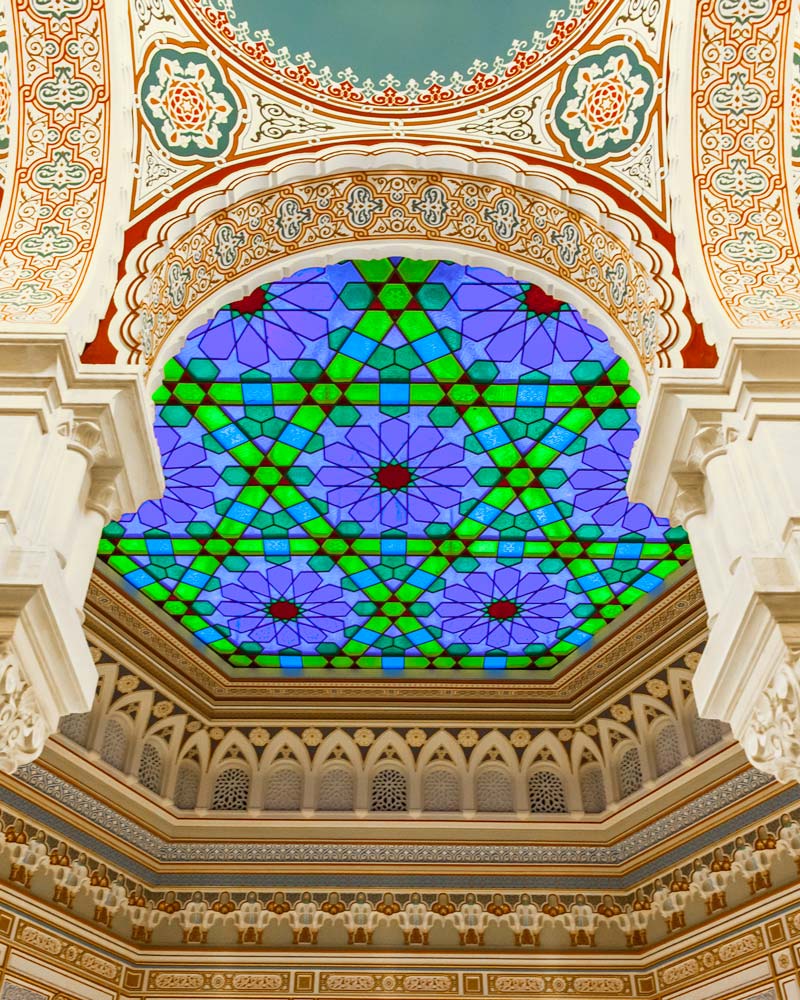 Tour the incredible lakes
From the magical colours of Jablancia through to Rama in Scit (which isn't pronounced like shit, although it will sound that way if you are British) where a Monastery sits in the middle of the lake dotted with islets, many of the places to visit in Bosnia and Herzegovina will require a car.
En-route, the colours will blow you away. Mother Nature worked her magic here, and it's evident on each of the waterways and one of the top reasons to visit Bosnia and Herzegovina.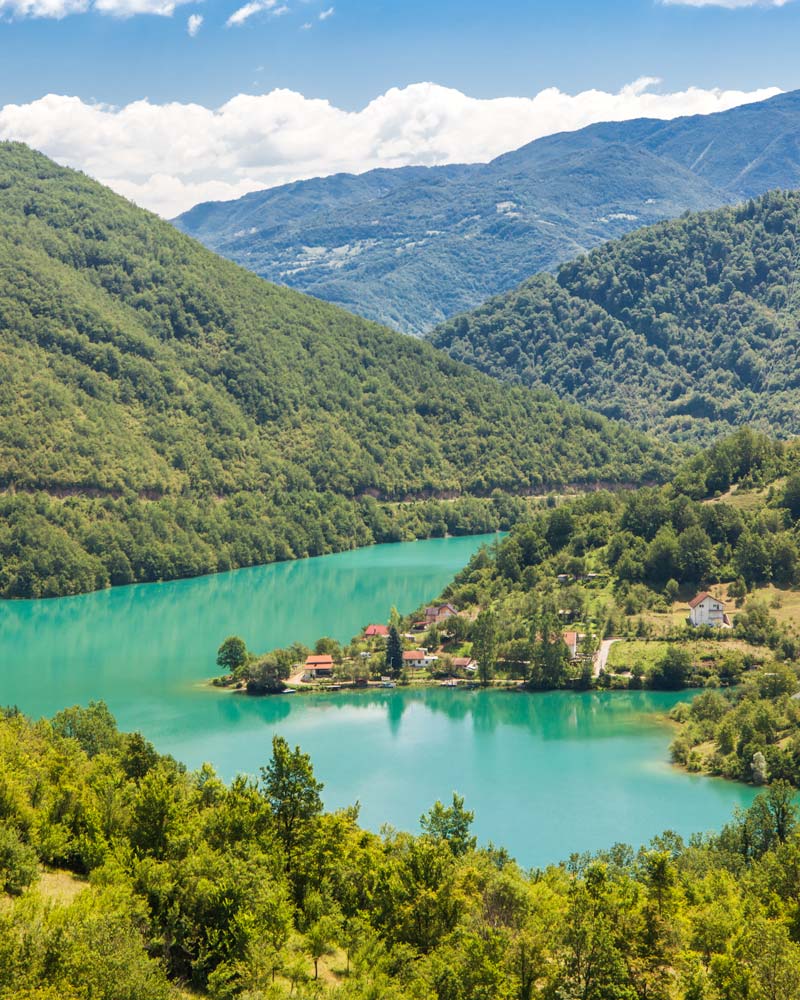 Zavala & Vjetrenica
The old Austro-Hungarian railway used to run across the nation, but now, with most of the tracks under concrete, the route has been repurposed as Ciro, a cycle path linking Mostar with Dubrovnik. While the sport-inclined may want to jump on their bikes, for those who are road tripping the route has some cool places to stop, and you can even stay at some of the old train stations, now converted into boutique hotels.
I did this in Zavala at the old Zavala Station – now hotel rooms – where the current population is around six I believe. This stunning valley is one of the most tranquil places to visit in Bosnia and Herzegovina and a great place to switch off and star-gaze while sipping on the very local wine. The friendly hosts will spoil you with fantastic home cooking and guitar renditions before you retire into the pristine rooms of the lodging.
By morning, take a small hike up to Zavala Monastery to watch the sunrise before heading deep into Vjetrencia caves, the largest in the country and one of the top things to do in Bosnia and Herzegovina.
Stretching over 7000-metres into the rock face, but with only around 2000-metres open to the public, the formations have a few famous qualities.Firstly, the chimney like holes throughout the caves creates a micro-ecosystem and constant breeze and wind, while unique wildlife, such as the Human fish with four legs lives in the waters.
Neum
If you were to glance at a map of Bosnia and Herzegovina, you might assume it is a landlocked country, but a tiny slither of the coast, which divides all the amazing things to do in Dubrovnik from the rest of Croatia belongs to this nation.
The small town of Neum isn't likely going to win any awards as a beach destination, nor is it one of the top reasons to visit Bosnia and Herzegovina, especially given the range of spectacular islands neighbouring Croatia has on offer. But, it makes for quite a fascinating experience, especially if you cross the border from Dubrovnik.
Twenty minutes after your first border check out fo Croatia, and thus the EU, you'll arrive at the second border to re-enter. Sadly for a lot of visitors to Croatia, this is the extent of Bosnia and Herzegovina they see.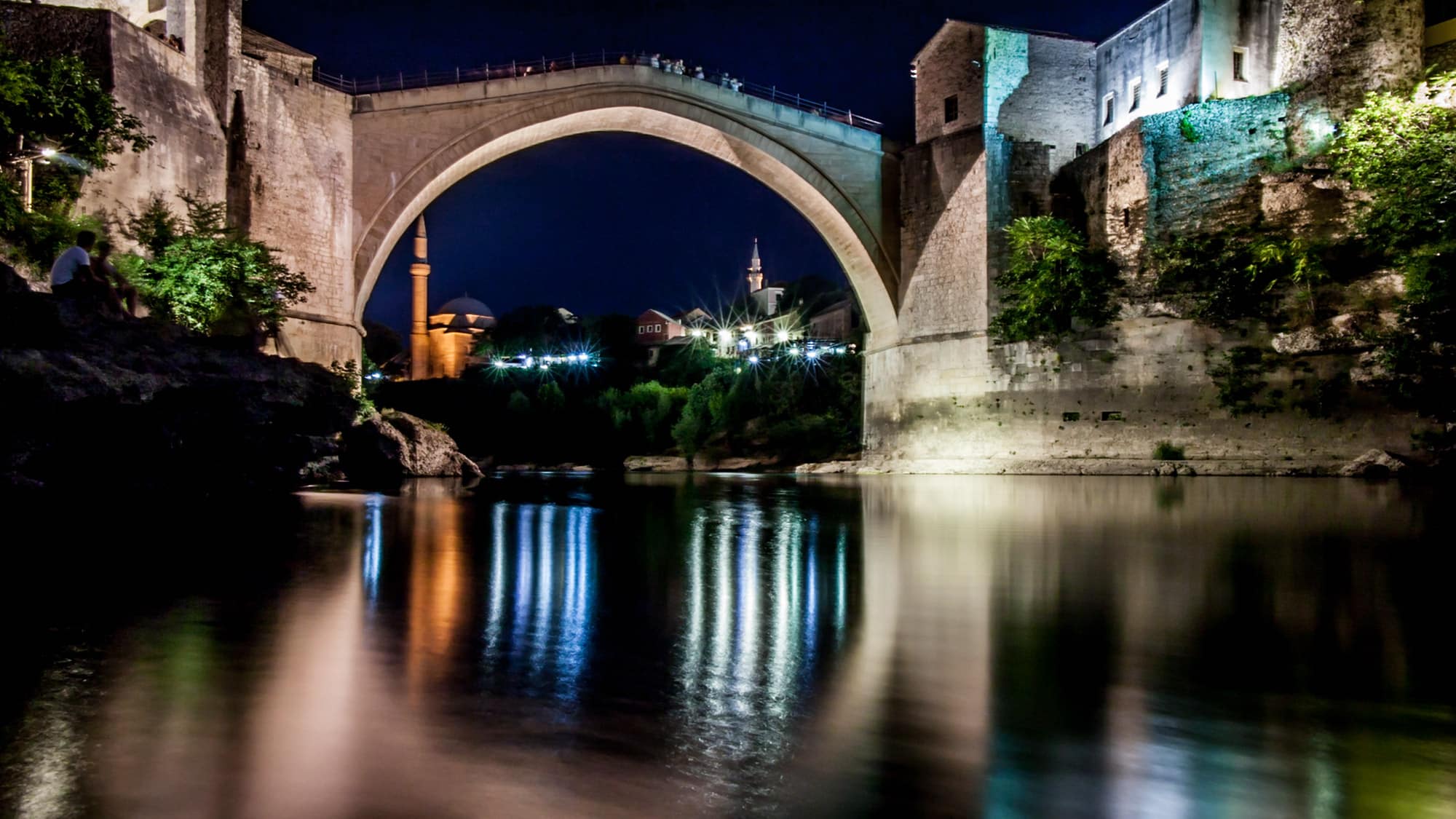 Bosnia and Herzegovina is so much more than a country to visit for me. It's a place you go to reconnect with nature, to reconnect with history and to connect with incredibly welcoming people. The country has had a turbulent past, and there are indeed some divides between the Bosniaks, Croats and Serbs that call this special place home, a story for another article.
But if you are looking for a fascinating, relatively affordable and beautiful vacation for your next trip to Europe, then these things to do in Bosnia and Herzegovina tick all those boxes and more and I hope these reasons to visit Bosnia and Herzegovina have you sold!
https://www.danflyingsolo.com/wp-content/uploads/2018/08/Mostar-Old-Bridge-Stari-Most.jpg
1152
2048
Daniel James Clarke
https://www.danflyingsolo.com/wp-content/uploads/2022/01/blogo-1w.png
Daniel James Clarke
2020-06-01 15:41:48
2023-08-22 15:18:32
Things to do in Bosnia and Herzegovina: places to visit and reasons to go