Sado Island: A two-day Tokyo escape of Taiko drums, tub boats and temples
This website uses affiliate links which may earn a commission at no additional cost to you. As an Amazon Associate I earn from qualifying purchases.
Updated: 19th June 2020
Red numbers flickered in the high 200's, as the Shinkansen bolted across the countryside, leaving the beautiful crazy of the capital behind. The scenery changed from industrialised towns to mountains of snow quickly, and I was excited for my two-day trip from Tokyo. Sado Island had been described to me in several ways, from Japan's mini Hawaii to the Island of Gold where few remain. December wasn't high-season to explore this slightly off-the-beaten-path Japan destination, and by the time we pulled into Niigata Station, the train was sparse of people.
The fewer people, the better, I pondered, having just spent a night in Tokyo and been reminded of just how big the cities of Japan were – a far cry from the relaxing world of Kochi where I had been the week before. The main draw to Sado Island for me was the chance to witness traditions, such as Taiko drumming lessons and tub boats, but also to embrace the considerate culture of Japan, on a smaller scale.
Nicknamed the butterfly island, due to its shape, Sado sit's off the west coast of Japan, and following the train and quick bus ride, a jetfoil will shoot you across the water in under an hour. Coming closer to the Island, dramatic rocky mountains with snowcapped peaks greet you, while little human activity is immediately apparent. At its peak, Sado was a vast gold mine and an essential part of the nation's economy. Nowadays, like much of Japan, the population is ageing and dwindling, and a slower way of life can be expected.
Sliding into Ryotsu Port, one of two on the Island, I didn't expect a hub of activity. In the main tourist season there are plenty of guided tours and more bus options, but being December, I was more limited. I'd opted to stay on the far-southern point of the Island, as many places of interest are in that location, though nothing is every too-far away on Sado Island. With the full-day ahead of me, I'd arranged a driver to meet me here, and en-route to my Ryokan we would visit a few places.
Moments from Ryotsu is Toki Forest Park, a conservation and breeding area for the Toko Bird, a graceful Ibis with a slightly pink colour to it. These iconic beauties can sometimes be spotted in the wild around the Island, and whenever one appeared, even if hundreds of meters away, Nagata, my driver, apparently with the eyes of a hawk, would excitedly point out its presence. At the Toki Forest Park, you are more guaranteed to see these elegant feathered creatures. The small area holds a museum, which details the breeding programme, and a large enclosure where Ibis are awaiting their return to the wild – sadly, it was closed for renovation work, so we quickly moved on to the heart of the islands history: gold.
For many years, Sado Island was a wealthy contributor to the nation. The hills are literally packed with gold, and around a thousand people were sent here to work in the mines, strenuous work and hard labour with less than modern practices, although overtime conditions did improve slightly.
Although I wanted to head straight into the old-mines, now set up for visitors, Nagata proudly wanted to show me the nearby Gold Museum, which had just recently opened its doors. Amongst the older wooden buildings, this new glass structure looked somewhat out of place. Still, it provides an excellent overview of the history of the Island, especially about the gold industry and important trading routes, of which Sado was a vital spot.
Buying my nominally cheap entrance ticket from a machine (it is still Japan, after all), I was impressed at the high-tech quality of the museum, and the fact all the videos were in English and Subtitled. Through a handful of different rooms, you are taken on a tour of the history, and animations are projected on 3D tables and walls, depicting water floods, gold flying, and mountains terrain. I was very impressed with the design of the museum, even more so as there wasn't another soul there.
A short drive from the museum are the mines themselves, the exterior stations now looking like some kind of Aztec Ruins, coated in green moss, fading back into the surrounding nature, but on closer inspection, concrete pillars and floors that had been abandoned, and exposed to the elements.
These mines are likely the contributors to most of Tokugawa shogunate's fortune, a dynasty clan from the Edo Period of Japan, but now are fully closed, not because the gold run out, but to protect the environment, especially the Ibis birds.
The two main mining tunnels are however much better preserved, and an audio-guide tour will take you through these and around the back, where little trains and mountain views are shared with tool museums. The Sado Kinzan tunnels themselves show the conditions, traditions and reality of the mines, and being Japan, robots played the parter of the miners to depict that in further detail. There was something quite eerie about being way underground, and the occasional robotic arm or face moving towards you.
Back in the warmth of the winter sun, we rounded off our gold-history lesson with a spot of panning. While explosives would have rushed the gold from the mountains into the waters, for tourists, a ready-made experience of inside sandy beds await. Here, you'll be shown how to pan and have a window to bag yourself a few flakes to take home. Apparently, I have a natural talent, as my 18-pieces of tiny sliver seemed to set a new record, and I walked off into the sunset a few dollars richer.
Speaking of sunsets, I'd been told that Sado Island has some of the best in the world, and tonight, the only night of my trip without cloud cover, that was very much true.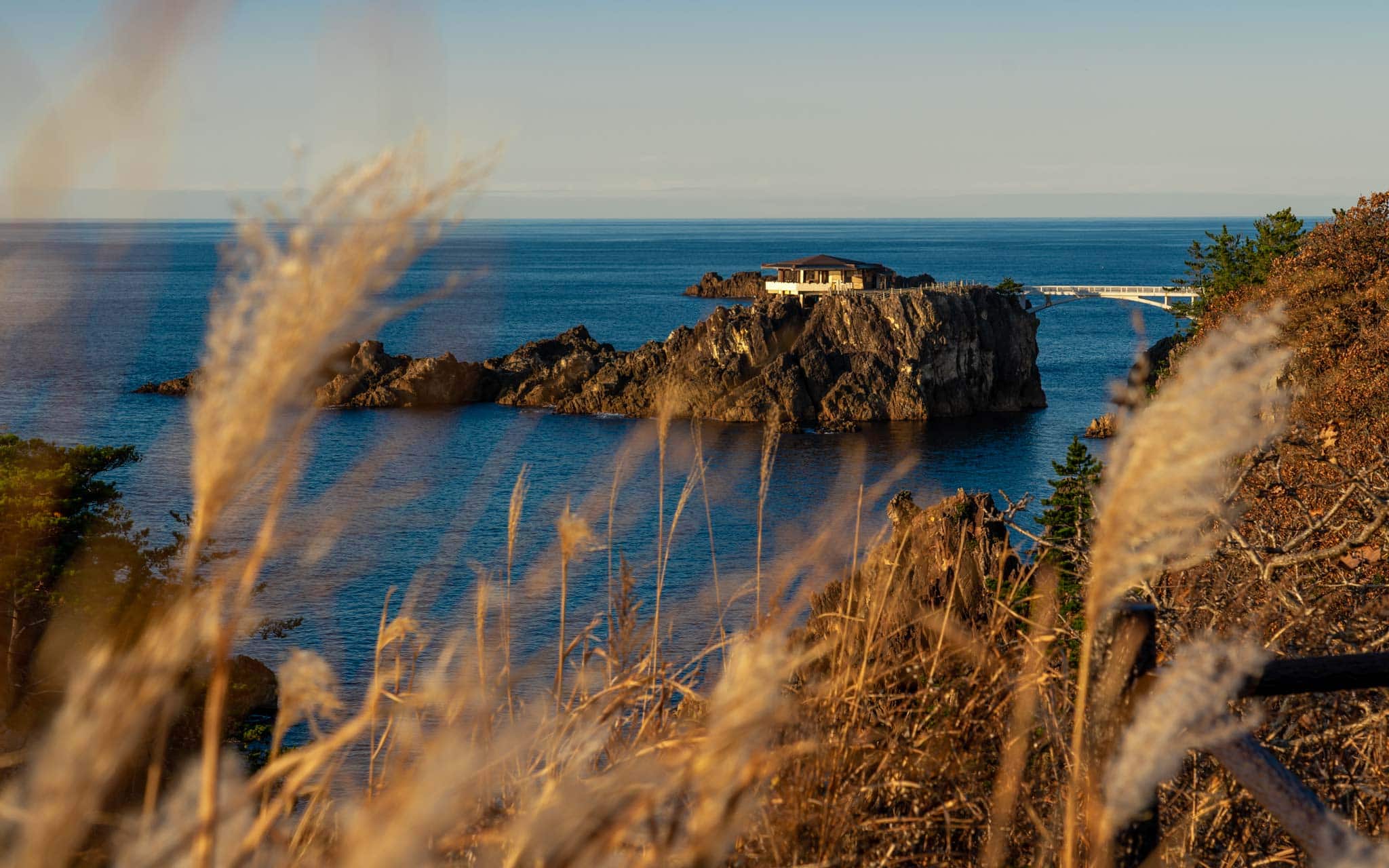 Stopping off at Senkakuwan Bay, on the suggestion of Nagata, I purchased a ticket to the viewing platform here, where a little white bridge carries you across to a rocky outpost. At first glance, I had assumed it was a small temple, but getting closer, I realised it was a bar area, likely famous for sunset Sake in the summer months. The views around this part of the coast were spectacular, and the dramatic rock formations made me realise the comparison to Hawaii.
From a photography point of view, the vistas looking back out on the viewing platform actually trumped standing upon it, and in-season small boats depart from here for tours. A quite sad aquarium with equally sad-looking fish can also be found here, the only place on Sado Island I didn't enjoy.
Driving the coastal road to the far southern-point of Sado, the sky danced from oranges and yellows to purples and reds, and by the time we arrived at Hananoki Inn, my 150-year old Ryokan and home on the Island, the sky was starting to twinkle with stars.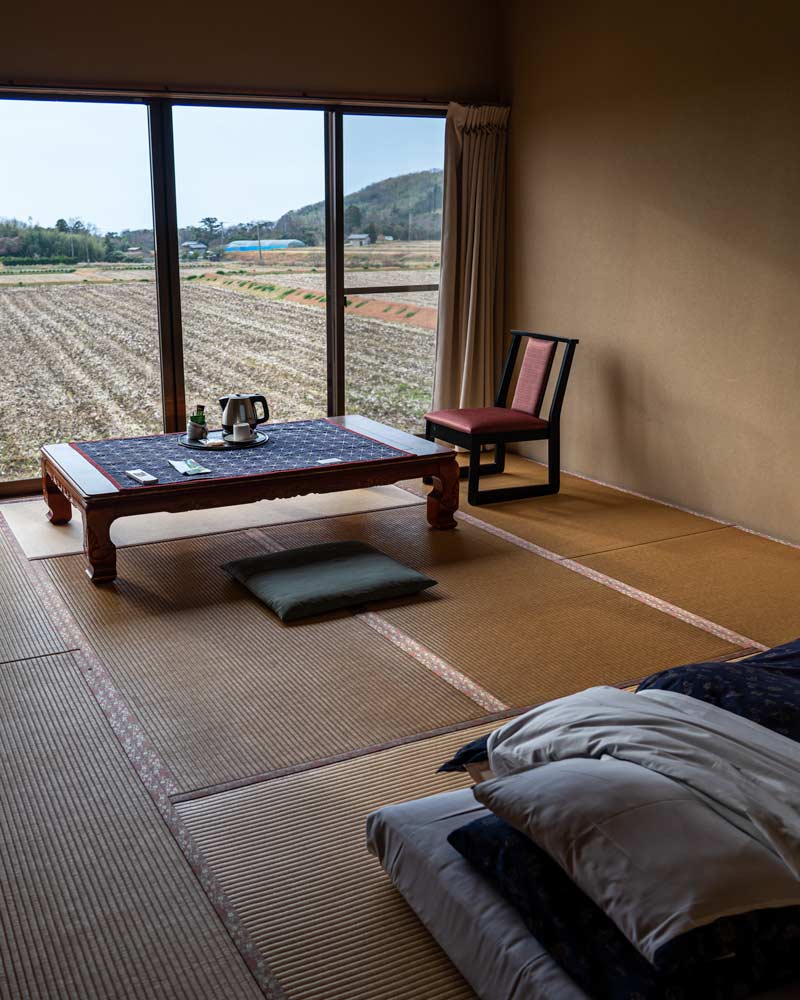 A small family affair, Hananoki Inn is the second of the family-run accommodation on this side of the Island, and they happily gave me a life to their other hotel to enjoy the onsen. By now, I was getting quite familiar with these naked hot spring baths, and the large glass windows looked out on the bay, a beautiful view I imagine during daylight.
On return to the Ryokan, which is a traditional Japanese accommodation type, where wooden rooms have incredible comfortable futon beds laid out on the floor, a spread of treats awaited me.
Famed for its seafood, and especially Crab, my first meal on Sado Island consisted of countless courses, all served with a smile and laughter, and plenty of local beer. With just a handful of rooms or rather wooden cabins, there were only a few guests in the dining room. We all talked, and a local fashion designer and artist, whose work has been exhibited across the world, struck my interest. The arts are everywhere in Japan, but they also seem to thrive in these small rural pockets known for their creative energy.
The grey light of a cloudy sky woke me from my slumber, as the full-length windows framed the rice terraces outside my cabin and the sea beyond that. Breakfast was a whole other affair, of eggs, salmon, noodles, soup and many more little dishes I couldn't name or even describe.
Pulling up last night, the huge Budha statue looming behind the Ryokan had caught my eye, so I set out on a walk to explore the immediate area. Curving around from the huge figure was a path leading into some dense bamboo, intrigued, I followed it.
When researching where to visit in Sado Island, I found the usual top things to do in Sado lists, but they all seemed relatively incomplete. That morning I realised why beyond the towering Buddha and peaceful Bamboo walk, I passed little temples, and climbing some stairs, a cave packed with hundreds of Budha statues of all sizes, both lining the inside of the temple, but also leading up to it, each well 'dressed' and starting to catch a mossy green glow.
The cave temples went by the name 岩屋山石窟, and therein lay the reason as a tourist you really have to do your own exploring here, and in many parts of Japan. Much of the information hasn't been translated, so discoveries of your own, or asking locals, is the way to go.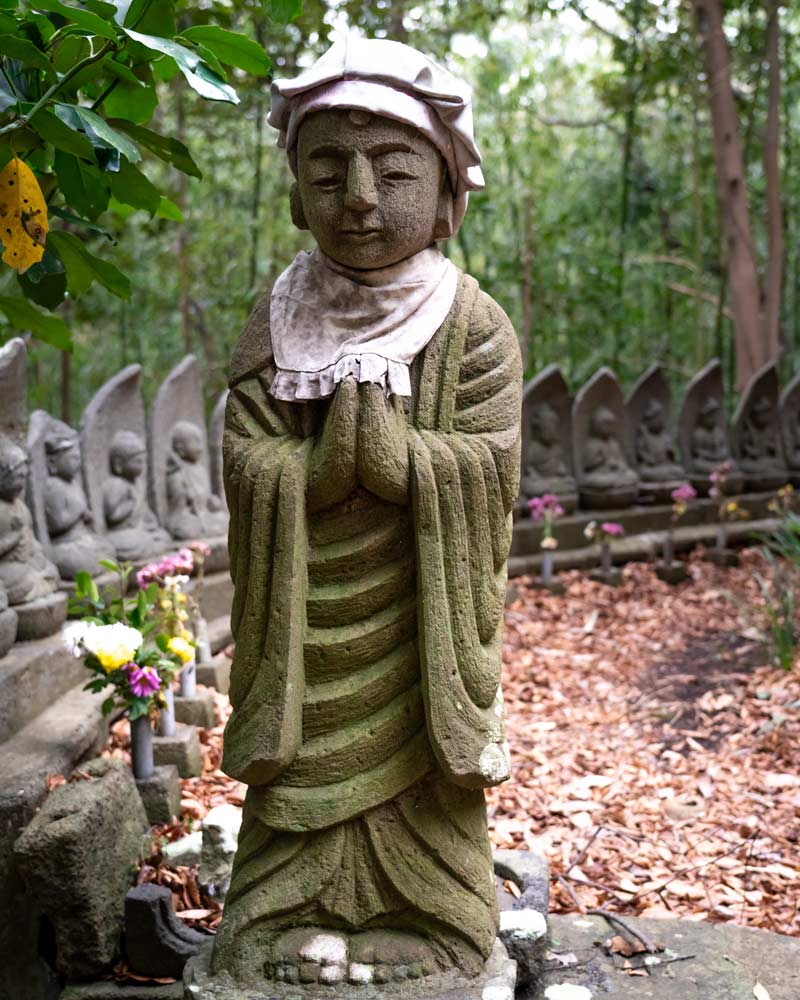 From Hananoki you are well placed to explore many of the Island's attractions, of which are large amount seemed to be concentrated in the south, perhaps given the flatter terrain than the north.
By now, the sun had pierced through the clouds, and the ocean was illuminated in surprisingly bright shades of blue. Little villages of wooden houses and colourful blue boats broke through the small clearing of trees, and a unique type of lava-rock formation, which came up from the sea as it wasn't a volcanic island defined the rugged rocks where the water met with the land.
Little caves and shuttered-for-winter scuba schools could be found in the central coastal villages, but my mind was focused on finding the traditional tub boats of Sado, the Hangiri Tarai.
Yajima Island had looked one of the most scenic spots on the Island during my research, and it was only a short stroll from my temporary home. A little bay of still water looked out onto the rocky and greenery covered Island, accessible by a bright red bridge getting slightly sprayed by waves. Crossing the bridge to the Island, a warning sign advised me to, or instead blocked me, from going any further.
Bees, a worker seemingly there on bee duty told me, pointing towards a huge nest that was blocking the way, and making a signal that looked like I would immediately face death by a million stings if I ventured any further. I didn't have much luck with the tub boats either here, being off-season, although I imagine it would be a picturesque place to enjoy these round traditional almost bathtub like vessels.
Later in the day, and further along the coast, in the not so scenic Ogi Port, I'd get the experience of not just riding in one, but having a go at the wheel, or rather a single oar, which you swirl in a circular motion to move. I can't say the port building or grey skies made for the most beautiful moment of the trip, but the colourful traditional costume and continual laughter of my driver, seemingly finding it hilarious that I made us just go around in a circle than any given direction, put a smile on my face.
Next up, it was time for the part of my Sado Island visit I was most excited for, turning my hand to Taiko Drumming. The Taiko Experience Exchange Center usually closes in the winter months, but luckily as it was their last days of packing everything away, they had agreed to squeeze me in for a little lesson.
Taiko itself just means a percussion instrument, but Sado Island is famed for its players, the Kodo Group, who tour the world showing off their skills and I was lucky to have one of these stars teaching me the ropes during a one-hour lesson. The huge wooden hall had drums of all size in them, including two giant ones that my instructor had helped hand carve from a single hollowed-out tree herself.
Patiently, I learnt how to play three different types of drum, and the session ended in a full-on jam as we battled it out together, seeing who would fail at 'follow the leader' first. If there is one memory I'll cherish from Sado the most, it was that hour, the patience and talent of my instructor, and the incredible friendliness of everyone at the centre.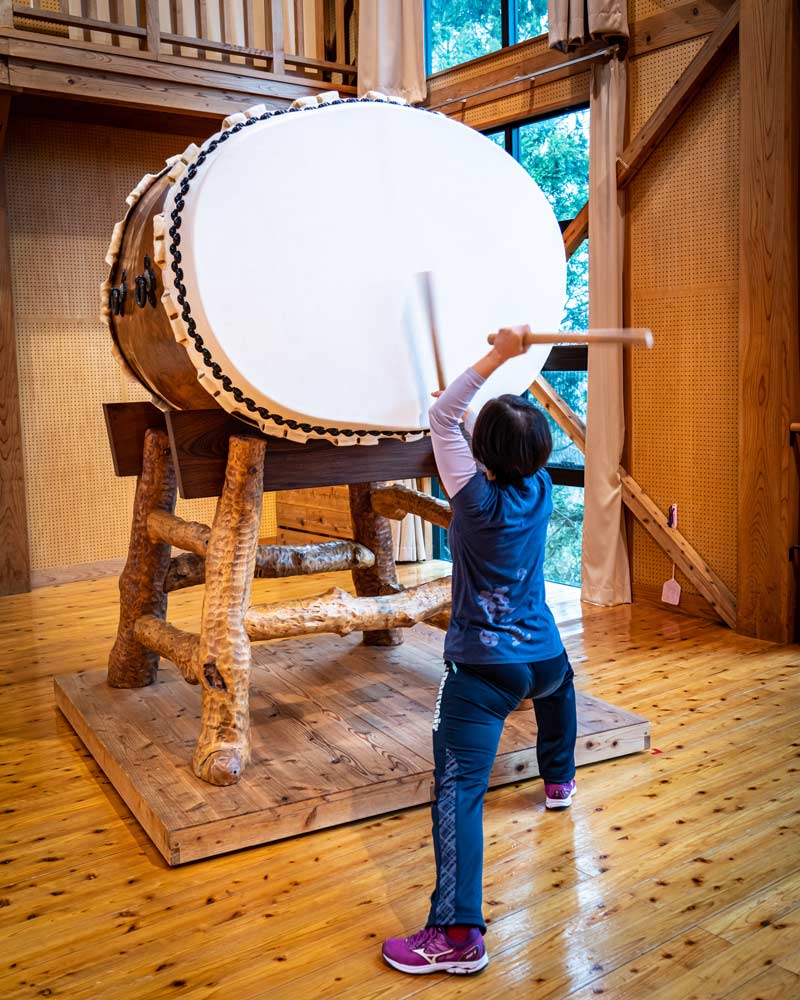 For the final slice of Sado Island history that day, I ventured to two of the most iconic places on the Island: Shukunegi Village and the Ogi Folk Museum.
An abandoned school and temple building, the Ogi Folk Museum is packed to the rafters with pieces of the Island's history. From fishing to school desks, lamps to religious objects, the many rooms hold a whole treasure trove of goodies – many of which were alien to me. Most of the information is not in English, but a short video about the towering ship in the museum gave some insight. You can also walk onto the replica boat, a copy of what would have taken gold off the Island. Each year for a special festival it is wheeled outside and the mast raised.
Apparently, in recent years though there has not been enough people to shift this beast outside, another reminder of the changes and challenges of Japan's rural populations.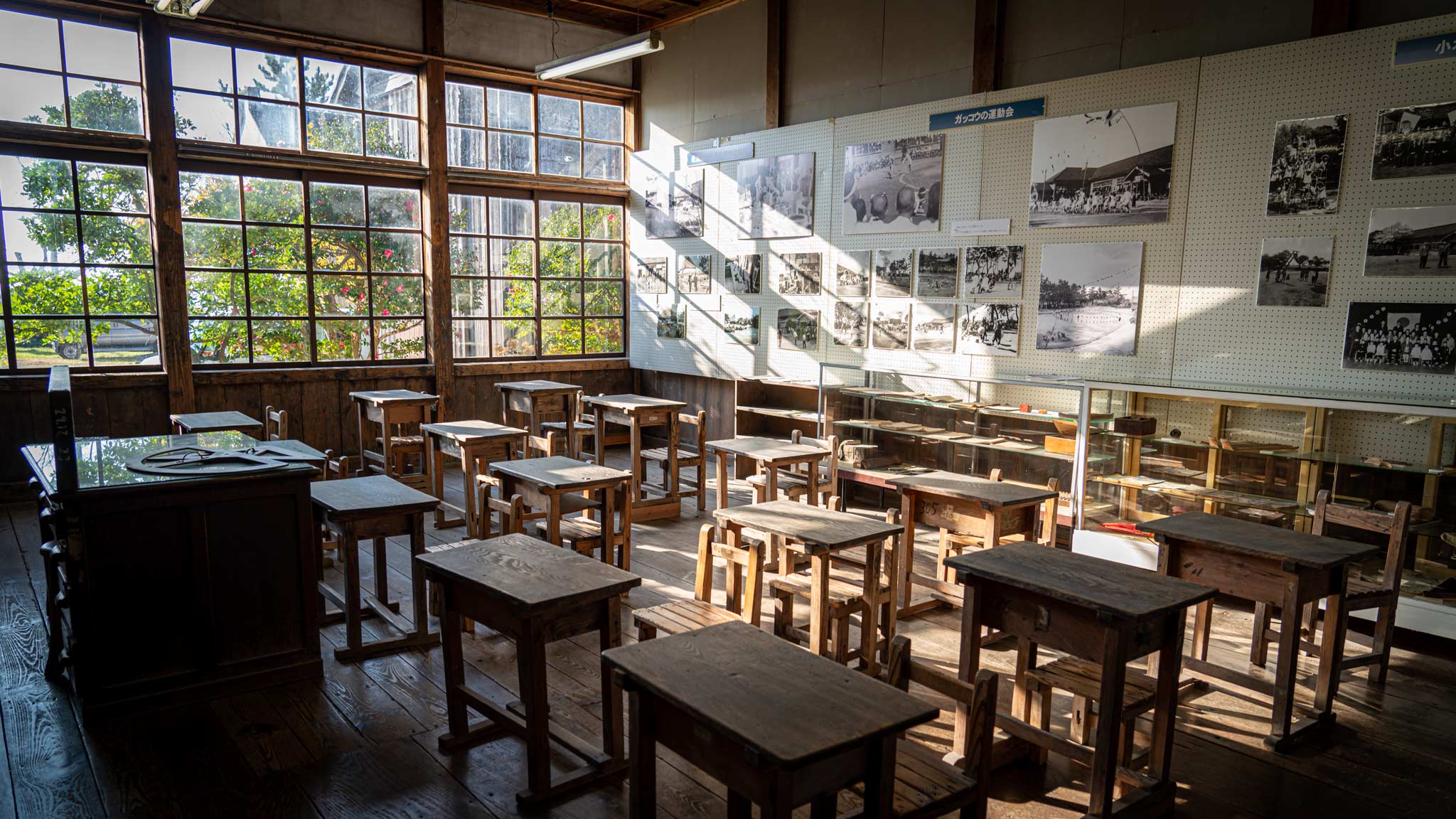 For a more hands-on slice of Sado Island history though, Shukunegi Village, which you'd be forgiven for thinking is part of the museum, obliges. The tiny narrow streets of this community are framed by wooden buildings, dating back hundreds of years. Although peaceful and quiet, families do still live here, and many of the homes are occupied.
The village is a fascinating insight into how life was, and to an extent, still is on Sado, with colourful buildings of all shapes, and museums and rooms you can venture into and soak up the atmosphere of tradition. Little temples, springs, and the obligatory coffee vending machine remind you it's very much still home to those that live here.
With a drizzle of rain arriving, I returned to my warm futon and ate a ready meal from Ogi supermarket, the last light of the day fading into the ocean. Sado Island isn't somewhere you come for the nightlife, well, in December at least.
Reunited with Nagata at the helm of the wheel, today's plan was temple hopping, and with lots across the Island, you are spoilt for choice. I picked out five or six I wanted to visit, and accepting the mission; we sped off for a whirlwind tour of Shinto Shrines, Temples, and the islands only pagoda.
Our first stop was Chokokuji Temple, also known as the Rabbit Temple. I knew there was a large white rabbit statue on the outside, where surely a Buddha should have been, but when I slid open the car door, the name made far more season.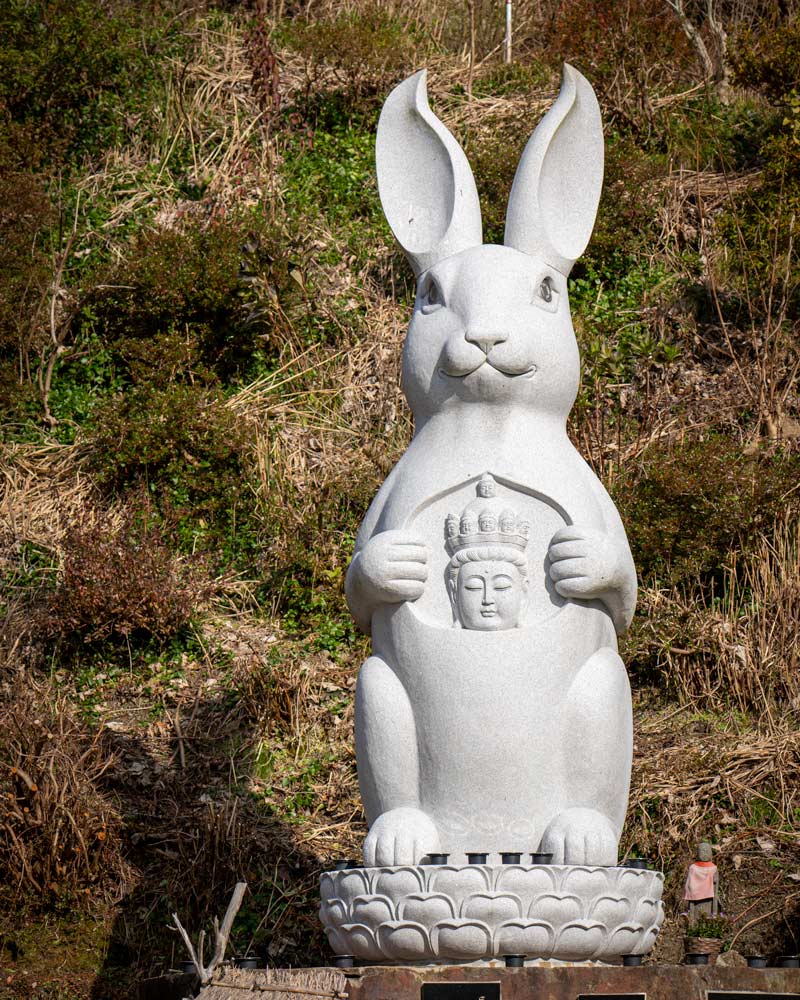 All around me Rabbits jumped about, lazed in the sun, or lapped up water from bowls. The owner had apparently taken in these rabbits, and given them a home fit for a god amongst the different rooms of the temple. While I'm often sceptical of animals being mixed with places tourists visit, from what I could see, they were all healthy, free, and living their best lives.
While the grand temple hall isn't too exciting, the stairs around the back, slowly crumbling away, led upwards to a couple of smaller temples, slowly being reclaimed by nature. A magnificent red paint illuminated one of those, and the trees encompassing it made for a postcard-perfect picture.
Second on my list was Seisuiji Temple, where the tall trees framing the moss-covered stairs had enticed me. Once we had climbed the deep stairs, ornate wooden carvings on the entrance frame greeted me, and to the left were the temple buildings which were still in use, but straight ahead something far more interesting.
The trees had started to envelop the wooden deck and platform, and Nagata told me about this theatre stage, where performances would have taken place above the viewers below. Now, abandoned, the interior is still striking, with etchings and paintings. The magic of the setting wasn't wasted on me, and perhaps, one day, it can be restored to its former glory.
Outside theatres are part of the Sado Island life, and it's on these stages that Noh, a traditional performance type is played out across the warmer months. At Shiizaki Suwa Shrine, another stop, where Shinto gates and nature collide, a small stage area, with painted backdrops, and back-stage passages visible to the world, is a popular place to witness these performances.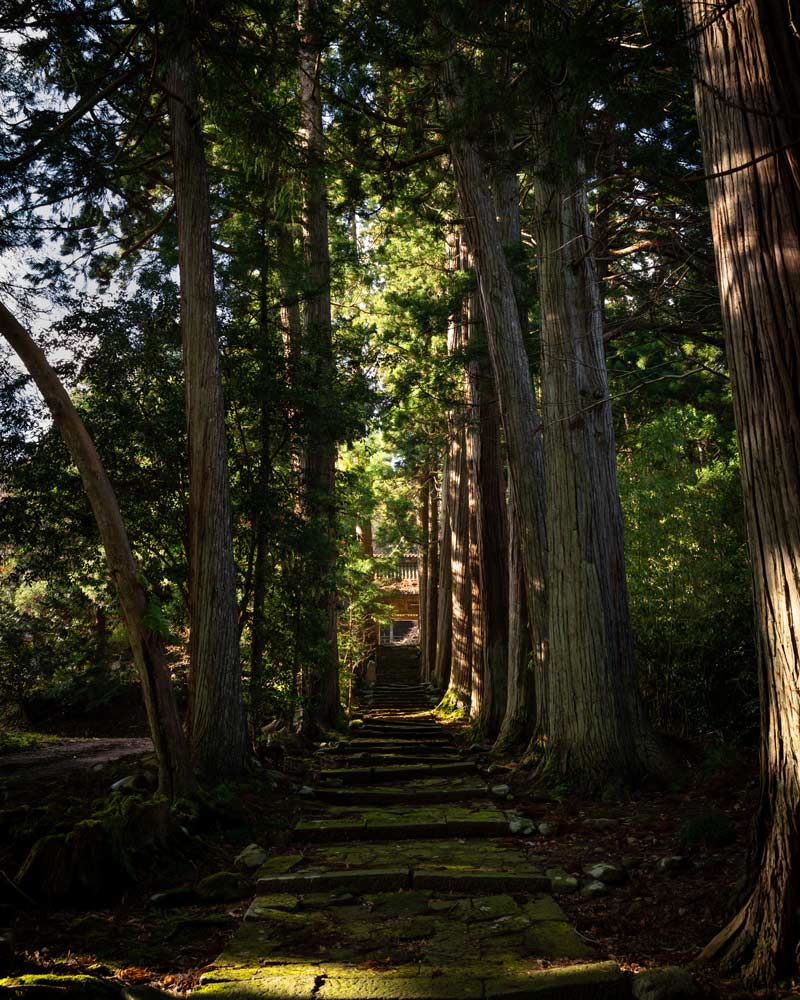 After a hefty plate of Tempura in a back-street recommendation from Mr Driver, I suggested a break from religion, to sample some Sado Island Sake. I'd been royally spoilt with Sake samplings in Kochi, but I'd heard of the Obata Brewery on the Island, which was headed up by a female Sake producer, once a rarity in Japan, but now becoming more common. Set in an old school, and continuing the recycling of buildings no longer needed due to population decreases, I sipped on a few of the award-winning Sakes, sadly unable to meet the master herself, as she was away on business.
There is only one Pagoda on Sado I believe, Nichirenshumyosen Temple, very much still in use and perhaps in the most pristine setting off all those we visited. Set amongst manicured gardens, with little ponds and multiple buildings for prayers, the wooden pagoda might not be as photogenic as the dark red ones throughout the country. Still, it was the perfect final stop on my tour of Sado Island.
As we drove back south, Nagata asked me if I'd like to see one more temple, and I happily agreed. Pulling into the Hamochiiioka village, and parking in front of a huge red gate, he smiled and shared that this was his temple, his hometown, and where he had been married. The pride radiated from his beaming grin.
The splendid Watatsu Shrine was clearly loved, as it was in pristine condition. Sharing how to clap, enter, pray and donate, Nagata kindly walked me through the experience of his special place, and it meant the world to me. To the side of the temple, encased in a glass box was the costume of a dragon, part of a popular festival on the Island. I couldn't fully grasp why it occurred, but it sounded like a dramatic event, ending in a celebration of friendship, and from what I gathered, obligatory Sake!
With storms rolling in the next morning, I received news of the jetfoils cancellation. On the rough seas, these can't sail. However, the ferry boats continue. Arriving at the port later than planned, the cashier dutifully exchanged my ticket to the ferry, refunded the difference without quibble, and I boarded bound for the hoards of people at Tokyo Haneda Airport.
On my previous trip to Japan I'd spent ten-days exploring Tokyo, nearby Yokohama and venturing to the splendour of Mt Fuji, but this time, from the clear rivers of Kochi, to the suspended in time Sado Island, I'd got an authentic flavour for Japan away from countless business people in suits, and hoards of tourists at the nations most famous sights.
I'd hold of saying I loved Japan until I'd seen more of it, as I made this trip, but now I can say with certainty I really do. Japan isn't just a country to visit; it's a way of life and culture to soak up and embrace. From the calm and considerate to the quirky and confusing, it's the best kind of culture shock I've ever received, and I hope if you are looking for a day trip from Tokyo, with at least one overnight stay, you get the chance to see this side of Japan, perhaps even more special than the skyline and robot-antics of the capital.
Getting to Sado Island: Sado Island is easily reached, although you'll need a bit of patience. No airport is required, as you can take the Joetsu Shinkansen to Niigata, the journey time is around 2.5 hours. From the station, a twenty-minute walk, or short bust journey, will take you to the ferry port where you have two options, with different prices, both run by Kisen. The jetfoil which takes around one hour, or the passenger and car ferry, which takes around three hours.
I did the jetfoil over, however, due to bad weather on my return these were cancelled, and only the slower ferry was running – something to be aware of. Pricing is in different tiers on the ferry, depending on what class and lounge you want to sit in. You can find more details/tickets here.
Getting around Sado Island: For a small island, Sado is reasonably well equipped for tourism. Details on the various bus routes can be found here – though note they don't offer that much flexibility, nor can take you to every place mentioned in this article. The hiring of a private driver for the day may be helpful to reach places that are further out from where you are staying, and not on the bus network. I used Okesa Taxi – and although the website is not in English, run it through Google Translate. My driver, Nagata, was super helpful and friendly and was very kind to offer to accompany me into certain attractions where he knew I would require translation help.
Where to stay on Sado Island: I stayed at the Hana no Ki Rykonan, which although seems far away in the southern tip of the island, is actually well located for a lot of places you'll want to visit, such as Shukunegi Village.
A family-run Ryokan, in a beautiful home dating back some 150-years, they also own another hotel with onsen in the next village, and you can get a lift to use the facilities. While it was winter during my visit, the large room windows looking out over rice terraces and the ocean, coupled with the tranquil gardens and traditional wooden futon bedrooms made for a relaxing and peaceful place to stay. Official Website | Tourist Website (in English)
https://www.danflyingsolo.com/wp-content/uploads/2019/08/Sado-Island-Japan.jpg
1280
2048
Daniel James Clarke
https://www.danflyingsolo.com/wp-content/uploads/2022/01/blogo-1w.png
Daniel James Clarke
2020-06-19 13:10:30
2023-03-29 18:51:26
Sado Island: A two-day Tokyo escape of Taiko drums, tub boats and temples