Renaissance architecture, sacred statues, and plenty of vino: how to spend a weekend in Valladolid, Spain
This website uses affiliate links which may earn a commission at no additional cost to you. As an Amazon Associate I earn from qualifying purchases.
Updated: 20th November 2022
IN PARTNERSHIP WITH #SPAINBYTRAIN
Whizzing through arid fields appearing like a golden mirage on the horizon, a weekend in Valladolid, Spain, was awaiting. Just a short one-hour journey from Madrid – courtesy of the country's high-speed rail network – somehow, this storied spot had slipped my radar on previous trips.
While I'd spent time in some other cities in Castilla y León (Spain's largest autonomous community), such as Salamanca and Segovia, this architectural feast of sacred statues and grandiose renaissance architecture was new to me, and a weekend in Valladolid seemed the perfect amount of time to get a taster.
As it turns out, tasting is very much a part of life here, especially regarding vino. With five Designation of Origin (DOP) appellations – and twenty grape varieties – within Valladolid province, it's a wine aficionado's paradise. While the vines might be aged, the city's energy remains relatively youthful, thanks to the large student population of one of Spain's oldest universities.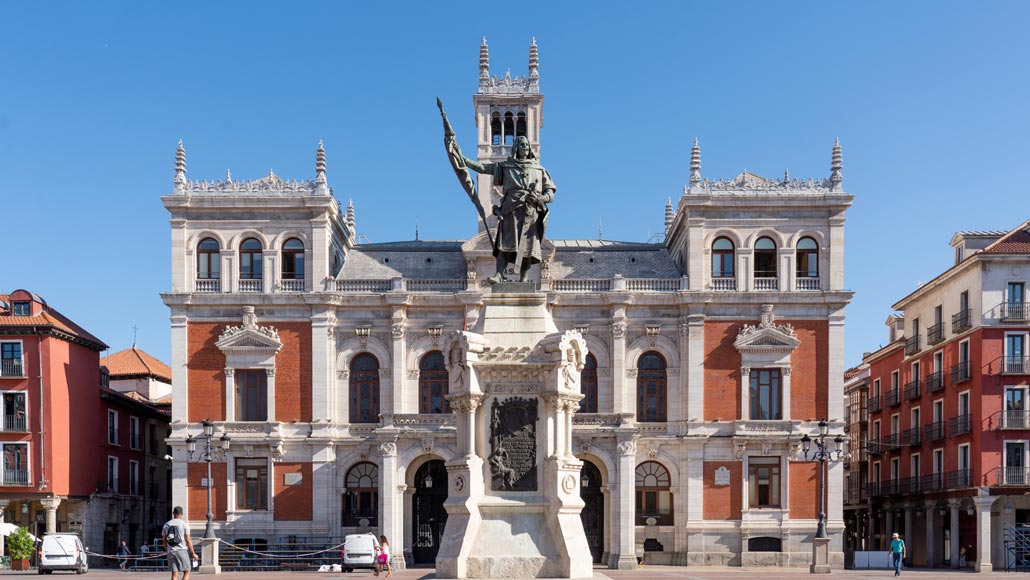 Born from a 10th-century village, Valladolid's importance started to really grow in the 15th century. Plenty of money followed, leading to the countless Renaissance-period buildings gracing the city. For a brief moment, between 1601-1606, it even became the de facto capital of Spain.
While the city might be most famed for its religious and sacred art or the vines on its peripherals, there's plenty more to enjoy over a weekend visit to Valladolid, Spain. My suggestions below are based on a Friday arrival and Sunday departure and should work with the varied opening hours. Still, it's always best to check closing times (and remember Spain's afternoon siestas) in advance.
Day one: arriving in Valladolid, Spain
If you're arriving in Valladolid on a Friday afternoon, take a brief orientation walk, admire some of the city's wealth of architecture, and dive straight into trendy dining and wine pairing.
Arrival: stroll through Campo Grande and by Academia de Caballería
From the train station, the shaded Campo Grande park provides a nice arrival stroll to the historic centre. Passing peacocks roaming free and pretty fountains, you'll exit the parking with a view of the imposing Academia de Caballería, the cavalry academy.
Late afternoon: visit Palacio de Santa Cruz
Open until 9 pm on Friday evenings; the 15th-century Palacio de Santa Cruz provides a little pre-dinner culture.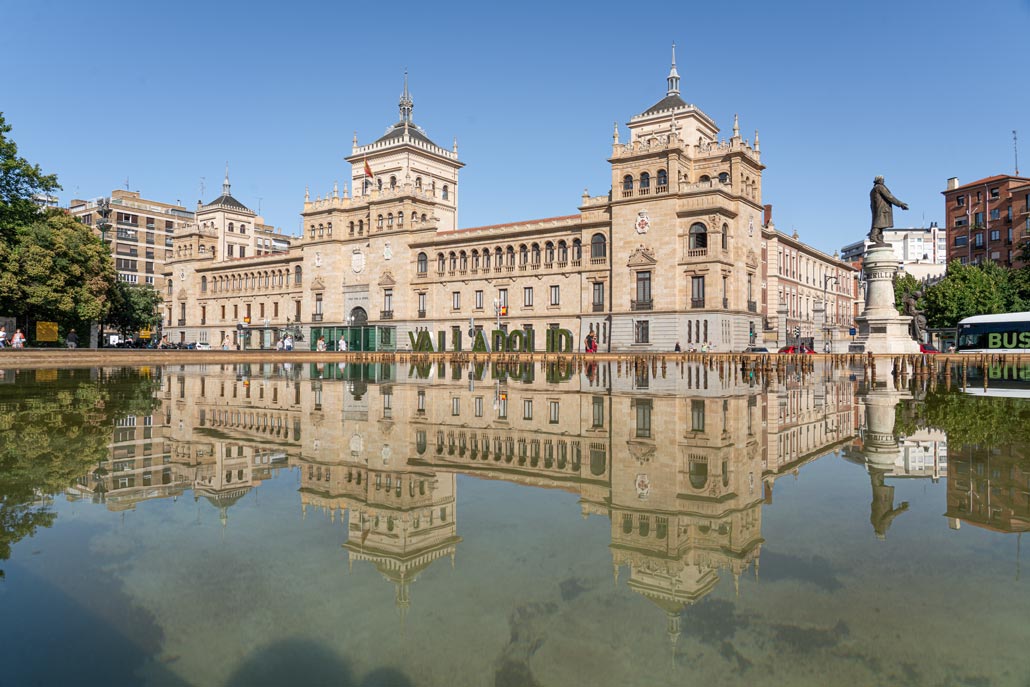 Established as a college, the building still retains its historical roots, as, alongside new governmental offices, it remains a student residence with a breathtaking library (requiring a pre-booking to visit).
The courtyard of the Palacio is particularly impressive, with Renaissance-style pillars and neoclassical windows. The building also houses the Museum of African Art (open until 7:30 pm), housing an extraordinary collection requiring at least an hour to appreciate fully.
Pre-dinner drinks and tapas: Calle Cascajares
Valladolid is very proud of its tapas (small snacks served with drinks) culture – even playing host to the World Tapas Championship – so, settle in for a pre-dinner drink at one of the lively bars and taverns along Calle Cascajares and dive in.
Leading its way to the cathedral's facade, this spot has a handful of terraces perfect for a warm-evening pre-dinner drink, and with Vermouth making a big comeback in Valladolid, a fortified wine-based cocktail is the perfect pairing to your tapa.
Dinner: Melêl
Just around the corner, Melêl restaurant hides its trendy interior behind the tables of the terraces. Inside, around a large, communal dining table, flanked by video screens projecting the staff eating and drinking so that you are all 'part of the experience', you'll find the magic.
If you opt for the wine-pairing menu, you'll enjoy a serenade for your palate. Innovative dishes with modern presentations are matched with quality wines from the region and beyond, and the atmosphere is fun with sharing the space with fellow diners. This was my favourite spot I ate in the city, and reservations are highly recommended.
Drinks: Bizarro Bar Independiente
On the same streets as Melêl, a handful of late-night bars will be closing their terraces post-dinner, with the party continuing inside.
Bizarro Bar Independiente, a welcoming-to-all space, is a good starting point for a post-dinner drink, with plenty more late-night options in this student-heavy city should you want to keep the party going.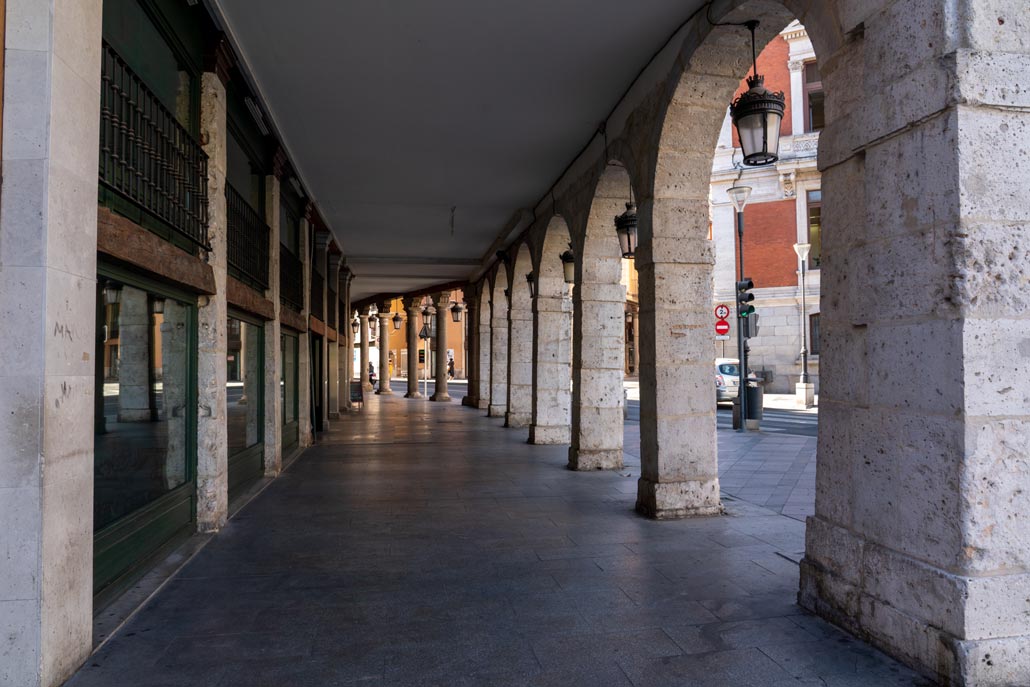 Day two: things to do in Valladolid, Spain
As this schedule is based on a Saturday stay, you'll want to check opening hours should you be visiting on another day. The cooking school, for example, currently only offers public classes on Saturday mornings.
Morning: Cooking Workshop
Start your Saturday learning how to cook some delicious Spanish dishes at Valladolid's International Cooking School.
While this renowned chef school is producing the culinary stars of tomorrow, Monday to Friday, on Saturday mornings, they offer public classes ranging from tortillas to rice dishes and anything in between.
You'll need to book ahead to guarantee your spot, but it's a fun activity followed by a feast of your own making.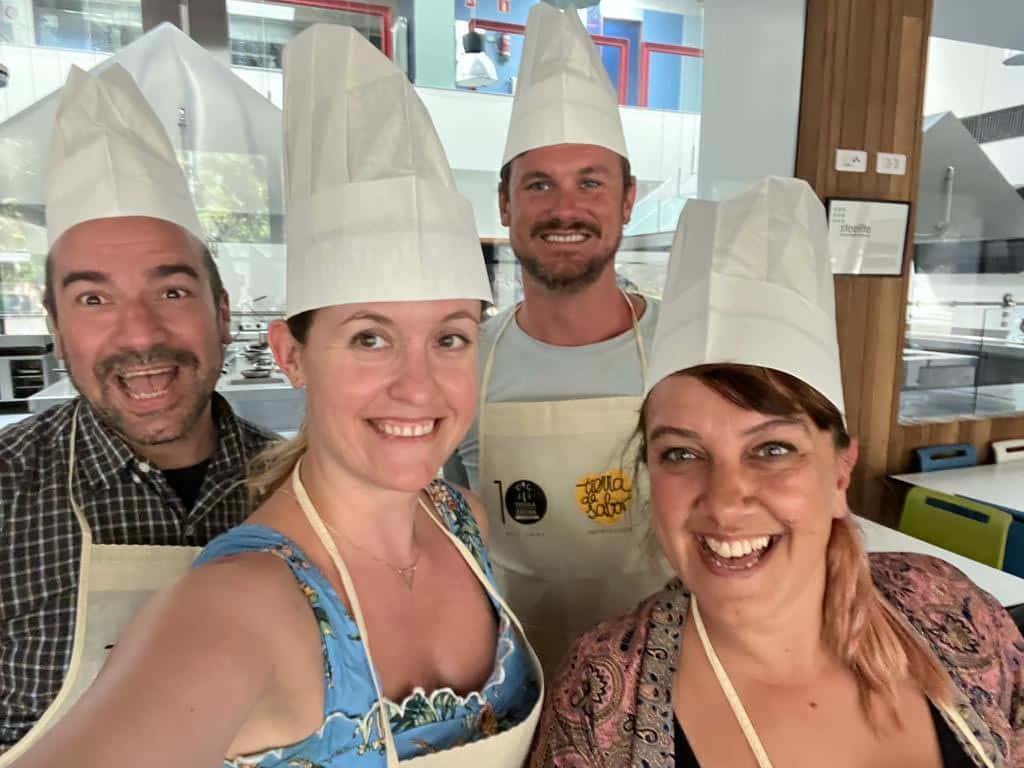 Late morning: Iglesia de Santa María la Antigua or Museo Patio Herreriano
Getting inside the 11th-century Iglesia de Santa María la Antigua isn't an easy task, as opening hours vary. However, there's a good chance to visit on Saturday mornings or at least to admire the architecture from the outside.
While the architecture has changed over the centuries, the now Gothic-presenting church has become a symbol of the city. Next door are the remains of Roman Baths, which finally confirmed a Roman presence in Valladolid when they were unearthed during the construction of a car park in 2012.
If you're not interested in the church, an alternative is to head to the Museo Patio Herreriano. Here, you'll find an impressive collection of modern art, mainly from Spanish painters, is housed here, inside a well-preserved 12th-century monastery.
Lunch: wine tasting at Vinoteca Señorita Malauva
With more than 600 wines, 75 beers, and not much else to drink, the colourful and slightly flamboyant Vinoteca Señorita Malauva is the place to come to try Valladolid's famous wines without venturing into the vineyards.
The charismatic Gustavo pairs wines from Valladolid's five DOP appellations – Rueda, Cigales, Toro, Tierra de León and Ribera del Duero – with cold cuts, an array of cheeses, and creative dishes, all focused on local ingredients. Expect to over-indulge here, and for non-drinkers, alcohol free wines are offered.
Late afternoon: Admire the Iglesia de San Pablo and Museo Nacional de Escultura
The National Museum of Sculpture is open until 7:30 pm, allowing for a later afternoon visit to this magnificent building. While the Semana Santa (Holy Week) sculptures might not be to everyone's taste – both due to religious and macabre reasons – the architecture of this grand 15th-century building is reason enough to visit.
Originally, this religious complex was the Colegio de San Gregorio, and it wasn't until 1842 it was founded as a museum, originally with artworks confiscated from converts. Over the years, the collection has vastly expanded to show the city's significant Semana Santa celebrations at Easter, although, from many of the self-flagellation sculptures, I can only assume it's a much more sombre event here than in Andalucia.
Be sure to take time to appreciate the courtyards, ornate ceilings, and imposing staircase, as well as the Isabelline-style facade of the building and Iglesia de San Pablo next door.
Pre-dinner drinks and tapas: Pasaje Gutiérrez
Combine a pre-dinner drink with a slice of commercial history at one of the cocktail bars inside this 19th-century passageway. A vintage mix of steel, glass and frescoed-style ceilings make the setting an excellent spot for a glass of wine.
For dinner, take your pick of the many restaurants across the city, or consider an evening slice of culture at the Teatro Calderón de la Barca, a magnificent theatre of rich-ruby seating that opened in 1864.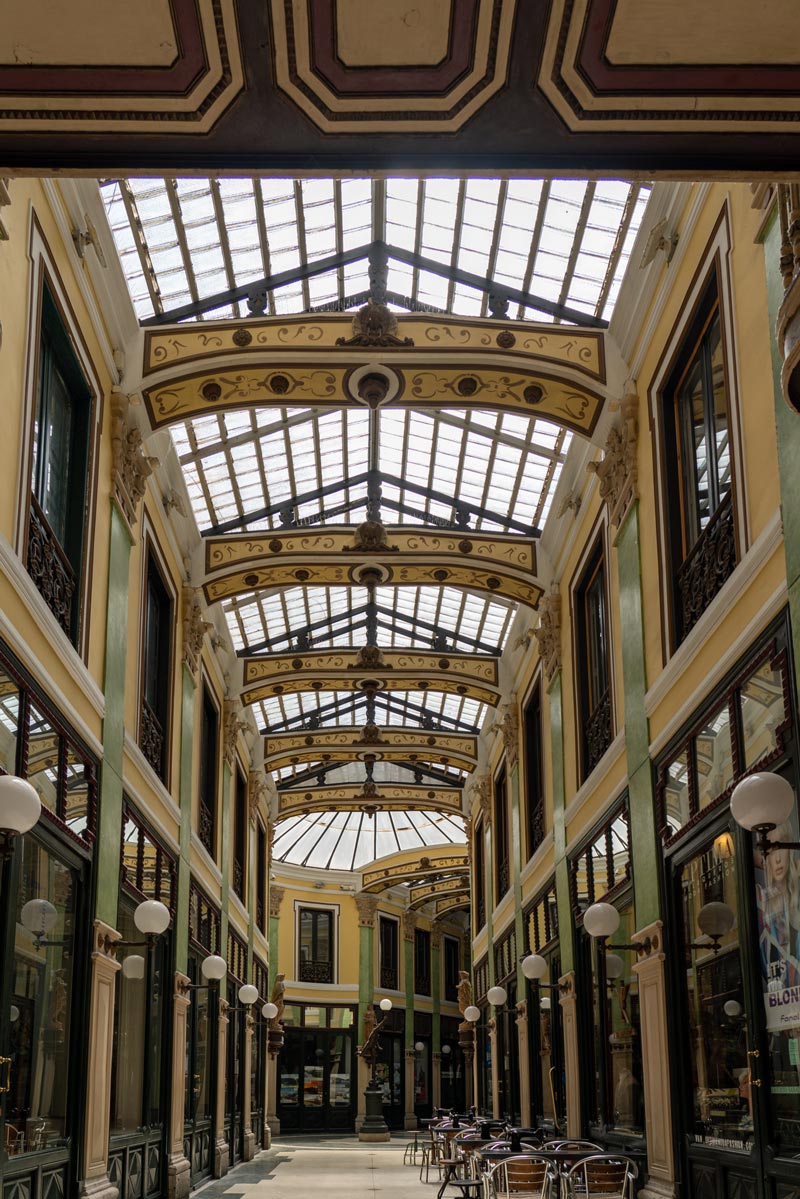 Day three: things to do in Valladolid, Spain
Enjoy a lazy Sunday breakfast before enjoying the few attractions in the city that remain open all weekend, although you'll need to keep an eye on the watch for closing hours.
Prefer to head out of the city?
The city's surroundings are awash with castles and vineyards and the artificial Canal of Castile, a dreamy setting to cycle along and see little villages alongside aqueducts and castles. The five appellations and twenty grape varieties make the vineyards equally tempting. However, you'll need to check if any are open on a Sunday (or whichever day you are visiting) in advance.
Morning: visit the El Palacio Real
The Royal Palace has played host to many of Spain's royal monarchs and was home of the Royal Court during Valladolid's short-lived status as the defacto capital of Spain.
Nowadays, the military uses the building, making a visit complicated. Luckily, on Sunday mornings (10:30 am) you can join a guided tour to venture inside. While much of the space is restricted, you'll have the chance to visit the opulent throne room, marvel at the intricate stonework on the courtyard's floor, and visit the imposting staircase, amongst other open spaces.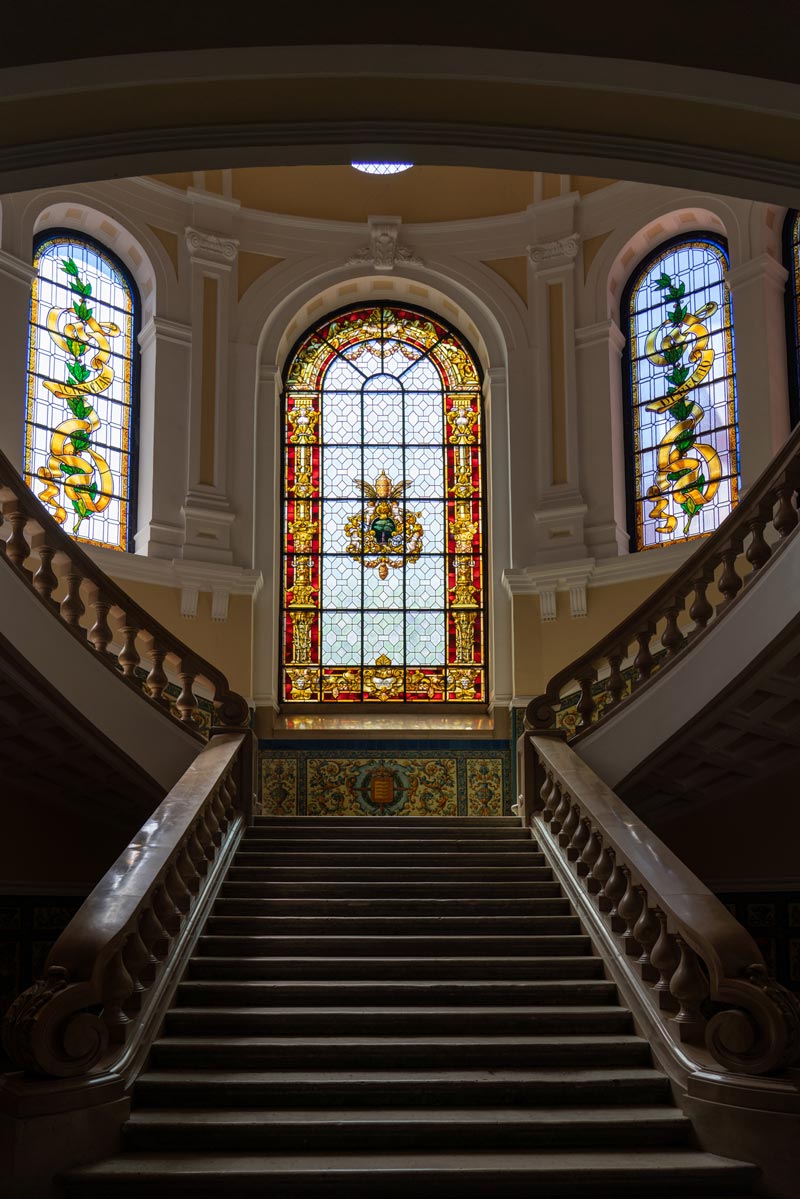 Late morning: tour the Cathedral's Tower or Casa de Cervantes
On Sunday mornings, guides offer the chance to venture to the top of Valladolid's cathedral tower every hour.
Thankfully, there is a lift, so you don't need to climb all 364 wooden steps, although some stairs will need to be taken to reach the bell tower.
While this cathedral has never been completed, the original plans (on display) show how it planned to be the largest Christian building in the world during its construction time. From the top, the views aren't as impressive as some other towers, however, the unique and historic timepiece that controls the bells ringing is intriguing to witness.
Lunch: Plaza Mayor
Head to one of the restaurants around Valladolid's Plaza Mayor for lunch. There are a handful of options to choose from here – head to Helados y Turrones Iborra for post-lunch ice cream – and after 11 am, the road passing through closes, making it a more pleasant time to visit.
If you study the floor, you'll eventually come across a plaque dedicated to Christopher Columbus. His first tomb is believed to have been here, inside a convent that used to exist before the plaza.
Afternoon: Real Monasterio de San Joaquín y Santa Ana
If you haven't already departed and fancy a final slice of religion (there are a lot of Baby Jesus impressions) and the chance to see a panel by renowned painter Francisco Goya, wrap up your weekend in Valladolid at the 16th-century Monasterio de San Joaquín y Santa Ana.
Still inhabited by nuns today – their income comes from renting part of the space to a restaurant – the visitable areas house a small museum of religious art. The small church attached is where you'll find the three pieces painted by Goya, but as it only opens at Easter to the public, you'll need to pay the monastery's entrance fee to see them.
Where to stay in Valladolid, Spain
Valladolid has a varied choice of accommodation, here are a few suggestions right in the heart of the city,
Budget: Hostal Ramón y Cajal Valladolid isn't the cheapest destination for accomodation, and the most affordable options are usually far from the centre. These basic rooms therfore are a reliable choice.
Mid-range: Hotel Boutique Gareus I spent my visit in this hotel and found it a good choice. The rooms were very spacious, good blackout curtains, mid-way between the main centre and the train station, and the public spaces were nicely decorated.
Luxury: AC Hotel Palacio If you don't mind being a little out of the centre, this incredible 5* hotel in a converted 18th-century monastery provides a rather grand and tranquil retreat.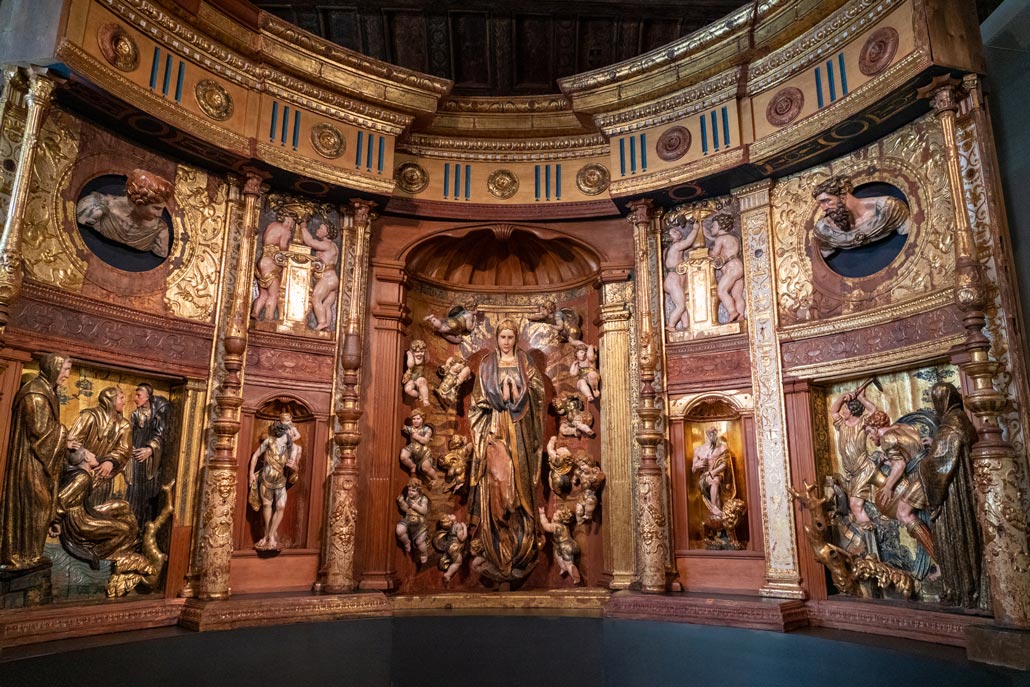 When to visit Valladolid, Spain
Summer is a very hot and dry time to visit Valladolid, Spain, although the evenings can still be quite chilly. The average daily temperatures of 30°C in summer seem okay, but they can often peak much higher.
Personally, I'd suggest heading here in Spring or Autumn when the weather isn't as intense. In October, the wine harvest takes place, so this could be the best time to visit Valladolid if you want to be a part of these events in the vineyards.
How to get to and around Valladolid, Spain
Exploring the city centre is easily done on foot, although if you plan to cross the river and head further afield, you might want to use the city bus network. Some public buses leave the city to small villages near some vineyards, but always check the weekend schedules as services can be reduced or non-existent, compared to the weekday routes.
Travelling to Valladolid by train
If you're coming to Valladolid from elsewhere in Spain, then using the train service is likely the best connection, with buses being a decent alternative. From Madrid, the journey by train takes around 90 minutes on Renfe's Avila service (high-speed rail), while from nearby León, you can reach Valladolid in less than an hour.  Tickets can be booked on the Renfe website (usually the cheapest) or using one of the popular and best travel apps, such as Omio.
Read more: A guide to travelling in Spain by train
Travelling to Valladolid by plane
The nearest airport to Valladolid is Valladolid Airport. However, it is mainly used for domestic flights. If you choose to fly, then opt to arrive in Madrid, and from the airport, it's about 90 minutes by train connection to the city.
Travelling to Valladolid flight free from the UK
If you want to visit Valladolid from the UK without flying, you have two options.
The first is to take the Eurostar from London, and from there, the train to Hendaye, followed by another train from San Sebastian. Alternatively, you can take a two-bus connection from London via Bilbao (likely slightly cheaper).
An alternative is to take the ferry from the UK, operated by Brittany Ferries, either to depart Portsmouth or Plymouth (though some sailings are only in summer) and arrive in Santander or Bilbao. Both journeys involve two nights aboard the ship. From either arrival point, you can continue by car if driving or take an approximately 3-hour train journey to Valladolid.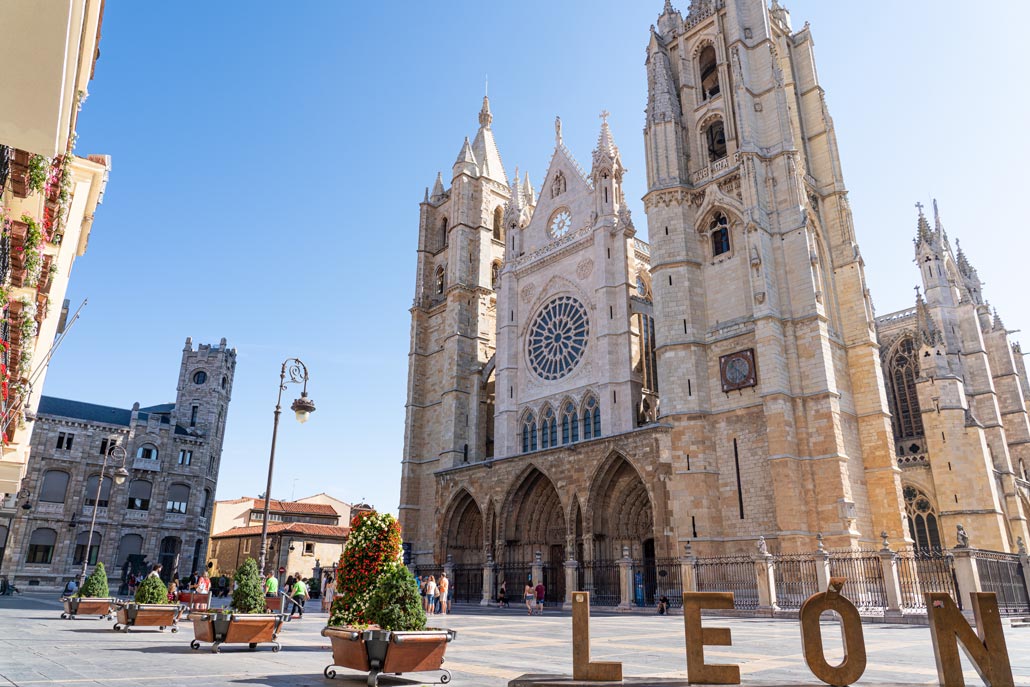 This article was written as part of my #SpainByTrain trip in autumn 2022 in partnership with Spain Tourism and Castilla y León Tourism.
https://www.danflyingsolo.com/wp-content/uploads/2022/11/Spain-Castile-Leon-Valladolid-148.jpg
1152
2048
Daniel James Clarke
https://www.danflyingsolo.com/wp-content/uploads/2022/01/blogo-1w.png
Daniel James Clarke
2022-11-20 10:41:00
2023-09-21 13:41:29
Renaissance architecture, sacred statues, and plenty of vino: how to spend a weekend in Valladolid, Spain