Sample Spain in Seven Days With These 5 Itinerary Ideas
This website uses affiliate links which may earn a commission at no additional cost to you. As an Amazon Associate I earn from qualifying purchases.
Updated: 26th October 2023
Spain's treasures are seemingly infinite, and you'll need a lifetime to appreciate everything the country has to offer; even after more than 20 visits, my list of places to visit is growing longer, not shorter. Still, on a one week visit to Spain, you can get a fantastic introductory taste of the country, its culture, and its people – but how should you spend those seven days in Spain?
The most obvious multi-city route would take you across three of Spain's best cities by high-speed rail: Barcelona, Madrid and Seville. However, these large cities are crammed with attractions and deserve at least three (or ideally more) days each. As such, I'd recommend combining only one metropolis with smaller regional towns or cities and visiting at most three or four places during your one week Spain trip – unless you're on a fast-paced road trip. This is a country where slowing down and enjoying life is more important than speed, after all.
Here, I've aimed to split the "big three" into their own multi-city Spain itineraries that would suit travellers who may have already visited one of Spain's largest cities before or those who want to dive deeper into one or two regions.
Most of these one week Spain itineraries can be done by public transport, and I've included tips on how best to get around on each route. However, a car sometimes makes more sense, especially if you want to explore the islands or smaller coastal villages.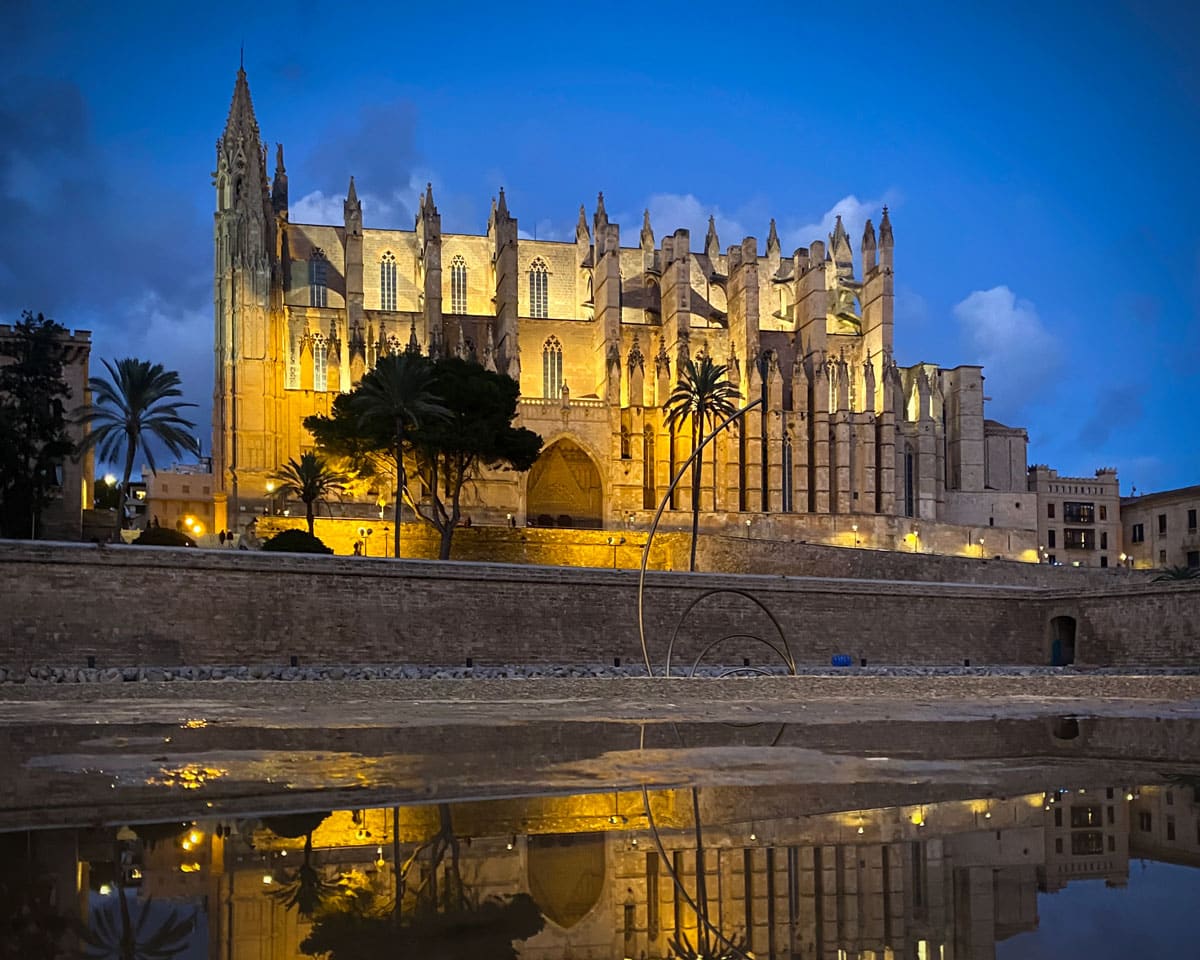 Mallorca's peaks, playas and Palma
Best for: An island adventure road trip
The route: Palma > Valldemossa > Deia > Port de Sóller > Fornalutx > Pollença > Playa de Formentor > Cap de Formentor > Caló des Moro > Palma
Why visit: Skip Magaluf and take yourself on a tour of Mallorca's best playas (beaches), peaks and tucked-away villages on this seven day Spain itinerary which fully embraces island life. Starting and ending in the island's sophisticated capital city of Palma, this whirlwind road trip packs in plenty. Being the largest of the Balearic Islands – a four major isle group south of Barcelona – you'll never see everything in one week, and you might want to adapt this itinerary to have a more even spread across the island. However, during this seven day trip, I've focused more on the west of Mallorca, where the jagged Serra de Tramuntana mountain range holds many of the island's best treasures.
When to go: Mallorca is a decent year-round destination thanks to its Mediterranean location. From November to March, evenings can be chilly and the sea water less inviting, but you'll be able to take in the historic villages and epic vistas with far fewer crowds. I would avoid the summer months, as the most popular beaches become so crowded they can be hard to enjoy.
How to get around: Mallorca's limited train lines make getting around by public transport quite hard, although the heritage rickety wooden train to Sóller is well worth the ride. As such, this seven day Spain itinerary is best enjoyed as a road trip; relying on buses would mean cutting out some stops. If you'd rather hire a campervan than a car, companies such as ROIG car rental in Mallorca Airport offer this service alongside standard and convertible vehicles.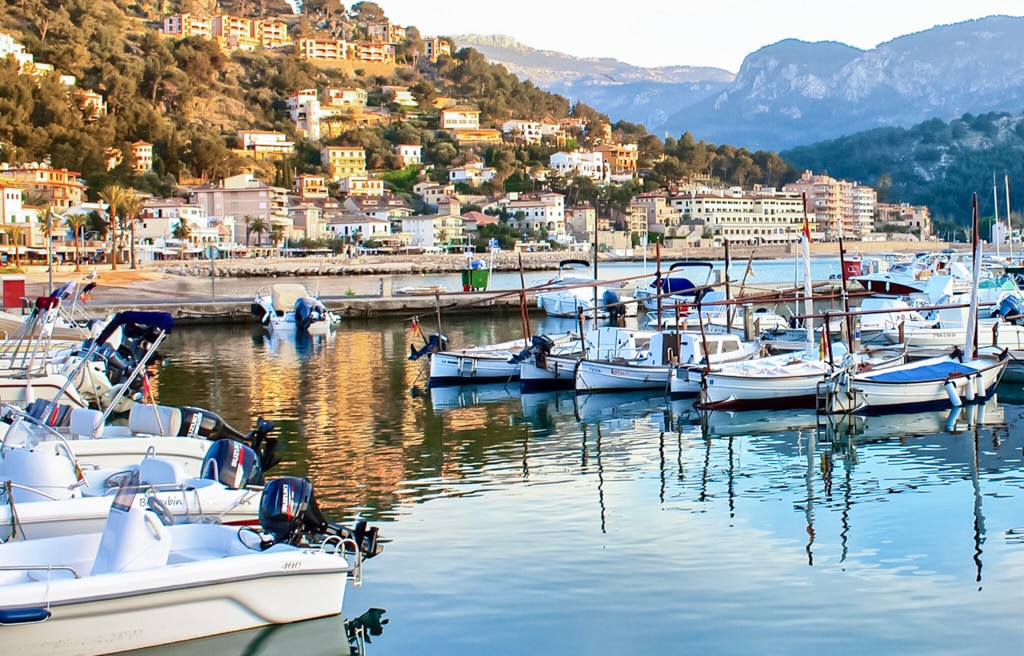 Daily highlights: 7 day Mallorca, Spain itinerary
Whether you choose to enjoy Palma de Mallorca at the start or end of your itinerary, I suggest allowing at least one full day and two nights here. There's plenty to keep you entertained, from visiting the imposing Gothic Palma Cathedral (La Seu) and the Royal Palace to frequenting some of Spain's best vermouth bars and fine-dining restaurants. Rising early on day three, set off into the Serra de Tramuntana range to visit two idyllic mountain villages just 15 minutes apart: Valldemossa and Deia. Cobbled streets, Moorish history and religious architecture abound (Valldemossa's Real Cartuja is a highlight), while Deià's valley setting is postcard-perfect. In either town, you'll find a few boutique guesthouses in old stone buildings to spend the night.
On day four, continue to Port de Sóller for a little beach time before visiting Sóller town further inland. Fringed by citrus groves, it's a pretty sight with a few museums (especially Can Prunera Art Gallery) worth visiting. Later in the day, head to the isolated and idyllic village of Fornalutx to spend the night. Day five of this seven days in Spain itinerary is all about hiking and reconnecting with nature in the Serra de Tramuntana. From Fornalutx, there are plenty of trail options nearby, and it's only a short drive to Cúber reservoir, where some of the island's best tracks begin. End the day in the laid-back honey-hued town of Pollença, ready to spend day six swimming at pristine Playa de Formentor and exploring the cinematic Cap de Formentor, the island's northernmost point.
On day seven, you can either head straight back to Palma or speed over to Caló des Moro – one of the island's most beautiful and busy beaches – via the town of Manacor.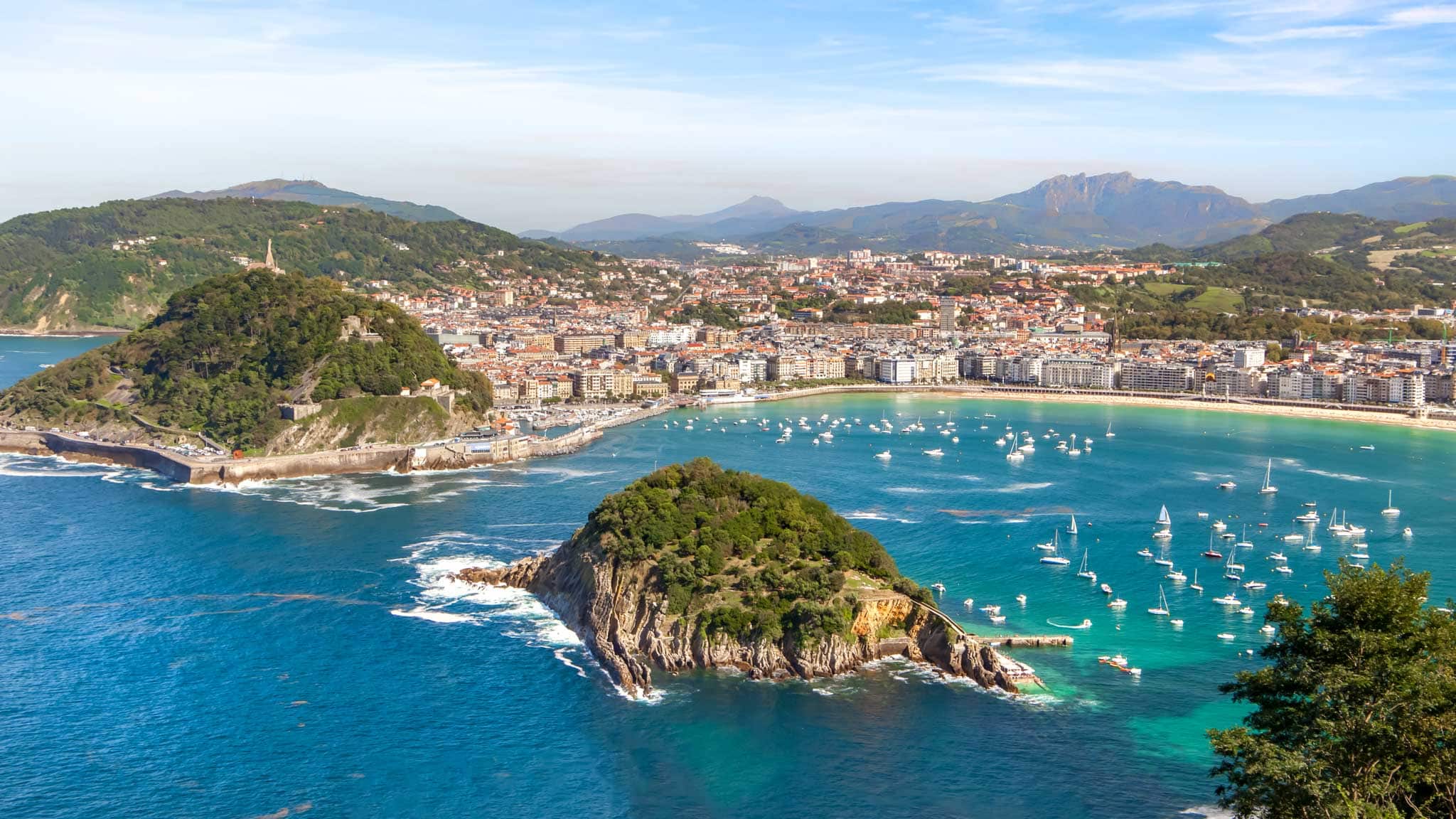 Spain's best wining and dining
Best for: Foodies to sample the country's finest culinary scene
The route: San Sebastián > Logroño > Laguardia > BIlbao
Why visit: If you want to savour some of the best gastronomy and ruby red wines in Spain over seven days, you can't go wrong with combining the two autonomous communities of La Rioja and the Basque Country. San Sebastián has long been celebrated as the country's culinary cradle thanks to its underground gastronomic societies, first-class chef school, and bar tops laden with pintxos – the local mouthwatering tapas-style finger-food bites. In Rioja, home to Spain's best-known red wines, the focus is all about tastings and cellar tours, while the once gritty port city of Bilbao has been reborn with a revived focus on the arts and Basque culture.
When to go: Set in the country's north, near the border with France, the climates here lend themselves more to a late spring until early autumn visit. That said, late September or early October is perhaps the best time to enjoy this itinerary, as you'll catch both the San Sebastián film festival and the wine harvest in La Rioja.
How to get around: This one week itinerary is easily achieved on public transport – allowing you to make the most of all the food and wine available. From San Sebastián to Logroño, it takes around 2.5 hours by bus, while Laguardia is just 20 minutes more on a local service. You can then continue from Logroño to Bilbao in about 2.5 hours by bus or train.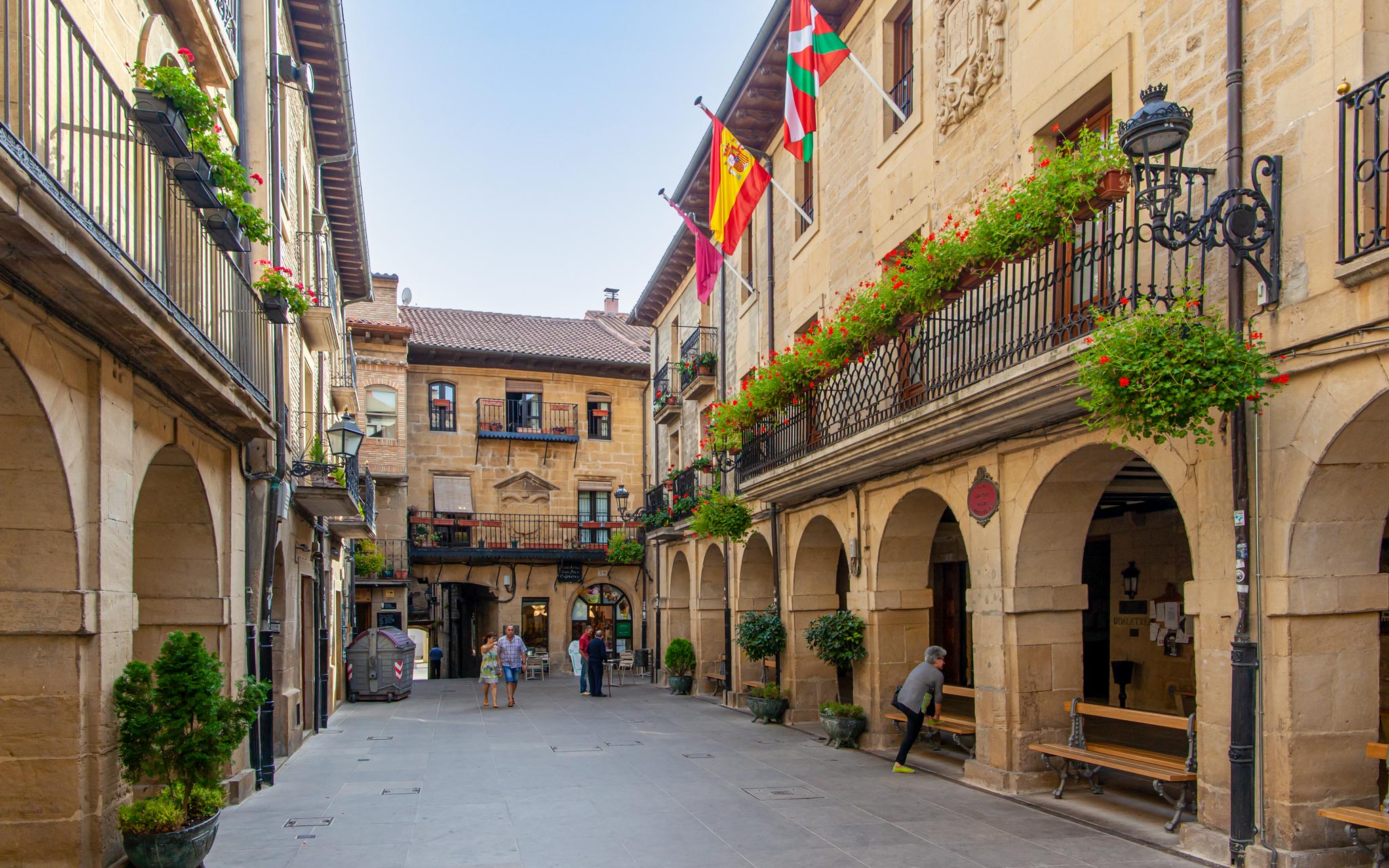 Daily highlights: 7 Day Basque & Rioja, Spain itinerary
Start this Spain itinerary with three days in San Sebastián. Sun yourself on La Concha Beach, sample as many pintxos as you can, book a cooking masterclass in an underground gastronomic society, take in the panoramas from Mount Urgull's fortress, and learn more about Basque culture in San Telmo Museum. Next, continue to Logroño, the capital of La Rioja, for two nights, which you can also use as a base to visit nearby Laguardia.
The focus here shifts to the ruby reds, and you can tour vineyards, visit the Museum of La Rioja, and enjoy a pincho bar crawl – where the focus is on bars' signature moreish morsels rather than booze – into the early hours. Laguardia, a gorgeous mediaeval walled town just 20 minutes away, makes for a perfect day trip. Below the pretty streets, a labyrinth of wine tunnels and caves await, and I highly recommend a wine tasting at Bodega El Fabulista to explore them. Finally, wind up this seven day Spain itinerary in Bilbao. Best known for the futuristic Guggenheim Museum, a vast space focused on modern and contemporary art, this Basque city also has an excellent culinary scene to pair with plenty more monuments.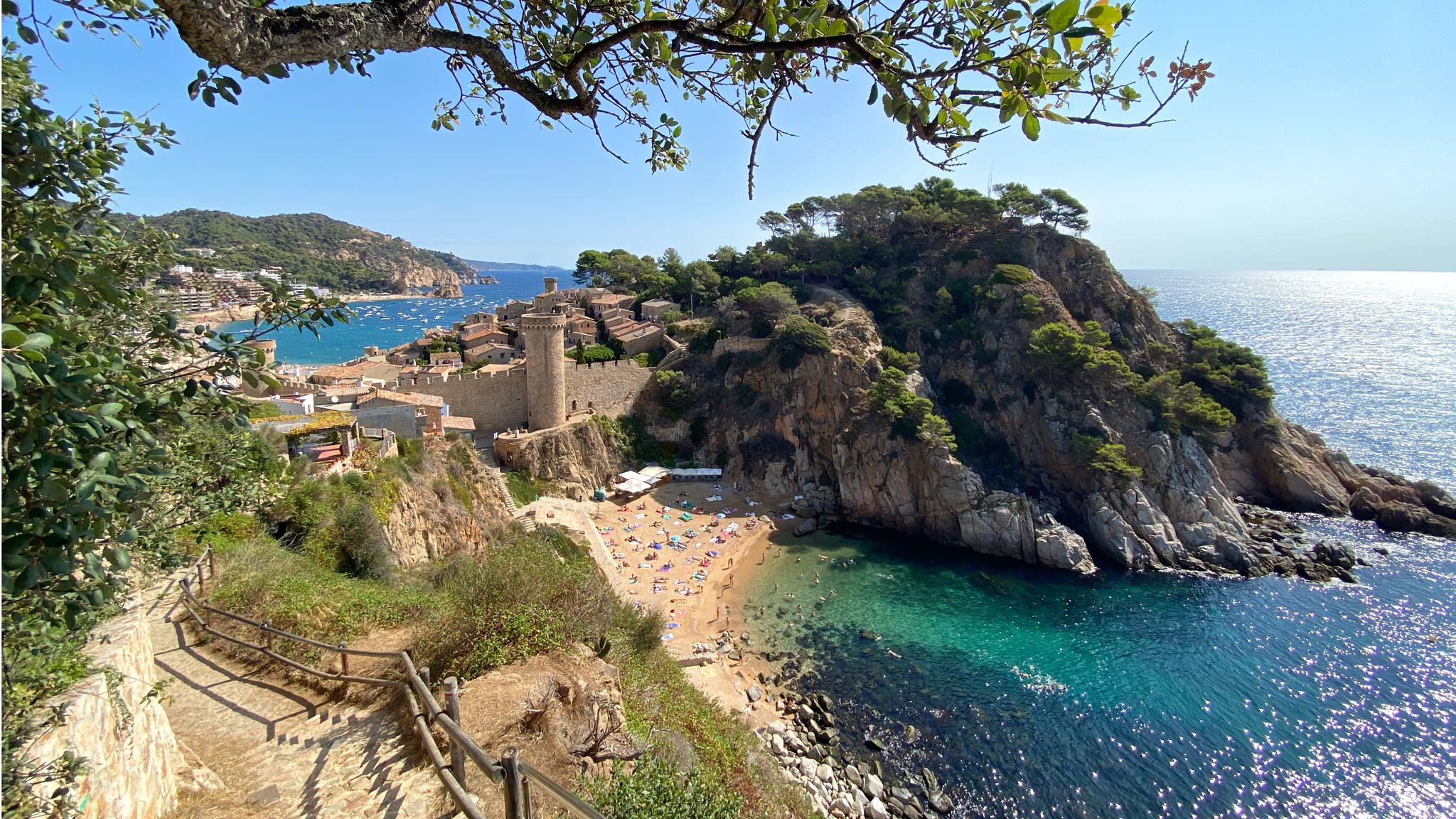 Catalonia's cities and coastal towns
Best for: Cosmopolitan cities and charming seaside towns
The route: Barcelona > Blanes > Tossa de Mar > Girona
Why visit: With just seven days in Spain, you'll struggle to see everything the autonomous community of Catalonia has to offer. But this itinerary will at least introduce you to two of Spain's best cities – Barcelona and Girona – while allowing time for swims and a couple of spectacular towns on the Costa Brava, one of Europe's best beach destinations. World-class restaurants and sensational museums sit side by side in Barcelona, where Gaudí's architectural wonders shine brightest, while Girona's mediaeval Old Town (a firm favourite with Game of Thrones fans) offers a slightly more intimate city feel. This southeastern corner of the country might feel distinctly different due to the Catalan language and culture. Yet, it remains a spectacular showcase of Spain's best assets: delicious dishes, gorgeous beaches, and excellent nightlife.
When to go: As with Mallorca, I'd suggest avoiding the height of summer for a slightly more serene experience (Barcelona never really has an 'off season') and visiting in spring or autumn, when the waters are still pleasant for swimming, and the smaller resort towns haven't shuttered for winter.
How to get around: This Spain itinerary is fairly simple on public transport, as Barcelona, Blanes and Girona are all connected by train in less than two hours using Maçanet-Massanes as an interchange. From Blanes, it takes a little over an hour by bus to Tossa de Mar. That said, the Costa Brava is a gorgeous stretch of coast with plenty of mediaeval towns and villages worth visiting, so a car could come in handy for detours. The day trip to Montserrat takes around one hour by train.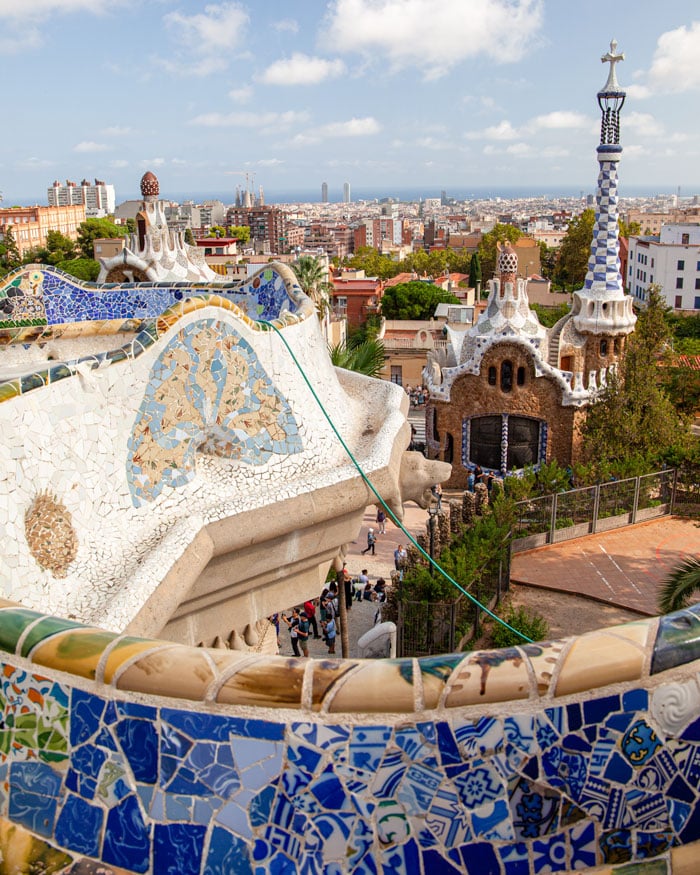 Daily highlights: 7 day Catalonia, Spain itinerary
This one week in Spain itinerary can be reversed if you find better flights in/out of Girona rather than Barcelona, though I'd suggest starting in Barcelona so you can have your chill beach days after staying in Spain's most visited city. Allow yourself three full days in Barcelona (two will be really pushing it) to see the city's most iconic sights, such as Gaudí's colourful Park Güell gardens, soaring near-completion La Sagrada Familia church, and the ornate and fascinating Casa Batlló.
Other Barcelona attractions worth trying to fit in (as well as eating and drinking your way through bars and restaurants) include walking down La Rambla thoroughfare and dipping into the (touristy) market, admiring the collection at the Picasso Museum, and exploring every corner of the historic Gothic Quarter, including Barcelona Cathedral – or if sightseeing gets too much, just chillout on central Barceloneta Beach. On day three, you might want to head to Montserrat, a mountain range which snuggles a Benedictine Abbey amongst its most mighty peaks – it's an easy day trip.
Plan day four and five on the Costa Brava, first visiting Blanes, where swathes of sands and the pretty sea-view Marimurtra Botanical Gardens await, before enjoying a day in one of my favourite 'hidden gems' in Spain, Tossa de Mar. This mediaeval beach town is a blissful blend of shorelines and historic walls, with the panoramic views from the towers reason enough to drag yourself away from the beach. Wrap up in Girona, exploring this charming mediaeval town over the last two days. Highlights include the Arab Baths, Jewish Quarter and Game of Thrones filming locations, such as Girona Cathedral's impressive staircase.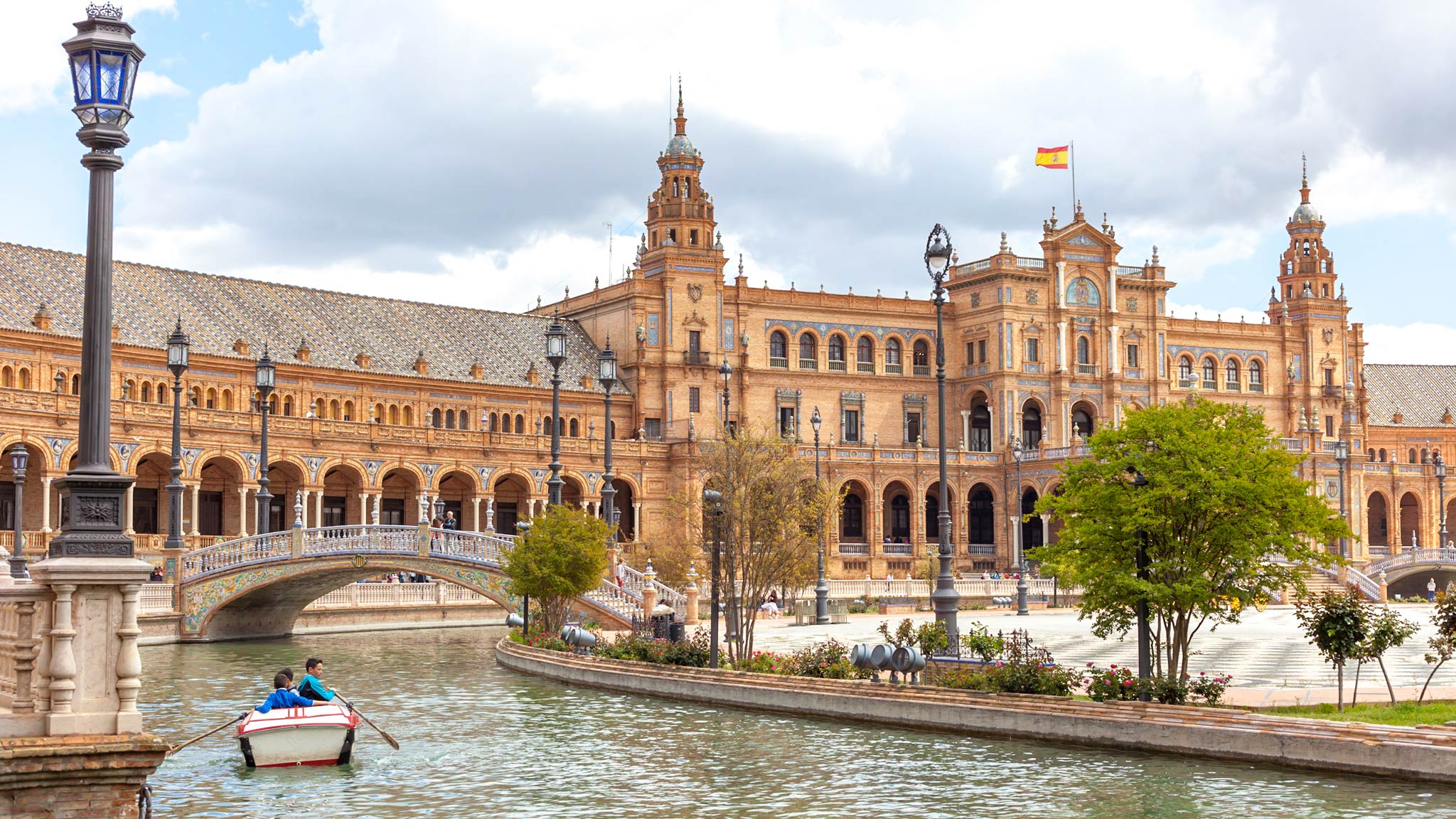 Southern Spain's sizzling storied cities
Best for: Moorish history, iconic palaces, and Andalucia's signature tastes and sounds
The route: Seville > Cordoba > Granada > Malaga
Why visit: Andalucia, Spain's seducing, sun-kissed southern region, holds most of the traditions and stereotypes that the country conjures: sizzling long days punctuated by a siesta, flamenco singers and dancers stomping on the streets and mouth watering tapas dishes which (in some cities) are served free with every drink. But it's also a land of history and architecture, monuments and museums, and – if you head away from the cities – scenic canyons, historic caves, and breathtaking beaches. For me, no region in the country can beat Andalucia, and you'd need to spend far longer than one week in Spain to truly appreciate it. This Spain in seven days itinerary focuses on four of the region's most captivating cities, though if you'd prefer to turn your attention to Eastern Andalucia and have more beach time, then this alternative one week in Andalucia road trip from Malaga might be more appealing.
When to go: Andalucia gets hot (read scorching) in the height of summer; there's a reason you won't see many locals on the streets in the afternoon. So to make the most of sightseeing you should aim for spring or autumn when the temperatures are more pleasant for exploring the cities. If you're visiting Europe in winter, this itinerary is a good call for the culture rather than the coast, as the attractions and restaurants will keep you away from any potential showers. May is a nice month to visit as you can include the Córdoba Patio Festival.
How to get around: This itinerary is easily done by public transport, with the train journeys taking less than one hour between Seville and Córdoba, and under two hours to Granada. Travelling from Granada to Malaga, your best bet is to book an ALSA bus.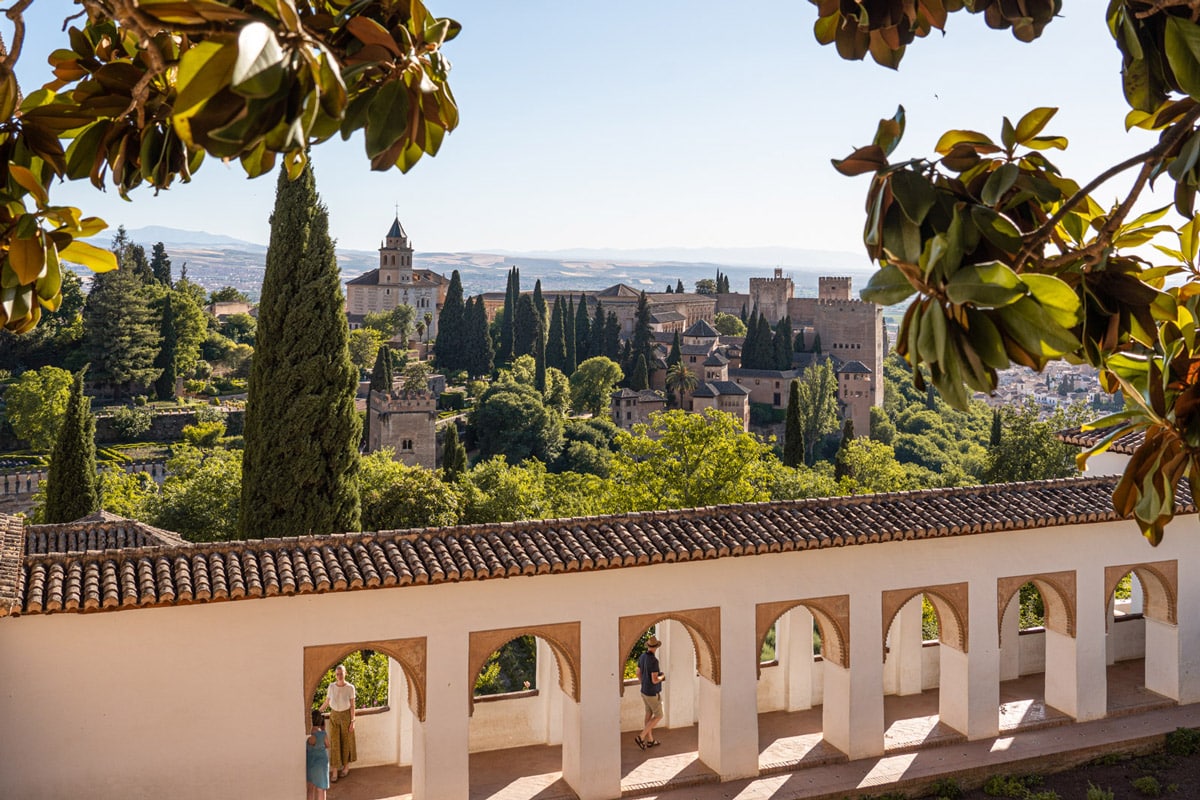 Daily highlights: 7 day Andalucia, Spain itinerary
Start your seven day tour of Spain with three days in Seville, the pulsating capital of Andalucia. Over 72 hours, you'll be whisked away into a land of palaces, performances, architecture and art as you tour some of the country's best attractions. Stroll around the ceramic tile-decorated Plaza de España, be enamoured by the Islamic-inspired architecture and gardens of the Royal Alcázar of Seville, climb La Giralda, the cathedral's tower for sweeping views, and catch a flamenco performance – your days will be fast-paced, but unforgettable.
On day four, head to Córdoba, where a trio of UNESCO-listed sites await. The most impressive is the Mosque-Cathedral of Córdoba, a vast house of worship which combines both a historic Islamic mosque and cathedral into one jaw-dropping space – the city's renowned flower-adorned courtyards are also worth a tour. Continuing east, you'll arrive in Granada, a city I fell in love with during my three month Spanish course. The standout here is the incredible Alhambra complex (book tickets in advance), which has looked down on the city below since the 13th century. An extensive medley of Islamic palaces, leafy gardens and soothing water features, you'll want to allow at least half a day to do it justice.
The final stop is Malaga, Andalucia's more modern and cosmopolitan city. Being on the coast, you can spend the last two days of this Spain itinerary lounging on the beaches and visiting the city's excellent Picasso Museum and the Alcazaba fortress.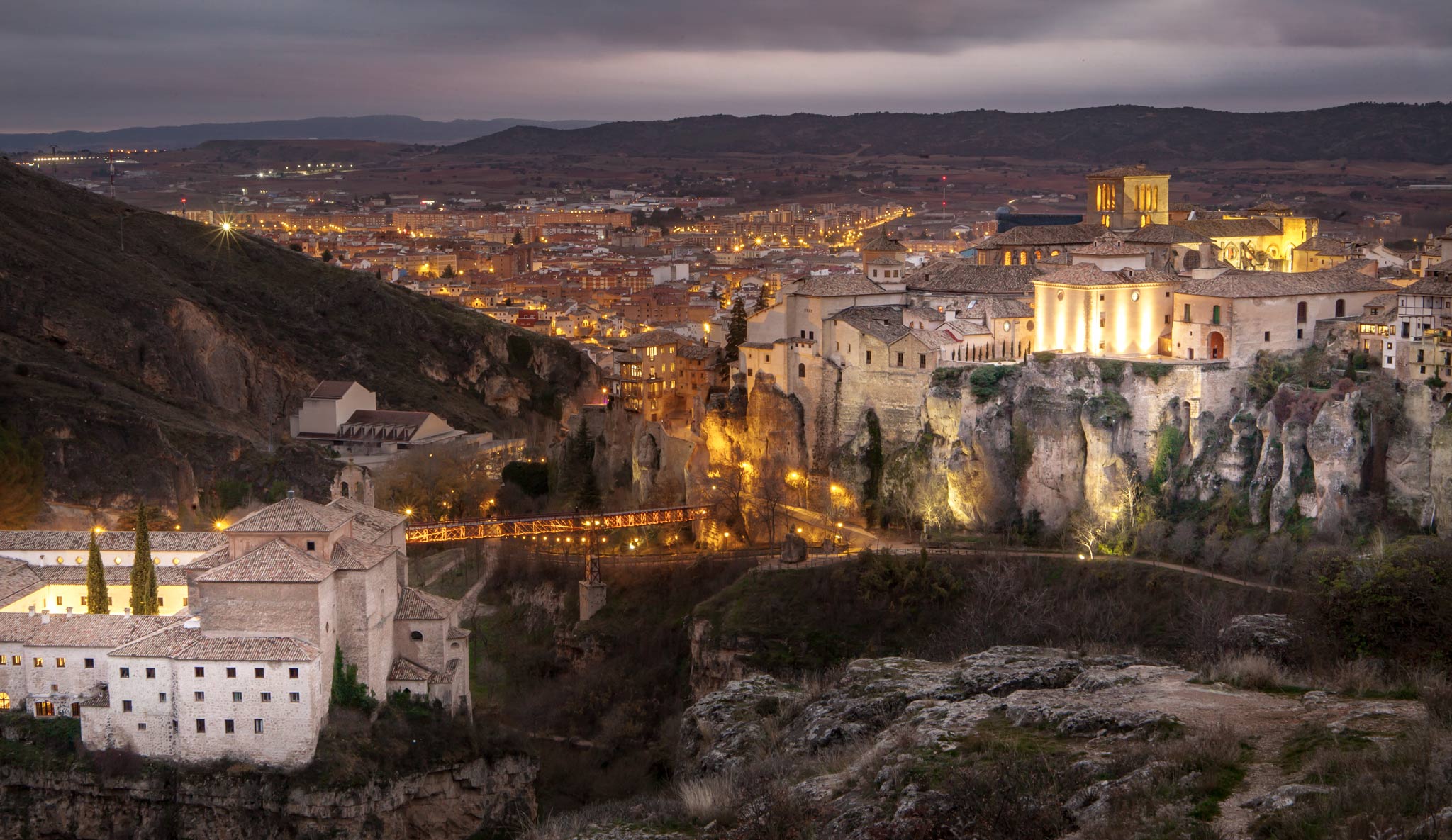 Capital to coast between Madrid and Valencia
Best for: Cosmopolitan Spain with a spot of nature en route
The route: Madrid > Cuenca > Valencia
Why visit: You could easily spend one whole week in Spain's capital city, hopping between Mardid's excellent museums, royal palaces, leafy parks and trendy neighbourhoods. I know it's less celebrated internationally than Barcelona, but once you start to dig into this underrated city, you'll find much more than expected. But if you only have seven days in Spain, then visiting a couple more smaller cities will maximise your time, and this itinerary takes in three different regions: Madrid, Castilla–La Mancha and the Community of Valencia. This will allow you to see the coast, one of the country's most forward-thinking cities, and get lost in the historic core and surrounding nature of Cuenca after spending a few days in Spain's capital.
When to go: This one week in Spain itinerary works year-round thanks to the abundance of museums, monuments, and attractions you can visit. If you want to enjoy the beaches around Valencia and rain-free hikes near Cuenca, plann your trip between spring and autumn. Summer can be hot, but the heat is more manageable than in Andalucia, especially as many of Madrid's attractions are inside and air-conditioned.
How to get around: For this Spain itinerary, no car is needed. Utilising the country's rail network, both of these train journeys between cities will only take one hour. The best part is that Iryo, a private train company and new rival to RENFE (the national rail operator) serves this route. Book ahead, and a ticket can cost as little as €11.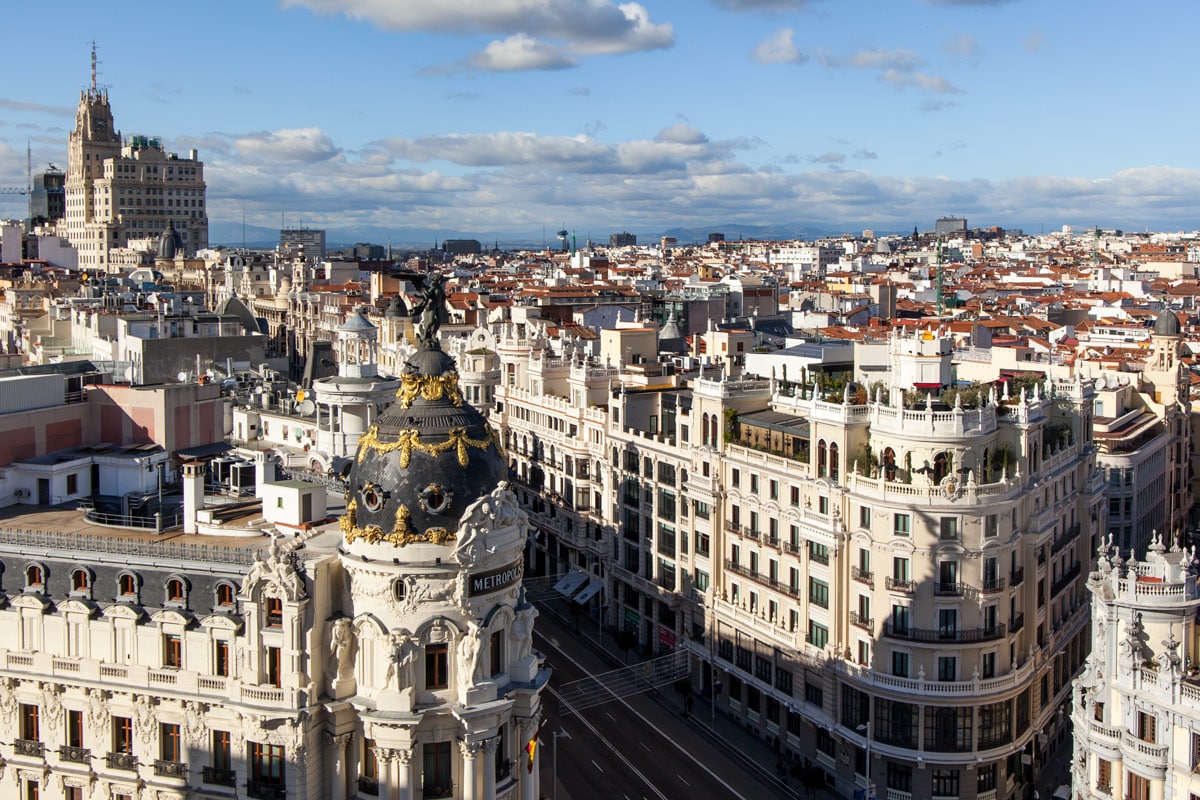 Daily highlights: 7 day Madrid to Valencia, Spain itinerary
Welcome to Madrid. Plan to spend your first three days in the city to do it some kind of justice, splitting the time between palaces, museums, galleries, leafy gardens and gastronomy. The recently-opened Royal Collections Gallery is one of the city's newest and flashiest spaces, but old favourites such as the Prado Museum – the collection is so extensive, less than 20% of it is on display – the Royal Palace, Temple of Debod and El Retiro Park remain must-visits.
On day four, hop on the fast train to Cuenca, situated in the neighbouring region of Castilla La Mancha. Beyond the less attractive new town, you'll find a hilltop historical core where homes hang above ravines and retired religious buildings serve as boutique hotels. There's plenty to do during your 48 hours in Cuenca, such as visit Cuenca's Gothic Cathedral, admire the 16th-century monastery turned parador (upscale hotel), witness the Casas Colgadas (hanging houses) whose wooden balconies protrude over a ravine and get out into nature in the nearby Ciudad Encantada, a geological site of eroded rock formations.
The last two days of this 7 day Spain itinerary will be spent in Valencia, one of Spain's most futuristic cities, in part due to the modern design of the City of Arts and Sciences. This contemporary complex lies in a riverbed that once circled the city and clusters together futuristic architecture, an impressive science museum, an oceanarium and a fantastic concert hall – check for tickets in advance. In the Ciutat Vella (Old Town), you'll find a more traditional-looking Spain, with Valencia Cathedral, La Lonja de la Seda – the spellbinding old silk exchange – and the Fine Art Museum being headliners. Don't forget to sample Paella – Spain's celebrated rice dish which hails from the region – and squeeze in some beach time; there's some beautiful sandy spots just beyond the city limits.
No matter how you choose to spend one week in Spain, I can promise you this: you'll certainly need to plan a return visit to explore more of Spain's hidden gems.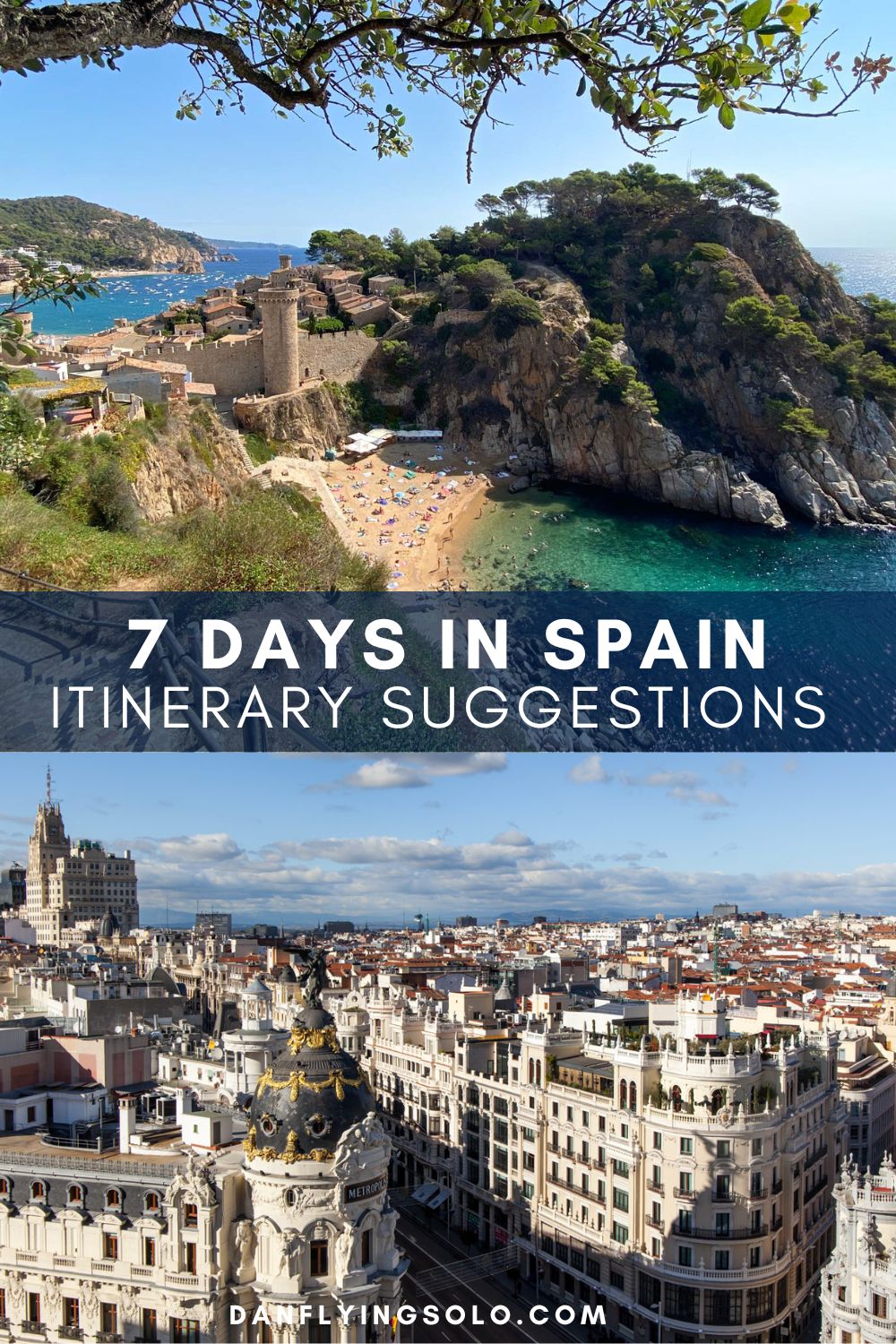 https://www.danflyingsolo.com/wp-content/uploads/2021/12/Spain-tossa-del-mar.jpg
1152
2048
Daniel James Clarke
https://www.danflyingsolo.com/wp-content/uploads/2022/01/blogo-1w.png
Daniel James Clarke
2023-10-26 22:28:00
2023-11-27 17:39:41
Sample Spain in Seven Days With These 5 Itinerary Ideas