10 Best Beach Destinations in Europe For Any Kind of Traveller
This website uses affiliate links which may earn a commission at no additional cost to you. As an Amazon Associate I earn from qualifying purchases.
Updated: 18th September 2023
Some sun worshipers require just three things for a perfect beach holiday in Europe: a shimmering sun-kissed shoreline, shade-casting parasols, and a fully stocked beach bar. Meanwhile, more restless beach bums might prefer their European beach destination to come paired with a first-class food scene, cliff-hugging hiking trails, or epic inland adventures.
Luckily, the continent's coast offers a plethora of beach resorts to suit any kind of sun-seeking traveller. From beautiful island-hopping sojourns across slightly offbeat archipelagos to fossil-finding coastal experiences, the best beach holidays in Europe can involve much more than laying out your towel – if you want them to!
Here are ten of the best beach destinations in Europe – each of which I love for very different reasons – to help you decide on where to head for your next seaside escape, no matter what kind of beach vacation you're craving.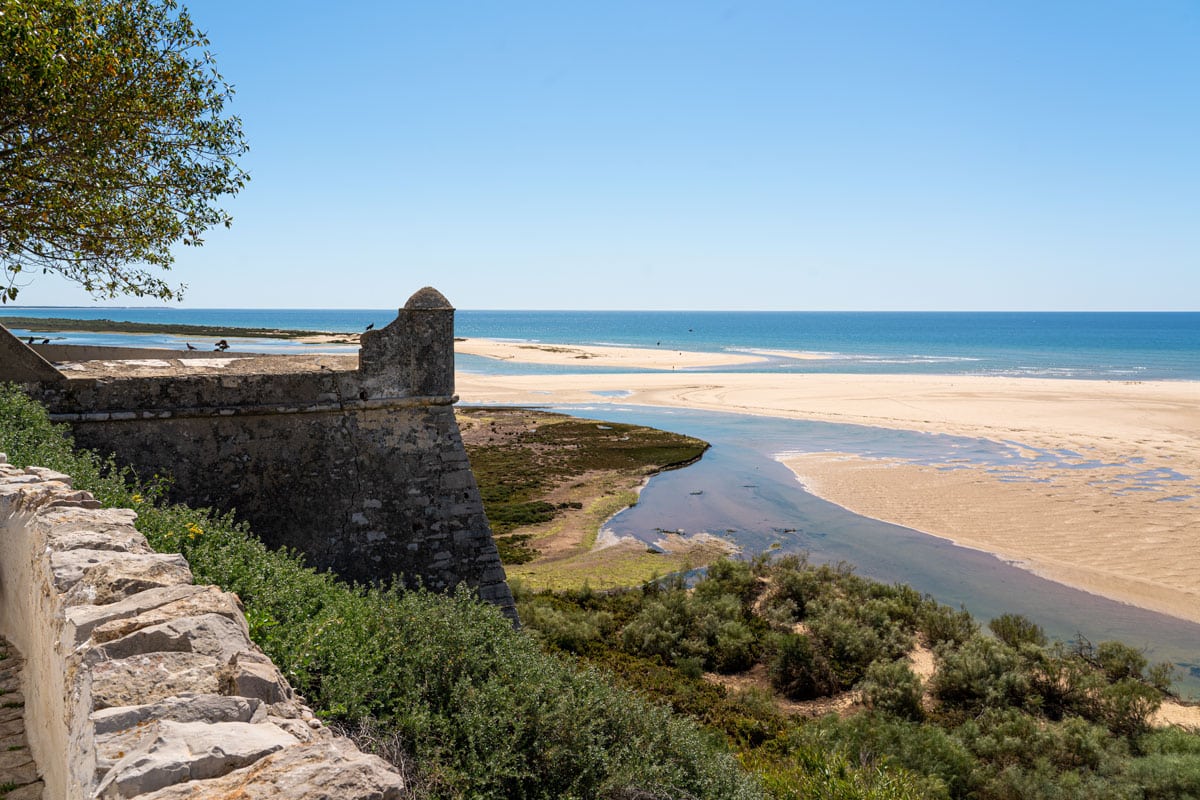 The Algarve, Portugal
Best for: Family-friendly fun, excellent holiday resorts, and clifftop adventures
Why and when to go? Portugal's southern region has long been considered one of the best beach destinations in Europe, welcoming visitors in their millions during the summer months. But even in the offseason (I live here, and April and October are my favourite months), it's a great place for a seaside escape. Many of the most popular beach resorts, such as Lagos or Carvoeiro, have developed from traditional fishing villages, meaning the whitewashed towns have a little more intimacy than the likes of Benidorm in Spain, but still with are plenty of activities and seafood restaurants to choose from. With an abundance of sea-facing villas in Portugal, especially the Algarve, it's a great destination for getting away with a large family or group of mates, as the fresh fish and produce markets allow for an affordable self-catering vacation.
Where are the best beaches? One of the most important things to know before coming to the Algarve is that Portugal isn't in the Mediterranean but rather surrounded by the Atlantic Ocean. This means the waters aren't the warmest, though in late summer (August and September), water temperatures can reach around 24 degrees. Some of the best beaches in the Algarve include the barrier islands in the Ria Formosa reaching breathtaking Cacela Velha, the small coves along the coast between Benagil and Ferragudo, and the long copper-cliff backed stretch of sand at Praia da Falésia. You can also kayak into the famous (and often overcrowded) Benagil Cave for an even more unique spot of sand – beach holidays in Europe don't get much more cinematic than this.
Activities beyond the beach? While the region might be best known as one of the more popular beach destinations in Europe, there are actually plenty of things to do in the Algarve away from the coast. A trio of waterparks will keep kids and big kids entertained, the museums and historic centres of Faro, Tavira and Moorish Silves – one of my favourite hidden gems in the Algarve – are great for an afternoon of exploring, and on the windswept west coast, you'll find an incredible multi-day hiking route, the Fishermans Trail just beyond the panoramic viewpoint from Ponta da Piedadez which is best seen by kayak. Don't miss the Seven Hanging Valleys Coastal Trail, which takes in some of the most dramatic cliff-top views along the central coast in only a few hours.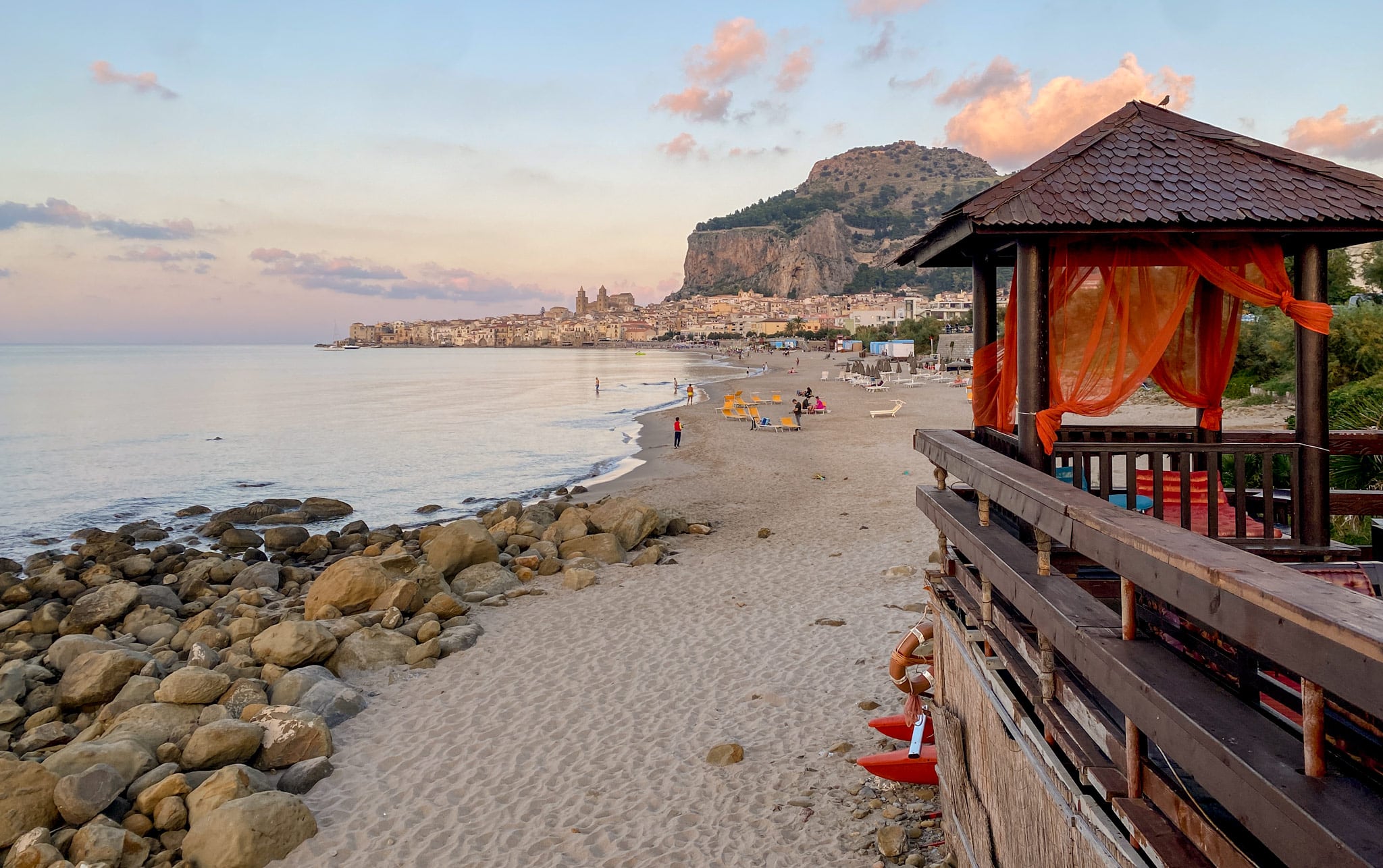 Sicily, Italy
Best for: Delicious dishes, cinematic shorelines, and layer-upon-layer of history
Why and when to go? Sicily's timeless charm and alluring coastline have long been a summer escape of choice for Italians and visiting foreign tourists. But now, with newfound fame thanks to TV's The White Lotus, it might feel like you're seeing the island discussed everywhere. Luckily, it's far from overrun, especially in the offseason when enjoyable temperatures (if cooler waters) are paired with affordable getaways. I spent the month of November in Sicily last year and adored every second, and the weather was (mainly) on my side. But this isn't just one of the best beach destinations in Europe; Sicily is something of a time capsule. Having hosted Phoenicians, Greeks, Romans, Arabs, Byzantines, and then some, there are visible vestiges of the past here, ranging from Greek temples atop hills to some of the finest Roman mosaics you'll ever see.
Where are the best beaches? You'll be spoilt for choice when it comes to tanning in Sicily, with spectacular shorelines ranging from volcanic island bays to irresistibly clear waters. One of the most popular beach holidays in Europe can be enjoyed in the seaside town of Cefalù, where a gorgeous golden bay is backed by historical sights; along the coast of Taormina, where the Isola Bella sand bar shines brightest; and at the almost photoshopped waters of the offbeat Aegadian islands. I personally adore the Aeolian Islands, where the beaches might be more pebbly, but you're treated to the backdrop of Stromboli, an active volcano.
Activities beyond the beach? There are countless reasons to visit Sicily without even considering getting a toe wet. Palermo, the island's characterful capital, is a pulsating city decked out with monuments, markets and excellent nightlife. In slightly more classical Catania, you can explore palaces and venture up Mount Etna, the active volcano just beyond. In Syracuse, the stories of those who came and conquered before spill out across amphitheatres and archaeological museums, and then there are my two personal favourite historical sights: the excellent Roman mosaics at Villa Romana del Casale and the Greek wonders at the Valley of the Temples. Oh, and if you want a European beach destination with delicious dishes, this is the one. From caponata, a sweet and sour aubergine-based dish, to cannoli, a tube-shaped ricotta stuffed pastry, every bite is as memorable as the beaches.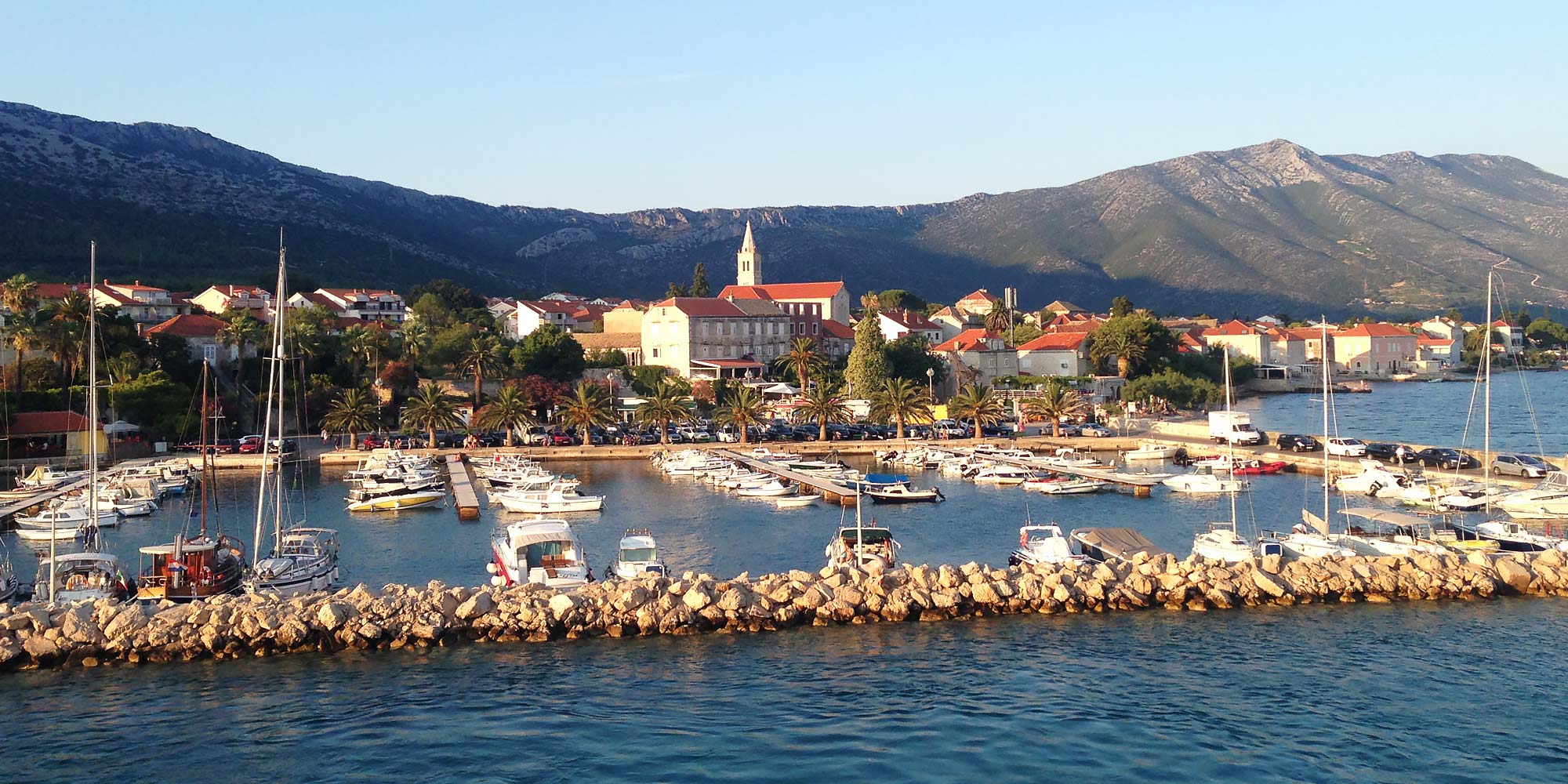 Croatia's unsung islands
Best for: Paradisiacal sands and an island-hopping sailing adventure
Why and when to go? Croatia's charms are plenty, and while the walled city of Dubrovnik might have been taken over by Game of Thrones stans, there's plenty more to experience across the country's thousand-plus islands and islets. Being a Mediterranean nation, the winters are relatively mild, although to experience this European beach destination at its best, you'll want to come between spring and autumn. My first big solo backpacking trip was crossing Croatia from bottom to top in late September, and I found the beaches fairly quiet and the weather top-notch. But if you want to really get a feel for the country away from the cities, the best way to explore the coast is on a sailing adventure, where you can enjoy incredible beach views from small ships on an island-hopping itinerary, usually starting in Split or Dubrovnik, before taking in famed islands such as Hvar, and some hidden gems.
Where are the best beaches? With countless incredible beaches, sand bars, and secluded island coves, the best beach in Croatia is often the closest one! That said, there are a few spots that particularly stand out. The bays around Makarska (to the south of Split) are some of the finest you'll find on the mainland, as are those on the Peljesac Peninsula. Across the islands, you're even more spoilt for choice, with the headland sands of Zlatni Rat on Brac and Jagodna on Hvar being two that spring to mind.
Activities beyond the beach? Not content with being just one of the best beach destinations in Europe, Croatia packs plenty into its long and narrow mainland and islands. On fancy Hvar Island, you'll find haute cuisine and upscale cocktails, while those who prefer to party all night should head to Pag. Personally, I adore Korcula, a somewhat more laid-back Adriatic Island, where you'll find beautiful beaches, vineyards, and a mediaeval-walled old town. Once one of my favourite hidden gems in Europe, it's started to get much more popular in recent years.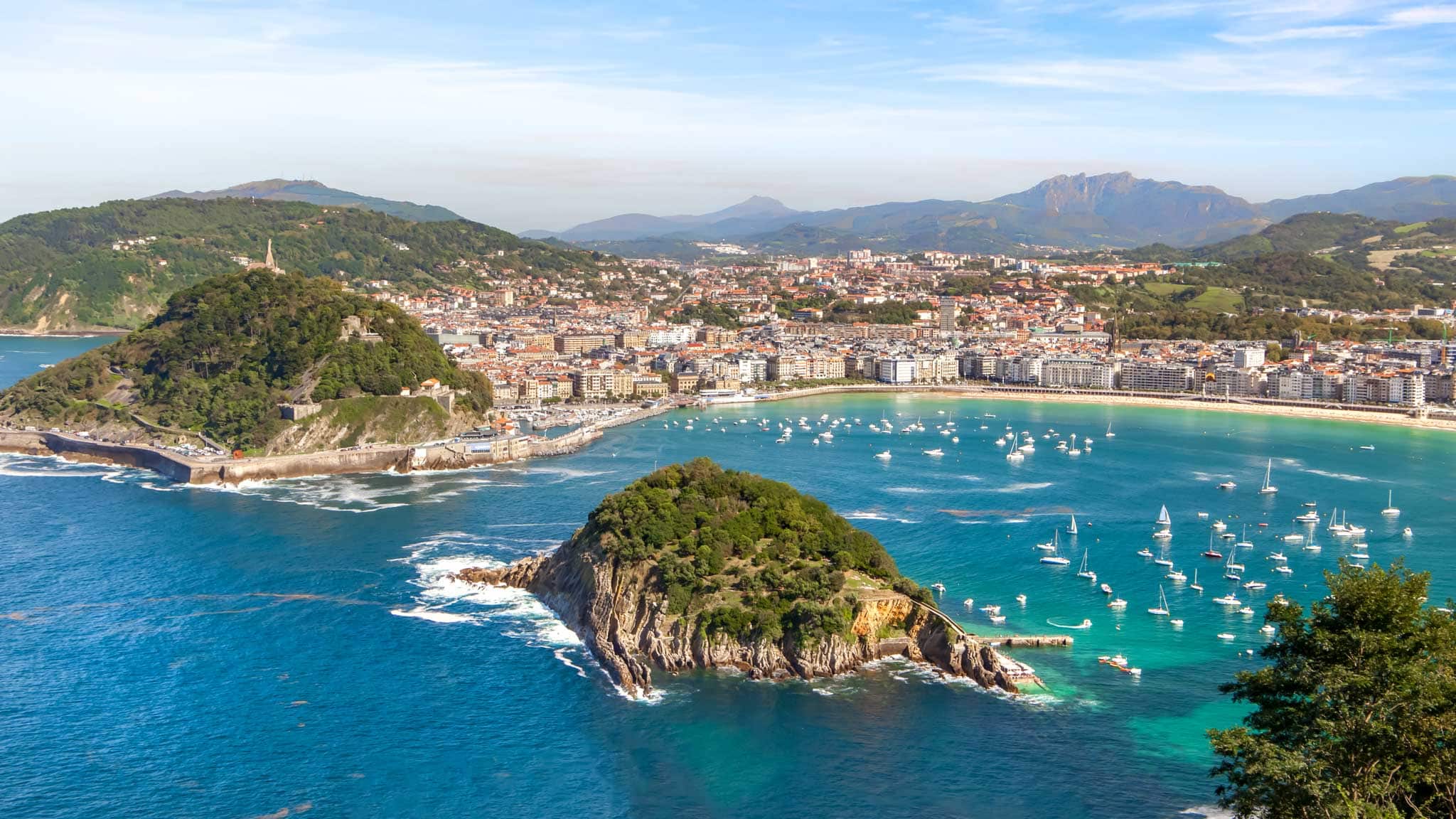 San Sebastian, Spain
Best for: A city beach break paired with a first-class food scene
Why and when to go? Situated in Northern Spain's Basque Country, close to the border with France, San Sebastián is a different kind of beach city than those in the country's south. Without the Mediterranean winter climate, it's best for a seaside sojourn from late spring until early autumn, although if you prefer spectacular shoreline vistas over afternoons on the sand, it's a decent city for a weekend getaway year-round. Renowned as one of the best cities in Spain – and indeed the world – for food, San Sebastián's culinary reputation is hard to beat. Pintxos, a form of small paid-for tapas, are the city's bar-topping winners, with plenty more underground culinary clubs and haute cuisine to sink your teeth into. Combine these plates with some sweeping bay vistas, and you get one of the best beach destinations in Europe for a weekend getaway, no matter the season.
Where are the best beaches? If you pick San Sebastián for your beach holiday in Europe, you won't need to stray far to start topping up your tan. Flanking both sides of the historic centre are a couple of gorgeous sandy bays: La Concha and Zurriola. With promenade strolls, fantastic views of the rocky outcrops in the bay, and everything you need (to eat) just moments away, you get the best of both.
Activities beyond the beach? Unlike some of the most popular beach resorts in Europe, San Sebastián remains a very much lived-in city, ensuring an active calendar of events, such as the city's film festival, throughout the year. On a typical weekend break in San Sebastián, you can sample the beloved bar and food scene by hopping between countertops packed with signature pintxos and booking a cooking experience underground at one of the gastronomic societies. For spectacular panoramas and trails, venture up Mount Ulia or ride the funicular to Monte Igueldo, and finish with a your culture fix at San Telmo Museum, where the Basque language and culture are placed centre stage.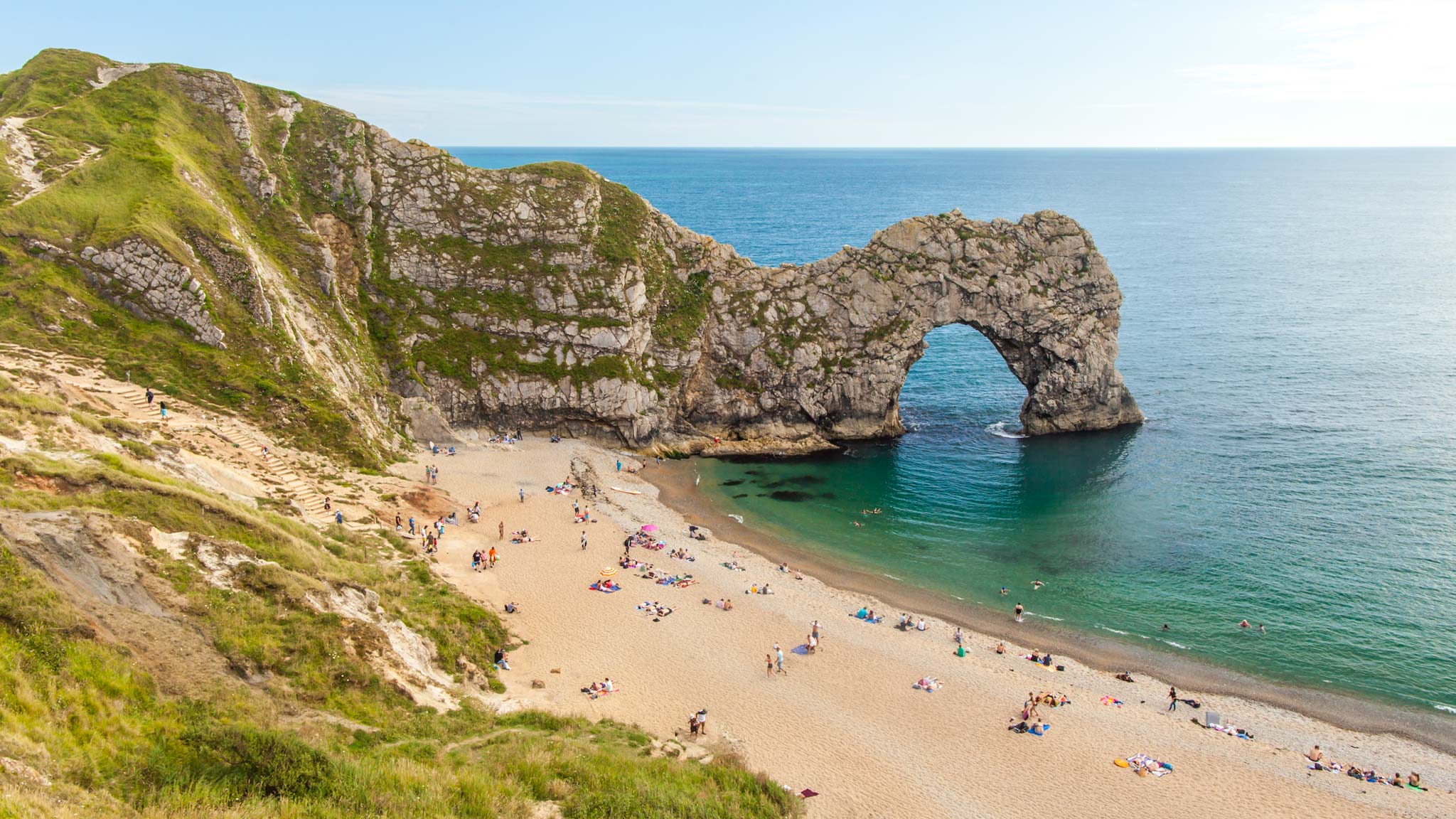 The Jurassic Coast, England
Best for: Coastal hikes and spectacular scenery paired with fossil finding
Why and when to go? While many would say that Cornwall is the best coastal destination in the UK – and to be honest, it's hard to disagree with them, other than the crowds and prices in summer – a road trip along Dorset's Jurassic Coast offers a different type of beach holiday in Europe where days are filled with fossils and fish and chips rather than far-flung turquoise waters. The 95-mile-long stretch of shore, which crosses the counties of Dorset and Devon, is as much about history as hitting the beach. Famed for its dinosaur footprints and fossils, which are edged into cliffs, displayed in museums, and, if you're lucky, found by visitors on the sands, my born-and-bred home region is a place to come for incredible coastal hikes, pub lunches, and summertime swims.
Where are the best beaches? Like many of the best beach destinations in Europe, the Jurassic Coast has plenty of breathtaking bays – you just need the weather to be on your side to see them sparkle. Bournemouth Beach is perhaps the top option for ease of access (it's around two and a half hours by train from London), though this sees the expansive stretch of sand fill up quickly on a summer's day. Further, along the coast, I also adore the small town of Lyme Regis, where you'll find both sandy and pebble beaches and the spectacular Man O' War Beach, which sits on the other side of the famous stone archway at Durdle Door.
Activities beyond the beach? Many of the best activities along the Jurassic Coast are linked to the region's fossils, and learning more about Mary Anning, one of the most prolific dinosaur fossil hunters who lived here, is a great call. You can also keep yourself entertained at the arcades, visit the gardens, theatres and museums in Bournemouth or Poole, and enjoy the striking coastal hiking routes around Portland and Old Harry Rocks. Just be aware you won't find typical beach resorts along this stretch of coast. Instead, it's more about cosy cottage rentals and B&Bs by the sea.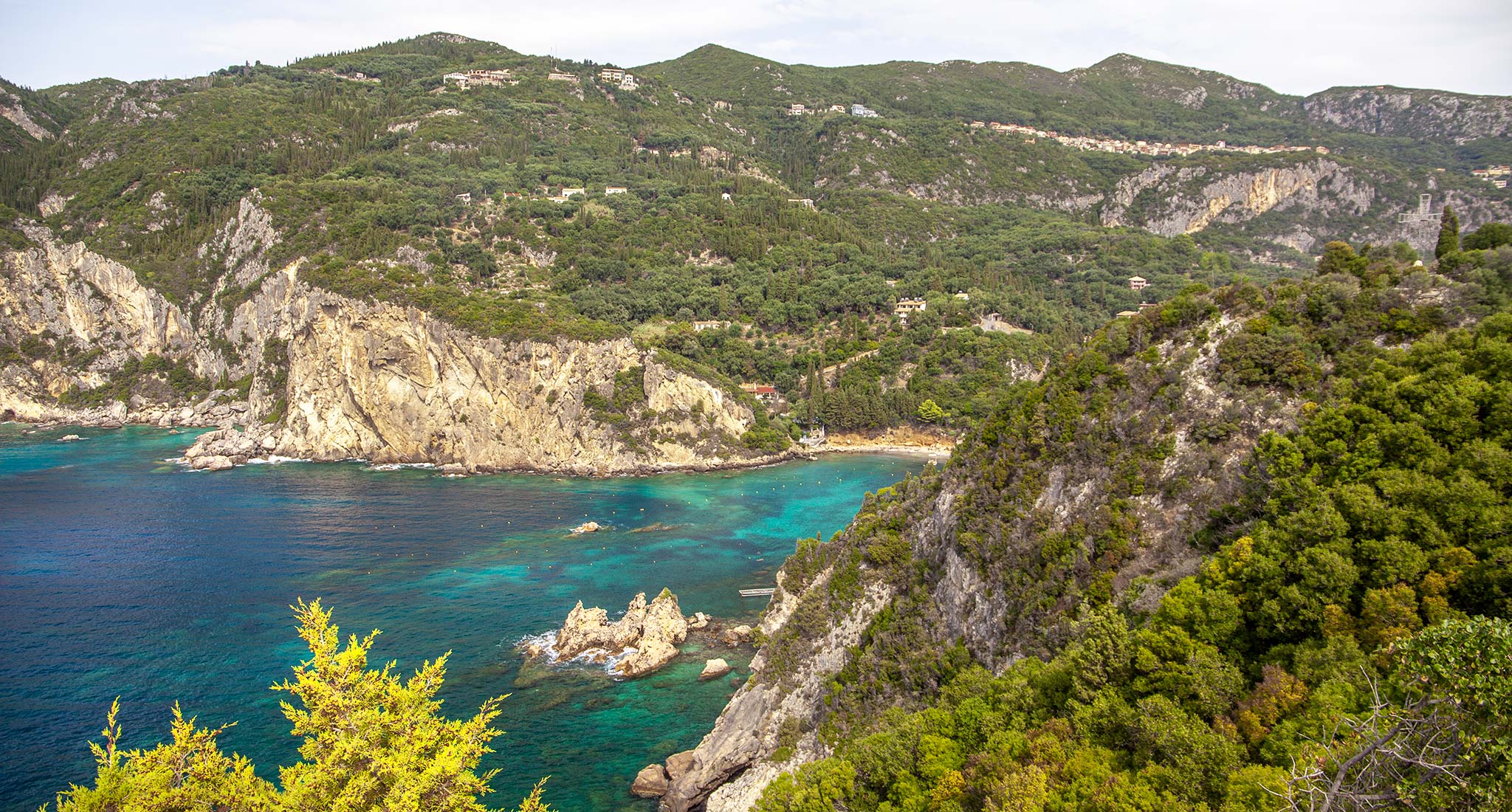 The Ionian Islands, Greece
Best for: Lively lived-in cities, island hopping, and breathtaking bays
Why and when to go? Greece is home to many of the best beach destinations in Europe, and with seven main island groups, slimming down where to stay for a beach holiday is no easy task. Personally, I'm a big fan of the Ionian Islands for a few reasons: they are crowded, but less so than some of the Cyclades; similarly, I prefer the beaches here over the pebble and volcanic bays of Santorini; and lastly, there's plenty of culture and history to appreciate in the Ionian Islands, especially on Corfu, where the UNESCO-listed Old Town, museums and archaeological sights can keep your non-beach days busy.
Where are the best beaches? If you're looking for some of the best beach resorts in Europe, you'll find them here. Well-developed infrastructure, luxury hotels, and even budget options are found across the islands – often just a stone's throw from standout beaches. Zakynthos' shipwreck beach, Navagio, might be the most famous due to the aerial view, but you should also consider heading to Plakes Beach in Paxos, Markis Gialos on Kefalonia, and the striking coves at Porto Timoni on Corfu.
Activities beyond the beach? While all of the islands have plenty of watersports and tours to keep you busy (the gorgeous limestone Blue Cave on Zakynthos is a great boat trip), there's one Ionian island that really stands out if you want a beach destination in Europe that's as much about culture as coast: Corfu. Around the lively and photogenic Old Town, you'll find museums dedicated to Asian and Byzantine Art, archaeology, and folklore. The Achilleion Palace and the Venetian Corfu Fortress are also great for escaping the midweek sun, and the feta.. I mean food, of course, is just as sublime.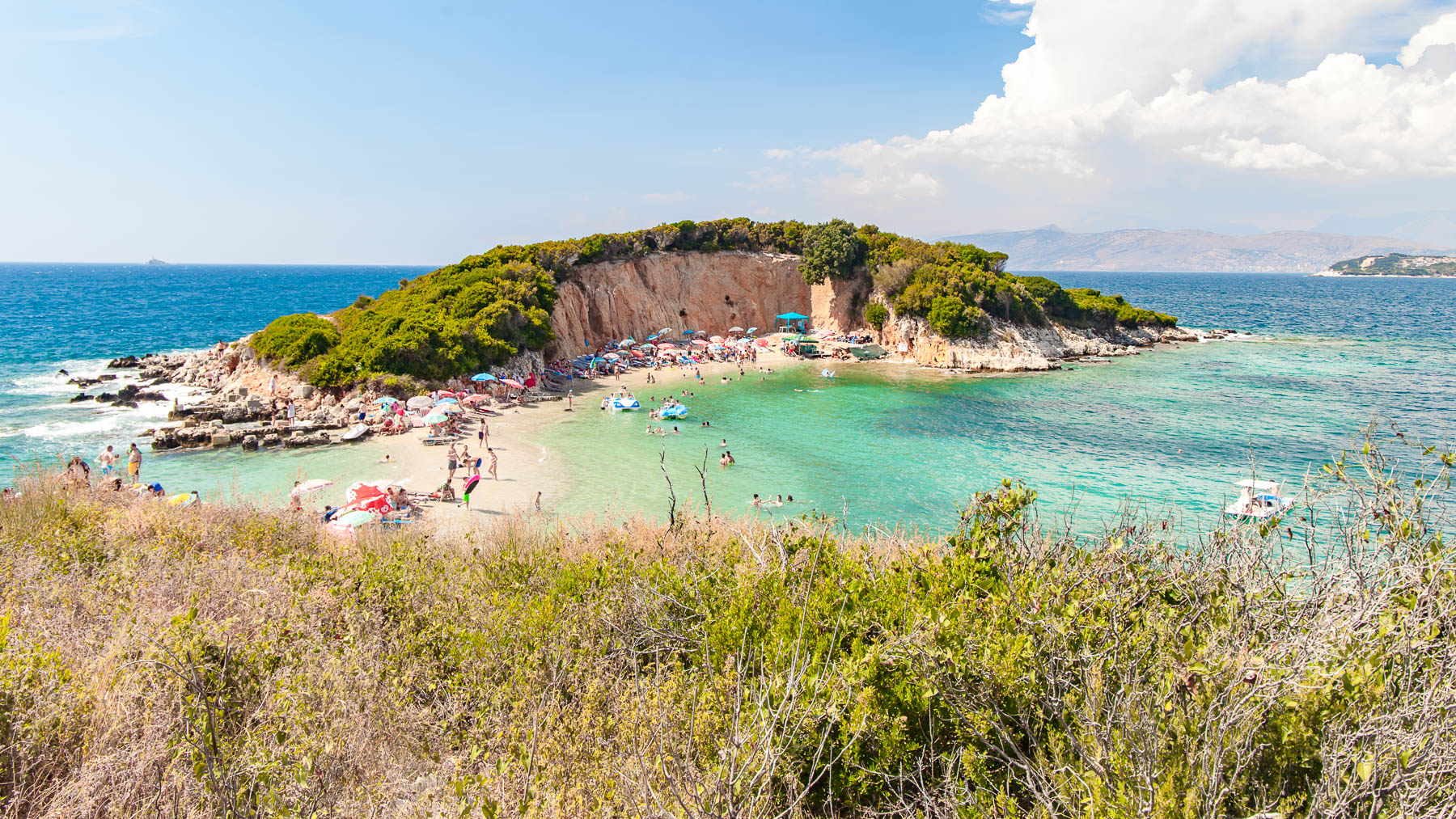 The Albanian Riviera
Best for: Bath-like waters on a budget
Why and when to go? Quickly growing in popularity as a European beach destination, Albania has gone from an offbeat escape to a travel magazine favourite in recent years. And this buzz isn't for nothing; I've been shouting about the Albanian Riviera – and indeed, the whole country – since my first visit in 2016. Similar in climate to Corfu (you can actually cross between the two by ferry), Albania's south is usually good for a beach trip from March until October. What has long been the draw for most people is the wallet-friendly accommodation and dining scene, though nowadays, I feel it's getting credit for being spectacular as much as money-saving.
Where are the best beaches? Stretching for around 75 miles along the Ionian Sea, the southern Albanian Riviera has plenty of craggy coves, expansive sands, and even small islands to enjoy. Some of the best are found between Sarandë and Ksamil, where the little islands off the coast can quickly get busy in the summer months. It's important to remember that while Albania might be a newer destination for many USA and UK tourists, the Albanian Riviera has long been popular for beach holidays in Europe with neighbouring countries. So, to find a more hidden or serene spot in summer, you'll want to go into a beach club with limited numbers or head a bit further along the splendid coast – boat trips to secluded bays are also a great tip.
Activities beyond the beach? Compliment one of the best beach holidays in Europe with a dive into Albania's culture, and you'll be sure to come home with a new-found respect for this captivating country. Personally, I'd say hire a car and go on a road trip for a few days with your beach time at the start and finish of the trip. The historic town of Gijrokaster and the beautiful Blue Eye natural spring aren't too far to drive from Sarandë, while Berat, a spectacular UNESCO-listed whitewashed town hugging a mountain, will take a few hours.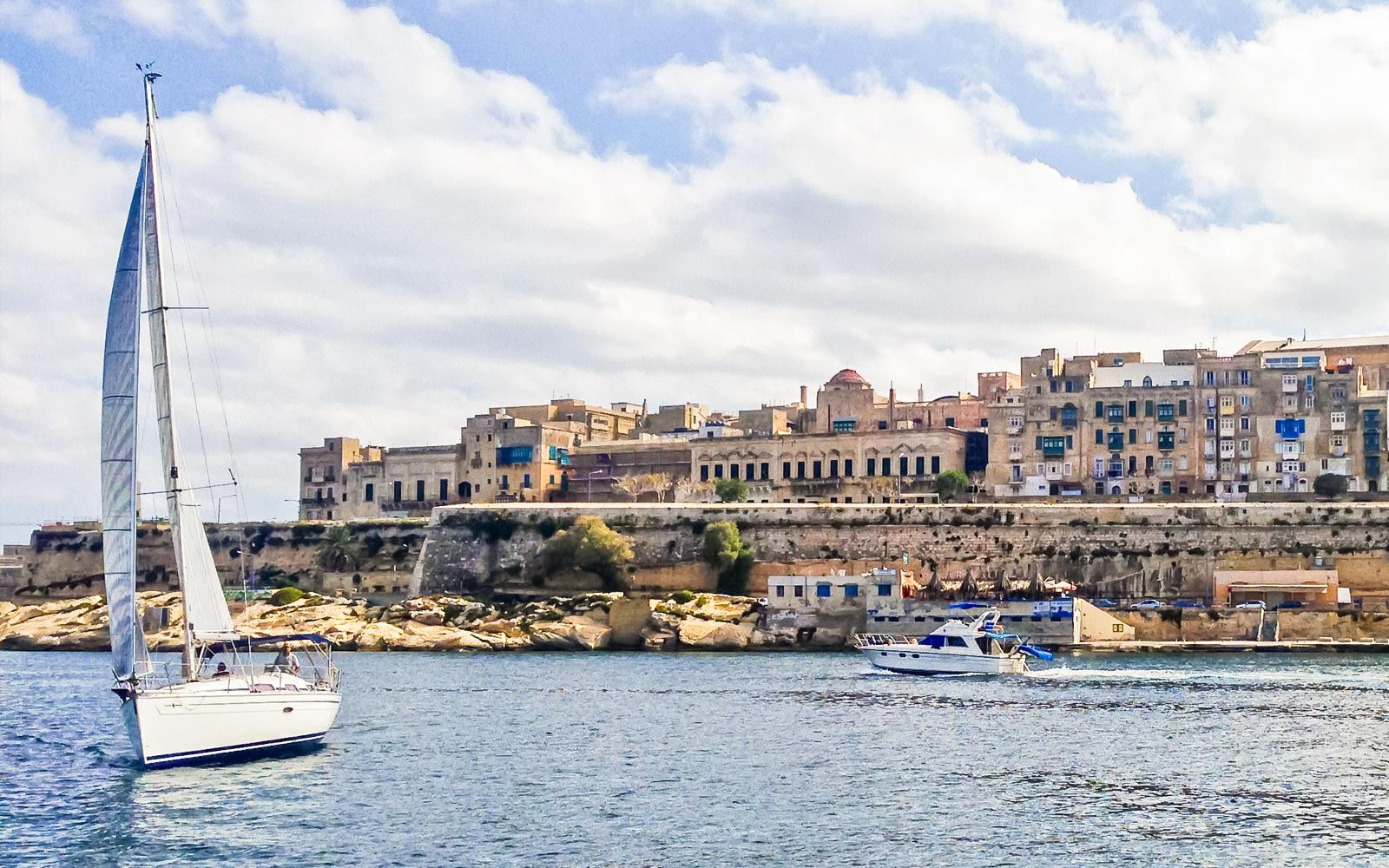 Malta
Best for: A compact island adventure with plenty of history
Why and when to go? For decades, Malta has been considered one of the best beach destinations in Europe, especially with the Brits, who occupied the country between 1813 and WWII. It's for this reason that English is one of the official languages of Malta, and you'll see lots of nods to British life, especially around the party-heavy streets of St. Julian's Town. Located to the south of Sicily, it's a fairly decent year-round destination, although I found my June visit much more enjoyable than the stormy November when I returned to do a scuba diving course. Wearing many faces, Malta is as much a cultural city break and family-friendly destination as it is a party island, with the beaches being the common attraction across all groups.
Where are the best beaches? Being one of Europe's smallest countries, it doesn't take long to hop between the best beaches in Malta with a car. The public transport isn't too bad either, and on my last visit, I used the buses and ferry to cross from Malta to the smaller sister isle of Gozo. Across these two islands, there are a few standout beaches worth noting down, such as secluded San Blas Bay and Dwejra – an interesting 'inland sea' – on Gozo and the ever-popular Blue Lagoon and sweeping Golden Bay on Malta.
Activities beyond the beach? Tearing yourself away from one of the best beach destinations in Europe isn't easy, but the history of Malta is fascinating, and you should allow at least a day to dive into it. Explore the historic streets of walled Valletta, the island's capital, which dates back to the 1500s, spend some time in the ancient capital of Mdina (another Game of Thrones location) or visit one of the island's archaeological sites, where thousands of years of history have been unearthed.
The Baltic States' Coastline & Trail
Best for: A multi-day coastal hike along lesser-visited beaches
Why and when to go? An alternative to your typical beach holiday in Europe, the Baltic Coastal Hiking trail hugs the shoreline of the three Baltic States: Lithuania, Latvia and Estonia. Stretching some 880 miles, completing the whole route would take well over two months, but picking a section, or hopping between sections by bus, makes for an excellent beach vacation with a twist. If you're coming to Europe in winter, this is certainly the one to avoid, with snow, strong winds, and cold weather likely to ruin the experience. However, from late spring until early autumn, you'll find more pleasant temperatures (if still in chilly waters) much more suited to hiking and wild camping where allowed.
Where are the best beaches? You might not imagine the Baltic States to be one of the best beach destinations in Europe, but for hikers, wild campers and those seeking a more disconnected experience, it doesn't get much better than this. The expansive stretches of shore along the Baltic Sea are breathtaking, with fine sands being the norm. Some of the beach highlights en route in Lithuania are the Curion Spit – a sand peninsula that connects with Russia's Kaliningrad Kaliningrad – and Palanga. Crossing to Latvia on the beach was the stretch I tackled and most enjoyed, with wild empty beaches and some excellent camping around Pape Ķoņi village. In Estonia, some of the best beaches are found around Parnu or on the nearby islands.
Activities beyond the beach? Given this route covers three countries and crosses multiple beach resorts and towns, you'll be spoilt for choice. Taste the unique dishes of the three countries, visit multiple museums, such as the Lithuanian Sea Museum or the Museum of New Art in Parnu, or enjoy the last Estonian stretch and end with a city break in Tallinn.
The Balearic Islands, Spain
Best for: A bit of everything, from partying on playas to escaping it all
Why and when to go? The four major Balearic Islands south of Barcelona – Mallorca, Ibiza, Menorca and Formentera – have long been beloved beach destinations in Europe. And while they all share similar dazzling coastlines, they manage to retain their own distinct personalities. The seasonality also differs depending on where you go, although the weather stays fairly decent even in winter. Ibiza's big parties are in the summer months, a city break in Palma can be enjoyed year-round, and in Menorca, you might find some places starting to shutter for the season from October onwards. Picking which island to visit will depend on what you're after, or you can combine a couple, thanks to the ferry connections.
Where are the best beaches? The islands are all home to some of the finest beach resorts in Europe, and no matter which direction you go, you'll never be far from a gorgeous bay or shoreline. In Mallorca, Cala Agulla and Caló del Moro are two of my favourites. In Ibiza, Cala Carbó and Las Salinas are something special, while Menorca's sweeping Son Bou and Formentora's Calo des Mort are good places to get started on the two lesser-visited isles.
Activities beyond the beach? While the Balearics are renowned for being excellent European beach holidays, you'll be surprised at just how much more there is to do on the islands. Palma de Mallorca, the capital of the cluster, is a buzzing city break year-round with excellent restaurants, lively bars, and a few decent museums to explore, including the hulking 14th-century Cathedral and rounded Castell De Bellver, The historic rickety wooden train to Port de Soller is also worth a day trip. In Ibiza, the fortified Old Town, Dalt Vila, has plenty to entertain in the day, while the summer party goes into the early hours with celebrity DJs.
Of course, this list of the best beach destinations in Europe is highly subjective, and I could keep on going: Portugal's almost tropical Madeira, Spain's breathtaking Canary Islands, Amsterdam's The Hague, sun-kissed Sardinia and Corsica… truly, the continent has no end of spectacular seaside getaways.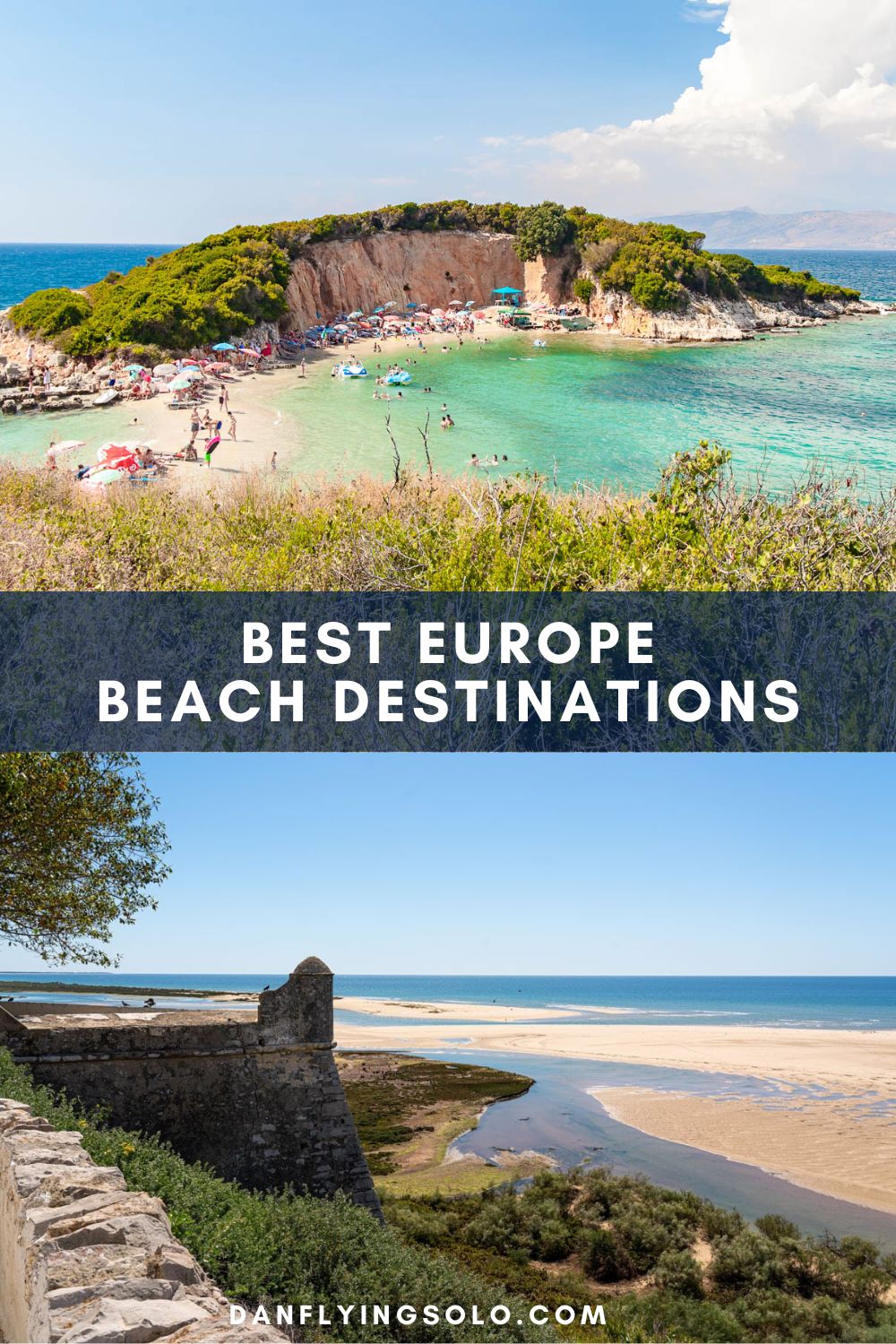 https://www.danflyingsolo.com/wp-content/uploads/2016/08/AlbaniaPhotography.jpg
1341
2048
Daniel James Clarke
https://www.danflyingsolo.com/wp-content/uploads/2022/01/blogo-1w.png
Daniel James Clarke
2023-09-18 08:49:47
2023-09-19 21:45:48
10 Best Beach Destinations in Europe For Any Kind of Traveller