A quick guide to Palma de Mallorca: Spain's best island city break?
Updated: 10th January 2022
This website uses affiliate links which may earn a commission for purchases made at no additional cost to you.
The grandeur of a Gothic Cathedral towering above the city, a labyrinth of brightly coloured walls enclosing tiny streets, shaded squares sound-tracked by birdsong and free-flowing fountains, and a plethora of delicious restaurants and nightlife lie waiting for you along the oceanside in Palma de Mallorca, the capital of the Balearics.
The first time I visited the island, my only plan was to avoid Magaluf and explore some of the other things to do in Mallorca – sadly, while doing so, I ended up avoiding Palma also. Having recently returned to spend a week in the city itself for the Traverse21 conference, I can see why that was such a big mistake.
In fact, I'd go as far as saying that Palma is an ideal city-break, which is quite surprising for an island destination – yet, it ticks all the boxes; gastronomy, history, culture, and more than enough places to eat and drink in style. Here's a quick guide to Palma de Mallorca and what to expect from a long weekend in the city.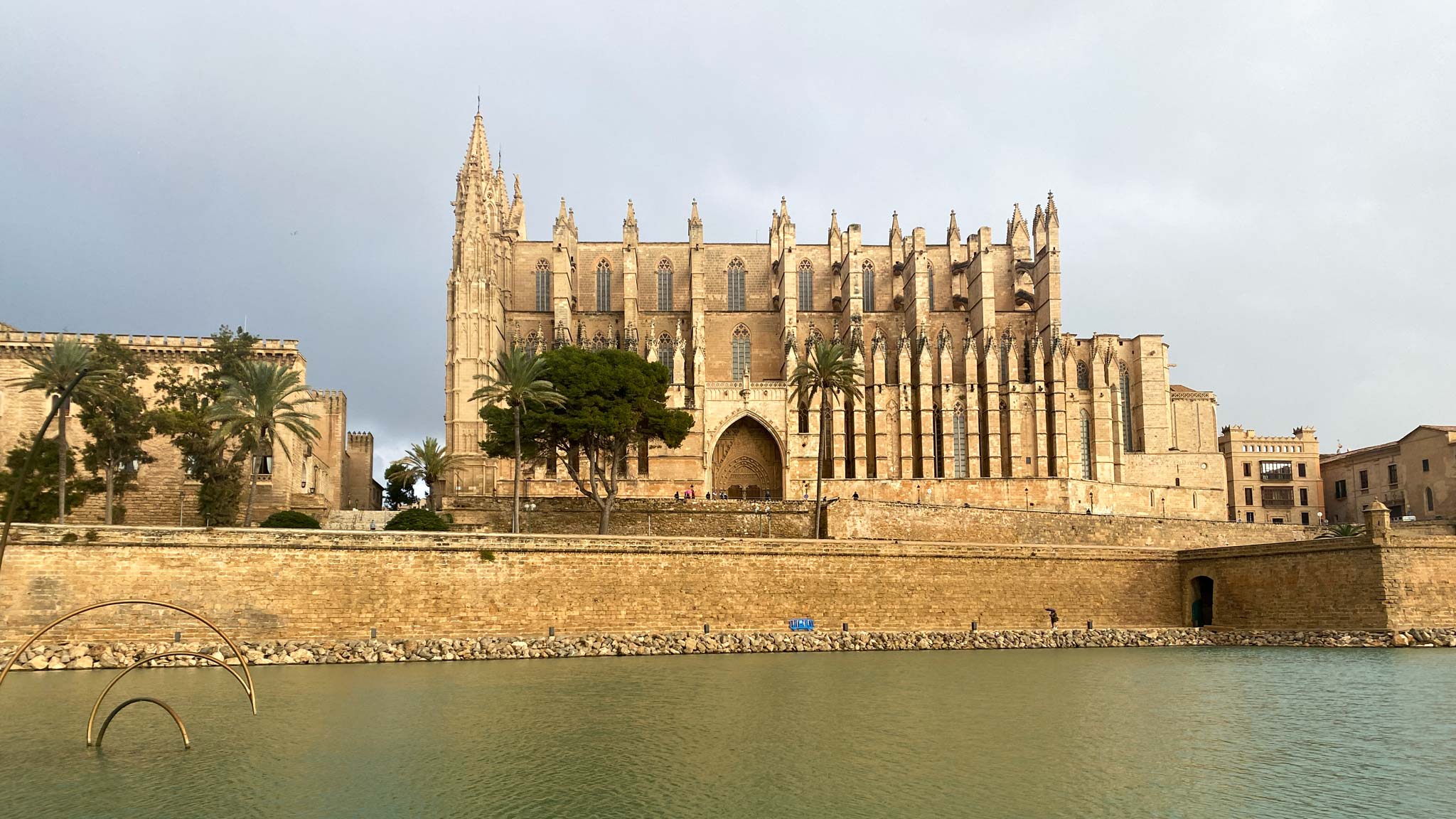 When to visit and how long to spend in Palma de Mallorca?
Depending on how you wish to spend your time on the island of Mallorca, you could make Palma a two-day visit or a two-week holiday.
Thanks to the very regular flight schedules, even in the winter months, coming for a weekend or a long weekend will give you the chance to explore the highlights of Palma and get a flavour of the island's capital city. If you opt to use Palma as a base for longer, then it's an ideal base (especially with a car) to take day trips out to other parts of the island – whether the story-book style inland villages or the breathtaking cove beaches of crystal clear waters.
Deciding when to visit is also fairly easy, as the weather is pretty kind all year round. Unfortunately, I experienced the rainiest week the island had seen in twenty years, yet we still had a great time. Of course, if you are looking to visit the island more for sunbathing and beaches, then the summer (albeit with much higher prices and crowds) might seem attractive. However, the shoulder seasons in Spring and Autumn are always the best, in my opinion, for visiting Europe's popular coastal destinations.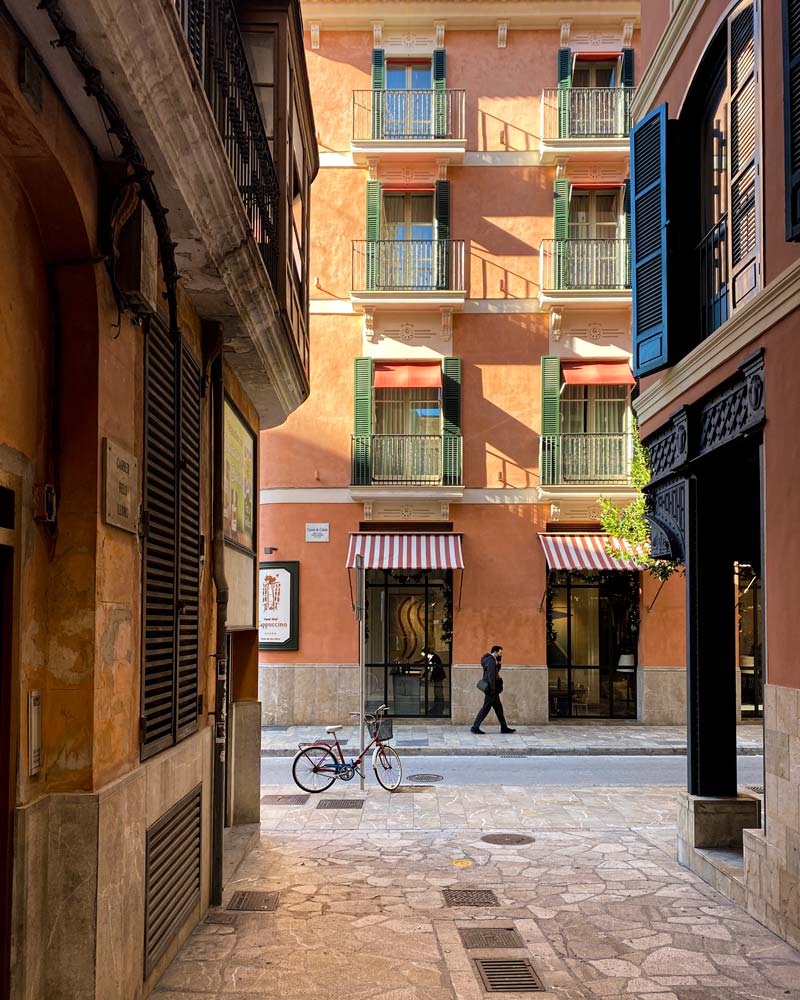 Where to stay in Palma de Mallorca?
Palma is a much bigger city than most people realised before arriving, which means there is an array of accommodation options for all budgets and group sizes.
For many, an island getaway means booking a white-washed Casa or luxury villa, especially if you are travelling with a big group of friends or family members. Mallorca certainly has plenty of delightful options to choose from, although many are more concentrated around the smaller coastal resorts. There are, however, some good villa options very close to Mallorca hosted by Vida Villas, certainly close enough to take a bus or taxi in and out of the city, or, you could opt to stay closer to a beach resort and drive into Palma for day-trips.
On my recent visit, as I was travelling solo, I found the accommodation options to be pretty affordable in late November. I secured private rooms at both the New Art Hostel and Hostal Pinnar for under €30 a night and would happily recommend both. For sea-views and a bit more luxury, the larger resorts like Melia or charming El Llorenç Parc de la Mar might be better picks for a romantic city break.
How to get to Palma de Mallorca?
Palma de Mallorca is the main gateway to the Balearic Islands, and I was pretty shocked at just how large the airport is – this island is certainly no Spanish hidden gem. It is well served by budget and flag-carrying airlines from Europe and will soon start hosting direct flights from the USA. It's a short drive from the city centre (expect to pay around €20 for a taxi) and connected by the airport bus. 
An alternative, especially if you are coming from another island like Menorca or Ibiza, Barcelona or Valencia, is to do like me and take the ferry. The island hopping routes are shorter, but to and from the mainland, you can choose from various operators, some with day and some with night sailings. I paid €19 for an overnight sailing with GNV from Valencia and ended up napping on a couch with my sleeping bag. Waking up to the views of Palma Cathedral through the window at blue hour was particularly nice.
What to see in Palma de Mallorca?
One of the biggest joys for me about Spanish cities is just slowly taking in the colourful and historic buildings, the tile work, the plazas, and stopping here and there for a vinho or tapa. There are, however, some impressive attractions in Palma, and it's well worth adding one or two to your city break agenda.
Palma Cathedral
If there is one attraction that stands above the rest, both literally and figuratively, in Palma, it's the Cathedral. This Gothic Roman architectural feat looks good from all angles, whether admiring it from the outside across the still waters or seeing the stain-glass windows bouncing light around the imposing pillars inside.
Royal Palace of La Almudaina
Just next door to the Cathedral is the Royal Palace, also well worth visiting inside for the elaborately decorated carpeted rooms and idyllic setting in the courtyard. Dating back to the 14th century, there is plenty of history to discover within the Palace's walls.
Castell de Bellver
A short walk from the city centre and promising fantastic views across Palma and the Marina, the uniquely shaped Bellver Castle is a bargain to enter for just a few euros. The rounded interior is rather impressive, and the views from the rooftop are especially special at sunset.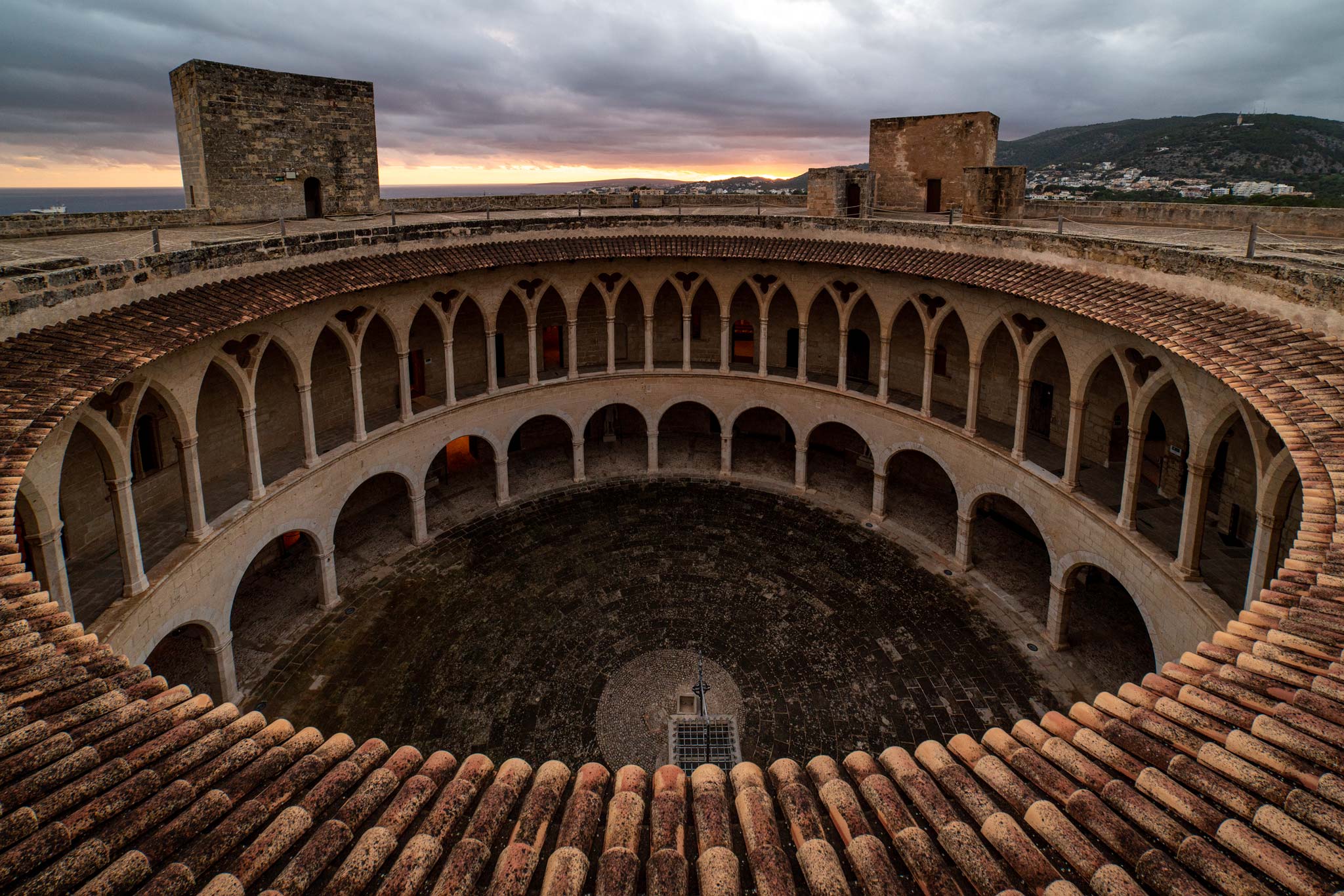 Es Baluard Contemporary Art Museum
With mainly modern art collections from artists of the Balearic islands and international artists, this modern museum is ideal for a rainy day visit.
Fundació Miró Mallorca
Housing an extensive collection of paintings by the artist Joan Miró, who, while born in Barcelona, made his home later in Palma, the vast display includes sculptures, gardens and some of his most famous works.
The Beach
It wouldn't be an island city-break without a little beach time, and the Platja de Can Pere Antoni is right on the doorstep of the city. While there are certainly much more tranquil bays further along the coast, you don't need to go far to have your fit in the sand and a dip in the Med.
Where to eat in Palma de Mallorca?
The food scene in Palma is impressive, but then again, where isn't in Spain? From two Michelin Star restaurants down to tiny tapas houses, you are very much spoilt for choice. I did seem to find myself drinking more than eating during my last visit, but there were a couple of spots that I really would recommend.
Mercat 1930
A fantastic concept for some food and drinks, Mercat 1930 is essentially a big vintage bar area with tiled floors and an occasional DJ, where food stalls surround the tables in the middle with both traditional Spanish and international cuisine. Find a seat, grab a drink from the bar, and then hit up the stands for as many small or large plates as you can manage. The owner and staff will go out of their way to ensure you have a good night that goes far beyond just grabbing a bite to eat in this very social atmosphere.
De Tokio a Lima
By far, the best meal I ate during my time in Palma was at De Tokio a Lima. With soothing music, dipped lighting, and impressive art, this swanky joint serves up a fusion menu of Peruvian and Japanese dishes with a Mediterranean twist.
The ceviche was perfectly acidic and spicy, the Tuna Tartar delightfully dressed with Guava, and the meat was perfectly tender. Couple this with great cocktails, wine pairings and professional but not overbearing service, and you've got a fantastic lunch or dinner option as a treat.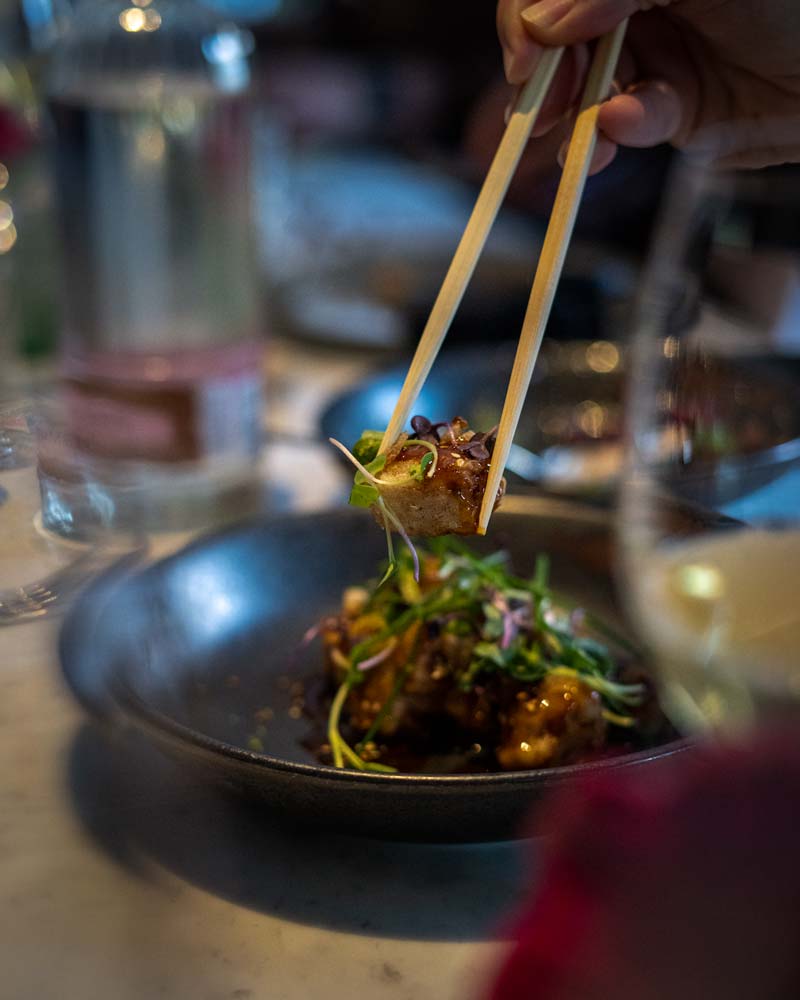 Tapalma Tapas Event
If you find yourself in Palma during late November, then be sure to grab yourself some coupons for the Tapalma festival. These little coins can be exchanged for a small tasting dish at plenty of restaurants around the city, each highlighting their signature tapas dishes. One of my favourite little spots we ended up going to as part of Tapalma was La Trastienda Mallorca off the main boulevard, great food, service and a nice shady location under a tree.
Where to drink and party in Palma de Mallorca?
While a lot of the 'party' attention in Mallorca, especially in the UK, is focused around Magaluf, you'll be pleased to hear the nightlife in the capital city is much more enjoyable and, dare I say it, sophisticated. There are terrace cafes and bars on squares and boulevards, late-night cocktail venues with moody lighting, and plenty of trendy and hip spots to sup a craft brew.
Here are a few of my favourite places I found myself boozing during my last visit.
Rooftop views: SKYBAR at Hotel Almudaina
You can never go wrong with a rooftop bar, and the offering of Hotel Almudaina is a great place to enjoy a cocktail or glass of local wine while admiring the Cathedral and the Mediterranean Sea beyond.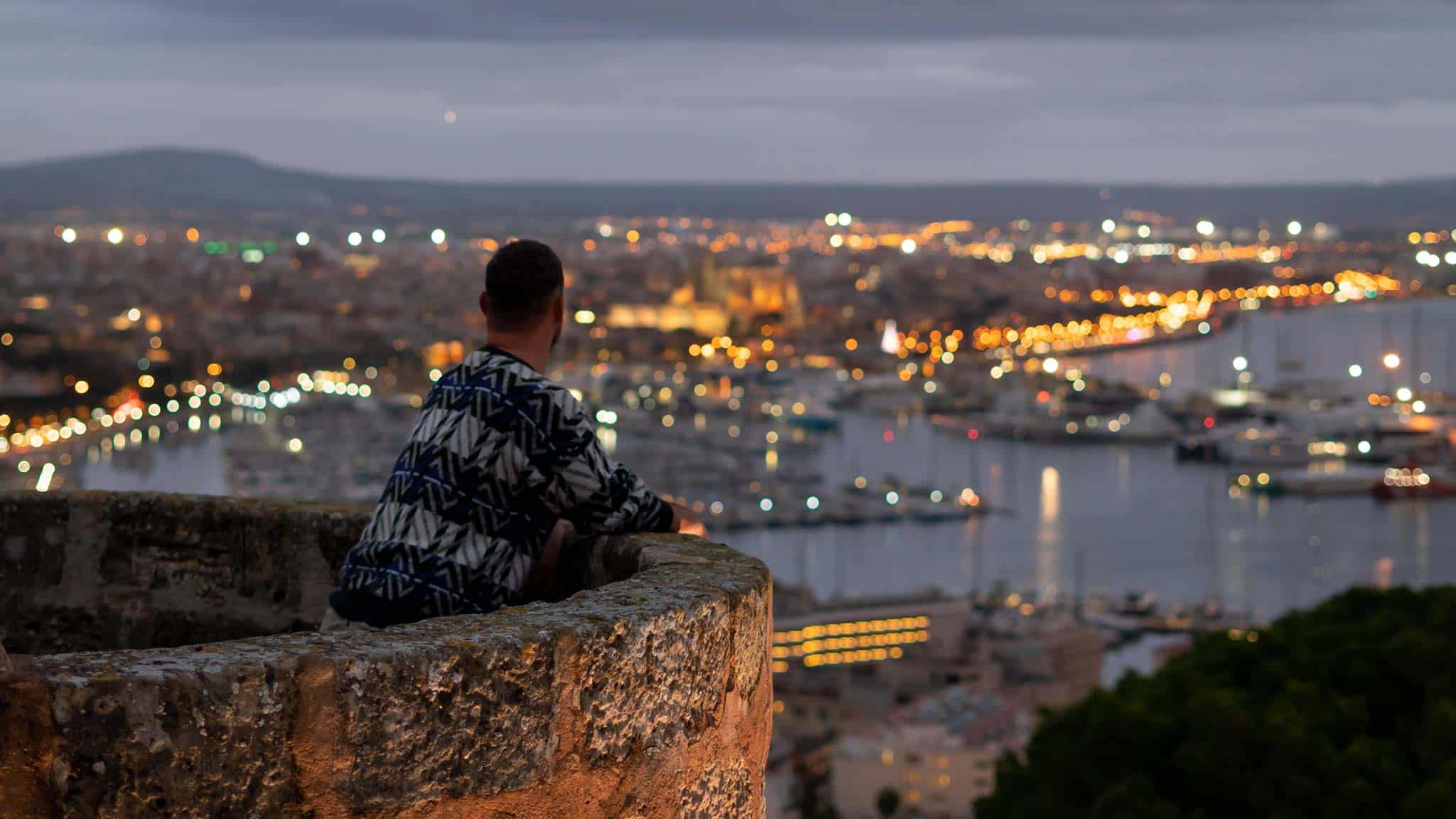 Good Vibes: BigFoot
This small and laid back bar not far from the Cathedral serves up great beers and a mean margarita in a laid back, fun atmosphere until the early hours.
Vintage & Tapas: Moltabarra Bar de Tapas
Perhaps my favourite place in Palma, Moltabarra, is a trendy and vintage joint in the city centre. With a cassette rack to pick from instead of a duke-box, old magazines, records and typewriters decorating the shelves, and a delicious set of Pintxos decorating the bar, it's a great place for both early and late drinks.
Silent Disco: La Casa de Cookie
Set on a quaint square near the centre, at first glance, this bar looks like a small and narrow spot with a heavy crowd upstairs. But, underground, you'll find headphones waiting for you to enjoy a night of silent revelry – pick from mainstream pop, techno or indie on the headphones controller and enjoy the night!
Late night: Avenida de Gabriel Roca
Sadly, due to COVID, I didn't make it to any nightclubs in Palma. However, many of the late-night bars we did end up in were along the waterfront at Avenida de Gabriel Roca. I can't say any of them were particularly great or memorable, but if you don't want the night to end, this is where you should be heading!
Day trip ideas from Palma de Mallorca
Mallorca has a lot to offer for every kind of traveller, whether it's getting out on the water on a boat tour, scuba diving, hitting up some historic villages or heading into the mountains. Here are a few of my favourite day trips from Palma to consider if you stay more than a weekend.
Memorable: Port de Sóller
One of my absolute favourite places to visit in Mallorca is Port de Sóller, a small bay and village on the island's west coast. A big part of the magic is taking the vintage wooden train from Palma to reach here. The rickety wooden carriages slowly work their way through the verdant mountains, lemon trees hanging outside the carriage windows before you arrive into the town, where a small tram takes you to the coastline.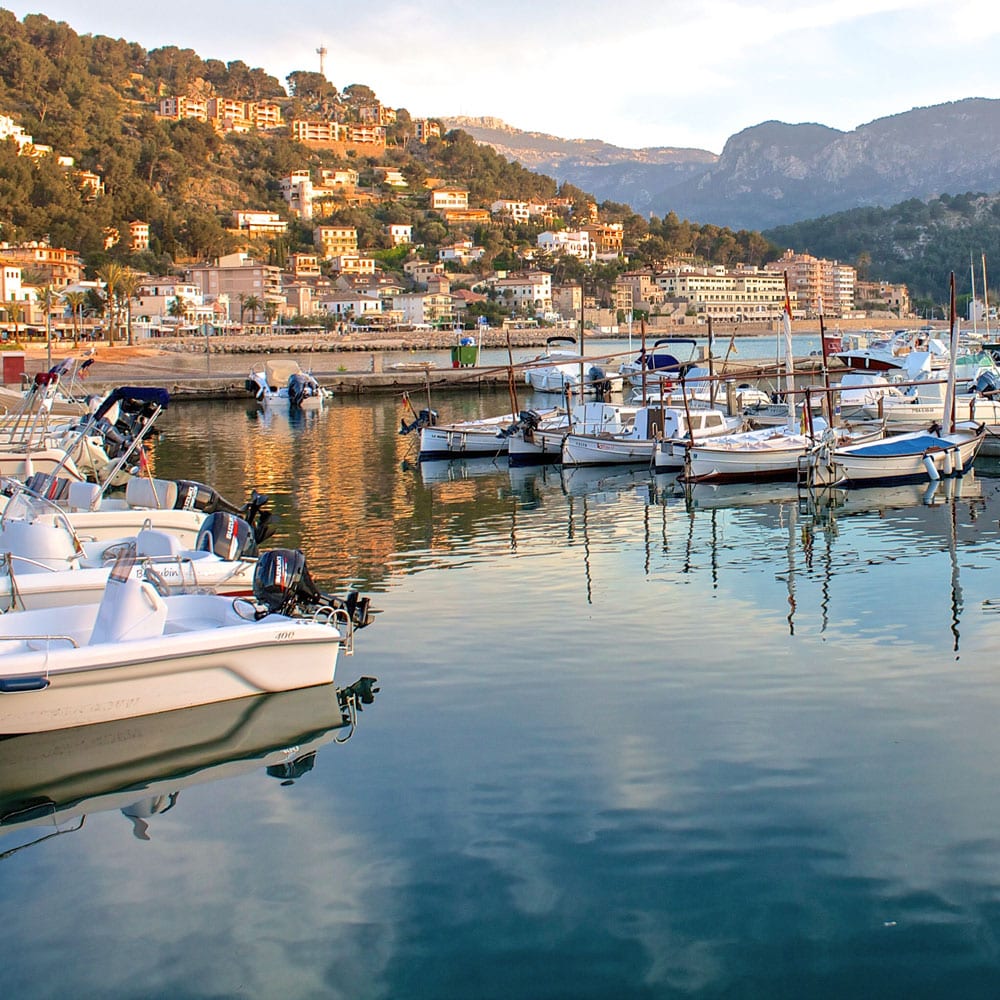 Beach: Caló del Moro
If you have a car, you are spoilt for choice when it comes to breathtaking bays and beaches around the island. To me, one of the most beautiful was Caló del Moro and the surrounding stretches, where rock formations, caves and cerulean waters dance around still bays perfect for swimming and relaxing. If you are without a car, you can still make it here by changing buses in Campos, although you may want to pick a closer bay to enjoy as a day trip.
Quaint villages: Valldemossa
Around a thirty-minute drive (also possible on the 200 bus) from Palma is the postcard-perfect village of Valldemossa, a popular spot for tourists and an ideal day trip from the city. Typical stone houses line the flower-drenched streets, set against the background of the dramatic Tramuntana Mountains. Explore the streets, soak up the atmosphere, and admire the impressive Monastery, the main attraction in this quaint village.
Hiking: Tramuntana Mountains
For those looking to get a little more active, the surrounding mountains of Valldemossa, the Tramuntana Mountains, which stretch along the whole west coast of the island, has plenty of hiking trails to enjoy for all levels.
Local Flavours: Bodegas of Mallorca
The wine history of Mallorca dates back to the Roman Period. There are quite an array of options for wine-tasting tours which depart Palma – whether it is to a historic windmill surrounded by vines or to take part in the traditional harvest around September, it's an integral part of the island's culture that you should not miss.
Are you looking to discover Spain beyond Barcelona? Check out my favourite Spanish Hidden Gems – from tiny villages known for their wine festivals to hidden mountain caves cultivating cheese!
https://www.danflyingsolo.com/wp-content/uploads/2021/12/spain-palma-mallorca-me.jpg
1152
2048
Daniel James (Dan Flying Solo)
https://www.danflyingsolo.com/wp-content/uploads/2022/01/blogo-1-1030x189.png
Daniel James (Dan Flying Solo)
2022-01-10 13:36:24
2022-04-30 11:12:40
A quick guide to Palma de Mallorca: Spain's best island city break?