Algarve Hidden Gems: My 20 Favourite Offbeat Algarve Spots and Beaches
This website uses affiliate links which may earn a commission at no additional cost to you. As an Amazon Associate I earn from qualifying purchases.
Updated: 31st March 2023
My first memory of the Algarve is a beaming face and wrinkled hand passing me freshly-picked oranges. Sitting under an almond tree for shade, I quickly peeled and devoured one – saving the other – and the flavour was so sweet it tasted like heaven. Twenty-five years later, I still smile at the thought of that moment every time I step off a flight at Faro airport and smell the scent of oranges which often lingers in the air.
In many ways, a lot has changed in the two-and-a-half decades since; more resorts, more tourists, and many of those fishing villages are now so developed you wouldn't recognise them in a faded postcard. On the other hand, it's still just the same. Oranges are hand-picked and sold on the roadside, and away from the must-visit attractions, there are still some Algarve hidden gems to experience.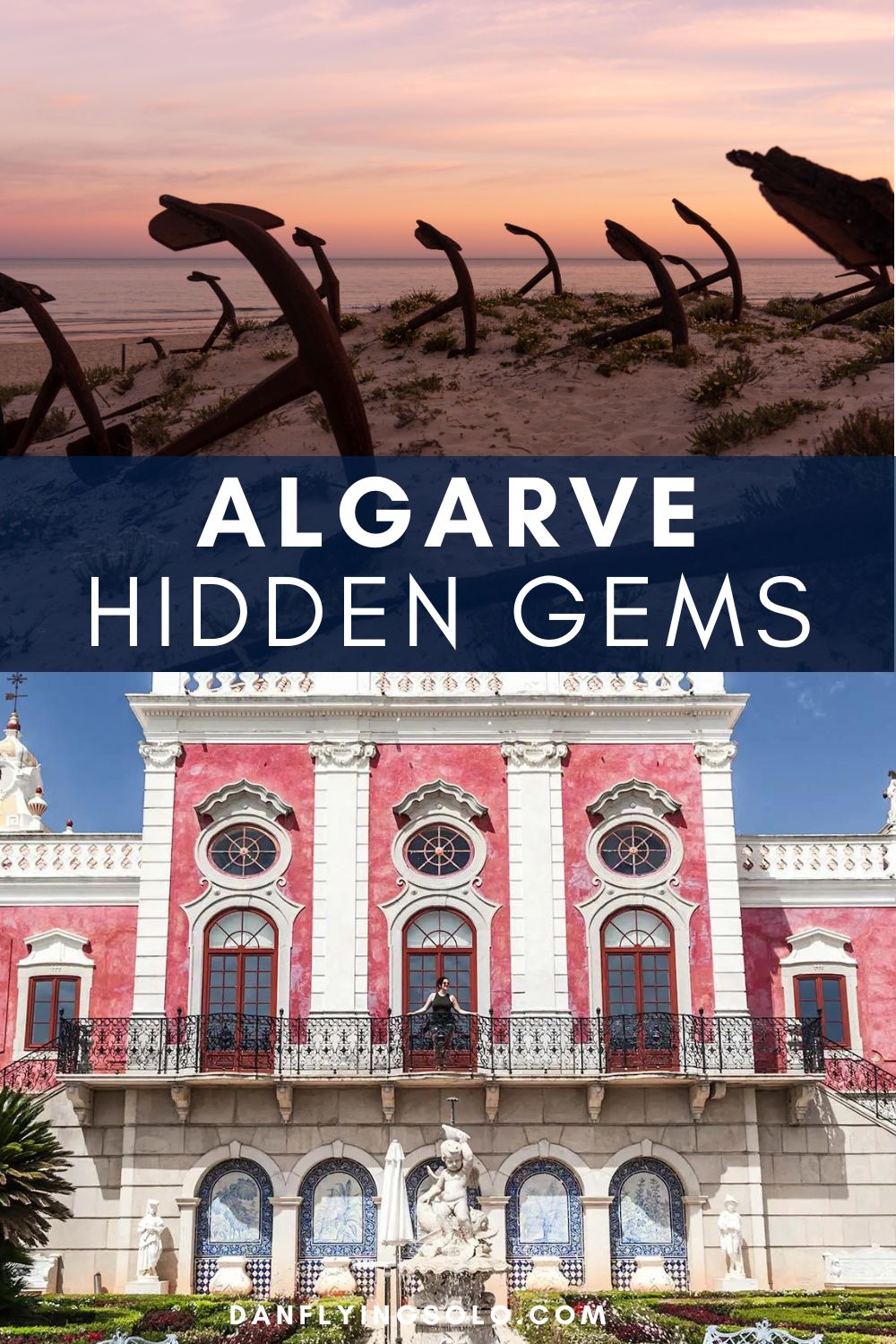 While you might picture the Algarve as boozy brits and big resort hotels in Albufeira, trust me when I say you don't have to stray far to discover some of the secret Algarve. Serene shorelines, lakes dotted with flamingos, tiny villages and remote forested trails, it's all here.
These are some of my favourite Algarve hidden gems from nearly a lifetime of exploring the sun-kissed south of Portugal. But, before diving into these 'secret Algarve' spots, have you read about the main places to visit in the Algarve?
Silves: for a slice of Moorish history
In my opinion, Silves should be a must-visit in the Algarve. But sadly – or perhaps happily – many people still don't make it to any of the inland towns.
A short drive from the coast, an afternoon – or even a day or more – in Silves is a joy. Crowned by the best preserved Moorish castle in the Algarve, it's quite a sight to behold. Ochre roofs climb the gently sloped hill, orange trees line the landscape, and a laid-back vibe permeates.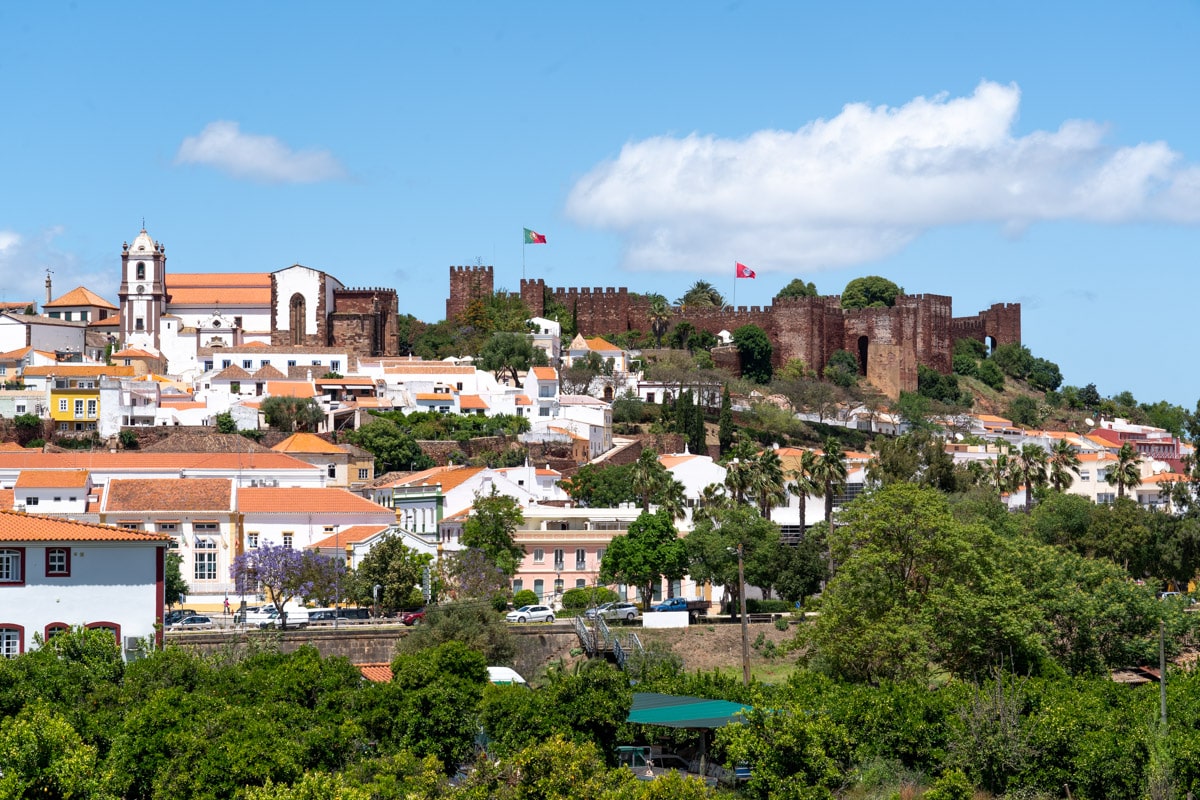 Silves is also one of the best Algarve hidden gems to learn about the Islamic history of the region when it was under Moorish rule. As well as touring the castle, you can visit the church – once a Mosque – and see ruins and artefacts in the small but well-kept museum.
If you're around during August, be sure to attend Silves Medieval Festival, when the streets come alive with history thanks to reenactments, parades, stalls and activities.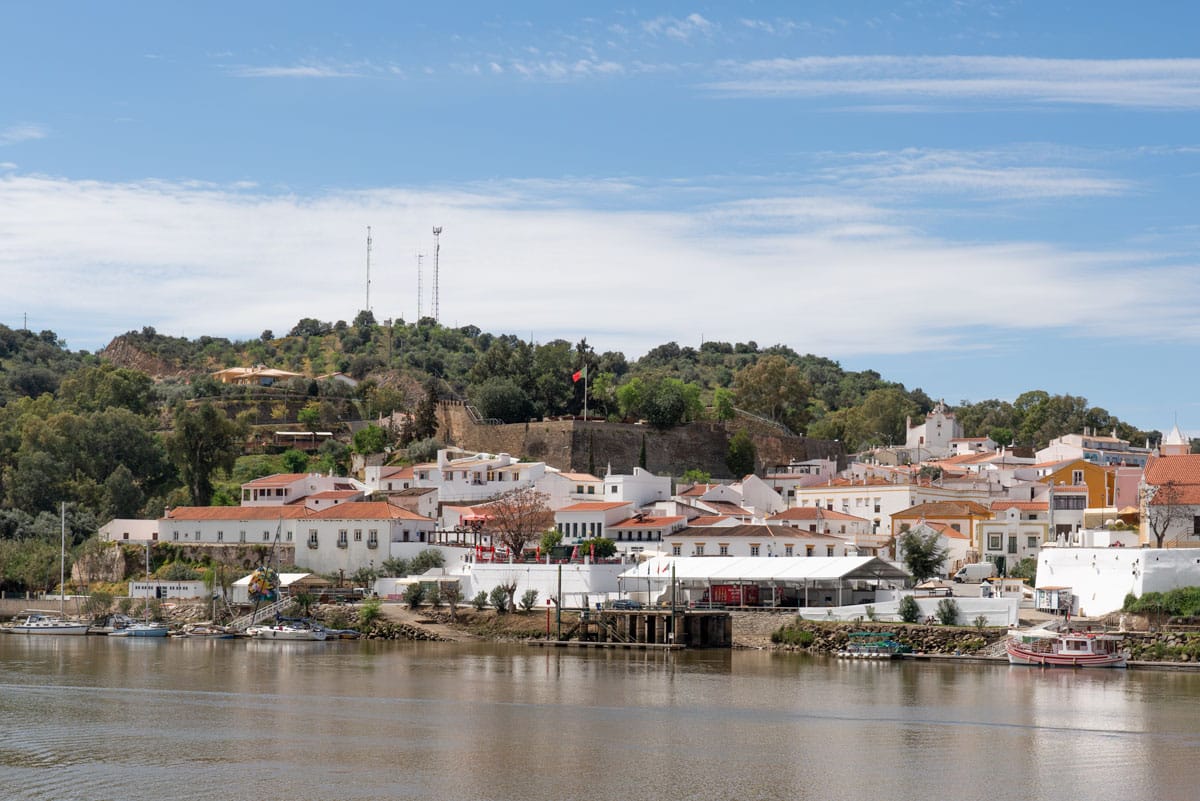 Alcoutim: for the smuggling past
Many Algarve hidden gems are found in the region's east, especially along the Guadiana River, which defines the border with Spain.
While you can take boat trips up the river – and even across it to Spanish Ayamonte – for a more exciting border crossing, head further inland to Alcoutim.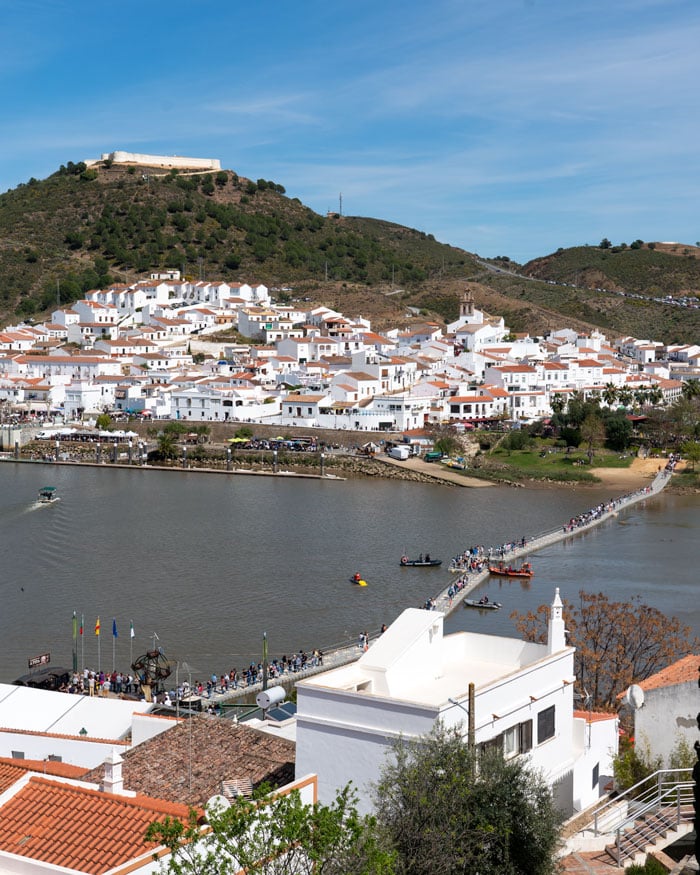 Here, you can kayak or hop a water boat to the Spanish village of Sanlúcar de Guadiana. To return, Limite Zero operates a zip line, which will allow you to cross the border – and a time zone – at some speed. Certainly one of the most unusual experiences in the Algarve.
For the majority of the year, the sleepy village stays in a slumber. However, for a long weekend in March, the Festival of Contraband brings it back to life. In celebration of the historic smuggling route across the river with Spain, a floating bridge brings a temporary connection with the neighbouring country, while stalls, music and events add to the festivities.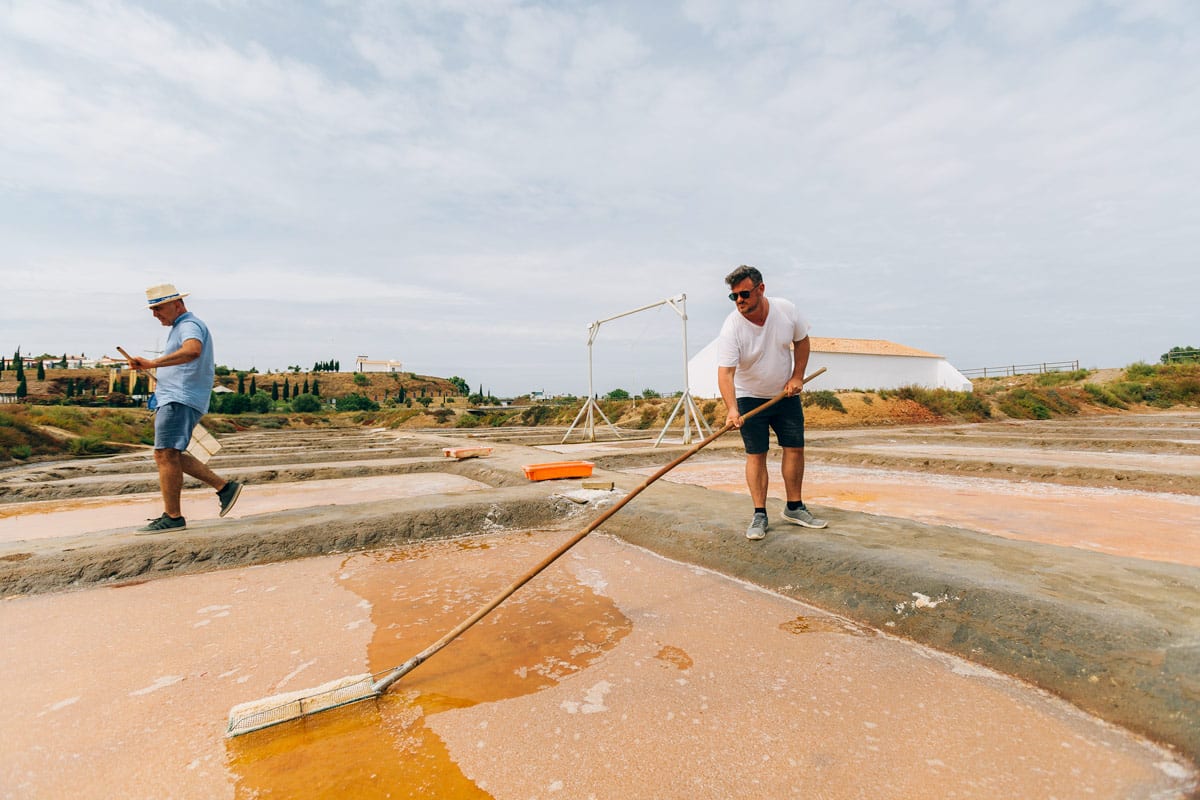 Castro Marim: for the castle and salt pan experiences
Just north of Vila Real de Santo Antonio, Castro Marim has long stood guard at the Guadiana River – watching Spain and defending Portugal's border. Nowadays, the small town has become something of an offbeat destination in the Algarve, but it's worth a visit for a few hours.
Start at the Castelo da Vila de Castro Marim. Inside, you can walk amongst what remains and see a small medieval torture museum inside the central tower. A medieval festival brings everything from bygone days back into the spotlight in August each year.
At the lower levels, just outside the town's limits, there is a selection of salinas (salt pans) which are renowned for their premium and organic Flor de Sal production. On one side of the road, you can float in the salt baths in summer, while on the other, at Salmarim, you can learn about – and even try your hand at – the harvesting method. For something really special, you could splurge on a combined salinas and private cooking experience with Chef Noélia Jerónimo (one of Portugal's Master Chef judges) using the best of local ingredients, bookable through The Art of Tasting Portugal.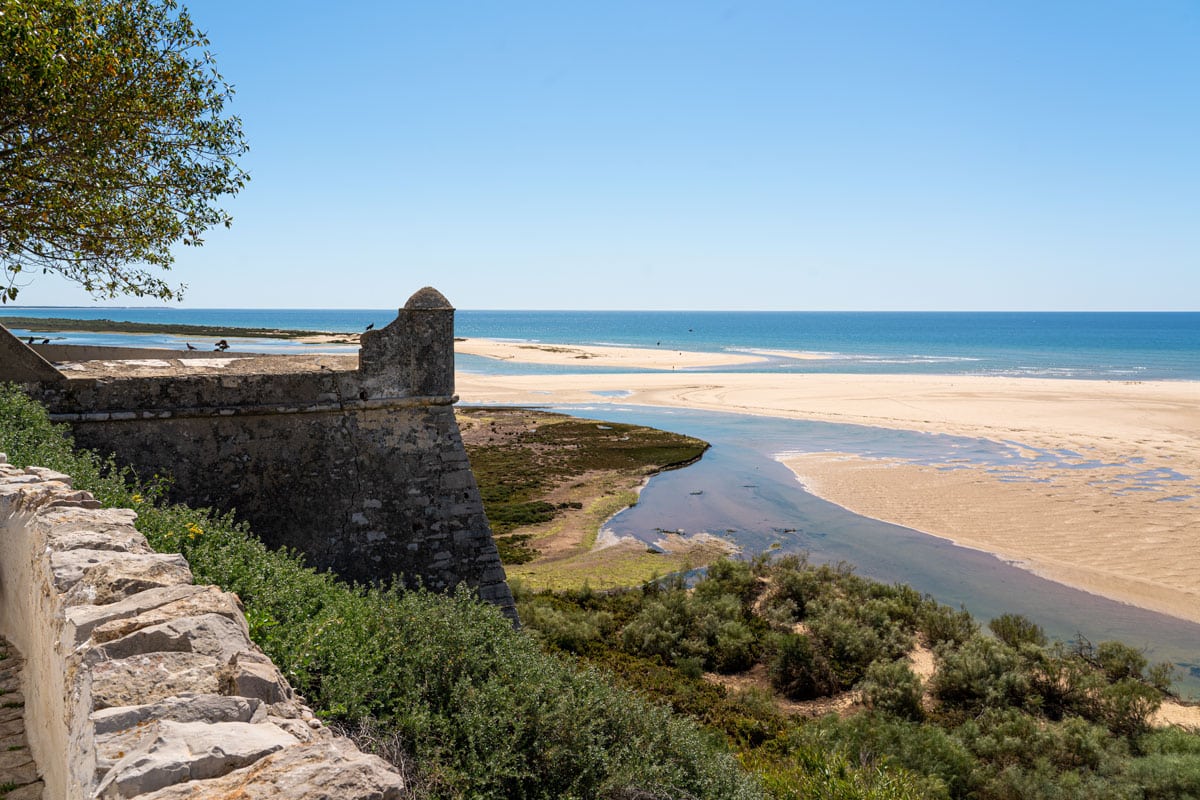 Cacela Velha: for a breathtaking viewpoint
Cacela Velha is a tiny village perched on a cliff at the end of the Ria Formosa lagoon system, and it's worth visiting for the view alone. Not to be confused with Vila Nova de Cacela – this is where Cacela's train station is, and it's a bit of a walk – the more historic spot is an absolute Algarve hidden gem for those who don't know to take the turn.
There's not much here; a couple of cafes, an old clifftop fort and a whitewashed church, but the ocean views – especially at low tide when the turquoise waters swirl into the sand – are incredible. A staircase descends to the beautiful beach, but keep the tides in mind so you don't get stuck out on the sandbar when they rise.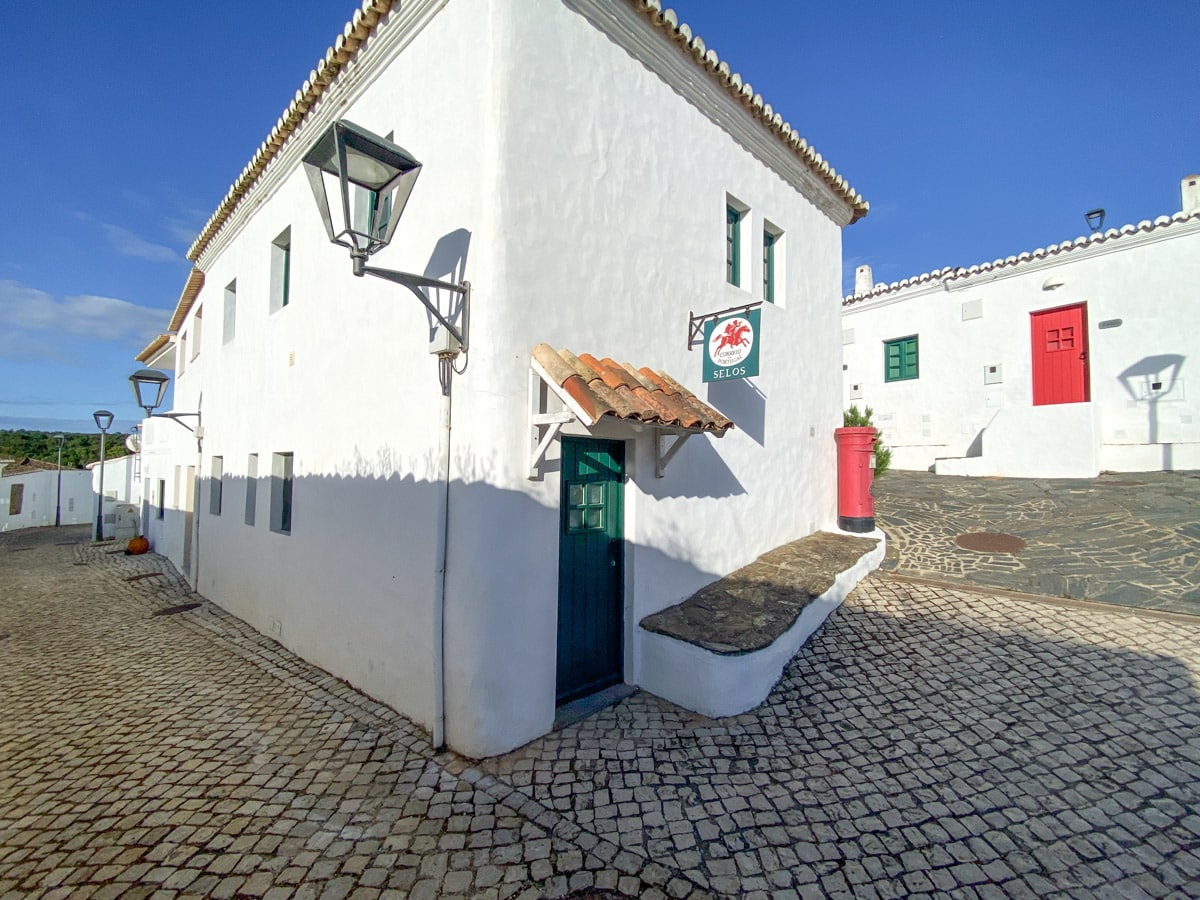 Vale de Bispo: for a recovered whitewashed village
For a unique place to stay in the Algarve, head to Aldeia da Pedralva, slightly inland from Sagres.
At one point, this whitewashed rural village was nearly left to ruin. Luckily, some Portuguese friends crowdfunded to restore the village and turn it into a 'hotel of sorts'. Now, the old homes act as hotel rooms, little streets still lead to the old cafe and post office, and the surrounding trails are super serene – a little slice of secret Algarve bliss.
Read more: Unique places to stay in the Algarve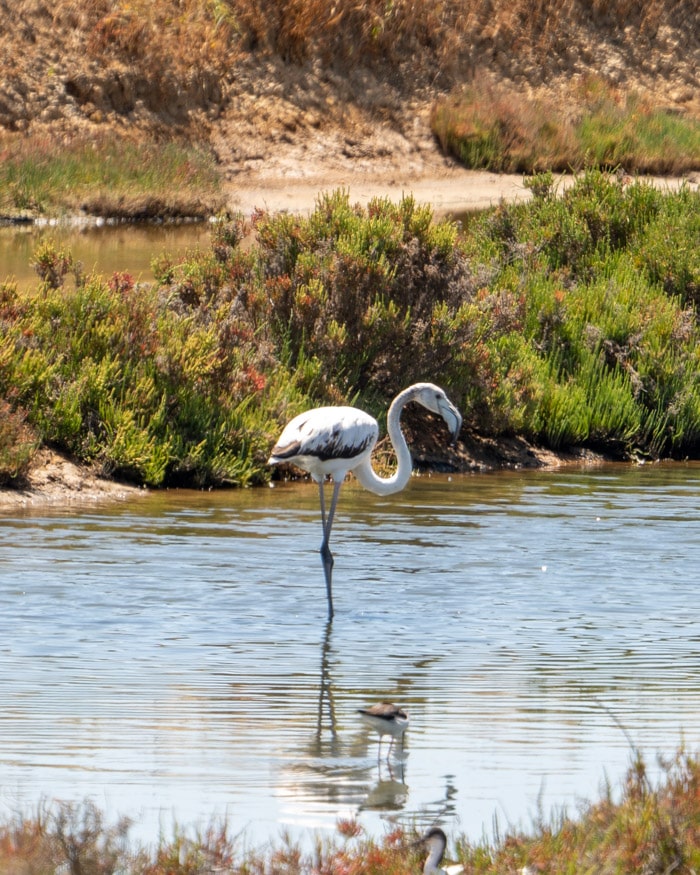 Tavira's outskirts: for seasonal flamingo-heavy salt pans and waterfalls
Tavira is one of my favourite places in the Algarve – I'm writing this article from here, in fact – but outside the beautiful town itself, there are two Algarve hidden gems worth a visit.
First, you have the Tavira salinas (salt pans). You can spot seasonal migrating flamingos – mainly from November to March – and walk or cycle through the landscape. Sometimes, when the salt concentration is just right, some salinas turn a near-photoshopped pink colour.
Secondly, a short drive inland is the Pego do Inferno waterfall. Be warned, it rarely has much water from late Spring until Autumn, but it makes for a nice relaxing spot over the winter.
Thirdly, Ilha de Tavira is one of my favourite beach islands in the Ria Formosa. You need to take a short and cheap boat to get here, but it's worth it – especially if you stroll a little way from the main beach to find an empty spot.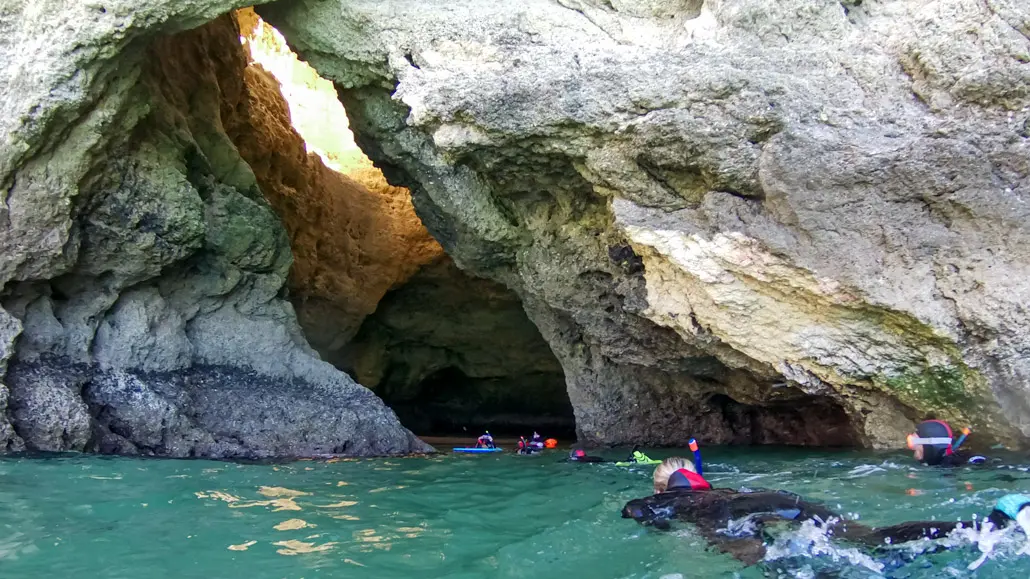 Alvor: for the 'secret' sea caves
While the Benagil Cave is undoubtedly one of the Algarve's most famous attractions, it's not the only sea cave you can explore in the region. With the crowds at Benagil becoming so intense, you may want to consider a more unusual thing to do in the Algarve – such as snorkelling or canyoning tours – and seek your caves elsewhere.
Around Alovr's coast – near Praia de Boião – are some tremendous secret Algarve spots to explore. You'll need to snorkel into some of these caves rather than Kayak like at Benagil, so you may prefer to go with a Zip&Trip small group tour led by a local marine biologist.
Read more: Seek secret Algarve caves near Alvor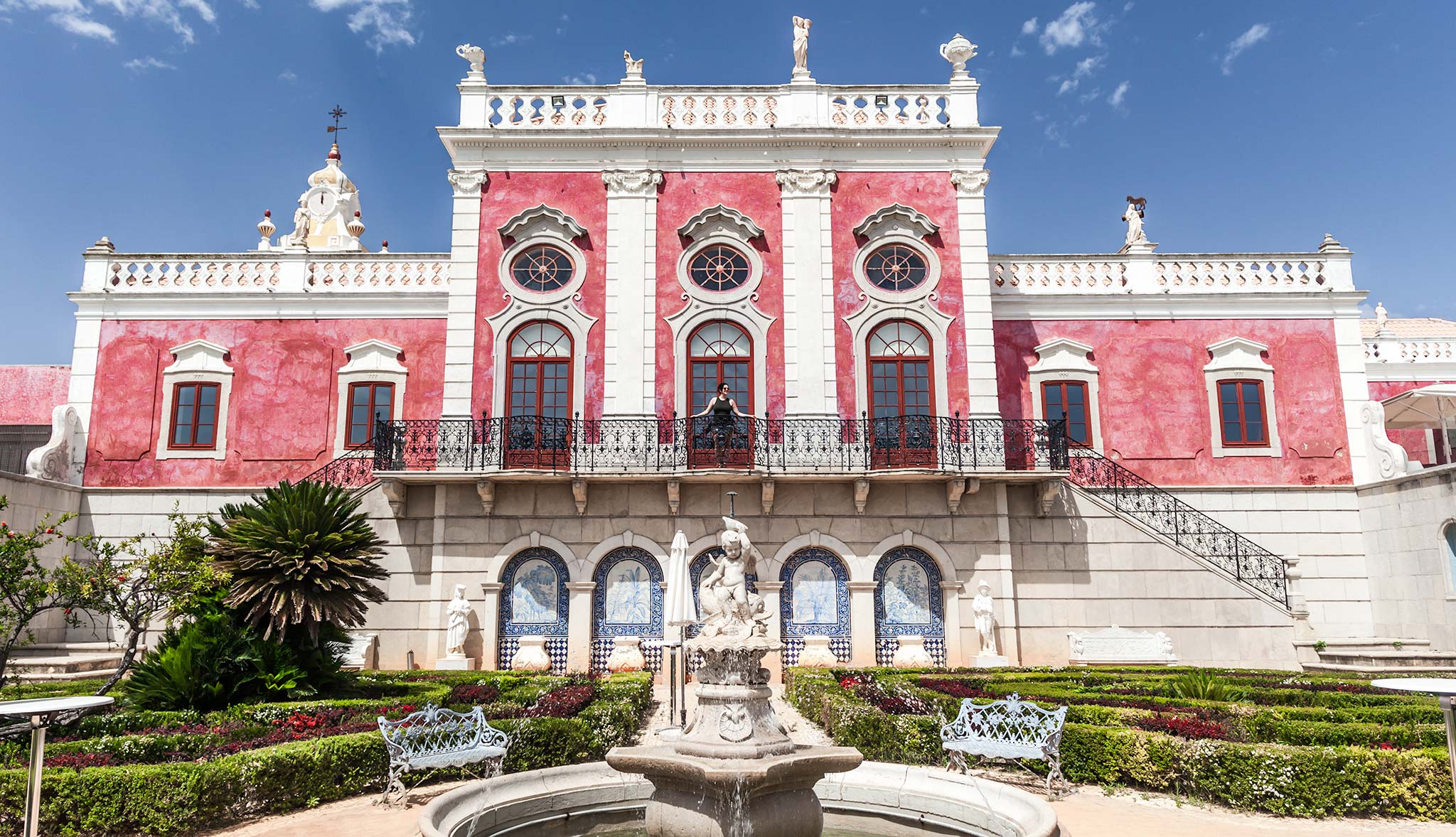 Estoi: for Roman ruins and palace stays
Just outside Faro, the Algarve's capital city, you'll find Estoi, a small parish home to two of the Algarve's hidden gems.
First up are the Roman Ruins of Milreu. Once a vast and opulent Roman Villa, the site is now in a less grand state. There are still some mosaics and parts of the walls and temples, and it's a cheap ticket for a slice of culture.
Second is the Pousada de Estoi, another grand building renovated and converted into a luxury hotel, perfect for an elegant Algarve hidden gems overnight experience.
You don't have to be a guest to explore the main rooms and grounds of this 18th-century palace, and a chilled glass of wine on the veranda comes with a slice of grandeur you'll struggle to find elsewhere in the Algarve. If you want to experience Turkish baths and boutique luxury, you'll need to book a room.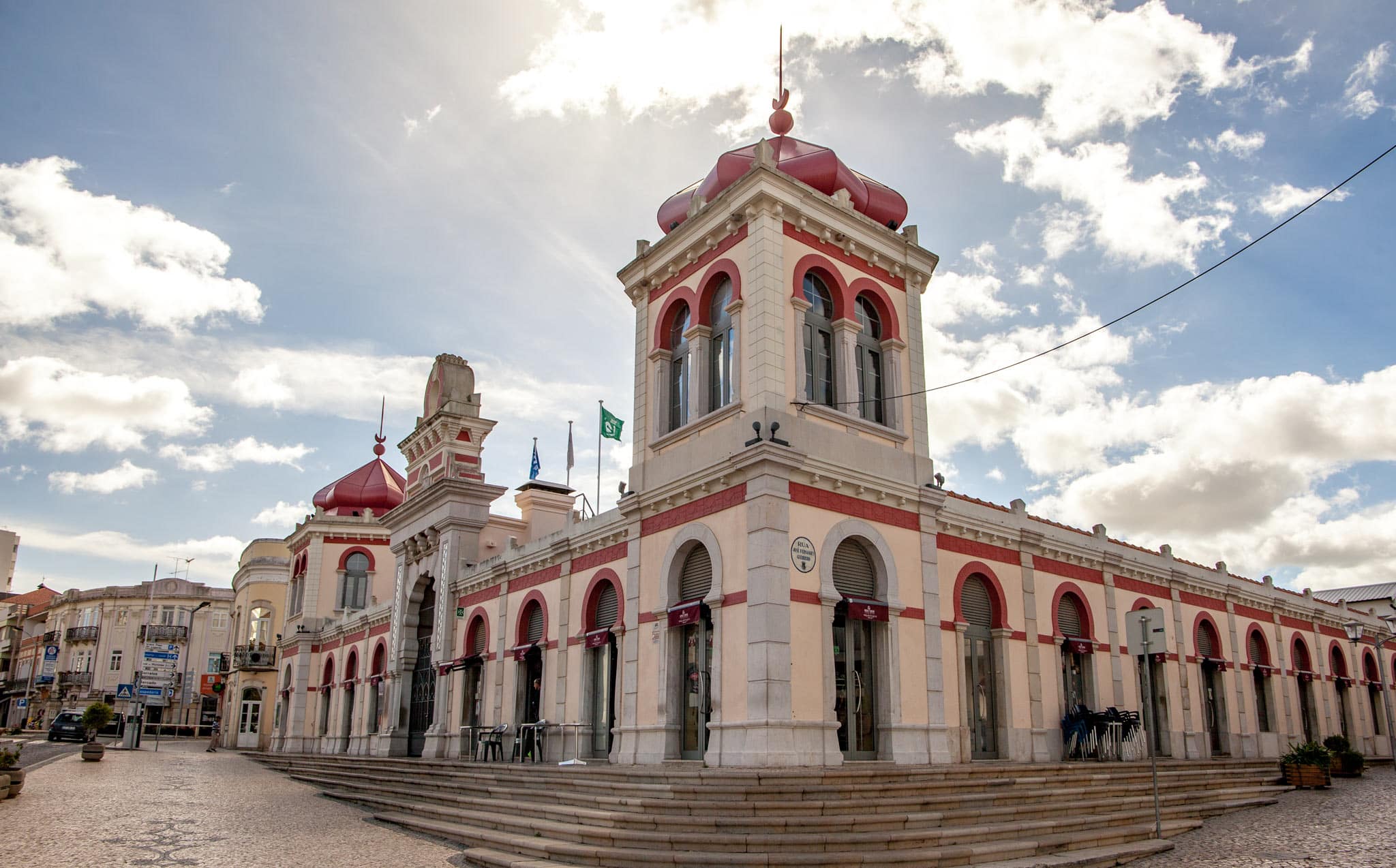 Loulé: for Islamic baths, markets and carnival culture
Loulé, another inland town, makes for an excellent base in the Algarve if you don't want to stay on the coast. The reason I love Loulé so much is, as of yet, tourism hasn't wholly pushed out the traditional way of life, and it remains a more traditional feel. Workshops with a focus on preserved Algarvian handicrafts also help cement those credentials.
There are castle walls and the stand-out Art Nouveau market hall to explore. A new addition in 2023 is a small museum housing Portugal's only known Islamic Baths, which remained a buried and secret Algarve spot for centuries.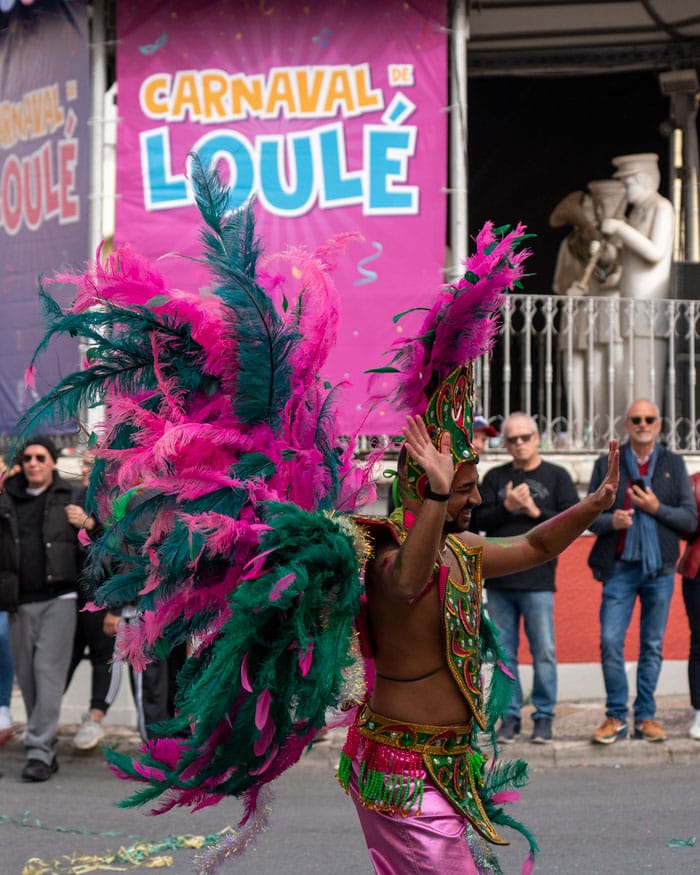 While Loulé is an excellent offbeat Algarve spot to visit year-round, the town really comes alive in February for the Carnaval de Loulé, the Algarve's largest carnival celebration.
Over three celebratory days, the town sees the arrival of many visitors from near and far who come to experience the colourful and joyful affair. If you're around, it's one of the best winter experiences in the Algarve.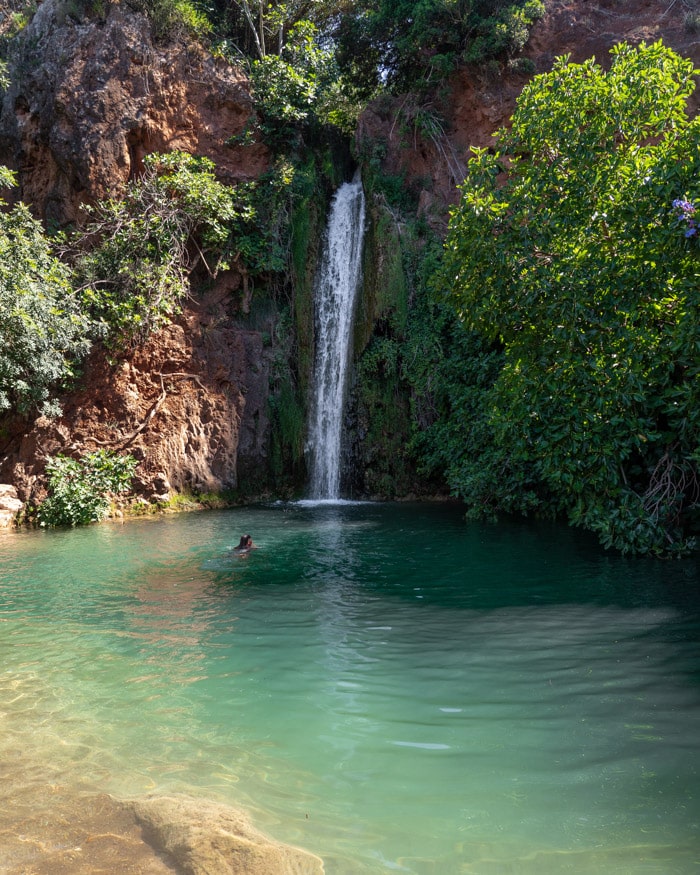 Alte: for a waterfall dip
A short drive from Loulé is the small village of Alte, which offers an insight into a slower-paced and more storied way of life. While it is more on the tourist trail now, as some bus tours occasionally stop here, they often move on quickly.
The village is quaint and compact, with a few cafes amongst the whitewash. Watermills and small canals make for a great picnic area, while the Algarve's best waterfall is just a short walk from the village. In the warmer months, expect some friends and families to be here, which can make it feel 'busy'. Still, even in the off-season, it makes for a refreshing, if chilly, dip.
Castle of Paderne: for a laid-back walking trail
While these ruined fortress walls from the 16th century aren't much to look at anymore, they still play an essential part in the country's history; the Castle of Paderne is one of the seven castles on the Portuguese flag.
The trail, however, is pleasant for a stroll. Passing a nearby mill where little turtles can often be spotted in the river, it's an enjoyable two-hour break from the beach if you have a car.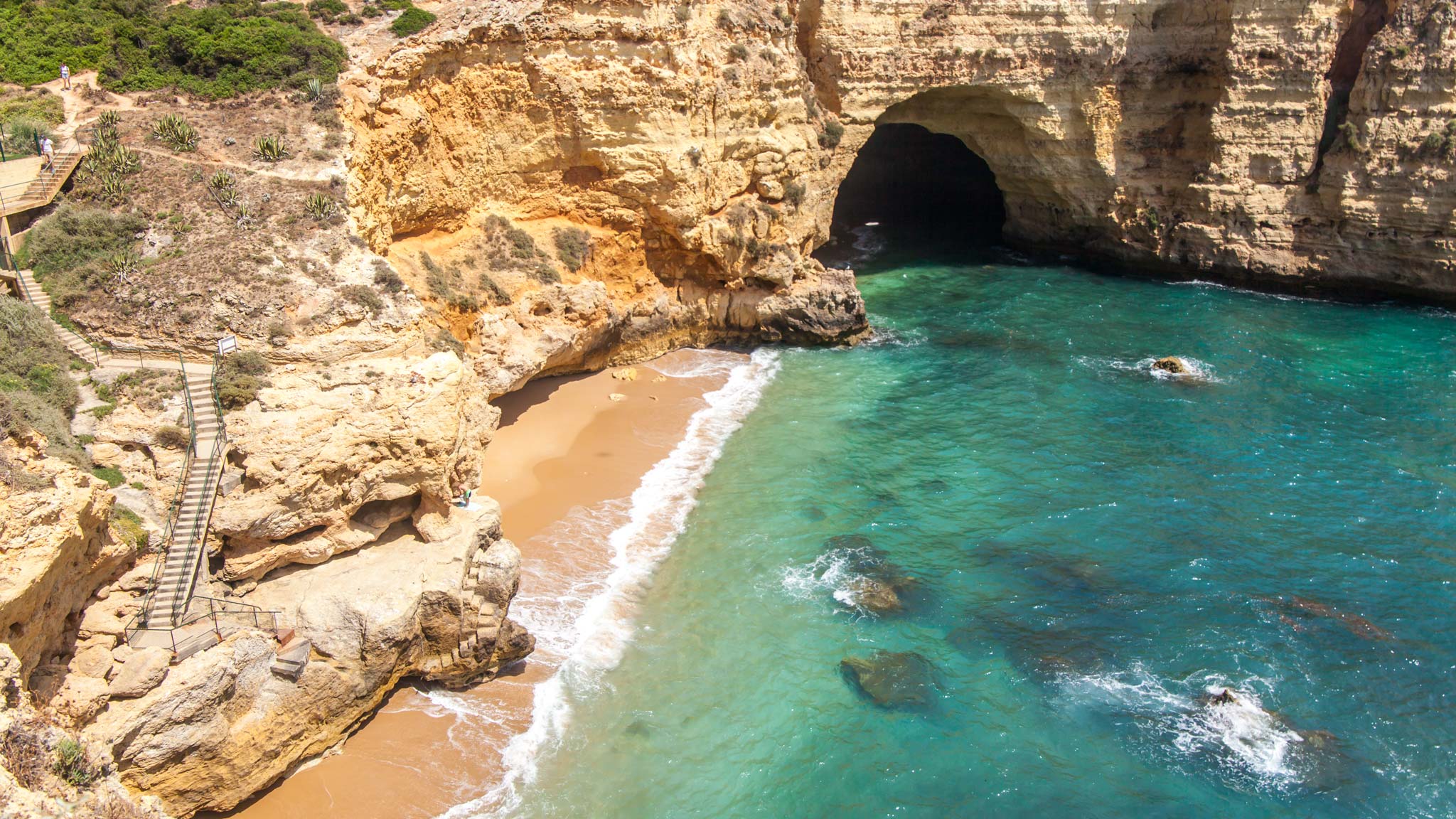 Carvoeiro & Ferragudo: for fishing village nostalgia
Although the population of these two old fishing villages is relatively small – trust me, while it's still warm in winter for Europe, you can't believe how quiet it can be – both villages have become popular tourist spots in summer and crowds balloon.
If you visit outside of the tourism season, you'll find them much more peaceful. In Ferragudo, you can see fishermen tending their nets and bringing in their catch. In Carvoeiro, the main draws are the small beach, clifftop boardwalk, and the wave-battered Algar Seco rock formations and pools.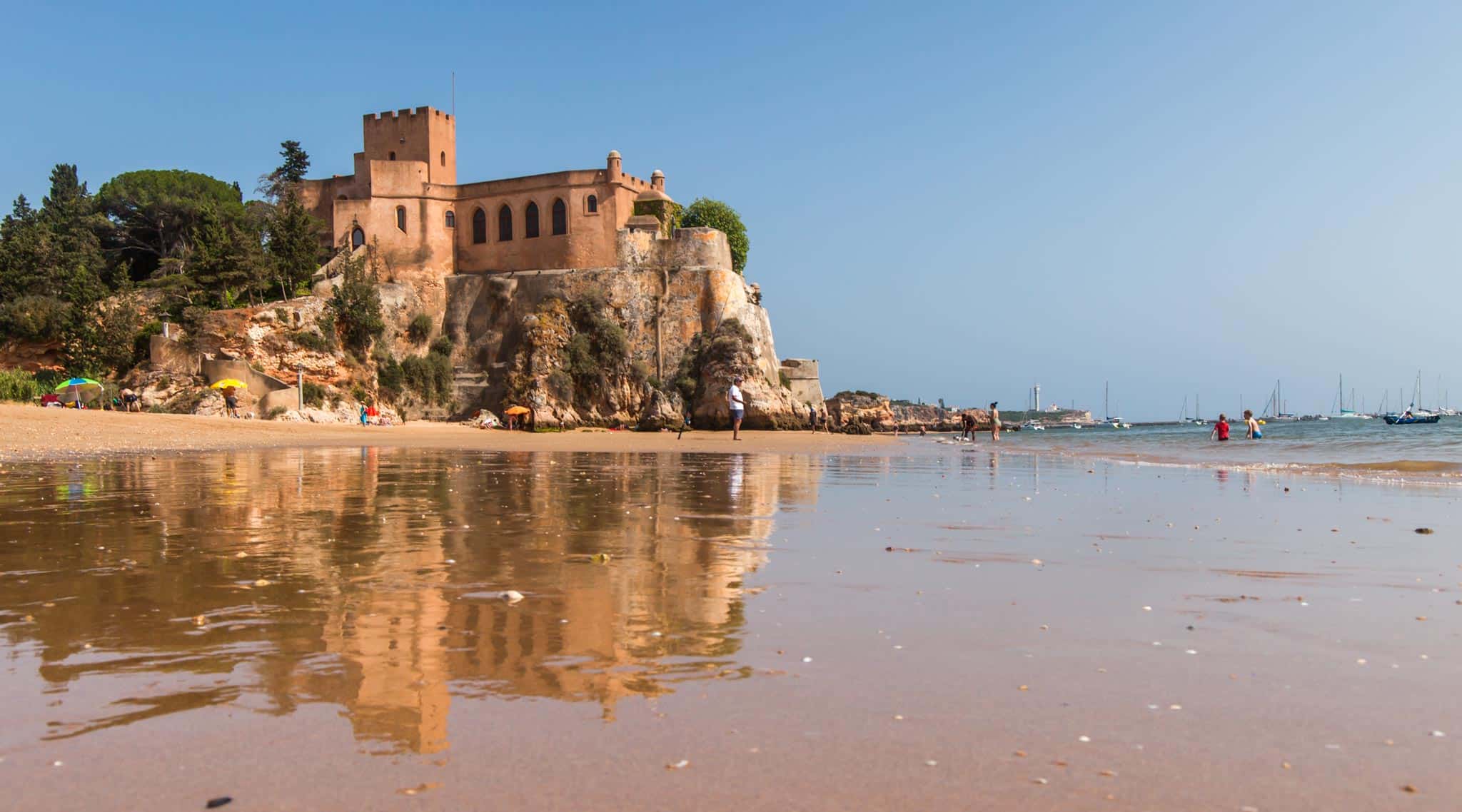 Estombar's Fontes: for picnics and greenery
This municipal park is a popular spot for us locals to escape the beach and enjoy a picnic lunch surrounded by nature; however, it's still a rather unusual thing to do in the Algarve for tourists. The 12+ picnic tables quickly get busy on a sunny day, mainly because six BBQs are available – just bring your own coal and cooking tools.
Away from the picnic area, though, there's a lovely green – but not too shaded – walk around the park and estuary of the Arade river. An od-water wheel, amphitheatre and miller's house are the main 'sights', but the park also hosts various wildlife and birds, with flamingos being a welcome addition during the season.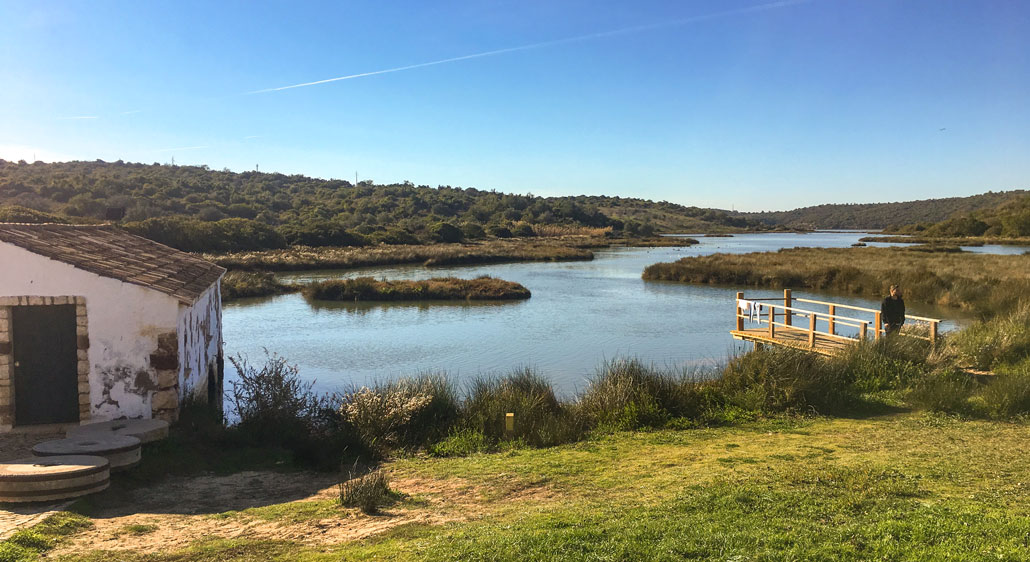 Marmelete: for some strong-AF liquor
In Marmelete, a tiny village en route between Monchique and the west coast, you can see how one of the Algarve's local liquors, medronho, is made.
Brewed from bright red berries, this fruit brandy is often called firewater and can be tried in bars across the region. Here, you can see a small museum to learn more about the brewing process, and with prior arrangements, you can visit some brewing spots, often extensions of people's houses. This drink has a kick though, it's certainly not as easy on the lips as a port from Porto.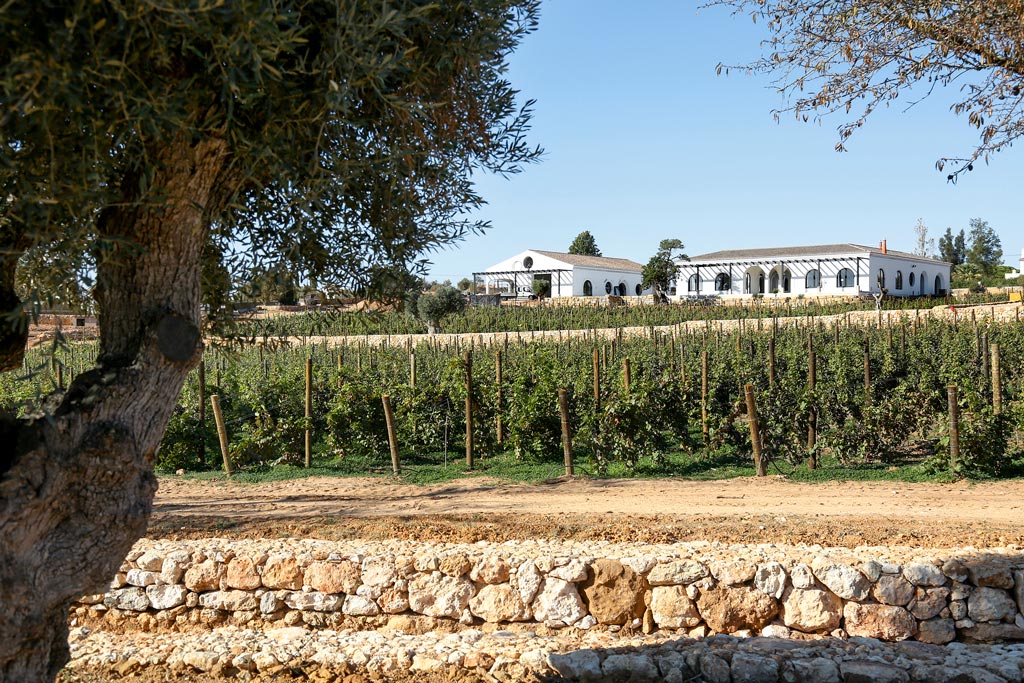 Lagoa & Silves: for winery experiences
Lagoa has grown hugely in the past 30 years and has become a relatively well-known wine region in Portugal (read: vineyard tasting/drinking is compulsory). It's located just outside Carvoeiro and Ferragudo and, again, like Loulé, provides a much more local town feel.
Quinta dos Santos, a relatively new craft beer and winery, offers the chance to hit up a cellar-door tasting or grab some tapas. Lagoa's converted cooperative, now home to the Lady in Red Gallery, also serves up both wine and culture. In Silves, there are also more traditional vineyards and wine experiences to enjoy.
If you are around in early July, then Lagoa's night-time, the candlelit market, is a beautiful time to visit and see the streets.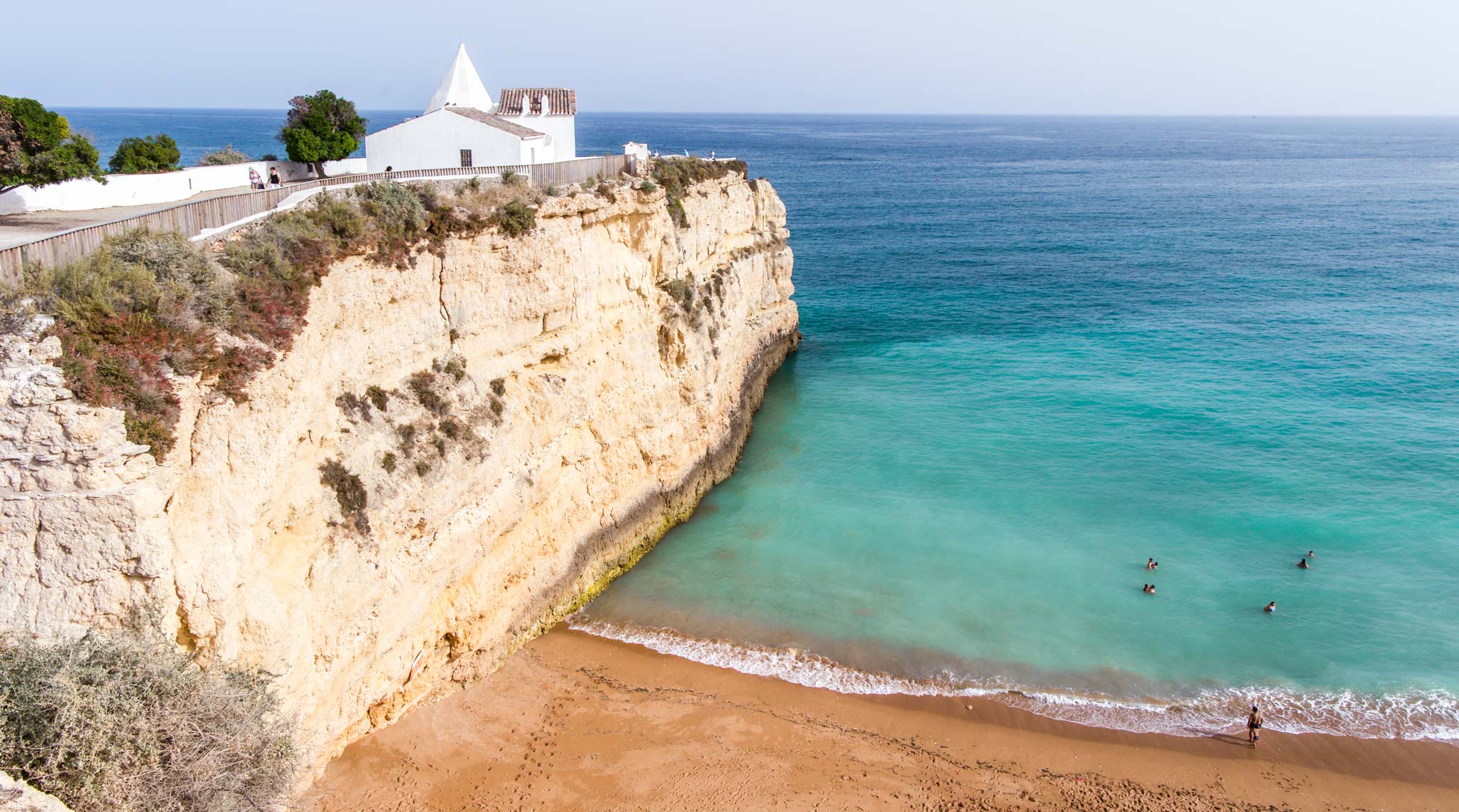 Porches: for a rock-crowning chapel
Chapel Nossa Senhora da Rocha is another gem and can serve as an extended starting point of the Seven Hanging Valleys Trail.
Two sandy bays sit on either side of a high-rising cliff, and perched on the top is this little chapel. You can walk out to it, and the views are really something special – it's somewhere I like to come with a book and look out to the never-ending Atlantic Ocean beyond.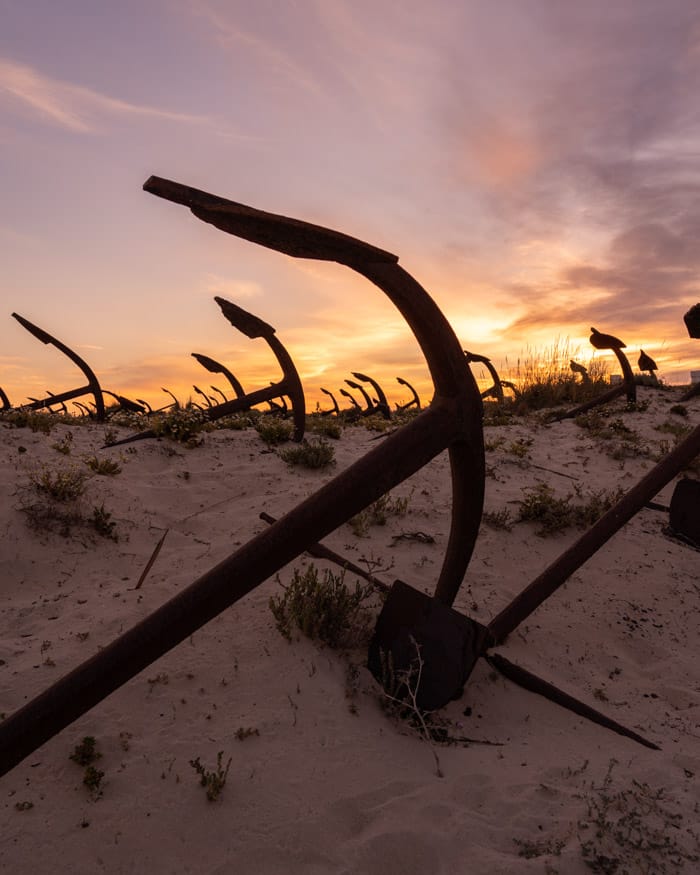 Praia do Barril: for a 'cemetery of anchors'
One of the more unusual places to visit in the Algarve is the 'cemetery of anchors' on Praia do Barril.
This strange site, set on a sand-dune-backed beach in the Ria Formosa natural park, was created after the demise of the tuna industry. Local fishermen laid their anchors out here, and now they are slowly ageing and sinking into the sand.
The island is also one of my favourite beaches in the Ria Formosa natural park as you don't need to take a boat; you can walk here by foot over the lagoon-crossing bridge or even hop on a little train. Once you get to Praia do Barill, turn left and walk further up the beach to find a more peaceful spot. If you keep walking, after a couple of hours, you'll eventually arrive at Ilha da Tavira.
See more of my favourite Algarve and Portugal tips on my new website: Guide2Portugal.com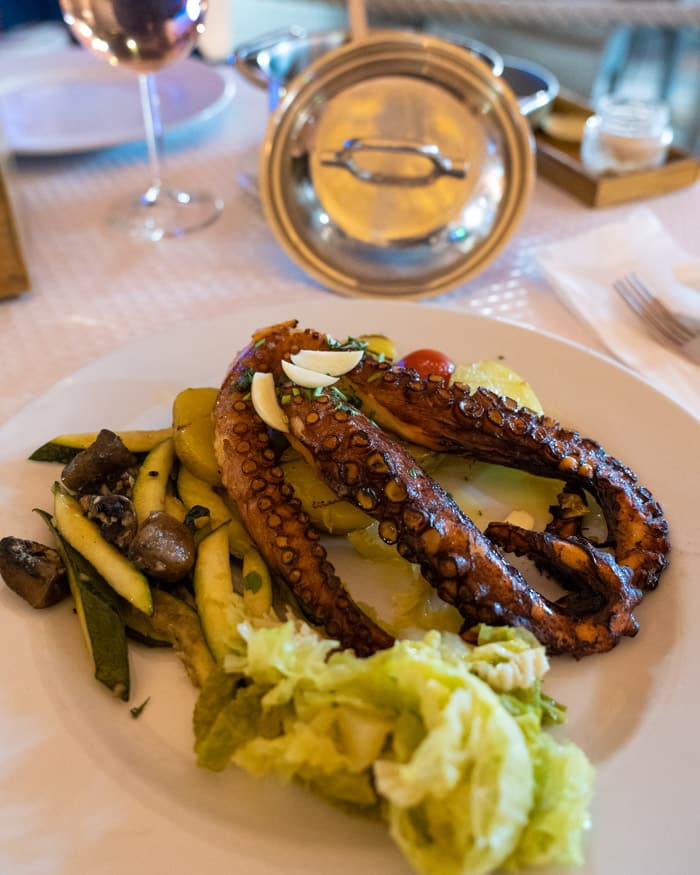 Santa Luzia: for octopus
This small fishing village near Tavira – and a short walk from Praia do Barrill – is famed in Portugal as the country's Octopus capital.
For centuries, octopus – polvo in Portuguese – have been caught in these waters using traditional clay pots, although many fishermen have traded these in for similar, but more modern, options. Nearly all the restaurants in the village are dedicated to the local speciality, which can be ordered fresh and in numerous forms.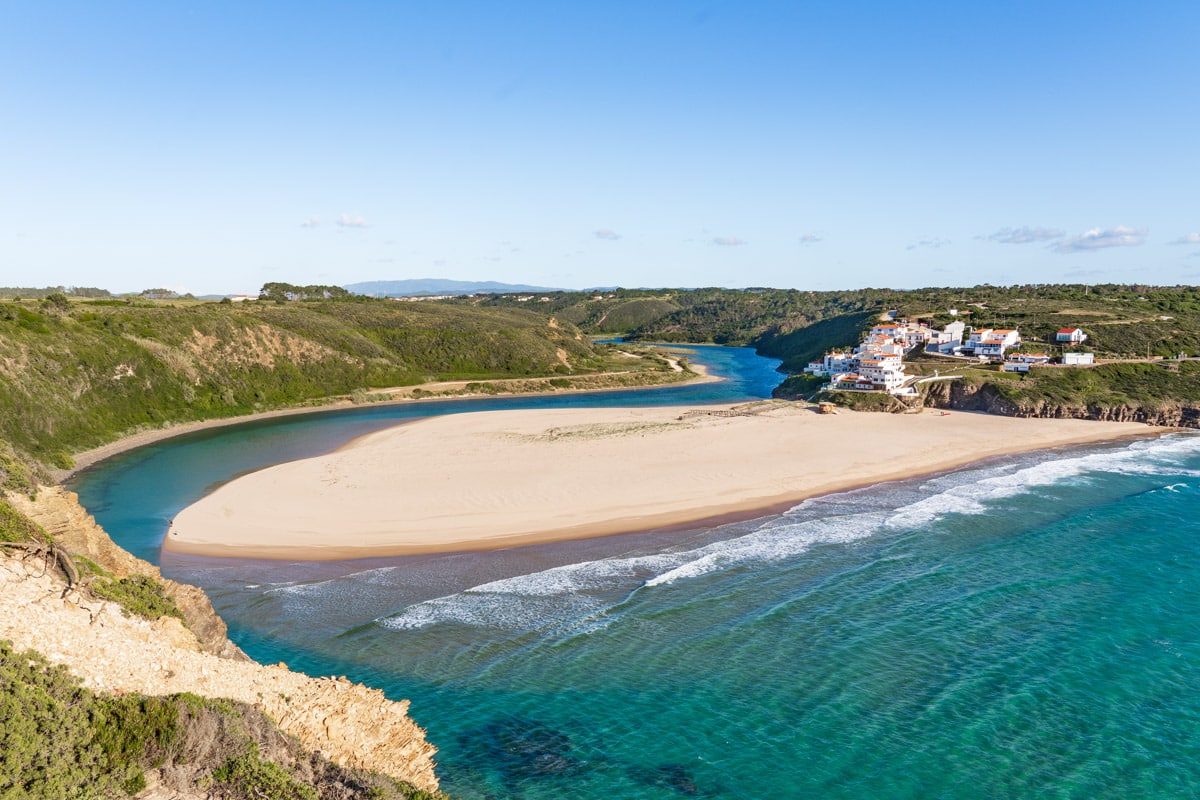 Aljezur: for a west coast village
The Algarve's west coast is awash with surfing spots, empty beaches, small villages and farming valleys, yet, there's also some culture and history to be found here.
In Aljezur, the ruins – it's just the outer walls – of a 10th-century Moorish castle tell the history of the region; if you haven't noticed yet, a lot of places around the Algarve begin with Al, which highlights the history and roots of the Arabic period on the Iberian Peninsula. You'll also find a couple of museums here, mainly dedicated to religious art.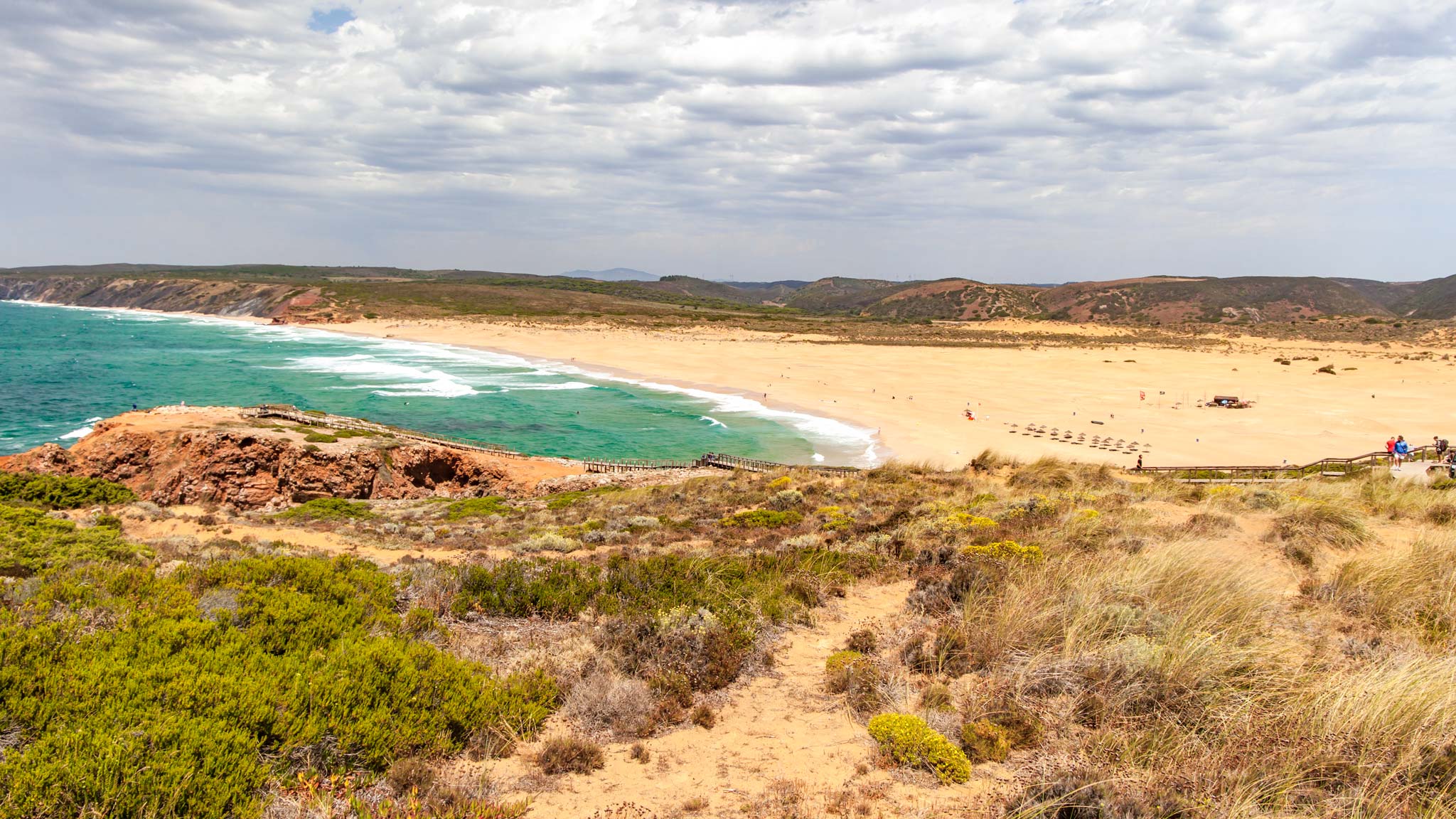 Costa Vicentina: for nearly footprint-free bays
There are some truly incredible beaches along the west coast of the Algarve, known as the Costa Vicentina. From windswept bays and dune-backed stretches to surfing hot spots and river-meets-ocean carved sands, these are some of Portugal's best beaches.
While some are pretty popular – Arrifana for surfing and Odeceixe for simply being breathtaking – there are plenty more bays and beaches which don't get as much foot traffic. If you have a car, take a road trip, and be sure to detour down minor roads to small coves – you'll undoubtedly find a little slice of near-empty Algarve hidden gem heaven to enjoy, especially outside peak summer.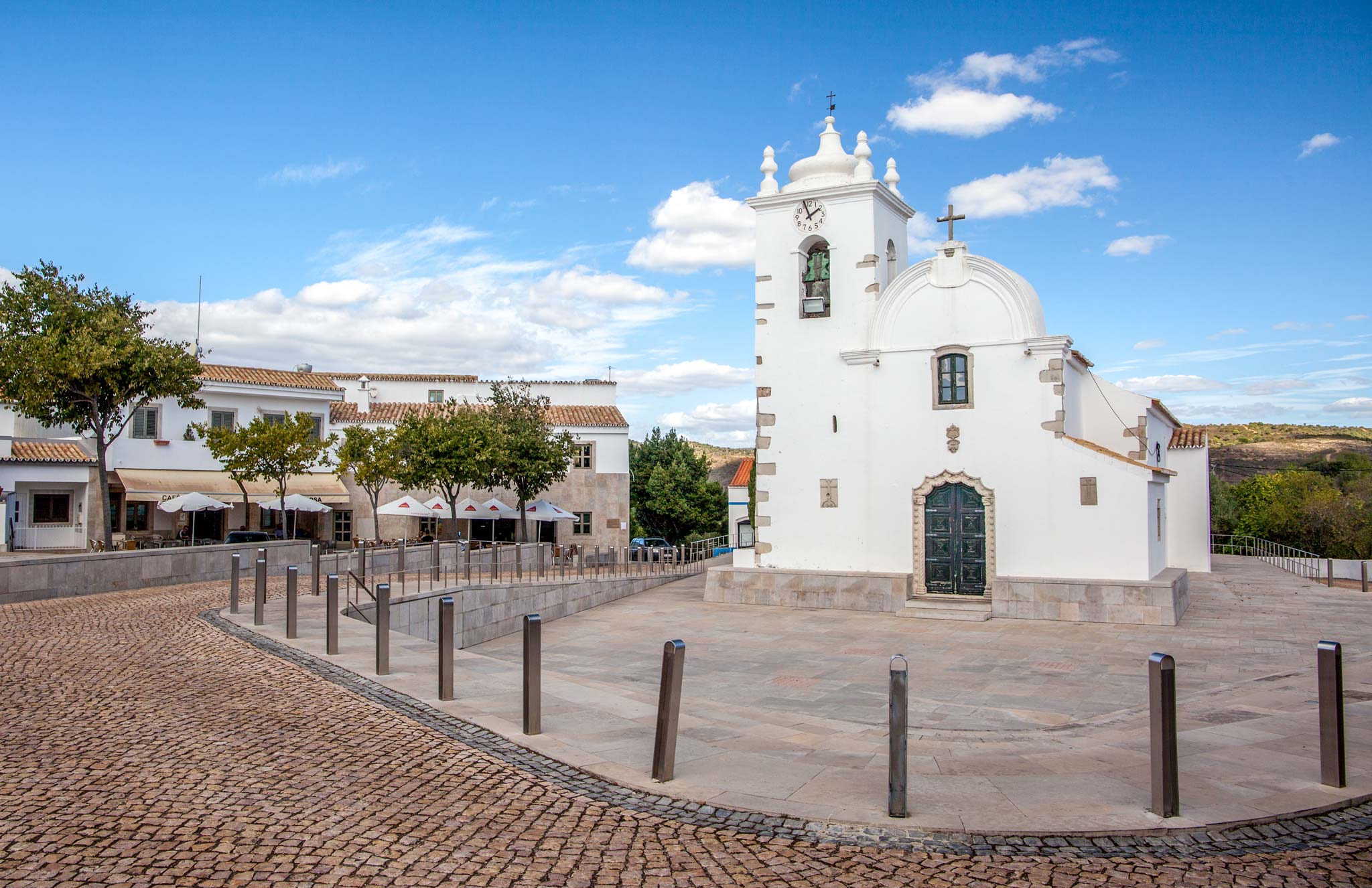 Querença: for sleepy villages and trails
The small village of Querença sits upon a hill and is a beautifully spotless whitewashed land with a solid commitment to culture and literacy, even though it's tiny. A small square with a church is the 'meeting place' with two restaurants-cum-cafes. Try the local almond cake for a sweet treat.
There's also a short local walk – popular for bird watching – which takes you through part of the park. Follow the trail from the village to Fonte da Benémola where watermills, streets and olive presses complement the verdant setting.
Once you've explored all of these Algarve hidden gems, be sure to check out the best things to do in the Algarve and these unique places to stay in the Algarve to help plan your visit. If you want to explore more off-beat Portugal, consider these reasons to visit the Azores islands.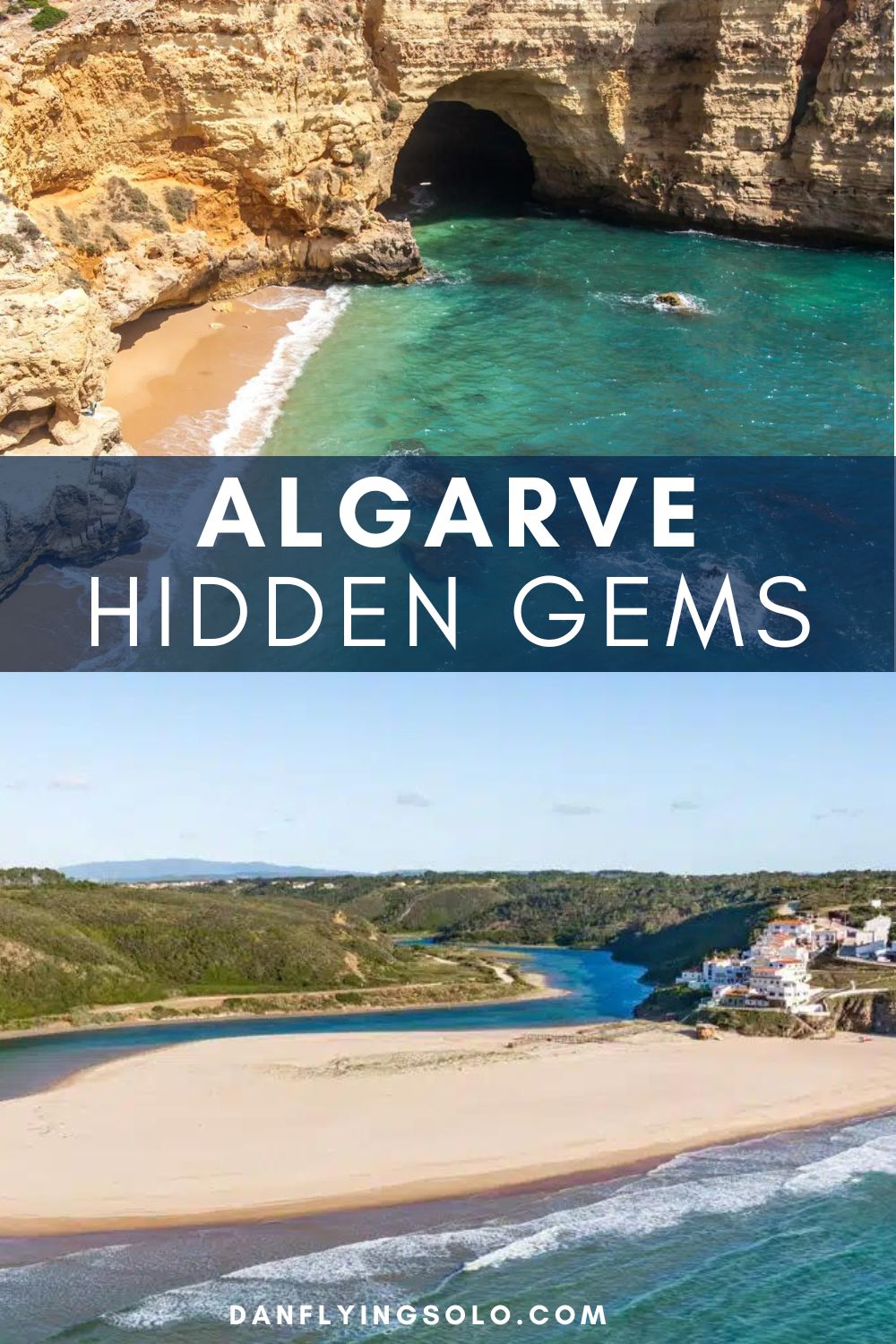 https://www.danflyingsolo.com/wp-content/uploads/2018/03/CarvoeiroBoardWalk.jpg
1152
2048
Daniel James Clarke
https://www.danflyingsolo.com/wp-content/uploads/2022/01/blogo-1w.png
Daniel James Clarke
2023-03-31 16:13:15
2023-09-30 09:06:40
Algarve Hidden Gems: My 20 Favourite Offbeat Algarve Spots and Beaches