Places to Visit in Saxony, Germany: Things To Do and Day Trips from Dresden
This website uses affiliate links which may earn a commission at no additional cost to you. As an Amazon Associate I earn from qualifying purchases.
Updated: 31st March 2023
With Dresden's magnificent architecture and Leipzig's free-thinking creativity, grand castles and stately palaces, and the serenity of the Elbe Sandstone Mountains, the best places to visit in Saxony, Germany, are as riveting as the state's history.
As part of Soviet-occupied East Germany (GDR), Dresden was all but razed in WWII before being painstakingly reconstructed. Leipzig's peaceful protests were a crucial part of Germany's reunification, leading to the state being officially reformed with its current borders in 1990. Other nods to more distant history are easily found, with historically vital fortresses and former estates of noble families dotting the land.
The region is also revered for its contributions to culture and art, so it's no surprise many of the best things to do in Saxony involve music, such as visiting an Opera House or enjoying a concert against a palace backdrop.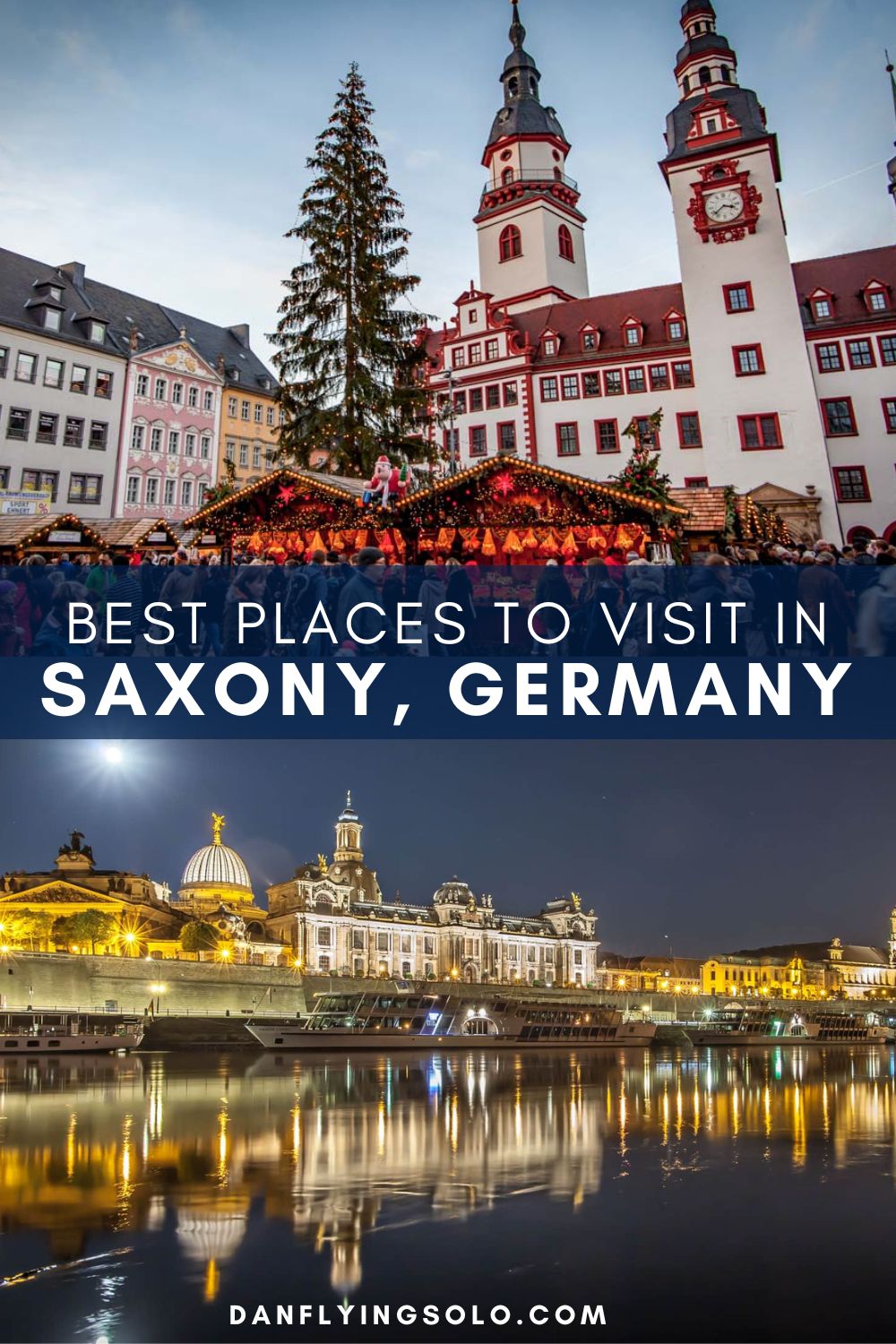 Other popular day trips from Dresden – although some of these places certainly deserve longer – include underrated towns which tell the stories of indigenous communities or traditional dishes, wine estates with river views, and the verdant and rocky Saxon Switzerland National Park, which traverses the border with Czechia.
Whether you want to urban kayak, hop between museums, hike unadulterated landscapes or learn about ancient mining traditions, Saxony more than has you covered.
These are 15 of the best (in my opinion) places to visit in Saxony – but first, here are a few FAQs to help you plan your trip.
Are Saxony, Saxony-Anhalt and Lower Saxony the same state?
No, they are not – and it can be a little confusing that the three states have the same name. Lower Saxony is actually in northwest Germany (the capital is Hanover), while Saxony-Anhalt (capital Magdeburg) borders Saxony. Saxony's formal name is the Free State of Saxony. The region's history explains a bit more about how the names came to be, including why Upper Saxony is actually located below Lower Saxony.
Is Sachsen the same place as Saxony?
Yes, Sachsen is the German language name for Saxony.
Is Saxony worth visiting?
Absolutely! I've visited the state twice (once in summer and again in winter) and had fantastic trips both times. In the winter, Saxony is an excellent place to visit for Christmas Markets in Dresden and festive traditions in the Ore Mountains. The warmer months are ideal for hiking in the Saxon Switzerland National Park, sipping regional wines along the Elbe river, and visiting the many palaces and castles dotted around the region.
How long should I spend in Saxony?
If you want to take a deep dive into the Free State of Saxony on a rail or road trip, I'd suggest spending a week in the region. This would allow you enough time to visit Dresden, Leipzig, the Saxon Switzerland National Park, and several smaller towns and castles. If you're pressed for time, a long weekend will allow you to see the region's highlights if you move each day.
Where to stay in Saxony, Germany?
Dresden is perhaps the best base for a visit to Saxony, especially if you plan to get around by public transport as it's very well connected. Leipzig is another good city base, but not as centrally located. If you're coming for Christmas markets and traditional experiences, you might want to consider Chemnitz or Seiffen. Nature lovers will likely prefer a base around the spa town of Bad Schandau. 
How long should I spend in Dresden?
While some would say that Dresden could be done as a fast-paced day trip from Berlin, I'd urge you to consider spending at least two days in Dresden. The city has a lot of history, grand architecture and some fantastic museums to visit, as well as attractions nearby along the Elbe. 
What are the best day trips from Dresden?
The Bastei Bridge in Saxon Switzerland National Park and Leipzig are perhaps the most popular and best-known day trips from Dresden. Bautzen is one of the best day trips as you can learn about the Sorbs, a West Slavic ethnic group, or along the Elbe River for wineries and castles.
How to get to Saxony and Dresden?
Dresden and Leipzig's airports offer a limited choice of flights and mainly serve nearby countries and domestic connections, although they do have Ryanair flights to London. High-speed rail connects the region with Munich and Nuremberg, providing alternative flight options. Or, for a flight-free journey from the UK, consider the new London to Berlin night train via Brussels followed by a regional connection using Germany's new €49 regional rail pass.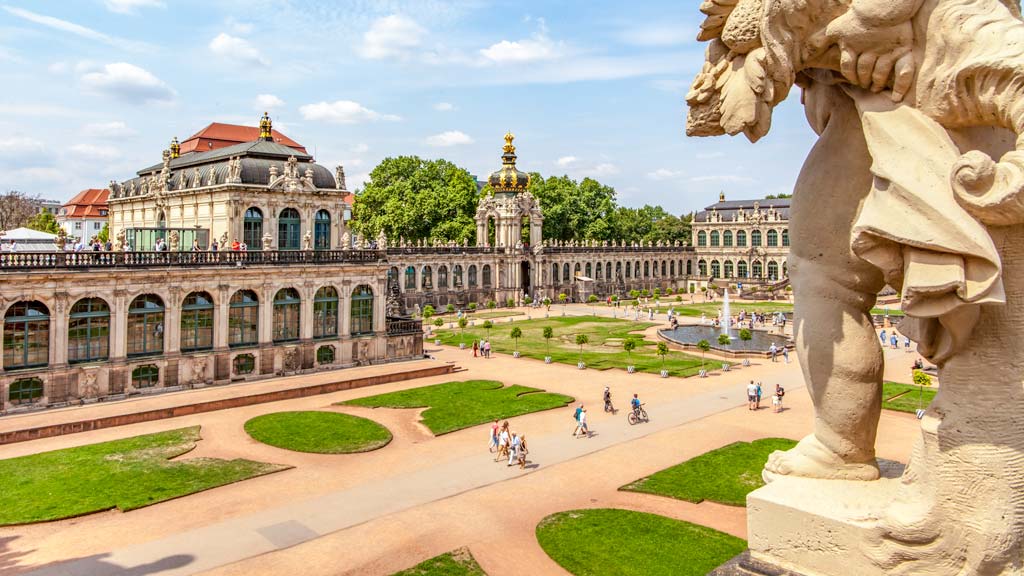 Dresden
Before diving into all of the other incredible places to visit in Saxony as day trips from Dresden, let's first talk about the region's showstopping capital itself. A criminally underrated European city, Dresden flanks the Elbe River with elegance and grace. Awash with dazzling Baroque architecture and plenty of cultural spaces, it's hard to imagine just how much this city suffered during WWII.
To give you an idea of the amount of work and love which went into reconstructing Dresden after the intense bombing, take a look at these photos contrasting the then and now. Yet, as you wander between the churches, squares and grand architecture of the Altstadt (Old Town), you'd never know – this was restoration at a passionate, dedicated and detailed level.
Unsurprisingly for the state's capital, many of the top things to do in Saxony can be found in Dresden, with a particular focus on art and culture.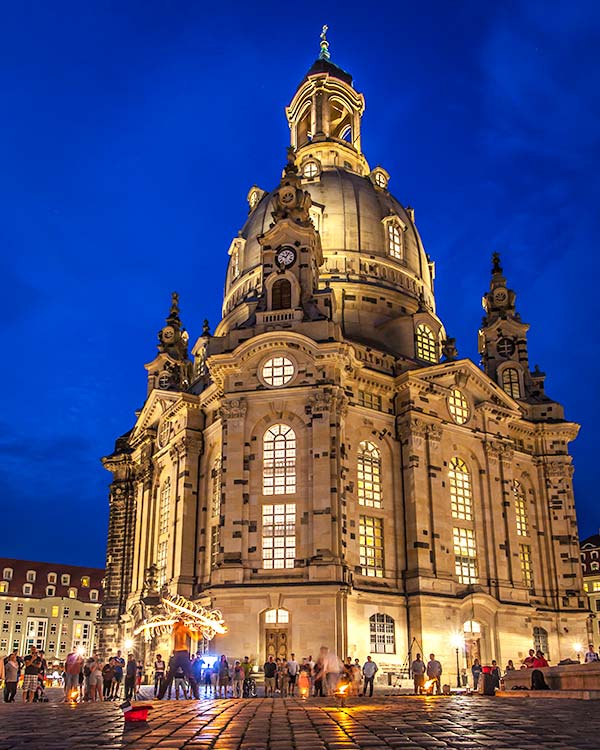 Dresden Zwinger, a vast Baroque masterpiece of palace, courtyards, and fountains, is the leading lady, with cultural kingpins such as the Porcelain Museum and the acclaimed Old Masters Picture Gallery inside her walls. For something special, you can book tickets to a Gala concert at the Zwinger. Semperoper Dresden, the city's opera house, is an equally impressive overture, and you can enjoy a guided tour by booking in advance if you don't plan to see a performance.
Other prequels and sequels of the city include Dresden Castle, the city's hulking cathedral, and the Fürstenzug, an impressive and expansive outside artwork depicting a royal procession.
The grand finale though is certainly The Frauenkirche, an imposing centrally-located church complete with gold interiors and a hulking dome. From the viewing platform, you'll get some of the city's finest views, including across the Elbe River to the more modern quarter, where independent artist shops and funky bars are found around the Kunsthofpassage.
Read More:
Things to do in Dresden
Leipzig
Of all the places to visit in Saxony, Germany, Leipzig is perhaps the most distinct. This city has an industrial spirit and a university atmosphere, which makes it feel a world away from the more old-world towns nearby. While I'd say the oft-given moniker of the 'new Berlin' is perhaps a bit extreme, you can certainly see some similarities.
That's not to say forward-thinking Leipzig hasn't paid its dues to Saxony's classical heritage. In fact, the city has been an overachieving contributor. Classical composer Wagner hails from Leipzig, while Bach lived, composed and died here. The Gewandhaus Orchestra claims the title of the oldest civic symphony orchestra in the world.
But it's also a city steeped in industrialism. Whether you're touring the BMW factory, walking through the dated retail passageways while learning about the beginnings of the city's Old Trade Fair in 1913 – one of the oldest in the world – or admiring the collection in the Spinnerei Galleries, housed in an old cotton factory, you'll be inadvertently connecting with the cities manufacturing past.
Leipzig is also one of the most important places to visit in Saxony to learn about Germany's past, as the city's peaceful protests, which happened each Monday leading up to 1990, are one of the key factors which led to the fall of the GDR and east and west reunification.
Of course, that student population and references to a 'new Berlin' help the city come alive at night, with some banging clubs keeping the rave going until the early mornings – perhaps reason enough to forget visiting on a day trip from Dresden and staying at least one night.
How to get to Leipzig: It takes around 80 minutes to reach Leipzig by train or car, making it an easy day and popular day trip from Dresden. Still, it's a large city with great nightlife, so you might want to make it a separate city break or stay for at least one night.

Read More:
What to do in Leipzig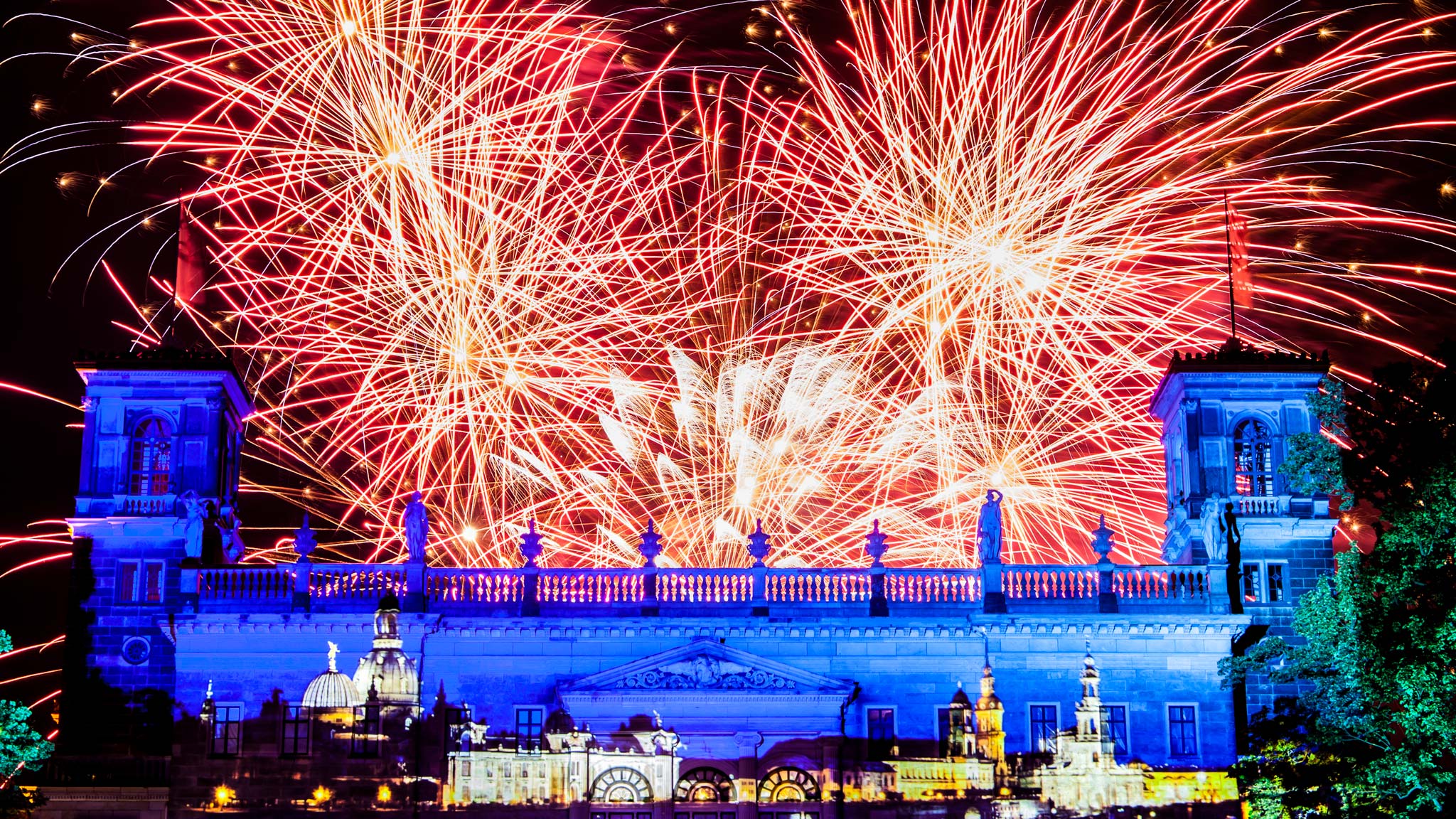 Albrechtsberg Palace
There are hundreds of castles and palaces in Saxony, Germany, with a handful of these being in Dresden's peripherals lining the Elbe River, and Albrechtsberg is one of the most impressive.
Constructed for a Prussian price in the mid-1800s, the palace's extensive gardens, fountains, and stairways are an inviting prelude to the grand interior. Visitable by guided tour, the interior rooms retain their bygone charm even though the city now owns the building.
If you find yourself in Dresden in July, you'll be lucky enough to enjoy one of the top things to do in Saxony's event calendar – attend the Dresdner Schlössernacht, which takes place on the palace's grounds.
This avant-garde festival was one of the highlights of my second visit to Saxony, as musicians, performers, fireworks, fine wines, and projections on the castle welcomed in the summer with a bang. Everyone was dressed up and looked fantastic, and at sunset, the DJ and orchestra started to play club tracks together, creating an incredible soundtrack for the rest of the evening.
If you don't make the Schlössernacht, keep an eye out for other events, such as open-air film screenings in the warmer months.
How to get to Albrechtsberg Palace: As the palace is in Dresden's outer limits, trams and buses will bring you here quickly. Alternatively, I enjoyed and would recommend the walk along the river, which took just over an hour.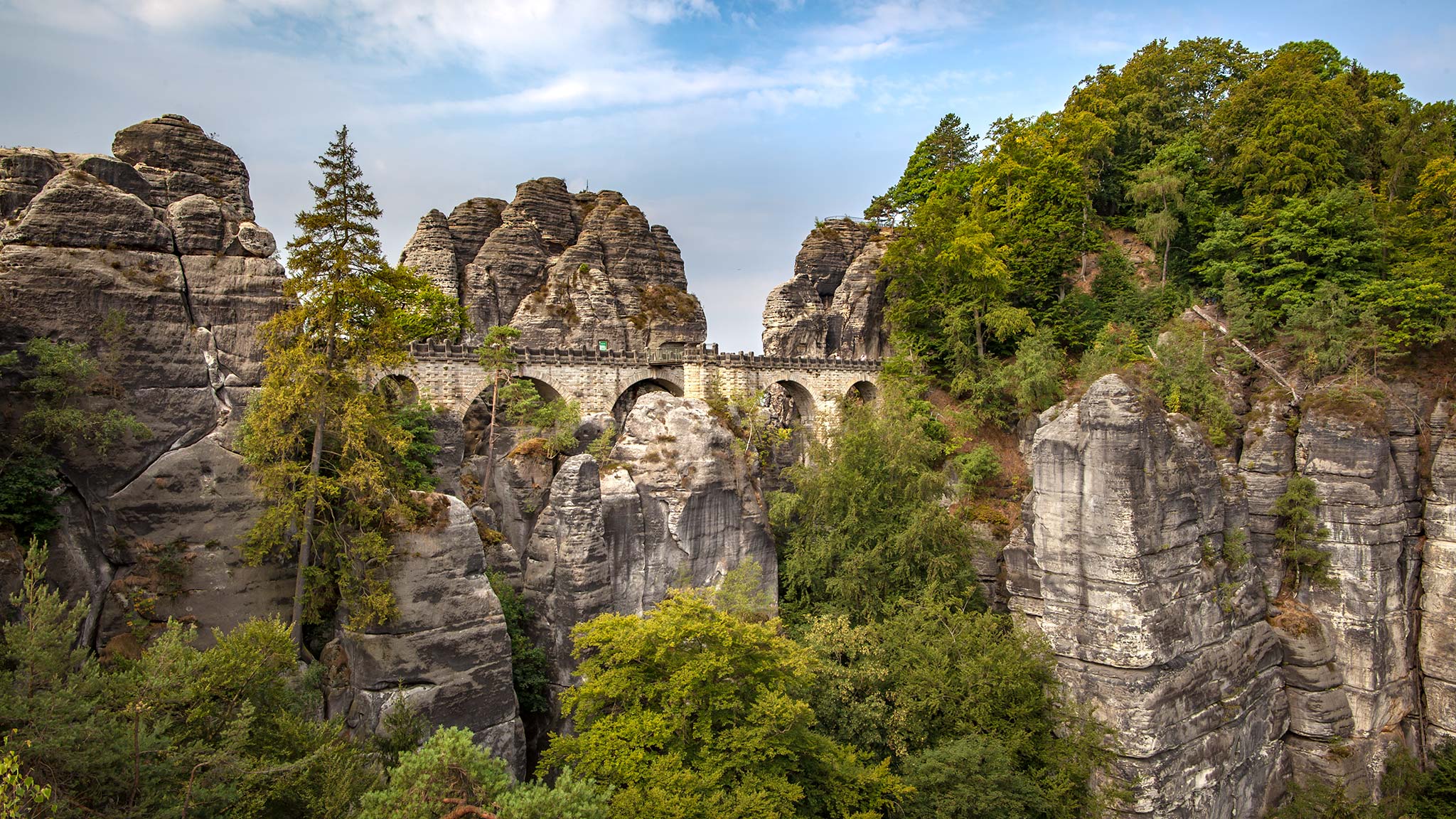 The Bastei Bridge & Saxon Switzerland National Park
The Bastei Bridge and rock formations are one of the most popular day trips from Dresden. However, you'll want to set off early to ensure you have time to explore all the magnificent Saxon Switzerland National Park offers.
Spanning the border, the park is split between Saxony, Germany and Czechia, where it's known as Bohemian Switzerland. An enchanting landscape of jagged rocks, passageways carved through boulders and dense woodland, it's a popular place to visit in Saxony for rock climbing and hiking.
The park's biggest draw, though, especially with photographers, is the Bastei Bridge which sits in the shadow of some of the most impressive geological wonders shaped by water erosion millions of years ago. Originally built from wood, the current sandstone bridge was built in 1851.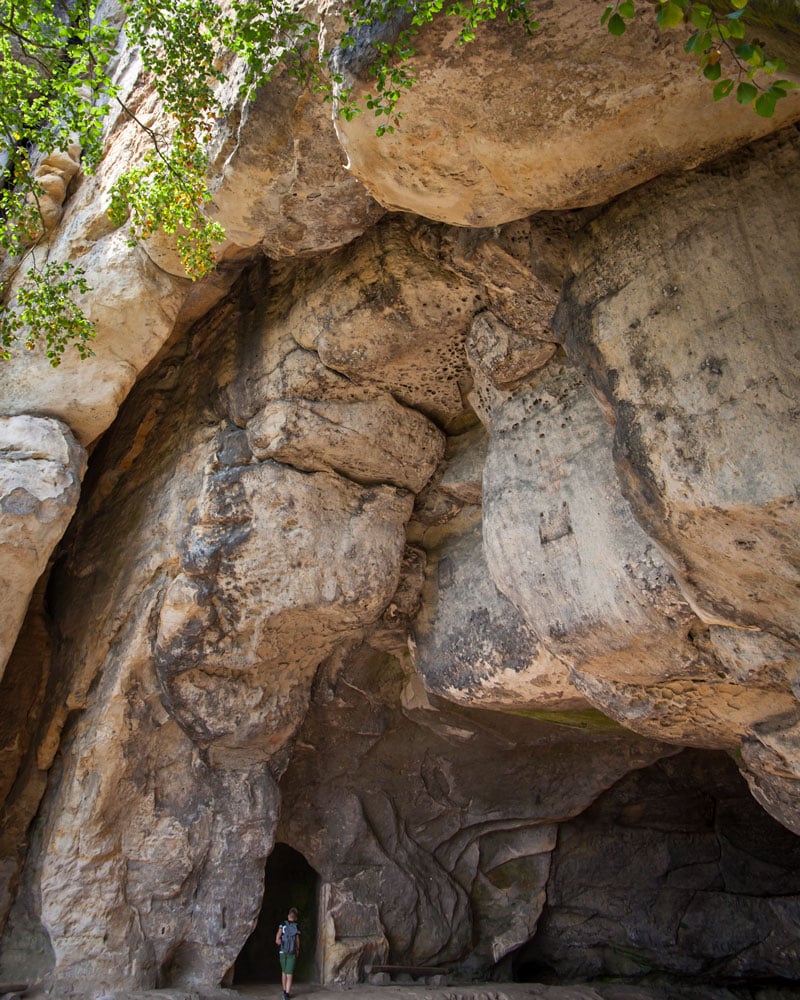 Don't make the mistake of just coming to see the bridge, though, as there are plenty more equally impressive locations. The Stairway to Heaven – an unbelievably narrow stairway between two giant rocks – and a handful of waterfalls are well worth hiking for.
If you want to visit as a full-day trip without any hassle, this €20 bus tour from Dresden (including Bastei and Königstein Fortress) might appeal.
How to get to Saxon Switzerland National Park: To reach Bastei on a day trip from Dresden, a car is helpful if you want to visit various places around the park. Still, if you want to make a beeline to Bastei and the surroundings only, the S-Bahn from Dresden to Kurort Rathen takes a little over 30 minutes. From there, you can start enjoying the scenery on the walk towards Bastei. To reach the 'Stairway to Heaven' hiking area, the Kirnitzschtal tram from Bad Schandau to Lichtenhainer Wasserfall is the way to go.
Königstein Fortress and Bad Schandau
Another of the best things to do near Saxony's Switzerland National Park is to tour the mighty Königstein Fortress. Overlooking the Elbe River, this expansive defensive complex has been surveying the landscape since 1589, although it was a smaller castle before this.
With Baroque, Renaissance, and Gothic architecture, it's a storied treasure which has been lorded over by the Saxon Royal Family, the Bohemian Kingdom and served as a royal retreat, prison, and even a spa hospital for wounded soldiers. To say it's vast would be an understatement, so be sure to allow yourself enough time to visit.
Chances are, if you're heading to Königstein Fortress, you'll also pass through Bad Schandau. While I didn't spend much time in this town, it's a quaint spot with a few thermal spas and wellness centres if you're after a little TLC.
A peaceful way to visit is onboard a boat trip from Dresden, allowing you to see various castles along the Elbe en route before arriving at Königstein Fortress. The sailings can cost as little as €30 for a full-day boat trip.
How to get to Königstein Fortress: Sitting on the other side of the river not far from Bastei, they can easily be combined or by taking a bus from either Bad Schandau or Pirna.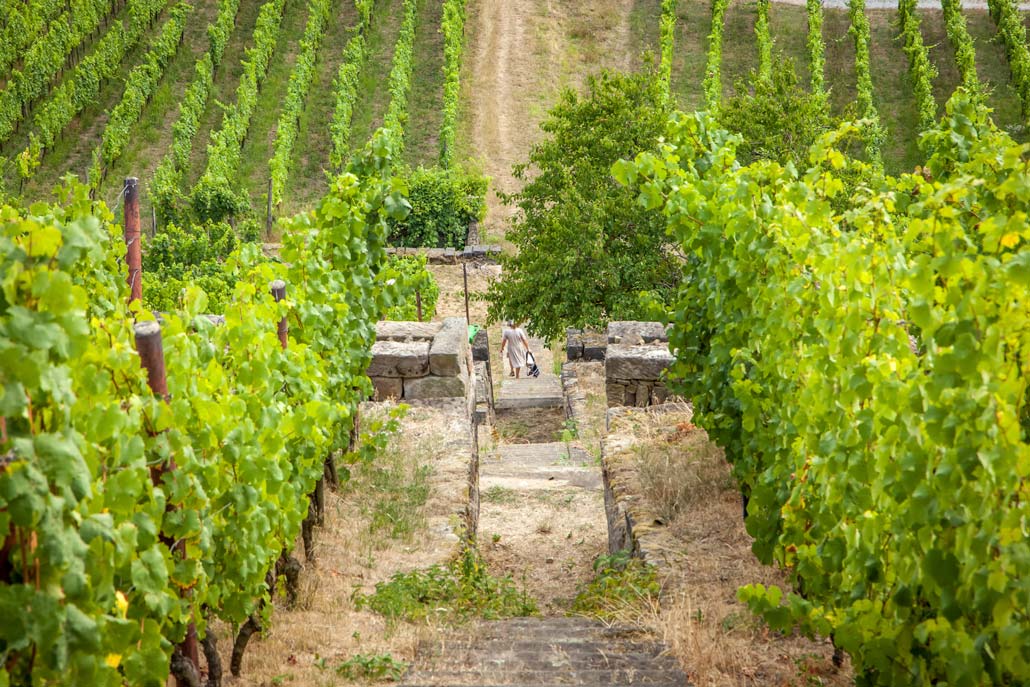 The Elbe River and Saxony's Vineyards
While talking about the Elbe River, let me introduce you to the pristine and small-batch vineyards that can be found rising from its banks.
I get that Germany isn't the most celebrated wine producer in Europe, and the wines of Saxony are some of the country's lesser-known, but that's what intrigued me to visit. And, as it turns out, after a couple of days rushing around the region's smaller towns, a glass of wine with a river view had shot to the top of my list of things to do in Saxony. 
The wines grown along the Elbe are rather unique and flavoursome, with the majority cultivated by tiny producers. There are apparently around 3000 growers here, although the wineries that open and service the public are far fewer.
I visited Weingut Klaus Zimmerling, enticed by its promise that wine meets art. An interesting concept and location, the couple-owned vineyard gives space to both of their passions; one harvesting Riesling and Sauvignon Blanc in granite and the other creating some incredible sculptures. Degustations are available, as are tours of the vines – check opening hours and book in advance – and if you plan to spend late summer in Germany, then you'll also be able to witness the wine harvest, which usually starts towards the end of August or the beginning of September.
How to get to the vineyards: One of the closest and most straightforward of the Elbe River's vineyards to visit as a day trip from Dresden is Zimmerling is just a 30-minute drive from the city. Allow an hour if you'll use public transport. The onsite wine shop is open from Wednesday to Sunday.
Pillnitz Palace
If it's not apparent yet, many of the top things to do in Saxony are palace visits – but bear with me, as this one has a sweet Saxony treat at the end of it!
Pillnitz Palace and Park is one of the region's grandest affairs, made even more special by the staircase which rises from the Elbe and once served as an elegant arrival point.
Sadly, I didn't get to see the inside of the Castle – I visited during the Christmas period when festive light installations take over the beautiful gardens – but from the photos of the areas which are open to the public, such as The New Palace and the Museum of Decorative Arts, it looks worth a visit. Just keep in mind certain parts close during the winter months.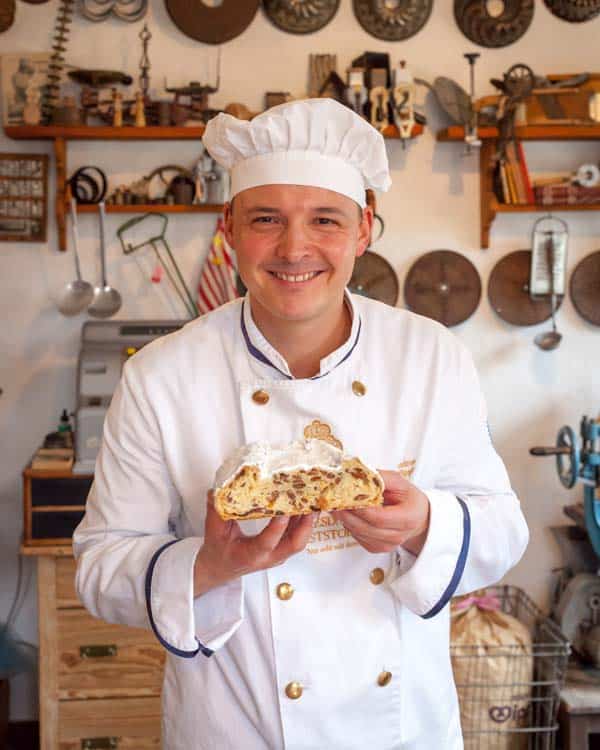 If you're not fussed about touring the palace and would rather see the stairs and other castles near Dresden from the waterway, you might want to book the Elbe river castle river from Dresden instead.
Nearby, in the small village of Pillnitz, one winter treat is available year-round at Bäckerei Wippler. This more than 100-year-old bakery has been producing the typical Dresdner Stollen – a popular local Christmas treat – in the traditional method since opening. So, where better to enjoy a coffee and a cake than in the European festive staple's birthplace and legally protected designation area?
How to get to Pillnitz: By car, it's around 25 minutes along the Elbe to Pillnitz. On public transport, it will take about 50 minutes with one change.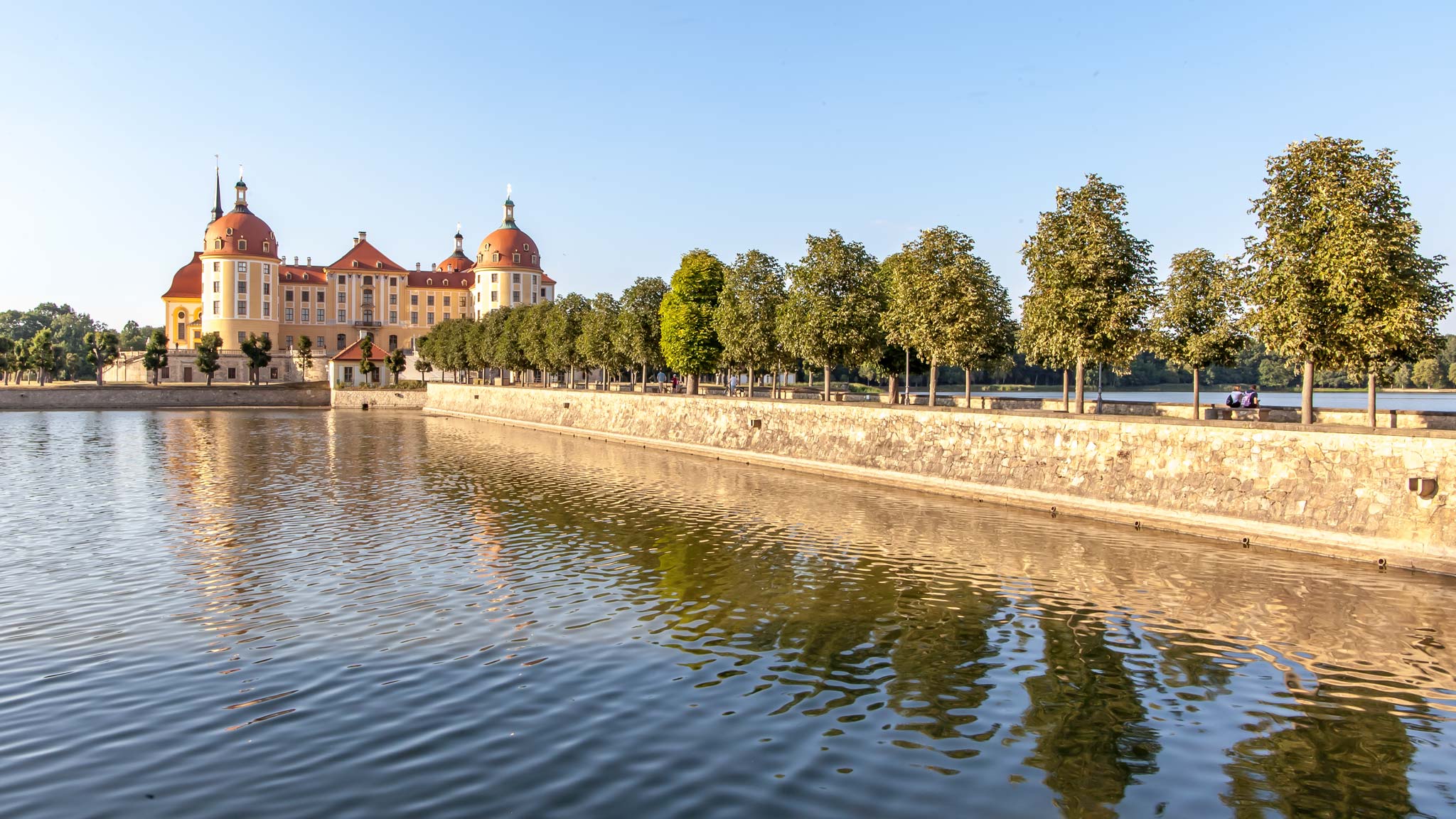 Moritzburg Castle
Continuing the stately theme, the Moritzburg Castle is another popular Dresden day trip. Designed by the same architect as Dresden's Zwinger, its impressive and symmetrical beauty is made even more enchanting by its moated location in the middle of a small lake.
While the outside is where you'll find the best photo opportunities – the pastel yellow turrets and resident swans are a photographer's dream – the baroque interior is just as enchanting.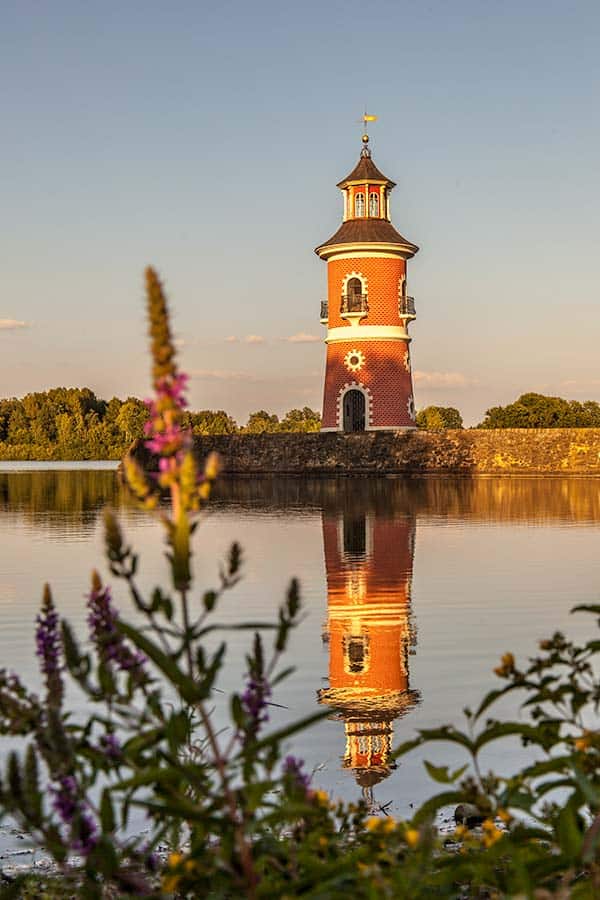 You'll also find a few more special places in Saxony nearby. First, head to the well-preserved and bright-pink Fasanenschlösschen (Little Pheasant Castle) before continuing to the pond to spot the Leuchtturm, a small lighthouse which looks slightly out of place in landlocked Saxony.
How to get to Moritzburg Castle: A popular day trip from Dresden means you can hop on the bus (477) from Dresden Bahnhof Neustadt and arrive in around 30 minutes.
Görlitz
Görlitz is the only one of these places in Saxony that I personally didn't make it to, as bad winter weather changed my schedule. Still, when I return, I hope to be able to make it out to this small town which straddles Germany's border with Poland.
The most easterly town in the country, the main reason I wanted to visit – and hence keeping the recommendation in this article – is it's also considered one of Germany's prettiest.
With a cobbled and photogenic pedestrian square flanked by architecturally rich buildings, Görlitz blends its diverse array of styles with flair. Art Nouveau, Baroque and Renaissance all feature, and as WWII didn't leave many scars on the cityscape; the mediaeval and historic remain well preserved. Cross the Old Town Bridge – which sits in the shadow of the city's foreboding Gothic church – and you'll arrive in Zgorzelec, the Polish 'other half' of the city.
How to get to Görlitz: By train or car, it's a 90-minute journey, making this a manageable day trip from Dresden.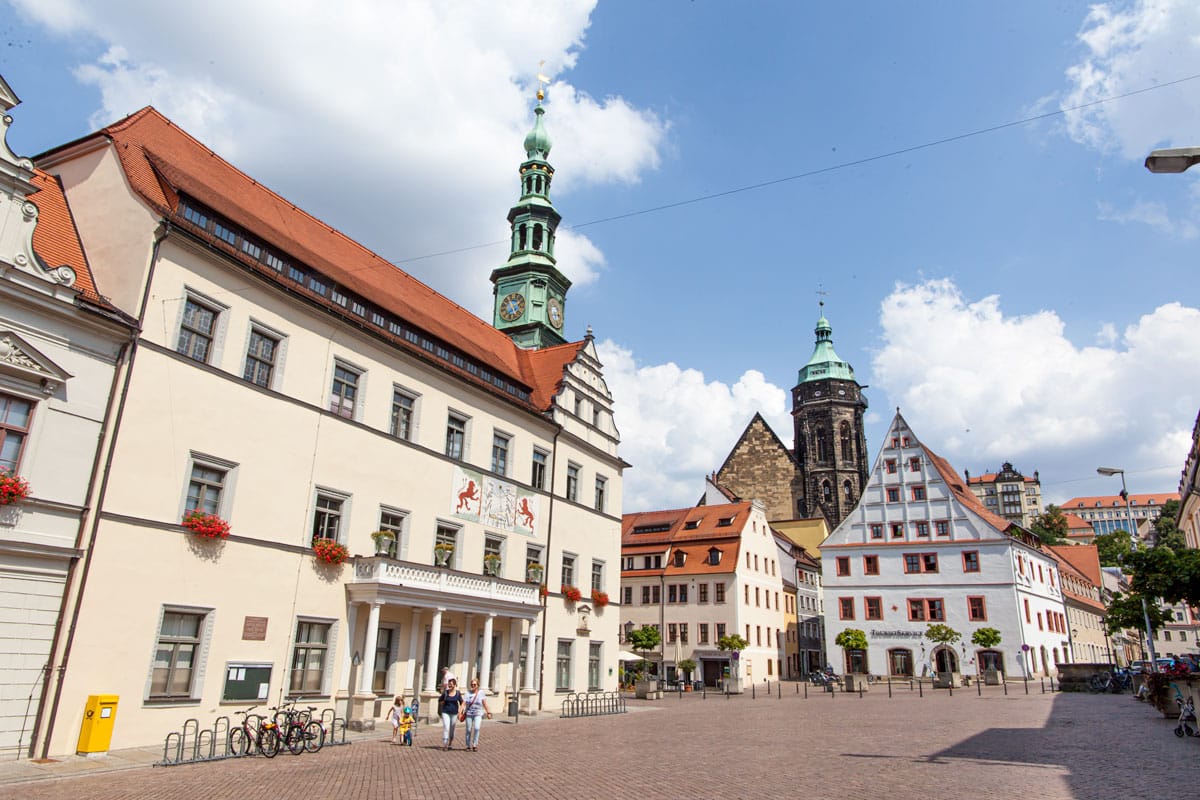 Pirna
Pirna is a small yet adorable medieval town, and while it's not the most exciting place to visit in Saxony, it's somewhere you may pass through on a bus connection to Saxon Switzerland National Park.
Sadly, in 2002, the town suffered a severe flood which caused much damage. Now, with much of the worst repaired, the medieval square, cobbled streets lined with boutique stores, and Sonnenstein Castle shine once more.
If you decide to spend some time in the town, the Pirna Museum – housed in a former monastery – and the views from the fortress will fill a few hours.
How to get to Pirna: Thanks to Pirna being on the S-Bahn (S2), this is one of the quickest day trips from Dresden – and a central connection point for certain onward travel – taking a little over 20 minutes. The drive will take closer to 40 minutes.

Read More:
Europe's hidden gems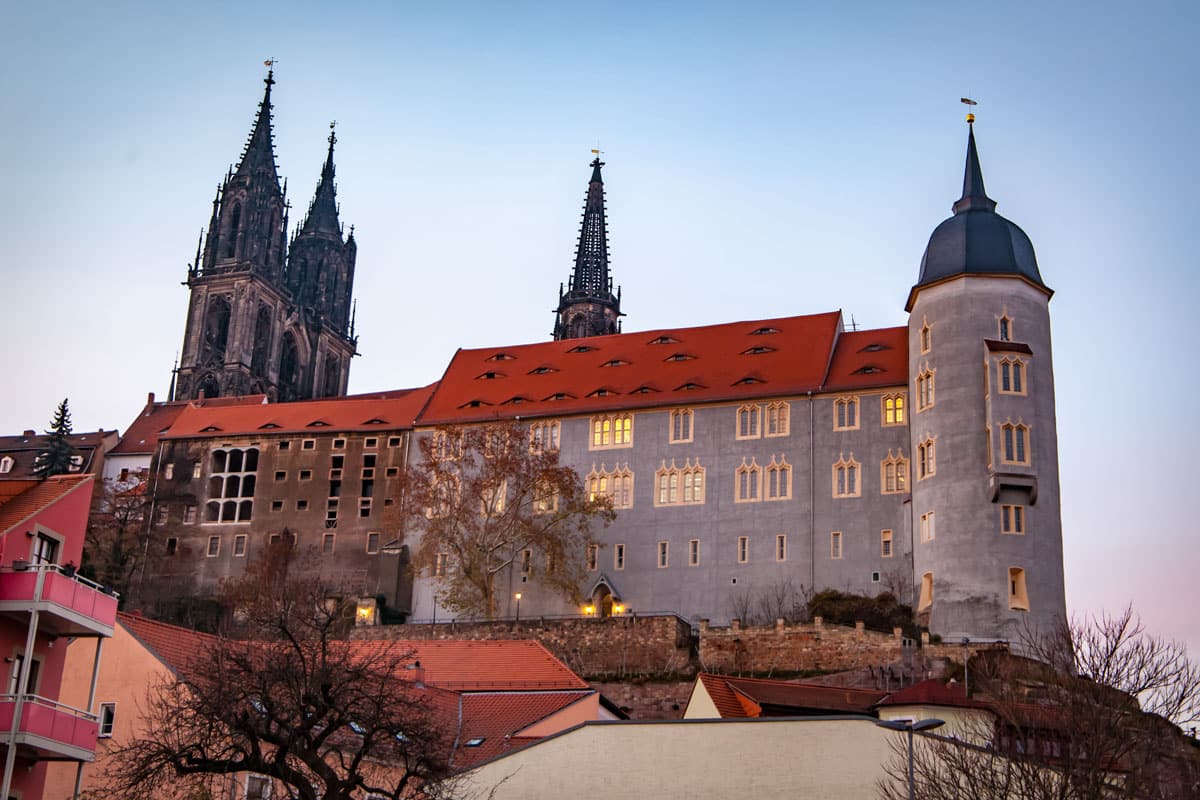 Meissen
Meissen was one of my favourite places in Saxony, not least because it's drop-dead gorgeous, especially during Christmas when the town square is converted into a life-size advent calendar.
You don't need to plan for a December trip to enjoy Meissen, though, as the town sparkles year-round. As you approach Meissen, you'll be immediately taken by the riverside views and the 15th-century Albrechtsburg, a castle-cum-church which crowns the cluster of ochre rooftops. Of course, a visit inside is a must, and the castle's rooms are packed with information and exquisite decor.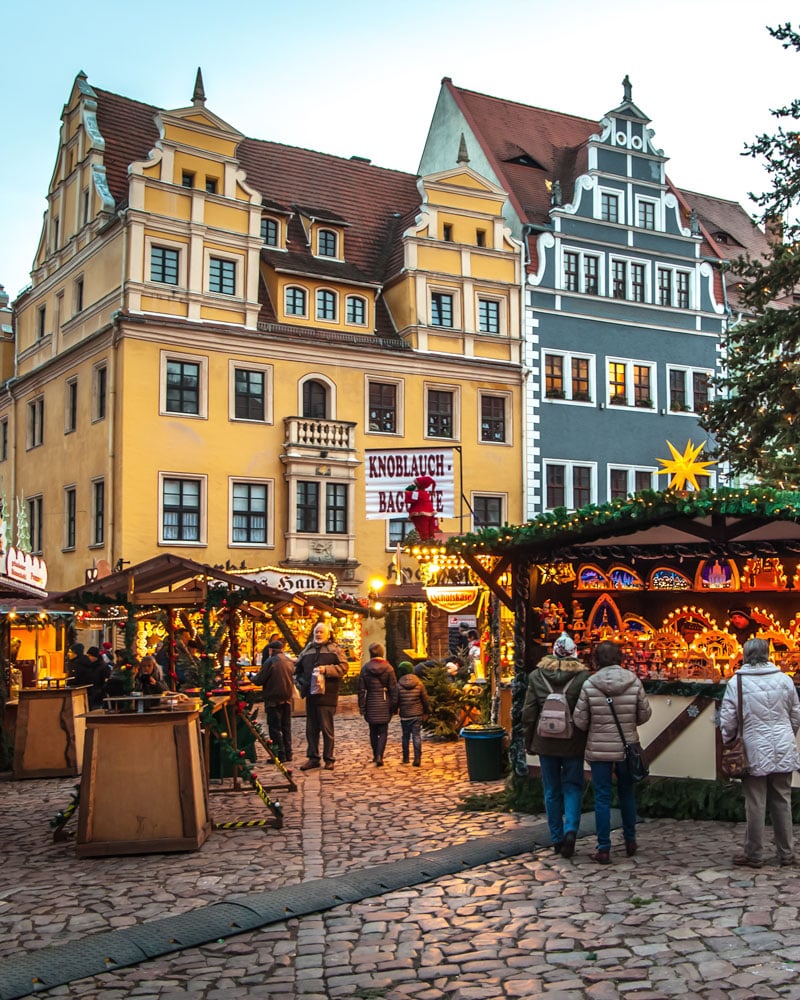 One of the most popular things to do in Saxony is to shop for porcelain in Meissen. Long a renowned centre for the production of 'white gold' – Meissen was one of the first manufacturers in Europe – the Stadtmuseum Meißen is packed with informative displays and exhibits.
If you want to pick up some porcelain to take home, you'll find numerous shops around the town, and you can even join a workshop to participate in this ancient tradition yourself.
How to get to Meissen: The drive to Meissen from Dresden should take around 45 minutes. By train, a change is required, which can double the journey time.
Read More:
Dresden Christmas markets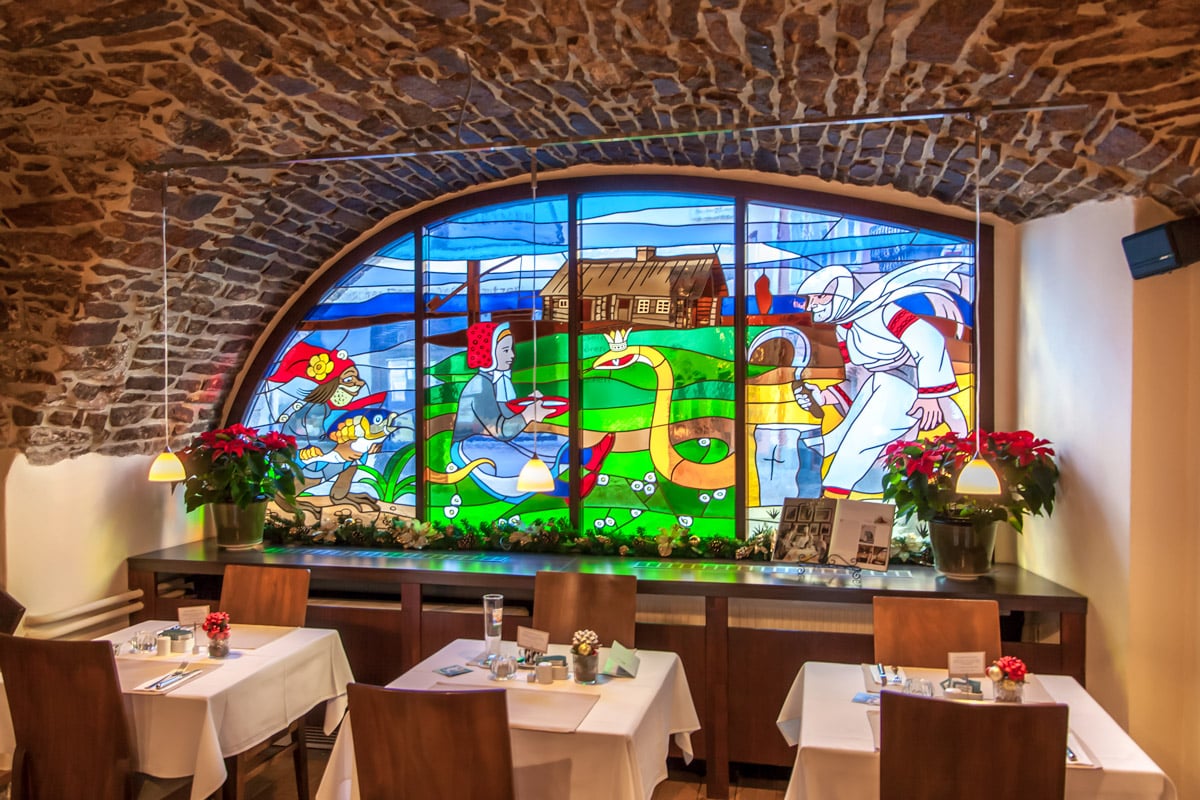 Bautzen
Many visitors don't realise that Saxony and Germany has an official minority language, Sorbian. To learn about this indigenous and ethnic minority population, Bautzen is the place to come.
The Sorb live in parts of Lusatia (which includes Saxony and Brandenberg), and the language is closer to Czech and Polish than Germany. While only a few thousand Sorbs live in those countries still, it's believed that more than 50,000 Sorbs reside in Germany, with many calling Bautzen home.
Visit Sorbisches Restaurant to eat traditional dishes and see legends depicted on the stained glass; learn more about the Sorbian culture, clothing and history at the Sorbian Museum; and relish the chance to hear the language still spoken by pockets of society.
Other things to do in Saxony's romantic town of Bautzen include walks along the mirror-like river admiring the castle turrets and visiting the peculiarly shaped central Cathedral of St Peter. Inside, it gets even more interesting as the space is used by Catholics and Protestants, with a physical divide inside. One of the oldest and most unique churches in Germany, it's worth a visit even if you're starting to suffer 'religious monument fatigue'.
How to get to Bautzen: This is one of the best day trips from Dresden, as you'll learn about the region's unique culture. Thankfully, it's just under an hour by train and a touch longer by car.
Chemnitz
Chemnitz is the third largest city in the Saxony, Germany region, and offers everything you'd expect from an urban centre in the 'State of the Arts'. There's a respected opera house, an impressive town hall, and a soaring church. But, with little of the Old Town left – WWII left its scars, and new builds were favoured over reconstruction – most of the city is a bit more futuristic.
What makes Chemnitz a popular place to visit in Saxony is its proximity as the nearest central town to the Ore Mountains. This means the city comes alive at Christmas with mining parades and a busy festive market.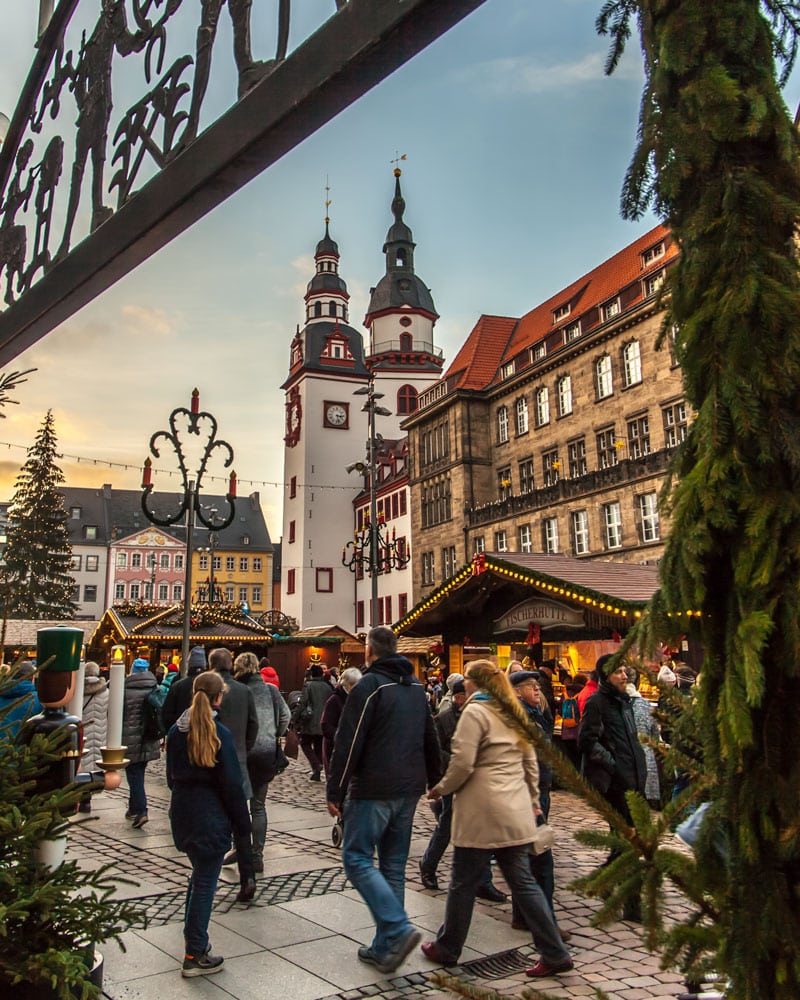 The city also has plenty of history to share, especially regarding the textile industry, with the Chemnitz Museum of Industry being an excellent place to start. But the city brags plenty more museums, ranging from classical and contemporary art to trams, archaeology and natural history.
You'll also have the chance to learn about the city's wartime history and the years it was called Karl-Marx-Stadt. Finally, the renaissance riverside Klaffenbach Castle on the city's peripherals (reachable by City-Bahn) makes for a more historical side trip.
How to get to Chemnitz: By car or train, it's a little over one hour from Dresden, making it possible as a day trip.
Read More:
Underrated cities in Europe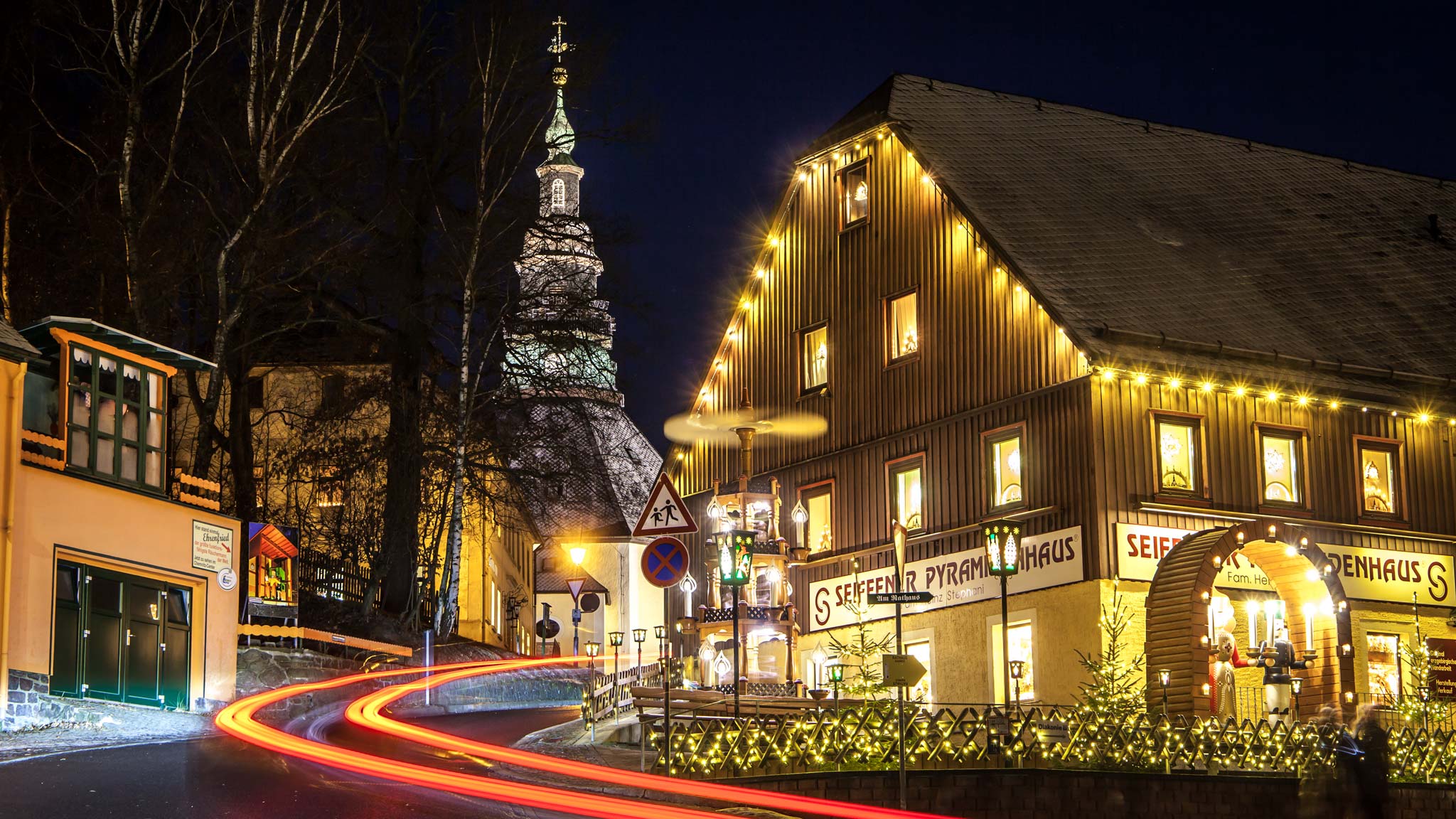 Seiffen and The Ore Mountains
Seiffen, a small valley town tucked away in the Ore Mountains, is Christmas personified. The year-round real-life 'Santa's workshop' is one of the most famous places to visit in Saxony, Germany, to learn about, participate in, and shop for Christmas traditions.
Wooden toys are hand-crafted year-round, winged angels are shaped from porcelain, and in the surrounding small villages and towns, traditional mining traditions live on with special events, many of which are focused during the festive period, making this one of Europe's top winter destinations.
While this means December is the best time to visit, there are plenty of things to do in Saxony's Ore Mountains throughout the year. And while winter is all about snow, skiing and Santa, summer is ideal for hiking and mountain biking.
There are also a few castles to visit, adorable villages (Annaberg is one of the prettiest), and a historic steam train to ride. Regardless of when you visit, research the mining traditions and see if any events are on, as this UNESCO-listed history carries plenty of stories.
How to get to Seiffen: If you wish to visit Seiffen and the Ore Mountains as a day trip from Dresden, you'll want a car as the driving time is around 80 minutes while public transport takes a few hours. Still, if you're visiting at Christmas, I'd suggest spending at least two days in the Ore Mountains to experience some of the mining traditions in the region.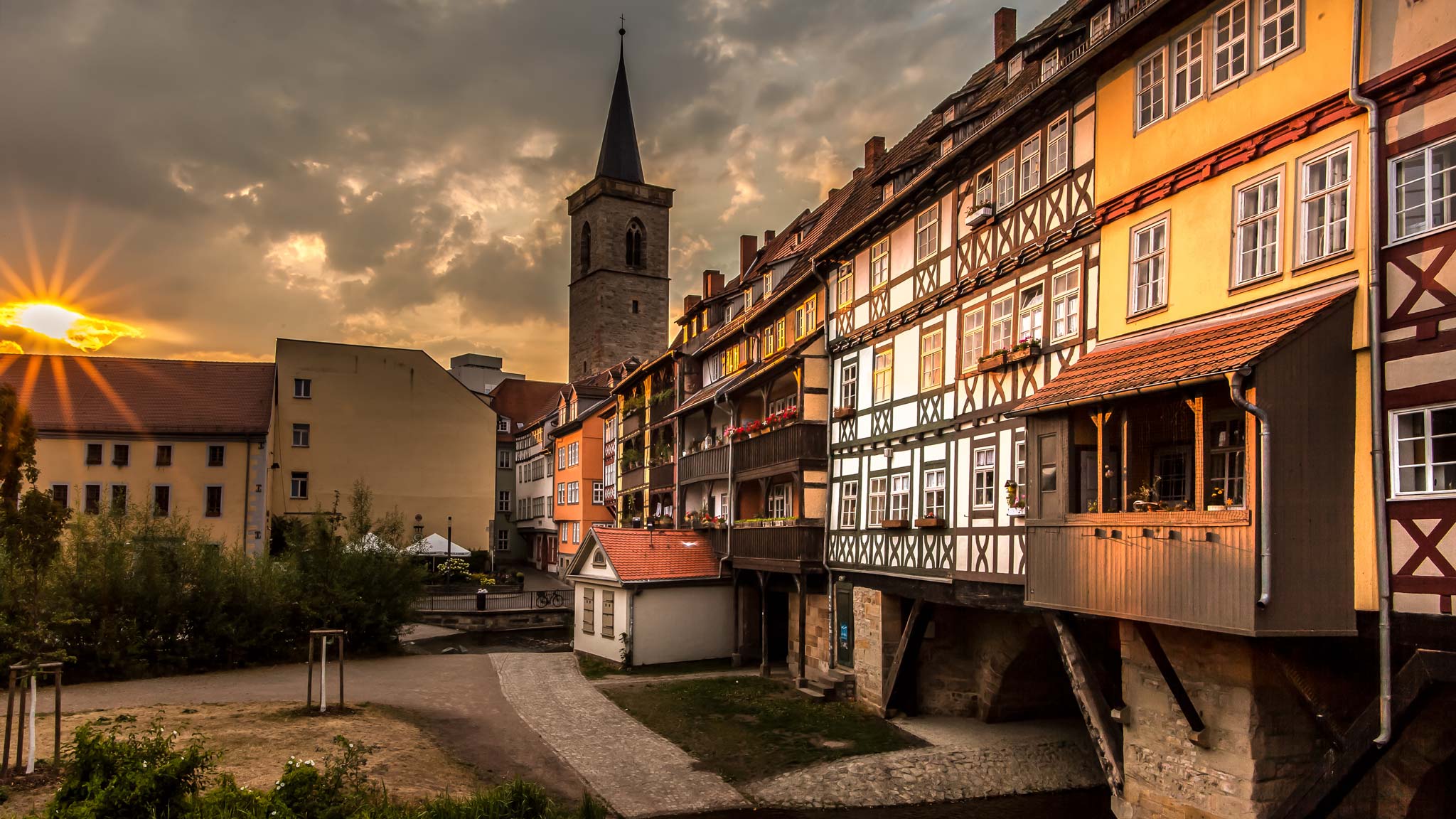 Beyond Saxony: Erfurt and Thuringia
Once you've explored all the gems that Saxony, Germany, has to offer, you might want to consider taking a day trip from Dresden to Erfurt in the neighbouring state of Thuringia. Another region decked out with history and heritage, these two regions combined are often referred to as the Cultural Heart of Germany.
In Erfurt, the region's capital, you'll find a laid-back city packed with plenty of Martin Luther's history, as this was the city he studied in. There's also a hulking cathedral – one of Germany's finest – alongside a fort and the unique Krämerbrücke (Merchants Bridge), one of the only mediaeval arch bridges in the world lined with shops and houses on either side.
Other popular places to visit in Thuringia include Weimar, fascinating for both the Bauhaus design movement, which hails from the city, and Gotha, rich in Saxe-Coburg and WWII history. The Anna Amalia library in Weimar is also one of the most beautiful libraries in the world, in my opinion.
How to get to Erfurt: From Dresden, it takes around two hours by train, making it possible to visit the city as a long day trip from Dresden. Better still, spend a few days exploring the region of Thuringia. To drive it takes slightly longer.

Read More:
Exploring Thuringia, Germany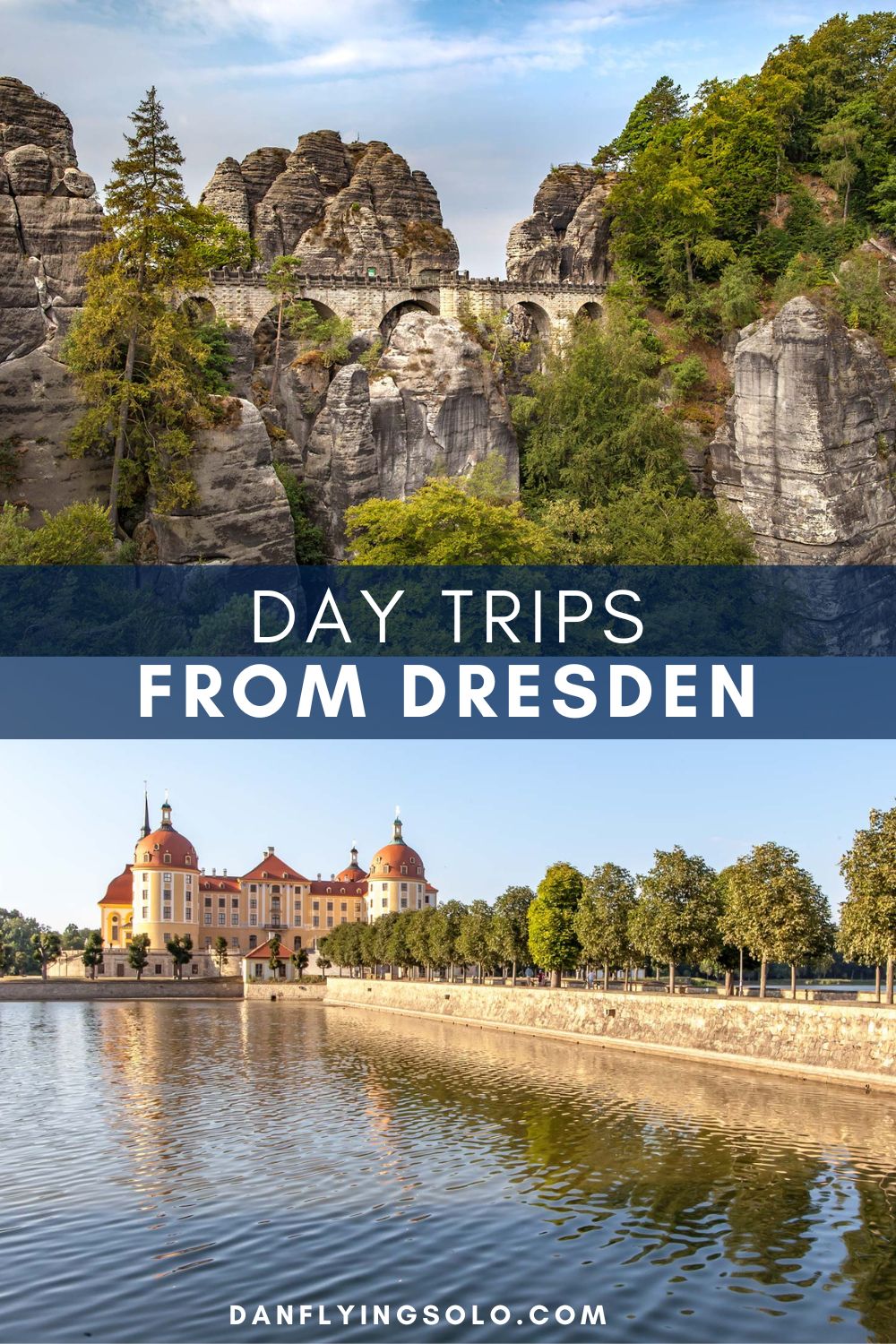 https://www.danflyingsolo.com/wp-content/uploads/2018/07/BasteiBridge.jpg
1152
2048
Daniel James Clarke
https://www.danflyingsolo.com/wp-content/uploads/2022/01/blogo-1w.png
Daniel James Clarke
2023-03-31 16:15:44
2023-06-06 06:12:01
Places to Visit in Saxony, Germany: Things To Do and Day Trips from Dresden