Best Places To Visit in the Algarve: Things To Do and Top Attractions
This website uses affiliate links which may earn a commission at no additional cost to you. As an Amazon Associate I earn from qualifying purchases.
Updated: 2nd June 2023
Portugal's sun-kissed southern region has long lured visitors with its golden-cliff-backed beaches, breathtaking bays and laid-back way of life. But, as I've discovered during the past five years living here – and on many visits before – the best places to visit in the Algarve, Portugal, aren't only confined to the coast.
From lounging on idyllic island beaches and exploring castle-crowned towns to hiking along epic clifftop trails and relaxing in a mountain spa, there are numerous things to do in the Algarve other than visiting the beaches.
Of course, it's impossible to fit every spot and activity into a blog post – even when I'm writing whole guidebooks for the region, it's a squeeze. So, in this list of the best places in the Algarve to visit, I've focused on the region's main destinations, which cover most of the Algarve's top experiences for first-time visitors or those returning for a second visit – if you want more ideas, you'll find some of my favourite offbeat Algarve spots here.
Here are the best things to do in the Algarve, broken down by places to visit – with a few of my 'local tips' to help you plan an epic trip to southern Portugal.


Get Connected with unlimited data (5% discount code: danflyingsolo):
Buy your Holafly eSIM for Europe
Best things to do in the Algarve FAQs
Before diving into my suggestions of the ten best places to visit in the Algarve and what to do there, here are a few of the most frequently asked questions I get about planning a trip to the Algarve.
What are the best free things to do in the Algarve?
With so many free activities in the Algarve, you don't need to spend a fortune. Lounge on the beach, hike the breathtaking Seven Hanging Valleys Trail, hunt for waterfalls in the Monchique mountains or head to the islands on a cheap public ferry ticket.

What to do in the Algarve when it rains?
While the Algarve is famed for its beaches – and annual 300 days of sunshine – you'll find enough rainy-day activities in the Algarve to keep you busy. Head to a museum such as Tavira's Islamic Museum or Faro's City Museum with Roman mosaics, venture to an art gallery like Lady in Red, or just book into a spa or cataplana cooking course.
What are some romantic experiences in the Algarve?
Couples are spoiled with romantic things to do in the Algarve. Consider a wine tasting and lunch in one of the region's vineyards, a private boat tour around the caves and cliffs, or a hot air balloon ride followed by a champagne picnic.
What are the best activities for families?
There are plenty of family-friend activities in the Algarve. Popular options include heading to a waterslide park – Slide & Splash and Aqualand are my favourites – visiting the SandCity attraction or taking a boat tour to spot dolphins in the wild.
What are some unusual things to do in the Algarve?
Some of the more unusual experiences in the Algarve include taking a tile workshop in Ferragudo, discovering the 'Cemetery of Anchors' near Santa Luzia, visiting the medronho (fire water) brewers in Marmelete, and hunting out waterfalls inland. You'll find some more of my favourite Algarve hidden gems here.
Where are the best places to stay in the Algarve?
Choosing the best place in the Algarve to stay will very much depend on the kind of holiday you're seeking. Albufeira is the most touristy area, with plenty of resorts for families or party holidays. If you're seeking luxury Algarve hotels, look around Vilamoura and Quinta do Lago. Surfers should head to the West Coast or Sagres, while Lagos makes for a well-rounded base. There's also a good choice of golf resorts in the Algarve if you're coming to Portugal for the award-winning courses and sun-kissed greens.

For a more laid-back stay, pick an inland location or a smaller tourism destination such as Carvoeiro, or make it an even more memorable holiday at one of these more unusual places to stay in the Algarve.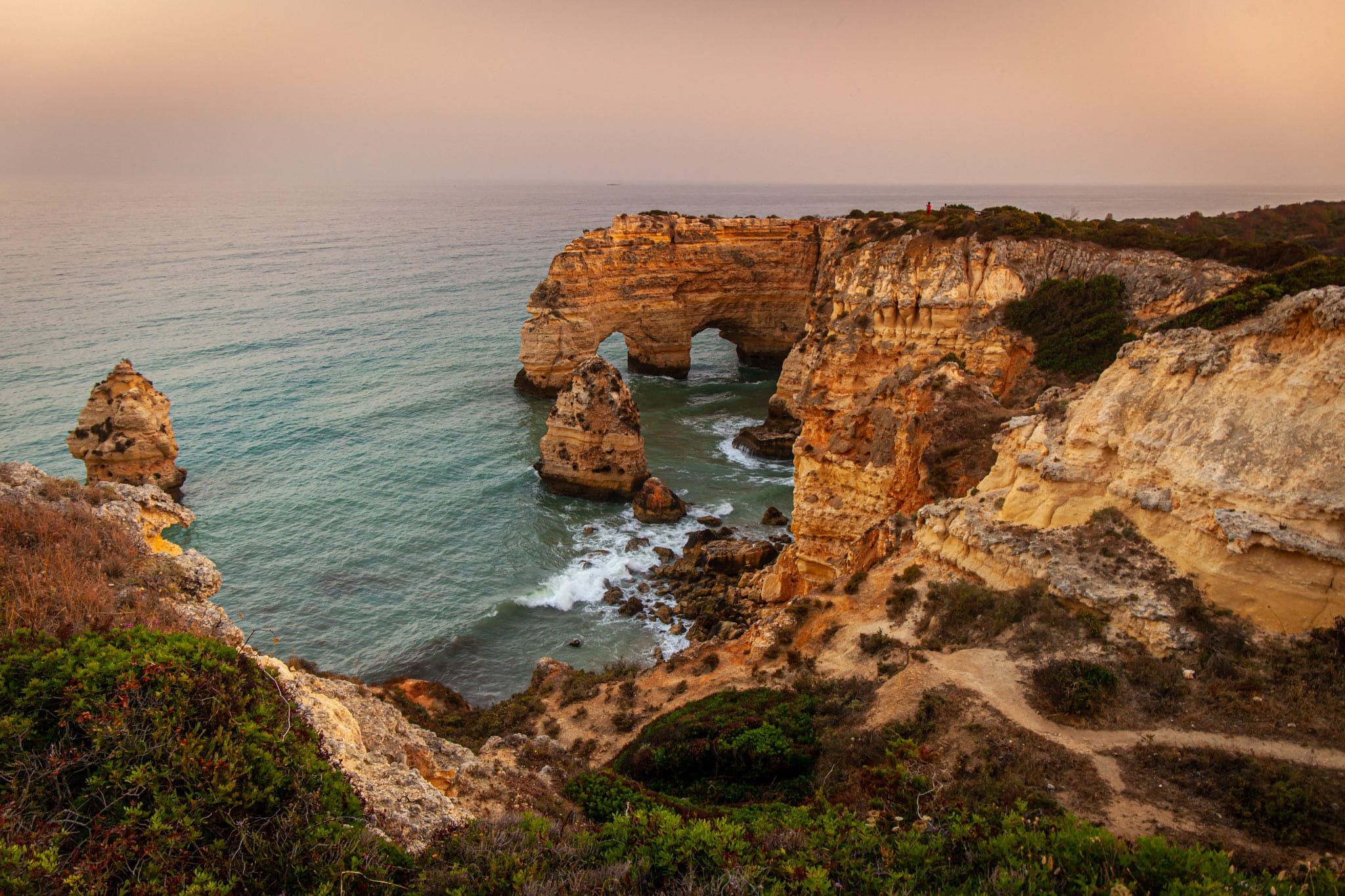 The Seven Hanging Valleys Trail and Benagil Cave
To hike the clifftop, kayak into sea caves and relax on spectacular beaches
When I have friends visiting, I always recommend hiking the Seven Hanging Valleys Trail (Percurso dos Sete Vales Suspensos). For me, it's hands down the best thing to do in the Algarve, as you'll get to appreciate the scenery, cliffs, beaches and caves of this incredible European beach destination.
Some of the best places to visit in the Algarve can be found along this stretch of coastline, such as the award-winning Praia da Marinha – one of Portugal's most beautiful beaches – the often crowded Benagil Cave, and many more smaller sandy bays.
The cliff-top trail connects Praia da Marinha to Praia de Vale Centeanes on a six-kilometre linear route of mainly dirt terrain with some descents and climbs. Personally, I'd suggest making the trail even longer and continuing to Carvoeiro, where you can admire the Algar Seco rock formations. Or, to extend the other end, venture as far as Nossa Senhora da Rocha, where a church-capped cliff juts into the ocean between two beach bays.
Along the route, you'll find be able to embark on one of the most famous things to do in the Algarve, a Benagil Cave tour. While there is no denying this grotto beach – complete with a sky-light – is breathtaking, the constant stream of boats in summer (and even the off-season) has taken its toll, which makes this very touristed location harder to enjoy these days. That said, you'll likely still want to visit one way or another, so these are my tips.
Firstly, you can book boat tours to the cave from various spots along the coast – which can be ideal if you're staying further away. However, boats aren't legally allowed to park or stop on the beach inside the cave. So, if you wish to go onto the sand for some chill time or photos, you'll want to book a kayak tour or SUP visit along the coast. Better still, hire kayaks from the beach nearby ( you can pick these up when you arrive, or ideally, book them in advance) so you can control your schedule.
The best way to experience the cave with very few visitors is to come at sunrise before the kayak rentals and tour boats start for the day. For this, however, you'll want to have collected your kayak rental the day before, bring your own, or have booked an early morning pick-up with one of the rental places at Benagil Beach.
Of course, given the distance, you could swim – but I (and the authorities) never recommend this, partly due to the currents but also the sometimes constant stream of boats which have, in the past, tragically collided and killed swimmers along the coast here (basically, be informed and confident with whatever you decide). If you'd prefer to explore the coast but see some less touristy spots, consider this alternative Algarve sea cave tour near Alvor.
Ria Formosa's Island
To island hop, lounge on the idyllic beaches, and devour seafood
Spanning some 60 kilometres across the central Algarve's coast, the Ria Formosa, a labyrinth of lagoons, salinas (salt pans), marshes, barrier islands and dunes, is one of the best places in the Algarve to visit.
A well-deserved member of the '7 Natural Wonders of Portugal', this protected natural park is also a haven for wildlife. Mediterranean Chameleons, bird spotting – especially the seasonal flamingos – and plenty of seahorses call this part of the Algarve home, while dolphins are often sighted a little further out.
Some of the best things to do in the Algarve can be found within the Ria Formosa's vast area. Hop between the idyllic and beautiful islands to lounge on the soft sands, kayak in the tranquil interior lagoon waters, or set off by bike or on foot to the salt pans' trails.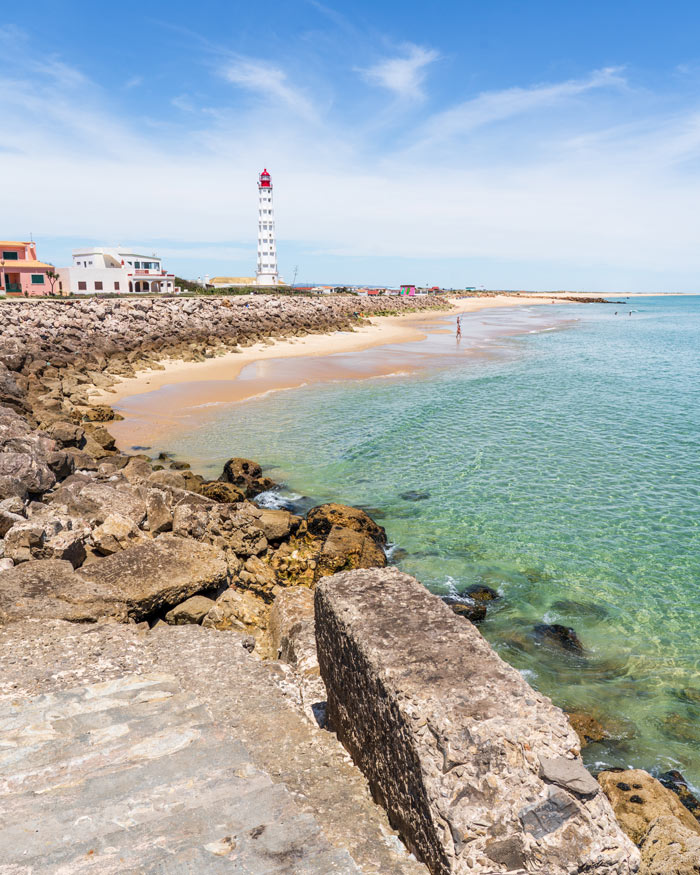 There are a lot of different boat tours available to tour the Ria Formosa, although they all vary in quality and environmental credentials.
Companies I usually recommend are Ocean Vibes which offers a dolphin and wildlife spotting tour led by the super-passionate marine biologist Alfredo, and Solar Boat tours, which are particularly good for bird watching, as the boats are near-silent compared to traditional motorised vessels.
Still, you don't need to take a tour to enjoy the island's beaches, as public ferries provide a more affordable option. For Cultura and Farol, embark in Olhao; for Deserta, depart from Faro; and for Ilha de Tavira, board in Tavira. You can also access some island beaches like Barril by a bridge rather than by boat, while the best viewpoint of the Ria Formosa is found from above at the tiny village of Cacelha.
For something a little more special, you can even stay on some of these islands at this bungalow-style accommodation, onboard this houseboat, or at Ilha de Tavira's municipal camping site.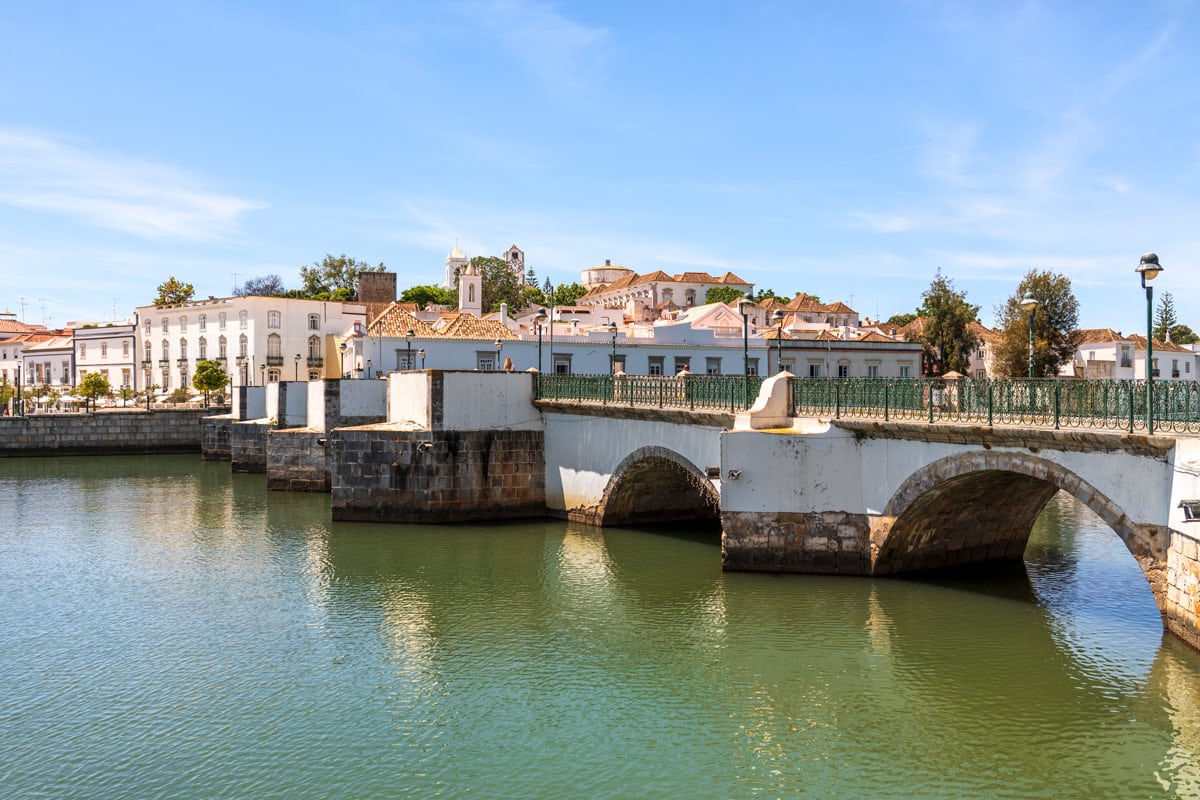 Tavira
To experience a more laid-back and charming Algarve, visit museums, and spot flamingos in salt pans
Tavira has long been one of my favourite places to visit in the Algarve, and happily, it hasn't changed as much as some of the region's more touristy destinations.
Set slightly back from the coast, Tavira flanks the Gilão River. This body of water spills out into the Ria Formosa, passing salt pans and seasonal flamingos en route. A cheap ferry boat will take you down the river and out to the town's island beach.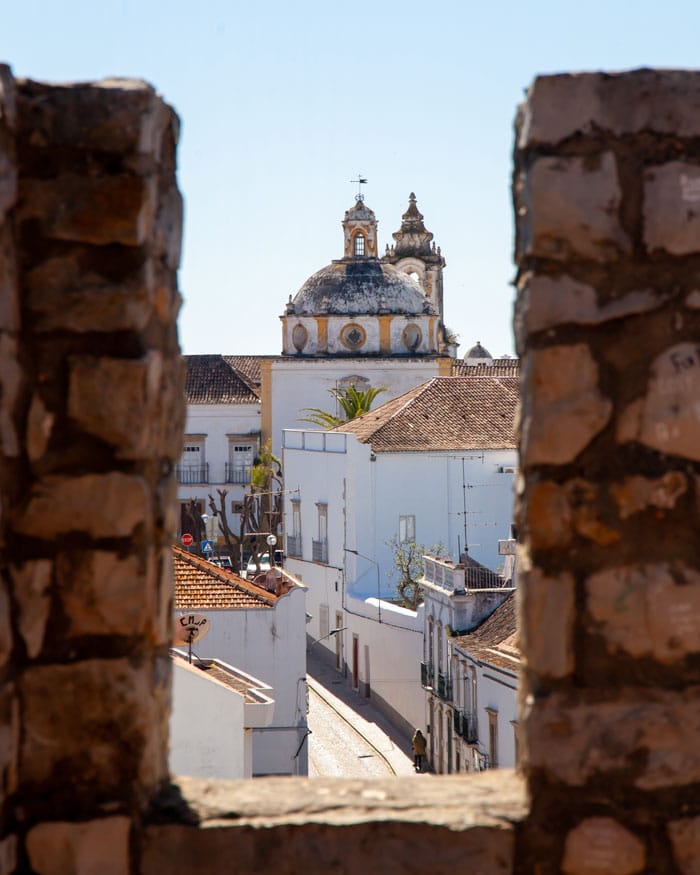 The main reason to visit Tavira though – beyond just soaking up a slightly more 'authentic' Algarve is to see some heritage buildings and visit Tavira museums. Known as a town of churches – there are 37 of them – there is no shortage of heritage buildings to admire, such as the converted Convento de Tavira, now a luxury hotel.
Other things to do in the Tavira include visiting the Ponte Velha, an ancient bridge often mistaken for Roman, learning about the region's Moorish history at the Núcleo Museológico Islâmico, and taking in the panoramas from the castle ruins atop the town.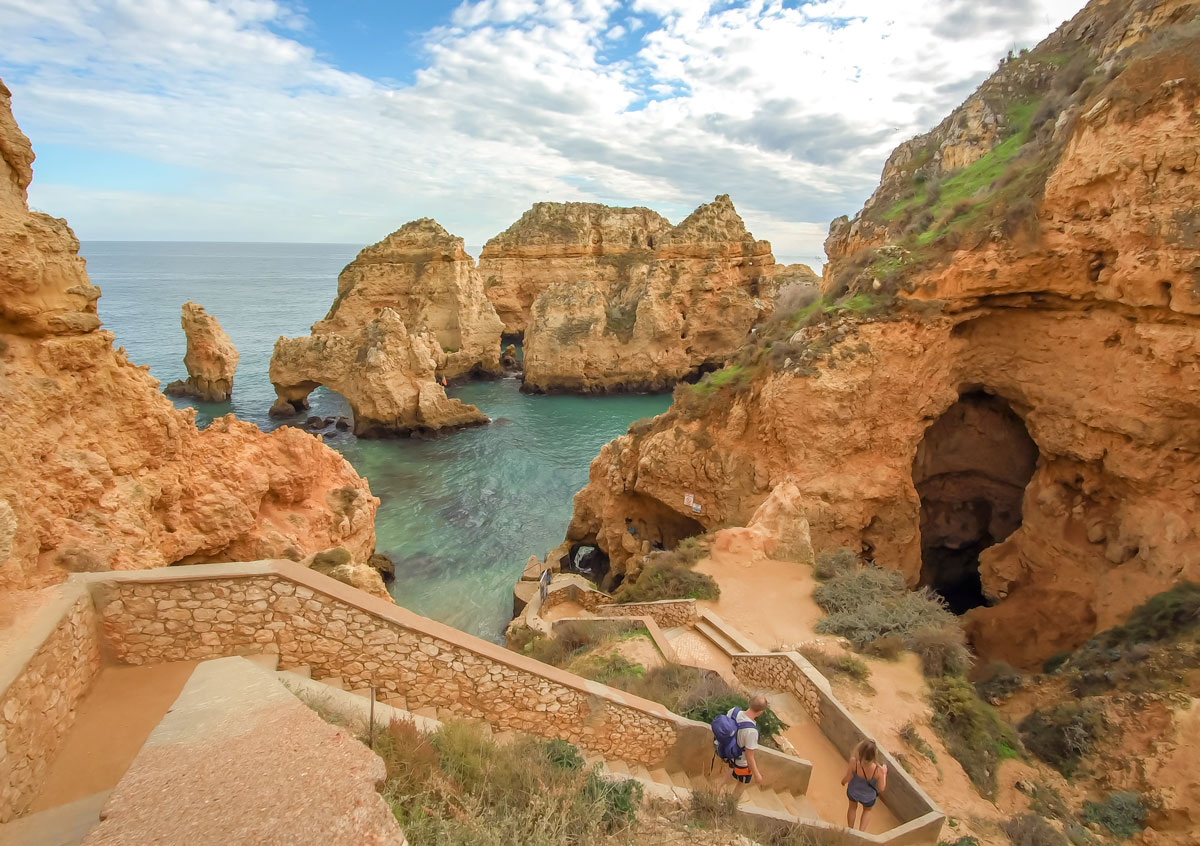 Lagos
To follow the cliff trail (and new boardwalk) to the awe-inspiring Ponta da Piedade and then party all night
If you want to sample nearly0 all of the best things to do in the Algarve in one place, you can't go wrong with a visit (or stay) in Lagos.
The town's most famed natural attraction is Ponta da Piedade, a dramatic headland of rock formations rising from the ocean. To reach the best viewpoint of this scene point, you can follow a clifftop and road trail from the town. En route, you'll pass some of the Algarve's most impressive beaches, such as Praia dos Estudantes and Praia do Camilo.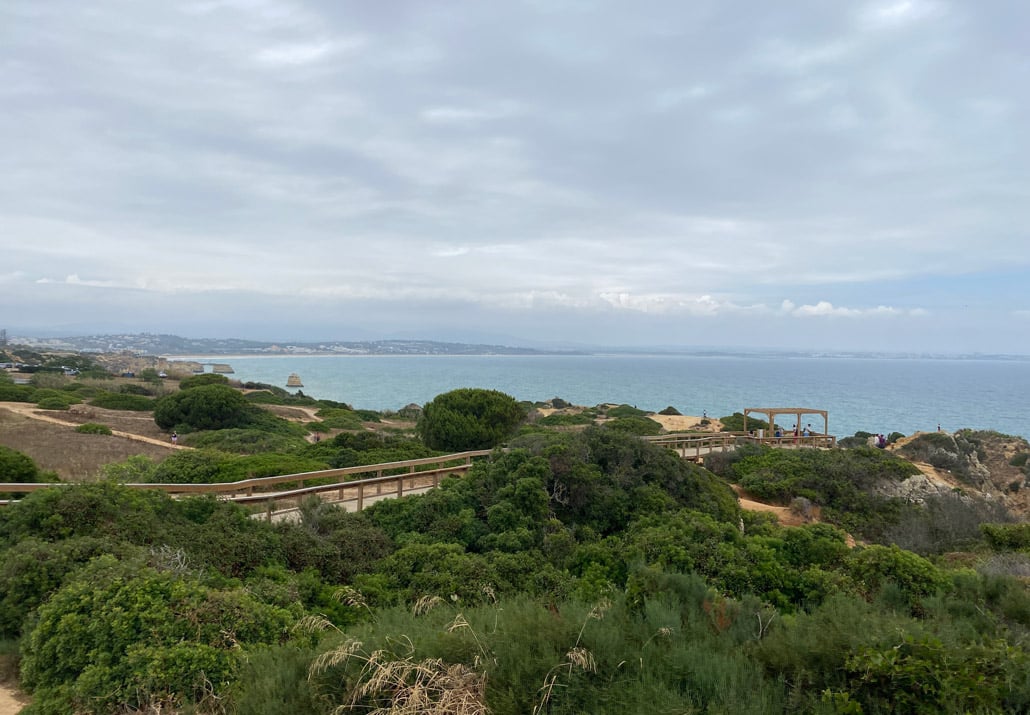 In the summer of 2023, an impressive new boardwalk (Passadiços da Ponta da Piedade) will officially open in full (parts of it are already open), offering a more accessible route along the cliffs. This provides a whole new set of wooden walkways from the beaches up to the lighthouse, complementing the boardwalks on the Porto de Mós side, which opened a couple of years back. I went to see it this week, and it's coming along nicely – the little viewing platforms with benches are a really nice touch, and the new cycle lane will be great – just expect the road and parking to be a little bit of a building site this summer.
On arrival at the headland, the miradouro (viewpoint) – itself one of the best places to visit in the Algarve – a spelling panorama of orange-hued cliffs and glistening waters will spill out before you. Take the staircase towards the fishing boats and descend through the rocks to the water below for a better look.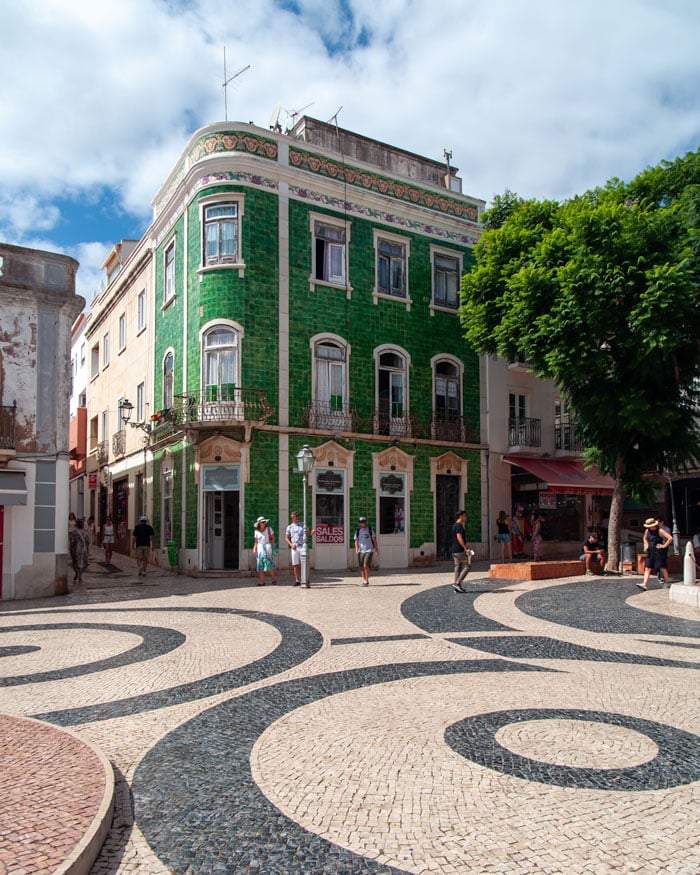 Alternatively, you can take a boat trip into the Ponta da Piedade – some tours also include dolphin spotting beyond. However, I'd personally suggest taking the kayak trip around the headland as I found this much more impressive as you can get closer to the cliffs. There are plenty of stands selling tours in Lagos, so you don't need to book in advance, but it might be advisable if you're coming during the main holiday seasons.
In the town itself, you'll find plenty of great places to eat, drink and party inside the Old Town. There's also some history and heritage to discover here, including the staple churches and an utterly random collection in the Museum of Lagos. Most harrowing is the history of the Mercado de Escravos, the site of Europe's first slave market; just don't expect the space to share the entire story or horrors of Portugal's colonial past; it's sadly lacking in context.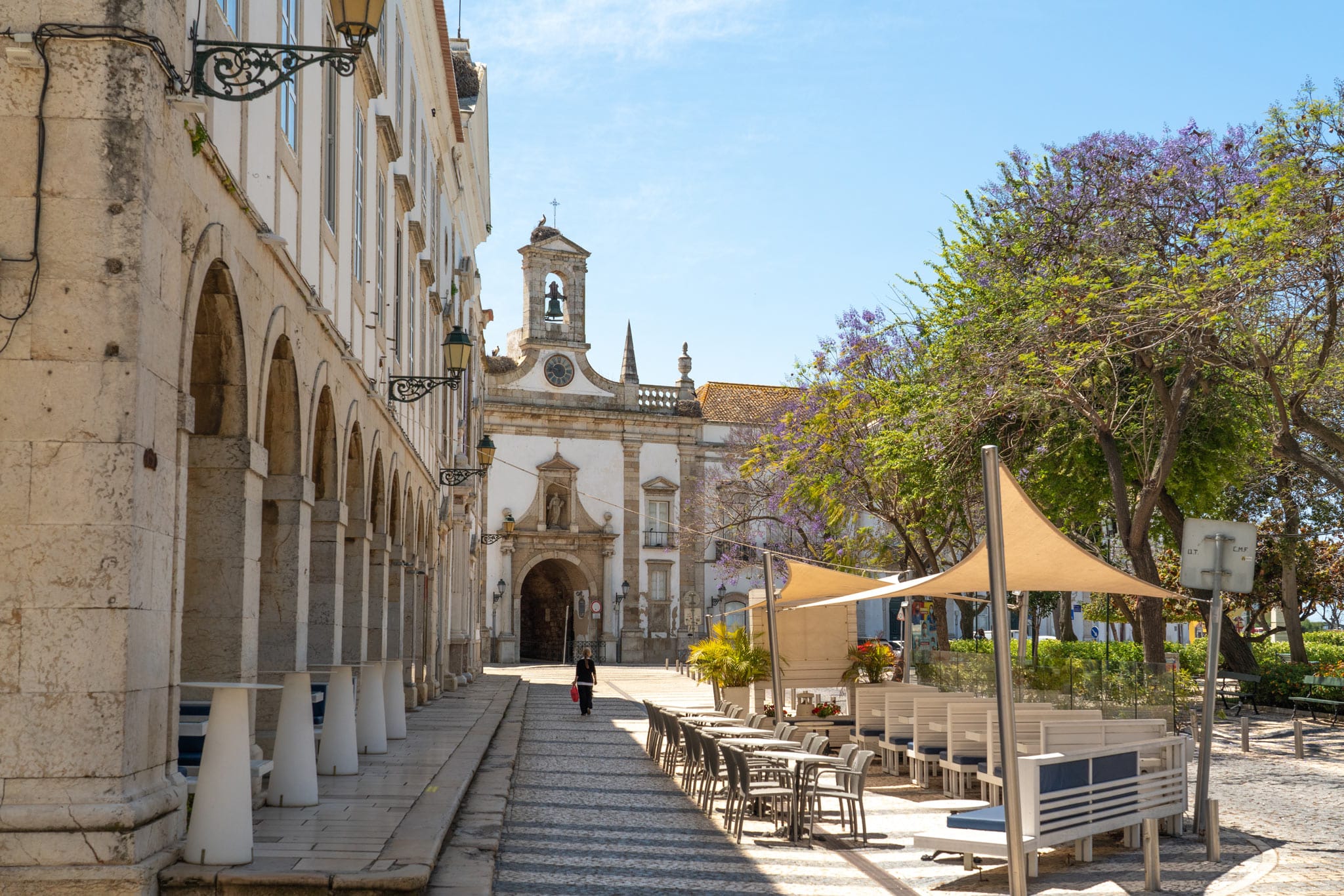 Faro
For history, culture and museums, plus a more local city life
Travellers often skip the Algarve's capital city of Faro as it's frequently seen as an airport gateway rather than one of the best places in the Algarve to visit in its own right, especially for a winter city break in Europe.
While I was also guilty of this when I started holidaying here many years ago, since living in the Algarve, I've realised what a mistake that was. The city has a beautiful Old Town (Cidade Velha), and you can find some of the best things to do in the Algarve in and around the regional capital. This is also one of the best places to base yourself if you're planning on getting around the Algarve by public transport.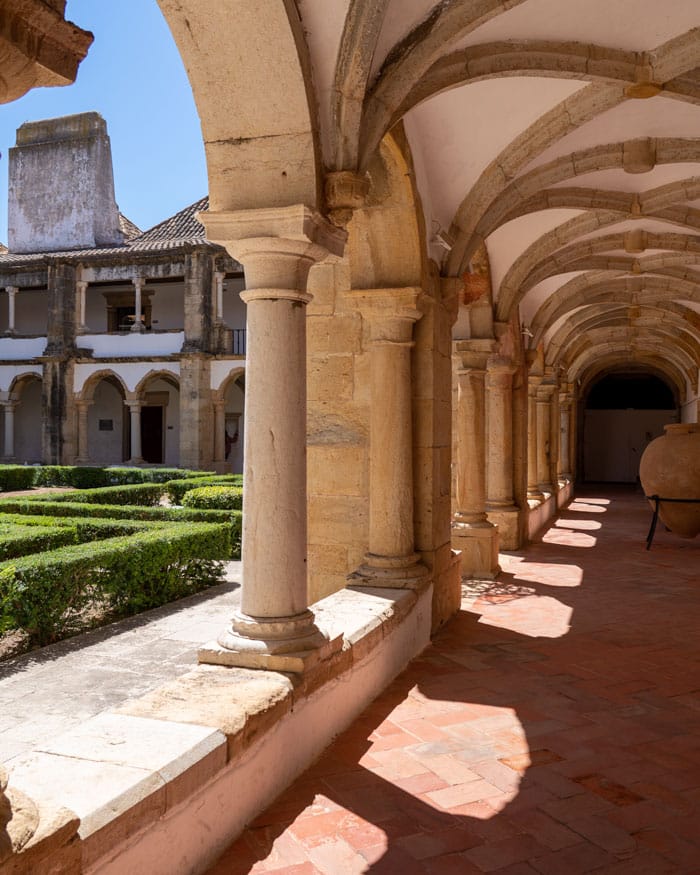 Be sure to explore the Old Town's cobbled streets. Dip into the Municipal Museum inside a former convent to learn more about Moorish and Roman past before climbing the cathedral tower to admire the view. Much of the mediaeval walls remain, and you can circle this on the lagoon-facing waterfront.
A short drive or bus journey from Faro, you'll find plenty more historic attractions too, including the beautifully renovated Palace of Estoi – you can actually stay there – and even some Roman villa ruins.
Other things to do in Faro include visiting the city's island beach, a 20-minute bus journey away, enjoying some excellent bars and restaurants – personal tips include Los Locos and Epicur wine bar – and heading out on dolphin-watching boat trips.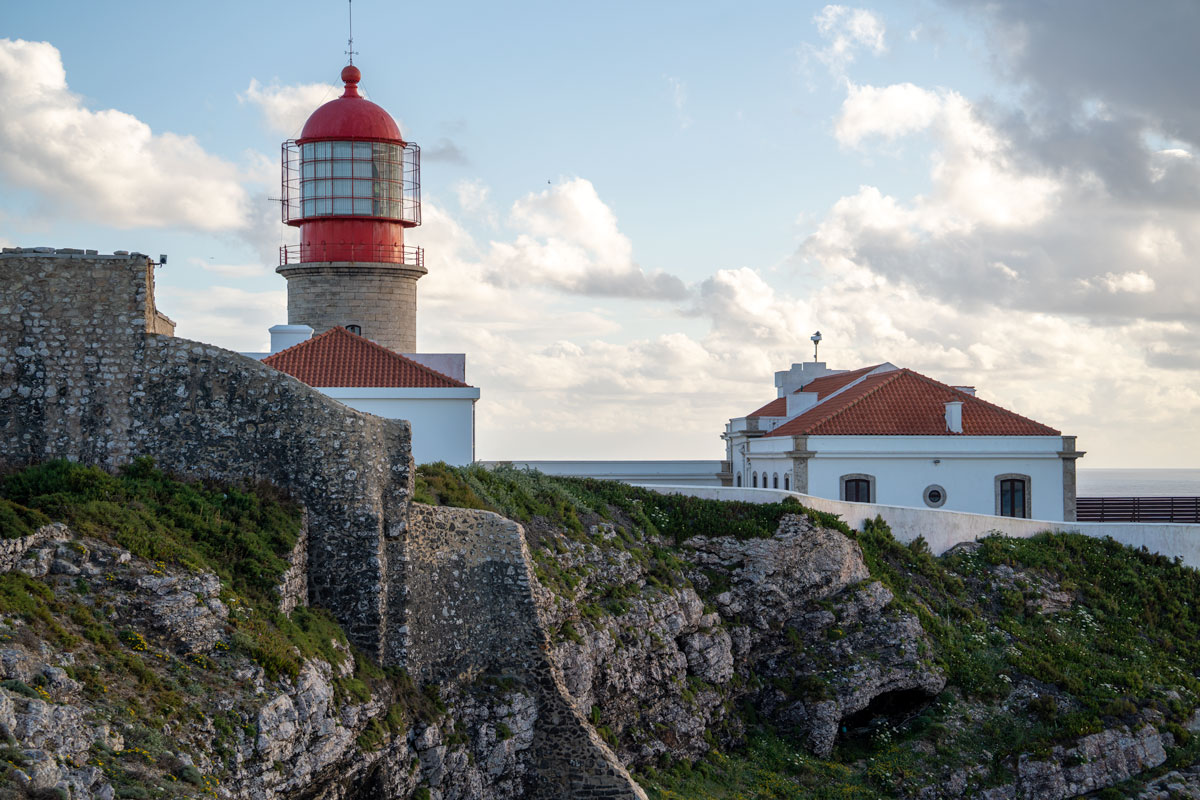 Sagres and Cabo de São Vicente
To surf and see the sunset at the 'end of Europe'
Portugal has long been a haven for surfers, and Sagres is the place to be on the south coast. Not only is this one of the best places in the Algarve to visit to ride the swell, but there are plenty more adventure activities, such as coasteering experiences jumping from nearby cliffs.
If you're not a surfer, then fear not, there is an abundance of excellent surf schools to learn at in and around Sagres. You'll also find a few of the other top things to do in the Algarve here, such as visiting the 15th-century Fortaleza de Sagres (Sagres Fortress) and venturing to the rugged headland where Cabo de São Vicente lighthouse dutifully overlooks the rough Atlantic waves.
While this is often mistaken for the most westerly point of mainland Europe, that title actually goes to Cabo da Roca, closer to Lisbon. However, even if it doesn't hold the accolade, catching the sunset over the cliffs here is still dreamy.
Closer to the town, the Fort makes for an interesting sight once you've gone beyond the imposing walls. There are some old building ruins here, such as a small church and oddities, including a large ground-level compass and a wave-echoing 'maze'.
A new visitor centre opened in late 2022 sharing more details on Henry the Navigator and the Age of Discovery – Portugal's seafaring and colonising years – and the surrounding area.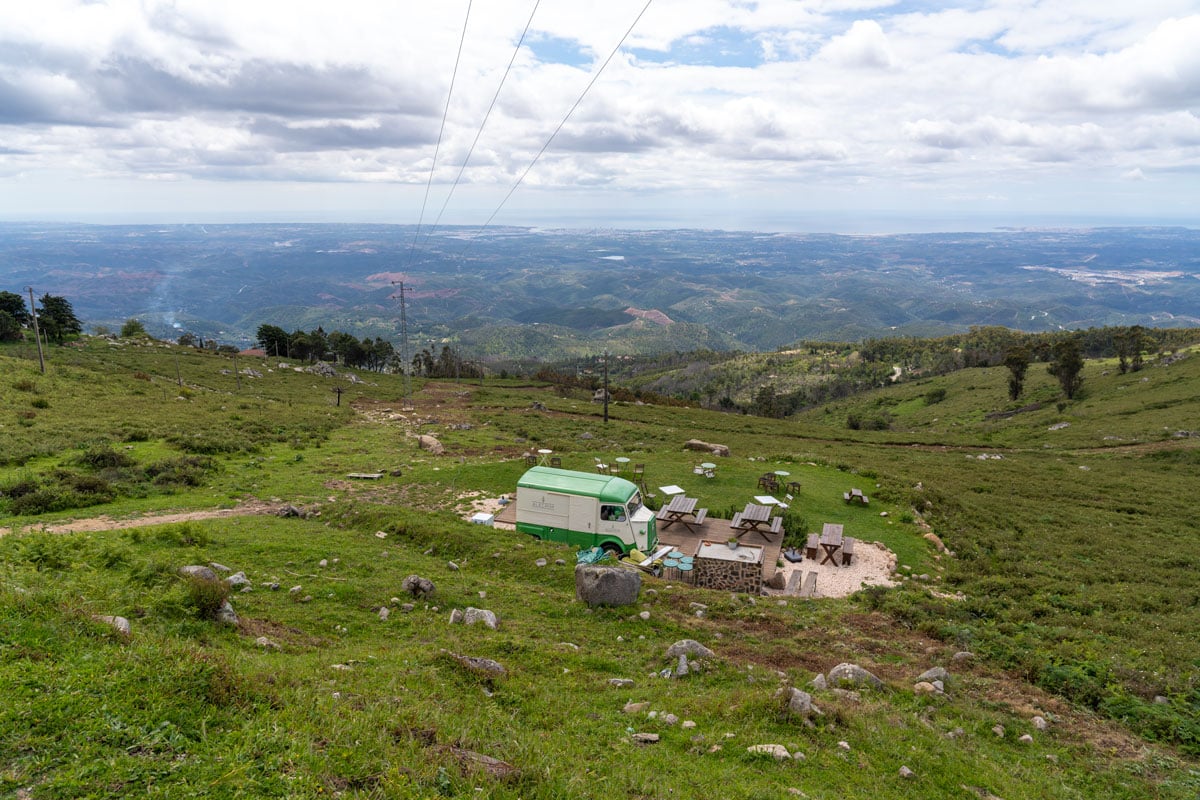 Monchique
For verdant-hill hiking, waterfalls and thermal-spring spas
Between the Algarve coast and the neighbouring region of Alentejo, hills rise slowly before turning into mountain ranges. The Serra de Monchique is the highest and most notable and provides a verdant playground – a far cry from the coastal resort towns.
If you're looking for hiking trails and serene scenery, you'll find some of the best active activities in the Algarve around the serra (mountain region). The region's highest peak, Fóia, tops out at just over 900 metres and can be reached by car. If it's a clear day you can enjoy spectacular panoramas across the Algarve and the Atlantic Ocean from here.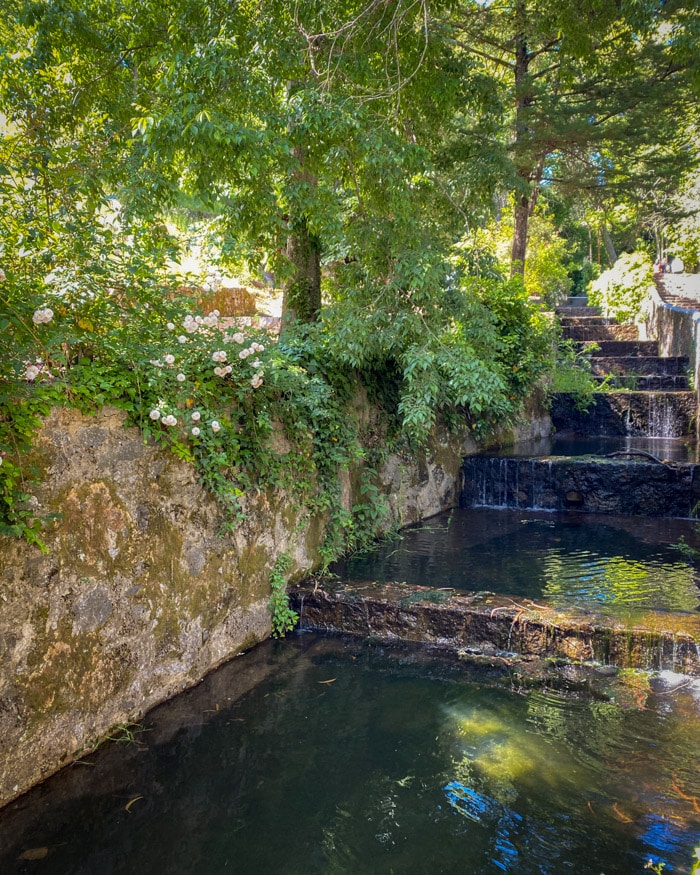 You'll also find some decent half-day and full-day hikes here, ideal if you want a day in the mountains. The trail to the Barbelote Waterfall is my favourite of the loop routes and starts and ends near Fóia.
Caldas de Monchique is one of the Algarve's best places to visit. Since Roman times, people have retreated here to make use of the high-alkaline thermal waters for relaxation. Villa Termal Spa Resort has a stay or spa package, while the nearby springs make for an ideal walking and picnicking area.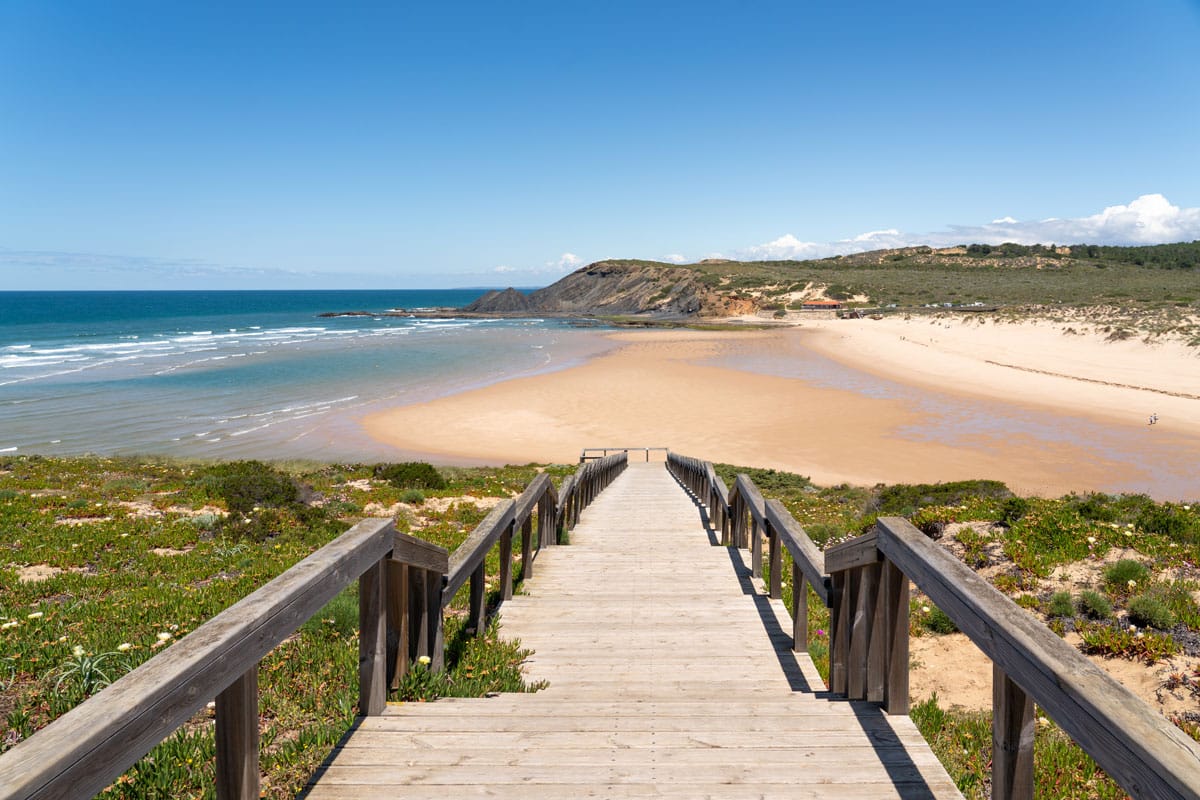 Costa Vicentina
To take on a long-distance hiking trail or appreciate windswept beaches
There's no denying that the beaches are usually the best places to visit in the Algarve. Yet, while the central coast near Benagil and Albufeira and scenic points around Lagos get much of the attention, the Algarve's West Coast – the Costa Vicentina – should not be overlooked.
This wild and windswept land is where you'll find me when I want to clear my head or enjoy a beach walk with fewer footsteps in the sand. Somehow it remains something of a 'hidden Europe' beach destination.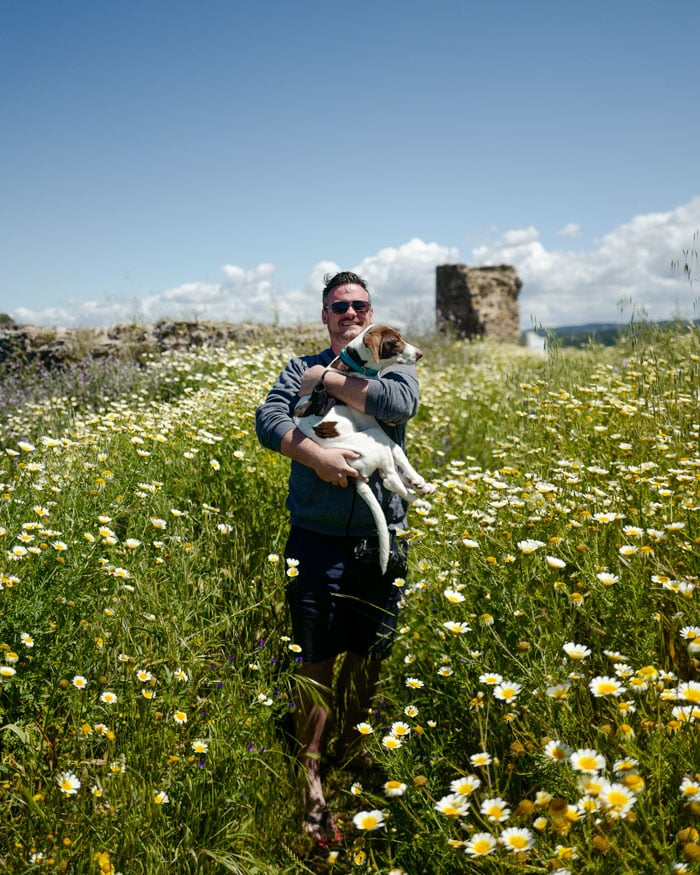 It's also an excellent place to come for those typical Algarve activities; surfing, topping up your tan and hiking. The Rota Vicentina compromises two multi-day hiking trails – one coastal and one inland – which traverse the boundaries of the Algarve and the Alentejo region. There are also plenty of shorter one-day routes you can take. If you don't fancy strapping on your boats, the gorgeous and secluded bays and beaches make for an ideal road trip.
There's also some idyllic accommodation along this stretch. While surf lodges feature heavily, you'll also find some ocean-view hostels and plenty of rural accommodation, such as this hidden-away reclaimed whitewashed village, which was once left to ruin, but recently saved by a co-op of individual investors.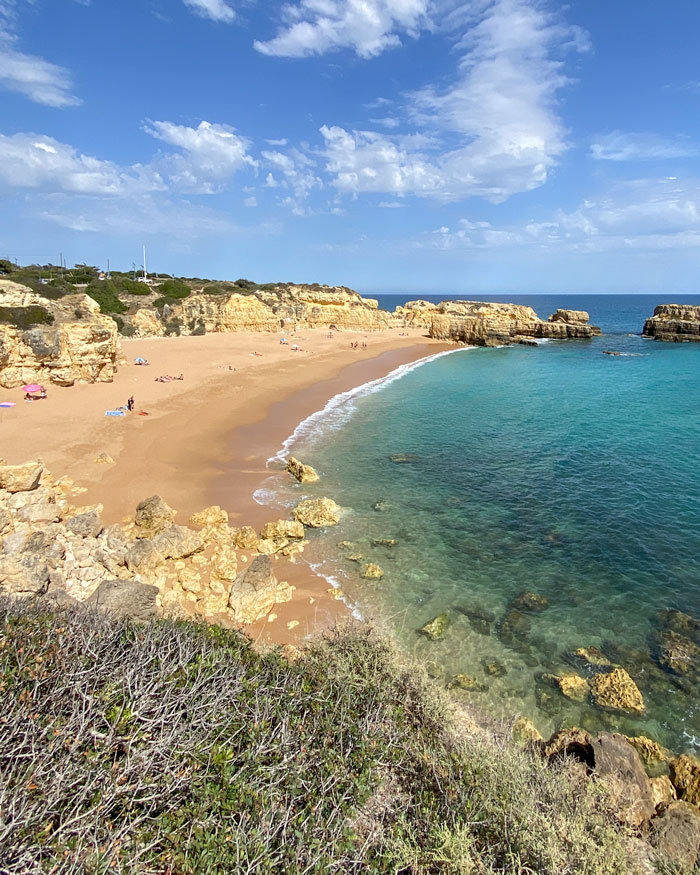 Albufeira
For a lively Old Town, late night antics and more awesome beaches
To be honest, I'm not a massive fan of Albufeira itself. While for many, this is the best place to visit in the Algarve – hence there being so many resorts in Albufeira – I find it a little too touristy and overdeveloped these days. It's hard to imagine it was once a fishing village.
That said, it's easy to see why so many people do love it – and Albufeira remains the 'tourism capital' of the region – so it's impossible to exclude it from this list. Primarily because many of the most popular things to do in the Algarve, such as day tours, boat trips, and beach days, can be easily accessed from here.
Most notable is the Old Town, where a slightly traditional theme remains. Back from the beach, friendly family-run tabernas are still operating, while a small archaeological museum provides a peek into the past. On the flip side, you have the Strip – a revelry-heavy run of late-night party joints – which has oddly made Albufeira a destination for both families and stag parties.
Still, Albufeira hasn't wholly been lost to tourism, and some of the Algarve's best beaches are found nearby, such as the vast and copper-cliff-backed Praia da Falésia and the picturesque bays around Praia dos Arrifes.
Some of the beaches along this rugged stretch of coast are only possible to access via water. If you want a more serene spot of sand, then there are some fantastic locally-operated SUP tours you can book to explore these bays and coves.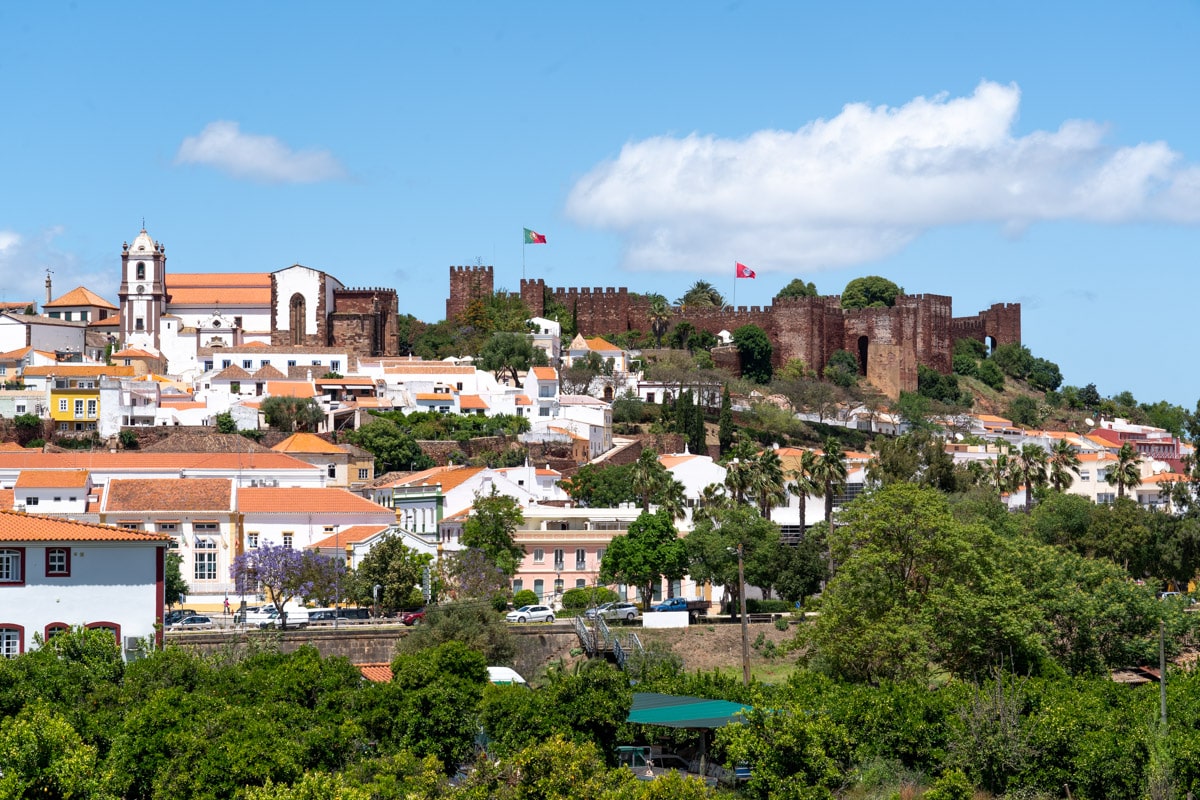 Silves
For the Algarve's most beautiful town and a postcard-perfect castle
Silves is where my love for the Algarve started, and now, nearly 30 years later, I still adore this slightly inland town. The cliche-ready village, Silves delivers quaint cobbled streets, whitewashed buildings with ochre roofs, and a castle crowning it all.
Some of the Algarve's most serene and enjoyable experiences are concentrated around the area, such as sailing along the river from Portimão to reach the town and enjoying wine direct from the source with a vineyard tasting (it's usually cheaper to book direct).
Silves is perhaps my favourite place to visit in the Algarve's interior, but sadly many visitors don't make it to the inland towns. So, it's the first inclusion on my list of Algarve hidden gems. Give it a read to discover more of the best things to do in the Algarve, such as hunting out waterfalls, staying in renovated whitewashed villages and palaces, and exploring the remains of Roman villas.
You can also find more Portugal travel guides and tips on my dedicated Portugal website – Guide2Portugal.com. Enjoy exploring this beautiful land I'm lucky enough to call home!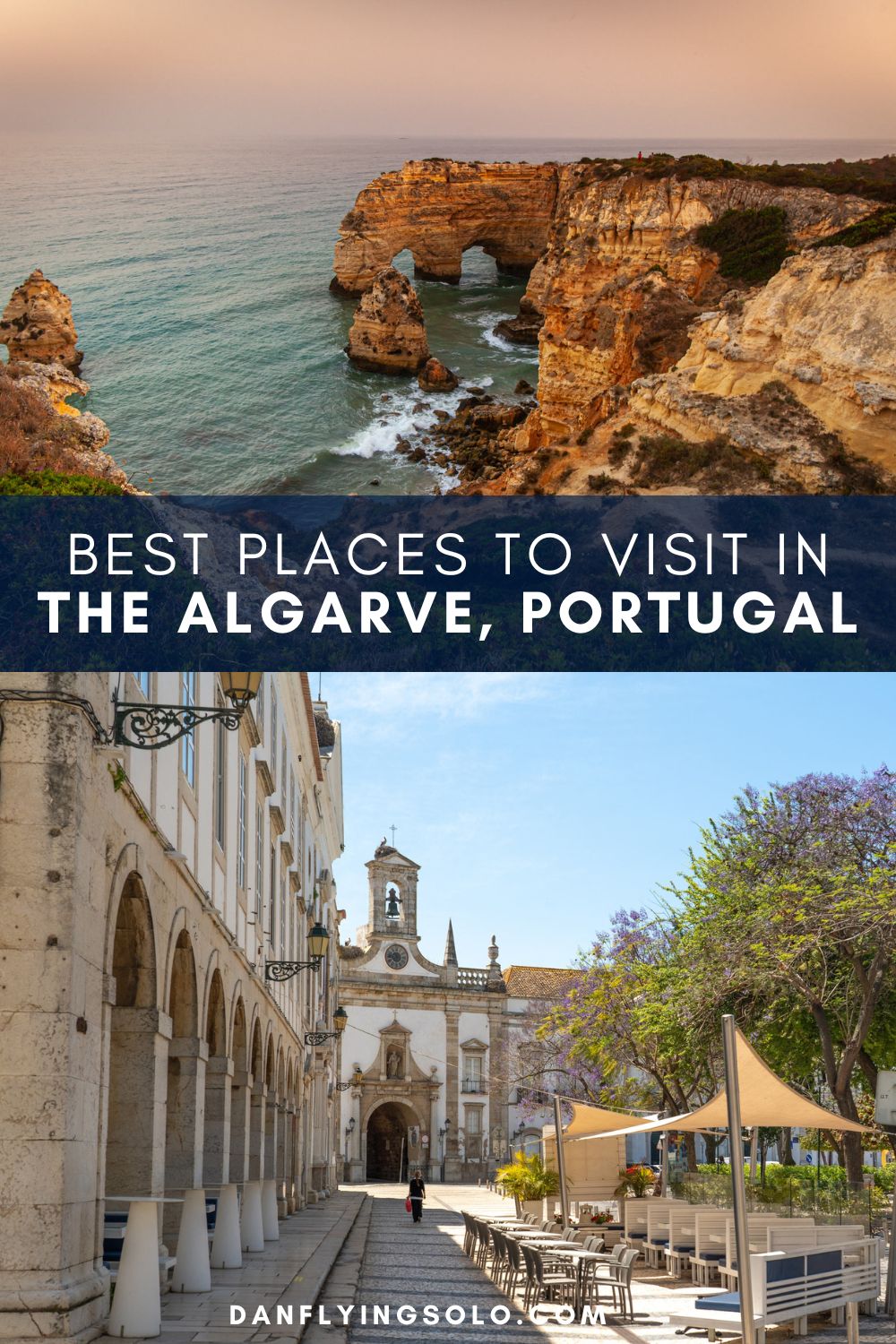 https://www.danflyingsolo.com/wp-content/uploads/2023/02/Seven-Hanging-Valleys-Trail-Algarve-Portugal-LRG.jpg
1365
2048
Daniel James Clarke
https://www.danflyingsolo.com/wp-content/uploads/2022/01/blogo-1w.png
Daniel James Clarke
2023-06-02 10:55:00
2023-09-19 21:29:30
Best Places To Visit in the Algarve: Things To Do and Top Attractions