Updated: 15th December 2015
This website uses affiliate links which may earn a commission for purchases made at no additional cost to you.
For sure, the fame of Paris draws the crowds and The Nice, Cannes combo have the beaches and fancy film festivals. But the northern part of this country, rich in history, architecture and the highest tides in Europe is the ideal place to take a weekend out and indulge in nature, cheese, wine and its own war ruined worthy sights.
Whether you head to Brittany or Normandy, you are truly spoilt for choice…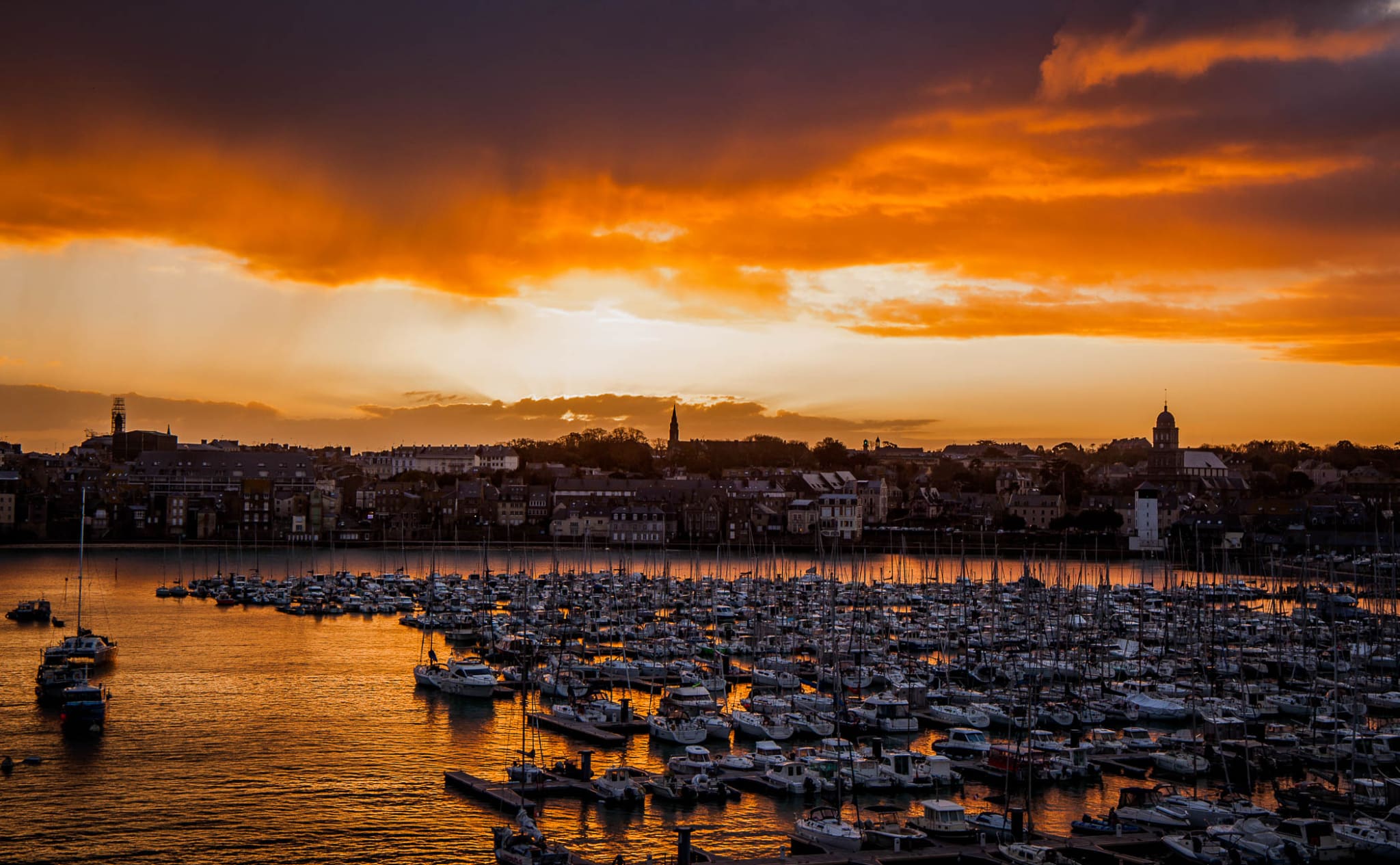 The sunrise which greeted me as I stepped onto deck of the Brittany Ferry crossing from Portsmouth was a sure sign of a good start. As fishermen directed their boats and we bobbed closer to harbour the cold crisp winter morning didn't seem so bad at all. The beauty of exploring Europe out of season is you usually get it to yourself. This trip was going to be no exception.
St Malo
St Malo has had a pretty eratic past, at one point declaring it self no longer part of France in the late 1500's. It suffered badly during World War 2, with much of the city being destroyed in American and British bombing and gun fire. Slowly, from 1948 it was re-built with love and is now is full of Crêpières, Ramparts and historic charm. Except, in Winter it took a while to get fired up.
The cobbled streets, the Fort, Ramparts and St Vincent Cathedral are the main attraction here, making it the ideal place to wander aimlessly and soak up the history. Dropping into one of the many little shops to warm up on route is mandatory. If you stumble upon Couleur Safran, settle on a petite table and indulge in one of the best Crêpe and Chocolat Chaud you will ever taste (And trust me, it is rare for me to recommend somewhere.)
Though there is a beach, sadly I saw none of it. The highest tides in Europe hit this coast and all I got was a ten foot wave bang in the face making the water way restaurants slightly less appealing. Back inside the lit walls at night the streets come alive. Famous for seafood and served up in typical French Brassiere style there are plenty of restaurants here to take your pick from. And, cheese. And, red wine, with more cheese.
Mont Saint Michel
Regularly coming in the top five visited attractions in France by some of its 82 million a year visitors, Mont St Michel during the summer must be sinking under the weight of all those visitors.
This Island was once a strategic fort, abbey and monastery with the poor living in small houses below. Later in its life turning into a prison, much of its insides now lay bare.
The grandeur of this castle looking land is as impressive by day or night as you take the long boardwalk towards it, highlighted even more so when monthly tides return it to an Island. Inside these walls hosts Museums, coffee shops, restaurants and crazy over priced souvenir shops. Needless to say, you are in tourist central here.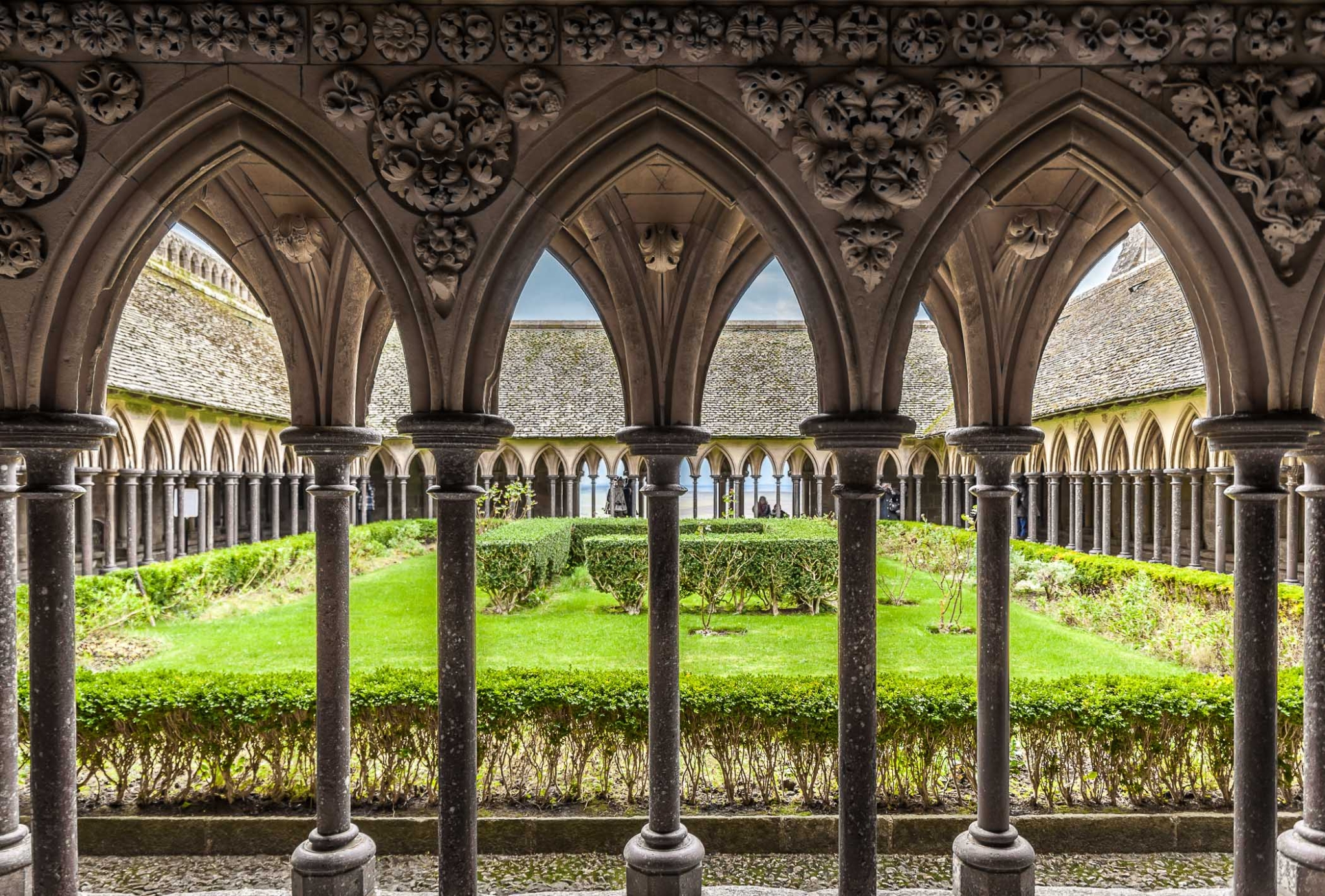 The 'Island' restaurants and bars can be explored for free, and access by a complimentary shuttle bus or on foot. The Abbey itself is open daily (Excluding 1st Jan, 25 Dec & 1st May). Adult rates €9.
Rennes
Rennes was one of those places I wanted to love, but, just couldn't. On paper, it should have been a winner: crooked houses, exposed beams, cobbled streets. It struck me as uncared for though in many parts, perhaps the punishment for visiting in the winter months.
That aside, the historic centre with its lined up colourful houses and slightly rocking design are as quaint as the postcards would have you believe. I am still not sure however how it won 'the most livable city in France' back in 2012, perhaps It needs more than a day trip…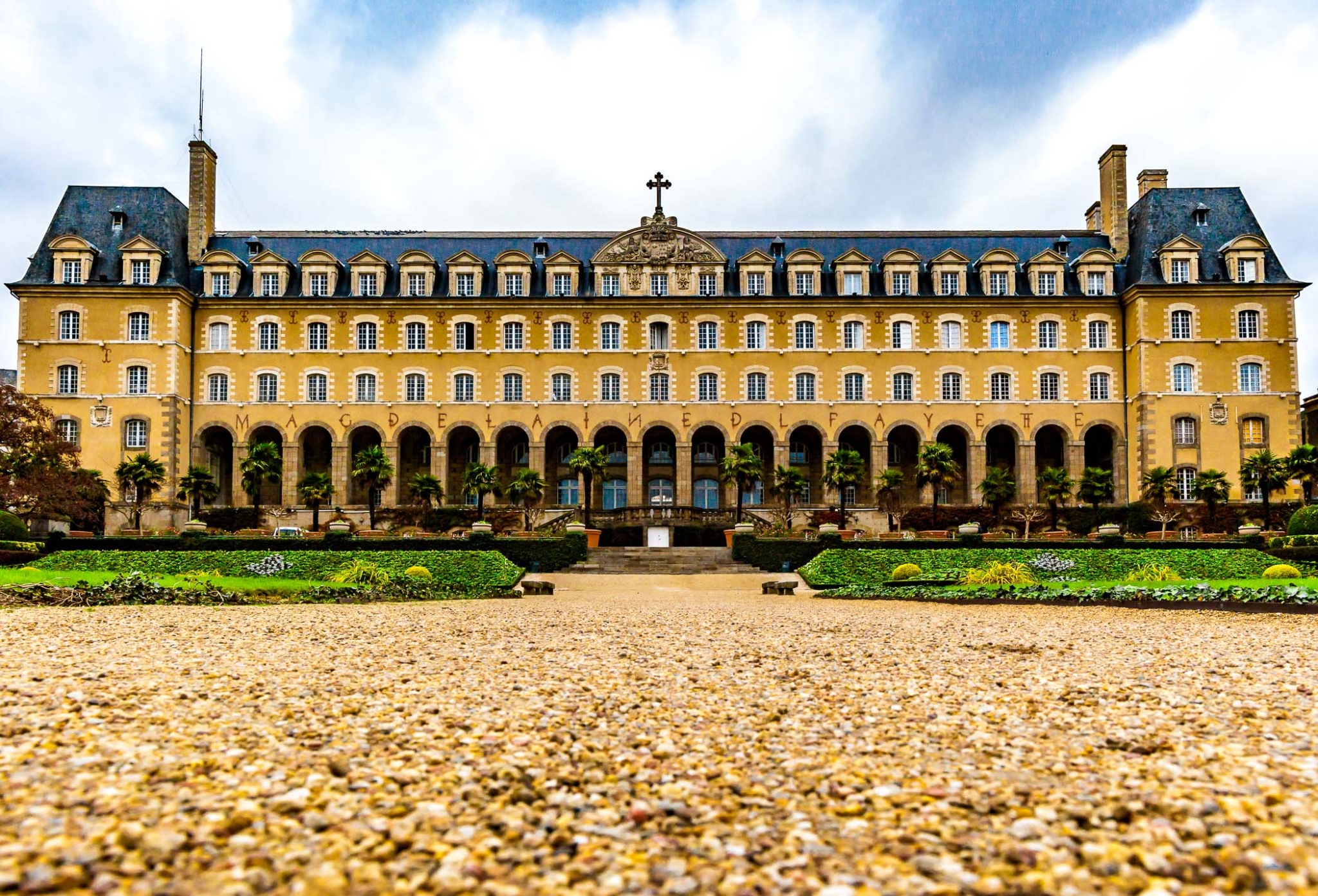 Beyond the houses that look ready to tumble there are large green parks to wander, the previously powerful parliament of Brittany and to be honest, I ducked out after that.
Caen
As night set and the train pulled into Caen there were a mere few hours left to wander this city. I did however know that this was one place I came for the architecture.
The final resting place of William the Conqueror, Caen bore brunt to much of the fighting during the Battle of Normandy with its most popular tourist sight now being a memorial to this.
The Abbaye aux Hommes and Abbaye aux Dames are both grand and intricate in their design and at night stole the show. Sadly, being late in the day I wasn't able to get inside. It was one of those places that struck a chord however and is already booked to be explored further in January.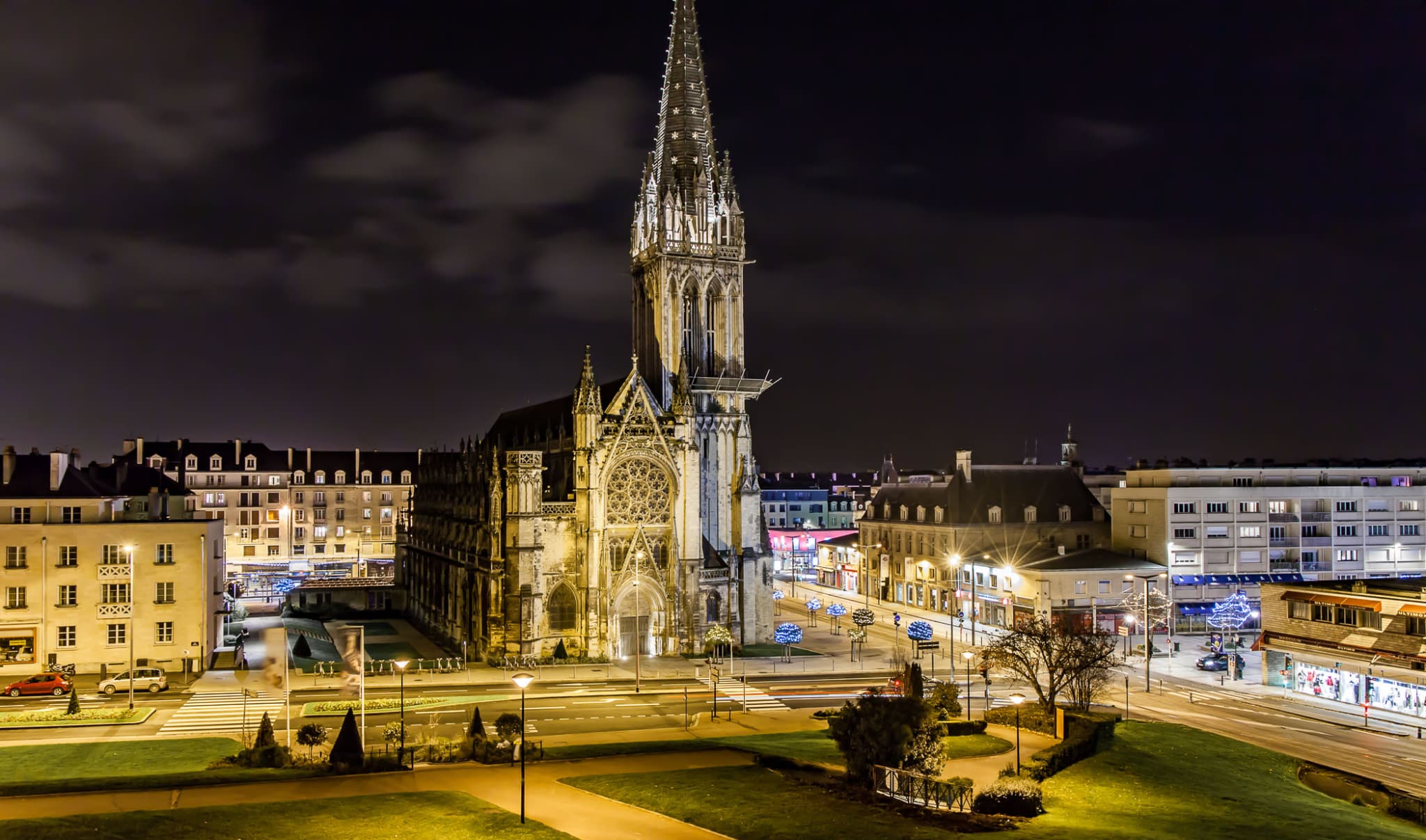 Sainte Etienne le Vieux, opposite the abbey is the ruins of a church destroyed during the war and is one of those killer deserted and overgrown photography spots that is first on my list to checkout next month.
Getting There with Brittany Ferries
I was mighty impressed with the connections and convenience that Brittany Ferries offered (check out my review here)
For sure, the winner about travelling by ferry is the ability to bring your car which makes exploring these parts a lot easier.
With multiple daily and nightly sailings on many routes, coupled with day trips currently on offer from £24 return it can work out cheaper than flying without the hassle of the airports. Check out the Brittany Ferries website for more information on routes and timetables which include sailings from Caen, St Malo, Cherbourg and Le Havre in France to UK Ports, Portsmouth and Poole.
You can also access the north of France from Paris by train in just a couple of hours.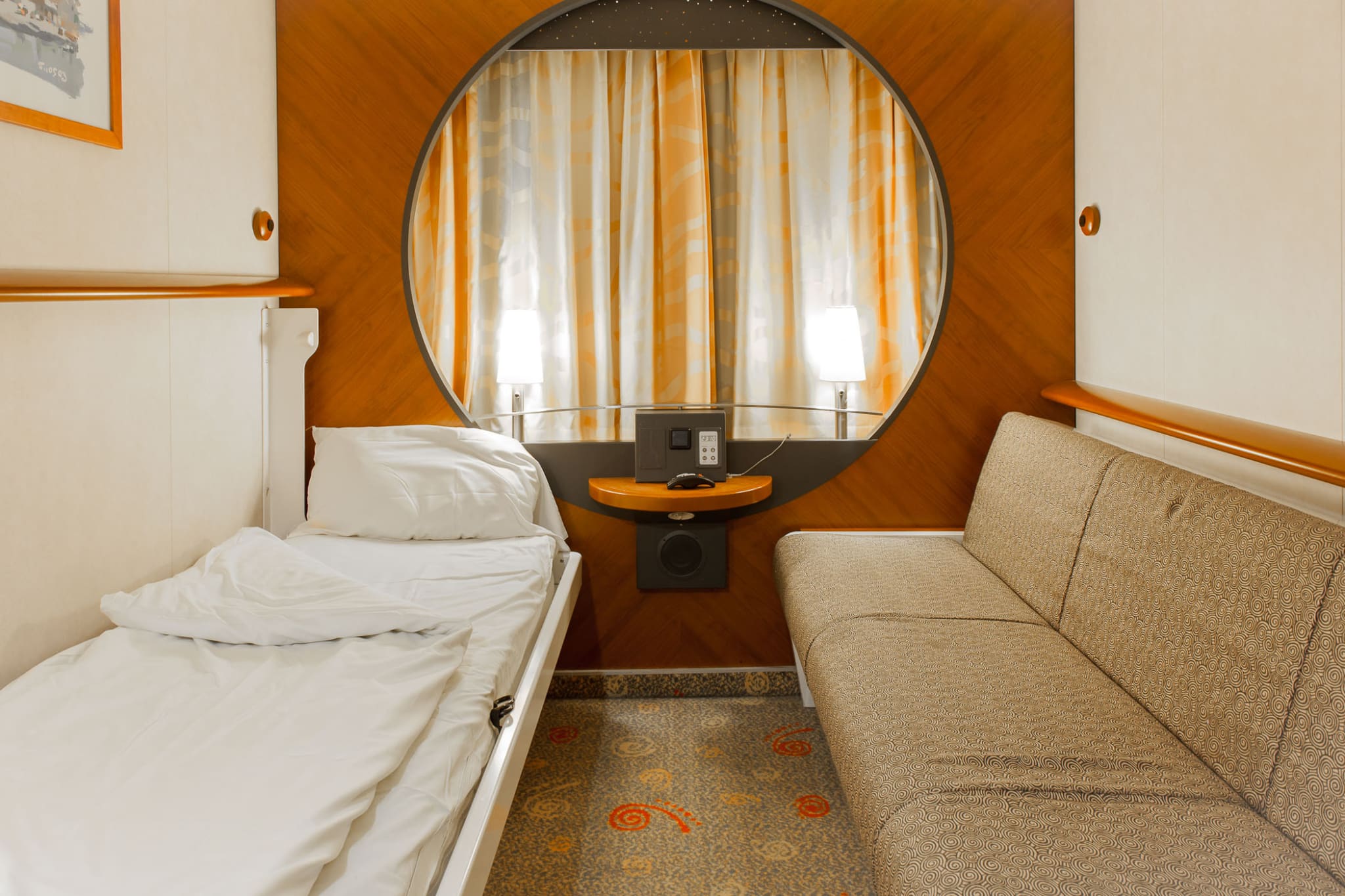 Getting Around
If you are visiting by Ferry then bringing your own car is the ideal option, allowing you the chance to explore parts of the countryside public transport does not reach to and it will certainly save you some time. If you want to hire a car on arrival then plenty of companies are available, double check they have offices both at your port of arrival and departure to return the car (In particular Caen, which is a little out of town).
However, if you have made it to 28 and racked up 4 failed driving tests like me then fear not… Even in the depths of Winter (limited) public transport is still running alongside the fantastic French railways. Check out the links below for the latest timetables, paying attention to seasonal changes:
French Railways | Mont St Michel Shuttle | St Malo Buses | All Normandy Bus Operators | All Brittany Bus Operators
Where to Stay
I checked into Hotel Chateau Colombier, about a 10 minute drive out of St Malo. As with most of France, accommodation is certainly not cheap in these parts so I took it as a chance to splash out on something a bit unique.
Set in its own gardens and a history dating back to 1715 it is well-known in the local area for also having a first class restaurant. Personally, I am a big fan of supporting smaller hotels over big chains and hunting down something that stands out from the crowd. Based on that, this is a great option though there are plenty of historic and unusual hotels across the region.
What to add on
The beauty of Northern France means that a weekend might not be enough to see everything on one trip. The quaint and historic town of Dinan in Brittany and the famous home of that tapestry, Bayeux in Normandy are just two of those places I would have visited if time had been on side. Luckily, I am heading back next month to Caen to tick them off.
To book your France – UK crossing head to the Brittany Ferries website or give them a call on 0330 159 7000.
Where else would you suggest visiting on to a trip through this beautiful region of France?
https://www.danflyingsolo.com/wp-content/uploads/2015/12/FranceBack.jpg
1073
2048
Daniel James (Dan Flying Solo)
https://www.danflyingsolo.com/wp-content/uploads/2017/07/blogo-1-300x68.png
Daniel James (Dan Flying Solo)
2015-12-15 22:00:56
2021-03-19 20:02:44
A weekend in Northern France with Brittany Ferries