A Bellarine Peninsula weekend road trip
This website uses affiliate links which may earn a commission at no additional cost to you. As an Amazon Associate I earn from qualifying purchases.
Updated: 18th June 2017
Between the laneways of Melbourne and the famous Great Ocean Road sits a slightly secret gem on the Victoria coastline of Australia. The Bellarine Peninsula has been a regular weekend getaway for those from the city wanting some surf, the sun, and snazzy breweries. International tourists though are starting to wise up to spending a few days on the Bellarine Peninsula after cruising along one of Aussies best coastal drives.
Although the region is ideal for a boozy getaway thanks to the numerous Bellarine Peninsula wineries and craft beer houses, there is plenty more on offer. Between the surf, cute cafes, historic towns and water activities this small region packs a punch no matter how you like to spend your vacation.
The Basics:
How to get to the Bellarine Peninsula? Getting to the Bellarine Peninsula couldn't be easier. With Avalon Aiport only 20 minutes away and direct trains taking just over an hour from Melbourne you can be in the gateway city of Geelong in no time at all.
If you are planning to combine the Bellarine Peninsula with the Great Ocean Road, or in fact just want to be able to explore easily and keep your costs down, there is nothing more Aussie than renting a camper for your road trip.
We tested out the Voyager from Britz Campervans, which has a handy office in North Melbourne a stones through from Tottenham station meaning you can skip the central traffic on the way out of the city. One of the best things about Britz is they often have some great special deals on, including no one-way fees and a price match guarantee.
Our Voyager model was brand new and with two double beds offered ample room for a whole family, let alone just the two of us. I'm not going to lie, I've never been convinced by the van life, but after realising just how large some campers are and how handy having everything with you is, it's safe to say I'm a convert.
How to explore? See above: Though there are taxis, some local buses and Uber available, if you want to make the most of say the Bellarine Taste Trail you need a vehicle to get around.
Where to stay on the Bellarine Peninsula: I can only really comment on camping as Big Bertha (who doesn't name their camper?) was home for the weekend.
If you want to be near Geelong then there is a nearby campsite just a couple of km's out of the city in Barwon River where we spent the first night to enjoy some of the craft beer breweries in Geelong – it's pretty basic but does the job.
If you want to be based right in the heart of the Bellarine Peninsula and have all the amenities whilst still being in a holiday park, Big4 Bellarine is an awesome option. I legit didn't ever think I would stay at a campsite with a cinema, heated indoor pool, indoor BBQ's and a gym but that's just some of what they have on offer here – and of course, the needed morning barista coffee.
When is the best time to visit? Summer is mental with throngs of people descending from Melbourne for some sun and beach time; Winter offers up a much slower place though some things will be closed and the weather can rule out any beach time. Personally, I would suggest the shoulder seasons to make the most out of the Bellarine Peninsula.
How much cash do you need? The great thing about the Bellarine Peninsula is it can cost as much or as little as you like. Want to BBQ at the campsite, catch awesome sunsets, surf in the morning and cycle bike tracks in the afternoon – you've got a dirt cheap weekend. If you want to splurge on lavish meals in Vineyards, take in Blues concerts on trains, hit up the Boutiques in Barwon Heads and check into the perfect B&B by the sea then pack a credit card – it's a real mixed bag suitable for anyone.
It's a #BestInTravel destination! Lonely Planet awarded the Bellarine Peninsula in its 2017 Best In Travel as one of their great value destinations. During my visit, I was sharing my trip on the Lonely Planet snap chat. If you want to see what I got up to before reading the full post then check out the clip below.
A Bellarine Peninsula Weekend Road Trip Itinerary…
The great thing about the Bellarine Peninsula is how close together everything is in this relatively small region. If you only have two days to explore then you can easily condense this itinerary into a faster pace. Likewise, looping back to Melbourne or continuing on the Great Ocean Road can both be done with ease. I hope this four-day plan gives you some inspiration for your own Bellarine Peninsula weekend.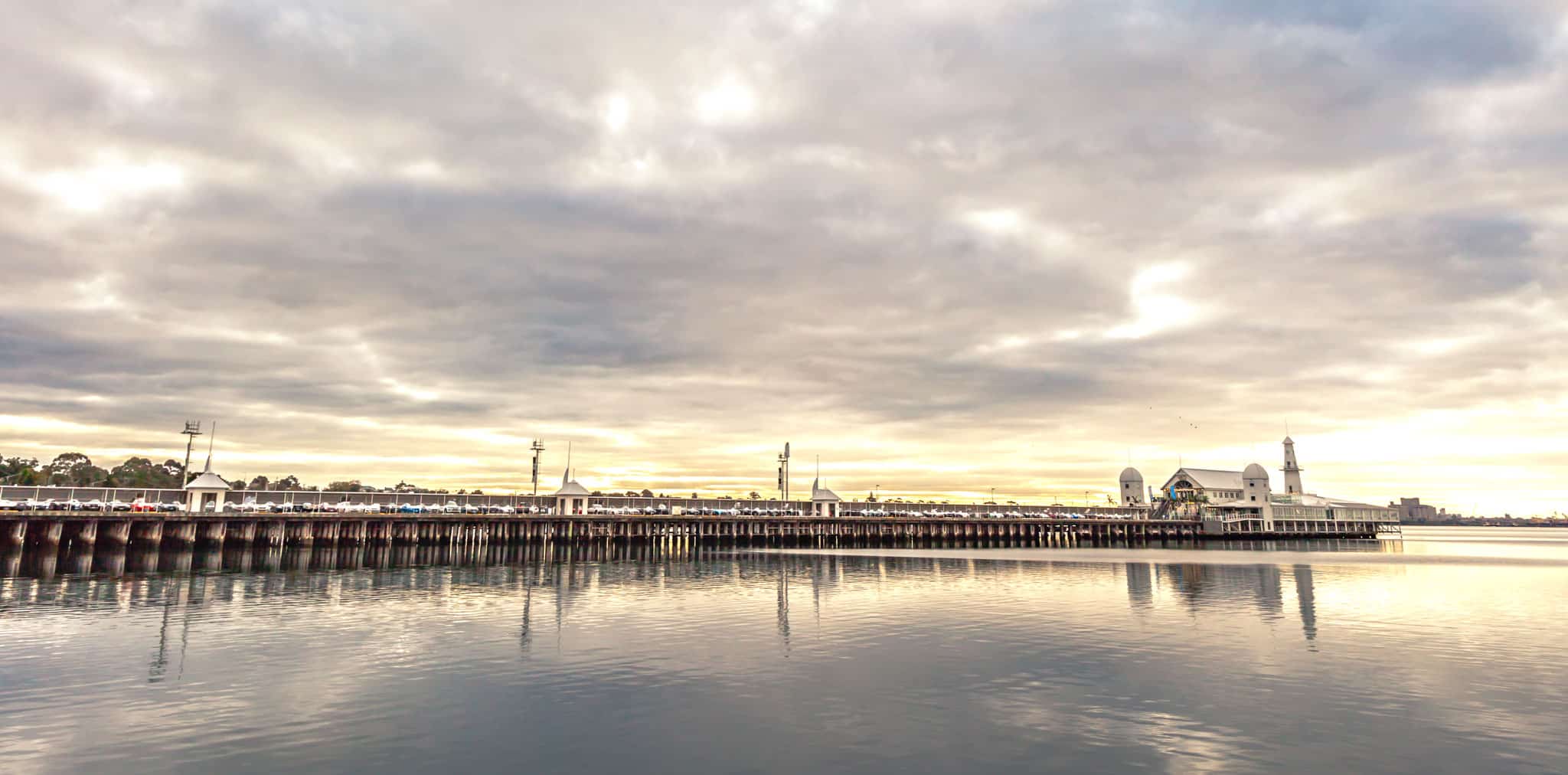 Day One: Melbourne to Geelong
After picking up our camper we jumped straight on the motorway from Melbourne, heading south towards Geelong, the gateway city to the Bellarine Peninsula. Being a Brit, the first thing that struck me was how much Geelong reminded me of home.
With its traditional pier and 19th-century carousel, it was very like many of the cute seaside towns I had spent my school holidays as a kid. While the waterfront with its pool, pier and Bollard trail marking the coastal walk makes for a fine way to spend a sunny day, there is a growing foodie scene in this city that used to be famous for its wool exports.
Things not to miss in Geelong:
Make sure to sample some craft beer from Little Creatures Brewery and White Rabbit; both sat next to each other just outside the city itself. You can enjoy a brewery tour and discover how these small batch brews are made or simply take a seat and taste your way through the offerings with some expert commentary from one of the friendly beer-loving staff.
The Bollard trail, which consists of over 100 bollards marking the coastal walkway all have a unique decoration and take you through gardens, past the pier and along the ocean which is a quick introduction to the city.
Little Malop Street is aiming to bring the laneway game from the capital to Geelong. With street art, live music, boutique shops, and packed restaurants (Like your spicy chicken? Try the 'Evil Chicken' at Hot Chicken Project) this little area is slowly expanding and getting a name for itself.
The Narana Aboriginal Culture Center is ideal for anyone who wants to learn more about the history of the land and the local people, only a ten-minute drive from the city I highly recommended you spend at least part of your time in Australia discovering it's culturally rich and diverse history.
Day Two: The Bellarine Taste Trail
Calling all foodies, this one is for you!
The Bellarine Peninsula has developed a map dedicated entirely to the local, regional produce around the area. Pick up a copy of the Bellarine Taste Trail from the info centre and plan for a day of stuffing yourself in the name of research!
Managing to visit everything on the map is no easy task but whether you are into seafood or Sauvignon, cheese or craft beer – this map has you covered.
If you want the postcard perfect winery experience where you can glance back at Melbourne through the vines before settling into a $5 wine tasting, then Jack rabbit vineyard is a must visit. For those who prefer their booze with apples then Flying Brick Cider Co is the go to place. Not only can you taste unique blends of cider here such as chilli and ginger, but the interestingly shaped restaurant and brewery offer the chance to see how those granny smiths get turned into delicious cider on a tour.
For those who prefer to focus on the food then swing by Drysdale cheeses to taste some melt in the mouth goats cheese and meet the cute little fellas, or head towards Portarlington for their outstanding Mussel catch. You've got 40+ options on the map alone so be prepared to settle into a food coma as sunset comes around.
Want to know even more about the Bellarine Taste Trail? Here's my guide to all the boozing I did down at the Bellarine Peninsula wineries.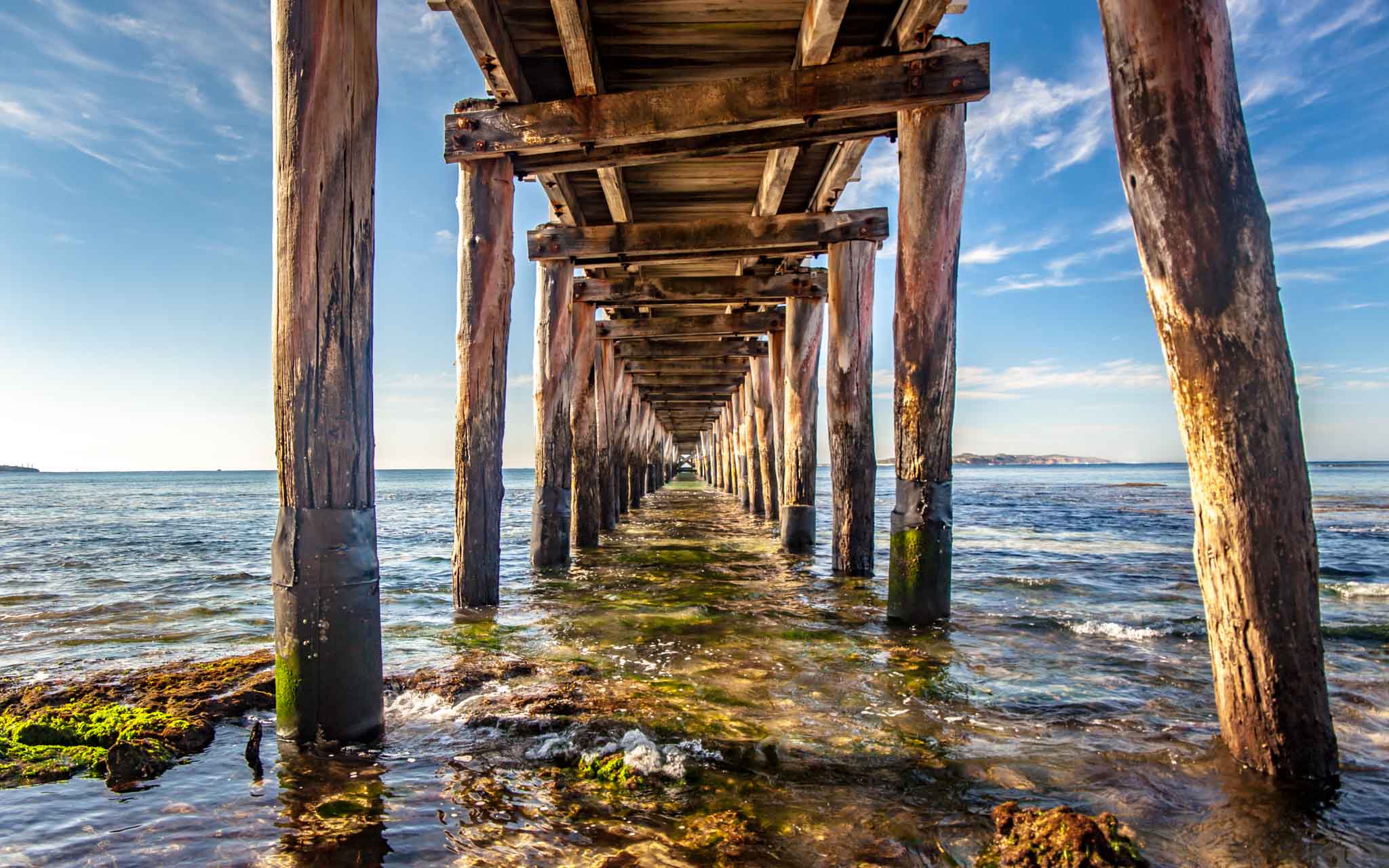 Day Three: Exploring the Bellarine Peninsula
With nothing being more than 30 minutes drive on the Bellarine Peninsula you could easily do a tour of all the small, historic towns around the region in one day. Alternatively, pick out the ones which interest you the most and build your itinerary around the activities.
Ever stayed in a holiday park with a cinema room?!
The Big4 Bellarine resort is ideally located in the middle of the Bellarine Peninsula and offers camper, tent and cabin accommodation. With heated pool, a gym, zip wires and a whole host of kids activities it's an ideal base for exploring the region. Book here.
Things not to miss in Portarlington:
I have to admit that Portarlington, often described as a cute traditional town wasn't my favourite, but the main reason to visit is the working pier which is famous for fresh mussels. You can taste them at Little Mussel Cafe to enjoy the freshest of the catch.
Port Phillip ferries also run from Portarlington run from here which provide another connection into Melbourne if you want to skip the highway on your way back.
Things not to miss in Queenscliff
Queenscliff has a cool vibe to it and offers a mix of old and new from it's traditional housing to the modern marina. Down at the Marina, you can take the ferry connection over to the Mornington Harbour or jump on a sightseeing boat to hopefully watch Dolphins playing in the Bellarine Peninsula.
There are also plenty of art galleries, museums, and historic buildings to take in here either on your own steam or by joining a local history tour of the area. Queenscliff fort, still a current army base, also offers tours to see the lighthouse, canons and barracks.
The Queenscliff railway station is a slice of history in itself, and although the line is not running regularly now, they do have an impressive Blues train which I was gutted to miss visiting on the wrong dates. Think dinner, wine, dancing and blues playing as a historic carriage takes you along the beautiful coast of the Bellarine Peninsula.
Queenscliff Brewhouse also deserves mention for its on-site micro brewery, great food, and cosy fireplace setting – a chilled spot to end an evening.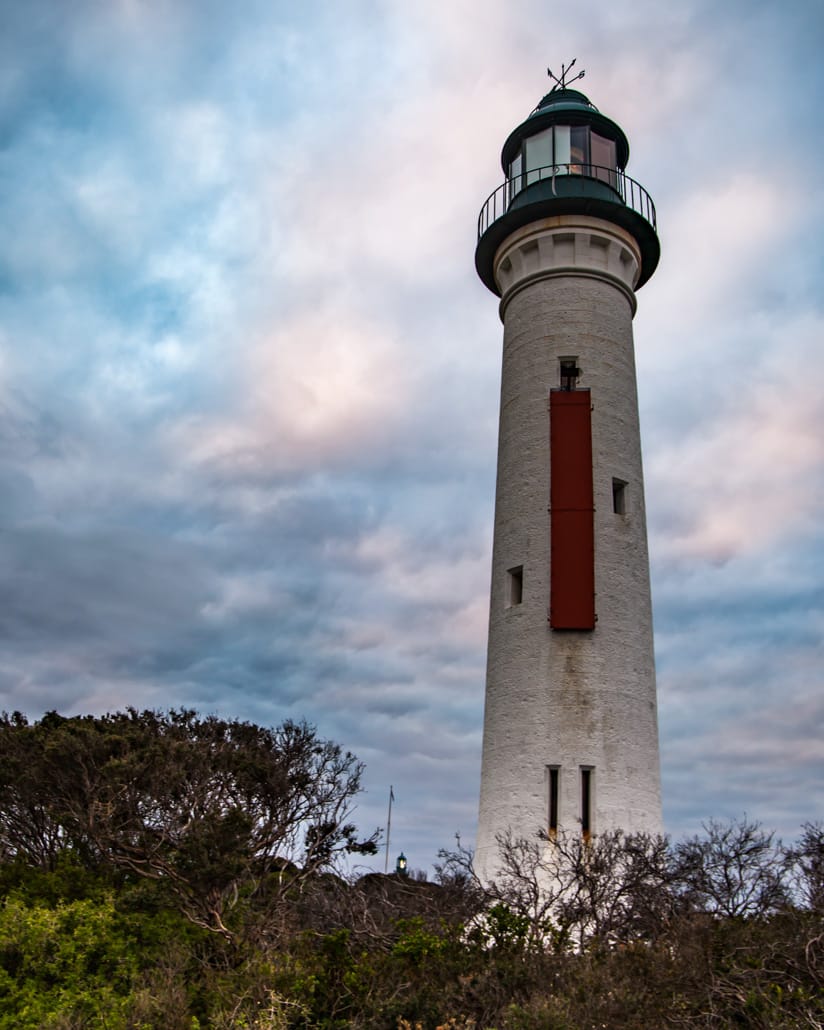 Things not to miss in Point Lonsdale:
My favourite stop on the Bellarine Peninsula was Point Lonsdale. This small township is tiny, but it's one of the most picturesque spots to explore on the Bellarine coast.
I've got to give a shout out to Cafe Amore which serves not only fantastic coffee and brunch but also had the best muffin I have ever eaten in my life – it was bigger than a babies head!
This historic spot is all about the beach. If the tide is on your side, you can walk along rock pools and impressive cliffs before arriving at the pier and admiring the clear waters beneath. The nearby lighthouse also offers tours which contain a brief overview of the local history.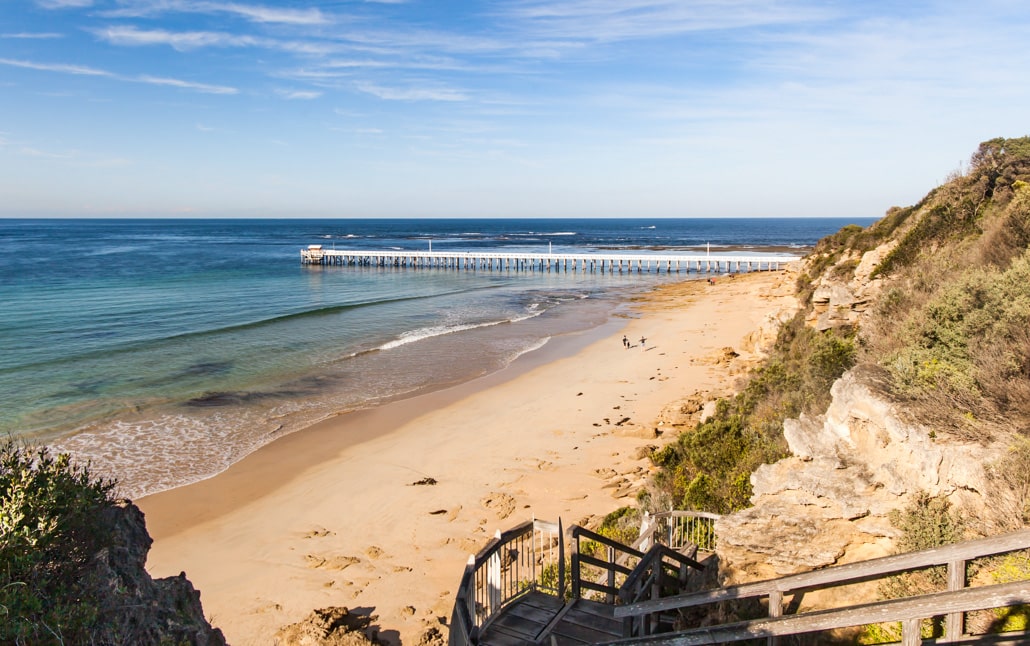 Things not to miss in Barwon Heads & Ocean Grove:
If you are into Golf, then you have two courses to choose from in the local area. For those who prefer their activities on the water, make use of Paddle Lifes hire facilities to head out Kayaking or for some SUP.
Feeling a little more adventurous and like splashing the cash? Barwon Heads Airport offers scenic flights over the Peninsula or even onto the 12 Apostles. Want to jump out of a plane? Also possible!
With Jirrahlinga Koala & Wildlife Sanctuary and Barwon Heads Marine life Sanctuary based here, you also have ample opportunity to make the most of the wildlife that Australia is so famous for while enjoying your Bellarine Peninsula weekend.
If you just want to take it easy, then both Barwon Heads small high street and Ocean Grove is full of little boutiques and tasty cafes to while away the day.
Day Four: Activites and onward
If you haven't managed to get your activity fill in, then start day four by taking in one of the dolphin cruises, cycle tracks or heading out on a Kayak trip as listed above – if you are ready to put your foot down and continue the adventure you have two options.
What is the best way to explore Australia? Get on a roadie!
I'm a big convert to the 'van life' after living in my awesome Britz Voyager, affectionately named Big Bertha. If you're looking for the best camper-van quality in Australia, these guys are a sure fire bet!GET A CAMPER QUOTE
On to the Great Ocean Road
The famous Great Ocean Road starts just beyond the Bellarine Peninsula and Torquay, with the 12 Apostles and Cape Otway National Park being doable as a day trip from the Bellarine you might decide not to continue to Adelaide, but if you do then this is the perfect starting off point.
…or back to Melbourne
If the times come to head back to city life, then you are no more than a 90-minute drive back to the city. Though, you might as well get on that Great Ocean road, right?
…or more stops on the Bellarine Taste Trail
White Rabbit Brewery
Kick off the weekend in Geelong, the central city of the region and gateway to the Bellarine Peninsula wineries. Melbourne is famous for its craft beer scene and this city just over an hour south holds its own.
The White Rabbit Brewery is just outside the city centre and with its small shop, and cosy fireplace is an excellent ease into your Bellarine visit. The main attraction though (other than the drinking) is learning how to make craft beer. Within this old wool mill, another thing the region is famous for producing, sits an uber cool microbrewery. Once you've seen it in action, find a space at the bar and work your way through the different beers on tap.
Little Creatures Brewery
Even if the Bellarine Peninsula wineries are not your thing (you crazy fool) you are in luck, just next door to White Rabbit is the Instagram-worthy and trendy Little Creatures brewery.
Originating in Western Australia and listed in the new Lonely Planet global beer guide, this newer microbrewery offers tours of its small, but perfectly pouring brewery. It doesn't just look good though; it tastes even better. With a bar stocking its consistent range as well as the breweries seasonal pours, you can settle into the lantern lit open space, or the colourful beer garden and taste your way through the eight to ten different beers on tap.
Hot chicken project
If you head to Little Malop Street in Geelong, you'll find a creative new hub in the city. These laneways with their street art, funky bars, and on-trend restaurants are fast being redeveloped to get a slice of the slick Melbourne booze and food scene.
One of the most famous and well-known joints in town is Hot Chicken Project which serves up chicken in any form, American basket style, and with five different shades of hotness. The 'Evil Chicken' offers the most mouth burning option, although be warned it takes a few bites before you know what you are in for. While the Bellarine Peninsula wineries are one of the most famous exports of the region, Geelong looks keen to keep developing itself into a foodie hub.
What is the best way to explore Australia? Get on a roadie!
I'm a big convert to the 'van life' after living in my awesome Britz Voyager, affectionately named Big Bertha. If you're looking for the best camper-van quality in Australia these guys are a sure fire bet!
Bellarine Peninsula Wineries must visit: Jack Rabbit Vineyard
With impressive views across the bay to Melbourne and surrounded by nature and vines, Jack Rabbit Vineyard is one of the many Bellarine Peninsula wineries you can visit. What makes this one so special though, is the striking architecture of the building against the stunning backdrop of the region.
After taking a stroll through the vines and admiring the views, head back to the bar to sample the wines on offer. A tasting here only costs $5, and you can pick which wines you want to try. Chardonnay and Pinot Noir are two of the most famous produced in the Bellarine Peninsula wineries, but the lightly sparkling red and unique, semi-dessert wine like Audacia offer something a bit different. After working your way through the tasting notes grab a table in the restaurant or bar for some inspired food with a view.
Drysdale Cheese
Just down the road from Jack Rabbit is Drysdale cheese farm (check opening times in advance) where you can even take a class on how to make the good stuff from scratch.
Being a specialist in Goats cheese the little cuties are all onsite, so you can not only meet them but also get an excellent idea of how small farms work which can be fascinating, especially if you have kids in tow.
Ever stayed in a holiday park with a cinema room?!
The Big4 Bellarine resort is ideally located in the middle of the Bellarine Peninsula and offers camper, tent and cabin accommodation. With heated pool, a gym, zip wires and a whole host of kids activities it's an ideal base for exploring the region.BOOK YOUR CAMPSITE
Portarlington Mussels
One of the most famous products on the Bellarine Peninsula are the mussels of Portarlington. Even though this small town was my least favourite on the Bellarine, it's still worth a stop early to see the daily catch coming in from the busy and working pier. You don't have to go far to try the fresh local seafood as most restaurants in the Bellarine Peninsula are stocked up. The Little Mussel Cafe in Portarlington (Queenscliff Road) is one of the most popular places to try this local staple on the taste trail.
Flying Brick Cider
The good thing about a Bellarine Peninsula wineries weekend is that even if grapes aren't your go-to tipple, you are covered.
In Wallington, you'll find Flying Brick Cider, another family-run producer of great booze. These guys don't mess around and only make 100pc fruit cider meaning no artificial crap added to it. I was lucky enough to be in town for world cider day in June when these guys host their annual cider festival (yep, a cider festival!). The main building and surrounding lawns are taken over with bands, food stands and so many ciders – it's apple heaven.
If you're a cider nut like me, you are going to appreciate this place. They make their berry cider by adding real berries to the batch, and their unique spin with options such as ginger and chilli cider are so damn tasty. Make sure you allow time to take the short but interesting cider tour and then grab a seat on the lawn or at the bird themed contemporary designed restaurant to pair this apple goodness with some of their locally famous food.
Queenscliff Brewhouse
Quite easily my favourite pub in the whole of Australia. With a fireplace in the middle of the bar room, pool table and beer tasting notes plastering the wall it's a great spot to settle into for an evening in this historic town.
Queenscliff Brewhouse has over 100 different craft beers, and although their main brewery is off site, they are currently installing a micro-brewery at the back of the dining room, so you see the production methods and taste the small batch beers as made in the Bellarine Peninsula. Work your way the sometimes stupidly high brews while enjoying one of the local produce platters – these guys even bring the Bellarine Taste Trail to you on a plate.
https://www.danflyingsolo.com/wp-content/uploads/2017/06/Bellarine-Peninsula-Weekend.jpg
1152
2048
Daniel James Clarke
https://www.danflyingsolo.com/wp-content/uploads/2022/01/blogo-1w.png
Daniel James Clarke
2017-06-18 15:22:16
2023-01-28 17:05:48
A Bellarine Peninsula weekend road trip