Best Places to Visit in Mauritius: Attractions, Nature & Beaches
This website uses affiliate links which may earn a commission at no additional cost to you. As an Amazon Associate I earn from qualifying purchases.
Updated: 28th January 2022
Tumbling waterfalls shrouded by lush rainforest, volcanic crater lakes adorned with kaleidoscopic Hindu statues, and verdant tea plantations ideal for tranquil kayaking are perhaps not the first scenes that spring to mind when you imagine this idyllic island nation. They are, however, just a few of the best places to visit in Mauritius beyond the cyan waters and silky soft white sands.
Often touted as a dream honeymoon destination, thanks to the plethora of luxury resorts and seemingly endless beaches, many overlook the other offers of one of the world's best islands to visit.
While, for some, the irresistible cocktails crafted with local rum and warm, welcoming Indian Ocean waters are enough of a draw, there are plenty more reasons to visit Mauritius. Here are some of the best places (in my opinion) to explore and experience, whether you want to devour delicious dishes, discover the culture, or dig into some adventure-fuelled activities.
Grand Bassin (Ganga Talao)
Sitting some 500 metres above sea level and set amongst the verdant mountainous southwest, the volcanic crater lake of Ganga Talao is one of the best places to visit in Mauritius both for the beautiful wild setting and to dig a little deeper into the island's predominant religion, Hinduism.
Start your visit with a stroll around the serene lake, often with animated monkeys keeping an eager eye, before admiring the temple, small shrines and statues of influential Hindu gods.
During the significant pilgrimage, around February or March, for the Maha Shivaratri Festival, hundreds of thousands of worshipers flock to the lake.
Make it happen: If you have a car, it's an easy drive to the Grand Bassin. During February and March, when the pilgrimage takes place, hundreds of thousands of people visit the site, so worth keeping in mind. There are various tours of the island's southwest if you are without a car, like this one, which includes time at the lake.
Le Morne Brabant
Situated on the island's southwestern tip, the hypnotising magnificence of Le Morne Brabant is more than deserving of its UNESCO-listed status.
Flanked by fine white sandy shores and tranquil waters that glimmer in shades of cerulean and cyan, it's a must-visit destination in Mauritius. If you have ever seen an image of the underwater 'waterfall' illusion, then you'll recognise the basaltic monolith towering in the background.
Rising to a height of 556 metres and creating one of the most imposing backdrops for a beach day in the world, you'll struggle to find a more impressive place to capture your holiday snaps on the island.
The mountain, for many, is a symbol and reminder of the island's enslaved peoples' fight for freedom, for it was in these isolated cliffs and wooded areas that many escaped to, forming small settlements. Spend some time learning about the Maroon Republic during your time on the island.
Make it happen: Depending on how you wish to experience the Peninsula, you can either drive or take a transfer to the beaches. If, however, you want to summit the peak, especially at sunrise, it'll be best to book a tour with a local guide.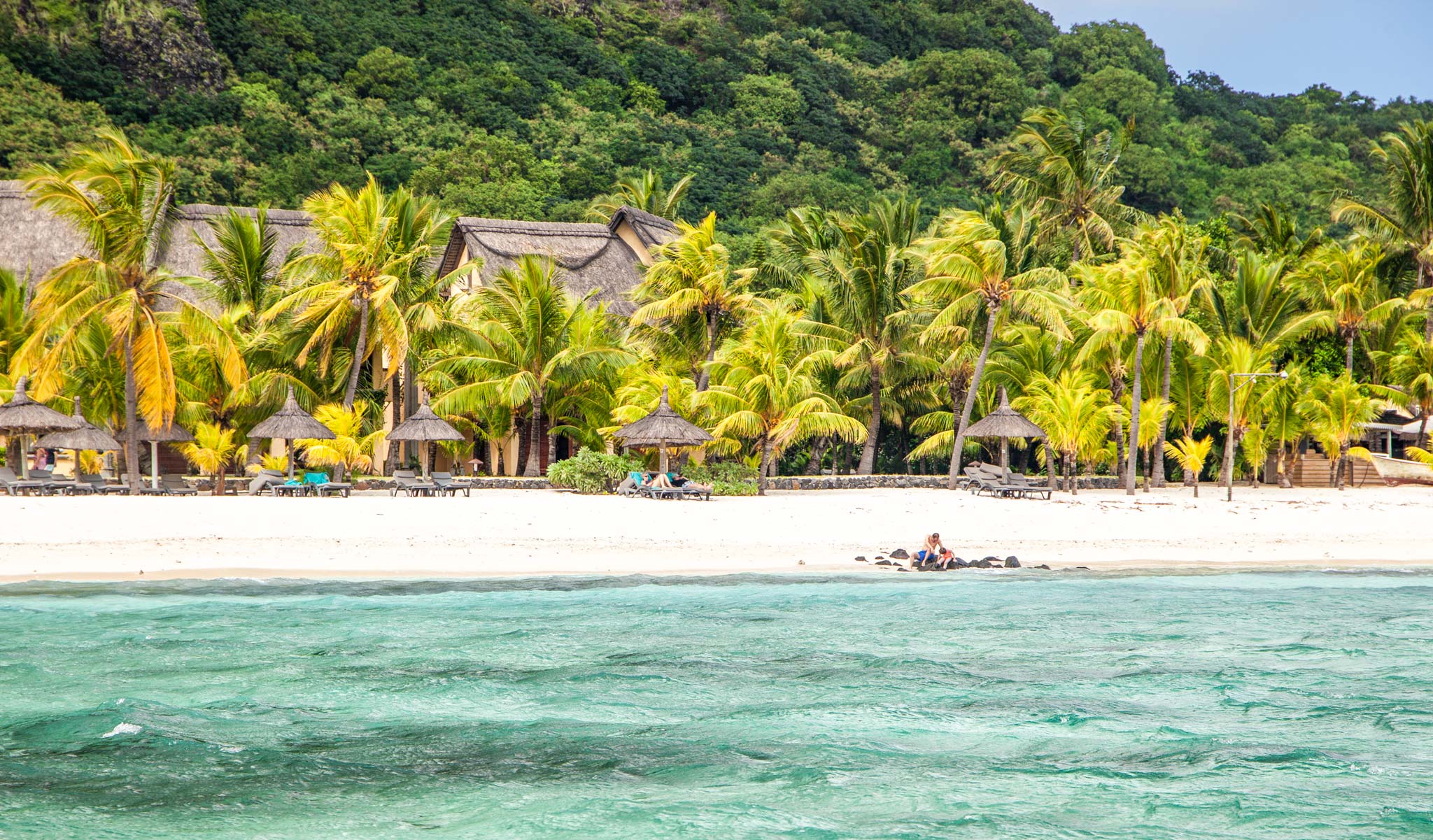 Ile Aux Aigrettes
Just a brief boat ride from the mainland, the islet of Ile Aux Aigrettes is one of many isles and boat excursion tour options to consider. What makes this a must-visit place for wildlife enthusiasts in Mauritius is the focus on scientific research within the nature reserve.
Following some significant restoration work, it's a paradise within a paradise, where you can witness giant tortoises roaming free (often found in pens, for protection, elsewhere on the island), the intriguing Pink Pigeon, and an extensive array of indigenous fauna and flora.
Make it happen: There are various tours and operators running trips to the Islands.
Bois Cheri Tea Factory
The largest tea producer on the island, Bois Cheri, is a delightful environment and promises much more than a decent cuppa.
Take a tour of the grounds, where row upon row of manicured tea plants guide you down to a blissful lake ideal for kayaking, before taking a tour of the factory. Witness the tea in all stages of the process, from drying to packaging, before enjoying a flavoursome tasting. The vanilla tea is one not to miss.
Verdant and lush, the setting cries out for much more than just sampling the infusions, though. Devour a gastronomic treat in the attached restaurant to the backdrop of the rolling hills of Mauritius and playful deer. For a unique overnight adventure, you can book a stay in the small bubble lodge with a transparent domed roof ideal for stargazing – complete with the promise of the perfect morning cup of chai!
Make it happen: The factory is open for visitors Monday – Saturday, from 9:00 – 17:00, and the roads are good for driving access. Some of the tours of the south coast include stops here.
Port Louis & Market
Be sure to leave time for some urban exploring during your stay, and of course, the capital city of Port Louis is the best place in Mauritius to do so.
The compact capital offers a great insight into day-to-day life on the island, particularly for those who have opted to stay in a resort. Le Caudan Waterfront is excellent for walking, with colourful umbrellas hanging above shopping passages and an abundance of bars and restaurants to rest at along the water.
One of the finest ways to experience and savour the flavours of the city is at the central market. The hive of activity is found on the ground floor, stocked with multicoloured fruit, veg, tea and snacks from the provinces, while local fabrics and goods are located upstairs. Often called the national dish of Mauritius, Dholl Puri is a must-try, specifically from the small vendors on the street outside. These flatbreads, stuffed with smashed split peas, are mouthwatering when topped up with a spicy chilli paste – though if your tastebuds can't handle hot food with a kick, go easy!
Make it happen: As the capital city, it's easy to get to – including by local bus. The earlier you go to the market, the better, which is open from around 5:00 to 16:00, except on Sunday, when it closes earlier.
Pamplemousses Botanical Garden
Formally called Sir Seewoosagur Ramgoolam Botanical Garden, yet more typically referred to as Pamplemousses Botanical Garden, botanists and amateurs will be drawn in by the fine array of flora.
The oldest botanical garden in the southern hemisphere, dating back some 300 years, is only a short drive from Port Louis yet feels a world away as you trade in the atmosphere of the markets for a peaceful walk through towering palms and delicate flowerbeds.
The pool of giant water-lilies (Victoria Amazonica) is quite the sight, and their protection is paramount due to facing extension. Allow yourself at least an hour to explore the gardens, yet with 90 acres and over 600 plants, many indigenous, you could well find yourself here for a long time.
Make it happen: Open from 8:30 – 17:30 daily, the gardens are less than a 15-minute drive or taxi from Port Louis.
Grand Baie
The most popular destination for tourists to Mauritius, and with good reason, Grand Baie isn't going to take you off the beaten path, but it serves up everything one could want for a water-based day out.
Water sports lovers will find their day quickly filled here, with sailing, windsurfing, SUP, and countless boat excursions – including scuba diving – available along this section of the coast.
With plenty of shops, restaurants, and nightlife until the early hours, even if you aren't staying close by, chances are you'll find yourself passing through Grand Baie at some point during your Mauritius holiday.
Make it happen: A popular destination with many hotels nearby; chances are you may be close by – especially if you stay at the incredible Beachcombers resort as I did, an absolute dream of a hotel!
Rochester Falls
One of my favourite moments in Mauritius was the morning we spent splashing around the cold waters of Rochester Falls. There was just our group there until shortly after when a coconut seller joined us, his wrinkled handles expertly hacking open the green balls of goodness for us.
To access these relatively small falls, we ploughed our four-wheel-drive along rough mud tracks, shrouded in towering sugar cane so close we could reach from the windows and stroke it. On arrival, it was a slippy muddy climb down to the waterfalls, but the site of the falls and chilly awakening of the waters was more than reward enough for the effort.
Of course, there are many waterfalls dotted across the island, some easier to access than others, but for me, and perhaps it was the memory of that sweet coconut water as my feet cooled in the pool that made this one of my best places to visit in Mauritius.
Make it happen: You'll need a bit of adventure, and perhaps a 4WD, to explore the dense vegetation out this way, but it is well worth it! Consider booking a quad bike tour to access the falls and experience another side of Mauritius.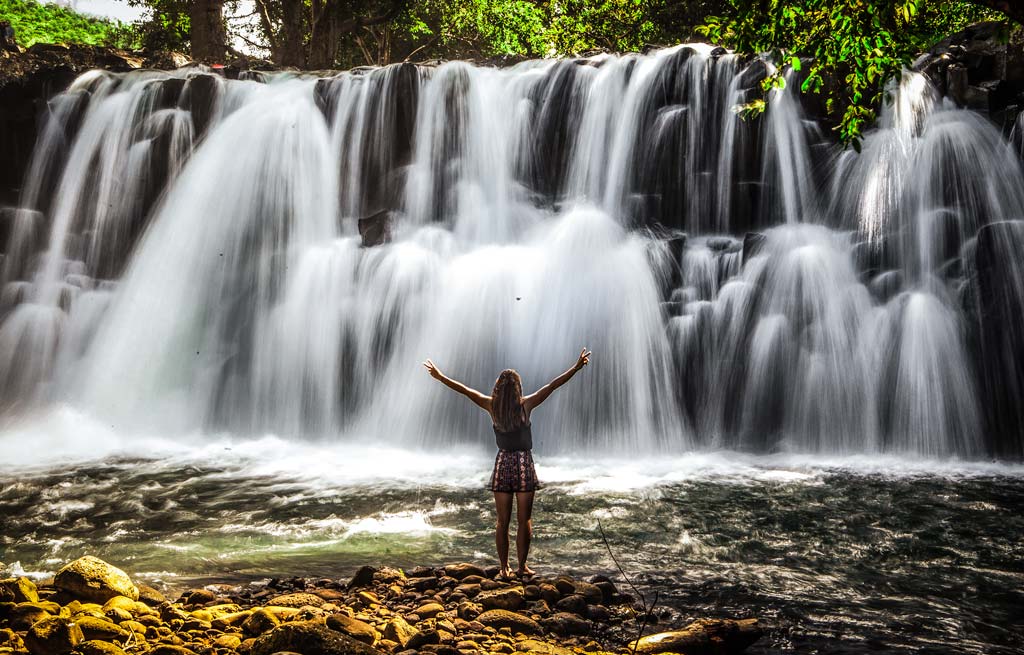 Black River Gorges National Park
In the hilly south of Mauritius, the Black River Gorges National Park, the largest protected forest in the nation, provides ample opportunity to strap on your hiking boots and get lost entirely in leafy, dense nature. The landscapes are sublime, with the rolling hills meeting rainforest just as magical as the lapping waves on heavenly sands.
For many, the main draw is to witness the impressive Alexandra waterfall tumbling 150 metres down into the lush greenery below. However, with hundreds of species of plants, monkeys, delightful bird-watching options, and challenging hiking trails to tackle, you could easily and happily spend a day, or longer, discovering the national park.
Make it happen: There are many different ways to explore and experience the national park depending on your interests, but consider taking an eco-tour with a guide to get stuck in.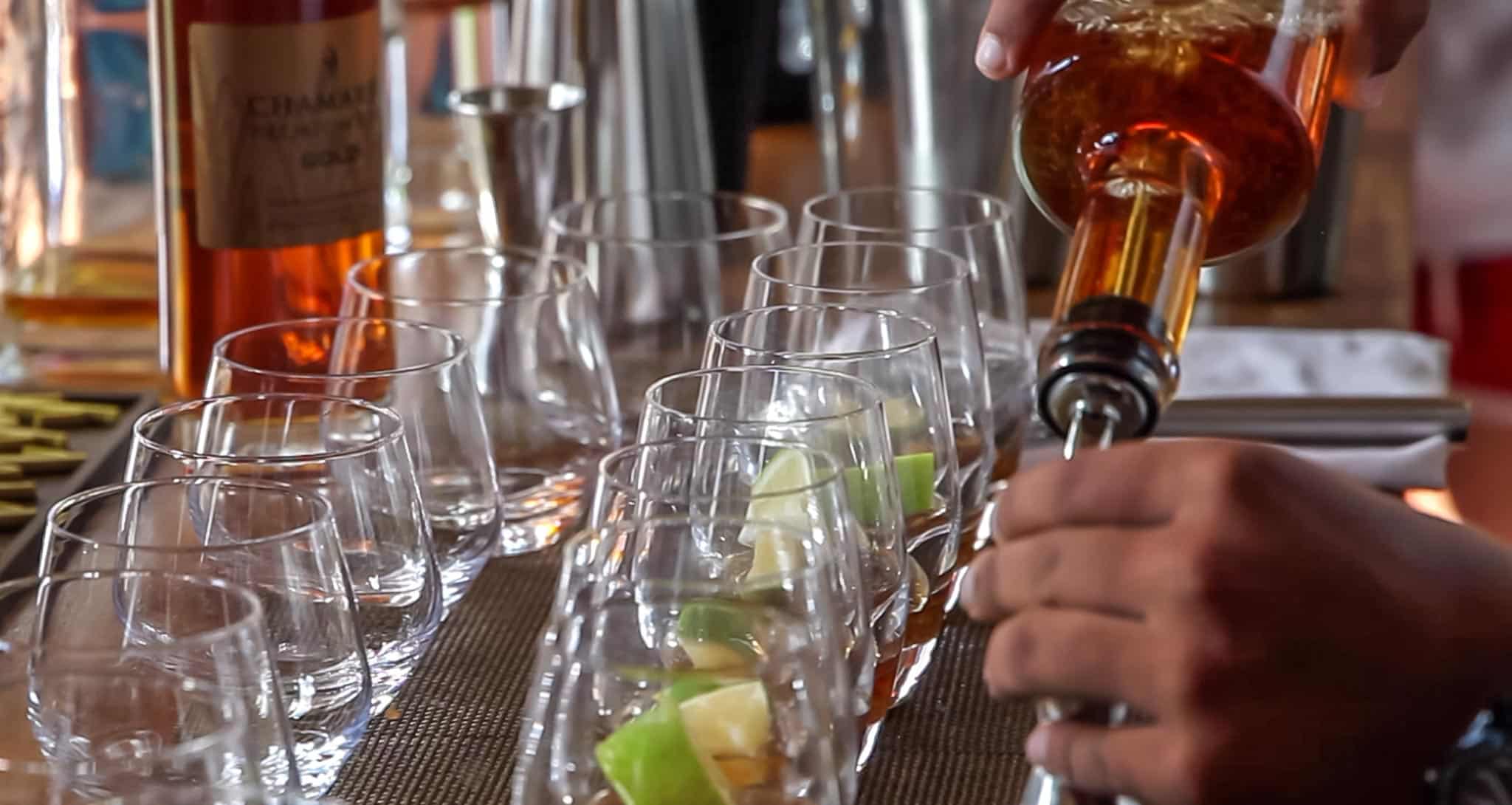 Chamarel Rhumerie
With sugar cane across the island, it should come as no surprise that one of the best places to visit in Mauritius is a rum distillery.
At Chamarel Rhumierie, you can expect a slick tour and tasting experience on the southwest coast – from the extensive grounds to the production rooms and the all-important tasting room, where cocktails are shaken and straight pours served. Perhaps, take a taxi for this one!
Make it happen: You can visit Monday – Saturday, between 9:00 – 16:00, and the tour with tasting is less than €15.
Of course, there are plenty more amazing places to visit in Mauritius – Tamarind & Chamarel Falls, Ile Aux Cerfs, and countless other beaches – discover more reasons to visit Mauritius here.
https://www.danflyingsolo.com/wp-content/uploads/2022/01/Mauritius-best-places.jpg
1152
2048
Daniel James Clarke
https://www.danflyingsolo.com/wp-content/uploads/2022/01/blogo-1w.png
Daniel James Clarke
2022-01-28 10:44:03
2023-09-21 13:41:50
Best Places to Visit in Mauritius: Attractions, Nature & Beaches