Photos of Paradise: Raja Ampat
Updated: 23rd January 2015
This website uses affiliate links which may earn a commission for purchases made at no additional cost to you.
Welcome to paradise. Yes, really…
A collection of Indonesian Island's off the coast of Papua. When you touch down in Sorong airport after two flights from Bali seven hours later (Yes, the same country) you know you still have one hell of a boat ride to follow.
Or, four hours in Papua's immigration department (See: Here). This is one place however where it is all about the destination and nothing about the journey…
As far as 'backpacking' goes this is pretty off the radar. In fact, it is in the arse end of nowhere. You can't really afford it on a backpacker's daily limit, though its the remoteness that builds up the costs: find our how to do Raja Ampat on a budget.
The days of it being exclusively for luxury live-aboard and dive fanatics, however, are behind us. Which in my opinion is a blessing? The pure paradise lifestyle of limited electricity, no phone signal and Tuna for breakfast, lunch and dinner have put many off.
I have shown so many people the photos to cries of we must visit only for them to cancel the plans once they hear the reality. But should you want to get lost in the middle of nowhere, not be able to get to a shop in a week and cut off your Facebook connection then you will be rewarded like no other. Plus, the diving, hell, even the snorkelling off the house reef. It's another level!
Sorong: The gateway to Paradise. A city with limited bright lights and even more limited tourism skills. The scent of the days catch haunt the port, beetle nut is spat at the floor around you, people come and go offering you quail eggs and dried Mango. It feels like the past. Embrace it for it won't be long until you take the cheapest ferry of your life to true Paradise. Located in Papua, Sorong is a fishing and market town. You feel like you have left Indonesia. The only tell tale signs being the same flags flying.
The limited transport is a blessing, for it means once you arrive at the hub of this islands 'activity' and await your boat transfer a sunset like no other will be warming up in the wings ready to serenade you. Boat's shimmer along the glistening sea in front whilst birds glide effortlessly above occasionally skimming the water. It is almost like this sun has been waiting a life time to put on a performance.
You are in the front seat, a private show shared with few others. Oh, maybe a few Dolphins might gatecrash the party.
As darkness sets and you settle into a 'luxury' cabin shared only with the odd rat you can truly let go. Phone signal was something from another lifetime, anything you didn't buy on the mainland is two hours away. The staple diet of rice and today's catch becomes part of who you are and you are rewarded with a beautiful starlit sky and a tropical lightning storm on Islands around you to dine under.
This is Kri Island. Though no matter which island on this beautiful archipelago you end up on, the rewards are sure to be the same. You can try to understand the beauty of this place from the few Raja Ampat travel guides that dot the internet, but nothing will prepare you for its breathtaking landscapes.
I always thought showers were over rated, so the lack of a 24/7 hot water option here is another godsend. Bleary eyed and without coffee the stumble from the door to the crystal waters provides the most idyllic wake-up call.
Only a few feet to your private ocean swimming pool. Diving into warm, movie like clear waters to bathe away the night amongst reef sharks and turtles you can't help but ask: Who the hell needs an alarm clock?
It might be Tuna again for breakfast but by now, that's no concern. You have admitted you are in Paradise and are ready for whatever it throws at you. It might be sleeping on a palm tree over the ocean, taking the dive of your life or simply sipping on a warm beer (fridges are as overrated as showers here) as you hang out in a hammock and get absorbed by a novel.
If you are doing anything less than diving, you are missing a trick. Cape Kri – officially declared as the most varied marine dive site in the world lies at your doorstep. Take a dive, clip in and watch Bumpheads, Turtles, Barracuda, schools of fish and anything else your Biology lesson taught you about glide effortlessly along side you. Even when the air runs out and the surface beckons the dream in your mind lives on.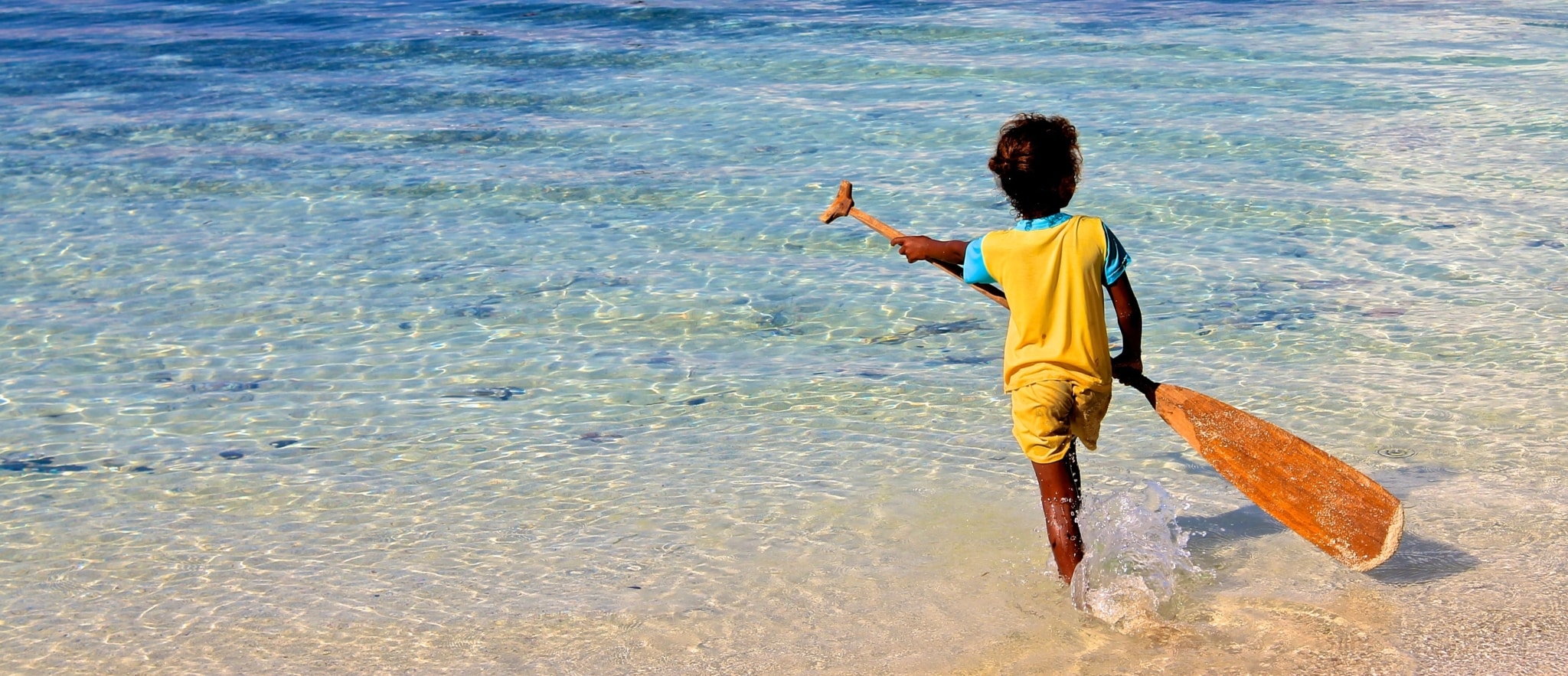 Perhaps a day trip is on your agenda? If you want to find a store then a day should cut it. The incredible colourful Arborek Island is only a few hours away from where you can find not one, but two shops and stock up on those treats you have been missing so much such as Cold Water and Soap.
A little further on and you can enjoy one of the famed view points of Raja Ampat. Wayag is the famous winner but our journey to the Fam Island lookout was a worthy second place (that's if you can really call that view the second place)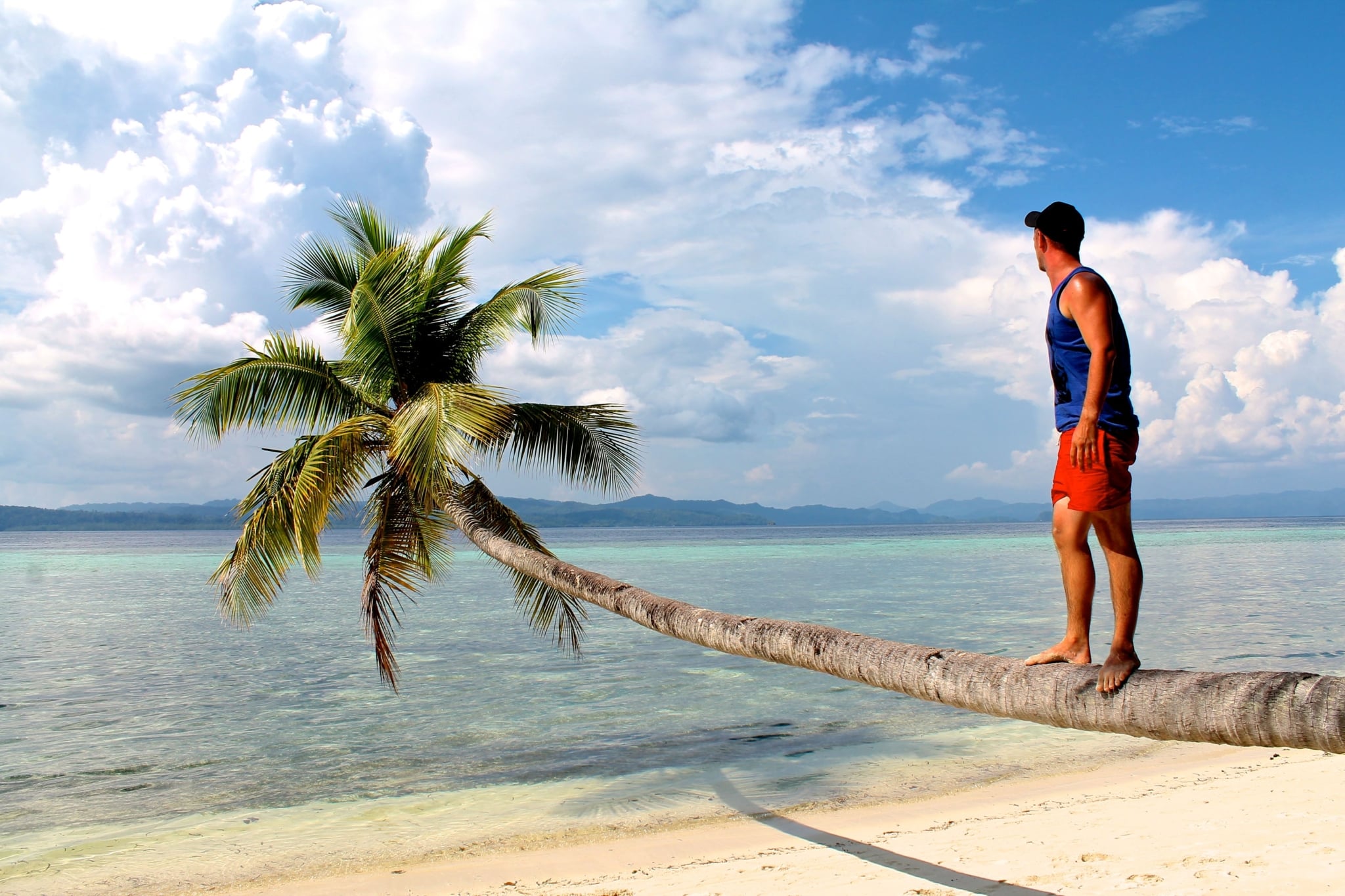 More diving follows, more tuna is served up, more hours spent in a day living in true nature until Facebook, Twitter and the digital style we live in seems so insignificant you ponder how the modern world really gets its kicks. Hammocks turn into beds, strangers turn into friends, stray dogs turn into pets.
Hours turn to Days.
And then it's gone. Suddenly you have to remember the day of the week again and look at a watch. It's time to go home. But as I very rarely say, I'll be back.
I just pray paradise remains as untouched as it is now.
We stayed on the beautiful Island of Kri, want to know how to travel to Raja Ampat on a Budget?
https://www.danflyingsolo.com/wp-content/uploads/2015/06/IMG_0348.jpg
1365
2048
Daniel James (Dan Flying Solo)
https://www.danflyingsolo.com/wp-content/uploads/2022/01/blogo-1-1030x189.png
Daniel James (Dan Flying Solo)
2015-01-23 10:40:44
2022-01-30 20:48:18
Photos of Paradise: Raja Ampat