Ten weekend break destinations in France that aren't Paris
This website uses affiliate links which may earn a commission at no additional cost to you. As an Amazon Associate I earn from qualifying purchases.
Updated: 20th August 2019
Is it any wonder France is the most touristed country in the world? Well, yes, actually; for me anyway. On my first visit to Paris, I failed to see its charm. In fact, it wasn't until my third time in the city of love that I truly understood how special Paris is. Thankfully, in the meantime, I'd discovered plenty of other fantastic destinations in France to fall in love with.
From the famed coastline running through Nice to the blessed Bordeaux wines and medieval castle towns; France offers a grand platter of possible vacation destinations beyond Paris.
I guess what I'm trying to say is, don't just head to the capital on your trip to France as many do while trying to hit up as many iconic sights in Europe on their journey. But stay awhile. Settle into the carefree life of excellent wines and even better cuisine and see the country beyond the Eiffel Tower.
Here are ten places in France to get you started, each offering a different flavour of France.
1. Combine Mont Saint-Michel, Caen and Bayeux
The castle on an island; Mont Saint-Michel, one of Northern Frances most famous attractions, and for very good reason.
If you time your visit right with the tides, the road leading out to the Abbey will be completely submerged, which is quite the sight to see. It's a great day trip to wander around the inside of the walls and discover the old halls, gardens and shops and restaurants.
For a France city-break though, I'd recommend basing yourself in Caen, where you can access both Mont St Michel, and Bayeux from, of course, best known for the tapestry but well worth a stroll around.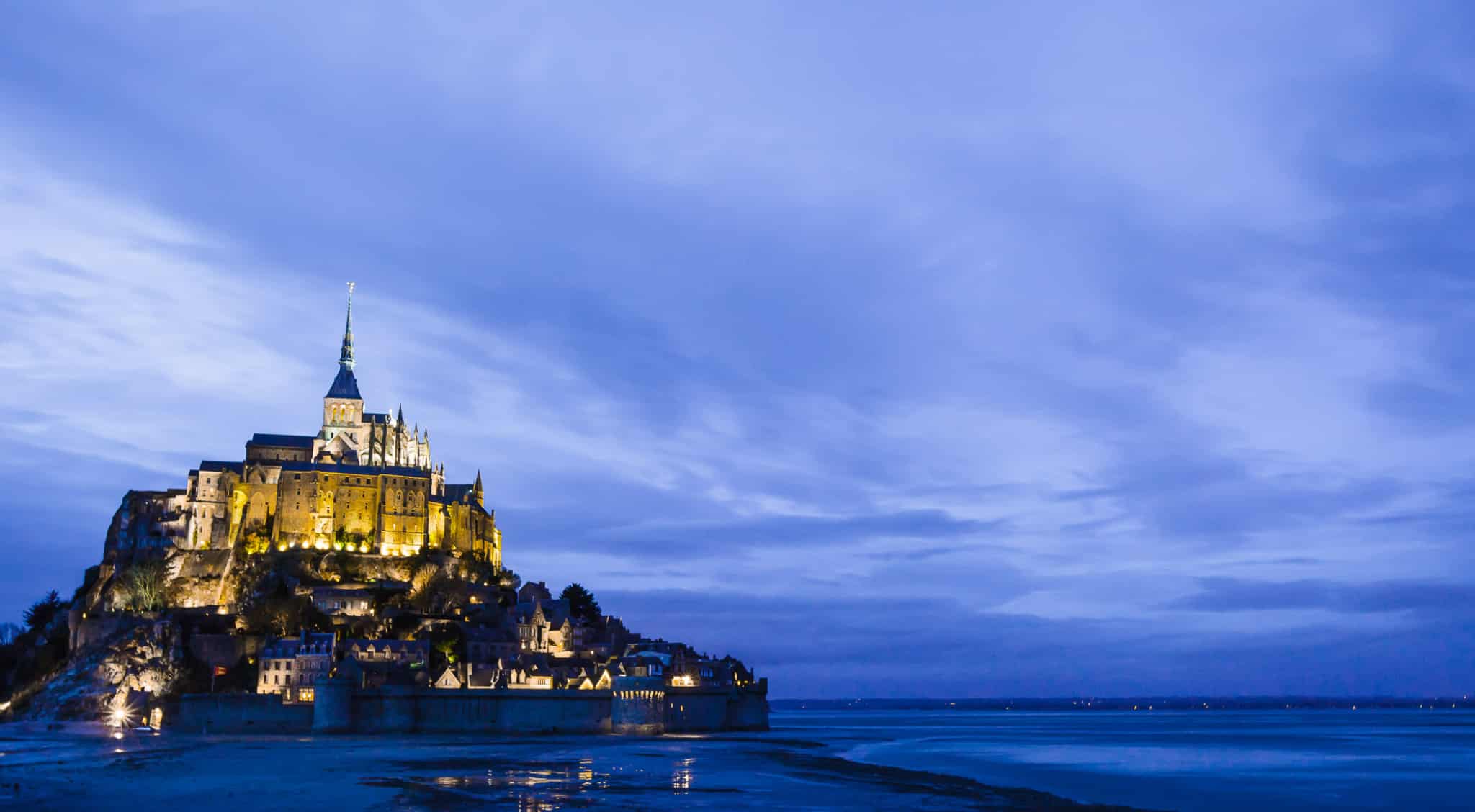 Caen is both a beautiful city, but also quite lively thanks to its university. Lots of great restaurants and bars to be enjoyed here, and being a port city, you can hop on the ferry to the UK, making this an excellent choice for an over-night sailing weekend in France. Be sure to explore some of the grand architecture here, especially the Château de Caen castle in the centre which you can't miss, but also the different Abbeys and magnificent cathedral.
You can read more about my weekend in Caen and Mont Saint-Michel here. To get to Caen for your weekend break in France, you can either arrive by ferry or to Caen Carpiquet Airport, although these are mainly regional flights so you may find the two-hour train ride from Paris more helpful. Plus, don't forget, we have a very similar island in Cornwall!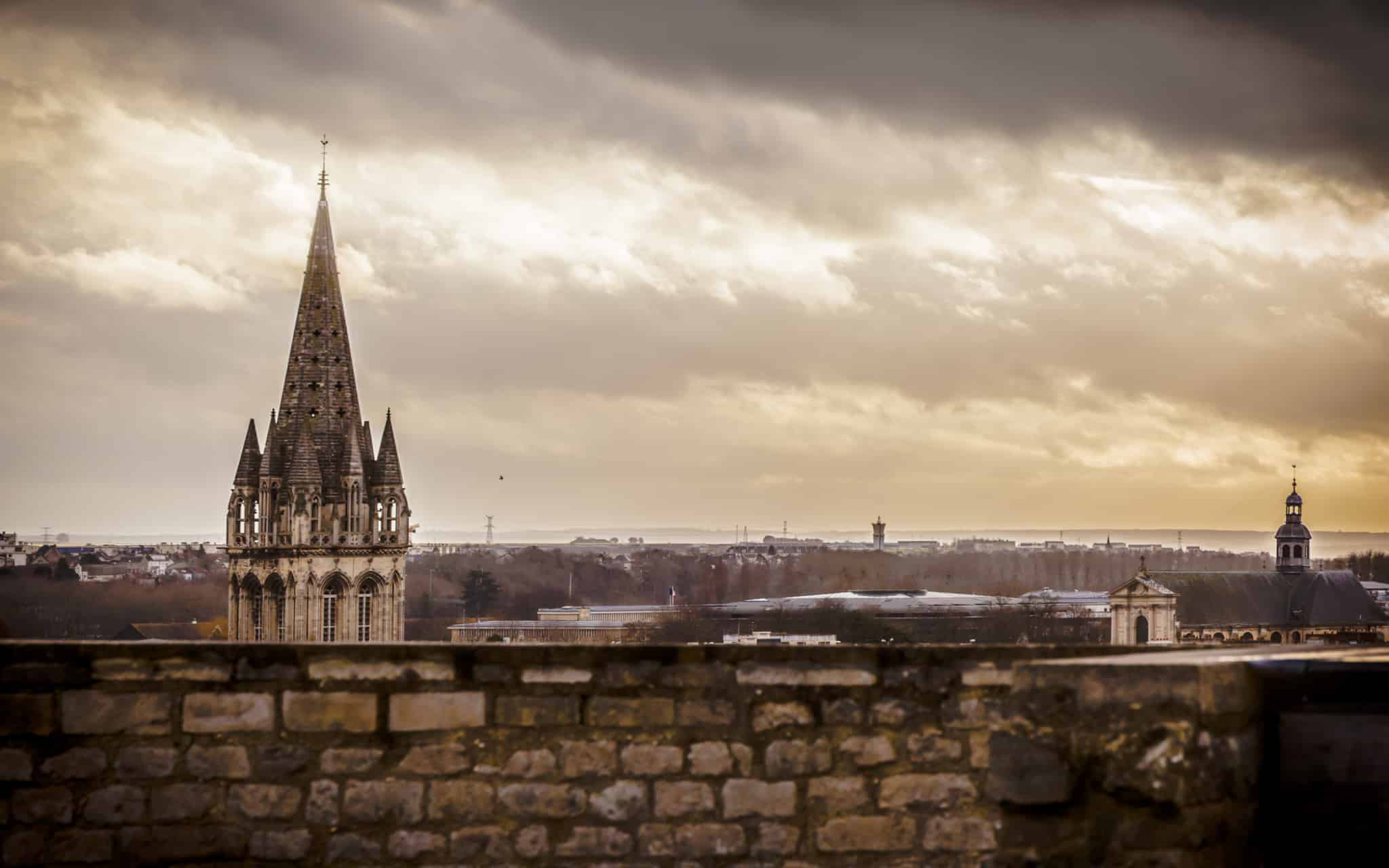 2. Lyon and the Rhone Valley
I got to visit the Rhône Valley on a work trip, in my previous life as a restaurant manager. We were 'researching' wines for our wine list, and mainly getting a little tipsy thanks to having a designated driver.
The region is absolutely beautiful, with lots of little villages which are serene and still. Historic streets spill out either to the river, or the stacked wine terraces each boasting huge emblazoned names, like the Hollywood signs of the wine world. With some of the most expensive per square land prices in the country, it's no surprise the wines here are delicious and not cheap.
Lyon is the principal city and gateway to the Rhone Valley, and it's a beautiful city too. If you are only spending a weekend in France, you might want to spend a day in the Rhone Valley, and then a day in the Vieux Lyon, the old part of the city.
To get to Lyon for your weekend break in France, there are plenty of flight options to Lyon Saint Exupéry airport, one of the largest in the country.
3. Carcassonne
Famed for cassoulet, which is, of course, best enjoyed inside the medieval walls of the UNESCO town, Carcassonne provides a weekend in France that takes you back in time.
My parents and I spent a lovely weekend break here a few years back, where food and wine were the main order of the trip. The pretty laid back setting, surrounded by canals and greenery make it an ideal place just to enjoy the good life in France. While there is a newer part to Carcassonne, you'll likely want to spend most of your visit exploring the fortifications and watchtowers of the old citadel.
To get to Carcassonne for your weekend break in France, there are a few flights into the very close by Carcassonne airport.
4. Colmar
One of the most picturesque towns in France, Colmar looks like something straight out of a fairytale.
The colourful wooden fronted houses reflect off the little Canals, and it's easy to tell you are close to the Germany border thanks to the criss-cross of architectural styles.
It gets super busy here, no surprise, so try and make it a weekend visit in the off-season. With Gothic, Renaissance and Medieval architecture represented here, it's a photographers dream, and also the reasonably unique local Alsace Wines are in plentiful supply here.
To get to Colmar for your weekend break in France, your best bet is to fly into Strasbourg and then jump on a fast-train which will deliver you in under an hour.
5. St Malo
The seaside city of St Malo is a great city break, especially as getting the ferry here from the south of England is a doddle.
Located in Brittany, the crashing waves here are quite famous as they bash against the imposing walls that surround the old town. Cobbled streets lead you through ancient archways to the beaches surrounding the fortified city, where incredible hues of blue in the ocean are a surprising reminder of just how stunning the beaches along the channel can be.
You can read more about my weekend in St Malo here. To get to St Malo for your weekend break in France, you can either arrive by ferry, take a train from Paris at around two-hours, and minimal flights come and go from nearby Dinard airport.
6. The Lavender fields of Provence
Why is this STILL on my to-do list? If you are looking for a France weekend break between June to the start of August, the lavender fields of Province are about as postcard-perfect as you can get. The rows and rows of beautiful purple highlight the old farmhouses in the most perfect way.
Cycling between vineyards, sipping on rose, and stopping to marvel at the Lavendar In season is a pretty peaceful start to summer if you ask me. Aix en Provence and Avignon are two of the main city's in the region and are perfect places to take a break from the countryside.
To get to the Lavender Fields for your weekend break in France, your best bet is to fly into Marseille and then hire a rental car. Avignon also has a smaller airport.
7. Marseille
Marseille is a port city which is trying to shake off its poor image, and being appointed a European capital of culture in 2013 helped, with new galleries and installations adding to the epic coastal views, especially when witnessed from the equally impressive cathedral sitting high above the city.
Once you have done exploring Marseille, your best bet is to get out of the city and explore the Calanque National Park,where incredible shades of blue and green water illuminate below the silver cliffs.
A side note: by night, I didn't love Marseille, and although my visit was a few years ago now, solo travelling friends who have visited recently also shared my sentiments about it not feeling ideal at night to explore alone. So go, but be aware it's got a bit of a reputation.
Getting to Marseille for your weekend break is an easy one, as the airport is not far from the city centre.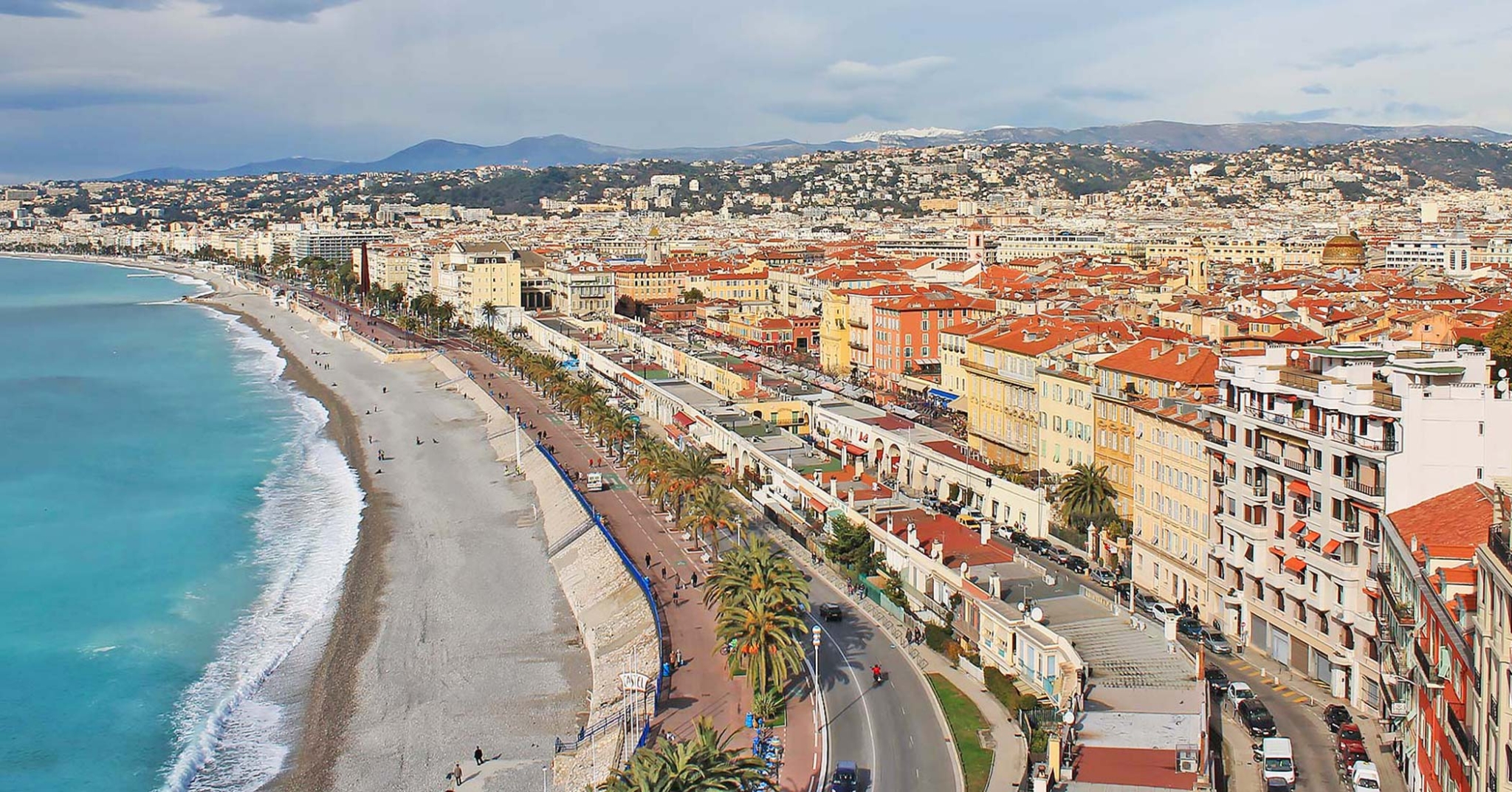 9. The French Riviera
A tranquil escape to the coast, The French Riviera has long been a popular weekend break destination in France, and the seemingly never-ending beaches, incredible restaurants, and fancy-fashion are plenty of good reasons to visit.
Flying into Nice provides the opportunity to either stay there, head to Cannes famed for the film festival, or work your way along the coast on a road trip.
It's been many years since I ventured here, but my packed out weekend took me through carnivals, beach days, plenty of mussels and a surprise helicopter trip, which brings me on to my final weekend suggestion. If you want to live the good life in France, with lapping waves as your backdrop, you can't go wrong with a weekend in Côte d'Azur.
You can read more about my weekend in the French Riveria here. Getting to The French Riveria for your weekend break is no trouble, as Nice Côte d'Azur airport has plenty of flights.
10. Monaco
Okay, so we've left France now, but this country in a country, Monaco, is the perfect addition to a weekend break in France, thanks to the proximity to Nice.
Famous for its F1 racing, tax-free status, and the casino, which, is where on a lucky spin of red I won my winnings to splurge on a helicopter back to Nice. I personally don't think you need longer than a day here, so it makes perfect sense to tag it on to your weekend in Nice. Here's the lowdown of that weekend in Nice with the Helicopter ride where I left everything to chance.
Once you've got your ETIAS for France which will be required from 2024 for visitors from eligible countries, it makes total sense to make the most out of your visit, so why not try and tie some of these weekend breaks in France together into a bigger trip or continue to explore some more of Europe's hidden gems.
https://www.danflyingsolo.com/wp-content/uploads/2016/10/FRANCEGUIDE2.jpg
1125
2000
Daniel James Clarke
https://www.danflyingsolo.com/wp-content/uploads/2022/01/blogo-1w.png
Daniel James Clarke
2019-08-20 01:57:17
2023-03-03 12:20:38
Ten weekend break destinations in France that aren't Paris