London 101: 101 things to do in London
This website uses affiliate links which may earn a commission at no additional cost to you. As an Amazon Associate I earn from qualifying purchases.
Updated: 19th April 2019
Is London the best city break in the world? It's undoubtedly one of those cities that has a never-ending list of attractions to visit, quirky things to do, and new restaurant openings. I called London home for much of my adult life, and even after many years living there, I still had so many things left to do on my London bucket-list.
My real appreciation for London didn't begin though until I become a tourist. Coming back to a city you once called home with more time (and money) means you can start to appreciate a whole other side to a place. After my two day trip to Manchester, I jumped on a quick train to the capital to start working through my London bucket-list.
I've written about my budget London travel tips before, but here are 101 things to do in London, from the must-visit Museums and quirky speakeasy's serving up excellent cocktails, through to the hidden underground history and lesser-known gems.
Classic London experiences you simply can't miss
If you decide to maximise your time in the city by opting to book one of the many London Tours, you can be sure that most of these top highlights below will be covered.
1. Watch a West End Show
Catching a West End Show in London is a must, and with over thirty theatres to choose from you have plenty of options, not even counting the Opera Houses and classical music venues. I watched Matilda at the Cambridge Theatre on my last visit and can highly recommend it. Keep an eye out for 'lottery tickets' when you are in town, when shows, for example, The Book of Mormon, will do a lottery draw each night for last minute discounted tickets.
2. Covent Garden Market
It's touristy sure, but I love it, and I worked here for many years. Not only have you got lots of cool restaurants around here, but the atmosphere with the street performers is also great. You'll also often see musical performances in the basement of the cellar. Nearby in Seven Dials, you'll also find a cool place to shop.
3.Tower of London
I'm ashamed to say I've never actually been inside the Tower of London, home to the crown jewels and the official fortress of London. You can either buy a ticket and head inside or simply enjoy walking the perimeter.
4. The Tower Bridge Walkway
Is there any London view more iconic than the Tower Bridge, especially when the bridge raises in the middle to let ships past.
What a lot of people don't realise is you can actually go up the towers and walk across the bridge connecting them. It's a really cool experience and gives you a different vantage point.
5. Changing of the Guard, Buckingham Palace and The Household Cavalry Museum
You can't really visit London and skip out on this! Inside Buckingham Palace is the small Household Cavalry Museum which offers an insight into the royal regiment. The changing of the guard happens every day, usually at 10:45 am, though is cancelled in very wet weather, and hey, this is England after all!
6. Camden Market
There are plenty of cool Markets in London, but without a doubt one of the most famous is Camden Market. With over 1000 different stalls, selling crafts, fashion, food and plenty more, this buzzing and the photogenic market is another for the London bucket-list.
7. The South Bank and Tate Modern
I was very lucky to live in Shad Thames for a while, which is just by Tower Bridge, so got to walk along the South Bank every day to work.
The views across the Thames are great, and you can go on a London tour here easily, with the impressive Tate Modern museum, Tower Bridge, Waterloo Centre, Shakespeare Globe and St Pauls Cathedral views making it a fantastic walk. You'll also find some of the best family hotels in London along this stretch, partly due to how much there is to do to keep the little ones entertained, but also how quickly and easily you can get around the whole city from the South Bank.
8. St Pauls Cathedral
Another of London's iconic landmarks, St Pauls Cathedral is a beauty. Sadly, it is quite expensive to visit it (museums tend to be free in London, but a lot of religious buildings charge) so you may want to just enjoy this icon from outside.
9.The National Gallery
Not only is The National Gallery in Trafalgar Square home to some 2000+ paintings, but it's also an incredibly beautiful building inside with free entrance which makes it a must visit for me.
10. Big Ben & Westminster
The Houses of Parliament and Big Ben are two of the most famous and impressive architectural buildings in the capital. You can take tours through Westminster Abbey or just admire Big Ben from outside, though know renovation work and cladding will likely be covering it until 2021.
11. Shopping in London: Hamleys, Harrods and Liberty
If you like to shop, then London will spoil you. There are though, of course, a few bucket-list London shops you simply must visit. While Hamleys and Harrods are stars, my personal favourite department store in London is Liberty, thanks in parts to the old-world style architecture outside and in.
Marvellous museums to visit in London
In London, you are spoilt for choice when it comes to Museums, with literally 100's to choose from. Here are a few I think are worth checking out.
12. The London Museum
The London Museum is great and really interactive, some of the most interesting parts are underground, where mockup shops, streets and pubs from Victorian times help you really understand the history of the city.
13. The Brunel Museum
The Brunel Museum in Rotherhithe is a really cool space, worth checking out for the history of the building. Housed in the old engine house, here you used to find the worlds oldest underground theatre.
14. Churchill War Rooms
Part of the Imperial War Museum, these underground rooms and bunkers are hidden below Westminster and are where Churchill led WW2 from, an interesting space in the centre of the city.
15. Natural History Museum
What a stunner, inside and out, with the architecture of the main hall vying for attention from a blue whale skeleton. A real must visit and it's free for the main exhibition!
16. Old Operating Theatre Museum
One of the oldest surviving operating theatres in the UK, if not the world, this kinda-creepy but kinda-cool museum is really interesting, and something a little bit different.
17. Museum of Brands
If you are into art, design and marketing like me, then this quirky museum will interest you. Studying and highlighting different brands and their packaging since the Victorian era, it's a great call on a wet day!
18. The Design Museum
I used to go to The Design Museum regularly when I lived just behind it in Shad Thames, and now it's moved its new space it's even better. For anyone into graphics, fashion or even product design, it's a great space to visit in London.
Alternative places to get a slice of history in London
If museums aren't your thing, then fear not, there are plenty of other opportunities to sample the history and heritage of London.
19. London Roman Wall
While maintenance ceased for most of the wall in the 18th-century, you can still find parts of it around the city, although the most famous part is near the Tower of London. Keep an eye out or grab some location pins to spot it elsewhere.
20. St Bartholomew the Great
This beautiful church is super ornate inside and out, and I personally believe it is one of the best in London. Located just off Barbican station it also wasn't very touristy when I visited, but perhaps that was just luck!
21. Guildhall Yard – Roman Amphitheatre
Dating back to 2nd century BC, but only discovered in 1988, the remains of London's Roman Amphitheatre can be found under Guildhall Yard. Above land, you can see an outline of a circle, and below you can visit what has been excavated. It's not in the best of condition though.
22. Shakespeare's Globe
This amazing outside theatre on the South Bank, and which is open to the elements, is worth popping in to have a look at. The best way to do so would be to actually go and see a show, although walking tours will also fill you in on the history of the building.
23. Nunhead Cemetery
Because who doesn't want to visit a cemetery on their London trip? Nunhead is part of the Magnificent Seven cemeteries of London but isn't really that visited. It's pretty overgrown and kinda eery, but if you want some lesser-visited London history, you'll certainly find it here (a little out of central).
24. Leadenhall Market
Since 1445 Leadenhall Market has been in operation, and this covered beauty will have you thinking of Milan I'm sure, in a more compact and London style at least.
25. An Underground Farm
Now, this is pretty cool! The worlds first underground farm can now be toured, and it's very unique location, 33-metres underground no less, is made even more special as it is a WW2 air raid shelter. Told you it was cool!
26. The Postal Museum and Tunnels
More tunnels, but this time for the mail rail! At the Postal Museum, you can ride through this quirky underground tunnels that are over 100-years old and learn all about the postal history here in lovely London!
27. Kingston upon Thames
Still in London, but a town in its own right, Kingston on Thames is a lovely little day trip out for those who are spending an extended visit to London.
28. The Queens House, Greenwich
IMO, one of the most beautiful buildings in London, yet it also didn't seem too busy when I visited. An old royal residence, it's rather stately inside and from the ornate ceilings to the curves of the staircases, it just screams beauty and design.
29. Royal Observatory Greenwich
Come and literally stand on the timeline at the Royal Observatory in Greenwich. Not only is it in an excellent park, but the meridian line literally passes through here, so you can swat up on your astronomy and navigation knowledge. If you aren't aware, GMT literally is Greenwich Mean Time.
Gardens and outside spaces to enjoy in London
When (yes when, not if) the sun is shining in London, we are spoilt with greeny leafy spaces to go and sunbathe once the slightest ray appears. But, here are some spots worth visiting all year round.
30. Primrose Hill
To be honest, I don't overly get the fuss about here. The views of the London skyline is cool, and I've left it on as my friends love heading here, but I think some of the other suggestions are more worth your time.
31. Postman's Park
Postman's Park isn't huge, but this small area is beautiful for a special reason, it is dedicated to those who lost their lives saving or helping another. It's a spot you'll want to be thoughtful in, especially as you read the plaques of dedication.
32. Speakers' Corner in Hyde Park
Hyde Park is a vast royal park next to Kensington Gardens and including The Serpentine lake, but there is one famed point worth noting, the Speakers Corner. For over 200-years this spot has been a place for people to speak, to share their views, both positive and negative, and even today you'll often find people doing just that.
33. Kyoto Gardens in Holland Park
In case the name didn't give it away, this beautiful Japanese style garden in Holland Park could be one of the most tranquil and peaceful spots in London, though it's so popular with photographers and tourists you likely won't get much of a chance to relax in the height of summer.
34. Columbia Road Flower Market
Not really a park, but this Sunday market is a gem and popular with both those looking for flowers, and those looking for the 'gram.
35. Barbican Conservatory
Another Sunday only option, the second biggest conservatory in London is right in the heart of the city, which is what makes it so cool to be honest!
36. Greenwich Park
See point above about GMT and the observatory, also it's a cool park and you can visit the Cutty Sark. Greenwich, in general, is just awesome, as it's separate enough from London to feel different and the food markets cool. Yeah, I just like Greenwich!
Off-the-beaten-path hidden gems in London
To be fair, I'm not sure all of these are really hidden gems anymore, or if hidden gems is something you can ever say about a city as populated and visited as London but humour me.
37. Richmond Park
THEY HAVE DEER! WILD DEER IN LONDON!
38. Neal's Yard
This colourful quarter near Convent Garden/Seven Dials was not really known when I first moved to London, but now it's all over Instagram so I imagine it's pretty hectic on the old photoshoots these days.
39. St Dunstan in the East
In the city of London is this weather down, moss-covered, church and it's dope. I used to sometimes come here to eat my lunch, weird, but it's a cool spot given it's passed by daily by 1000s of bankers in suits.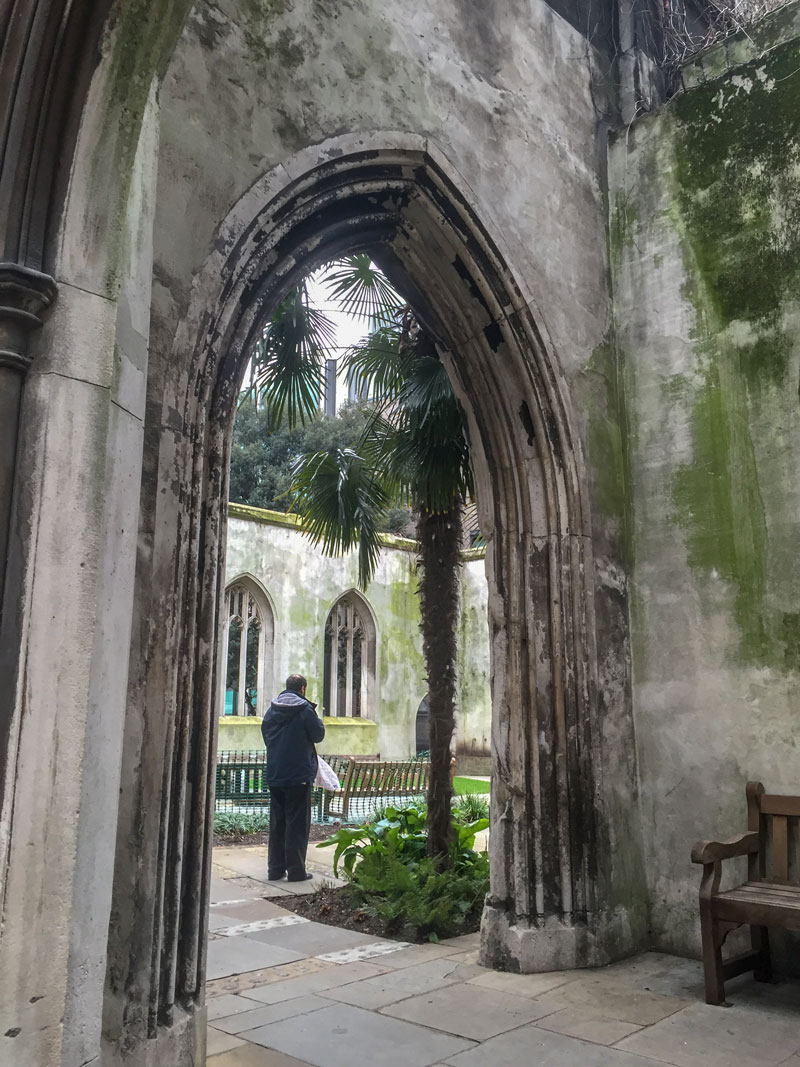 40. Leighton House
The Eastern Influence of this building makes the ticket price well worth it. Think green and blue tiles, marble pillars and ornate Arabic designs. Check out the photos, you'll love it, it's like another world in London.
41. The Banqueting House
The last remains of the Palace of Whitehall, again inside this building is beautiful! Monarchs in the 1500s would dine here, and it's still used for that function today when people aren't visiting it to break their neck enjoying the divine ceiling.
42. Eltham Palace
Back out Greenwich way (did I mention I liked Greenwich?) is Eltham Palace, attractive inside and out, it's very often used as a wedding venue these days. It's a real design beast, to be honest, as the medieval building compliments with modern architectural design inside.
43. Billingsgate Roman Baths
To be fair, there isn't that much to look at here, and as such this won't be for everyone's London's bucket-list. But for those interested in the history of Londinium (Roman name) these are worth noting too.
44. Lost Tube Tunnels
More tunnels, and this time the old tube lines that have been left abandoned. Hidden London used to run tours to these very sporadically, but now I can't find out much information about it. Best bet is to reach out to the transport museum and see if they are accessible during your visit to London.
Funky ways to get around London
While central London might seem large on a tube map, in reality, it can often be quicker to walk than taking the tube a few stops, so keep this in mind. But if you want to spice up your transport options, here are a few picks!
45. Thames Clippers
As well as the standard public transport options, the Thames Clipper is a boat service which runs up and down the gleaming crystal waters (cough cough) of the Thames. It's not the cheapest option, but it makes for a nice alternative.
46. Hop on Hop off bus
You can't come to London and not get an iconic red-bus photo, but if you want to avoid learning multiple bus routes, then one of the hop on hop off bus tours which allow you to jump on and off will be a simple, if not more expensive, option.
47. Jack The Ripper Walking Tour
A serial killer themed tour, perhaps not one for young kids?
48. Harry Potter Walking Tour
A wizarding tour you might have heard of, perhaps better for young kids.
49. Hidden London Tours
As I mentioned above, the Hidden London tours offer underground tube tunnel tours, but they also have other options too. I will update this once I've got some confirmation on if these awesome London tours are still going.
50. Bike Scheme
You'll spot them all over, once Boris bikes, then Santander bikes, and I don't really know what they are now. But the London bikes are green and pretty affordable, and you can get more details on that link.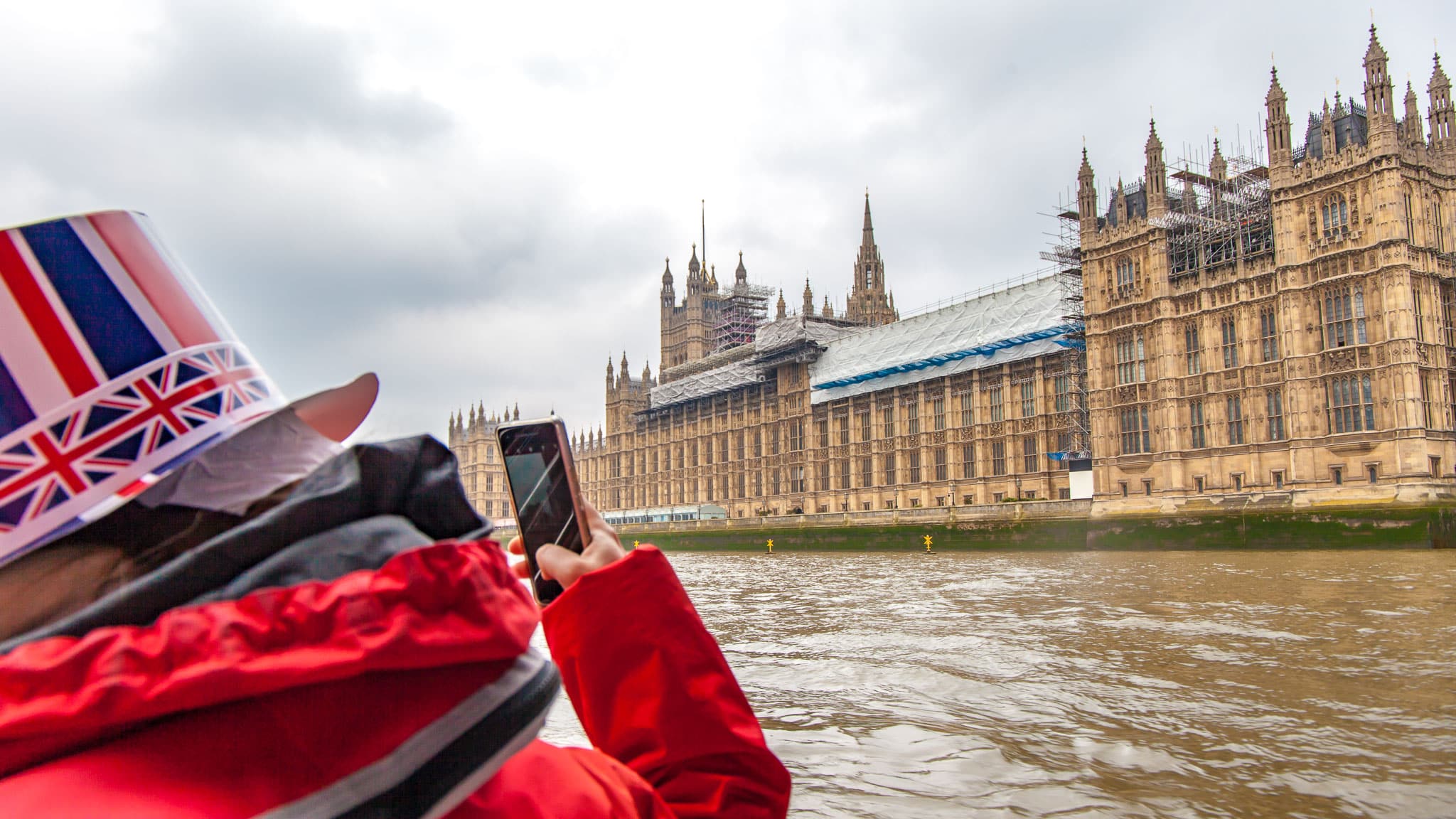 Awesome boat based adventures in London
If the Thames Clippers above got you excited for some boat action, fear not as London can offer you even more!
51. Thames Rockets
A really cool experience, especially as after you go past Tower Bridge, the speed restrictions lift and you can hurtle along the Thames on this rib (watch a quick video clip) with Thames Rockets who offer various tours, each allowing you to feel a little 007!
52. The Cutty Sark
Back to Greenwich, this time to explore The Cutty Sark, an old tea transporting vessel which is kept in great condition and I can't really remember much about because I think we were really hungover when I took my friend Lili to visit it.
53. Camden Lock Canal Tour
Camden Lock is dreamy, think narrow houseboats and vintage London, so a canal tour is a cool thing to do north of the Thames while also checking out Camden Market. I'm wondering if the fact I've always lived south of the river is showing here, we have a bit of rivalry, but they certainly win on underground transport!
54. Regents Canal Waterbus
A similar experience to the above, but covering a longer distance in London. The Regents Canal is cute, so even if you don't like boats do go and walk along some of it.
55. London Kayak Company
Kayaking in the Thames? Cool right! Just don't fall in, no one wants that!
56. HotTug
Another option on the Regents Canal, and certainly one of the most unique boating options in London, these floating Hot Tubs boats are something you don't see everywhere.
57. Little Venice Floating Gallery
Little Venice is so cute, and this floating narrow boat is home to a Gallery. It won't take you long to explore it, but the curators work hard to put on interesting displays.
58. London Duck Tours
Apparently, kids love these, according to my friends who aren't terrible at relationships like me so actually have families. This boat-come-bus vehicle can take you on a tour and go between land and water.
Where to find incredible sky views in London
Because what is London without a sky-bar?
59. The London Eye
An iconic landmark in London, and although super touristy, it's pretty cool to do. Do book your tickets in advance to save queuing and to make it even more special, book one of the sunset champagne capsule rides.
60. Radio Rooftop Bar
I used to hang out here way too much when I worked in Covent Garden, and my bank-statements confirm that. It's a cool bar with some nice views, and near to theatres, but note the dress-code is strict here, especially in the evening.
61. Emirates Cable Car
Fly high over the River Thames on the Emirates Cable Car, part of TfL public transport network in London. It links over to North Greenwich, which brings me on the 02.
62. Climb the 02
Otherwise known as the Millenium Dome, most people don't realise you can actually climb to the top of the roof and according to my fellow blogger and friend Macca, it's pretty awesome, and quite the London bucket-list tick.
63. One New Change
Located in the city of London, One New Change is a small shopping centre and although the rooftop isn't too high, you get some great views out onto St Pauls Cathedral.
64. The Shard
Pay a fortune for a hotel room, or a cocktail, or an entrance ticket, and you can admire London from an iconic building. Bonus is you can see the skyline without The Shard in it, I'm not a huge fan of the building myself.
65. London Helicopter Flights
Want to get even higher? Take to the skies of London on a Helicopter flight. Epic AF>
66. Sky Garden
The Sky Garden is a really cool space, and you can book a time slot to come up to the viewing terrace, or book into one of the restaurants here. You can see sweeping views including Tower Bridge, The Shard, and countless other London landmarks as it is located in the city, so on the north side of the river.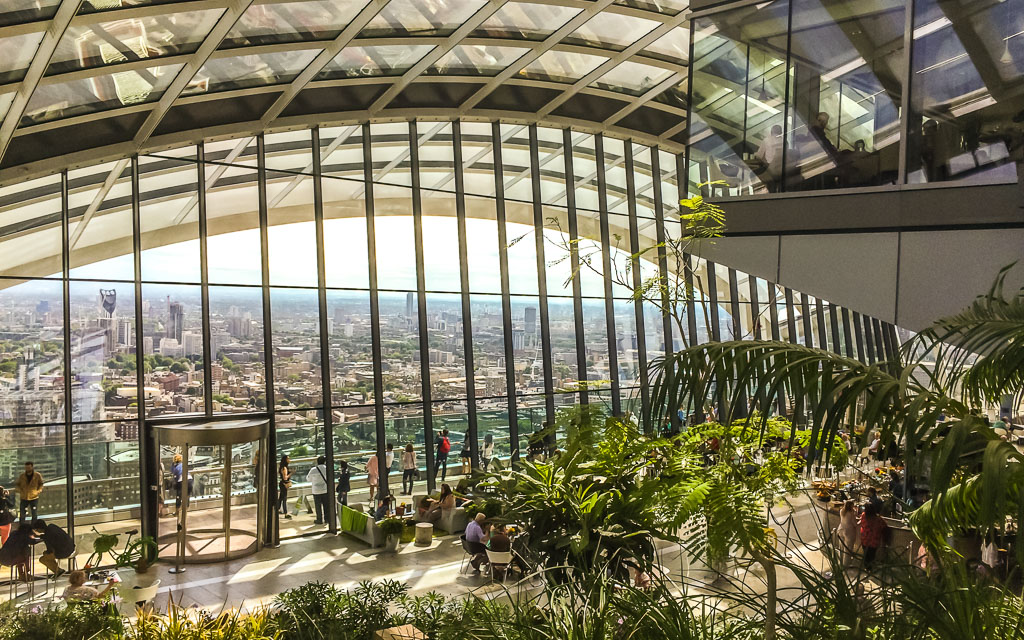 Amazing places to eat in London
Grubs up, and with SO many restaurants in London to suit SO many tastes and budgets, it's a tough pick, but these are some of my favourites!
67. Balthazar, Covent Garden
Totally not biased because I used to be one of the managers here, but the London outpost of Balthazar (famous in NYC originally) is pretty cool. The pastry chefs here are exceptional and the themed afternoon tea is a winner and great value. The top tip is to request a booth when booking, best seats in the house.
68. Borough Market
Famous, and rightly so, in Borough Market you can sample local, regional and international foods from friendly stall holders, although it is a little pricey.
69. Maltby Street Market
I really like Maltby Street Market (sometimes called rope street) though I'm sure it's changed from the slightly unorganised and cool spot it was when I lived there to something a bit fancier now. It's not far from Borough Market, in Bermondsey.
70. Curry on Brick Lane
With countless curry houses on Brick Lane and our English obsession with curry, it's a London bucket-list tick surely?
71. Cereal Killer Cafe
As someone eating cereal writing this, for dinner, you can see why it makes my list. It's spread to the UAE now, but the original was in Brick Lane. 120+ types of cereal, what's not to love.
72. Restaurant Story
Another spot I love is Restaurant Story, not far from Tower Bridge. Tom Seller has done a great job here, and it's got a Michelin star since I went when it first opened years ago, so I'm sure the prices have gone up, but the idea is you are served dishes based on preferences and emotions, rather than a menu. It's all seasonal and based on English dishes.
73. OXO Tower
Up at the top of the OXO Tower is this funky restaurant with great food, though be warned you have to get a good table to guarantee the good views. That said, the food is great, and considering this is where my ex told me we would never get back together, the meal must have been really tasty for me to still recommend it.
74. Pop Brixton
I remember Brixton when it was something else, as it was one of the first places I lived in London. It has since changed, a lot, and become really 'cool' and lost what made it Brixton to me. That said, Pop, which is a multi-purpose space, does offer some great ethnic dishes, although in a more polished setting than what I used to know and love.
75. Margot
In Covent Garden is the lovely Margot, co-owned by my good friend and ex-colleague Nicolas who has quite quickly turned the place into quite the reputation. Italian dishes are done really well, it's a fantastic quality option in theatreland.
76. Circus
I haven't been here, but apparently, it's very cool. Think lots of mirrors, cabaret, Asian inspired dishes and an entertaining evening out. On my own personal London bucket-list for my next visit.
Cool places to sleep in London
'Once on is tired of London, he must sleep somewhere.'
77. Park Plaza Riverbank
Okay, it's a chain, which isn't my favourite. But look at that view to enjoy room-service Afternoon Tea with. You need to be high enough up, and on the right side to get the Westminster views though, so be sure to specify the right room type when booking.
78. Tower Bridge Ship Captains Cabin
There are some pretty unique Airbnb options in London, and this authentic, and slightly cramped, captains cabin onboard a little vessel has become quite a well-known option indeed.
79. Tube Station Yurt
Another funky Airbnb option, and apparently the closest Yurt to a tube station in the world, though I can't imagine the competition is too stiff for that title. Seriously, go check out Airbnb listings in London, there are some real gems.
80. Courthouse Hotel, London
Inside this centrally located old magistrates court, you'll find an exquisite and luxurious 5-star hotel. I'm a sucker for anything in converted listed buildings; hence this being a top tip from me.
81. The Rookery
Fireplaces, dark wood, four-poster beds, this is a period property that I'd imagine Sherlock Holmes couldn't find anything wrong with. These old houses in Clerkenwell have been lovingly restored and joined together to make The Rookery, an exceptional boutique hotel.
82. St Pancras Hotel
The iconic St Pancras Hotel, in the converted train station, is perhaps one of the most stunning in London, and the price tag certainly matches that. Even if you don't stay here, swing by for a drink so you can marvel at the architecture-porn.
Happening places to drink in London
Just in case this is news to you, we like to have a few drinks here in the UK, and while I'm a sucker for a traditional pub, there are some very chic places to sip a drink in the capital.
83. The Detective Agency
A super cool speak-easy type of bar, a little hidden, as the name might guess and if you want to get in, I'll give you the joy of working it out on their website.
84. Churchhill Arms
This pub is just NUTS! It's literally coated in flowers on the outside, crammed full of Churchill tidbits inside, and the kitchen pumps out noodles. If that doesn't sum up the diversity of London in one pint, I'm not sure what else could,
85. Sushi Samba
In the city of London is this funky bar houses in the Heron Tower and although it's a bit cliche, they do make a mean old-fashioned. Personally, I think of this as more of a drinks place, although they do have a large number of dining tables too.
86. Cahoots in Carnaby
Another funky speak-easy, and this time in cool Carnaby, just by Soho. Drinks come in different serving forms, from tea-cups to vases, and you can even drink them in an old carriage. Great quality drinks and banter from the team here, highly recommend.
87. WC Bar
So, WC in this case really does mean water-closet, and this trendy underground bar in Clapham is housed in a 100-year old toilet block. For those that don't want to admit it though, you can just refer to it as the cover-up name, Wine & Charcuterie, both of which they do very well.
88. Queen of Hoxton
This late-night bar/club is in one of the city's most exciting spots, and the venue itself is epic, although some might say a bit hipster, depending on your taste.
89. God's Own Junkyard
The name is pretty self-explanatory here, lots of junk, lots of neon, and lots of drinks. For some, it's uber cool, for others perhaps their worse nightmare, either way, it's worth heading into for at least one.
90. Rules Cocktail Bar
One of the most classic and traditional bar settings in London, and where my good-friend Brian served up some seriously amazing drinks for years before going to work at Balthazar. It also claims to be the oldest restaurant in London.
91. The Escapologist Bar
Something about this bar is so cool, the dark-wood, the paintings, the tiles. The Victorian style isn't very befitting of the pizza menu, but great drinks and the food is good.
92. Victorian Bath House Bar
This Grade II listed building looks cool outside, but the real magic is inside. A true hidden gem and I really recommend you try and go here.
93. Swingers City Bar
Put your keys back in your pocket; it's Swingers because it has CRAZY GOLF. Yes, INSIDE a bar. Genius. Go, have fun, be merry!
94. Gordons Wine Bar
This underground den selling lots of remarkable wines from around the world is cosy as, but also amazing. In the summer the wine-drinking spills out to the long terrace next to Embankment station, but it's the inside I came to love so dearly after years of drinking here, although getting a table, or even a space to stand, can often be hard.
Unmissable annual events in London
London is a city that truly does not stop, and the year-round event calendar confirms this. Here are just a few of those events that are worthy of your London bucket-list.
95. Notting Hill Carnival
This big celebration in August takes over the streets of Notting Hill and is the biggest street party in Europe I believe. The colourful parade and dancing are the real highlight for me.
96. Canalway Cavalcade
In May this awesome water festival occurs in delightful Little Venice, and it is British as. Think boats, live music, morris dancing and plenty of good grub and you get the idea.
97. London Pride
The iconic London Pride parade is a star of its own right, showing just how diverse and loving this city is, but the weeks leading up to the main event are also packed with activities and events celebrating everything LGBTQ+ making it a fantastic time to be in London, plus the sun is usually out, and the streets are truly alive!
98. Chelsea Flower Show
Every May the Chelsea Flower Show occurs, and while it isn't my personal cuppa tea, if you are into your blossoms and buds, I'm reliably informed it's not to be missed.
99. Wimbledon
When I joined the long line to try and get some kind of Wimbledon tickets, and then magical managed to bag centre court, I couldn't believe it, and I ended up having an unexpectedly epic day. Wimbledon was never on my London bucket-list, but it's such a great day out I now recommend it to anyone that will listen, which will be you, if you are still with me at point 100, God bless you!.
100. Take a trip out of the city
Cop out here, but it's true. So many people visit London and then say they have visited England or even the UK and that is just plain wrong. Here are some of my favourite places to visit in England, and some of my favourite places to visit in Scotland. Sorry Wales and NI, I'll come to see you soon!
101 + Extras: Christmas and New Years in London
Christmas is magical in London, although doing your Christmas Shopping here is STRESSFUL! New Years is also fantastic, as the fireworks light up the city at midnight, and the New Years Day parade brings the streets to life with performers to shake everyone's hangovers off.
Here's a quick look at some of London's most popular Christmas spots, markets, events and shopping experiences to sink your teeth into this year, combined as day trip experiences.
Covent Garden Market & Somerset House Skating
I'll start with my favourite Christmas Combo, from the part of London I called my office for many years – also an ideal option to include a West End Show in the magic!
First, head to the magical backdrop of Somerset House for one of the best Ice Rinks in the city. Set inside the grand courtyard, you can skate by day or night – incredibly cool with the DJ playing and the lights reflecting on the ice! Afterwards, take the short walk to the Covent Garden Christmas Village, where the scent of mulled wine floats in the air, dancing with the thousands of festive lights. Explore the Christmas tree avenue, hit up the fantastic stalls, and soak up Christmas in all its glory!
Tour the Christmas lights and shop Carnaby and Central
Jump aboard the Christmas Light express – an open-top bus tour departing from the London Eye to marvel at some of the most famous window displays, decorations and lights which adorn the city during December. From the most famous monuments such as the House of Parliament to the key displays along Regent Street, save your feet the hassle of walking and grab a ticket.
Before or after, combine the lights with some awesome Christmas shopping at my favourite central spot of Carnaby Street (be sure to visit the super Christmasy interior of Liberty London) and hit up the mega-stores along Oxford Street!)
Winter Wonderland all-in-one
For an all in one kind of experience, head to the Winter Wonderland Christmas Market in Hyde Park, one of the biggest in the city. Get all those stocking fillers and cute gifts at once from the delightful cabins packed with unique pressies, and soak up the super festive atmosphere.
Whether you go ice-skating, catch a Christmas show, or just indulge in the delicious treats on offer, be sure to allow yourself enough time to really make the most of it!
Shop and Skate in Green Greenwich
You can't go wrong with Greenwich any time of year, and I especially love it at Christmas as you can feel like you're more in a cute village rather than still being in London. This year's market promises over one hundred stalls and shops, all marvellously decked out in decorations – especially around the historic maritime neighbourhood.
The Queen's House Ice Rink is far from any other ice rink – grand, impressive and UNESCO listed; it's the perfect way to start or end your day in Greenwich – before the mulled wines at least!
Hogwarts in the Snow and Shopping at The Maltings
Calling all PotterHeads for a very special wizarding world experience at the Warner Bros Studios near Watford. From now until January, the park has had a very festive dress-up – with decorations, layers of snow, and a new grand feast of festive dishes! Explore Diagon Alley, be wowed at the castle, and explore the movie sets, all with a festive twist!
Just a twenty-minute drive to the lovely St Albans, hope to the maze-like shopping centre of The Maltings, and the wonderfully decorated Christopher Place Shopping Centre.
Late night shopping at Westfield Stratford City
With hundreds of shops, late-night opening until 10 pm, and the bonus of not needing into central – the mega-mall that is Westfield Stratford City is a bit of a no-brainer to get all your Christmas shopping done under one roof – kids are also sure to love Santa's Snowflake Grotto.
Extend your visit to discover the Christmas lights through Stratford, or grab some festive fare from Queen Elizabeth Olympic Park.
Start planning your London New Years Eve celebrations.
While the famous New Year's Eve fireworks display isn't taking place as a ticketed event this year, there is still plenty going on to welcome in the New Year – keep an eye on ticket refund policies in case of any new restrictions over the coming weeks.
Even though I called London home for so long, it's the kind of city there are always new and exciting things to do, alongside those you simply haven't discovered yet. Got any more tips for when I head back to the city? I'd love to hear them in the comments.
Where next?
Of course, there is much more to see in Britain than London. How about visiting Scotland's capital city, relaxing on the beaches and best places to visit in Cornwall, discovering a beautiful historic city like Durham or exploring the best places to visit in South West England?
There are plenty of amazing places to visit in England, Scotland and Wales!
https://www.danflyingsolo.com/wp-content/uploads/2018/04/London0406.jpg
1152
2048
Daniel James Clarke
https://www.danflyingsolo.com/wp-content/uploads/2022/01/blogo-1w.png
Daniel James Clarke
2019-04-19 13:48:09
2023-03-25 14:46:12
London 101: 101 things to do in London