Emilia Romagna Riviera 7-Day Itinerary: Beaches and Byzantine Mosaics
This website uses affiliate links which may earn a commission at no additional cost to you. As an Amazon Associate I earn from qualifying purchases.
Updated: 8th September 2023
My most recent visit to Emila Romagna was supported by Visit Cervia, Visit Comacchio and Ravenna Tourism
Stretching for some 90 kilometres along the alluring bath-like waters of the Adriatic Sea – from the Reno River to Gabicce Monte – the Emilia Romagna Riviera is awash with entertainment for all kinds of beach bums. Want to party all night with the sand under your feet? No problem. Fancy a side trip to see some dazzling Byzantine mosaics? Sure thing. Prefer a wild stretch of dune-backed sand to escape it all? You're covered. Keen on spotting some flamingos in a Venice-like fishing town? Walk right this way.
Yes, the Adriatic coast harbours a reputation as a destination for chilling out, sampling the freshest seafood, and topping up the tan at popular seaside resorts, such as Milano Marittima, where row-upon-row of rentable parasols have fluttered in the breeze for over a century. But it's also an ideal choice for blending beach days with everything else that makes Italy so special, and that's exactly what this one-week Emilia Romagna Riviera itinerary will help you do.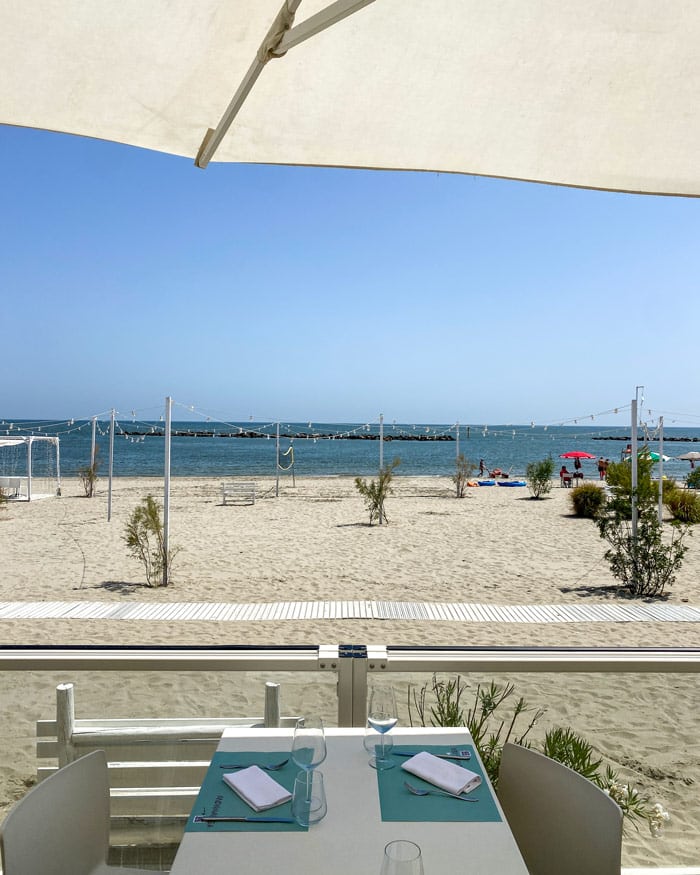 Often simply called the Riviera Romagnola, as the majority of the coast-touching provinces (Ravenna, Forlì-Cesena and Rimini) sit in the historic Romagna region, while the northern province of Ferrara was in the historical Emilia region, it's a beloved region for Italian locals to enjoy a summer getaway. Less visited by international tourists, it also offers somewhat of a more 'local' insight than the preferred beach destinations of foreign travellers, such as the beautiful islands along the Amalfi Coast, Puglia or Sicily. And while it hasn't got the dramatic rock-hugging villages of Cinque Terre, it has plenty of soft sand beaches, fascinating museums, and incredible regional dishes.
Whether you're looking for the best beaches near Bologna, a delightful coastal stay, a traditional fishing village or a historic city boasting Byzantine mosaics aplenty, you'll find it in this one-week Emilia Romagna Riviera itinerary.
One week Emilia Romagna Riviera itinerary
This Emilia Romagna Riviera itinerary includes three bases: Comacchio, Ravenna and Cervia, with suggested ways to travel between the destinations mentioned by public transport. However, if you have a car, you might prefer to book one base for the week and then visit the different places as day trips – none are more than a 75-minute drive from each other.
If you're arriving by plane, then you could either get to Bologna (around 70 minutes driving, two hours by train) or Venice (around two hours driving, three hours by train) and then fly out of either Rimini as the endpoint or Bologna (around two hours driving, or one hour by train). Alternatively, if you're booking a return flight to a single airport, it doesn't take long to loop back at the end of your trip.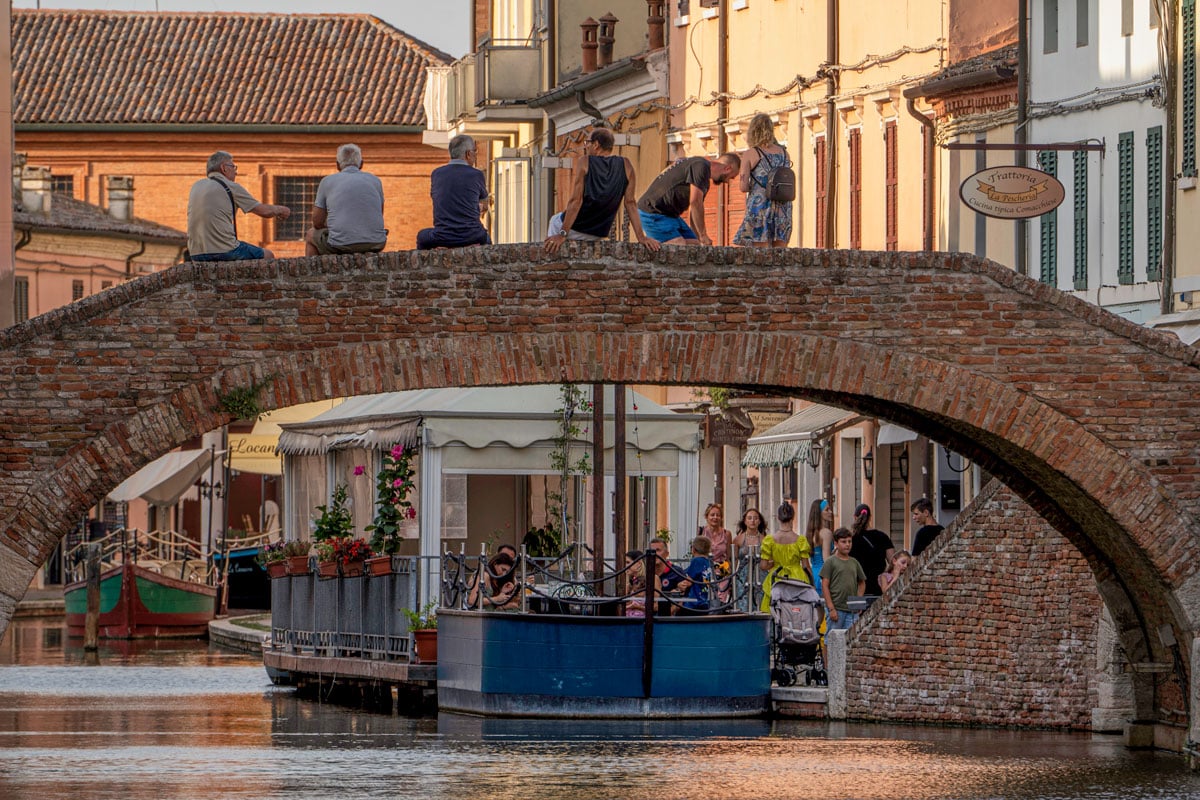 Day one and two: Comacchio and The Po Delta
Begin your beach week tour of the Emilia Romagna Riviera in the north of the region, close to the border with Veneto. Comacchio sits along Italy's Adriatic Coast and has long been an important port for fishing and trading, even as far back as the Etruscan times, when the ancient city of Spina was of the utmost importance.
Nowadays, the sleepy town – often referred to as 'Little Venice' – is a fantastic seaside getaway. Here, you can relax at the beaches, stroll along the canals of the historic centre, and spend some time visiting the surrounding Po Delta, a vast flamingo-frequented wetland at the end of Italy's longest river.
Day one: Beaches and dolphins
After dropping off your bags, head straight to the Adriatic to wash away your travels. Le Dune Beach, Florida Beach, or the pine forest-backed stretch near Lido di Spina are great places to enjoy a lazy afternoon on the water, with some fantastic sea-view restaurants for lunch. You could also contact TAO (Turtles of the Adriatic Organisation) to see if they are organising any dolphin spotting trips during your visit, should you be interested.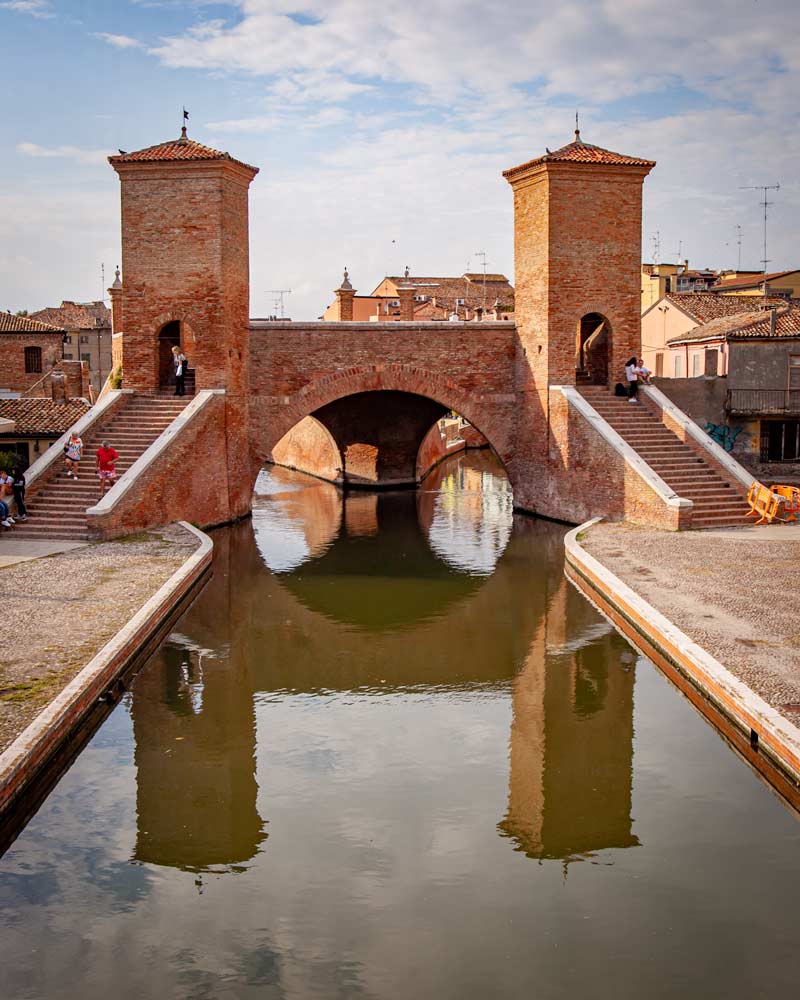 Day two: Canals and flamingos
Start your day in search of flamingos in the wetlands and marshes of the Po Delta, which is moments from the historic centre. You can either visit by foot, bike or boat, and you'll have the chance to spot the traditional fishing houses (Trabucchi Comacchiesi) en route. Bike hire can be arranged from the IAT Comacchio tourist office, though it's best to try and book a Po Delta tour by boat and bike to gain access to the salinas, which require a guide. Regardless, even if you just cycle the Valli di Comacchio on your own, there's a chance you'll spot a pink flock in the distance.
After lunch, take a stroll around Comacchio's historic centre, tracking the canals. For a little culture, slip into the impressive Museo Delta Antico archaeological museum. The space covers everything about Comacchio's history as a fishing town and the Etruscan town of Spina. However, the standout is the well-preserved Roman merchant ship and its contents, which are presented inside. If you want a local speciality for dinner, try an eel dish from La Locanda del Delta and take in the sunset terrace views of this little hidden gem in Europe.
Getting from Comacchio to The Po Delta: Hiring a bicycle is the best way to circle the Po Delta's lagoons and spot flamingos. On foot, you could opt for one of the boat trips to take you deeper into the park.
Stay at: Villa Cavour B&B has spacious rooms, a quaint garden to enjoy a lazy breakfast, and a couple of the rooms face a smaller canal – see more options in the 'best stays' section below.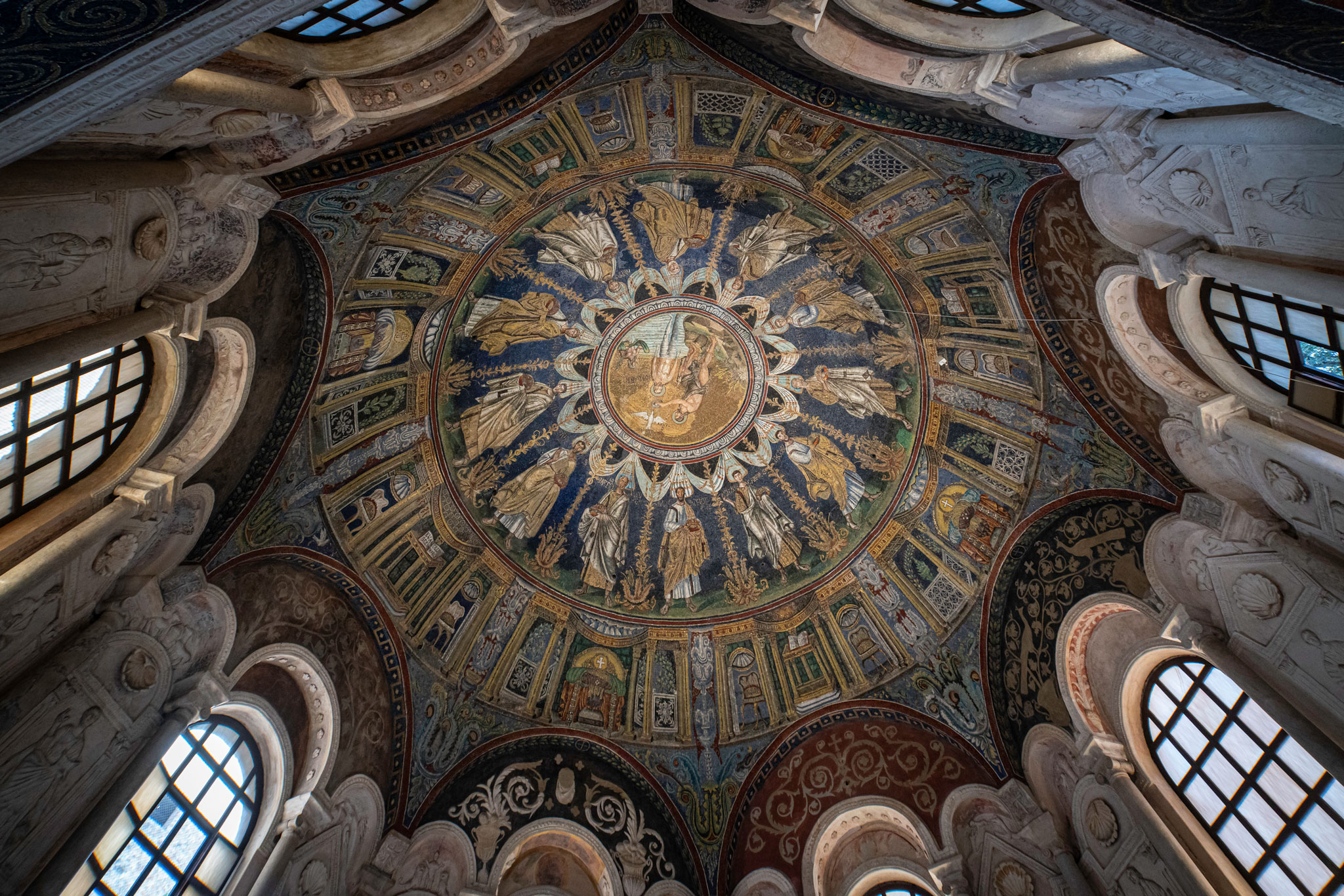 Day three and four: Ravenna
Both an underrated European city and a province, Ravenna is criminally overlooked by most visitors to Italy – especially when considering its historical importance. The last capital of the Western Roman Empire, the city witnessed its fair share of stories, which are chronicled across the eight UNESCO-listed monuments and beyond. Dazzling, well-preserved Byzantine mosaics take centre stage, while more modern studios offer workshops for those keen to learn this age-old art.
But more than its monuments, Ravenna is just a really great place to soak up a more cosmopolitan lifestyle along Italy's Adriatic Coast. It's only a short hop to the Maritime Park of Ravenna, where wooden walkways, pine forests, and inviting sands await, allowing you to easily enjoy sunset dinners on the beach after a day of sightseeing.
Day three: Mosaics and golden sands
With two days in Ravenna, you'll easily be able to see the city's highlights, and a multi-attraction ticket for the mosaics is a good investment. To start, head to the imposing Basilica of San Vitale and the (more modern) Mausoleum of Galla Placidia, built to be the burial place of the Roman Empress Galla Placidia. These are two of the city's most iconic attractions, with intricate mosaic ceilings and walls sure to leave you speechless.
Afterwards, venture to the Domus of the Stone Carpets, a 6th-century floor-coating mosaic that's more typically Roman, and the Basilica of San Francesco, where the crypt's mosaics are now visible underwater. After a local lunch of piadanas or polenta at Mercato Coperto, you can continue the Byzantine mosaic tour at the Basilica of Sant' Apollinare Nuovo and The Arian Baptistry, or head to the beach for an afternoon of sunshine – Finisterre Beach is a good choice for a sea-view sunset dinner.
Day four: History and workshops
Continuing the mosaic theme of this Emilia Romagna Riviera itinerary, start your morning in MAR, the modern mosaic museum. It's an impressive collection of creative tiled pieces and a fantastic contrast to the historic art you saw yesterday. Afterwards, if time and budget allow, you might want to have a chance at creating your own souvenir mosaic at the Koko Studio. I took a similar class in Castel Gandolfo, a small town near Rome, and it was one of my favourite experiences in Italy.
After a late lazy lunch, spend the afternoon strolling around the pastel-coloured streets of the historic centre, or head slightly out of town to Classis, where another art museum awaits. Alternatively, visit Dante's tomb and learn a little more about the Italian philosopher and writer. Most evenings around sunset, there is a reading of his most famous work, the Divine Comedy, outside his tomb. For dinner, go to Ca' de ven, where delicious Emilia Romagna dishes, such as the local speciality stuffed pasta, Cappelletti, are served in a 15th-century palatial building.
Getting from Comacchio to Ravenna: It's around a 40-minute drive, or you can take the 333 bus, which takes 80 minutes.
Stay at: Hotel Sant'andrea offers spacious and central traditional rooms at a fair price – see more options in the 'best stays' section below.
Read More:
Guide to Ravenna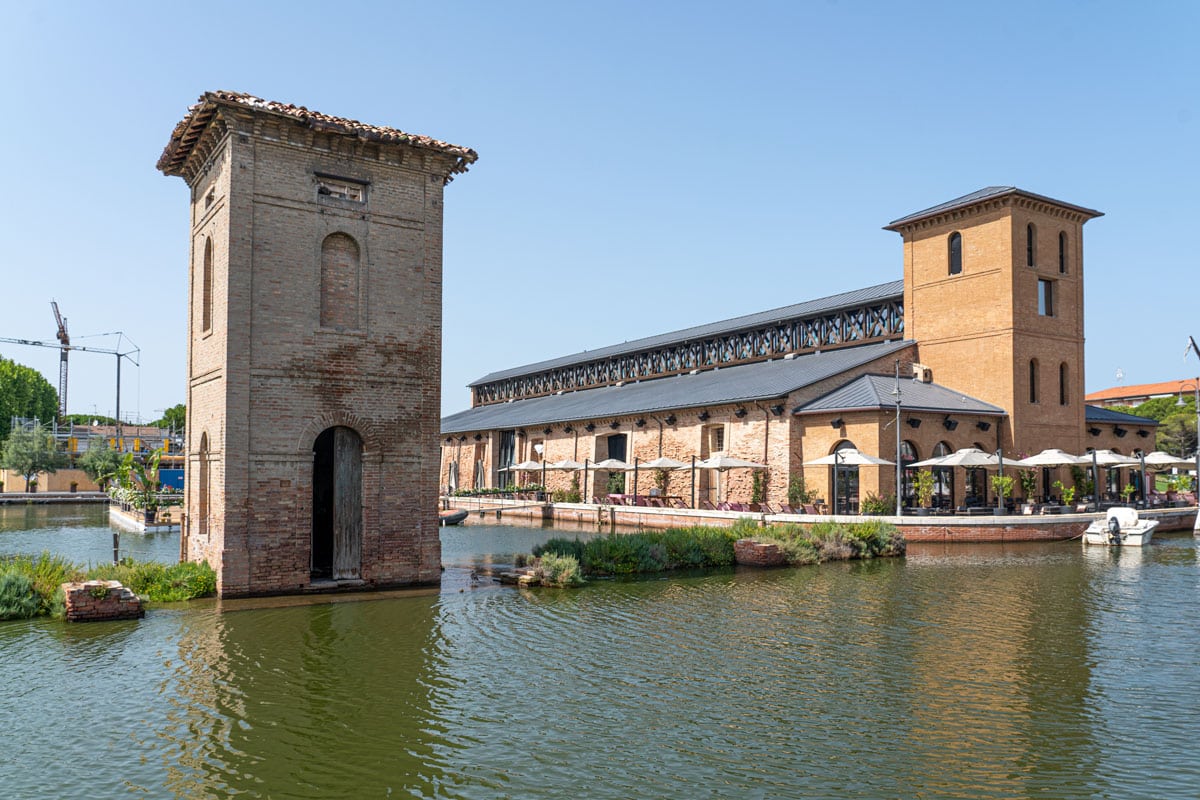 Day five and six: Milano Marittima and Cervia
Heading further south, it's back to the beach proper to spend a couple of nights staying in Cervia, a somewhat more offbeat Italian destination for international visitors. This historic coastal city has been shaped by the surrounding salt pans, which were once owned by the Pope himself. Nowadays, the canals which meander towards the golden sands are used more for fishing vessels servicing the seafood restaurants.
A short walk south along the promenade of Milano Marittima and you'll find even more choices for topping up your tan. This Garden City is dotted with slightly dilapidated Art Nouveau villas, which were built when the resort town started to blossom in the early 1900s. It's a pretty little beach town with plenty of greenery and flowers, as well as upscale boutiques for a little retail therapy.
Day five: Seafood and shorelines
After spending the last few days of this Emilia Romagna Riviera itinerary in the city, it's time to return to the lazy beaches of Milano Marittima. The area around Cala Zingaro would be my pick, as you have loungers and a beach bar if you want it, but also a stretch of wild sand if you'd prefer not to pay up for the parasols. After enjoying the afternoon and a fresh fish lunch on the beach, stroll along the boulevards of Milano Marittima (L'Ottocento gelateria is great for a treat) before heading back to Cervia to enjoy dinner at Officine del Sale, a multi-space seafood restaurant housed in an old salt storage unit.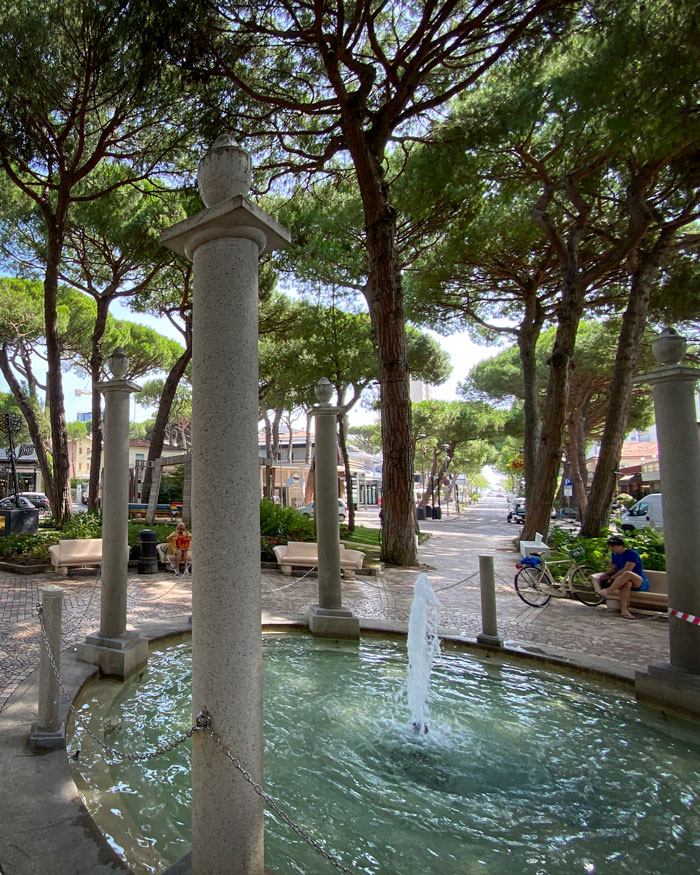 Day six: Salt works and sea views
Many of Cervia's attractions are best enjoyed later in the day, so the morning can be spent lapping up more of Italy's Adriatic Coast. The beaches in front of Cervia are lined with concessions and entertainment options, making lunch with the sand beneath your toes an easy task. After lunch, take a little tour around the Quadrangolo neighbourhood (there's an app you can download to guide you) to learn more about how the town was picked up and re-built from its original position in the salt pans – you can also climb to the top of the Torre San Michele for an aerial view.
Towards sunset, head slightly out of town to the Salt Pans of Cervia Visitor Centre, where you can take a walk with a guide through Cervia's famed salinas. The slightly sweet salt here – often called white gold – is celebrated, but that's not the only reason to visit, as the nesting flamingos are another star. For dinner, I suggest trying Cervia's fantastic mussels at Circolo dei Pescatori, a traditional fisherman's club, before taking a late-night peek inside the MUSA Museum, which will answer any last questions about Cervia's salt history.
Getting from Ravenna to Milano Marittima and Cervia: The joint train station sits in between the two locations and can be reached in less than an hour (including walking time). The drive takes around 30 minutes.
Stay at: Hotel Smart Has a great location, being close to both Cervia's canals, old town and beaches – see more options in the 'best stays' section below.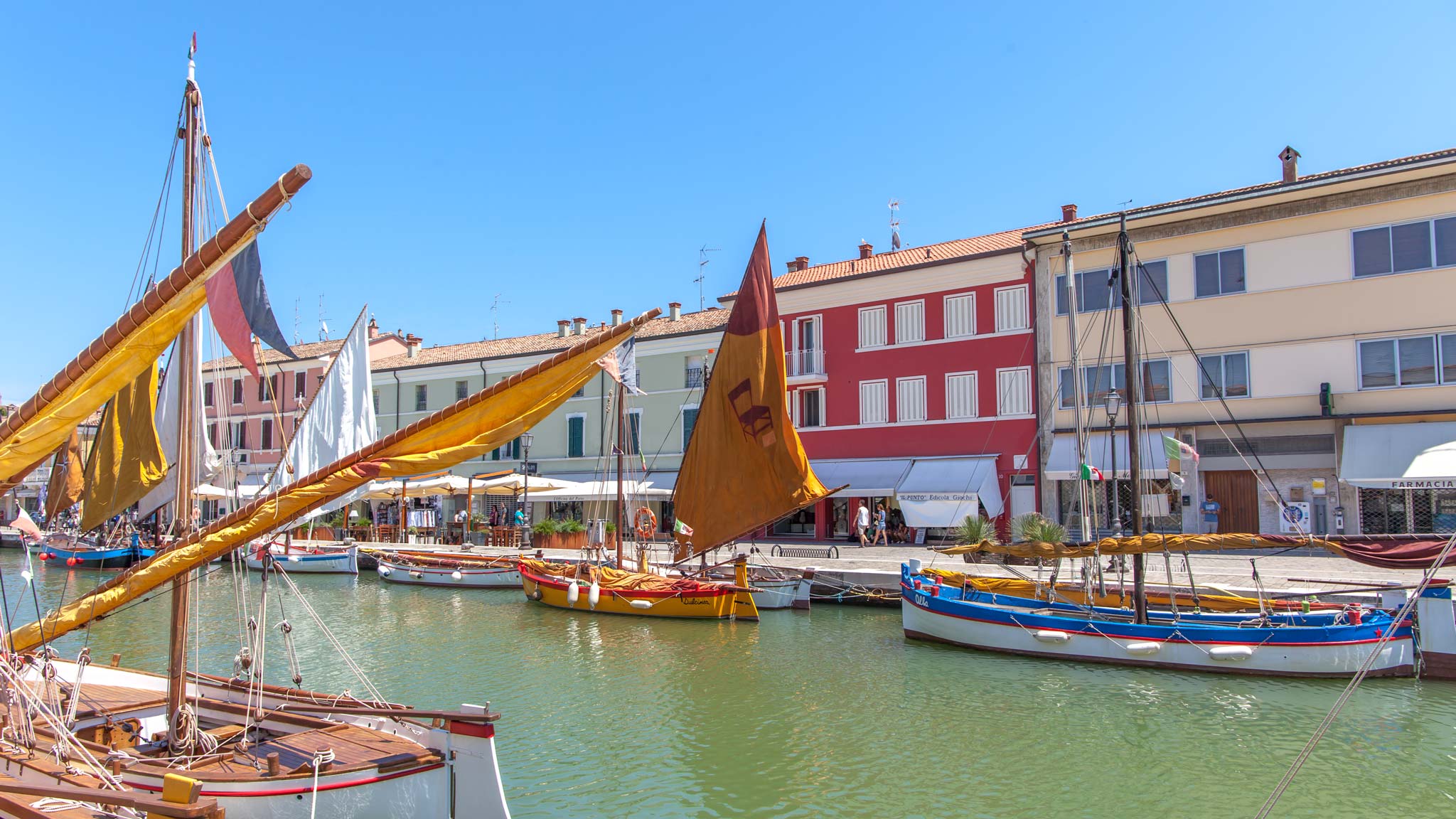 Day seven: Cesinatico or Rimini
Depending on how much time you have left on your final day of this Emilia Romagna Riviera Itinerary before your departure, you could tack on a final stop slightly further south.
Rimini is a good choice (especially if you're flying from the small airport here) as you can see some of the region's Roman history or just stroll along the upscale Parco del Mare promenade for a final beach dip. Cesinatico is similar to Cervia, with its tall ships and canals, and would make for a cute stop for a final delicious lunch before heading home.
Getting from Cervia to Cesinatico or Rimini: It's just a 20-minute drive to Cesenatico and less than 40 minutes to Rimini. By train, you can reach Cesenatico in less than 10 minutes (with a short additional walk), while the regional train takes around 35 minutes to Rimini.

Read More:
Best places to visit in Emilia Romagna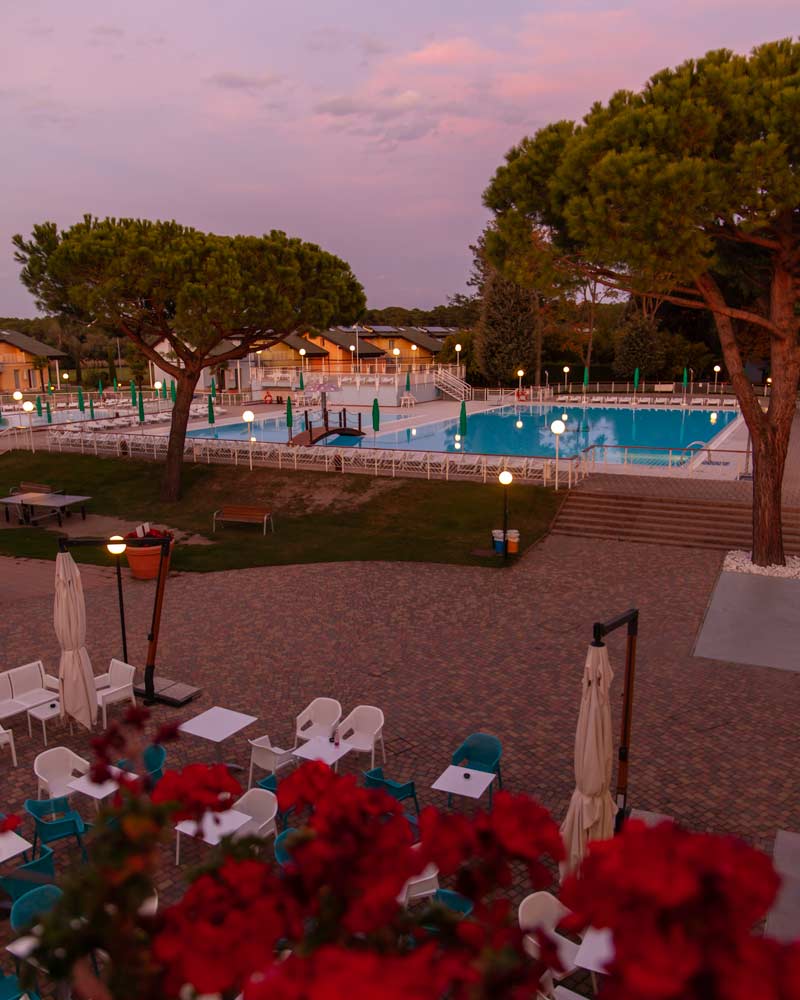 Five fantastic coastal stays on Emilia Romagna's Riviera
You have plenty of options when deciding where to stay along the Emilia Romagna Riviera, whether you want to hop between a few different hotels on a road trip or pick one central base. From family-friendly resorts like camping villages and more budget-friendly tent setups to luxury resorts in Milano Marittima and laid-back hotels in Ravenna, the choice is extensive – just keep in mind August can see prices soar.
Camping resorts near Comacchio
Around Comacchio and the Po Delta, there are plenty of camping options, which are a far cry from a plot of grass for your tent. Some of them, such as the Spiaggia Romea Club Village (where I stayed on my first visit), offer a nature-based resort close to the beach, complete with pools and activities alongside different styles of lodgings. Other decent choices include the Holiday Village Florenz, which has both cabins, pitches and glamping tents and its own beach club, and Camping Tahiti, which is a little back from the beach (it has a complimentary shuttle) but perhaps the most family-friendly resort I've been to in the area.
Family-run base in Ravenna
On my most recent visit to Ravenna, I stayed in the family-owned Hotel Sant'andrea, which was the perfect base to explore the city and even the coast. Just a few minutes from Ravenna's main thoroughfare, the spacious rooms have a traditional charm. But the highlight is the garden courtyard area, perfect for enjoying the breakfast buffet. Check prices.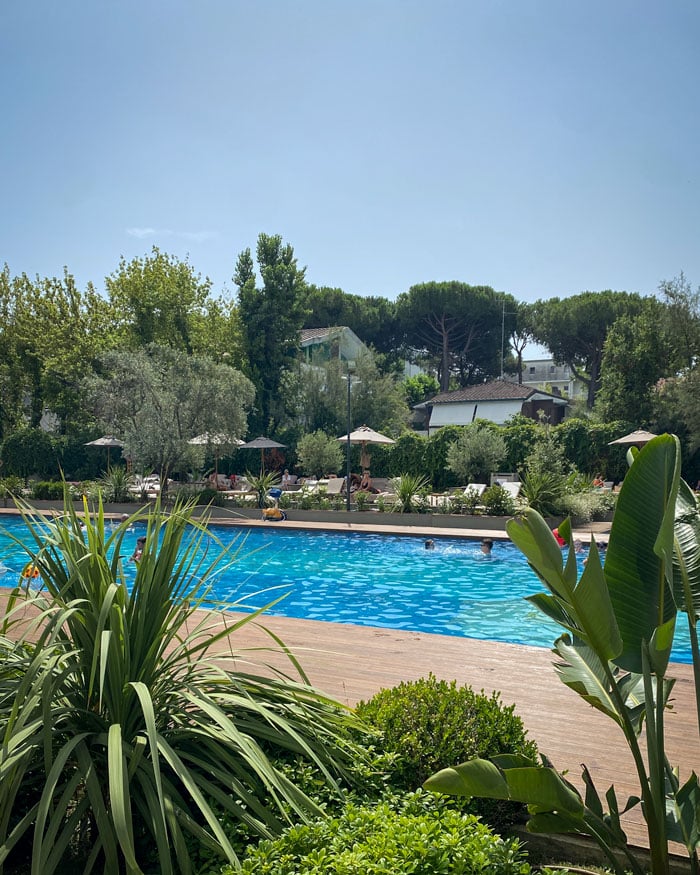 Upscale resort in Milano Marittima
The first hotel ever built in Milano Marittima, MarePineta Resort, is now a renovated and luxurious lodging choice, just a short walk from the sea. With a gorgeous pool, tennis courts, courtyard restaurants and plush rooms, this is an excellent choice for a refined Romagna beach holiday. Check prices.
Historic Ravenna luxury stay
If you want to splash out on a gorgeous historical stay in the heart of Ravenna, then the Palazzo Bezzi Hotel is an excellent choice. This magnificently renovated property has spacious designer rooms, a spa space with a sauna, and a roof terrace to relax on. Check prices.
Fair-priced seaview stay
While you won't really find a budget option in Milano Marittima or Cervia at the height of summer, Hotel Moderno B&B is great value for what you get. With some Seaview modern rooms at fair prices, it's a good option if you can snag a deal. Check prices.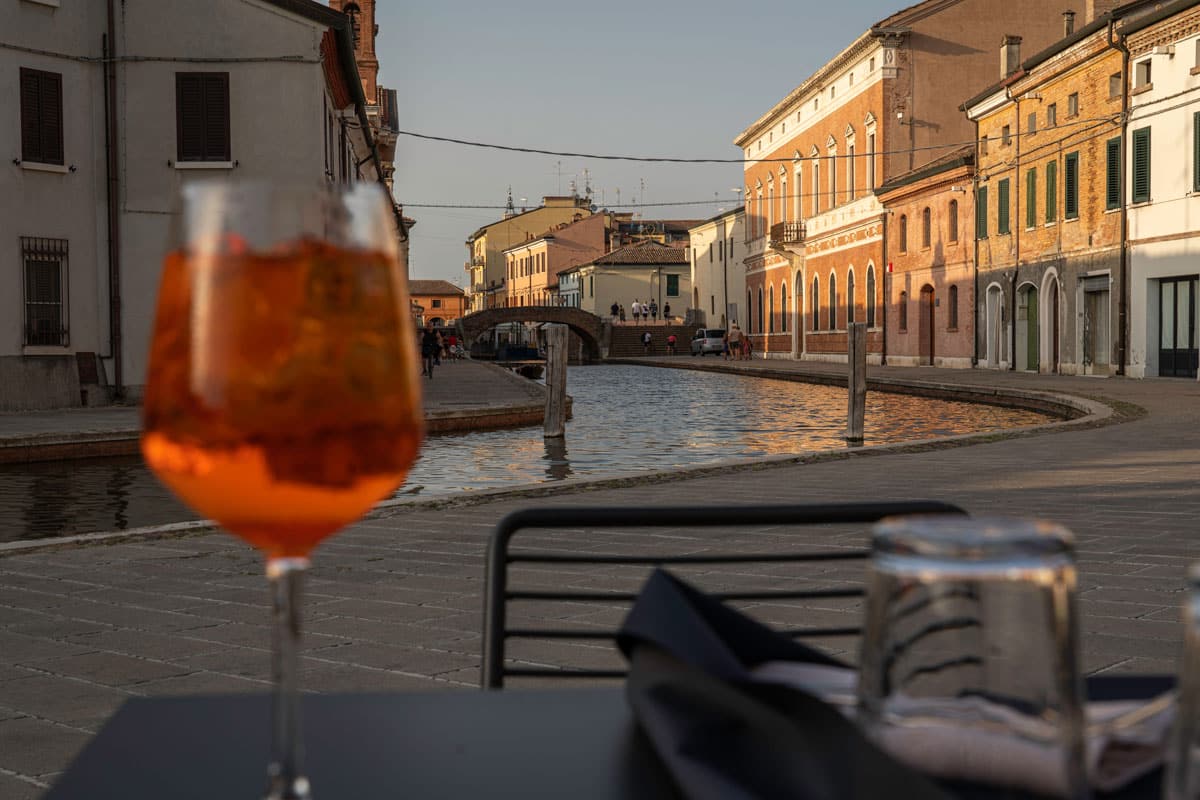 Five of the best Adriatic beaches in Emilia Romagna (Best beaches near Bologna)
For me, the best beach is usually the nearest, and wherever you end up stopping on your Emilia Romagna Riviera trip, you're sure to find some inviting sands to take a dip in the Adriatic Sea. But, if you just want to make a beeline to one of the best stretches of sand or are looking for the best beaches near Bologna, these are some of my favourite places to start.
Just keep in mind that beaches work a little bit differently in much of Italy than in other destinations. If you go to one of the bagno (beach resorts) with umbrellas and concessions, you must pay a daily reservation fee. However, the beaches themselves aren't private, so the small strip of empty sand usually found in front of the long rows of sunbeds are for the taking. Still, if you'd prefer to be away from these busy and often crammed stretches, it's best to head to one of the public beaches (sometimes called wild), where you'll find more space and, likely, a more relaxed recommendation.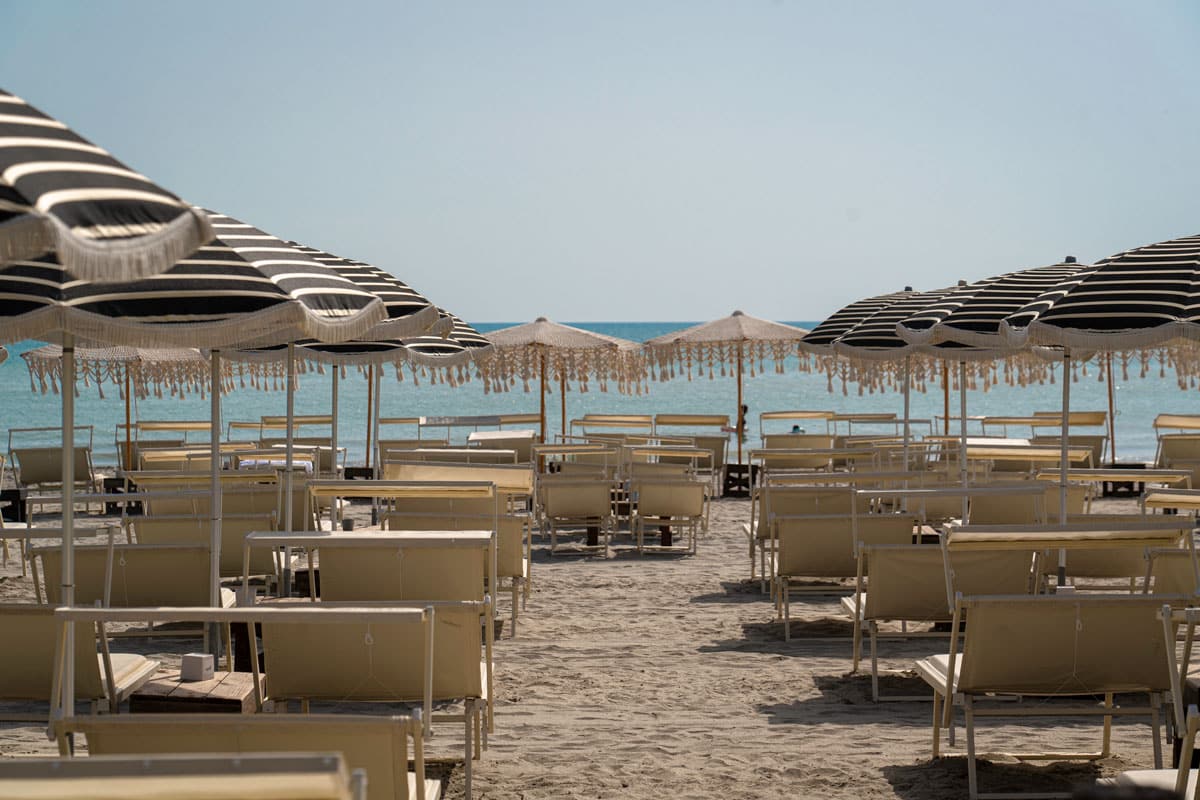 Le Dune Beach, Comacchio
In front of Holiday Villa Florenz, on Comacchio's coastline, Le Dune Beach is less overrun than some of the others nearby. You can rent Gazebos rather than parasols here or just relax on the soft, inviting sands. There's also a decent restaurant, Monnalisa, to grab lunch.
Cala Zingaro, Milano Marittima
Moments from the pretty flower-lined boulevards of Milano Marittima, Cala Zingaro bridges the best of both worlds on the Emilia Romagna Riviera. With a gorgeous and well-kept beach club to one side and blissful sands devoid of umbrellas and sunloungers on the other, you can enjoy a lazy afternoon on the sands with decent drinks and snacks a short stroll away.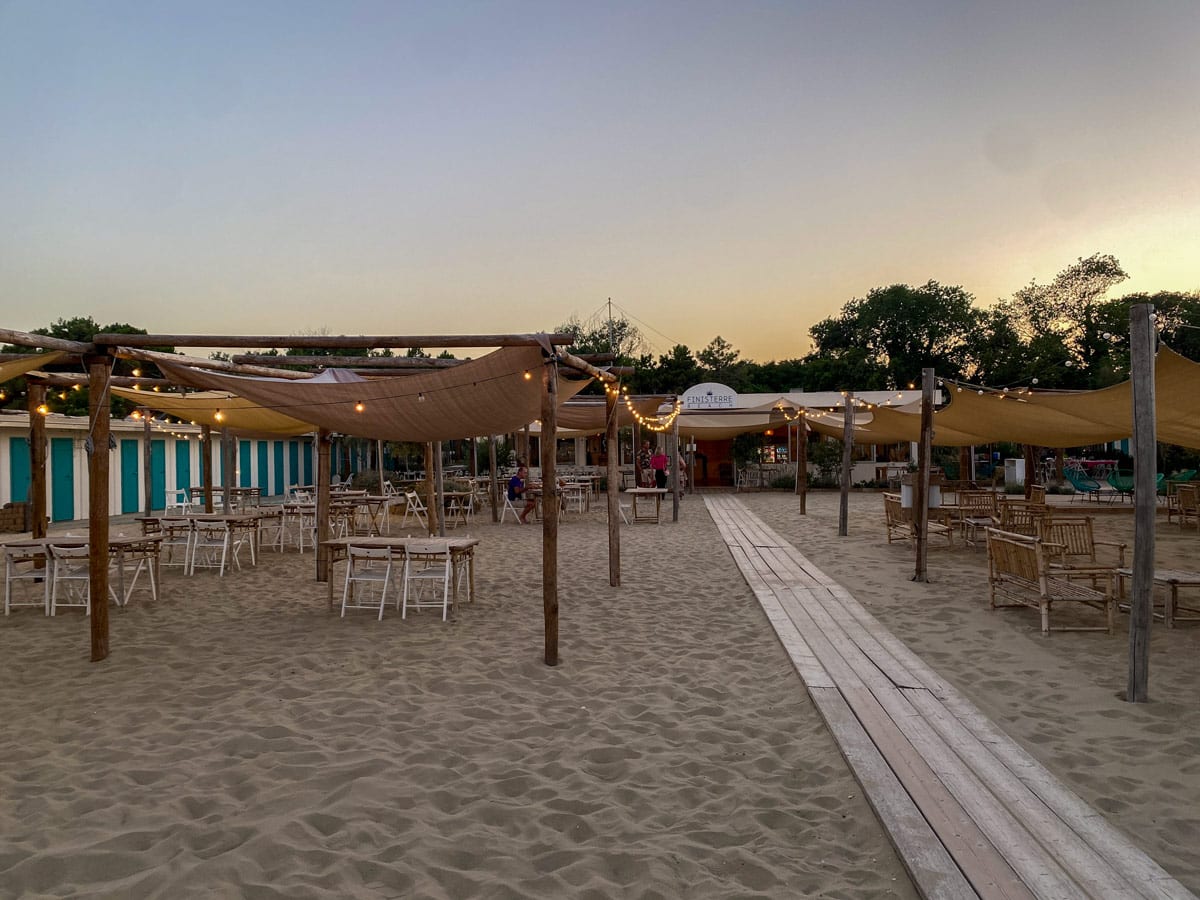 La spiaggia libera di Marina di Ravenna, Ravenna
The long expanse of coastline that belongs to Ravenna has plenty of choices on offer. To the north, closer to the ferry terminal, you'll find a range of decent beach clubs and restaurants (I've eaten at both Finisterre Beach and Singita), which are decent for lunch, sunlounger rental or a beautiful sunset often followed by a summer party. However, for a less developed option, place yourself in the middle of the stretch at Spiaggia Libera di Marina. Backed by dunes and pines, this wilder part of the beach is one of the few free beaches in Ravenna, and it's an ideal choice if you want to enjoy the Adriatic Coast without background music and rows of umbrellas.
Cervia's Coastline
In front of storied Cervia, the coastline is packed with entertainment, beach clubs, and row upon row of umbrellas that coat this vast swathe of sand. It's not somewhere to come for a peaceful moment of reflection, but if you want plenty of choices and competition for beach concession deals, music in the background, and to be just a short stroll from Cervia's fishing restaurants, it's a solid choice.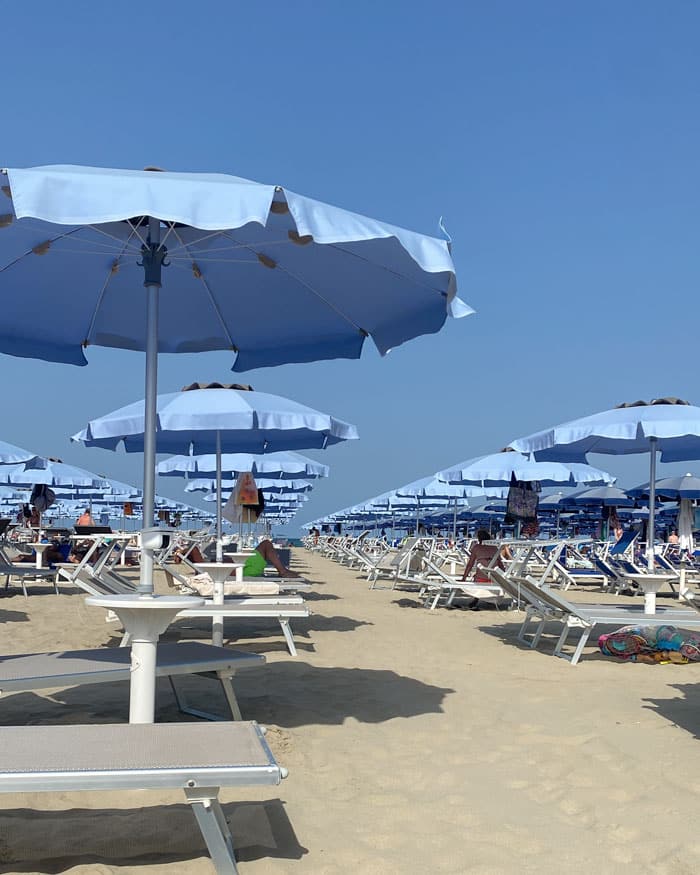 Spiaggia Le Colonie, Rimini
Rimini has plenty of paid-for beach concessions, but there are also plenty of public beaches nearby. I'd suggest heading to the south of the city – further away from the port – to Spiaggia Le Colonie or nearby. This gorgeous stretch of wild sand isn't coated in parasols, and you'll usually find a quiet corner for yourself.
Five best coastal experiences on Emilia Romagna's Riviera
Beyond the beaches, the Emilia Romagna Riviera has plenty of attractions to keep you entertained when you want a break from topping up your tan or bathing in the Adriatic – these are my top picks of places to visit and things to do nearby.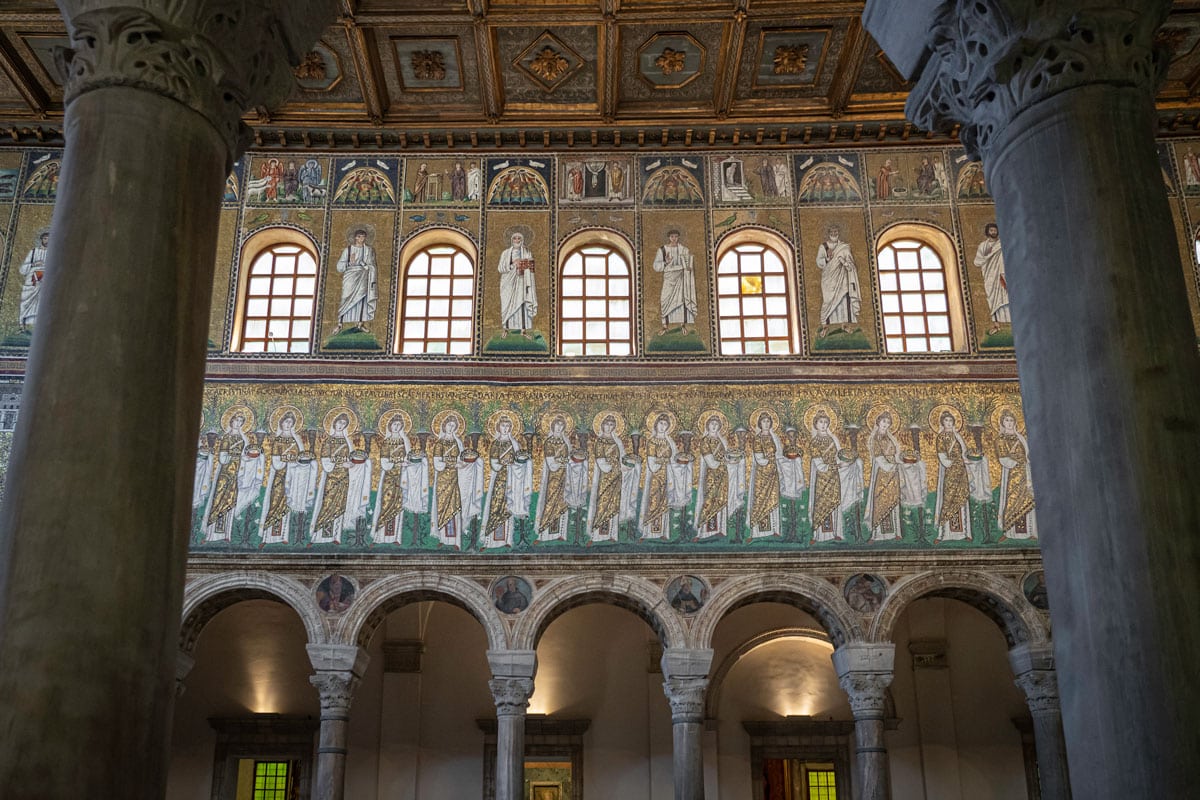 Marvel at Ravenna's UNESCO-listed mosaics
Ravenna is arguably one of Europe's most underrated cities. Once the capital of the Western Roman Empire, this city, a short drive from the Adriatic Sea, is steeped in history. Most impressive are the eight UNESCO-listed monuments (some of which I mentioned above), especially those decorated with colourful Byzantine mosaics. If you do one daytrip as part of your Emilia Romagna Riviera, this would be the one I recommend – it truly is one of my favourite cities on the planet.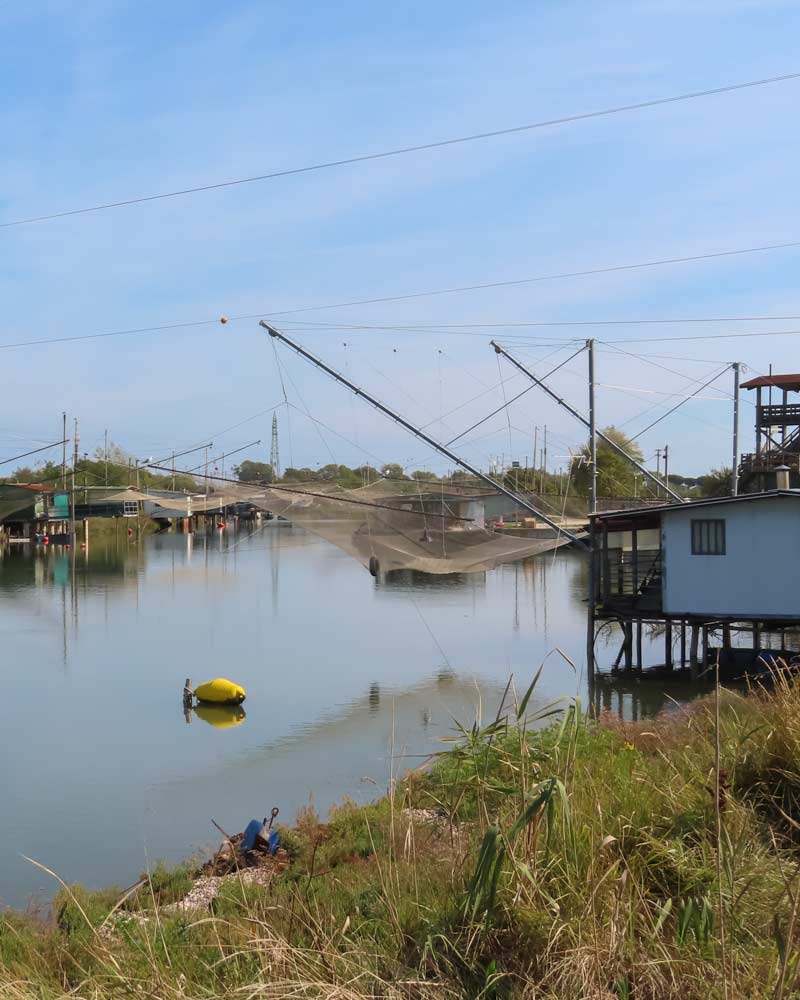 Explore Commachio's Canals and Po Delta
Comacchio is one of my favourite places in Italy and remains a somewhat offbeat destination in Europe. I can't really tell you why, but I think it's because the fishing town was relatively cut off from the rest of the country until the last century, which has helped it keep much of its traditional charm and helped preserve the nature of the Po Delta.
As well as exploring all of the highlights mentioned in the above Emilia Romagna Riviera itinerary (flamingos, historic ship museums, and pretty canals), you can spend longer delving into the town's fishing past in the eel-focused Manifattura dei Marinati Museum (they even have an eel festival in September), or heading out deeper into the Po Delta, perhaps even joining one of the traditional clam fishermen to collect these tasty morsels near the Sacca di Goro using the traditional method of a wooden rake called a rasta.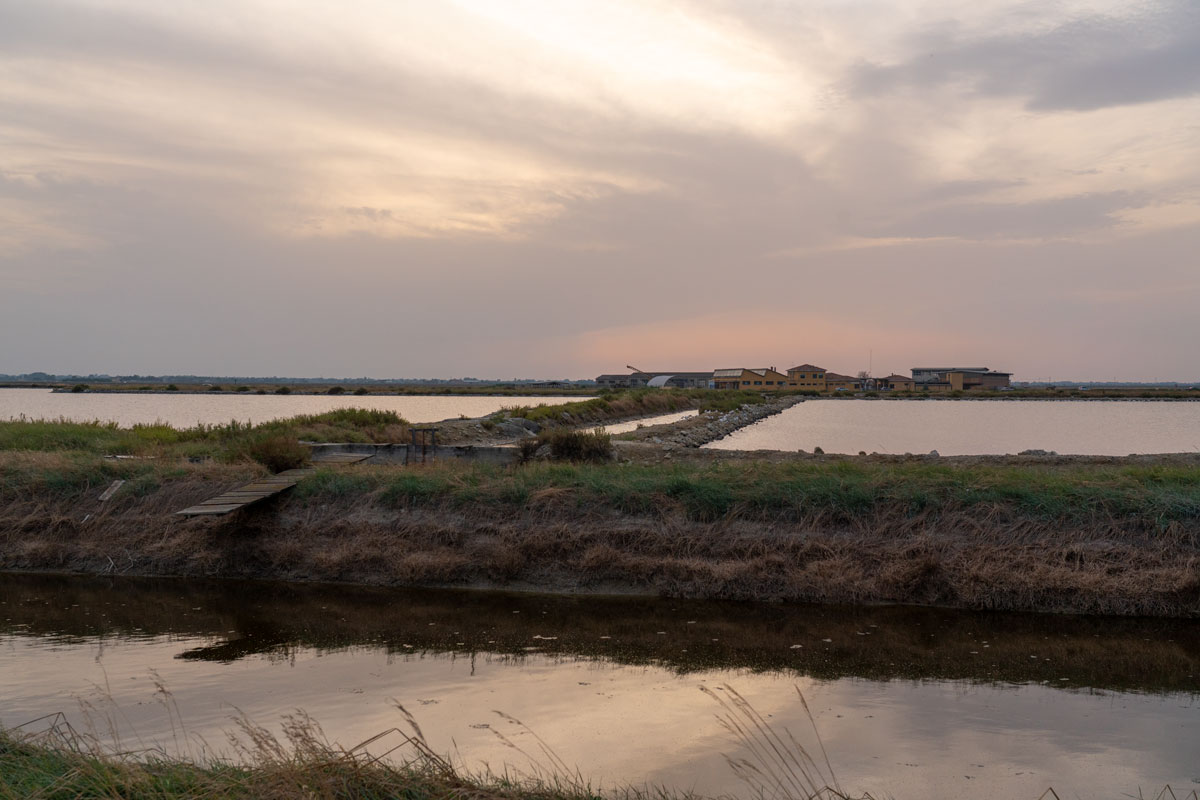 Discover Cervia's salt works
Alongside the MUSA Salt Museum and flamingo spotting salt pan tours I covered in the Emilia Romagna Riviera itinerary above, there are a couple of other opportunities to learn more about Cervias's sweet salt. The museum also organises 'experiences' during summer to see what it's like to work the salt pans for the day, while visits to the piled-high Camillione salt pans are possible by a guided tour during the summer afternoons on Thursdays and Sundays.
See the canals and boats of Cesenatico
Cesenatico has a lot of similarities to Cervia and is only slightly further along the coast. With colourful canals similar to Comacchio – though these are more likely to have a couple of the grand traditional sailing ships on them – and a fine stretch of sand, it's one of the most popular destinations in the region with locals, yet remains something of a hidden gem in Italy for visitors.
Visit the historic city of Rimini
While Cattolica marks the end of Emilia Romagna's Riviera, Rimini is the furthest I've explored, and it's a great city to include if you want some history served up alongside your sunbathing. With over two thousand years of history, this port city was a key part of the Roman Empire and flourished again during the Middle Ages. Key sights include the Roman arch and Ponte di Tiberio bridge, the 13th-century Malatestiano Temple and a handful of museums, and families will enjoy an afternoon at the 'Italia in Miniatura' theme park.

Read More:
Best places to visit in Emilia Romagna
https://www.danflyingsolo.com/wp-content/uploads/2023/09/Cervia-Milan-Marittima-Emilia-Romagna-Italy-102-2.jpg
1366
2048
Daniel James Clarke
https://www.danflyingsolo.com/wp-content/uploads/2022/01/blogo-1w.png
Daniel James Clarke
2023-09-08 19:01:00
2023-09-21 13:20:34
Emilia Romagna Riviera 7-Day Itinerary: Beaches and Byzantine Mosaics