Reasons to visit the Murcia Region of Spain
This website uses affiliate links which may earn a commission at no additional cost to you. As an Amazon Associate I earn from qualifying purchases.
Updated: 21st December 2020
Nestled between the regions of Andalusia and Valencia, the Region of Murcia in Spain has somehow managed to stay under the radar to international tourists, when compared to the hoards of tourists that visit nearby Alicante or Granada. But, that doesn't mean it has less to offer, it just means it is lesser-visited – and for those of us who enjoy our travels without the crowds, the Region of Murcia provides an attractive destination.
With a capital city of the same name, people can sometimes be confused that Murcia is just one spectacular city when it is, in fact, a region. A region which offers all of the best of Spain in close proximity. The seemingly never-ending beaches along the Costa Cálida coastline, the fascinating Roman history and ruins in Cartagena, the incredible value tapas and wine routes – everything you would want from a Spanish vacation can be found right here. With the launch of new direct flight routes last year to the region's airport, it's also much easier to access than ever before.
So whether you want to relax in an all-inclusive, or head off on an intrepid road trip to the most arid corners of the Murcia landscape, here are just some of the best reasons to go to the Murcia Region, and best of all, you could even combine them all into a road trip. Find my easy to follow highlight itinerary at the bottom of this post to explore this slice of secret Spain.
1. Be amazed at roman history in Cartagena
While Murcia is the capital of the region, the city that most impressed me was the port-city of Cartagena.
There is a lot of history to indulge in here, which isn't surprising as it dates back to 220 BC, with countless Roman ruins and attractions to admire which span hundreds of years.
Of particular note are the restored Roman Theatre, an amazing structure which incredibly I managed to book an apartment with a balcony basically overhanging it, and the Roman Forum, one of the largest city-centre Roman excavation site in Spain. For history buffs, there are countless museums here, from nautical to murals, covering anything from defensive rules to recently found roman artefacts – it could easily be a city break in its own right.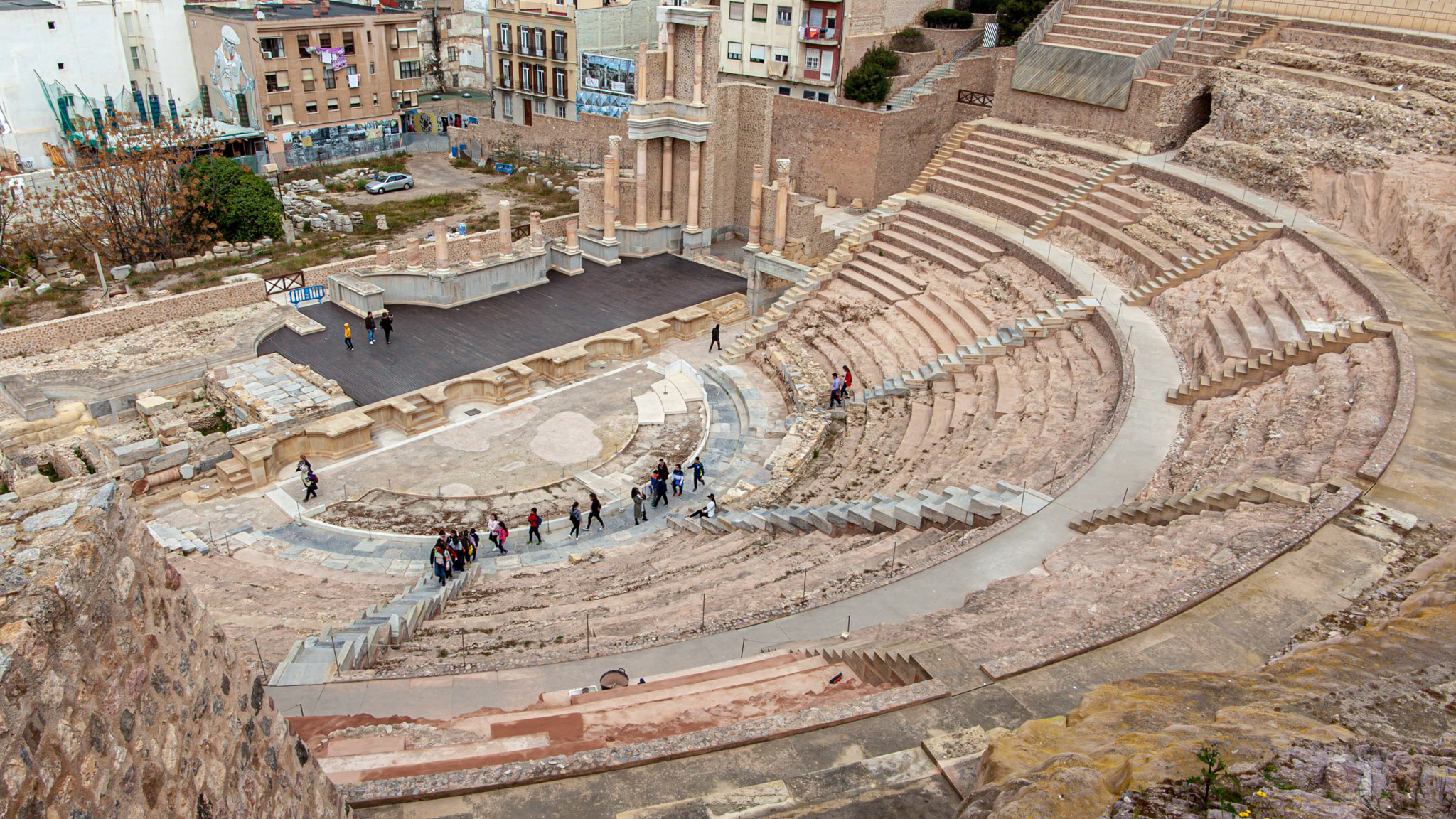 2. Relax on more than 250km of Costa Cálida coastline
The region of Murcia is renowned for its Costa Cálida, 250km of sunny coastline, which offers wide beaches with all-inclusive resorts, to smaller coves and caves with hardly any visitors.
The coastline isn't just all about relaxing and sunbathing, although it certainly can be. Alongside plenty of water sport options, there are a few unique attractions along the coast.
Just over the border towards Alicante sits Torrevieja, where a bright pink lake can be found. In the Salinas y Arenales Park you'll also find salt pans, and pink waters, alongside windmills. Following along the coast you'll reach the unique looking Batería de Castillitos, a 1930s military battery which presents as a castle on the rocks. Continue to Bolnuevo beach, home to some fascinating rock formations, carved out over hundreds of years from sandstone.
3. Sample the fantastic local wine on the Murcia Wine Route
Hop between uncrowded wine cellars, indulge in lavish tasting and pairing menus at reasonable prices, and meet first-hand the wine-makers of this arid, dry region – the micro-climate very much giving the grape its unique flavour.
Spanning across the municipalities of Yecla, Jumilla and Bullas, this wine route will take you from traditional underground cellars to modern and funky wine producers. It's fair to say that Monastrell has become one of my favourite wines – it's the only wine I regularly get imported to enjoy at home.
Wine events are held year-round depending on the season. From one of the longest harvests in Spain (usually late August to early November) to Tapas Months and Easter Celebrations, timing your visit to the Murcia Wine Route to include one of these events is very advisable. Either way, there are countless vineyards and tasting rooms to visit – you can find some of my favourites on my Murcia Wine Route guide. A little tip, while some wineries offer tours in English you might want to learn some Spanish online before your trip.
4. Great value and quality cuisine and tapas
As well as the fantastic wine in the region, the culinary offering is also impressive – and at a fraction of the price compared to more touristed destinations.
Regional specialities include Alcachofas de la Abuela, which translates to Grandma's Artichokes, a simple dish seasoned with wine, pine nuts and bay leaf, and Caldero Murciano, a rice and fish dish prepared in a cauldron-like pan. The regional specialities are simple, yet delicious, and the restaurants offer some of the best value Spanish cuisine I've ever tasted. A €40 wine pairing menu in Barahonda an absolute start of my visit.
Tapas is also well represented here, with lots of seasonal events such as the Yecla Tapas Trail, where you can bar hop and sample a local dish and wine for around €2.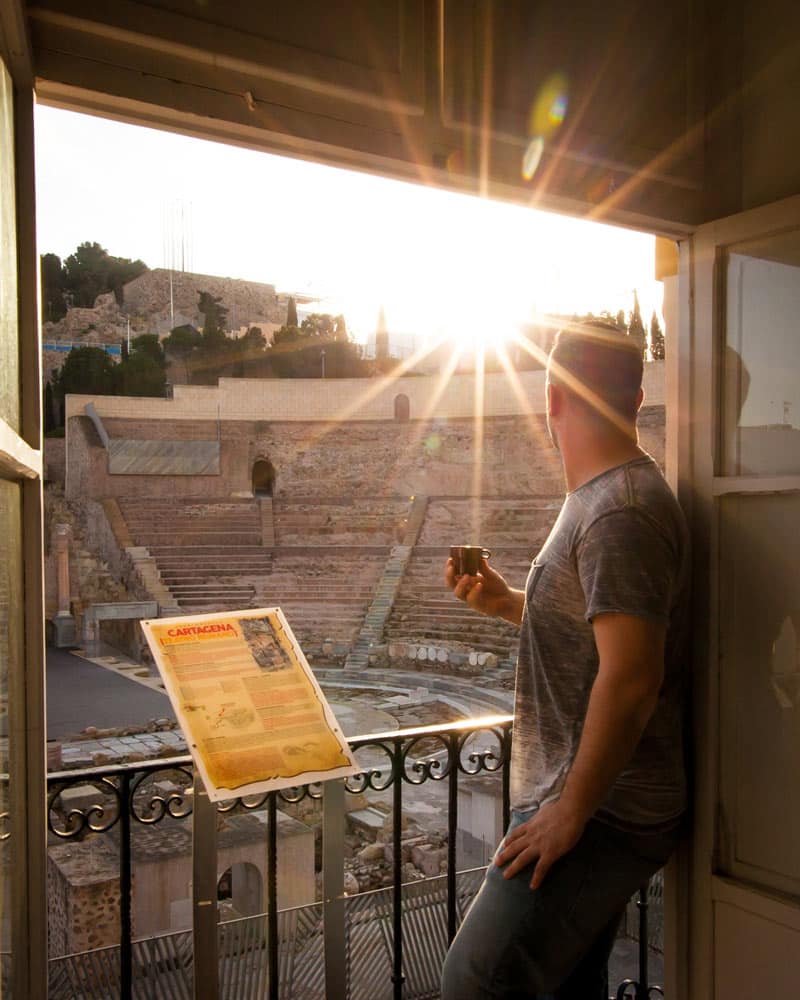 5. Bask in the grand architecture of Murcia City
The capital of the region, Murcia City would make for a great two-day city break, and could also be used as a base to explore the region on day-trips.
With a young and exciting energy to the city, driven I assume in part by the university population, the relatively compact pedestrianised centre is a joy to walk around.
The impressive cathedral can rival those in other major cities, combining Baroque, Renaissance and Gothic architecture, while other highlights include the Bishops Palace, a pastel red building with a beautiful courtyard, and the Islamic masterpiece tiling inside the Roayl Casino of Murcia, a members club which has some of its best rooms and features open to the public.
6. Enjoy Spain with fewer crowds
I think it's fair to say that Murcia certainly doesn't suffer from over-tourism in the same way as Barcelona does. While in the know locals head to the beaches here to escape some of the more popular tourist resorts overtaken by international visitors, the sheer length of the coastline and the plentiful amount of authentic villages means everyone can find their place here.
My visit in Spring meant visiting the vineyards was a near private experience for tastings, and there were never any crowds in any of the attractions or museums – the should seasons are just as attractive as the summer months, which brings me to my next reason to visit Murcia.
7. Year round warm climates
It's likely fair to say most places in southern Europe are attractive options to Brits after a long winter, but thanks to its geography and location, Murcia is actually home to a few different micro-climates. Inland this means scorching hot summer days, creating the arid looking interior, but freezing cold winters. All of this is what gives the grapes and wine such a fascinating taste.
For the coast though, the temperature of Murcia remains warm-ish throughout the year, although Spring to Autumn is still the best time to visit. While Summer brings temperatures closer to the 30c, even in the shoulder-season you can expect to be around 17-20c, a tempting offerer compared to the British weather during these months!
8. Slow down with rural agri-tourism
Agriculture has always been a huge focus in the Region of Murcia and is an impressive achievement given the arid soil. In the 17th-century orchards starting to convert to vineyards, however, it's still often called 'Europe's Orchard' due to the sheer number of fruits grown here.
The Almond blossoms provide a colourful sprinkle to the region in Spring, while the harvest here, which can last as long as from August to November provides a coating of greenery and grapes across the countryside from the low hanging Monastrell grape which grows outwards, rather than upwards.
Spain has been a little slower than Italy to entice visitors for the slow agri-tourism concept, but it's certainly possible here in Murcia. With plenty of cool accommodation options, from staying in a windmill in an orchard, to a rural home amongst a vineyard, you can quickly slow down and become one with nature far away from others.
9. Bathe in natural thermal springs
Murcia has started to become quite well known as a wellness destination. Yes, there's plenty of Vietnam D on offer, but there are also plenty of spa hotels and accommodation across the region.
The natural thermal springs are in various spots, in more natural settings or in spa-circuits, and these can be combined with the muds of Mar Menor, where high saline levels make them suitable for therapeutical treatments.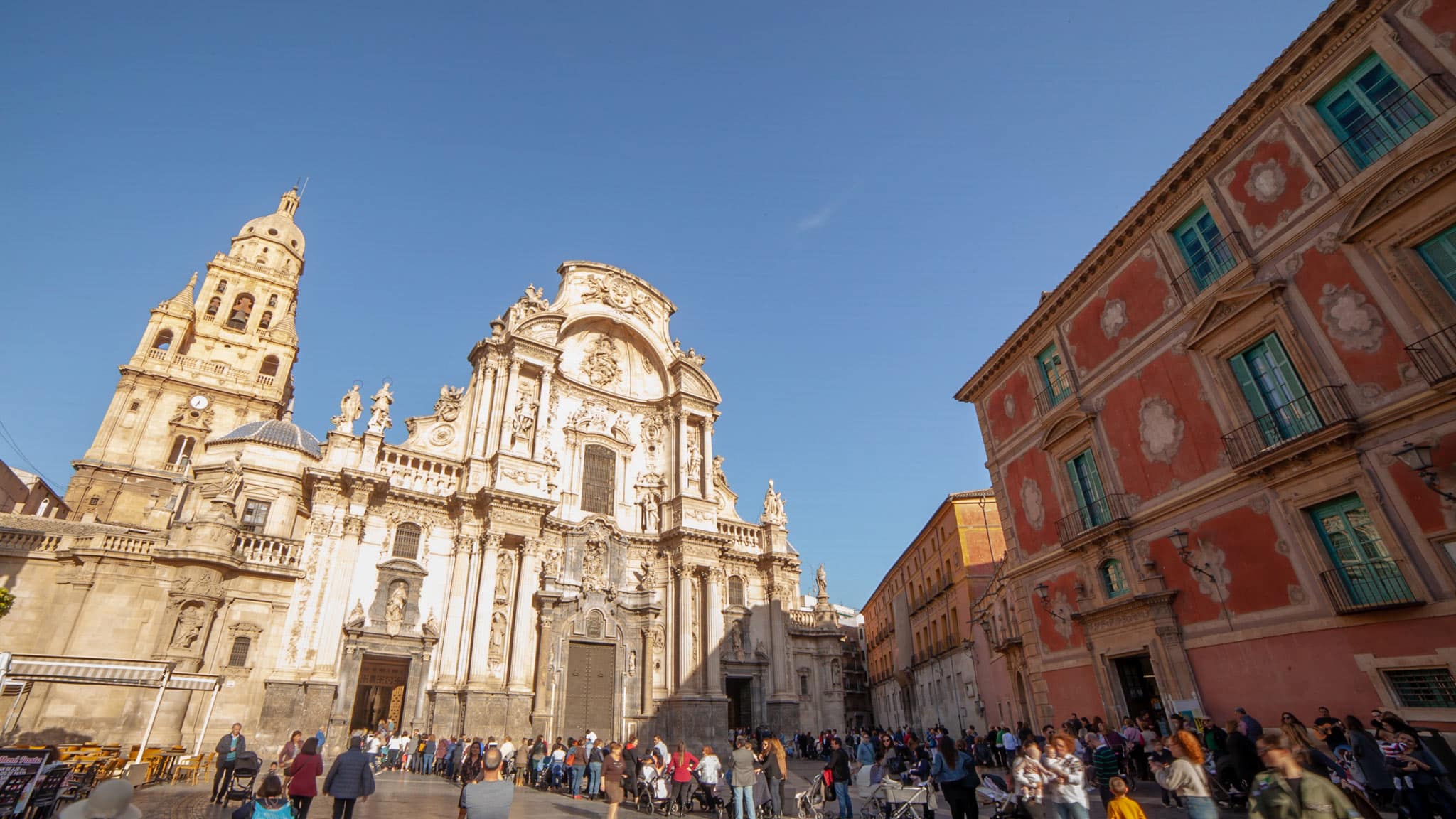 10. City, culture, coast and cuisine on one road-trip
There is a lot to experience in the Region of Murcia, so if you are like me and enjoy a few days on the beach, but then quickly get board, you can easily combine all of this into a road-trip – allowing a good blend of city, coast, culture and culinary treats during a one-week road trip of Murcia, see my suggested route below.
There are also plenty of adventure activities to be enjoyed in the region, providing even more reasons to visit Murcia. Cueva del Puerto for example is a huge underground cave and rock formation, spanning more than 700-metres long. Other outside activities, such as mountain biking or hiking trails are readily available, while rafting in the Almadenes Canyon is both picturesque and a great adventure.
One week road-trip itinerary
If you want to try and experience as much as possible of the Region of Murcia during your holiday, here's a sample one-week Spain itinerary by car to enjoy your time here.
Day One: Arrive and Relax
Arrive to Murcia Regional Airport (or transfer with Solhop from Alicante airport)
Check into a coastal resort for two nights
Popular options are southern-most adorable village of Águilas, the sunny bay resort of Mazarrón, or the Cartagena coast if you want to be closer to the city with varied landscapes
Day Two: Beach Day
Spend the day road-tripping along the coast and exploring some popular spots
Head to The Enchanted City Of Bolnuevo to visit the Bolnuevo sandstone rock formations
Drive a further 45-minutes past pretty bays to the imposing Batería de Castillitos
Enjoy various bays and beaches along the coastline
Day Three: Cartagena
Drive to Cartagena, and check in to the Cartagena Apartments with amazing views of the Roman Theatre
Spend the day exploring the top attractions in the city. The Roman Theatre, Roman Forum, Conception Castle, the Punic Wall and the ruins of the Cathedral
Enjoy a fantastic meal at Restaurante Casa Cassciaro, or grab tapas and wine in Bodega la Fuente
Day Four: Lorca
Drive four around one-hour from Cartagena to Lorca
On the way stop off at Quitapesares Terrace and Sanctuary for a visit and a coffee looking across at the city of Murcia
Once you arrive at Lorca, check into the Parador de Lorca, actually part of the castle above the city
Explore the castle complex, including the remains of the Synagogue actually underneath the hotel
Head down into Lorca centre to visit some amazing museums, such as the Archilogical Museum with Roman artefacts, the muBBla Museum to see the amazing white and gold chapel, and the Paso Azul museum to learn about Semana Santa, the Easter traditions and outfits.
Day Five: Wine Route – Pick your prefered vineyards and ideas from the below three wine destinations
From Lorca, drive to Bullas in around one hour
Enjoy a coffee and walk through town, then visit the Wine Museum to learn about the local grape
Head to Lavia Winery to admire orchards and enjoy a wine tasting
Next, drive for around an hour to Jumilla, to visit Casa Rojo Winery for a tour and tasting menu lunch
If there is a designated driver, continue on to Jumilla castle, then Yecla for the evening – or stay in Jumilla nearby
Drive Jumilla to Yecla in around thirty minutes
Have a wonder through the town, admire the Basílica, then pop to Castaño Winery for a tasting of their 100% Monastrell wines
Barahonda Winery is the perfect place for another tasting menu lunch, great value and fantastic service
If you have a designated driver head back to Murcia city (around one hour) or book to stay in Yecla and enjoy the local tapas restaurants
Day Six: Murcia
Spend the day in the capital city of Murcia visiting some of the top attractions
Start in Cardinal Square, visit the Cathedral and climb the tower for the best views, before heading to the Bishops Palace next door
Head to the Santa Clara Monastery for some history
Enjoy a delicious lunch at one of the many authentic local restaurants
Visit the incredible Real Casino of Murcia to admire the ballroom, library and islamic tiling
Enjoy a show in the spectacular Murcia Theatre
Day Seven: Murcia & Departure
Spend the last day enjoying whatever activities you haven't had time for
If you have more time, or are looking to go more in-depth into the region, I have more detailed guides on spending a couple of days on the Murcia Wine Route, or more of the cultural attractions in the main destinations of Murcia, Cartagena and Lorca here.
https://www.danflyingsolo.com/wp-content/uploads/2019/07/Murcia-Spain-Cathedral.jpg
1152
2048
Daniel James Clarke
https://www.danflyingsolo.com/wp-content/uploads/2022/01/blogo-1w.png
Daniel James Clarke
2020-12-21 11:39:11
2023-10-02 17:29:46
Reasons to visit the Murcia Region of Spain