Savouring Colonia Roma: A food tour around Mexico City's most gastronomic neighbourhood
This website uses affiliate links which may earn a commission at no additional cost to you. As an Amazon Associate I earn from qualifying purchases.
Updated: 15th April 2022
Visit in partnership with the Tourism Recovery Programme
Sporting a baseball cap and low hanging jeans, a young man practices the trombone as dog-walkers stroll by, swinging their hips from the soothing sounds. At this intersection of a tree-lined boulevard, each corner houses a grand and ornate building that wouldn't look out of place in the heart of Italy.
Welcome to Colonia Roma, a suburb of Mexico City and perhaps the most exciting neighbourhood for aficionados of the capital's growing culinary scene. Of course, Mexico and delicious food are ubiquitous, but in the wide boulevards and corner enclaves of Roma, you'll find flavours from across the nation, served up with creative twists.
'In Colonia Roma, they are always trying to do something different, unique and creative', Grace, my guide from Sabores Mexico Food Tours, tells me as I sink my teeth into seafood and pork carnitas at our first (of many) stop of the day.
Washing down the too-good-to-be-true combination of flavours and hot-hitting salsa with a glass of Horchata, a milky cinnamon drink, Grace delved into the context of both the neighbourhood and the chefs who crafted its flavours.
The chef and brains behind Tres Gallons, our first stop on a leafy side street, was the man we all owe a thank you for bringing seafood tacos to the metropolis following his time working on the pacific ocean. While fish had historically not been popular in the inland capital due to distance and freshness, his tenacity to blend the beloved fish taco with a small menu of innovative flavours had firmly placed this restaurant on the map.
'The chefs are using all the traditional ingredients – you just have to be very innovative to compete in this neighbourhood', Grace highlights as we head towards the main thoroughfare dotted with statue-style fountains reminiscent of Rome.
Over the next five hours, we admired elegant buildings, a lot of which are now restored and slightly sinking following the tragic earthquake of 1985, while chowing down on creative dishes – many of them having been brought to Mexico City from far-away remote towns.
In Roma, Michelin star dining is found inside Art Nouveau windows, as diners look out upon taco street stalls – it's a neighbourhood with flavours for all tastes and wallets. However, it hasn't always been the foodie-mecca it is now. It wasn't until 2010 that Colina Roma started to blossom into a gastronomic destination.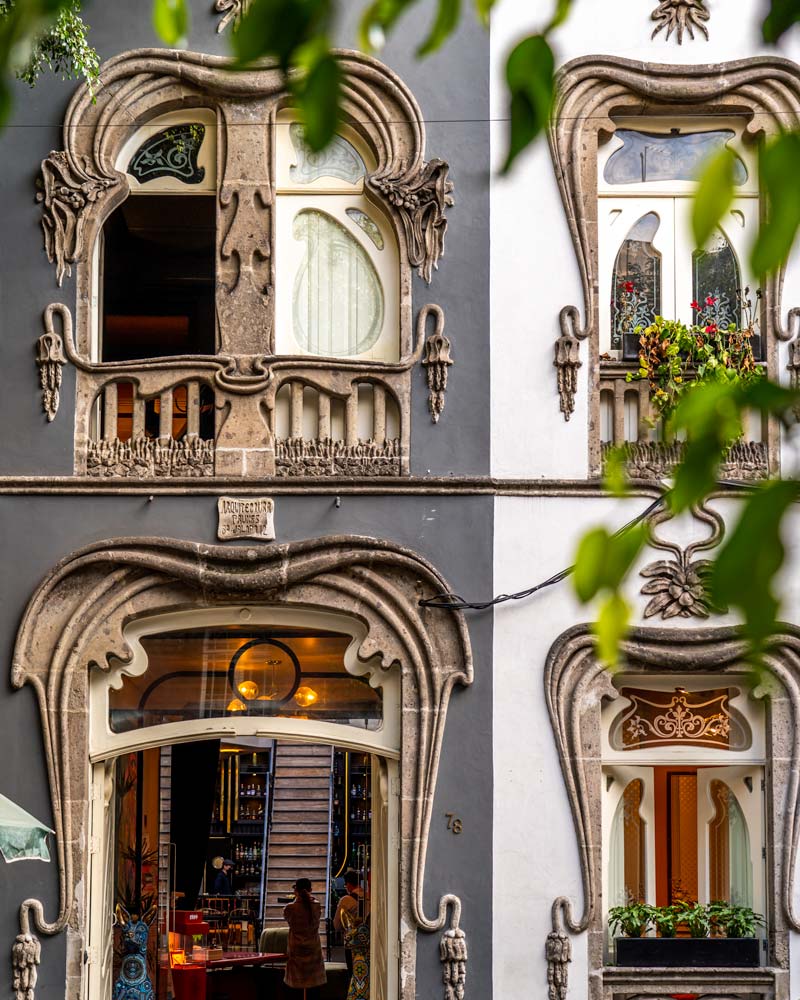 With some 10% of the country's finest listed and protected historic architecture, the upkeep of these opulent buildings doesn't come cheap – especially in a neighbourhood slowly sinking due to its location built on a lake. As such, owners started to convert and rent out the lower floors to restaurants, shops and cafes to recoup some of their renovation costs.
As you walk the streets of Roma, which are flanked by some of Mexico City's grandest European style architecture, the former president who had a hand in crafting this Rome-like setting becomes more and more evident.
With legends of clowns, a circus owner, and stories of the suburb going from wealthy residents to apartment conversions and then post-earthquake squatters, Grace wasn't just guiding me through the plates placed in front of me, but the whole history of the neighbourhood. Although, I don't want to spoil all the stories in advance; some things are better left for you to learn on tour!
Like the years that followed the devastating earthquake's economic turmoil, the last few years in a pandemic-ridden world have produced their own challenges and creative solutions. But, as tragic as this period has been for some owners, no storefront stays vacant for long in Roma.
'It's part of what this neighbourhood is – restaurants opening, closing, changing, evolving – so the spirit of the neighbourhood defines the tour and how we change our tour itineraries,' Rodrigo, the founder of Sabores Mexico Food Tours, clarifies as I take another bite of a fermented pineapple, mole (a rich, mildly-spiced sauce of many ingredients) and chicken dish, washed down with a tequila cocktail.
Thankfully, for Rodrigo and over one hundred other tourism-focused businesses in the country, a Tourism Recovery Programme, powered by TUI Care Foundation (the charity arm of the famed tour company) and enpact (a Berlin-based organisation supporting entrepreneurs and their ecosystems) have supported them through the challenges of the pandemic years. Both with financial support, but also training, marketing, and reaching into new markets – this sustainable and community-focused collaboration has allowed many Mexican tour operators to keep going – including Sabores, one of the first-ever food tours running in the country.
'We've been able to learn many things – from leadership to digital, to sustainability' Rodrigo highlights of their involvement in the programme, further proving how vital sustainability and community are to their tours, which also run in other neighbourhoods of the city.
This sustainable focus certainly seemed true of another business in Roma supported by the Tourism Recovery Programme, Loup Bar, where the eclectic menu of dishes and wines comes from nearby Mexico to as far as Georgia. Exclusively focused on organic wines and produce – sustainability, authenticity, and inventive thinking are obviously at the core of this neighbourhood's culinary soul.
Continuing our tour, Grace seemed just as excited and eager as I was for the tastings ahead. Given that she has been guiding food tours for nearly a decade, this is a true testament to her passion for local dishes, historic facts, and the continual evolvement of the neighbourhood's food scene – compounded as we 'tried somewhere new, it's only just opened!'
The sublime flavours kept coming – from a mouth-watering ceviche of beans and Nopales (prickly pear cactus) paired with a rich, Mexican ruby-red from Ensenada to unique tamales crafted from black-corn Huitlacoche and raisins and doused in different sales, ranging from weak and welcoming to holy-shit why did I eat that.
'There are three things we don't put chilli salsa on; coffee, cereal and water – yes, we even put chilli on fruit', Grace tells me seriously before continuing to share the stories of the chefs who were feeding us all very well. Recounting how two siblings from a southern state wanted to bring this corn-crafter style to the city, or the chefs who venture to the most remote of towns to harvest authentic herbs and dishes and bring them back for city-dwellers to discover.
Through this one neighbourhood, I felt I was taking a tour of the whole country's cuisine, from rural Wahaca to coastal Jalisco – the capital's love for all things 'cito' – the suffix to make things smaller, often into bite-size morsels in foodie terms shined through.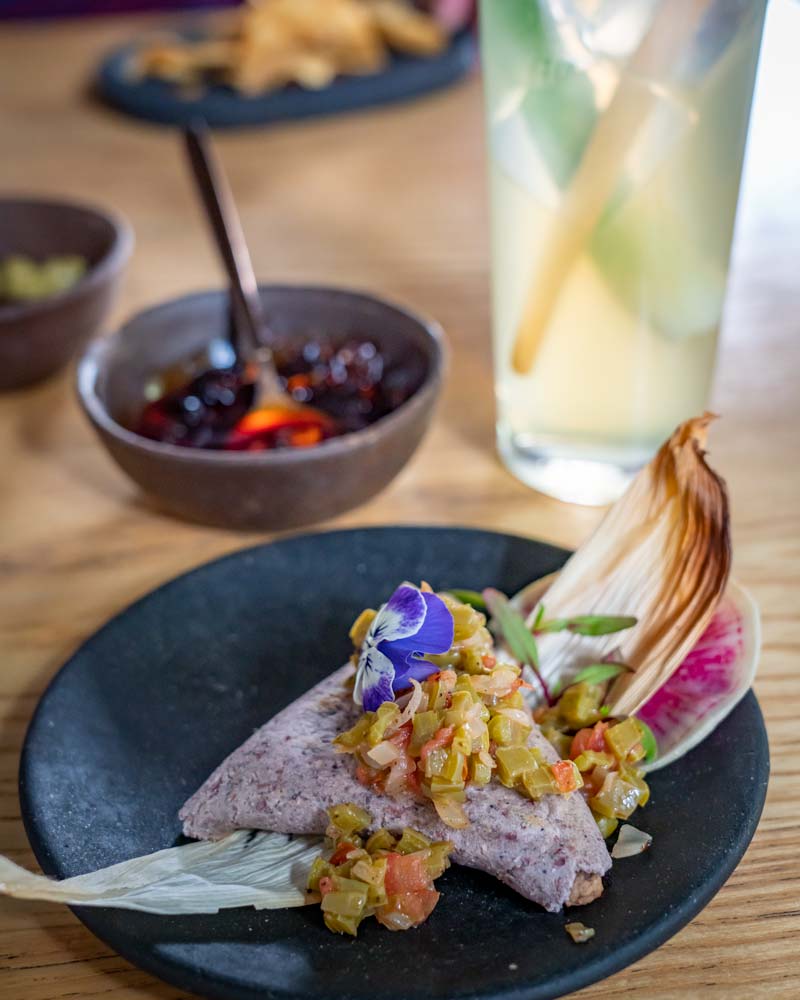 I encountered a chef, a trendy restaurant Broke, who had trained as an engineer, but since 2008 has been credited with much of the inspiring gastronomic growth in this neighbourhood after culinary re-training in Monaco – he even now has his own estate to cultivate as much as possible in the city limits.
Then, there were the two vegan creatives who wanted to change the city's perspective on plant-based dishes in a colourful, street-art adorned side street. I admit I was a bit sceptical of the 100% vegan menu at first. Still, the intense flavours and ingenious use of dragon fruit, coconut and beetroot-infused tortillas quickly won me round, perhaps even being my favourite plates of the day.
'They don't only want to only give you good food; they want to give you food with the soul of a place', Grace exclaimed in glee as her favourite dish arrived –' they don't want to be just another place.
As our afternoon together came to a close, we sat under the neon light of a chic-coffee shop, where Nite, the expert barista, laid out a range of specialist coffee for us to taste beans from across Mexico, one of the biggest producers in the world. Fascinatingly, none of the family members that opened Café Barajas come from a coffee background. However, their father was obsessed with a brew, so they came together to create this spot in his honour.
Rounding out our goodbyes with a liquor-come-coffee shot – laced with honey bean and a beverage distilled with a Mayan white flower – I was surprised by just how much I'd tasted and learned in one afternoon.
Was it shocking to find such delicious dishes in one of the top cities to eat globally, a country awarded UNESCO status for its gastronomic offering? No, of course not. But, to find so many passionate, proud and inventive chefs in such a small pocket of a seemingly never-ending city was a treat for the tastebuds.
Next time, you can be sure I'll be booking my spot on Sabores Mexico's Mezcal tour – I mean, it would be rude not to, right?
See all of Sabores Mexico Food Tours on their website.
My visit to Mexico was in partnership with the Tourism Recovery Programme – you can learn more about how this fund and mentorship is supporting local businesses on the link, and find more information about the partners powering the programme on their websites: TUI Care Foundation and enpact.
https://www.danflyingsolo.com/wp-content/uploads/2022/04/Sabores-Mexico-Food-Tour.jpg
1152
2048
Daniel James Clarke
https://www.danflyingsolo.com/wp-content/uploads/2022/01/blogo-1w.png
Daniel James Clarke
2022-04-15 20:03:00
2022-12-30 14:54:36
Savouring Colonia Roma: A food tour around Mexico City's most gastronomic neighbourhood