Every October, Lonely Planet releases their Best In Travel list of what is hot in travel for the year ahead. Back in November, I got to visit one of their top countries in the world and capture an epic travel video of Oman. With my recent move to New Zealand, I jumped at the chance to take over the Lonely Planet Snapchat account and explore their 2nd best region in the world, Taranaki.
In all honesty, I had no idea what to expect from a place that bills itself as 'a little bit out there' and not many of my kiwi friends could fill me in either. Only 2% of international visitors make it out to Taranaki so I was excited to see what was on offer.
I've mashed together some of my highlights and the Snapchat video which should give you a little insight into this Best In Travel destination.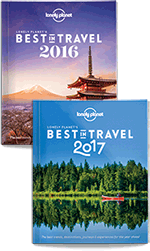 Get The Best In Travel Book
Be inspired for the year ahead with Lonely Planets latest list of where is hot to visit right now!
Got any more Questions or want to chat adventures? Find me over on Instagram and ask away! Safe travels, Dan
Check out these other travel videos…