24 Awesome Things To Do in Austria: Places to Visit, Experiences & Attractions
This website uses affiliate links which may earn a commission at no additional cost to you. As an Amazon Associate I earn from qualifying purchases.
Updated: 9th August 2023
Austria's attractions list is lengthy: the epic Alps, classical concert halls, gorgeous storied Old Towns, serious snow sports and alluring lakes. But once you start diving into all the best things to do in Austria, you realise that the country that gave the world Mozart has also gifted us plenty more.
From hot spring spa towns and river-flanking wine regions to storybook-style Abbey libraries and scenic railway rides, experiencing all of the best places to visit in Austria will require plenty of return trips – something I can testify to after visiting the country numerous times over the past two decades.
And when you start to discover all of Austria's curiosities, such as the world's largest ice cave, the last occupied European hermitage, and even the planet's (likely) oldest restaurant, the list of things to do in Austria grows even longer, making narrowing down the best experiences in Austria a challenging task. Still, whether you're after adrenaline in the Alps, laid-back cultural experiences in the countryside, or an unforgettable city break, you'll find it in this magical landlocked country.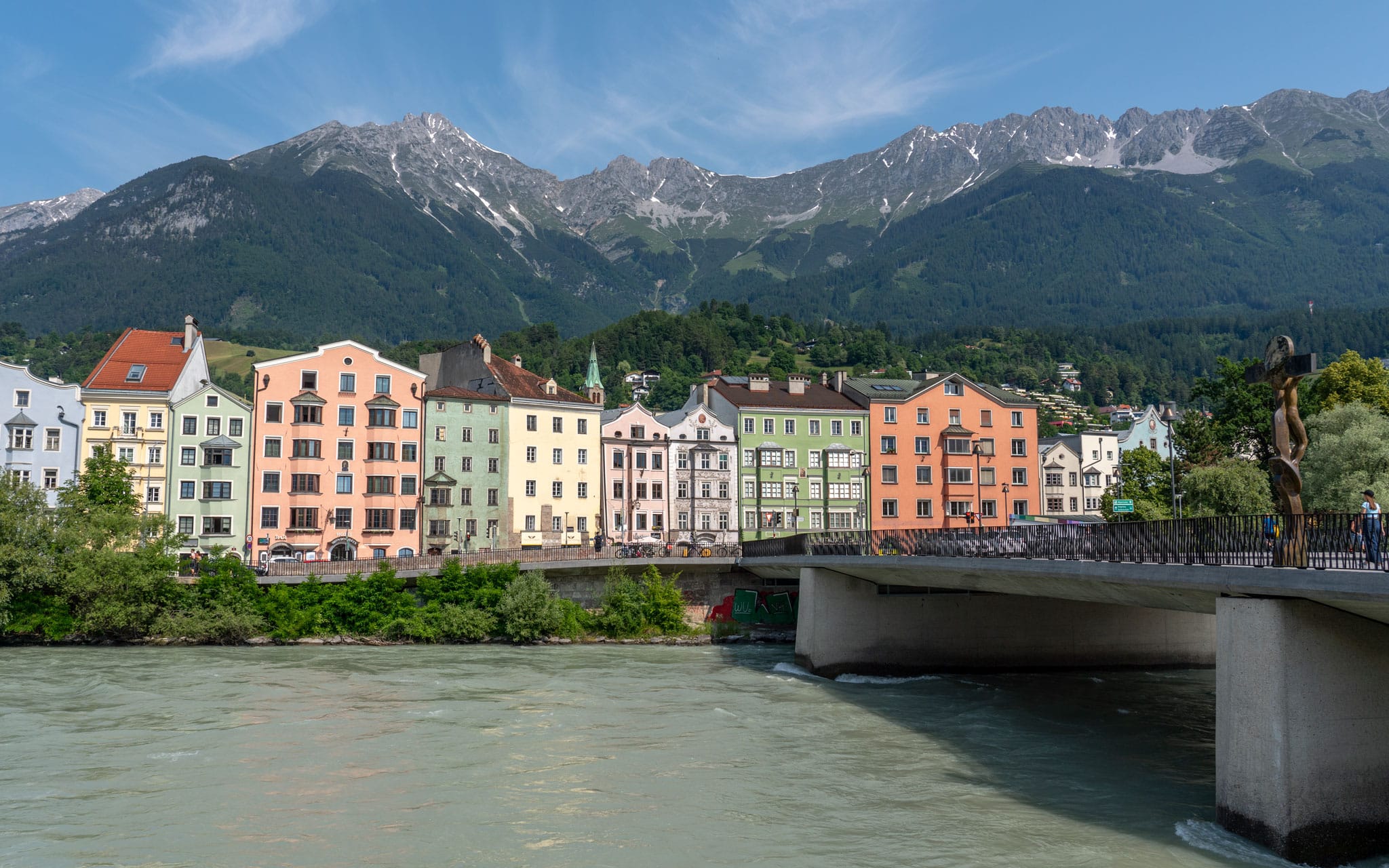 Experience summer highs in Innsbruck's Alps
Innsbruck might be Austria's fifth largest city, but it's very much more about mountains than museums – although they have a handful of excellent cultural spaces too. Enveloped by the Austrian Alps, this is a ski-lovers playground in winter, yet when the snow thaws, the city feels like a different world – making a visit to the 'Top of Innsbruck' one of the best things to do in Austria year-round.
Boasting a quick turnaround from the fairytale Old Town to the Nordkette, the highest peak on the city's limits, you can be transported by cable car from cultural attractions to soaring saw-toothed peaks in around 40 minutes. And while tearing yourself away from the palaces and attractions of the Altstadt (Old Town) – such as the shimmering Golden Roof and Tyrolean Folk Art Museum – isn't easy; eventually, the call of the Alps becomes too loud.
Once it does, you're in for a treat. Atop the Nordkette Range, part of Austria's biggest natural park, the Karwendel, rock climbers, hikers, and photographers are rewarded with two panoramas. In one direction, the valley stretches out, with Innsbruck sitting on either side of the emerald-tinted River Inn, and behind, a snow-sprinkled landscape of cinematic mountains awaits. With a funicular and gondola providing easy and accessible connections, these Alps really are open to all, making Innsbruck in summer one of the best places to visit in Austria to combine culture and cuisine with mountains and museums.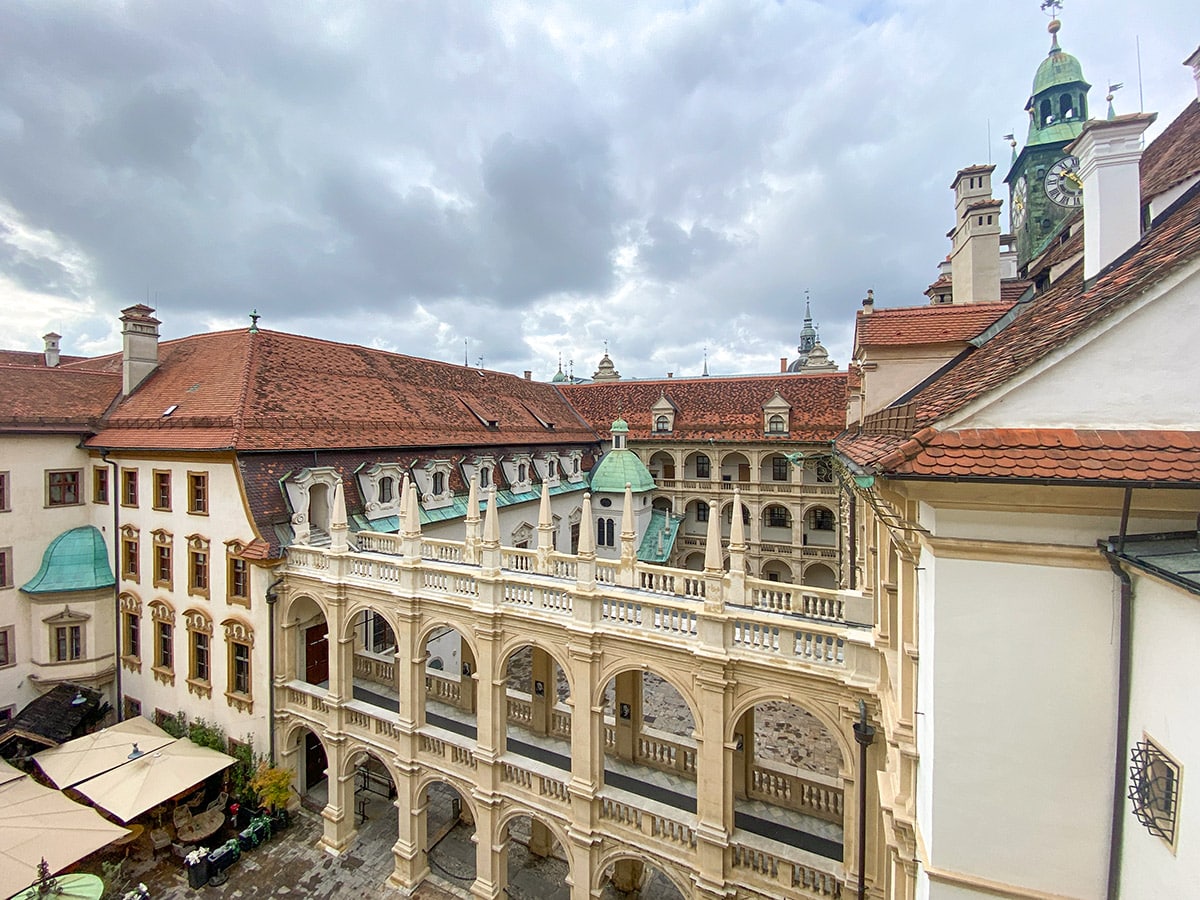 Get lost in Graz's courtyards
Graz is Austria's second city, but it remains relatively unsung. Why? I'll never know; this is one of my favourite places to visit in Austria. And judging by Graz's accolades, I'm not the only one who thinks so. As well as being awarded UNESCO World Heritage Status for its Mediterranean-esque Old Town, Graz also holds a UNESCO City of Design title – showing how this sustainable city has two very different contrasting stories, cut in two by the River Mur.
There's plenty to enjoy while exploring the city, from the Styrian Armoury – the world's largest – crammed with swords, protective gear and other weapons, to the Uhrturm (Clock Tower), which tells the city's story of surviving the French invasion, the landmarks are aplenty. But moments from these more obvious attractions, you'll find a cluster of courtyards in multiple styles. One of my favourite things to do in Austria is to stroll between these little corners of calm, perhaps sipping a coffee or glass still fermenting Sturm wine from the surrounding Styrian countryside – you might even stumble upon a dance class in summer. Some, such as the magnificent Italian-inspired Grazer Landhaus, are grander than others, but each little pocket has its own charm.
Once you've had your fill of courtyard culture, be sure to explore Graz beyond the Old Town. From the Murinsel, a river-crossing bridge that doubles as an art venue, to the modern art gallery nicknamed the 'Friendly Alien', Graz's design credentials are serious – and that's before you start diving into the vintage stores and boutiques of the up-and-coming Gries and Lend districts.
Ride the breathtaking Semmeringbahn railway
Rail is something that Austria just gets right, and touring the country by train is an absolute joy. On my last few visits, I've even arrived by international train, utilising the Nightjet services by OBB, the federal rail company. But not all train journeys are created equally, and while it may seem that most carriages offer cinematic views wherever they are heading in the country, some truly stand out.
The scenic journey on the Semmeringbahn is one of those trips, and it's no surprise that riding these rails is now considered one of the best things to do in Austria. Awarded World Heritage Status, the historic track was the first mountain railway in the world, opening in 1854. Across the 41-kilometre journey, you'll pass numerous viaducts and tunnels as the lush forested landscape glides past your window.
Connecting Gloggnitz to Mürzzuschlag, the vistas offered will depend on the season: from summer in Austria's verdant saturation to winter's snow-covered scenery and autumn's golden hue. But no matter what time of year you board, you will surely be impressed by this engineering marvel through the mountains.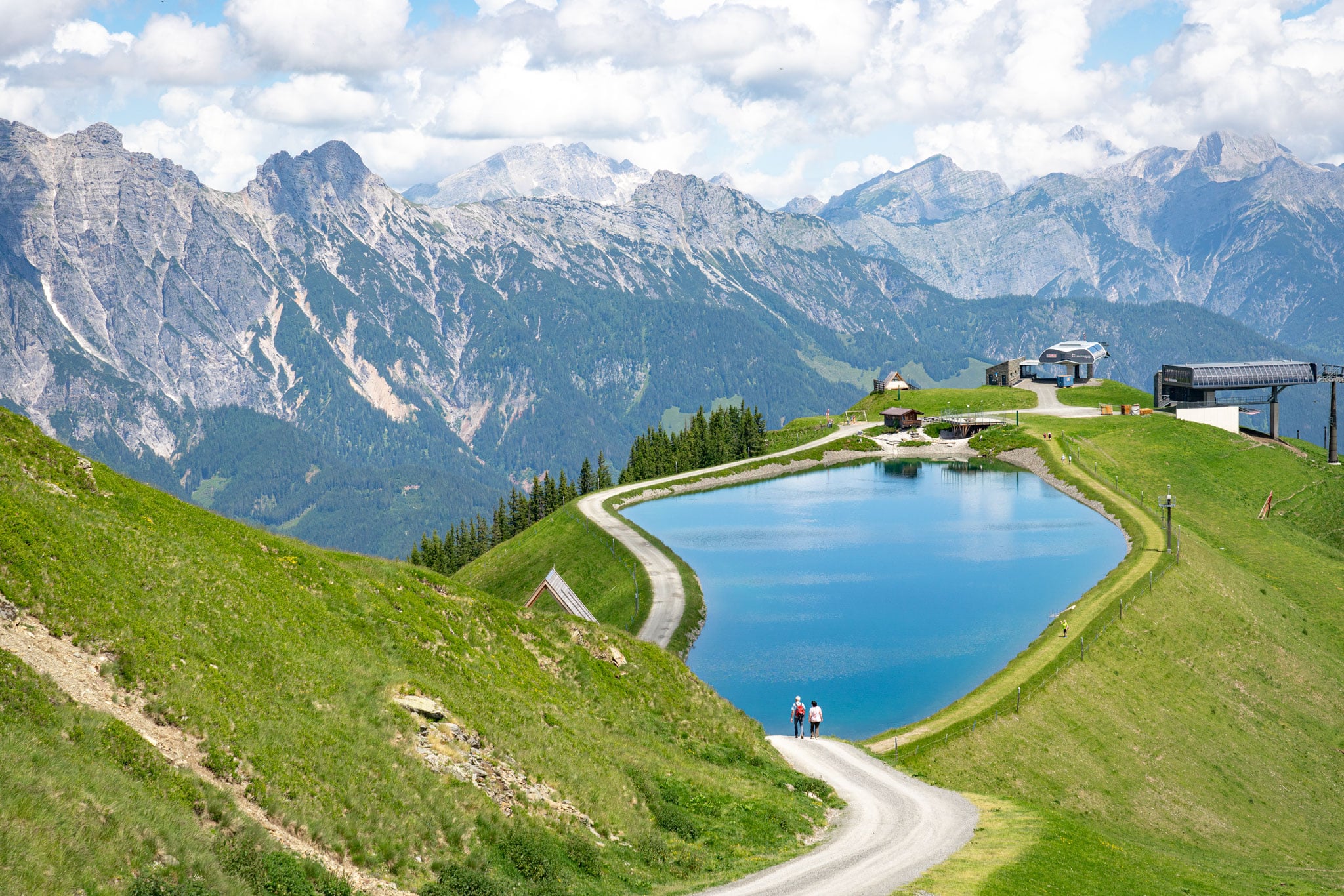 Hike The Asitz, Austria's 'Mountain of Senses'
Of all the spectacular hikes I've taken in Austria, I treasure the trails on The Asitz Mountain most dearly. In winter, this soaring peak is coated in snow, but by summer, it's a different picture, providing one of the most culture-meets-countryside things to do in Austria.
Set in Saalfelden Leogang, a Sazlburgland sub-region less known by international visitors but a beloved place to visit in Austria for the locals, this peak brings together everything the nation holds dear: jaw-dropping nature and classical composition.
Art installations link the middle and top gondola stations together through a forest trail, sculpture and herb gardens provide respite, paddling pools and still lakes bring cooling air to the sun-kissed slopes, and the open-air hammocks at the 'Cinema of Nature' invite you to sit and simply admire the landscapes. Most notable is the summer concert program when classical performances take place lakeside, the imposing peaks of the range creating a cinematic backdrop. Even if you don't get the opportunity to enjoy a live performance, a handful of wooden huts dot the Mountain of Senses – as it's known locally – where you can sit down, recline, and listen to old recordings through a built-in speaker system.
Lose yourself in incredible libraries
Unsurprisingly for a country with a passion for the arts and writing – and even Franz Kafka on their list of acclaimed authors – Austria has many beautiful libraries. No longer just spots to read or study, some of these grand book-coated rooms have become standout places to visit in Austria in their own right.
Fascinatingly, some of these are also housed in the nation's most impressive Abbeys and Monasteries. As well as the Melk Abbey library (more on that later), you'll find inspiring book collections in spots such as the Rein Abbey near Graz, a Cistercian monastery where I was bowled over by the ancient book collection, and the 18th-century Admont Abbey Library, arguably the countries most impressive reading hall. The latter is home to the world's largest monastery library collection, and strolling through this nearly 70-metre-long room is one of the best things to do in Austria for bibliophiles.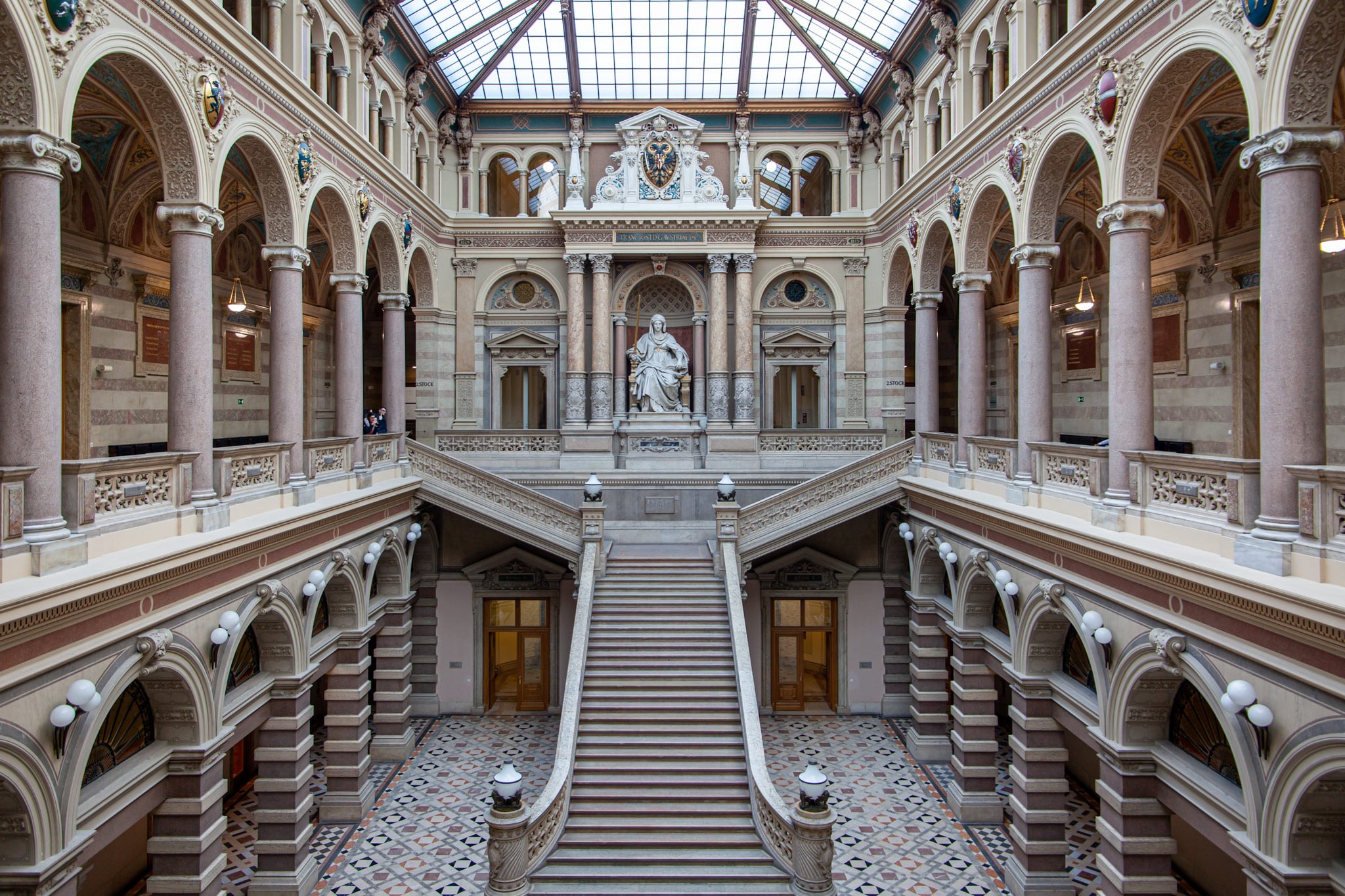 Tour Vienna's imperial past and personality-heavy present
Vienna, the nation's capital, is a city which unfurls its layers slowly. I've visited several times and still know I have much to discover. The most important places to visit in Austria to learn about the country's former Imperial past, especially the Hapsburg Dynasty, are found here, which makes it one of Europe's leading cultural capitals. But it's now all tales of times gone by; Vienna is an ever-evolving city.
You only have to look at the playful facade of the Kunst Haus Wien, designed by the visionary Viennese artist Friedensreich Hundertwasser, or the hundreds of street art projects which bring colour to the city to see that this isn't a city stuck in the past.
Still, most visitors to Vienna come to see grand palaces and opulent state halls. Highlights include the grand Schönbrunn and Hofburg Palaces, the city's many cultural institutions, such as the Vienna Opera House and the Kunsthistorisches Museum, plus numerous religious monuments, including Saint Stephen's Cathedral. There are so many things to do in Austria's capital city that a weekend will never be long enough – but no matter how long you stay, be sure to try and combine the contemporary with the classics, something Vienna does better than most.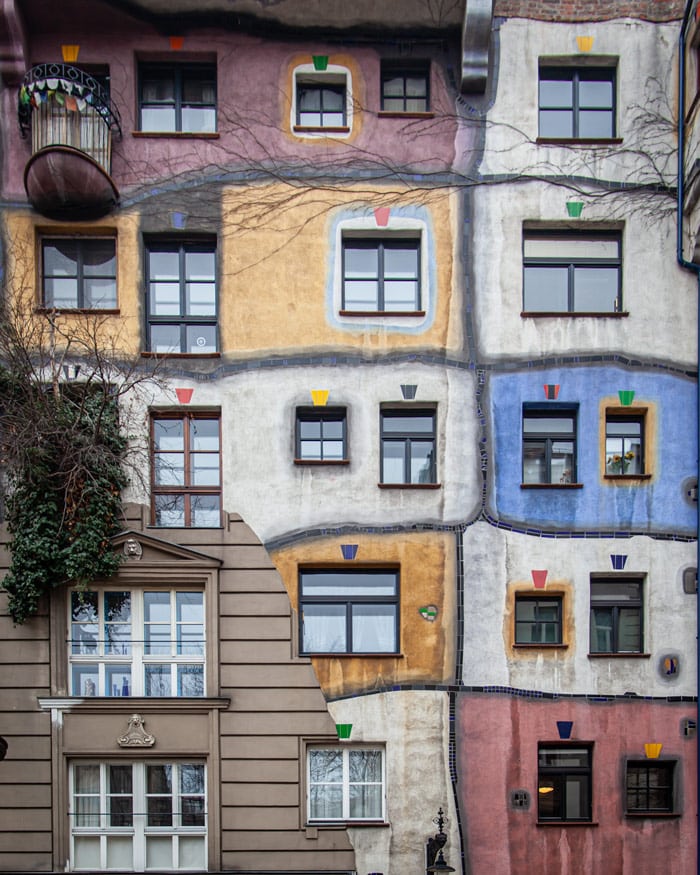 Celebrate at the Christmas Markets
When the festive season comes calling, Austrians more than step up to the stage to answer it, and there is no greater thing to do in Austria during December than visit a Christkindlmarkt (Christmas Market).
Some of the best places to visit in Austria for Christmas Markets include Vienna's show-stopping celebration by the City Hall, Hellbrunns' winter wonderland and Salzburg's snow-covered celebration in front of the cathedral – interestingly, Salzburg is where Silent Night, likely the world's most famous Christmas Carol, was written by Joseph Mohr and Franz Xaver Gruber.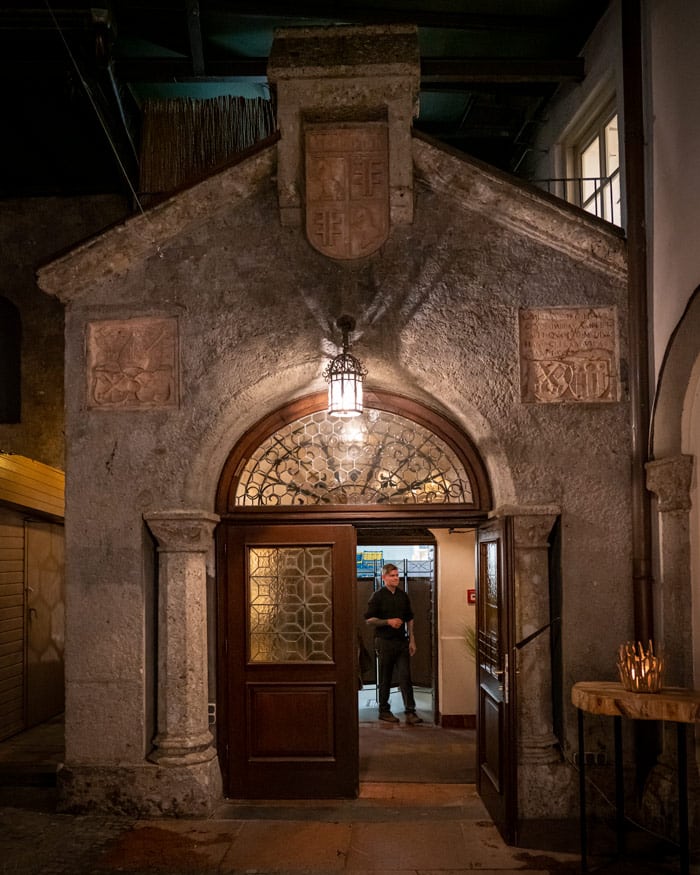 Eat in the world's oldest restaurant
Many of the more unique things to do in Austria start with the claim of being 'The world's first, oldest, or largest', and while sometimes these are disputed, they all spotlight just how much history is packed into this nation.
One of those claims to fame is the 'world's oldest restaurant', located in the gorgeous city of Salzburg. The upscale St. Peter Stiftskulinarium has reportedly been serving meals since 803, although back then, it was a much less lavish affair. Housed inside the walls of St. Peter's Abbey, it was pilgrims who first found a bed and a meal here – which is why it's deemed the oldest restaurant to have been catering for paying guests in the world (even if it isn't the oldest in continuous operation).
Even if the claim wasn't true, this would still be one of the best places to visit in Austria for a (pricey) meal. The setting is storied and spectacular, with dark wood decor and thick stone walls, plus there is an ornate concert hall inside too. But the food also impresses, with traditional Austrian dishes perfected over (many) centuries. End your meal with the Salzburger Nockerl, a three-pointed souffle that was honestly one of the most delicious things I've ever eaten. This isn't a restaurant which rides on its reputation; the chefs (and first-class service) actually know how to deliver!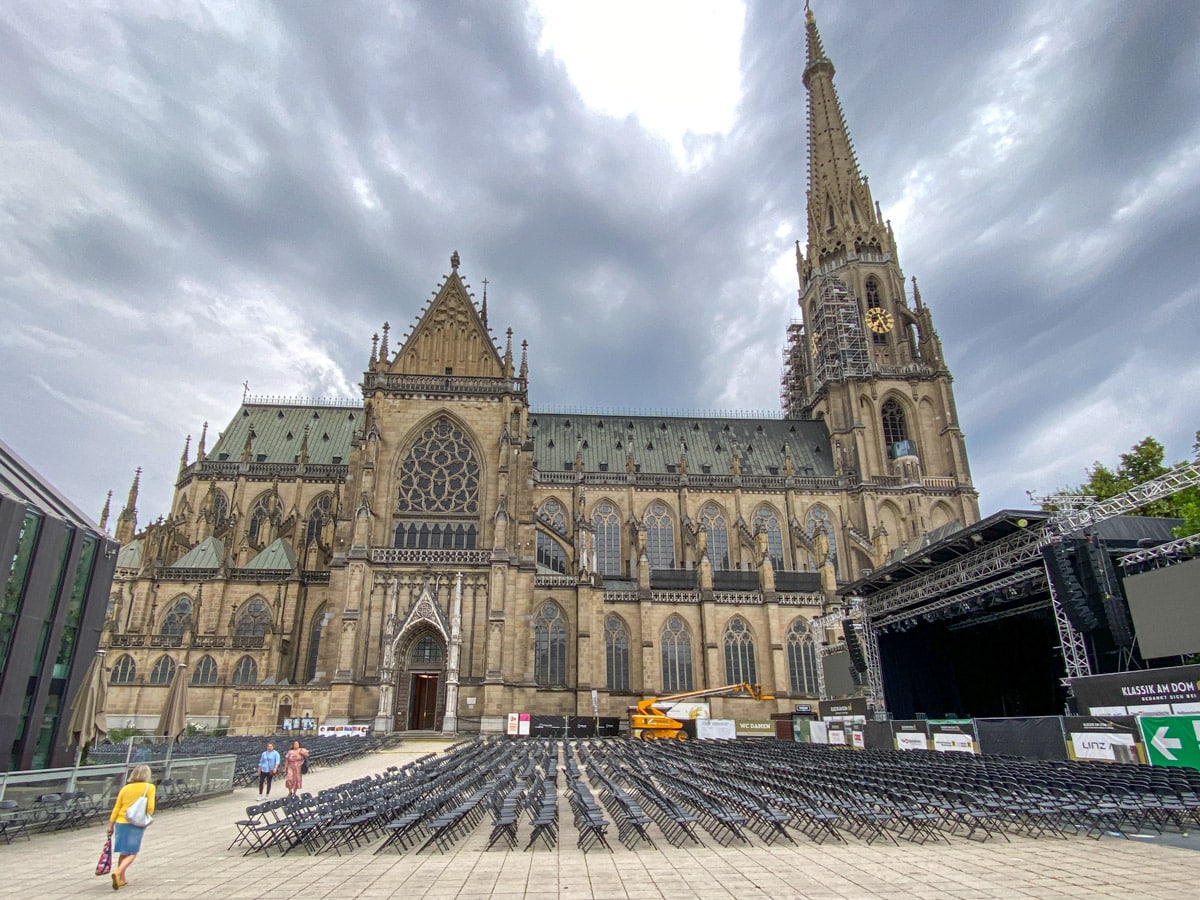 Attend a cultural festival in Linz
No matter where you visit in the country, the top things to do in Austria will near-always come back to some kind of cultural or classical music connection, and Linz, Austria's third-largest city, is no different.
Something of an underrated European city, Linz is far from being one of Austria's most known destinations, though anyone who has taken a river cruise along the Danube has likely explored the cute cobble-stoned streets of the Old Town.
But it's during the multiple festival seasons throughout the year that Linz really comes alive, hosting world-class cultural events across the city. Whether it's the Pflasterspektakel in July, when street artists take over the city, a selection of 'Long Summer Nights' events shared between churches or riverside fireworks, or cultural programme weeks specialising in anything from street food and museums to children activities and classical concerts, this is a cultured city that always seems busy.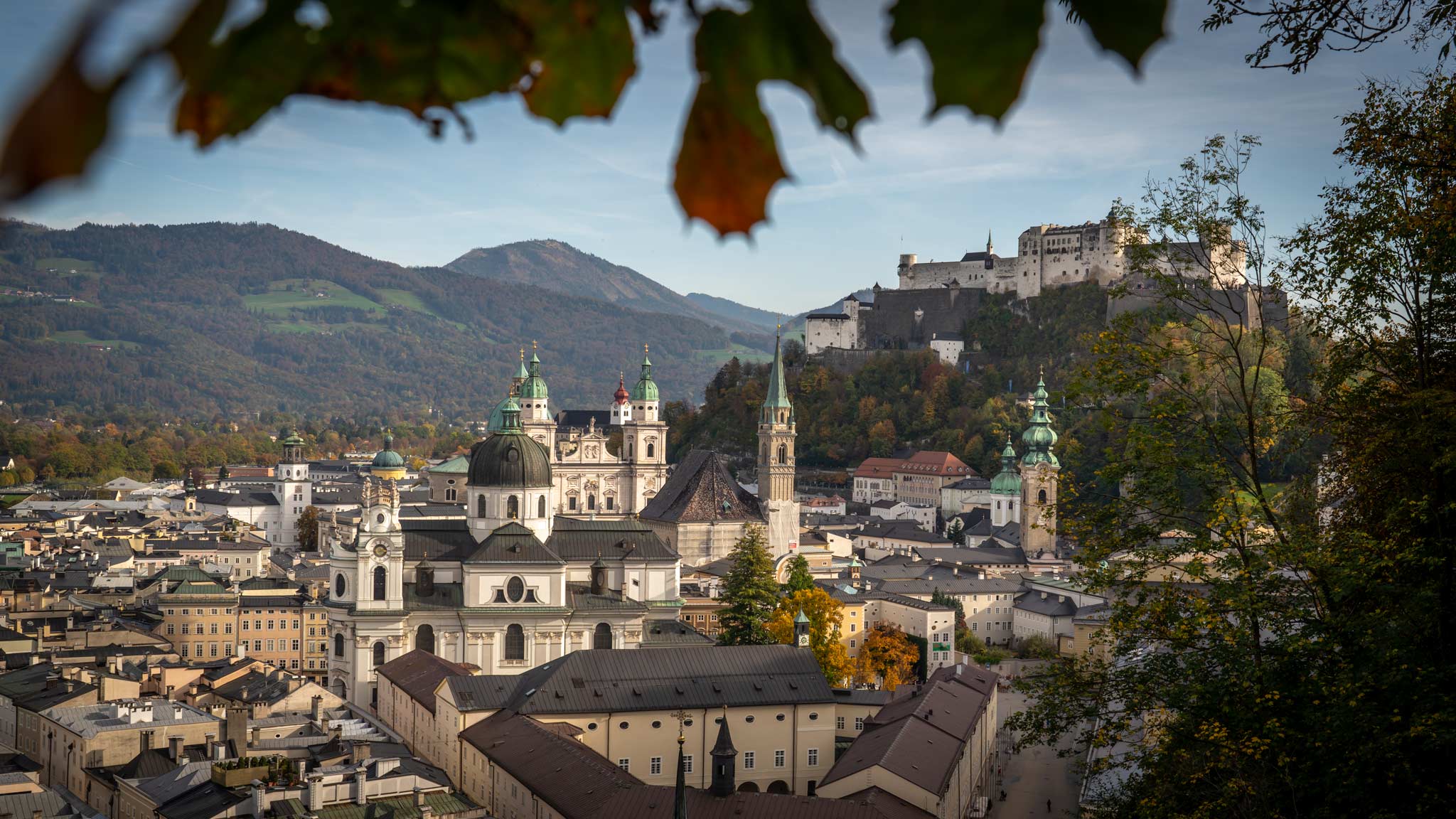 Soak up Salzburg's year-round music culture
If you're visiting Salzburg, perhaps the prettiest city in the country, chances are you'll want to see a classical music concert. This is the birthplace of Mozart and The Sound of Music, after all. Well, fear not; some of the best places in Austria to enjoy a performance are found here, and Salzburg has a year-round programme of concerts and festivals to keep you entertained.
I'd say the best thing to do in Austria regarding classical music is to visit Salzburg's Summer Festival (July and August), which has been providing world-class entertainment for over a century. The concert hall in the Haus für Mozart is also splendid.
But no matter where you go in the city, music might follow; whether you're exploring the Mirabell Palace and Gardens or the Hohensalzburg Fortress high above the city, there is often an instrument being played. Even if you hate classical music, I'd still urge you to go; there are so many awesome things to do in Salzburg, and it's truly one of the most spectacularly beautiful cities on this planet.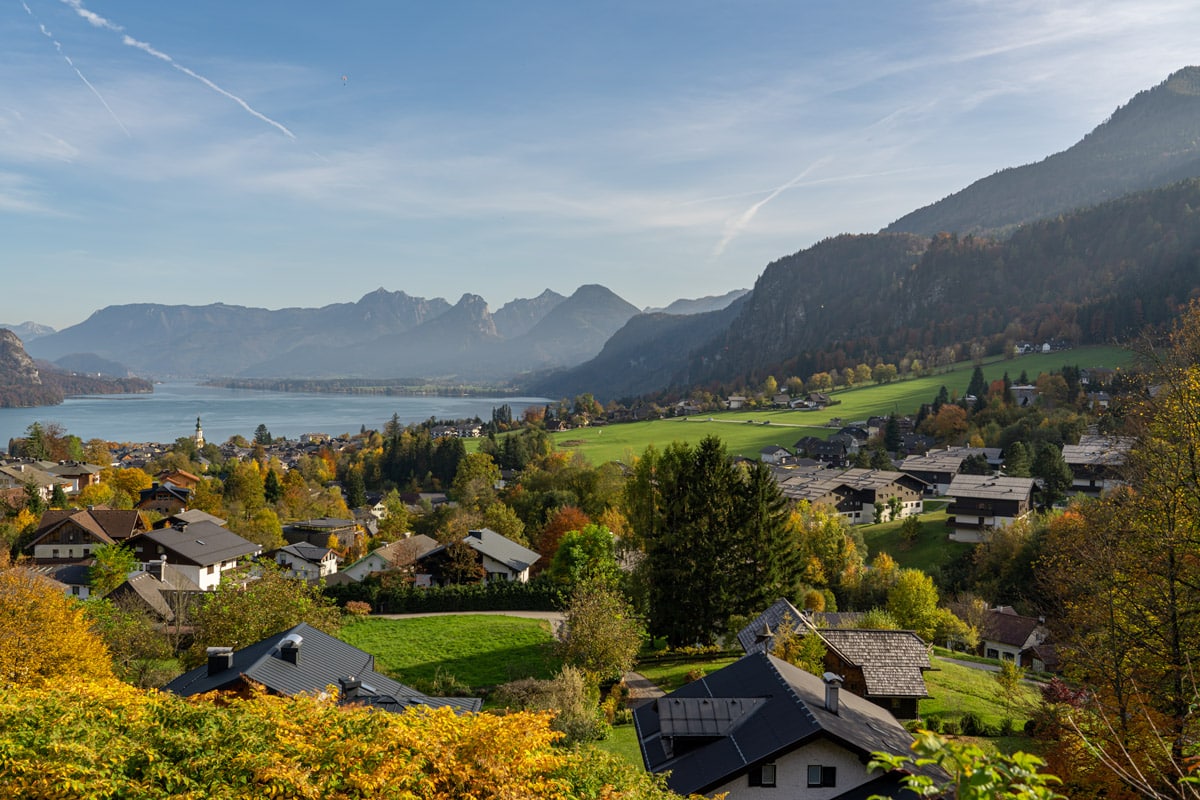 Relish Wolfgangsee's watersports
When the warmer months arrive, one of the most popular things to do in Austria is venture to one of the country's dazzling lakes. Being landlocked doesn't stop the Austrians from swimming or enjoying watersports, and you'll find magnificent bodies of water all over the country – from turquoise-fringed lakes in Tyrol perfect for bathing to watersport wonderlands backed by mountains.
One of my favourite places to visit in Austria to be by the water is Lake Wolfgangsee, easily reachable by bus from Salzburg. Starting from the adorable town of Saint Gilgen, where wooden-clad homes are decorated with multi-hued flower boxes, you can set off on all kinds of adventures. Ride the gondola up to the Aussichtsplattform Zwölferhorn observation deck for epic trails and panoramas over the azure waters, rent kayaks or SUP boards to explore the lake, or make a circuit of this vast body of water with occasional dips to keep cool.
Another cool spot to see near here is the Red Bull HQ, a futuristic building that seemingly floats above its own lake.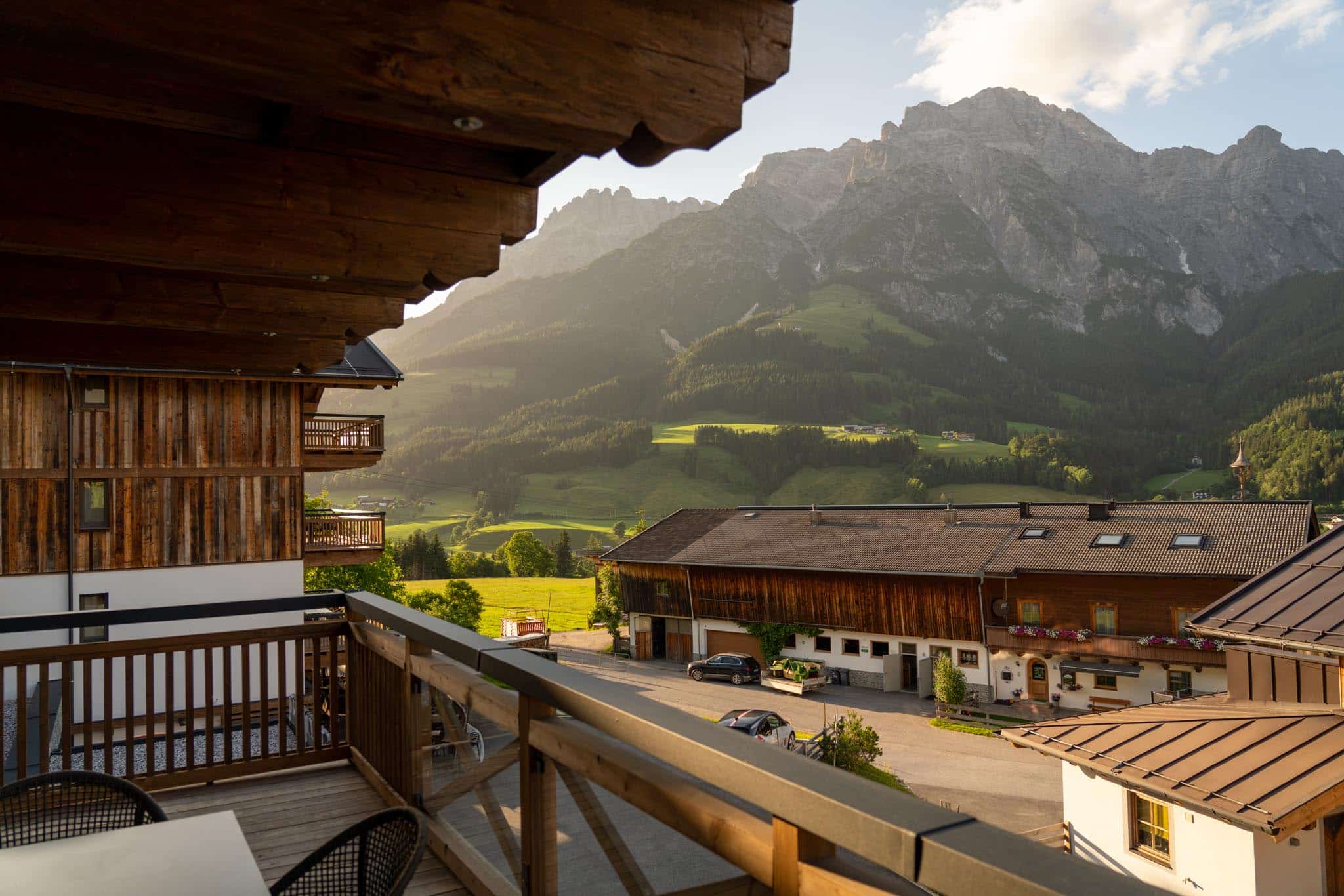 Take a dip in Austria's hot springs and sauna culture
If you're not a fan of lakes or cool refreshing waters, then fear not, for another popular thing to do in Austria is to bathe in hot springs or refresh in saunas – all in the name of learning about Austria's culture, of course.
Some of the most popular places to visit in Austria for hot springs are Bad Ischl (one of the European Capitals of Culture for 2024), Tyrol's Ötztal Valley, and Solden. These thermal waters have long been a place of retreat for nobility and aristocracy, but now they are very much open to all, putting Austria's Alpine wellness offering firmly on the map.
Saunas are also a big deal in Austria, but the nearly uniform compulsory nudity across the country can put some visitors off – though, once you've tried it once, you'll likely be far more relaxed about getting your kit off the next time.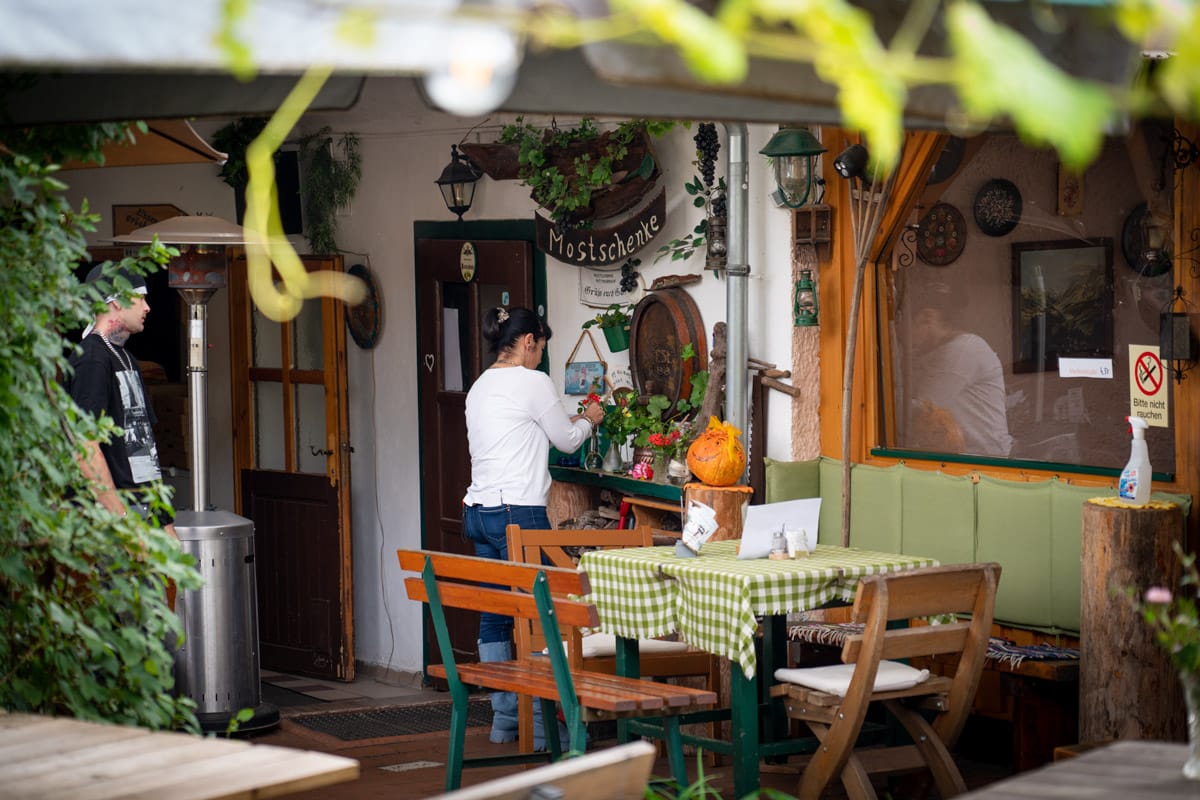 Wine and dine authentically at a Heuriger or Buschenschank
Austrian food can mean many things, and often, the country's love for a good Schnitzel overshadows all else. But some of the most interesting and authentic places to visit in Austria for food are offbeat and away from the main cities, located in small farming communities where natural produce rules supreme – especially post-harvest season.
Around Vienna and Eastern Austria, these are called Heuriger, and they work as a sort of restaurant or tavern which offers fresh and young wines – sometimes straight from the newest batch. In Styria and the south, they work similarly but have the name Buschenschank.
These special places also have some rules, as they are far from your traditional licensed restaurant. You must have a vineyard or fruit production to operate one, they can only serve cold food, and the focus must remain on the regional products produced by the farm itself. The opening hours and days are also restricted. It's very different from your typical beer tavern, and they allow for an intimate chance to appreciate Austrian wines and food directly from the suppliers. If you're on a road trip or taking the train out to the countryside, it's well worth trying to seek a Heuriger or Buschenschank out for some cold cuts paired with this season's wines.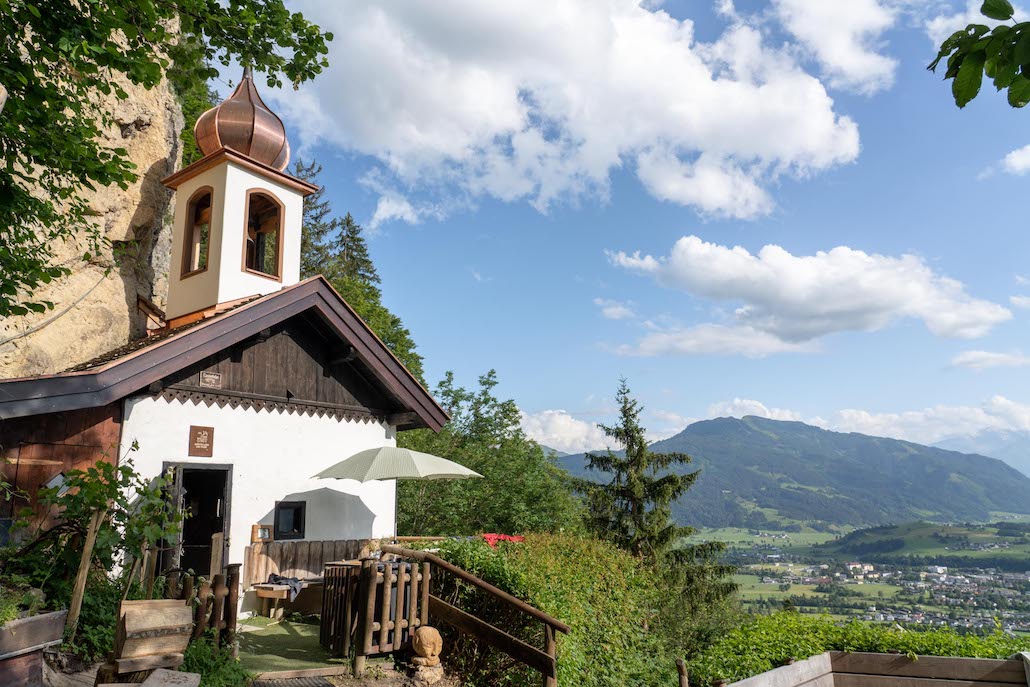 Visit Europe's last occupied hermitage
One of the more offbeat things to do in Austria is to take a hike up a hill and meet the man living in Europe's last occupied hermitage.
Located on the edge of Saalfelden city overlooking the valley, this small white chapel is built into the rockface, complete with a little terrace and a humble home for the hermit. It's an intimate location with some magnificent views, and if you're lucky like I was, you might even get a chance to exchange a few words with the resident himself. Having been in use since the 17th century, it's quite fascinating to find the hermitage still occupied. Afterwards, visit the nearby Kühloch Cave, used for shelter during the Bronze Age.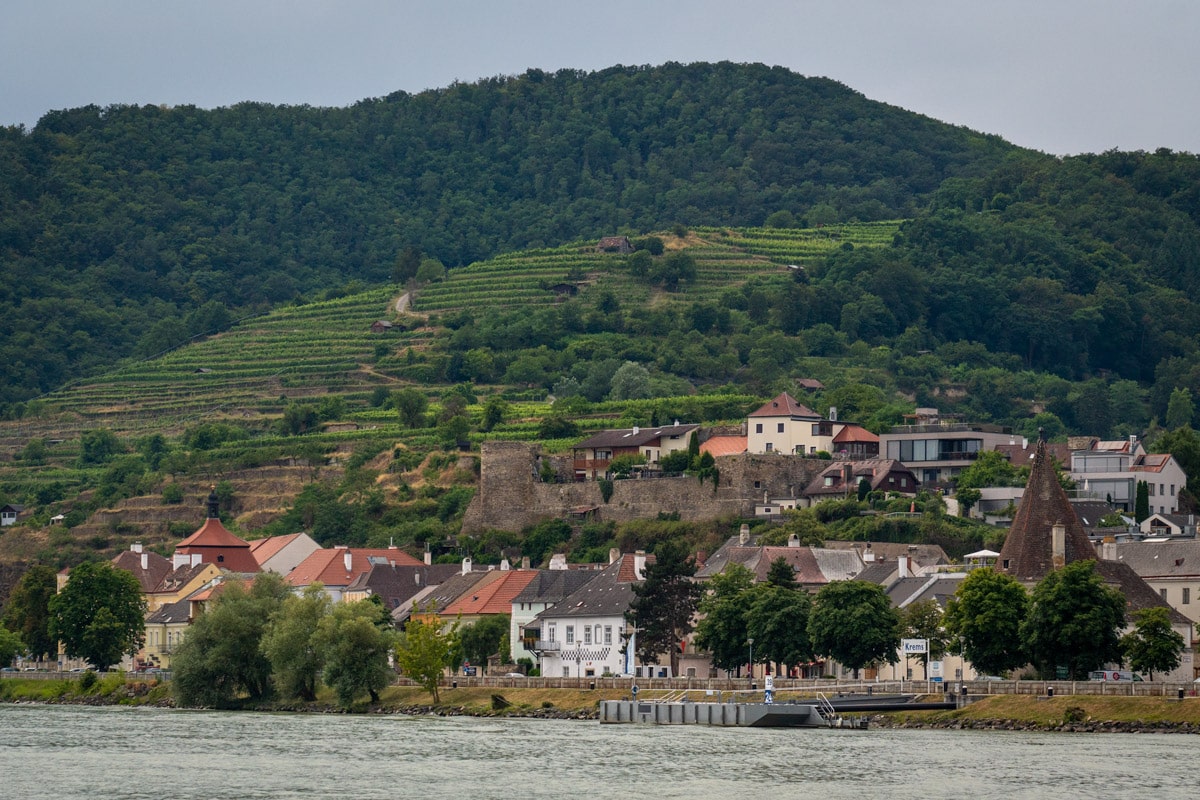 Sample the Wachau vineyards by boat or train
Austria's wine production might not be as famed as that of France, Spain or Italy, but that doesn't mean you should skip the vineyards. Providing beautiful backdrops to low-slung mountains and storybook villages, the vines around Styria and the Danube, in particular, are a delight to explore.
In Wachau, only around one hour from Vienna, you can combine a train and boat ride with a vineyard visit, allowing you to enjoy three of the best things to do in Austria in one incredible day trip. These vines have produced wine since Roman times, although much of the current methods and growth came around the 14th century. Riesling and Grüner Veltliner are the two main grapes, and along the stretch between Krems and Melk, plenty of vineyards are open for visits and tastings.
You can travel between the two on a ferry ride, offering river vistas for a couple of hours or the scenic train that cuts through the vineyards themselves. I opted to take the ferry from Melk, explore the town and visit a vineyard, and then the scenic train back – a package price of less than €50 makes this a pretty fair-priced outing by Austrian standards.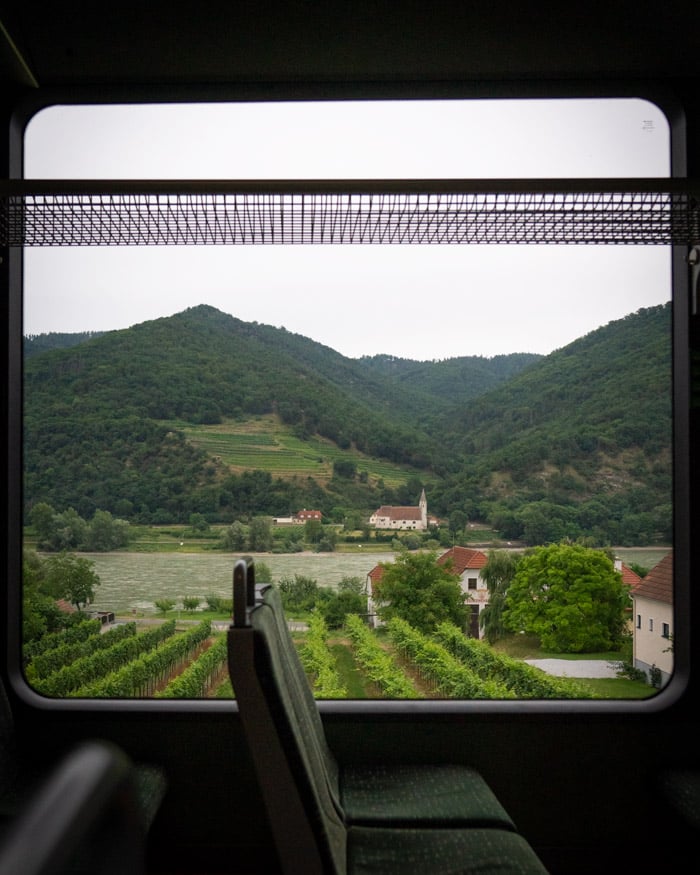 See Zaha Hadid's architectural legacy
One of the most inspiring architects of the last century, Iraq-born Dame Zaha Hadid, has created visionary buildings the world over, and the late architect's imprint has been firmly left in Austria.
Some of the places in Austria where you can see Zaha Hadid's work include Innsbruck, where her soaring Bergisel Ski Jump tower and curved funicular stations bring a little design splendour to the Alps. In Graz, you'll find the view-hole like Argos Residences near the Opera house. And in Vienna, it's the university library, where the imposing overhanging design provides a landmark on campus.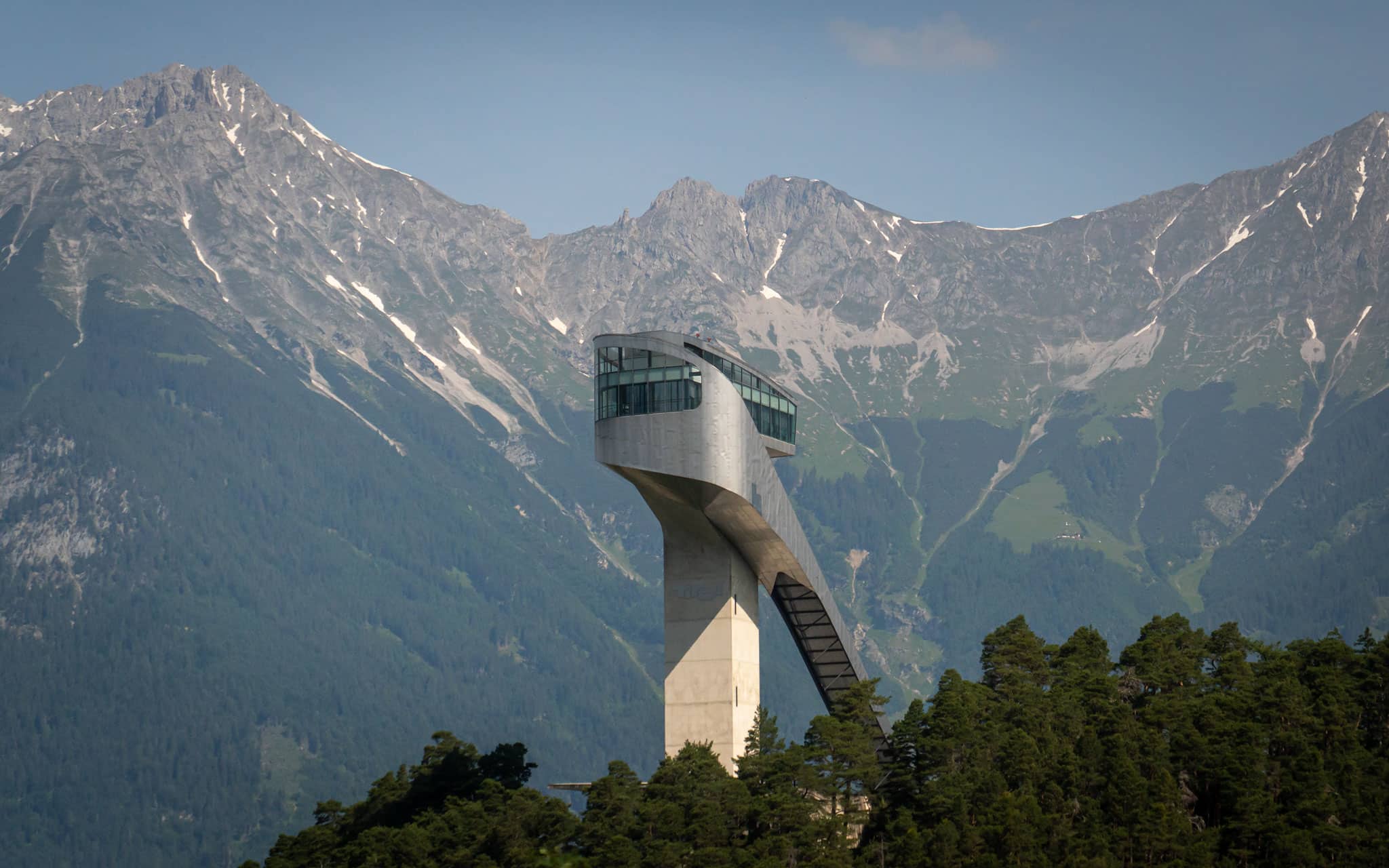 Live Austria's history at the open-air museum
Any list of the best things to do in Austria is peppered with museums, covering everything from portraits and artefacts to armoury and aristocrats. But the Austrian Open-Air Museum in Stübing (not far from Graz) is rather remarkable and arguably one of the best places to visit in Austria to gain a deeper understanding of the country's lived history.
Walking around the open-air grounds, you'll find various traditional homes and styles from bygone eras. Each one has been moved from its original location in the Austrian countryside and painstakingly rebuilt here with precision, allowing insight into the day-to-day life of years gone by. On some special days in summer, interactive experiences are hosted, showing traditional woodwork and crafts.
If you book a guided tour, you'll be able to gain a deeper understanding by going to otherwise off-limit rooms and get a chance to partake in some of the old-world tasks that Austrians relied on for food, heat, and commerce.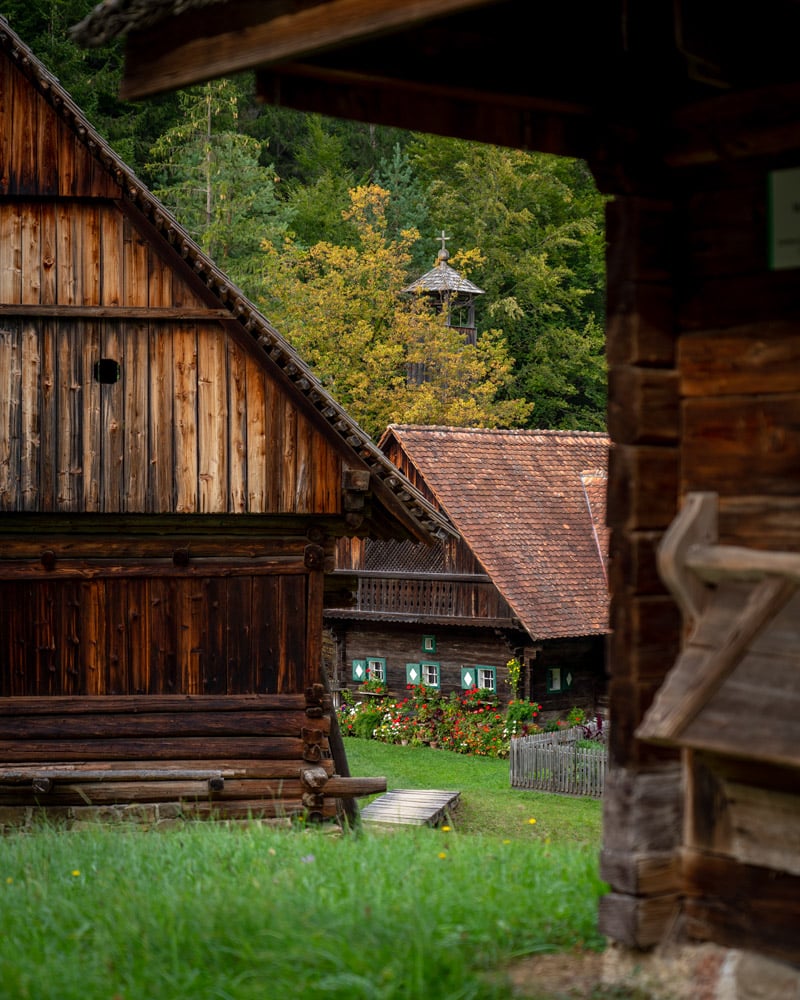 Winter sports among epic Alps
While this one is pretty self-explanatory, it wouldn't be a conclusive list of awesome things to do in Austria without mentioning the nation's winter spots. Skiing is one of the most beloved pastimes in this country, and the options for resorts are numerous. Sadly, I'm a terrible skier and much better acquainted with Apres-ski waiting for friends, so I can't make suggestions on the best pistes, but there are plenty of incredible ski destinations in Austria for those who venture here in winter.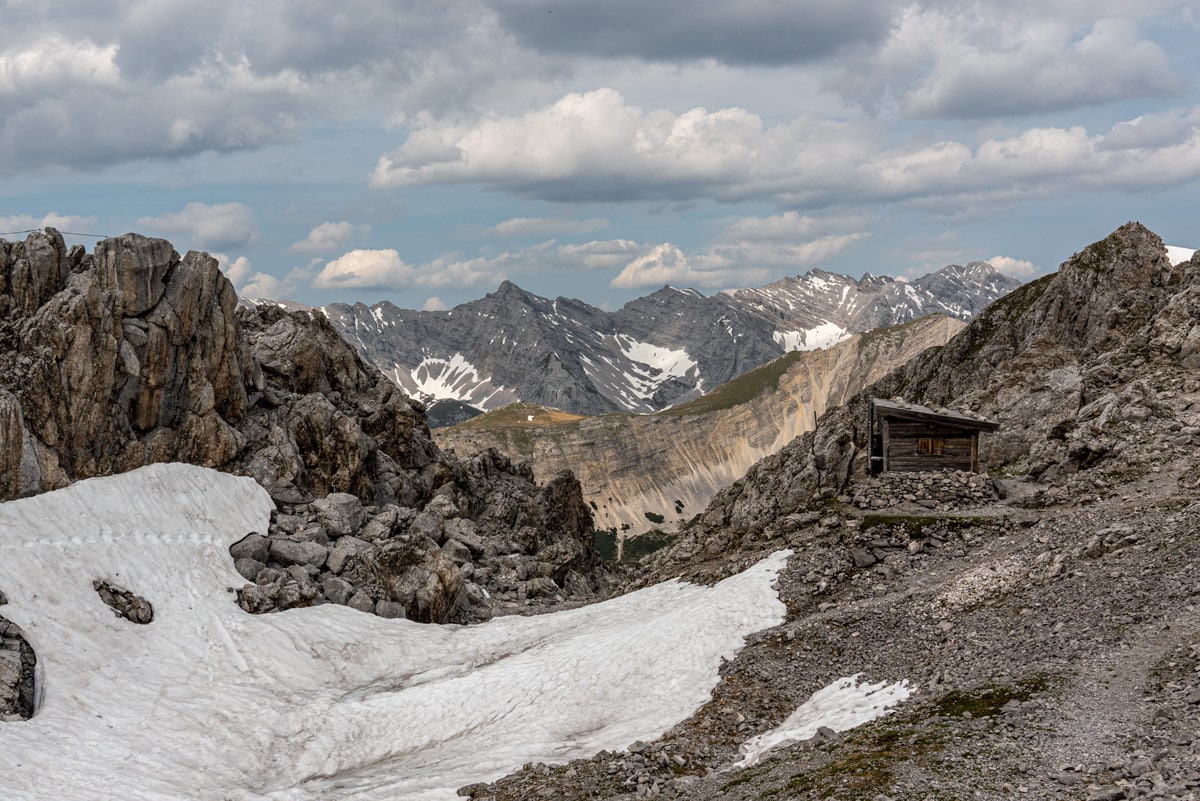 Venture inside the Eisriesenwelt Ice Cave
Skiing and snowboarding might be two of the top things to do in Austria, but if you want ice-cold adventures with less adrenaline, you should venture inside the Eisriesenwelt, the largest ice cave in Europe.
This is perhaps the most memorable place I visited in Austria. Partly because I climbed the icy path there in trainers and spent a lot of time sliding dangerously close to the edge as a broke backpacker many years ago, but mainly due to the unfathomable sight which awaits hidden within. An easy day trip from Salzburg, the cave is accessed via the town of Werfen and stretches some 42 kilometres into the Hochkogel mountain.
Inside the limestone cave, an otherworldly scene of stalactites greets you, and huge cavernous rooms with frozen chunks of mystical ice seemingly suspended from the ceilings like huge vertical tubes. While only some parts of the cave system are accessible by the public, the ones that are open are some of the most fascinating places to visit in Austria – there aren't many destinations which have left me in so much awe.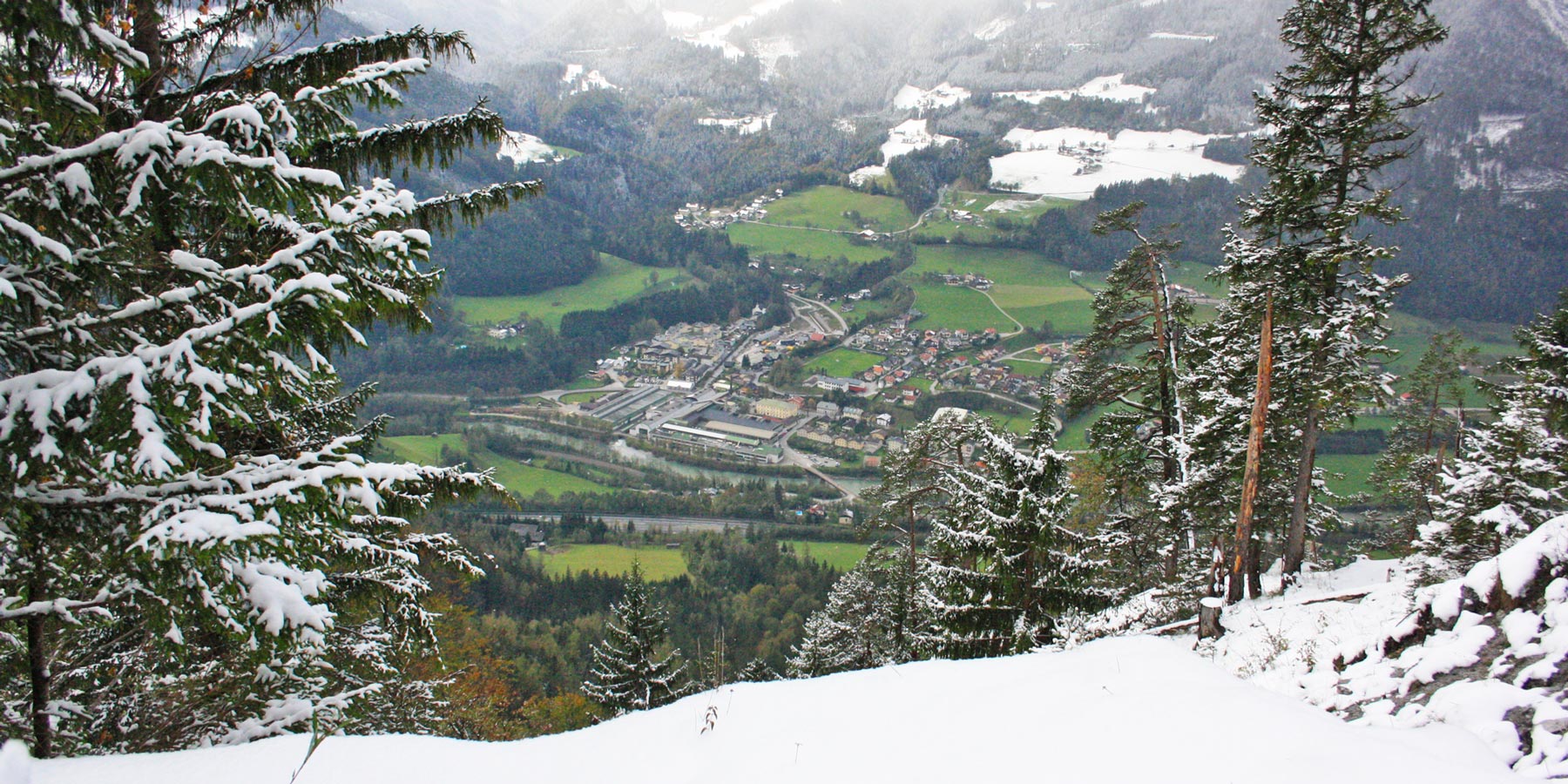 Hop between three countries on Bodensee (Lake Constance)
Lake Constance, or Bodensee in German, is not only one of the best places to visit in Austria but also in Germany and Switzerland. Shared by the three countries, this body of water is beloved for summer getaways, and in one day, you could hop between the three countries using a boat, car, or bus.
The ferry that operates on Bodensee is one of the top things to do in Austria for visitors who want to tick off a few different countries in a matter of hours, but equally so for those who just want a lazy day by the water. Austria's shoreline is the smallest section, but there are a few places worth visiting, including the towns of Lochau (you'll find watersport options here) and Bregenz for lake-side strolls along the promenade. There are also a couple of popular campsites here if you're looking for a bit of an escape.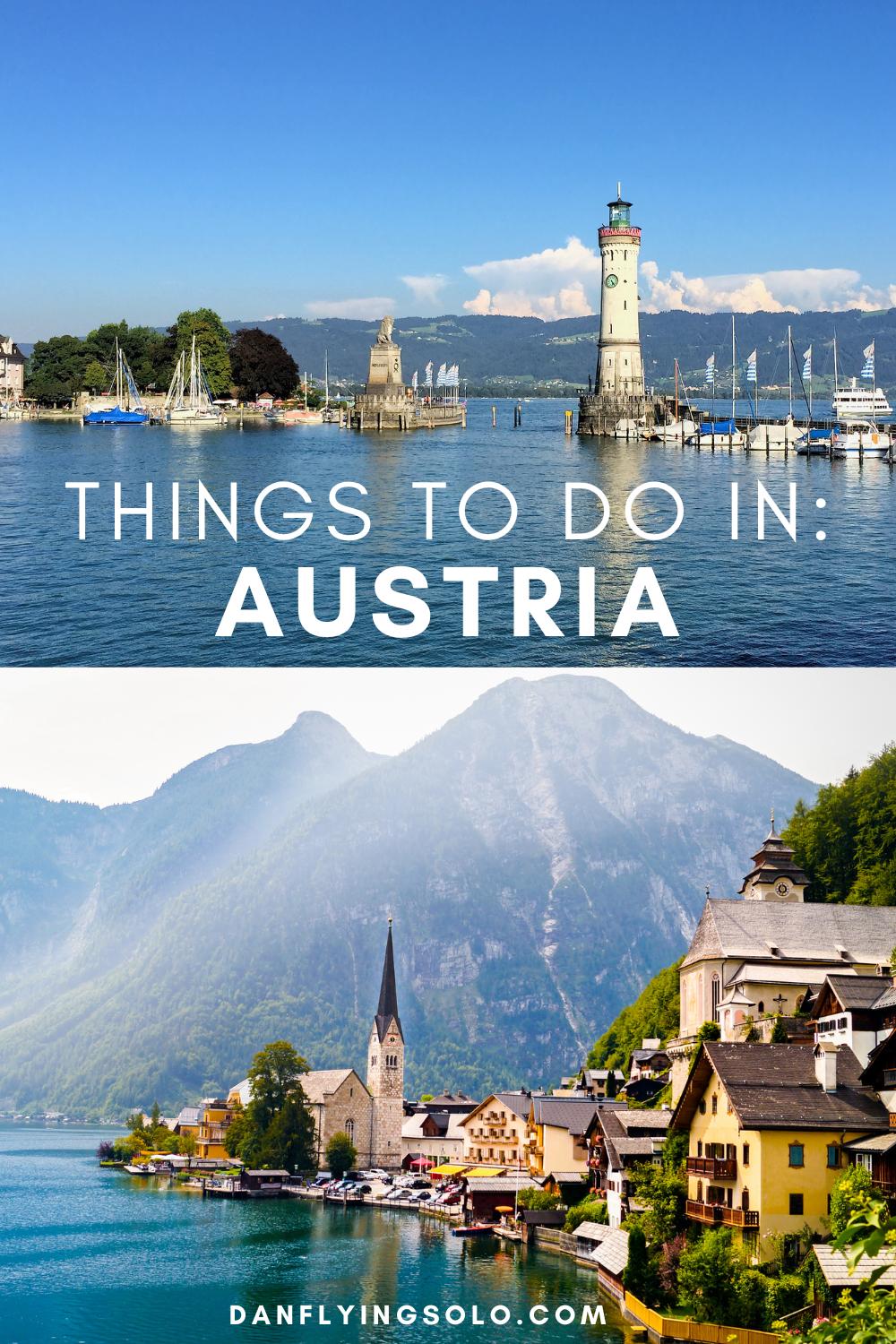 Try to avoid the crowds in Hallstatt
While talking about crowded destinations, this is one of the busiest, having become one of the most popular places to visit in Austria in recent years. A pretty small town, Hallstatt rapidly became the country's poster child thanks to its picturesque lake-side setting and spires backed by mountains. Sat on the shore of a lake with the same name, it truly is dreamy, and that fairytale magic is why it draws numerous visitors every year.
With a population of less than 1000, and millions of visitors a year, this destination is struggling with overtourism and crowding. Though, you just need to look at the photos to see why it has become a must-visit spot in Austria.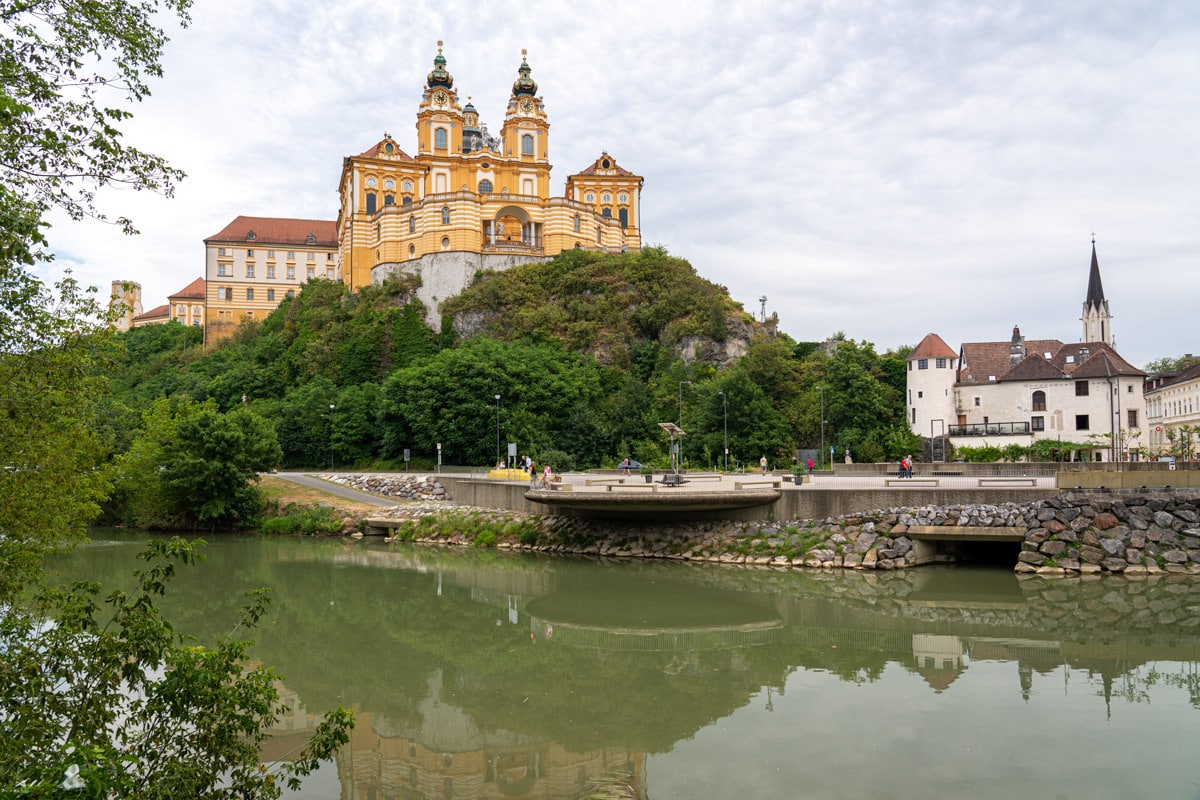 Marvel at the UNESCO-listed Melk Abbey
UNESCO-listed Melk Abbey is one of the most famous religious buildings in the country and, thus, one of the most popular things to do in Austria. Sadly, that means it can get swamped, and personally, I didn't overly enjoy my time visiting the abbey for this reason. There were an intense amount of large tour groups – and people being shouted at for taking prohibited photos – slightly ruined the experience.
Still, this is considered one of the best places to visit in Austria for a reason, and if you come very early, outside of the primary holiday and cruise months, or prepared for the crowds, then your expectations may be managed, allowing you to appreciate the grandeur of the Monastery and its Gardens fully.
Founded over one thousand years ago, the expansive Monastery complex is now mainly Baroque in appearance – and wow, it's quite an appearance indeed! Dominating above the Danube River, the hulking honey-coloured building is quite the sight. Once inside, you can visit a variety of rooms freely – not all, as Monks still live here – including the magnificent library, church, Marble Hall, and outside terraces, which offer photogenic panoramas of the river. You can easily combine Melk Abbey with a visit to Wachau's vineyards as the train and ferry depart from here.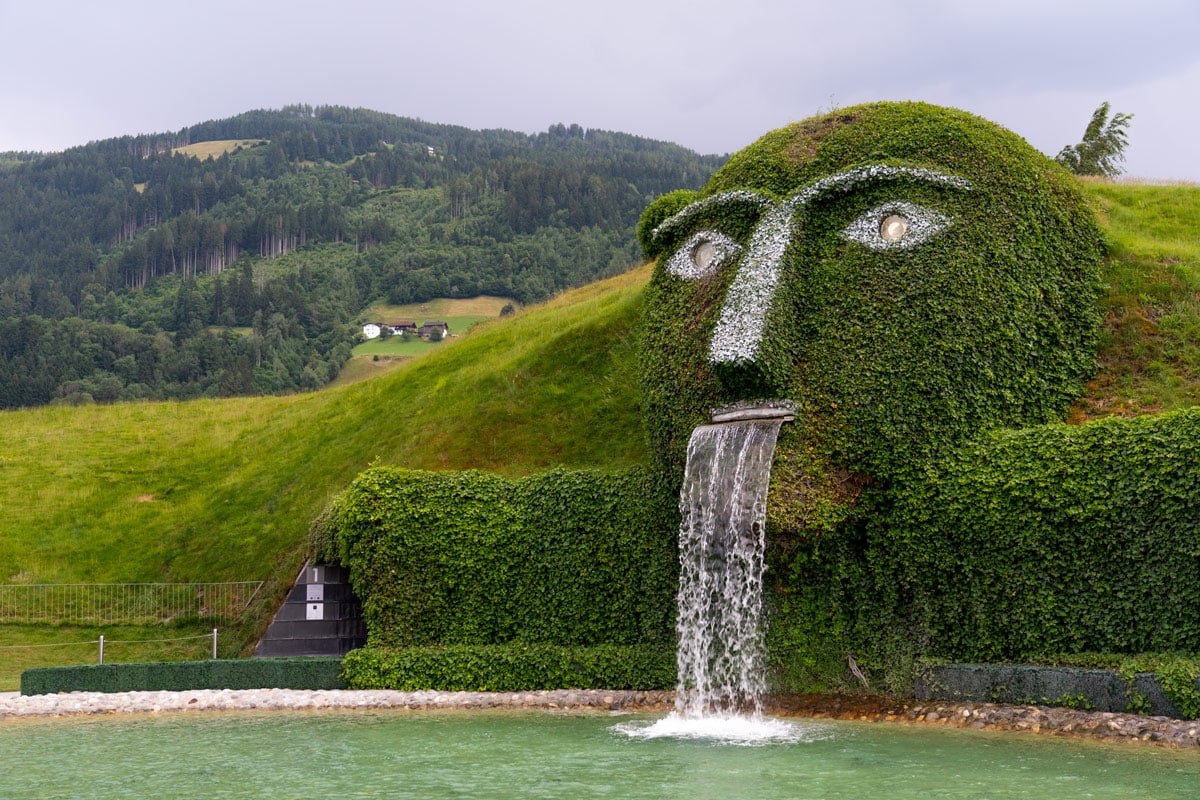 Tour the whimsical world of Swarovski
If you find yourself in Innsbruck or Tyrol, you won't be far from one of the most bizarre, fascinating and truly fantasy-like things to do in Innsbruck: visit the Swarovski Kristallwelten.
Situated in Wattens, the small town where Swarovski was founded, this attraction is something between a museum and a theme park – trust me, it's hard to describe. After walking through a giant garden head decorated by Swarovski crystals, you'll be whisked into a whimsical selection of rooms where snow falls, star-studded outfits worn by stars on red carpets, and all and any kind of imitation diamond artwork you could think of. There's also a gorgeous garden – with more crystal decorations – looking out onto the Alps.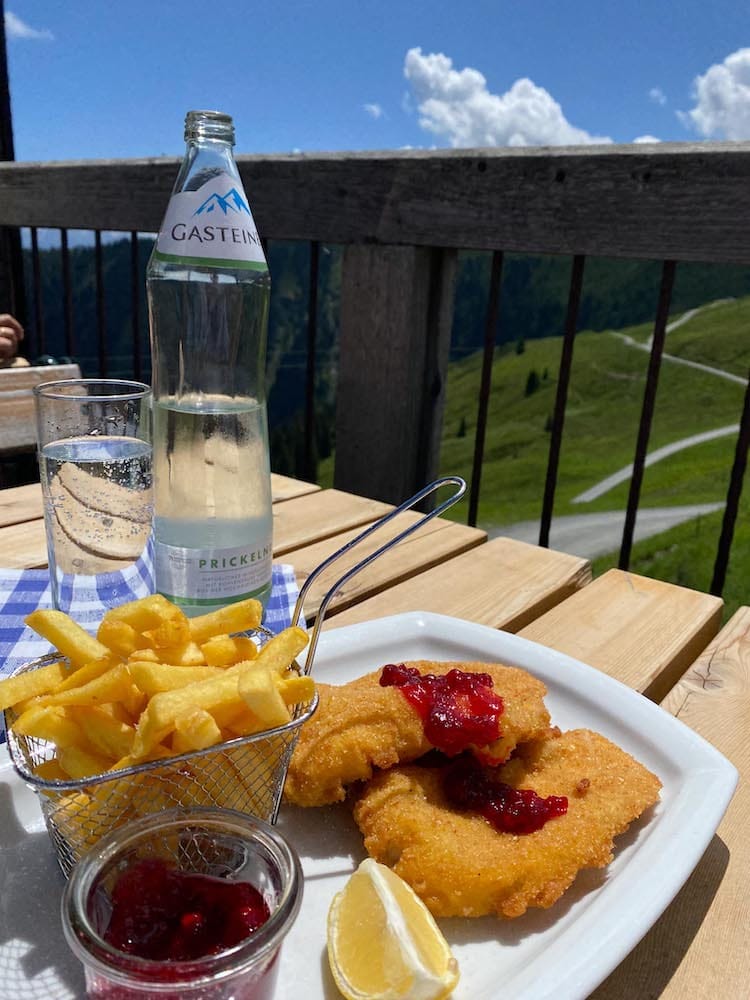 Devour delicious regional dishes
Rounding up my list of favourite things to do in Austria, I have to give a final mention of the nation's cuisine. For a long time, I thought the country's dishes were bland or heavy. However, having visited much more of Austria's regions in recent years, I've realised how wrong I was – Austrian typical dishes are not delicious but differ vastly between regions.
If you ask Austrians, many will tell you that the best place to visit in Austria for outstanding cuisine is Graz and the surrounding region of Styria – hence its title as 'Austria's Culinary Capital'. Here you'll find the aforementioned Buschenschanks in the countryside, with plenty of refined dining in the city. Once a year, they even host a 'Long Table' where some 750 guests sit down to eat al fresco together. Regional specialities include Pumpkin Seed Oil, Backhendl (a fried chicken dish), and fine wines.
But across the nation, you'll find some fantastic dishes that, while they might sound a bit too hearty or meat-heavy, are actually delicious. From the apple strudels and grand coffee culture to Tiroler Gröstl (beef, egg, bacon and potatoes), Käsespätzle (a pasta-like cheese), dish and the infamous Wiener Schnitzel (thin breaded veal or pork) sampling the traditional dishes is as an essential Austrian experience as touring the country's most impressive museums or towering mountains.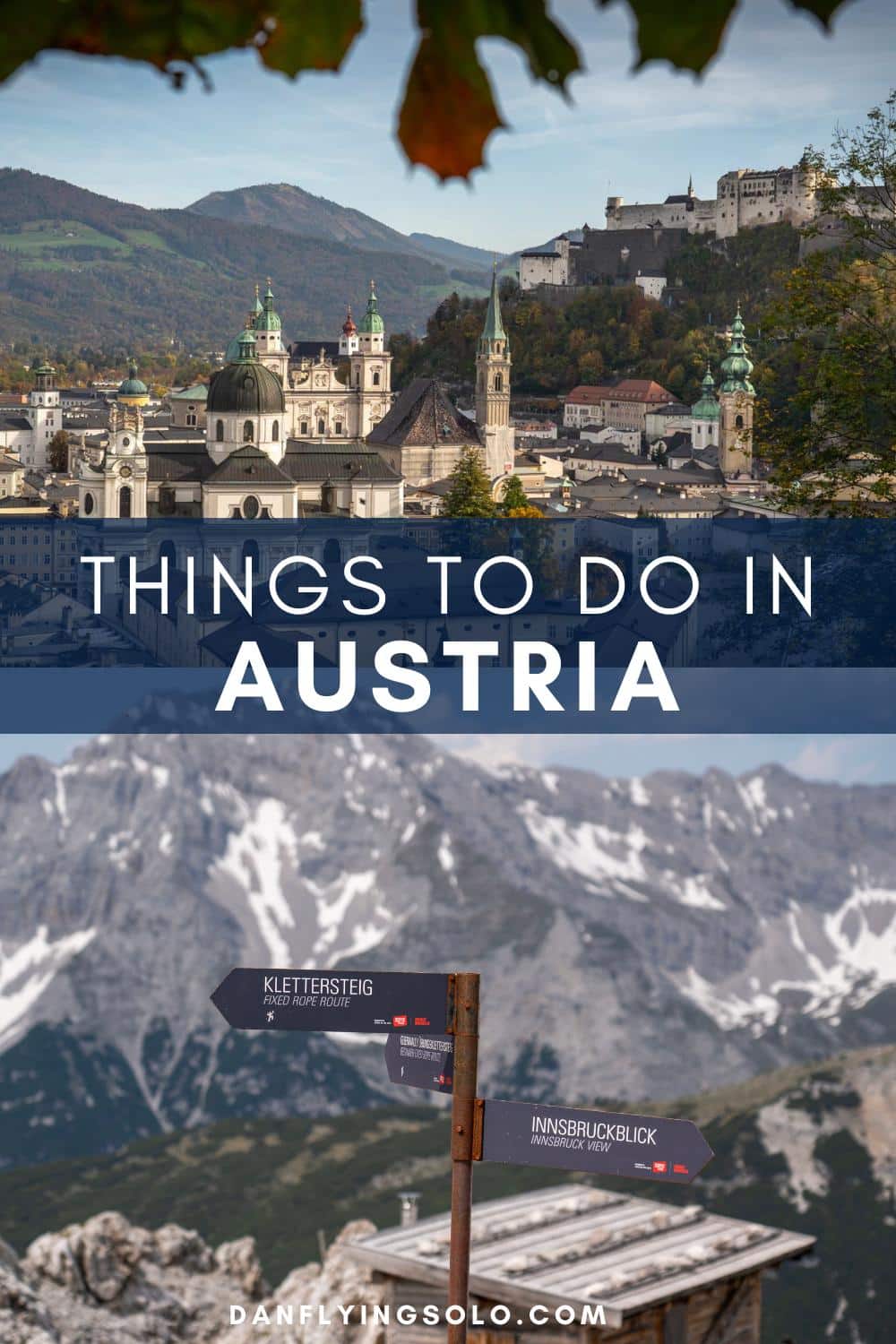 https://www.danflyingsolo.com/wp-content/uploads/2023/07/The-Asitz-Mountain-Austria-1.jpg
1366
2048
Daniel James Clarke
https://www.danflyingsolo.com/wp-content/uploads/2022/01/blogo-1w.png
Daniel James Clarke
2023-08-09 13:24:44
2023-08-21 22:02:26
24 Awesome Things To Do in Austria: Places to Visit, Experiences & Attractions