Saalfelden Leogang, Austria: Things to Do and Reasons to Visit
This website uses affiliate links which may earn a commission at no additional cost to you. As an Amazon Associate I earn from qualifying purchases.
Updated: 9th July 2023
Within seconds of arriving at Saalfelden Leogang's Stockinggut Hotel, I was out on the balcony taking in the most magnificent of views. Caramel-coloured cows chowed down on saturated green grass, slate peaks soared high above the Alpine forest, and in the distance, church spires splintered the verdant panorama. A few weeks before, I hadn't even heard of this place, and now it was already permanently imprinted in my mind.
Saalfelden Leogang might not be as famous as some of Austria's other mountain resorts, but this range is popular with locals while remaining something of a hidden gem in Europe amongst international visitors. Set in the Pinzgau region (Zell am See District) in the State of Salzburg, Saalfelden is the regional city, while Leogang is an adorable village and municipality of majestic mountains.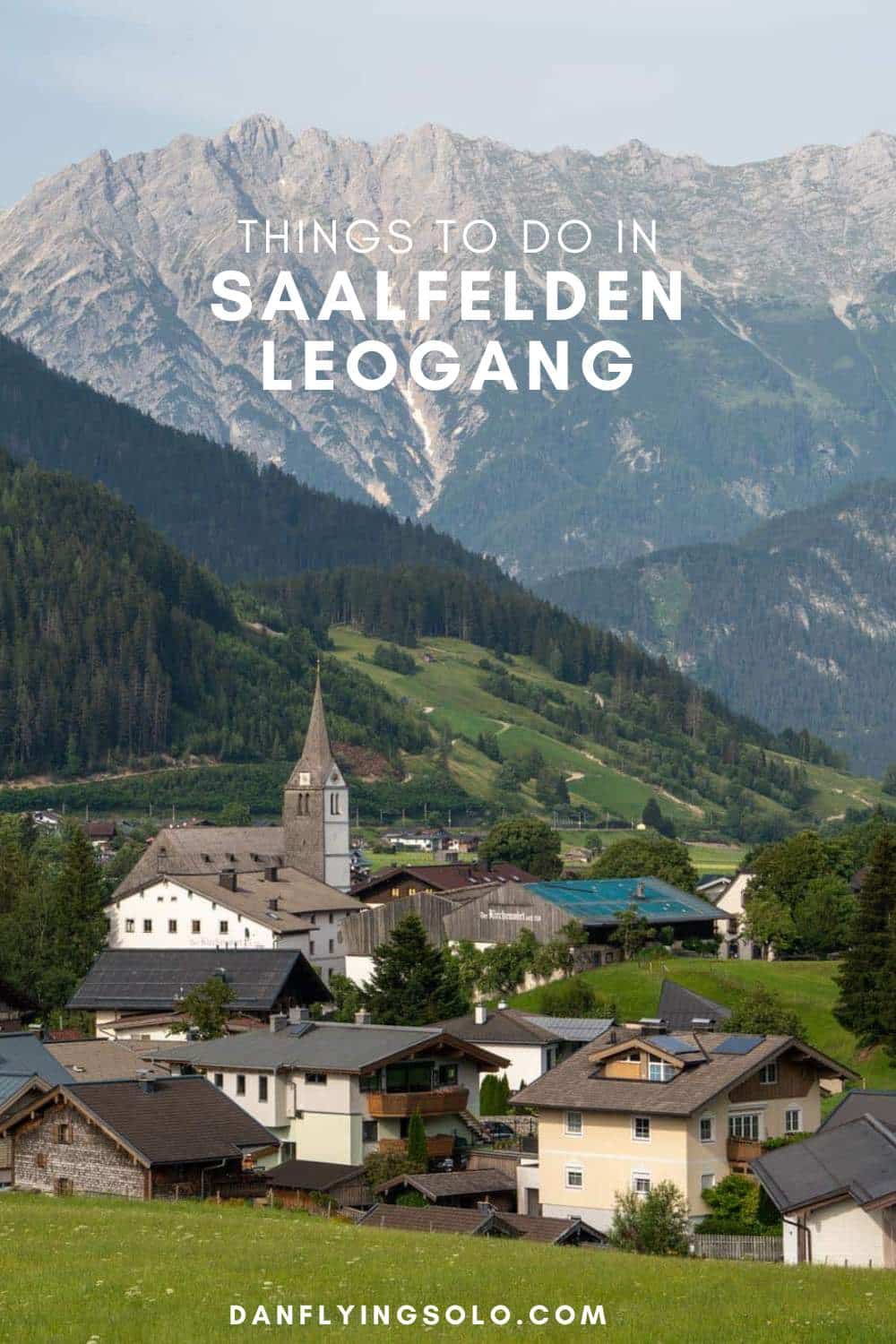 Only around two hours from both Salzburg and Innsbruck (and double again from Vienna), Saalfelden Leogang surely won't continue to fly under the radar for too long. By winter, it's a skiing paradise, and come summer, the slopes are taken over by flower-laden hiking trails, concerts and cultural offerings. Here are some of the best things to do in Saalfelden Leogang no matter the time of year – although, if you know me, you'll know that I adore Austria in summer more than any other season.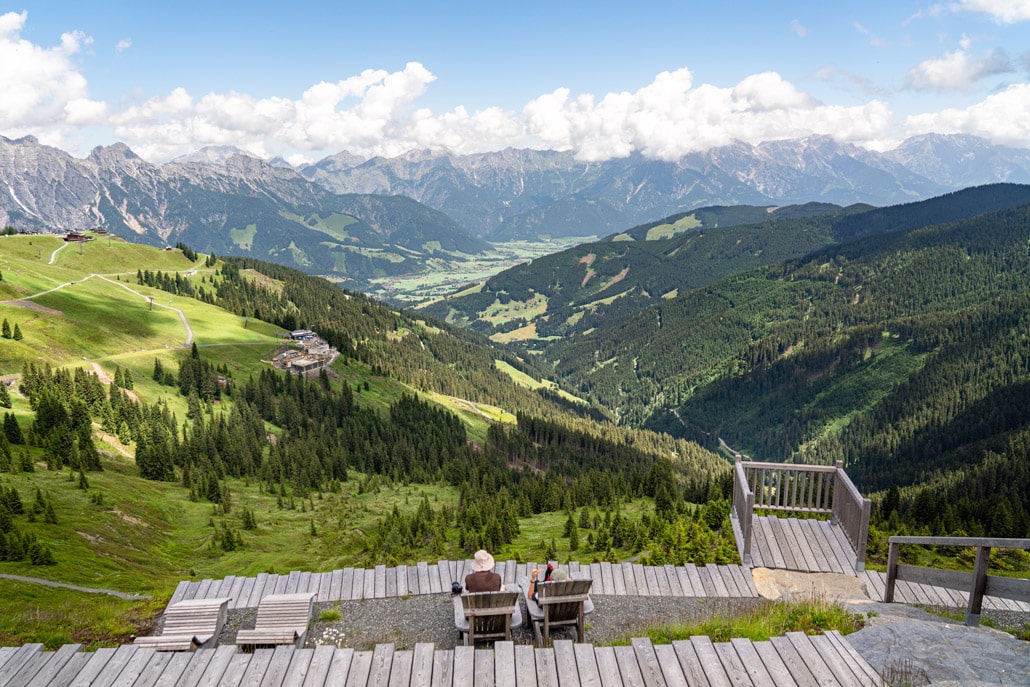 Soak up The Asitz Mountain's culture in the summer
Of all the spectacular hikes I've taken in Austria, it's those on The Asitz Mountain that I treasure most dearly. In winter, this soaring peak is coated in snow, but by summer, it's a totally different picture.
Art installations link the middle and top gondola stations together through a forest trail, sculpture and herb gardens provide respite, paddling pools and still lakes bring cooling air to the sun-kissed slopes, and the open-air hammocks at the 'Cinema of Nature' invite you to sit and simply admire the landscapes.
But, perhaps most special is the summer concert program when classical performances take place lakeside, the imposing peaks of the range creating a cinematic backdrop. Even if you don't get the opportunity to enjoy a live performance, a handful of wooden huts dot the Mountain of Senses – as it's known locally – where you can sit down, recline, and listen to old recordings through a built-in speaker system.
If you have the Saalfelden Leogang Card (provided free by many hotels), then a summer cable car ride to the summit is even free, as is most local public transport.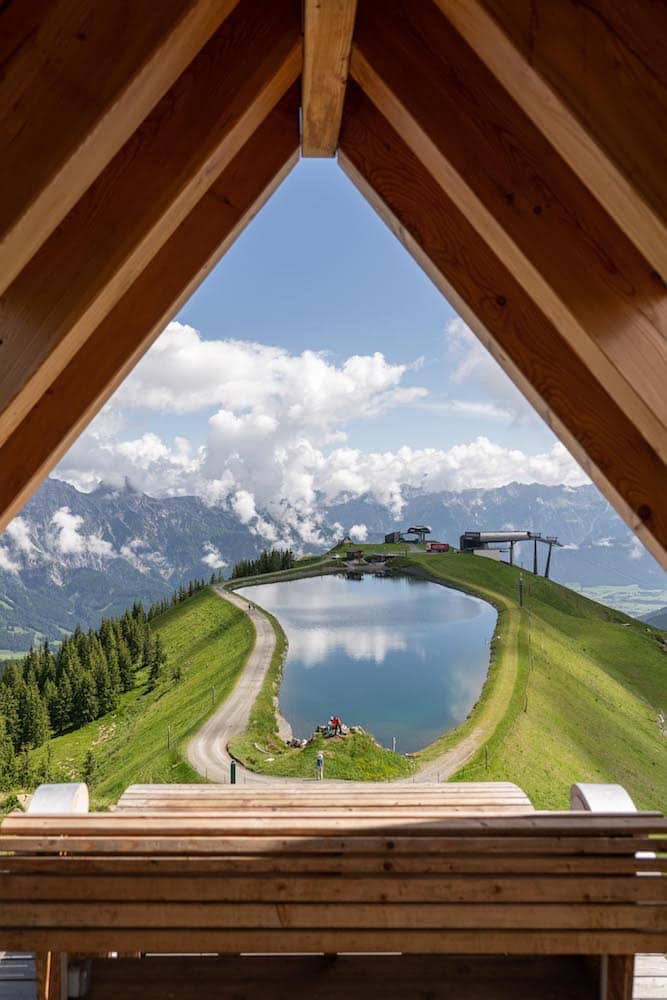 Ski and snowboard in winter
One of the best things to do in Austria when winter's fresh powdery snow comes around is to the pistes, and Saalfelden Leogang has plenty of first-class skiing opportunities to choose from.
While I haven't personally been here in winter, the keen skier who also manned the reception at my hotel waxed lyrical about the winter scene here, the Skicircus Saalbach being one of his best recommendations for taking to the slopes.
There's a decent mix of runs across the terrain, with schools offering lessons. And, of course, Austria's après-ski is an excellent way to enjoy Europe in winter.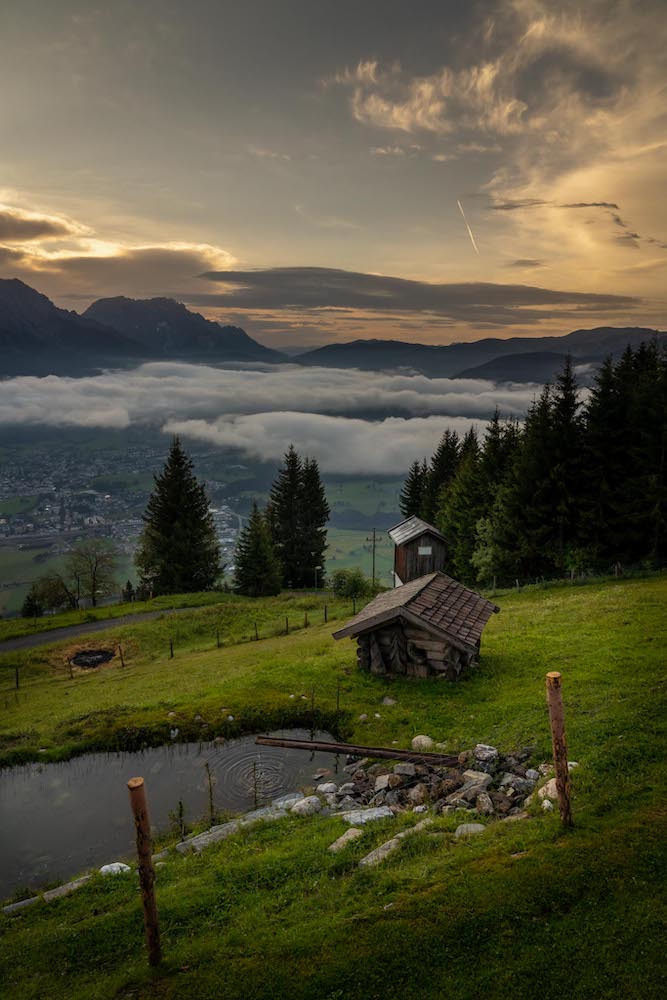 Enjoy Saalfelden Jazz Festival and the mountain summer concerts
Given that Saalfelden Leogang is in the state of Salzburg, famed for Mozart and its year-round program of concerts and entertainment, it should be no surprise that Saalfelden Leogang also has plenty of musical brags throughout the year.
One of the most notable events – as well as the aforementioned mountain concerts – is the city-hosted Saalfelden Jazz Festival, which takes place over a long weekend in August.
Stroll Leogang's laid-back trail
Strolling around Saalfelden, you very much feel like you're in a small city, even if the mountains are right there. In laid-back Legonag, however, it's a very different atmosphere, even though it's just a short bus ride away.
Lush meadows and majestic mountain trails span out from the village, which is about as postcard-perfect as an Alpine settlement can be. Particularly adorable is the small area around the Pfarrkirche, where you can enjoy a coffee amongst the local farmers at Kaufhaus Hutter – also great for grabbing an organic deli-style picnic – before taking to the trails.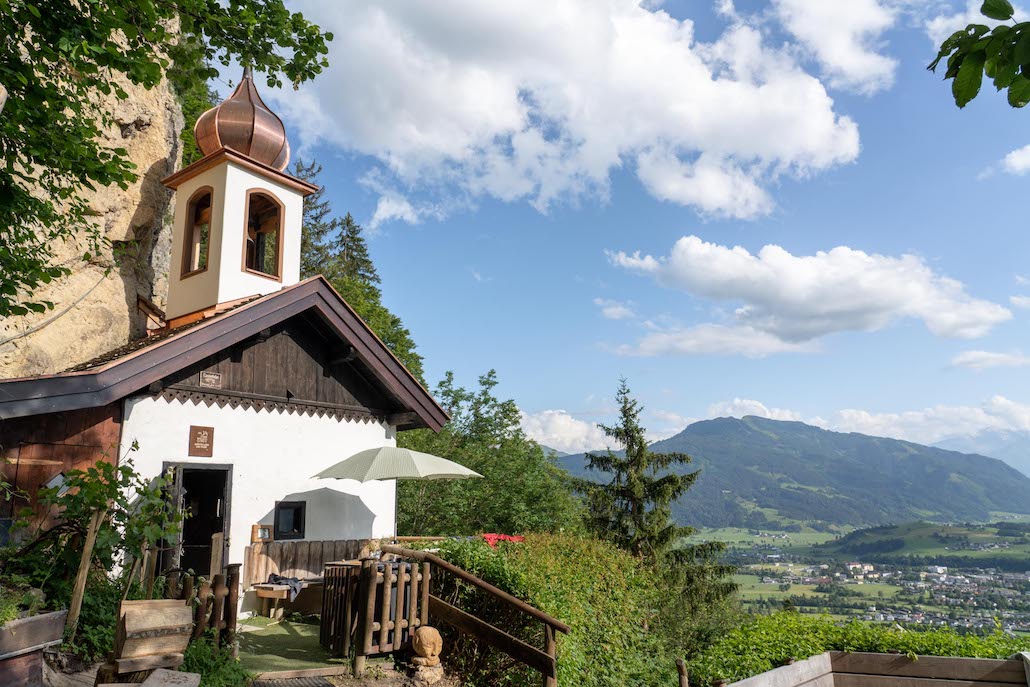 Visit Europe's last occupied hermitage
On the edge of Saalfelden city – you can take a bus halfway, but then it's a bit of a climb — overlooking the valley, you'll find one of Austria's most unique attractions: Europe's last occupied hermitage.
With a small white chapel built into the rock, a little terrace, and a compact and humble home for the hermit, it's an intimate location with some magnificent views, and if you're lucky like I am, you might even get a chance to exchange a few words with the resident himself.
Having been in use since the 17th century, it's quite fascinating to find the hermitage still occupied. Nearby, the Kühloch Cave was in use during the Bronze Age, offering an even more ancient attraction.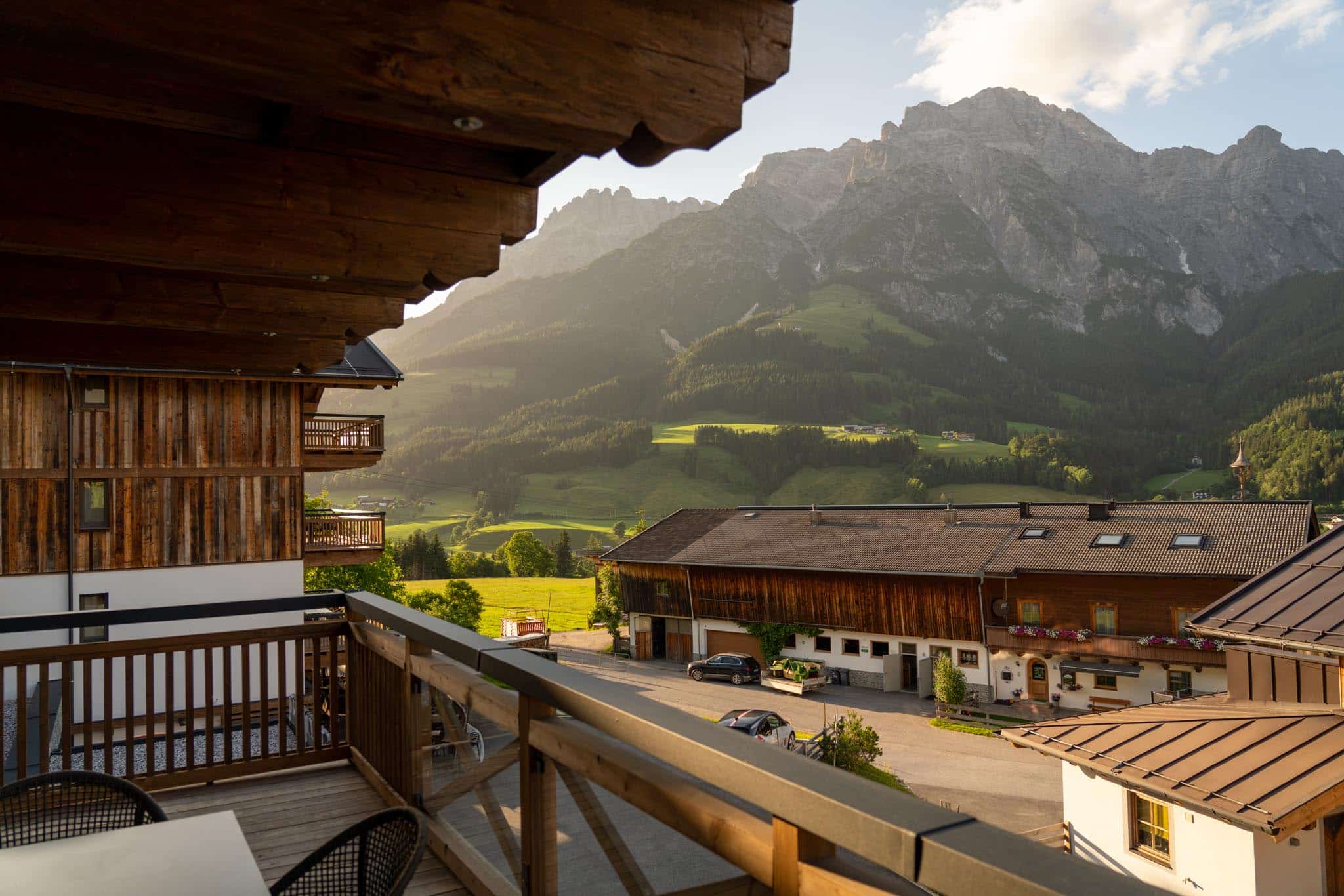 Pamper yourself in an Alpine spa
Spa lovers will be spoilt for choice in Saalfelden Leogang, with plenty of Alpine treatments and pamper centres to choose from. What makes Leogang such a magical place for a rejuvenating retreat, though, is the setting. Looking out on forests and mountains while bathing, or stepping outside into the fresh air post-sauna, really adds to the experience and ensures any stress slips away.
There are a few different options to choose from, but it's perhaps best to book into a spa resort or hotel rather than try and find day passes. Some of the most impressive spa resorts really blend into their surroundings, with the family-run Hotel Krallerhof regarded as the valley's finest.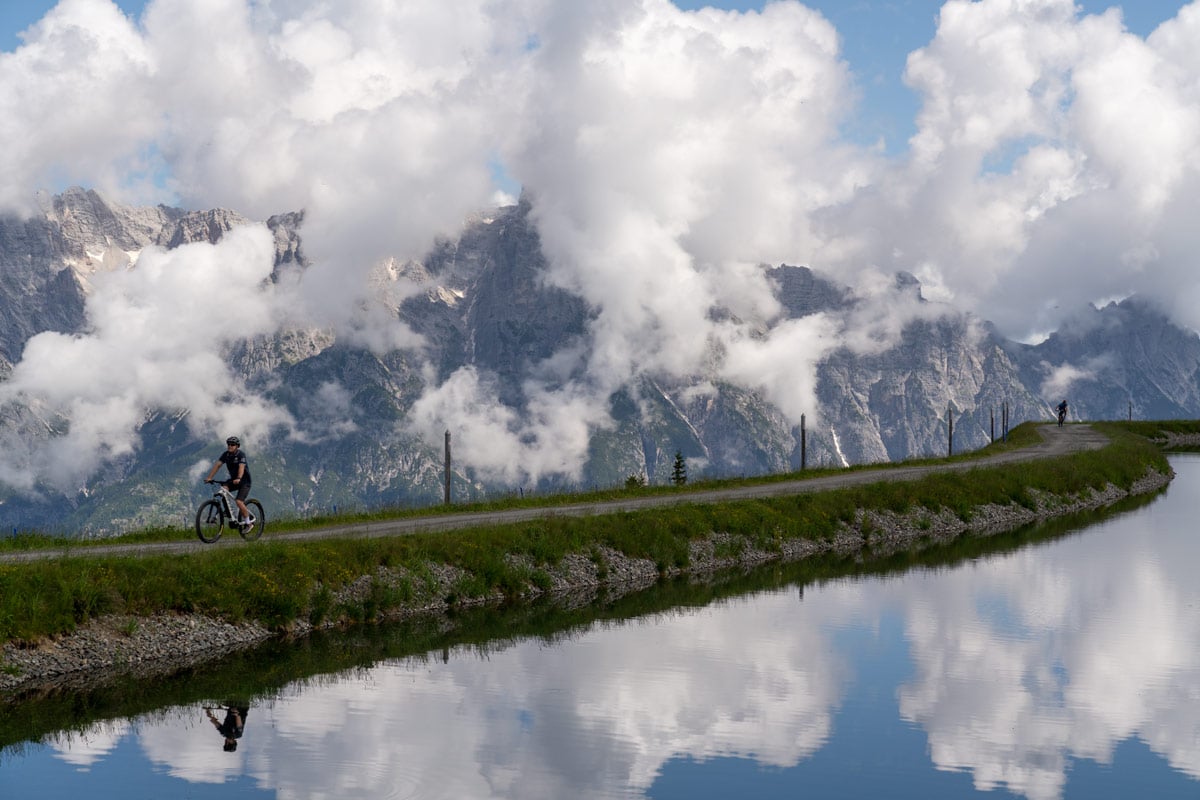 Take on the Epic Bikepark Leogang
Adventures in the Alps aren't just reserved for hikers and skiers, and in the Epic Bikepark Leogang, you'll find one of the most adrenaline-fuelled sets of bike trails in the Alps – the park has even hosted the Biking World Championships.
Still, that doesn't mean this outside arena and tracks are only for the pros, there are trails of all different levels to enjoy. Whether you prefer keeping on the ground firm, tackling some sky-high soaring jumps, or heading downhill at a speed that would scare any non-biker, you'll find a biker's playground ready for all skill levels.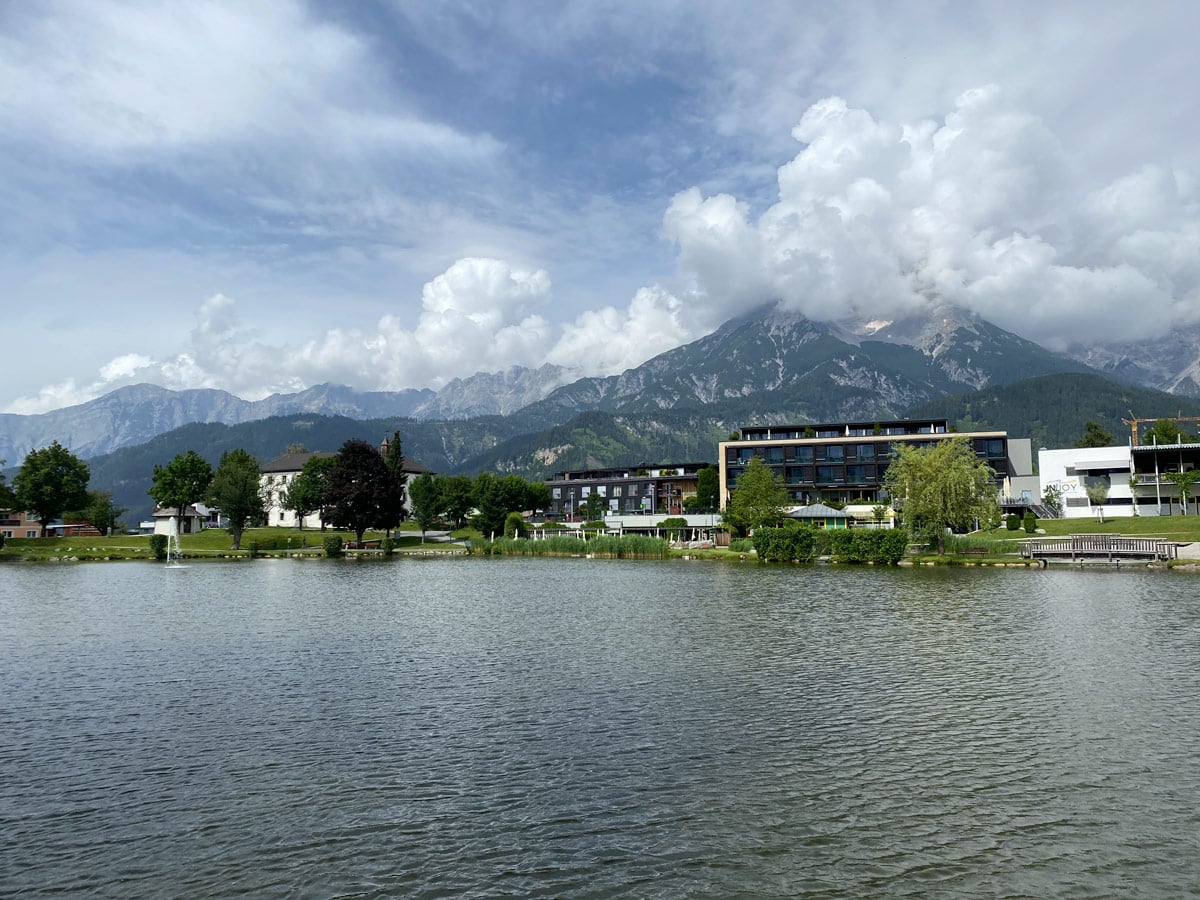 Stroll (or swim) at Lake Ritzensee
Throughout the region around Salzburg, you'll find plenty of dazzling lakes, and Saalfelden's Lake Ritzensee – just a stone's throw from the centre – is the easiest to access around here.
While it might not have the turquoise fringes of some other Alpine lakes, it's a popular place for the city's residents to cool down and take a dip in summer or simply stroll around to be amongst nature.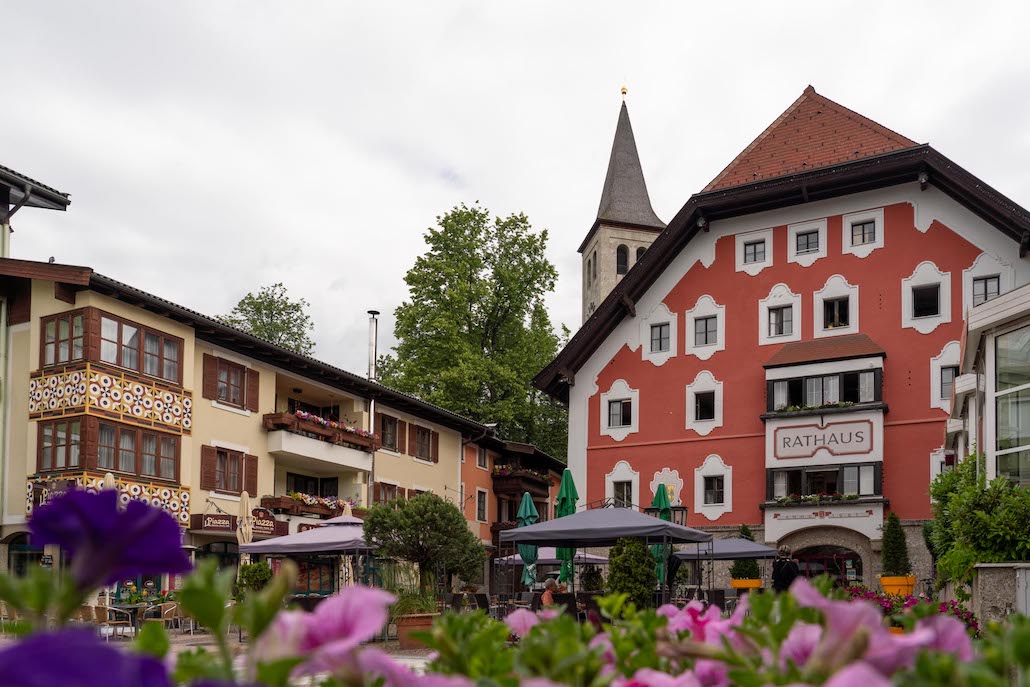 Learn in Saalfelden's museums
Being a relatively small city, Saalfelden doesn't have too many museums to boast. But, the couple that it does have are well-curated and worth spending an hour or two in if their niches appeal.
Schloss Ritzen Museum, a former palace that presides over the lake, is home to a collection of local findings and folklore items, with a particular emphasis on cribs. Across the city, the modern art gallery at the Kunsthaus Nexus is a stark contrast, although it only opens early evening from Thursday until Sunday.
There is also the Mining and Gothic Museum in Leogang, which has a curious mix of religious art and practical mining items located inside an 18th-century chapel (once dedicated to the silver miners)and medieval tower. The Leogang Show Mine, in Schwarzleo Valley, is a little more interactive and would perhaps be a better option for families.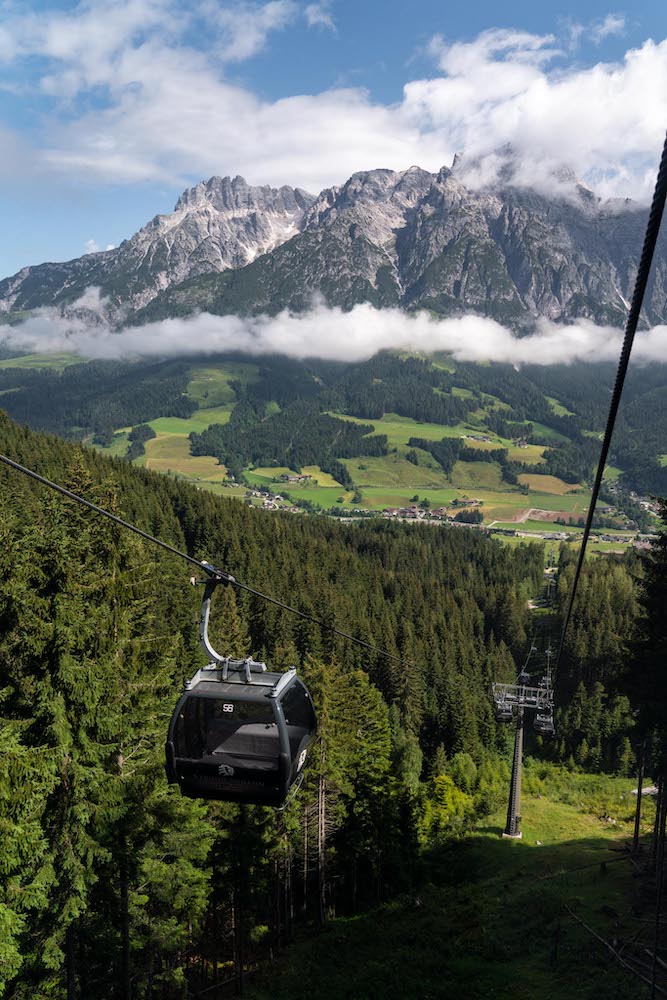 Fly high above on the Flying Fox XXL
An adrenaline-pumping experience awaits atop The Asitz for those who want to feel the mountain air as they fly through the sky.
The Flying Fox XXL is one of Saalfelden Leogang's most famous attractions, especially given it is one of the fastest and most extended zip lines in the world. As you fly for nearly one mile, potentially reaching speeds of 80 miles per hour, you'll take in the valley and Leogang's mountains from a high – it's an awe-inspiring way to get a unique perspective of the Alps!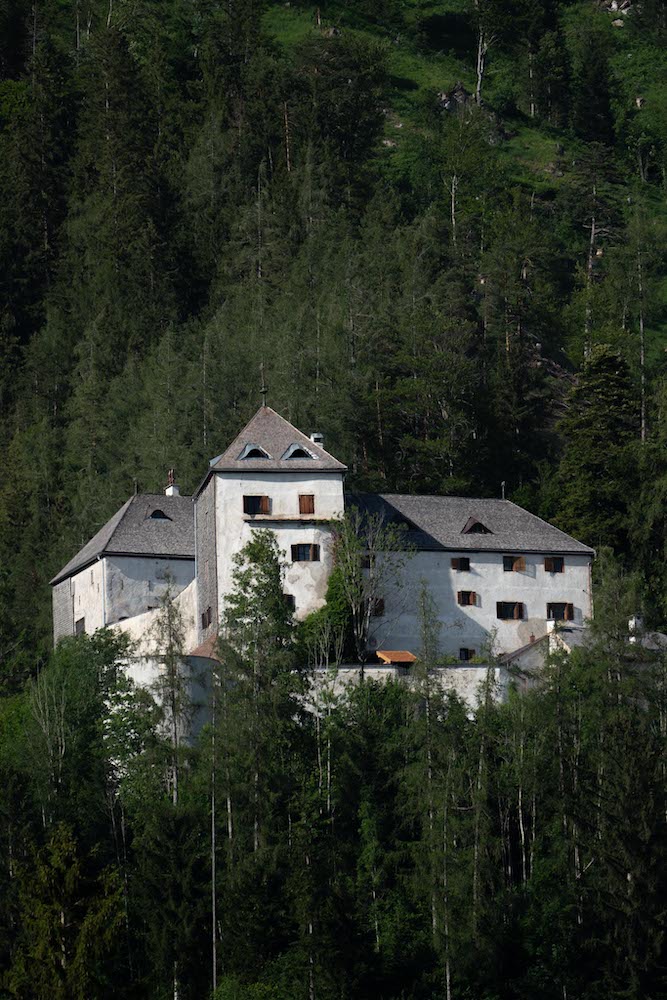 Where to stay in Saalfelden Leogang
Saalfelden Leogang has a surprisingly decent amount of accommodation, with options ideal for those who prefer the urban sprawl right through to remote, Alpine lodge-style guest houses.
Alpine option: Stockinggut Hotel
I stayed at the peaceful and wood-clad Stockinggut Hotel and adored my stay – it felt like an almost all-inclusive Austrian Alps resort with the evening dinner option, and the views of the valley were beautiful. It's also just a short walk from the gondola to reach the top of the mountain. Check prices here.
City-centre stay: Hotel die Hindenburg
If you want to be in the city of Saalfelden proper, then the boutique is one of your best bets from the limited pool available. It's a beautiful and traditional building, but inside, the renovations have managed to be respectful while modern. Check prices here.
Luxury spa escape: Hotel Krallerhof
The Krallerhof is an above-and-beyond family-run spa hotel that is sunk into the spectacular landscape. Sustainable travel genuinely seems to be a focus here, and the design (and planned expansion) is just magical. It's not cheap, but if you want a luxury escape in the Austrian Alps, Hotel Krallerhof is a winner. Check prices here. 
On a budget: Cheap hotel or hostel wise, there isn't much choice. But in summer, camping is a good bet and there are a few options. See them all on this local website.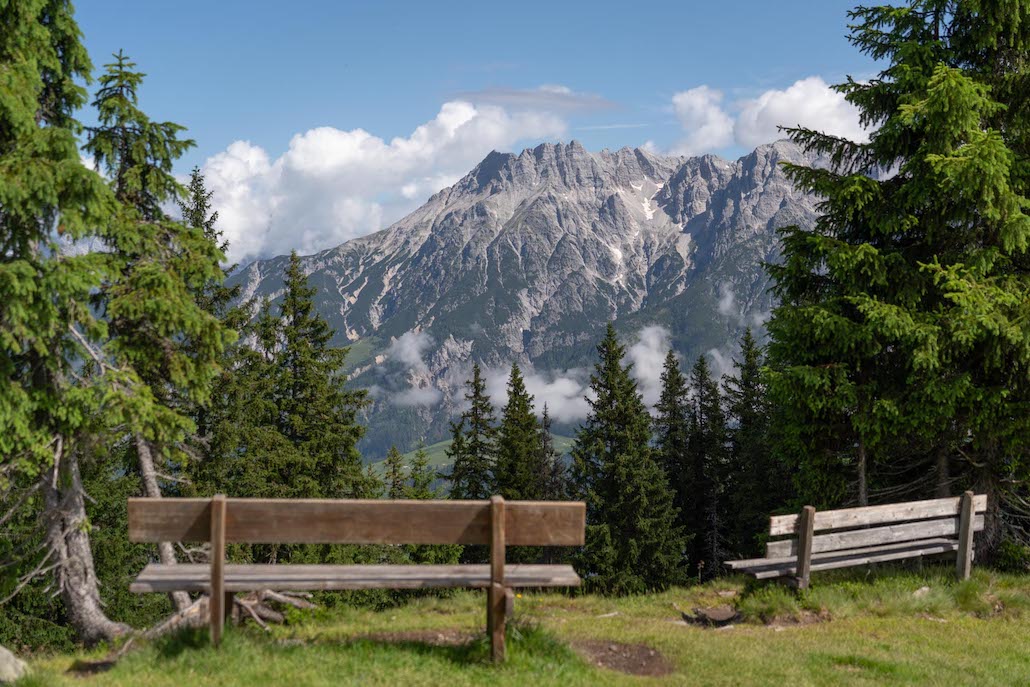 How to get to and around Saalfelden Leogang
If you are flying, you can take your pick from Salzburg or Innsbruck's summer or winter airport schedules. Alternatively, Munich airport in Germany is a good choice. You can arrive by train in under two hours from any of these airports.
If you want to travel more sustainably by train and a, you can take the Eurostar from London to Amsterdam and then change to the Alpine Express, an overnight service that stops in Saalfelden.
You might imagine being in the Alps, a car is required, but I had a great trip using public transport. The local bus, train, and gondola connections work well, and if you stay in accommodation signed up for a regional card (such as Stockinggut), you can use all the public transport locally for free.
Best Time to Visit Saalfelden Leogang and other FAQs
You can visit Saalfelden Leogang year-round, just expect to find two very different destinations depending on when you come. From late spring until early autumn, warmer days (around 20°C to 25°C) and a packed-out culture program make hiking trails far more appealing. By the time winter snow and negative temperatures return, snow and winter sports rule supreme.
Is Saalfelden Leogang worth visiting?
Yes, and very much year-round. In winter, this snowy wonderland has pistes perfect for skiing and snowboarding. In summer, the hiking and biking trails come alive with culture. Then you have the museums and history of Saalfelden, the charming small city which serves as the regional capital.
Why visit Saalfelden Leogang?
Saalfelden Leogang is a dream destination for outdoor enthusiasts, with thrilling adventure sports such as skateboarding, biking, skiing and adrenaline-pumping zip lines. But you can also visit to just unwind and connect with nature, especially during summer when the 'Mountain of Senses' hosts its cultural program.
How long to spend in Saalfelden Leogang?
While you could quickly see Saalfelden in the morning and then ride The Asitz's gondola in the afternoon, Saalfelden Leogang really deserves at least three days to start to relax and feel the holiday-like serenity of the region. For me, this could easily be a one-week Austrian summer holiday destination, especially if you want to fully immerse yourself in the mountains.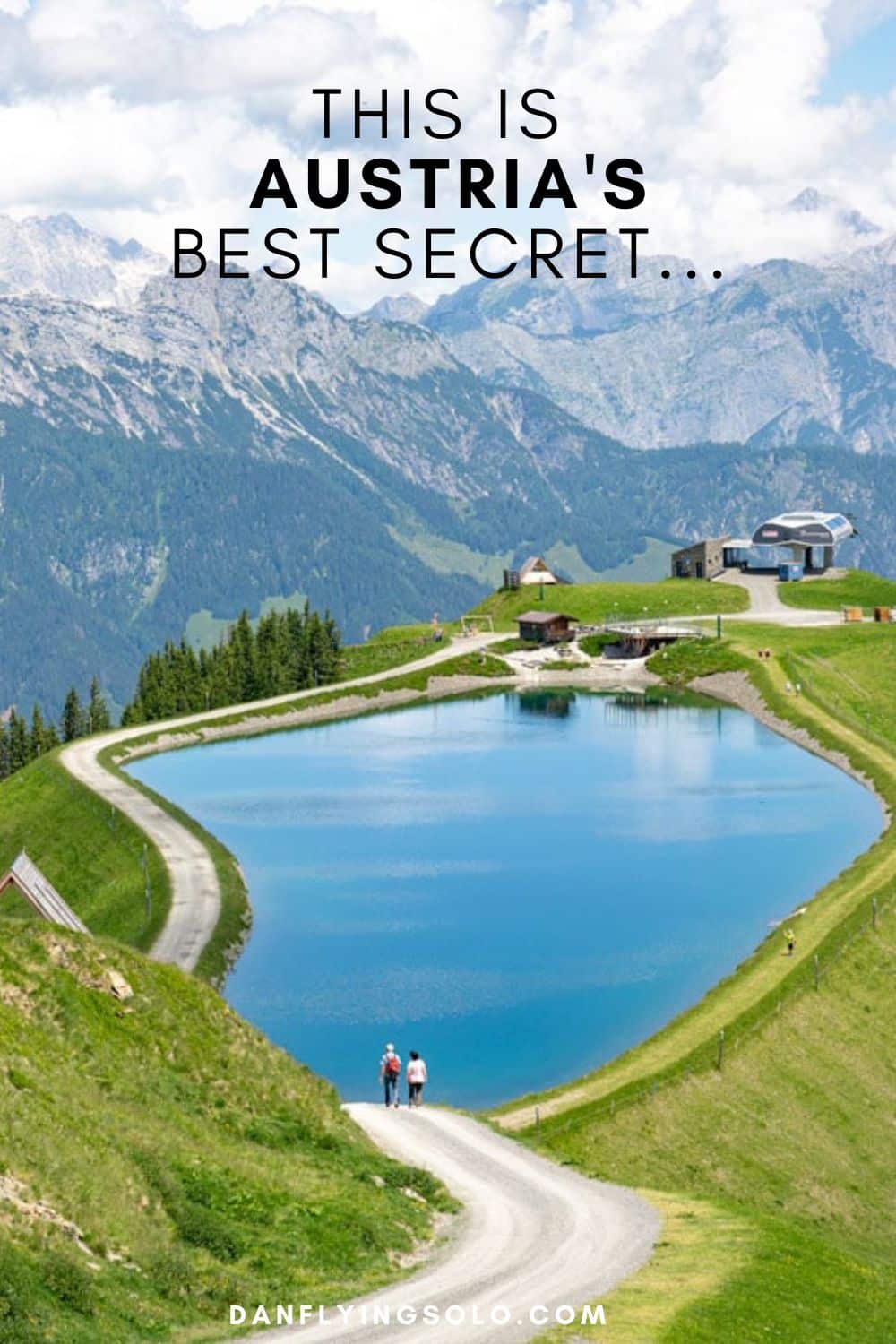 https://www.danflyingsolo.com/wp-content/uploads/2022/08/Head-Austria-Saalfelden-Leogang-233.jpg
1366
2048
Daniel James Clarke
https://www.danflyingsolo.com/wp-content/uploads/2022/01/blogo-1w.png
Daniel James Clarke
2023-07-09 17:29:05
2023-09-11 05:51:11
Saalfelden Leogang, Austria: Things to Do and Reasons to Visit