What's it like visiting Madeira right now? Pretty damn dreamy…
Updated: 13th April 2021
This website uses affiliate links which may earn a commission for purchases made at no additional cost to you.
Please note, this was published in December 2020 – current restrictions may vary
The stunning island of Madeira has a lot to offer – incredible hiking and adventure sports, luxury resorts and rural retreats, a dramatic coastline of black sand beaches and tumbling waterfalls, and the golden-sand island of Porto Santo. It's a destination that, although pretty small, packs a lot that appeals to many age groups.
I spent a month from November to December on Madeira. As a resident of Portugal, the rare trips I've had this year I've stayed local, travelling domestically – and I completely fell in love with this island. It's also done a much better job of managing COVID-19 than the rest of Portugal, and indeed the rest of Europe. I felt safe, relaxed, and confident with the island's management of the situation.
This has meant (at the time of writing) it has retained its spot on the UK airbridge list, making it one of the last options for travellers from the UK. Due to its warm temperatures year-round, it's a popular winter sun destination, just above the Spanish Canary Islands.
But what is it like to travel to Madeira right now? I'll break down my experience during November and December 2020, in case you are considering travelling to Madeira during this winter.
COVID-19 Situation in Madeira
The situation in Madeira has been very well managed, while also staying open for tourists. When the island re-opened in July, it did so with strict testing and isolation procedures in place for visitors, and mask rules that went much further than mainland Portugal. These measures seem to have worked well, as at the time of writing there have been under 1000 cases of COVID-19 on Madeira, and tragically two deaths.
General rules and regulations for travel to Madeira, and on the island
All visitors to Madeira must have a negative PCR test to continue their trip – tests are offered free on arrival, however, I believe (like I did) you should test before travel, and I'll explain why below.
Masks are mandatory in Madeira, and this is stricter and more enforced than in the mainland. Masks must be worn not just inside any place, but also when on group tours, and in outside settings where distancing isn't possible – think public streets, shopping streets, etc. If you are doing exercise, hiking, cycling etc then masks are not required.
Beyond this, standard precautions apply – washing hands, sanitising, 2-metre distance etc. You can read more about the Portugal travel restrictions on my regularly updated article by following that link.
Night clubs remain shut, but bars and restaurants are open, with a closing time of around 11 pm-midnight.
The mandatory masks and testing are what have allowed pretty much all other activities to resume.
*Please note, for Madeira residents returning home, and other groups, a second test and isolation period may be required. This article is written purely from a tourism point of view.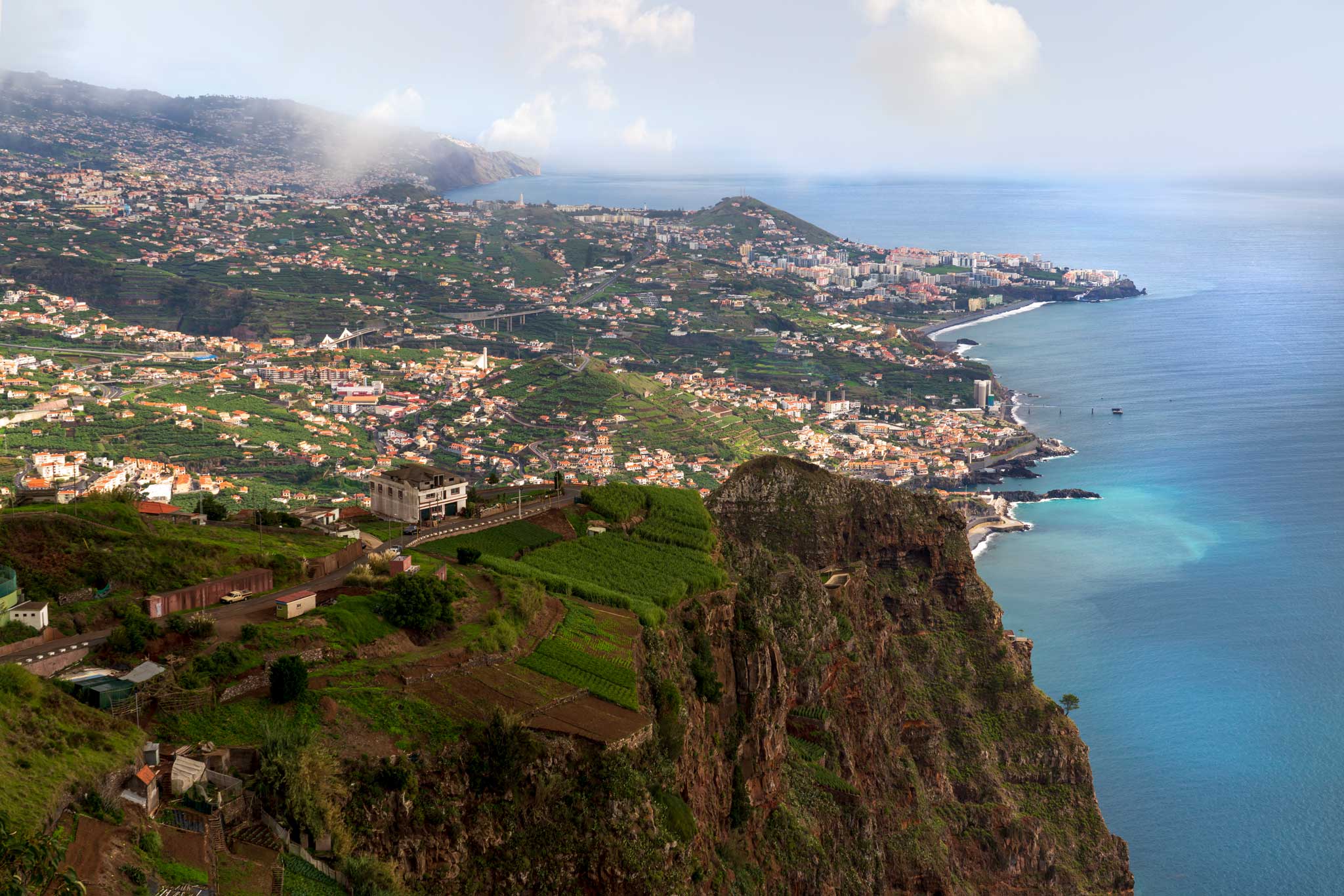 Health form before departure
Before flying to Madeira you must complete the health departure form at madeirasafe.com – if you have done an approved test you can also enter the details here.
On the flight
While Portugal has a 2/3rd capacity on buses and trains in Portugal, this does not extend to flights, so the flight may well be full as mine was. I flew with TAP, from Lisbon, and it was very smooth and well managed, with de-boarding by rows, and cabin crew doing regular mask checks onboard.
At Madeira Airport
When you arrive at Madeira airport, you will collect your luggage and then enter one of two lines. Social distancing is possible throughout, mainly due to the limited number of flights currently arriving.
Line one is for people who are already tested. Those who must test on arrival will join another line, but much of your details will have been supplied already on the online form. You will get a bottle of water and a banana while you wait in line for one of the testing booths just outside of the airport.
The test is the PCR swab test, nose and mouth, and once the test is complete you must go straight to your accommodation to isolate. When I arrived at my hotel, they asked to see my test results as proof I was able to continue my trip. Otherwise, the hotel ensured those who had no results waited in isolation until they came through. In general, the results will come back the next morning.
If you have done your test before travel…
I strongly recommend this option.
If you have done your test prior to arrival, you join the line to show you bar-code from the health form and can basically walk straight through.
If you are travelling from mainland Portugal, then you can get a free test from one of the Madeira approved testing facilities – the list of which is found here.
If you are travelling from abroad, then get a suitable PCR test within the 72-hour window from a local lab.
What if you test positive?
This is the reason I suggest you should do your test before arrival. Every day, people test positive on flights coming into Madeira, and that is going to very quickly ruin your holiday.
If you test positive, you will go into isolation. For those with their own homes or private accommodation, there may be a chance to stay there until your next test, but for most people, you will be moved to a government-approved quarantine hotel.
These hotels are generally 3/4* hotels, that have been booked. Some of which have kitchenettes and balconies. Please note while in isolation, you can't leave your room, so you might be staying in a 4* hotel, but you won't have these facilities. Originally, the government was paying for the hotel, food and medical supplies – however it seems this has now changed and you will be responsible for paying this fee, I think around €120 a day – so be sure to have insurance.
There is specific covid-19 insurance offered by a Portuguese company, in-case you want to look into that and see if it covers what you require.
You will have to remain in this isolation until you receive a negative test – your next test will be either 7 or 14 days after arrival, although in rare situations some people have been in isolation here for over a month. It seems deliveries of goods and food is possible at most of these facilities. Basically, testing before travel, even if you have to pay for it, is a good idea in my opinion.
Getting from the airport to your accommodation
The airport bus, taxis and Uber are continuing to run as normal from the airport, as well as car hire.
Accommodation
Accommodation in Madeira, for the most part, are operating as normal. Certain facilities may be closed or adapted, such as spa facilities and buffet breakfasts, but in general, all these other measures have allowed hotels to continue close to normal.
I stayed at the incredible Quinta da Saraiva – a small, boutique B&B with breath-taking views over Camara do Lobos.
I didn't want to stay in a giant hotel with lots of people, nor in the centre of Funchal with crowds. As such, this seemed an ideal option as it's well connected by bus-routes and to the highways, so I could visit places easily while having a more intimate accommodation experience.
The Quinta is beautiful, especially thanks to the hot tub and pool with their amazing views, and the hygiene precautions were all in place. I liked that breakfast was served on individual platters at the table, so no buffet, and that the grounds of the hotel were large. With only around ten rooms, including some studios with kitchens, there was plenty of space. I loved this hotel – you can watch the video review I made about it here.
Their rates are also incredibly reasonable this winter, with rooms starting from €50 per night. Feel free to use my discount code below to get a further discount on your stay.
For the best rates book direct at www.quintadasaraiva.com – enjoy a special discount when booking directly by simply entering the code DANFLYINGSOLO – this will give you a €50 discount on any stays of over 4 nights. This also includes breakfast for two, free parking, and a fruit and water welcome pack. (Code valid for reservations until 31/12/2021)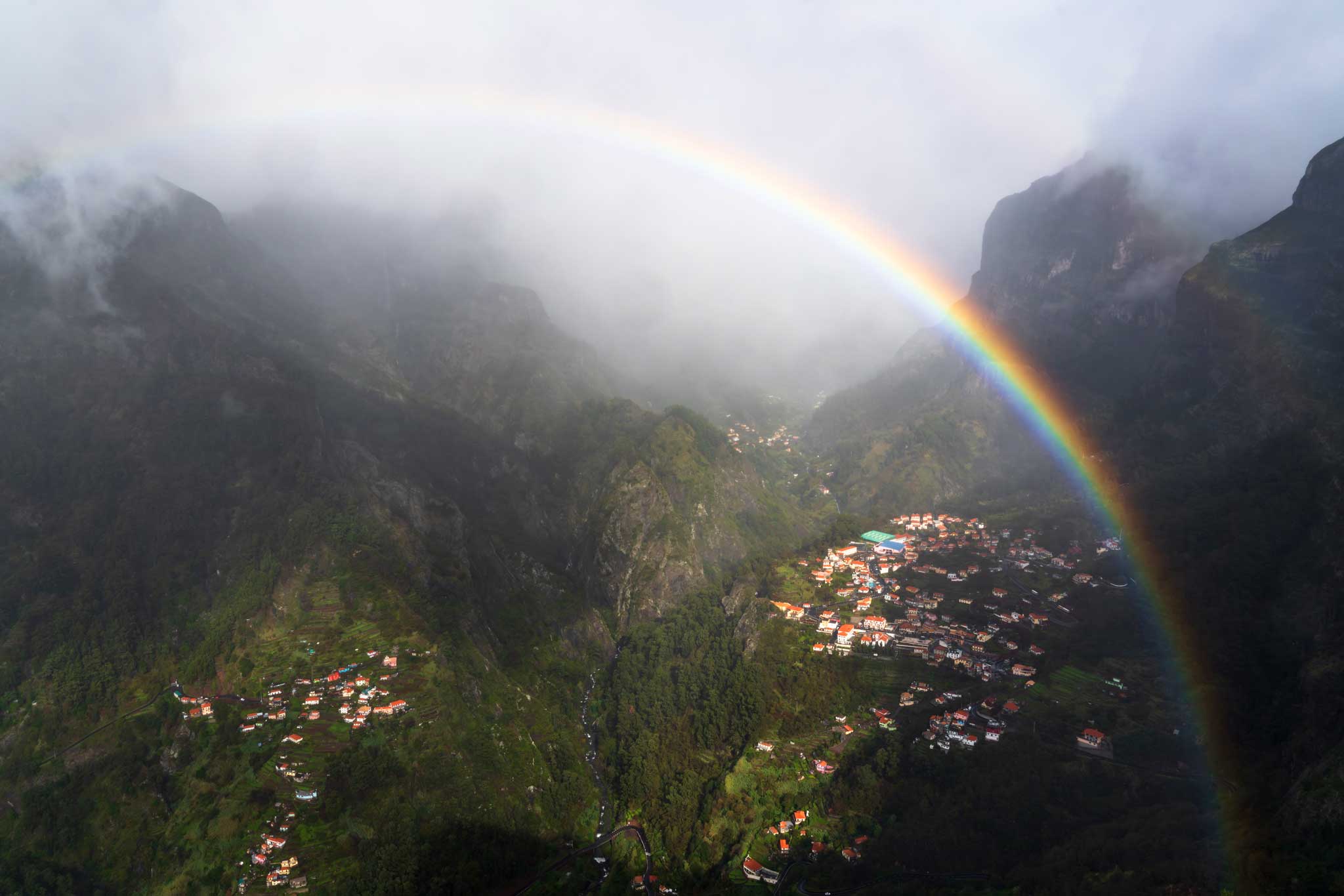 Bars, restaurants and events
Bars and restaurants are open pretty much as normal, with closing times restricted to around 11 pm-midnight.
Table service is the norm now, rather than ordering at the counter, and there is generally a reduction in tables to ensure a bit more distance between people.
The bonus of the climate of Madeira is that you can mainly be outside for your whole trip, including when eating and drinking, another level of protection against Coronavirus.
There are some limited live-music concerts and events still happening too, so if you are craving some culture after months of being cut off from it like I was, this is nice.
Tours, attractions and activities
Most tours and attractions remain open, with the expectation of anything which does not allow for social distancing – for example, the volcanic underground caves in Sao Vicente.
Any group tours just require the use of masks as a layer of protection, with most running with reduced numbers. Try and be flexible, as with the reduced number of tourists on the island, there is a chance you might not be able to do your tour as booked if the minimum numbers aren't reached.
Luckily, a lot of the attractions on the island such as the hikes are both free, and outside, so you can safely enjoy these at your own pace.
Christmas and New Year celebrations
The Christmas programme and events are proceeding, with some tweaks this year.
The festive lights and markets were just opening when I was there at the start of December, and the firework display is still planned for New Year's Eve.
You can see the schedule of all Christmas activities and events on the island by downloading this PDF.
Keep an eye on the situation
I had an amazing time in Madeira – I felt safe, relaxed and while wearing a mask more than I am used to is a bit frustrating, it also seems to be working and its imperative we respect the rules of anywhere we visit.
I do absolutely suggest you test before travelling, to be safe, protect those on the flight, and to ensure you don't end up in isolation.
Please do keep an eye on the air-bridge updates, and the local governments website (www.madeira.gov.pt/Covid19) for any updates or changes.
*While all information above is correct at the time of writing, this is a fast-changing situation and I can take no responsibility for the accuracy of information relating to Madeira travel restrictions. Please consult the most up to date information from the official sources prior to travel.
https://www.danflyingsolo.com/wp-content/uploads/2020/12/Quinta-da-Saraiva-Madeira-Portugal-207.jpg
1280
2048
Daniel James (Dan Flying Solo)
https://www.danflyingsolo.com/wp-content/uploads/2022/01/blogo-1-1030x189.png
Daniel James (Dan Flying Solo)
2021-04-13 18:46:00
2021-05-10 17:20:33
What's it like visiting Madeira right now? Pretty damn dreamy…