8 of Europe's Most Gay-Friendly Cities & Destinations
This website uses affiliate links which may earn a commission at no additional cost to you. As an Amazon Associate I earn from qualifying purchases.
Updated: 25th September 2023
In a year where it seems that prejudices are returning, right-wing governments are rolling back previous protections, and debates about people's very existence have led the headlines, travelling as a member of the LGBTQ+ community continues to bring its own additional considerations and concerns. Thankfully, there are still many gay-friendly destinations in Europe, and even in countries which might have shifted their national policies, you can still find enclaves of acceptance, tolerance and celebration.
Still, we aren't all one vast homogeneous group with the same needs or worries, and defining a gay-friendly destination isn't as easy as picking the place with the largest pride party. For some gay travellers, it's more about being able to book a double room with their partner or hold hands without the fear of prejudice or attack, while others might be seeking a non-stop party scene. Mr Hudson, an agency that specialises in luxury designed gay vacations, believes that gay-friendly also extends well beyond clubs and community and builds its trips around the best in culture, classy hotels, and stylish activities. But no matter what your personal travel style, being informed will ensure a smooth and safe trip.
Well-researched resources such as ILGA's Rainbow Europe index, which ranks countries based on various factors, including equality, hate crimes, and legal recognition, are helpful tools when deciding where to travel – I've included their relevant scores below – but these top-level national overviews can miss the nuance at the city level, where pockets of respect exist in nations which are otherwise (legally) lagging in protections and acceptance. 
So, with EuroPride wrapped up for another year (thanks for hosting, Malta!) and attention turning to next year's travels, here are – in no particular order – some of my favourite European gay-friendly cities and beach destinations.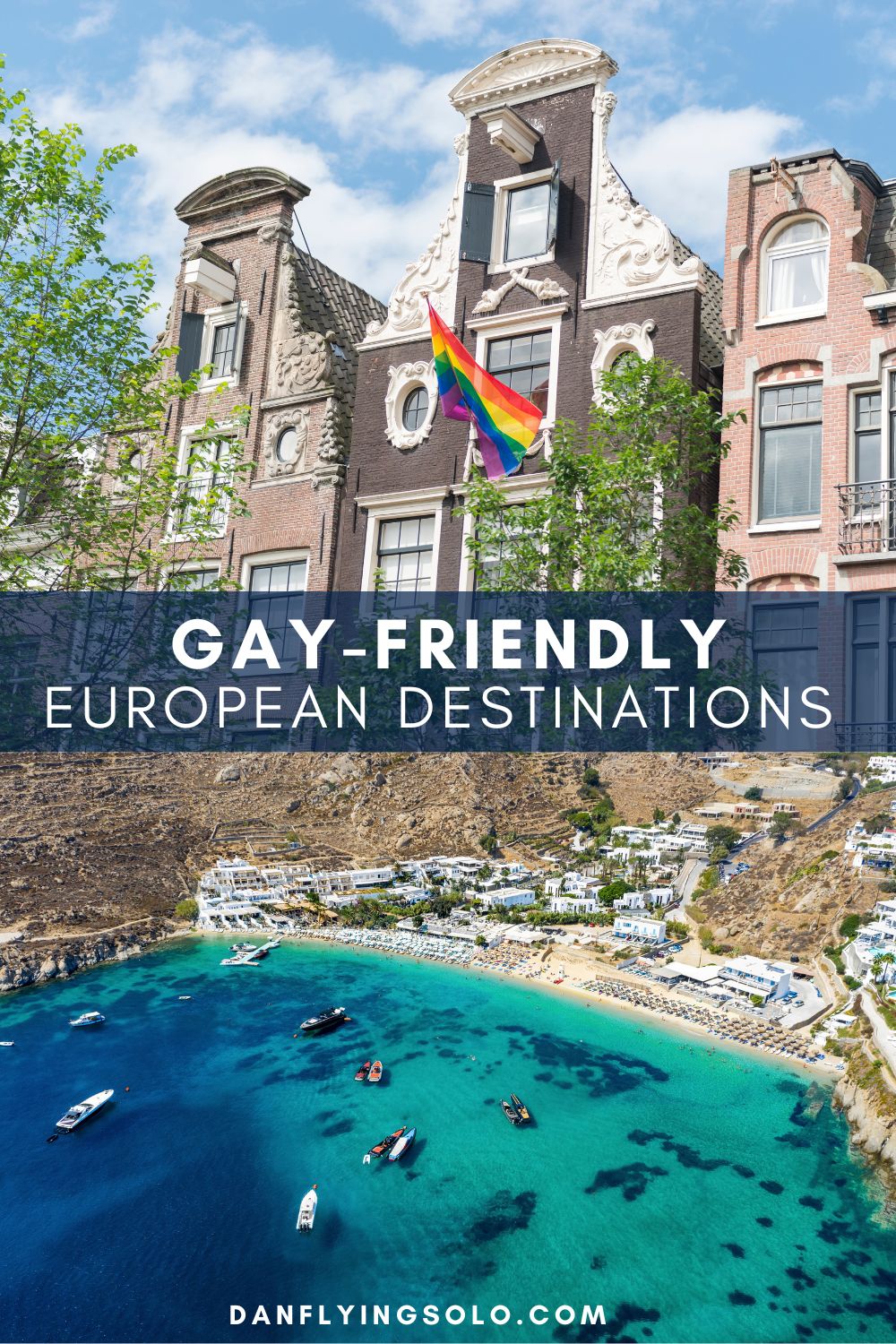 Mykonos, Greece
EuroPride 2024 will be hosted by Greece in Thessaloniki between June 21st – 29th
Pride dates: XLSIOR Summer Gay Festival 22nd – 28th August 2024
Rainbow Europe ranking 2023: Greece 57% (13th in Europe)
For close to 50 years – a trend led by Jackie Onassis, an original travel influencer, if you will – Mykonos has been regarded as one of Europe's most gay-friendly destinations for those seeking sun, sea, sand and some. Sure, in 2024, the spotlight might be turned on Greece's second city of Thessaloniki as it hosts EuroPride, but with just a one-hour flight – or full-day ferry – linking Thessaloniki with the Cyclades island of Mykonos, combining the two into a great Greek getaway is a fantastic idea.
Thanks to pretty much everywhere on the island being gay-friendly, picking where to stay, eat and drink requires no major planning. Planning a group trip of parties and pool time? Book yourself into one of the many spacious villas in Mykonos Town (Chora) or around Super Paradise Beach, two of the most happening gay-friendly areas. Or, for a more romantic retreat for two, settle into the sea-facing Saint John Villas & Spa. For lazy days on the sand, set your sights on the beaches of Paradise, Elia, or naturist-friendly Paraga. By night, Lola, at54 and JackieO' (plus its sister beach club) are great places to enjoy a night out.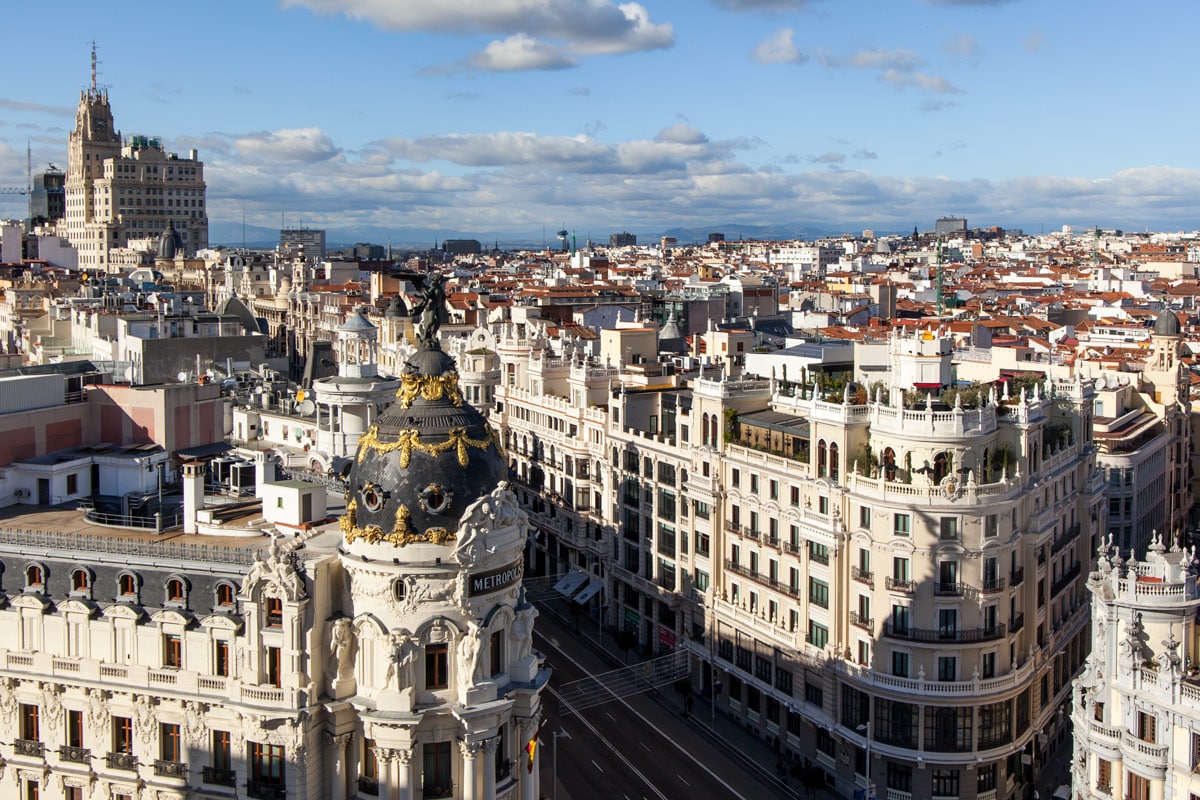 Madrid, Spain
Pride dates: 25th June – 7th July 2024 (Main parade, 6th July)
Rainbow Europe ranking 2023: Spain 74% (4th in Europe)
In Misterb&b's post-pandemic travel survey, Spain was voted the number one gay European destination – and that's certainly not just because of the country's bewitching beaches, friendly first-class nightlife, and culture-laden cities. The nation's (for now) left-leaning political coalition has focused on an inclusive agenda, and with these topics often leading newsrooms in the country – and beyond in the case of the Women's World Cup – the shift from homophobic dictator to open liberal society has been vast in the last 50 years.
Barcelona, Stiges and the Canary Islands are some of the most gay-friendly destinations in Europe, but it's Spain's capital city, Madrid – host of Europe's largest pride – where I feel most comfortable. There are pockets of the city where the scene is most compounded, such as the neighbourhood of Chueca, but with an estimated half a million LBGT+ people living in Madrid, you'll find acceptance and gay-friendly spaces beyond one specific district. There are some gorgeous gay-friendly hotels, such as Axel with its rooftop pool, and an abundance of gay bars, clubs, drag performances and safe spaces in Chueca. Plus, Madrid is one of the best city breaks in Spain year-round thanks to its array of incredible museums (spare at least half a day for the Prado), monuments, leafy parks and sun-soaked plazas.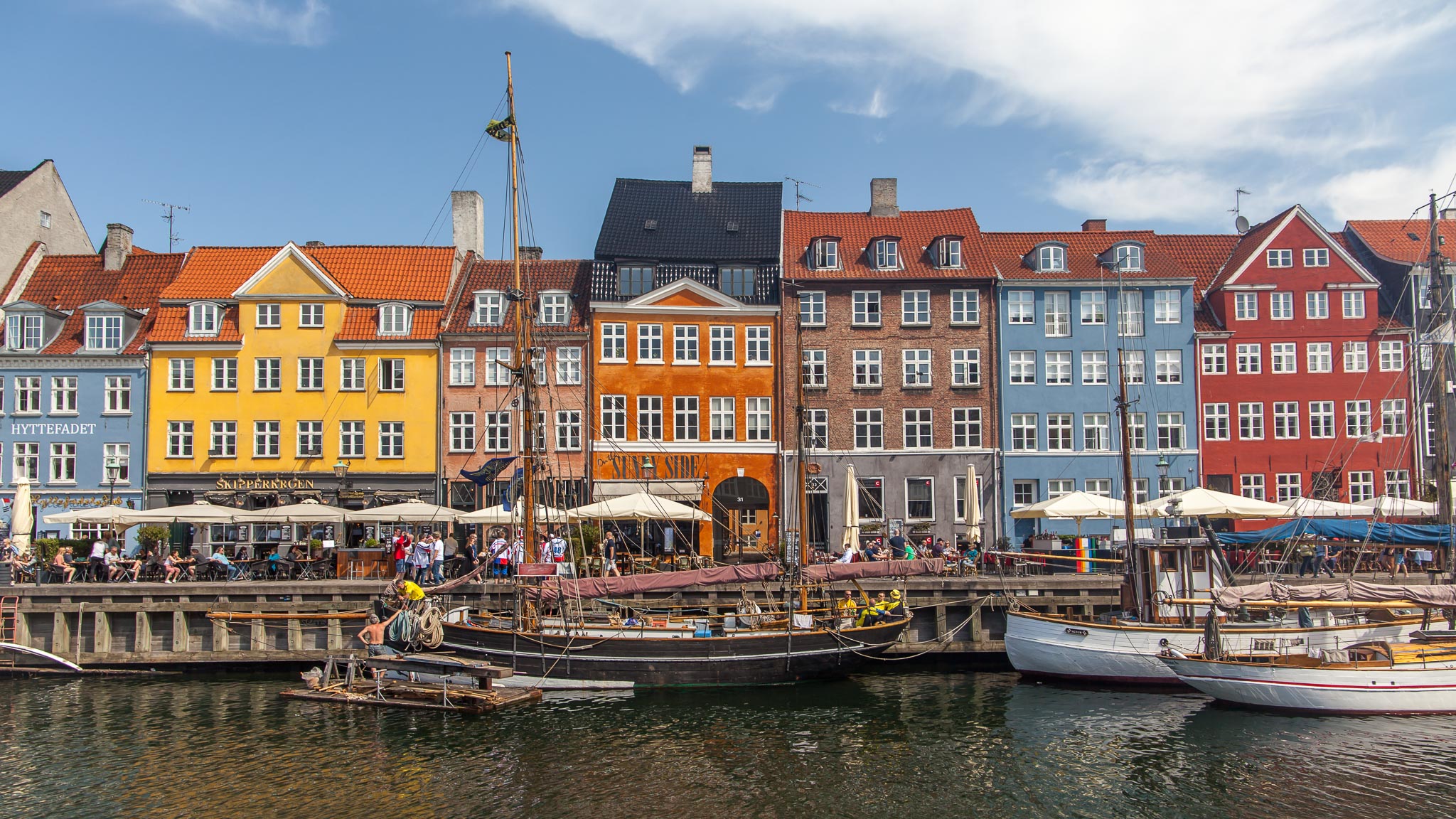 Copenhagen, Denmark
Pride dates: 10th August – 18th August 2024 (Main parade, 6th July)
Rainbow Europe ranking 2023: Denmark 76% (3rd in Europe)
All of the Nordic capital cities are considered gay-friendly European cities; even tiny Torshavn in the far-flung Faroe Islands has an annual Pride and Minority Film Festival. But Copenhagen is my Scandinavian pick – even if Sweden brags the region's biggest pride – as it's not just a super welcoming and friendly city with LBTQ+ credentials to match, but also forward-thinking in terms of its culture, design and art, meaning a weekend in Copenhagen is always a good idea.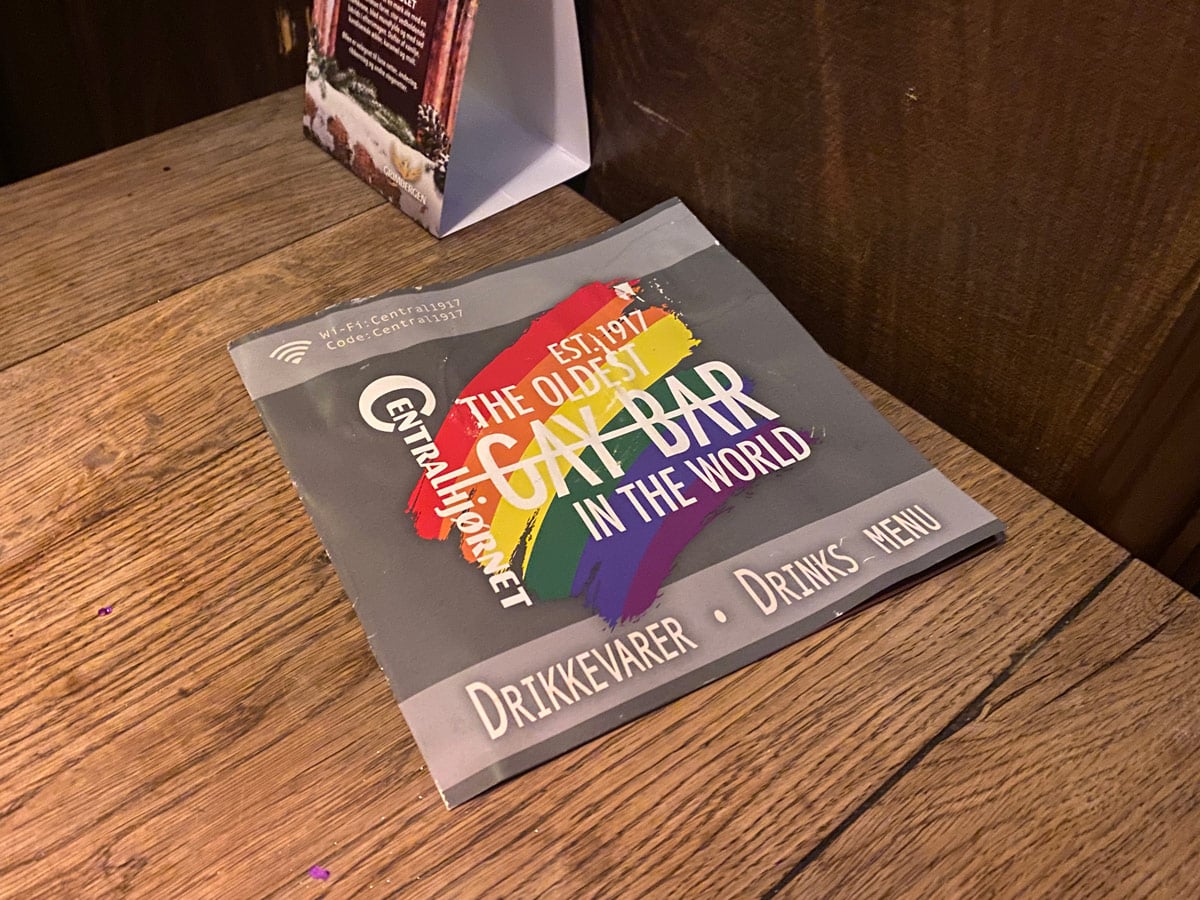 Denmark was the first country in the world to grant legal recognition to same-sex unions back in 1989, a few years after the launch of Copenhagen's LGBTQ Film Festival. The city is also home to one of the oldest gay bars in the world, Centralhjørnet, which opened in 1917 – now there are more than a dozen bars and clubs in the city operated by and for the LBGTQ+ community.
Beyond the scene, the city shines as a UNESCO World Capital of Architecture with all of the stylish Scandinavian clean-lined spaces that you'd expect, brags an excellent array of museums with design and monarchy taking top billing, and provides photogenic canals perfect for enjoying the city's coffee culture. Be warned, though, it's pricey, so you'll want some tips on how to save some cash in Copenhagen.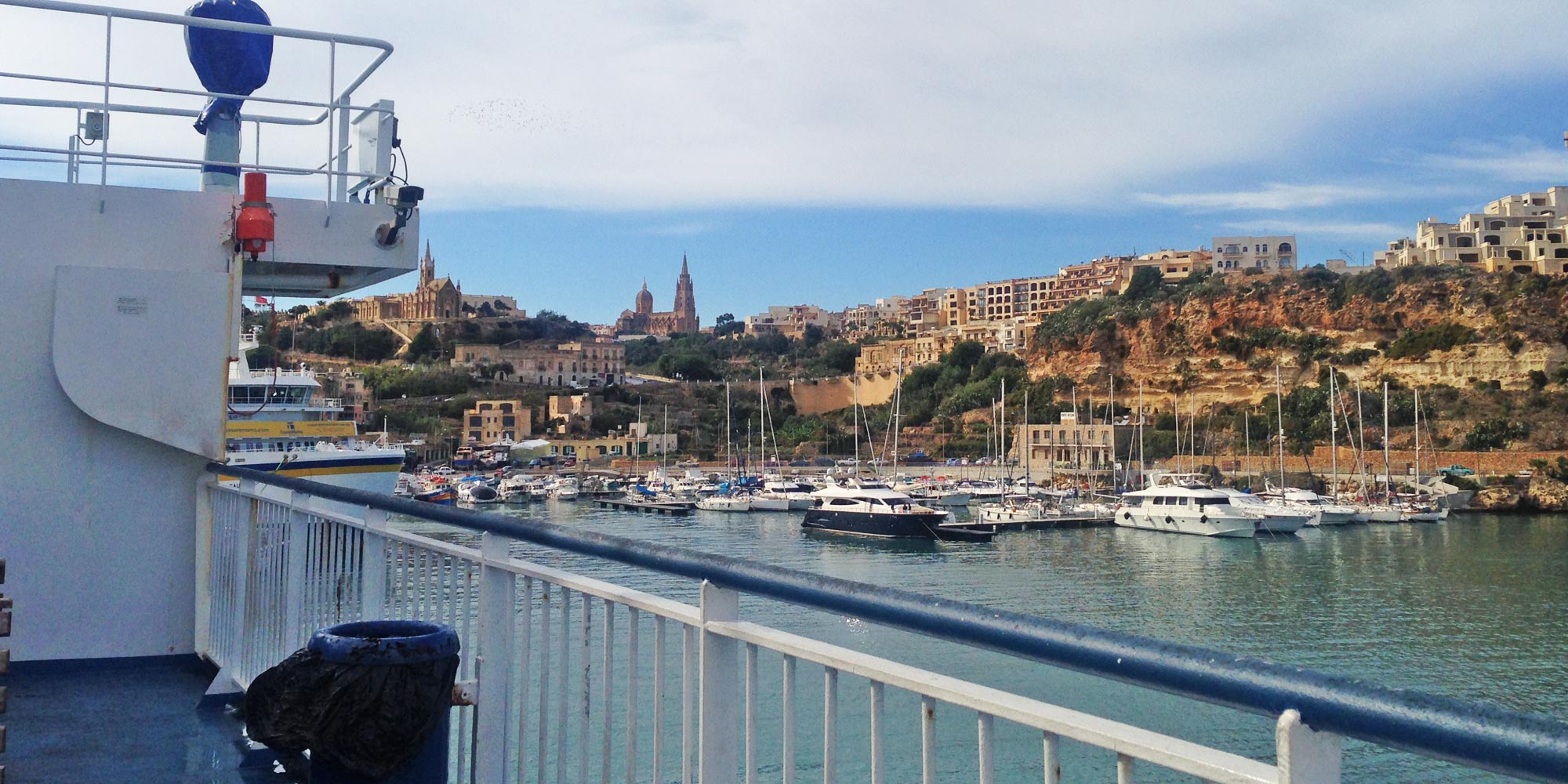 Malta
Pride dates: Usually September, dates to be confirmed
Rainbow Europe ranking 2023: 89% (1st in Europe)
Malta might have been a bit late to the party in legalising same-sex unions in comparison to other European countries, but it's quickly caught up and superseded all others on the continent. Now, the Mediterranean island group is regarded as Europe's most gay-friendly destination, thanks to a raft of progressive legislation, including criminalising conversion therapy and adding LGBTQ+ protections to its constitution. I also really respect the island for not shying away from using same-sex couples in its marketing campaigns. Still, it's important to know that while Malta is something of a gay utopia, it remains a very catholic country where others are still fighting for their rights; Malta has some of the most restrictive abortion laws in Europe, for example.
Much of Malta's gay-friendly scene and best nightlife is concentrated around the beautiful island's walled capital of Valletta, a dashingly handsome mediaeval city crafted of faded yellow limestone. The only dedicated gay club is Michelangelo, but there are various gay events hosted in other bars throughout the year, with Lollipop's parties the most anticipated. For something a bit more rowdy, head to St Julian's, the party capital. Away from the scene, there's plenty to discover and enjoy. From catamaran cruises and lazy beach afternoons – Malta has a handful of designated nudist beaches – to historical attractions such as the catacombs of storied Mdina and the more quirky like the Popeye Village film-set turned theme park. Along with Gozo, the big island's little sister, this is one of the warmest gay-friendly winter getaways in Europe.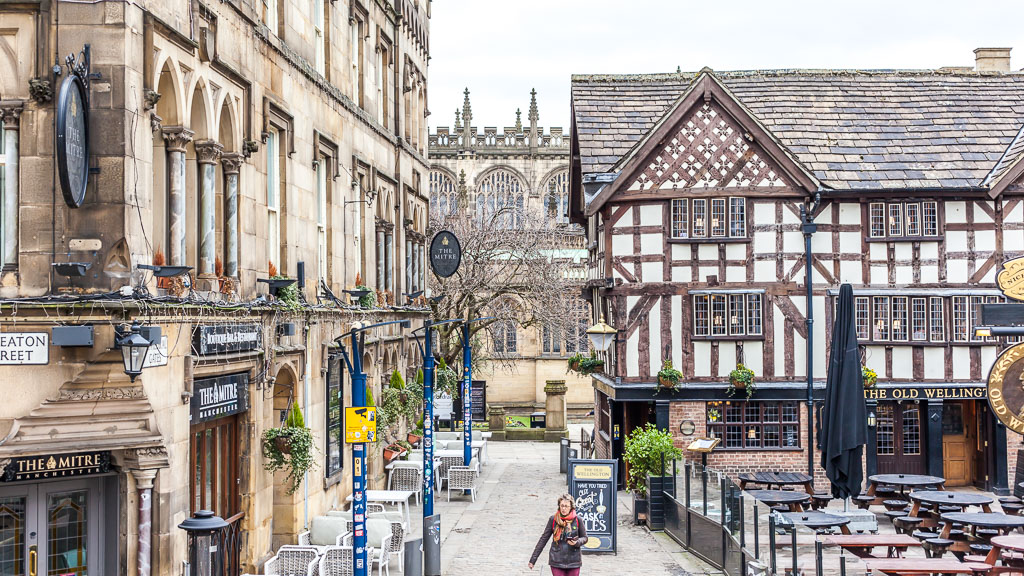 Manchester, England
Pride dates: 23rd – 26th August 2024
Rainbow Europe ranking 2023: United Kingdom 52% (17th in Europe)
The seaside city of Brighton might have bagged the title of England's gay capital, with London's Soho hot on its heels, but if you ask me, left-leaning Manchester equally deserves to be a contender for one of Europe's most gay-friendly cities. It's a city of friendly, fun and accepting people which has a long history of leading the charge for civil rights in the UK. Allan Horsfall, one of the most prolific gay-rights campaigners in the UK, lived here, and it was in Manchester that he founded the Committee for Homosexual Equality in 1969. It was also the city that birthed the Suffragette movement – visit The Pankhurst Centre to learn more.
Sadly, nowadays, the city's first-ever gay bar from 1941, Napoleans, has shut its doors, but the scene in general is pumping. Much of the activity is focused around Canal Street, known as the Gay Village. Nightclubs, drag performers and first-class bars all convene on this pedestrianised party street, promising a proper party courtesy of the Mancunian spirit. Away from the scene, there are plenty of other attractions to visit in Manchester, such as gawping at the magnificent John Ryland's Library, taking in the impressive collection at the Manchester Art Gallery, or, if you're a footie fan, watching a game at one of the two world-class stadiums.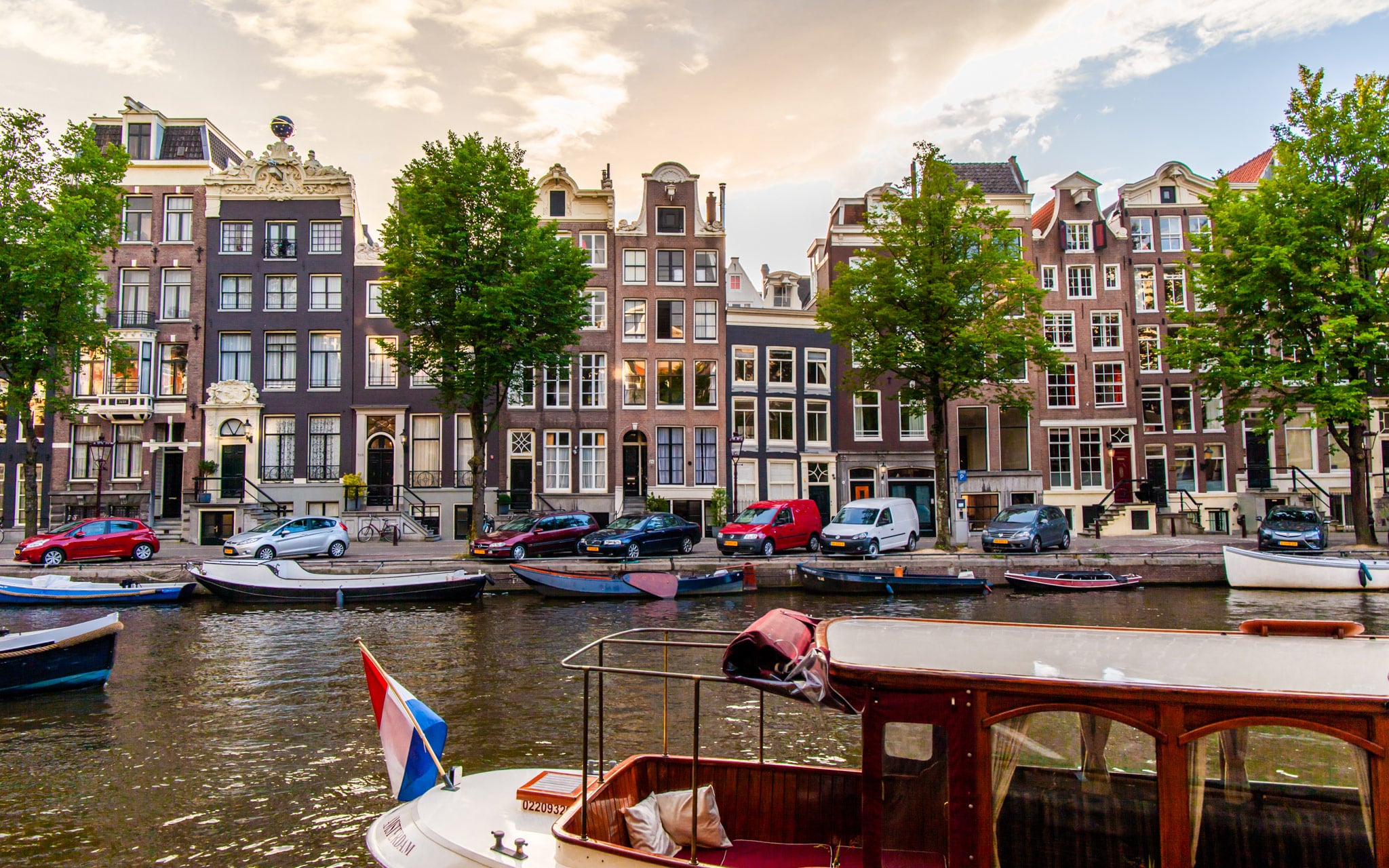 Amsterdam, The Netherlands
Pride dates: 27th July – 4th August 2024 (Canal parade 3rd August)
Rainbow Europe ranking 2023: Netherlands 56% (14th in Europe)
Amsterdam, with its gorgeous canals, free-thinking attitude, and incredible collection of Dutch masters at the Rijksmuseum, is a dreamy city break. Unsurprisingly, as one of the most liberal places in Europe, it's also one of the continent's most gay-friendly cities. At the heart of the gay scene is the Reguliersdwarsstraat, a bar-packed street of rainbow flags and people seeking a good time. Here, you'll find more than enough gay bars and clubs to ensure you can party well into the early hours. But Amsterdam's gay-friendly spaces aren't just for wild nights but also for preservation, with the IHLIA LGBTI Heritage Museum housing important documents and materials – regular temporary exhibitions are hosted at the IHLIA Placa.
My favourite thing about Amsterdam though is the general atmosphere; there's something about this city that always makes me feel good. Strolling along the canals, visiting the flower markets, and hopping on a ferry to visit the NDSM Wharf Cultural District are all easy, low-cost activities that promise a smile. Then you've got the headline acts to keep you busy, such as touring the Van Gogh Museum or Anne Frank's house. A weekend in Amsterdam will never be enough time to see it all, but between the parties, people and cultural attractions, you'll likely already be convinced on a return visit.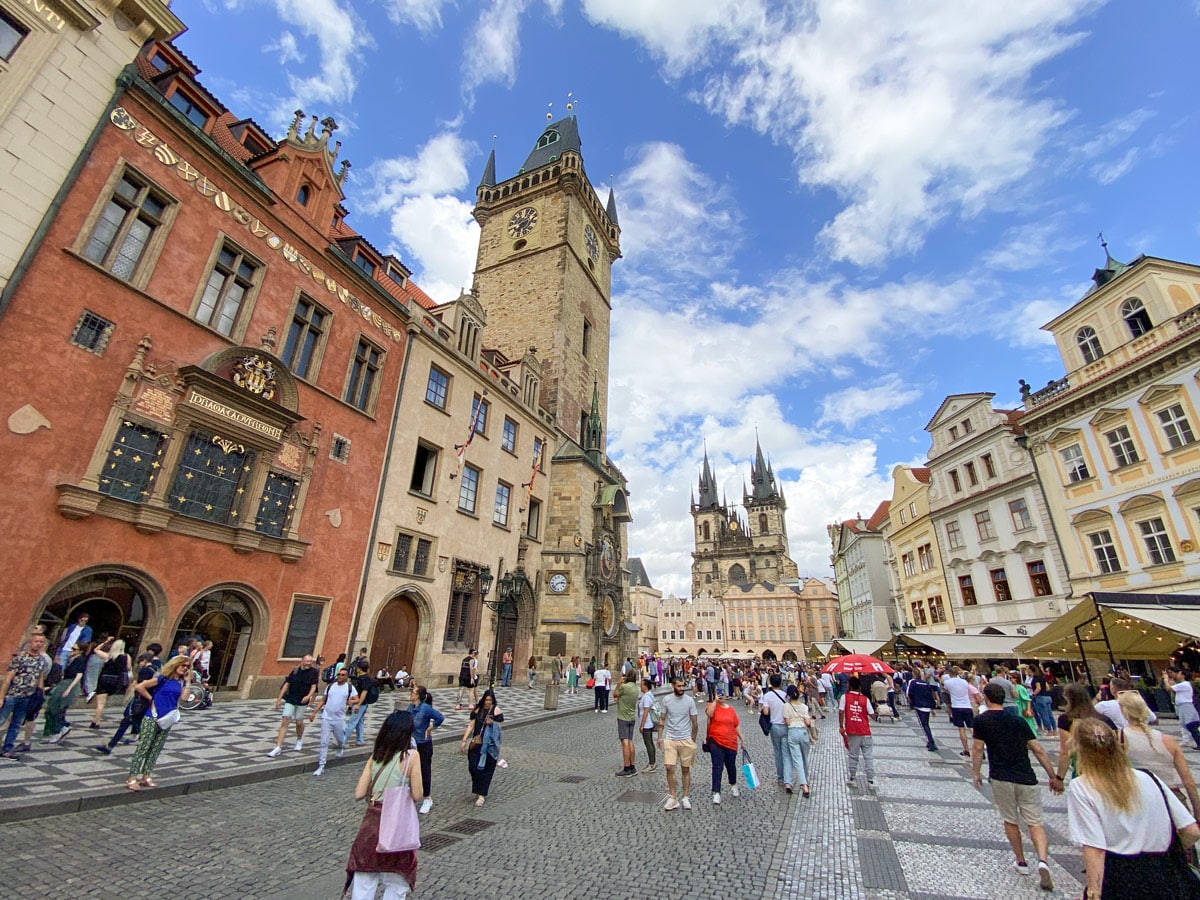 Prague, Czech Republic
Pride dates: 5th – 11th August 2024
Rainbow Europe ranking 2023: Czech Republic 26% (33rd in Europe)
While the Czech Republic is not considered an overly gay-friendly country by European standards, the city of Prague acts as something of a beacon in the middle of it all. That's not to say it's a city awash with support for gay rights, but it's also not a place with much opposition – a Czech friend once described this seemingly non-fused attitude of Prague's residents as a very much "it's not my business" approach. Plus, it's a liberal and open country when it comes to sex in general. There are enough gay bars in the city to have a cracking weekend, though you might need to hop around to find an atmosphere (I was at Friends this summer, and the dance floor was dire). 
Then you've got all of Prague's other treasures to keep you entertained, from the impressive architecture of Prague Castle, Old Town Square and Charles Bridge to the LGBT Memory Centre – visitable by appointment – which shares insights into the country's struggles for equal rights, Imrich Matyáš being a name to know. It's also worth adding a couple of extra days on to enjoy day trips to the castles of South Bohemia or a retreat in the spa town of Karlovy Vary.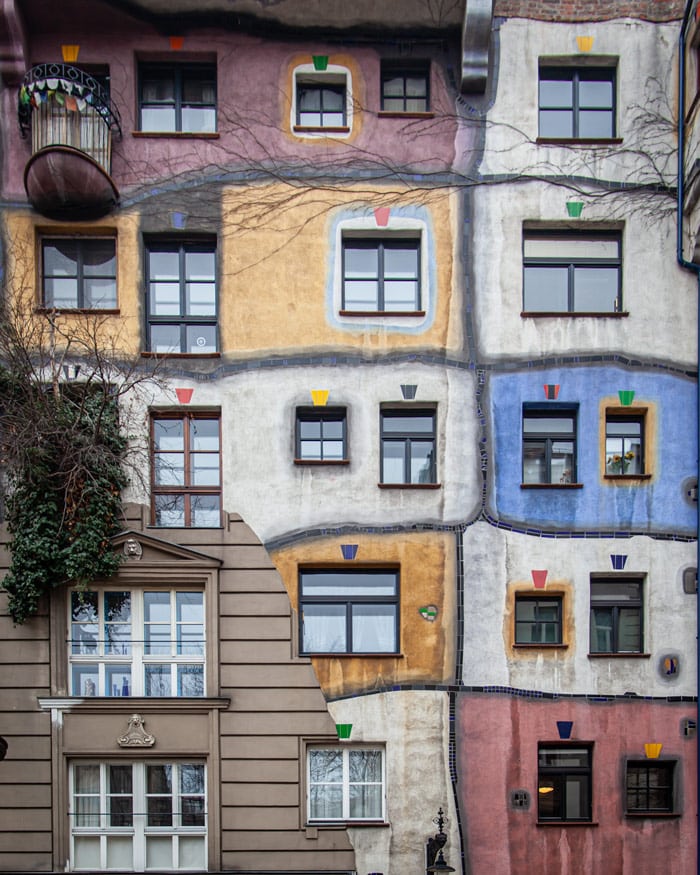 Vienna, Austria
Pride dates: June, dates to be confirmed
Rainbow Europe ranking 2023: Austria 49% (19th in Europe)
It's reported that up to 10% of Vienna's population identifies as a member of the LGBTQ+ community, one of the reasons it's consistently ranked as one of the most gay-friendly cities in Europe. You'll spot rainbow flags and symbols across this relatively progressive city, and there are a few big LGBTQ+ events hosted on top of pride, such as the Rainbow Ball and the Fetish Spring event. Much of the gay scene is focused around the Naschmarkt area, while Rosa Lila Villa, a dedicated LGBTQ+ centre on Linke Wienzeile, hosts events, such as drag queen brunches and bingo sessions, alongside its programme of support and safe housing spaces.
Then there's the city's cultural clutch, led by the palaces of the Habsburg empire, classical architecture or art, and a myriad of museums and cultural attractions. But Vienna and Austria aren't all old world; there's a young, creative pulse beating through the city which requires no need to swat up on the country's former monarchy. Albertina and Mumok, the city's modern art museums, are two good places to start.
Of course, there are plenty of other gay-friendly European cities that deserve a mention: Milan, Brussels, Glasgow, Berlin, London – plus up-and-coming destinations such as Lisbon and Bologna; thankfully, it's a list that seems to be getting longer rather than shorter.
https://www.danflyingsolo.com/wp-content/uploads/2023/09/Amsterdam.jpg
1280
2048
Daniel James Clarke
https://www.danflyingsolo.com/wp-content/uploads/2022/01/blogo-1w.png
Daniel James Clarke
2023-09-25 22:29:45
2023-11-18 23:04:15
8 of Europe's Most Gay-Friendly Cities & Destinations